This creamy avocado chicken salad combines grilled chicken, avocado, corn, and bacon in one zesty main or side dish. Deliciously satisfying and full of flavor!
Table of Contents
Why you'll love this avocado chicken salad recipe
Mexican-inspired twist. This isn't your average chicken salad recipe. It has a Mexican-inspired twist thanks to avocado, corn, and a zesty lime dressing. You can also sub out one of our Mexican chicken recipes in it (hello, Pollo Asado, chicken al pastor, chicken tinga, or chicken Fajitas!).
No mayo needed. This is a mayo-free chicken salad recipe! You won't even miss it because the soft avocado gives it a rich and creamy consistency.
Quick and easy. As-is, this salad can be ready and on the table in under 30 minutes. But to whip it together even faster, make it with leftover or store-bought chicken and bacon instead (like we did!). The dressing can also be made days in advance, giving you more time to focus on the many ways to serve this zesty dish.
Picnic-perfect. Pack it up and bring this salad to all of your summer picnics, barbecues, potlucks, and more. It's always a hit!
Versatile. Just like classic chicken salad, you can serve this recipe as a main dish or side dish, in a sandwich or lettuce wrap, and more! The serving options are endless.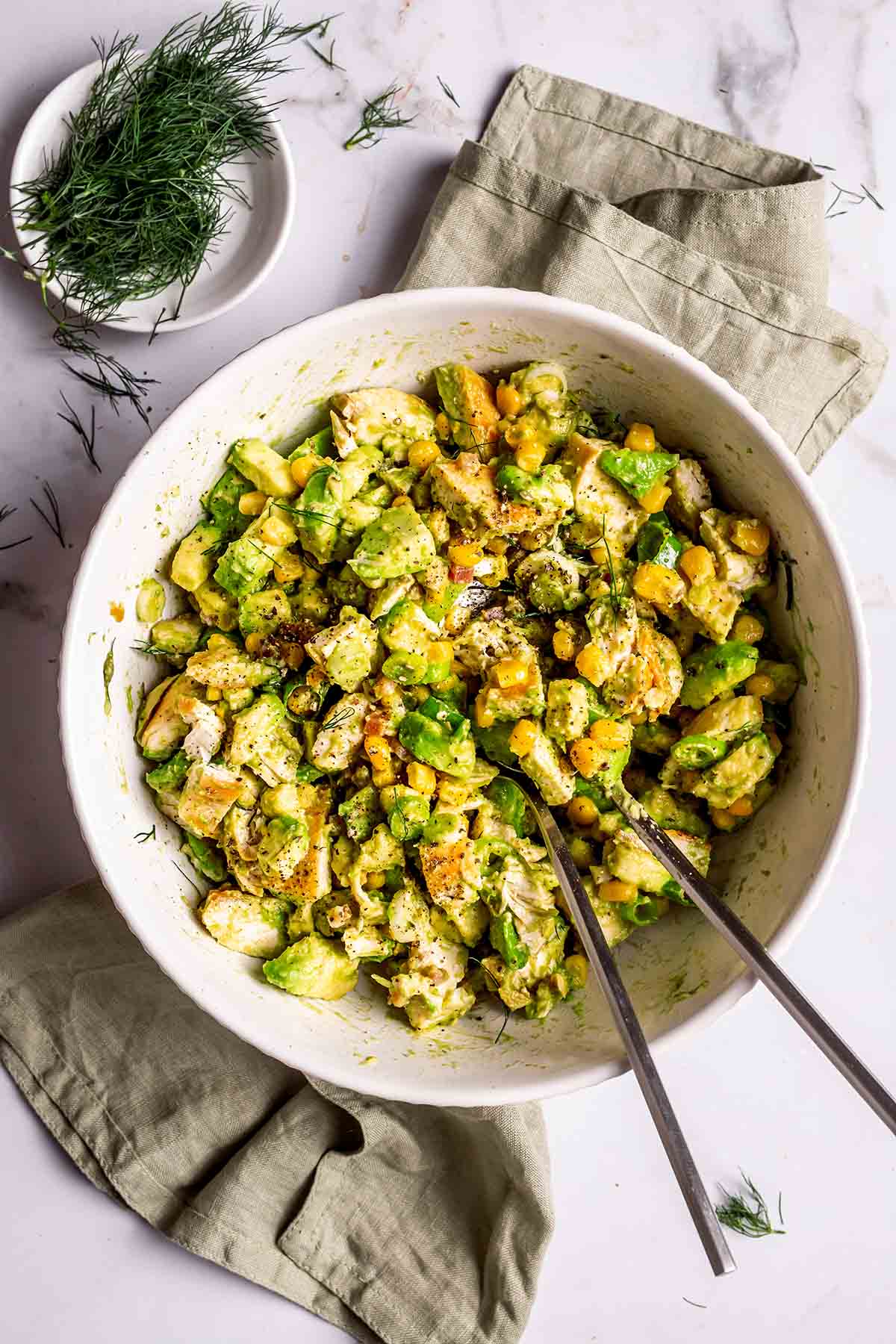 Ingredients needed
This Mexican-inspired chicken and avocado salad is made up of only the freshest and most flavorful ingredients. Here's what you need:
Chicken breasts. Freshly grilled chicken breasts seasoned with taco seasoning will infuse the salad with zesty and smoky flavors. You can also make this recipe with the leftover shredded chicken already in your fridge or with a store-bought rotisserie chicken.
Avocados. The star ingredient in this salad! Avocados add a rich creaminess to every bite and compliment the zesty lime dressing perfectly. They're the best replacement for mayonnaise (a traditional ingredient in chicken salad recipes).
Corn. Use frozen, canned, or fresh corn kernels.
Bacon. Pieces of crispy bacon in the salad give it a delicious salty punch. You can also use turkey bacon for a little less fat and more protein.
Scallions. For a mild onion flavor in the salad. You can replace them with diced red onions if you prefer a stronger flavor.
Dill. Use fresh dill if you can because it has a fresher and lighter flavor compared to dried dill.
Lime juice. The main source of flavor and acidity in the chicken salad dressing.
Olive oil. For the dressing.
Salt and pepper. To taste.
How to make chicken salad with avocado
Combine the salad ingredients. Add the sliced chicken breasts, diced avocados, corn, bacon, and scallions to a large bowl.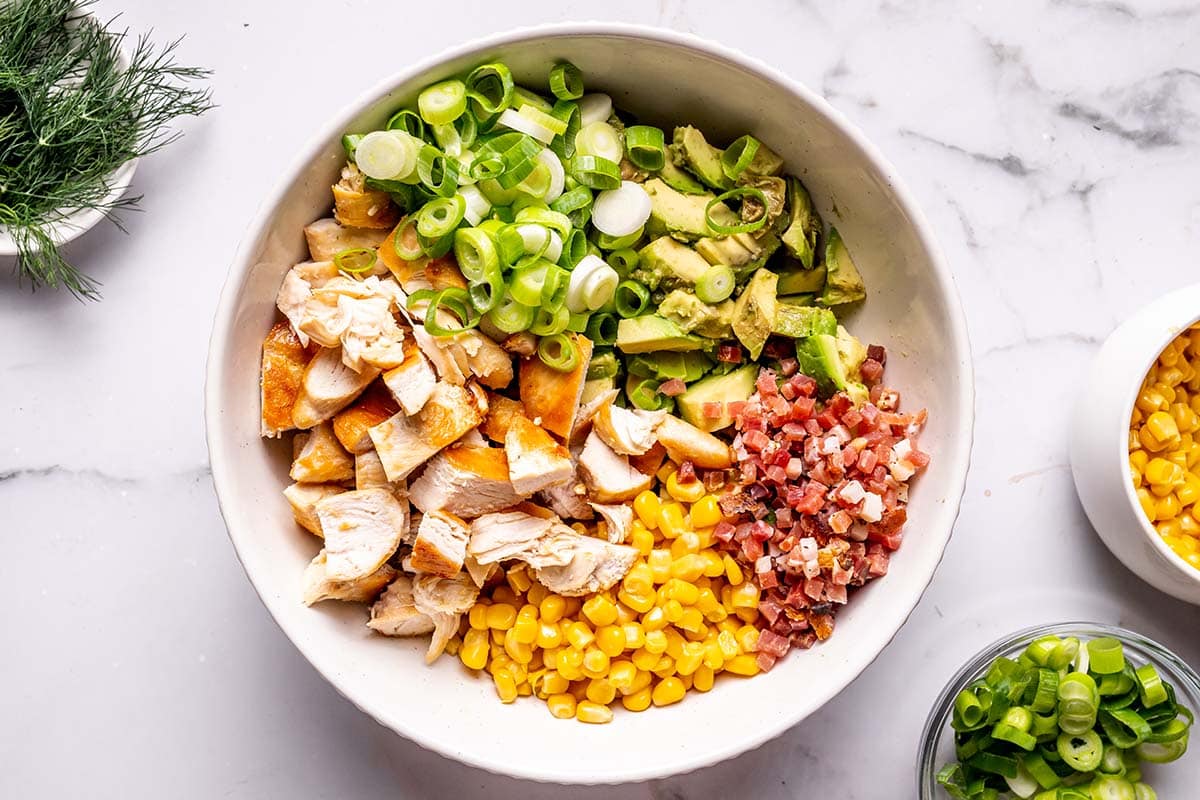 Make the dressing. Stir the lime juice, olive oil, salt, pepper, and dill in a small bowl.
Assemble and serve. Pour the dressing over the salad, toss together, and serve.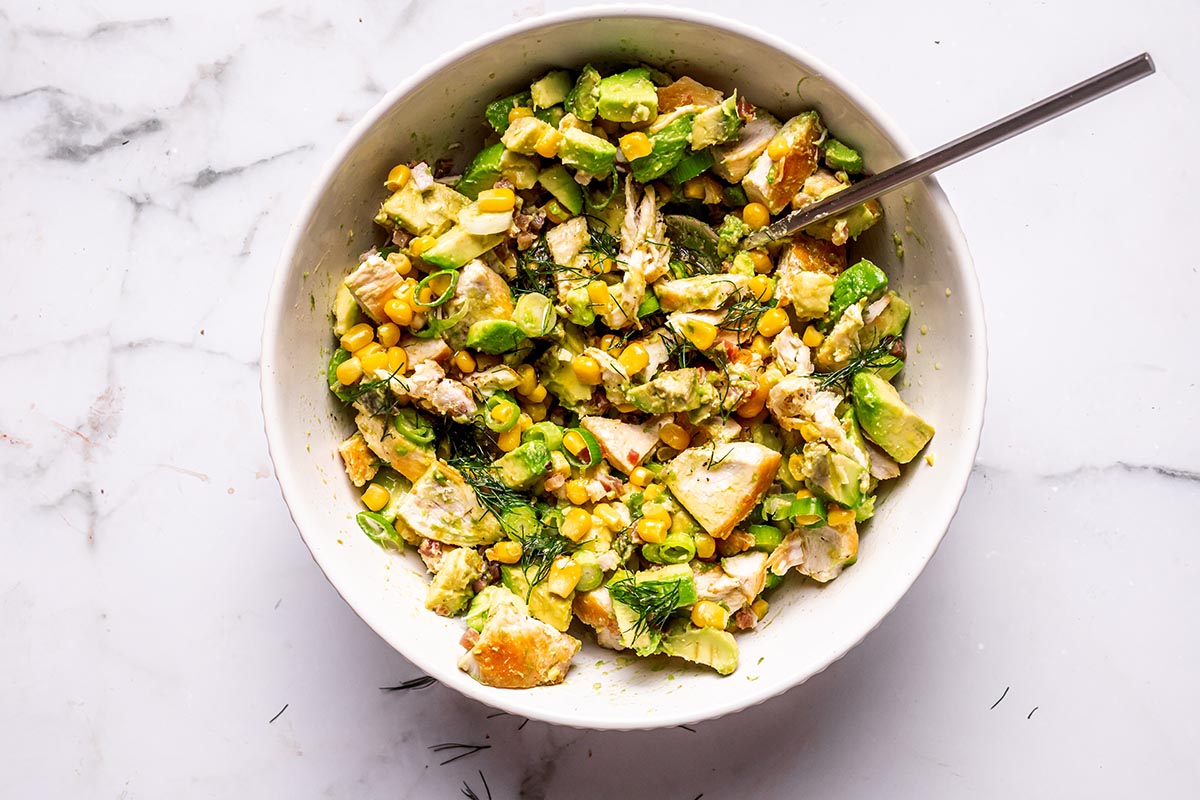 How to serve avocado chicken salad
Chicken salad with avocado is no different than classic chicken salad. The serving options are endless! These are just a few ways to enjoy it:
For a light lunch. Pack it into an airtight container and enjoy the salad throughout the week for healthy lunches. Just remember to wait to add the avocado until right before lunchtime.
Over salad greens. Use the avocado chicken salad as a topping on a bed of greens for a heartier lunch.
In sandwiches, tacos, and wraps. Add a scoop of the creamy, zesty salad on top of toasted bread, in a lettuce cup (like lettuce wraps!) or in a tortilla. It also makes for a satisfying sandwich filling. Chicken salad sandwiches are best when they're made with crusty homemade bread topped with lettuce and tomato slices.
As a side dish. Bring a batch to your next summer barbecue, potluck, or picnic. It pairs well with more summer meals, like turkey burgers, macaroni salad, potato salad, broccoli salad, and zucchini boats.
After-school snack. The leftovers are fantastic with crackers, tortilla chips, and cut vegetables for dipping.
Flavor variations
Want more protein? Stir hard-boiled eggs or shrimp into the salad.
Instead of bacon. Use turkey bacon, crumbled tofu, prosciutto, or chorizo. You can also omit the bacon from the recipe.
Extra creamy. Make the dressing with a scoop of mayo, sour cream, Greek yogurt, or crema.
More add-in ideas. Add diced red onion, diced chili peppers, hot sauce, diced celery, or fresh cilantro.
Storage instructions
To store: Keep the leftover salad in the bowl or transfer it to an airtight container. Press a layer of plastic wrap directly on top of the salad to prevent the avocado from browning further. Place a lid on top and store it in the fridge for 3 to 4 days.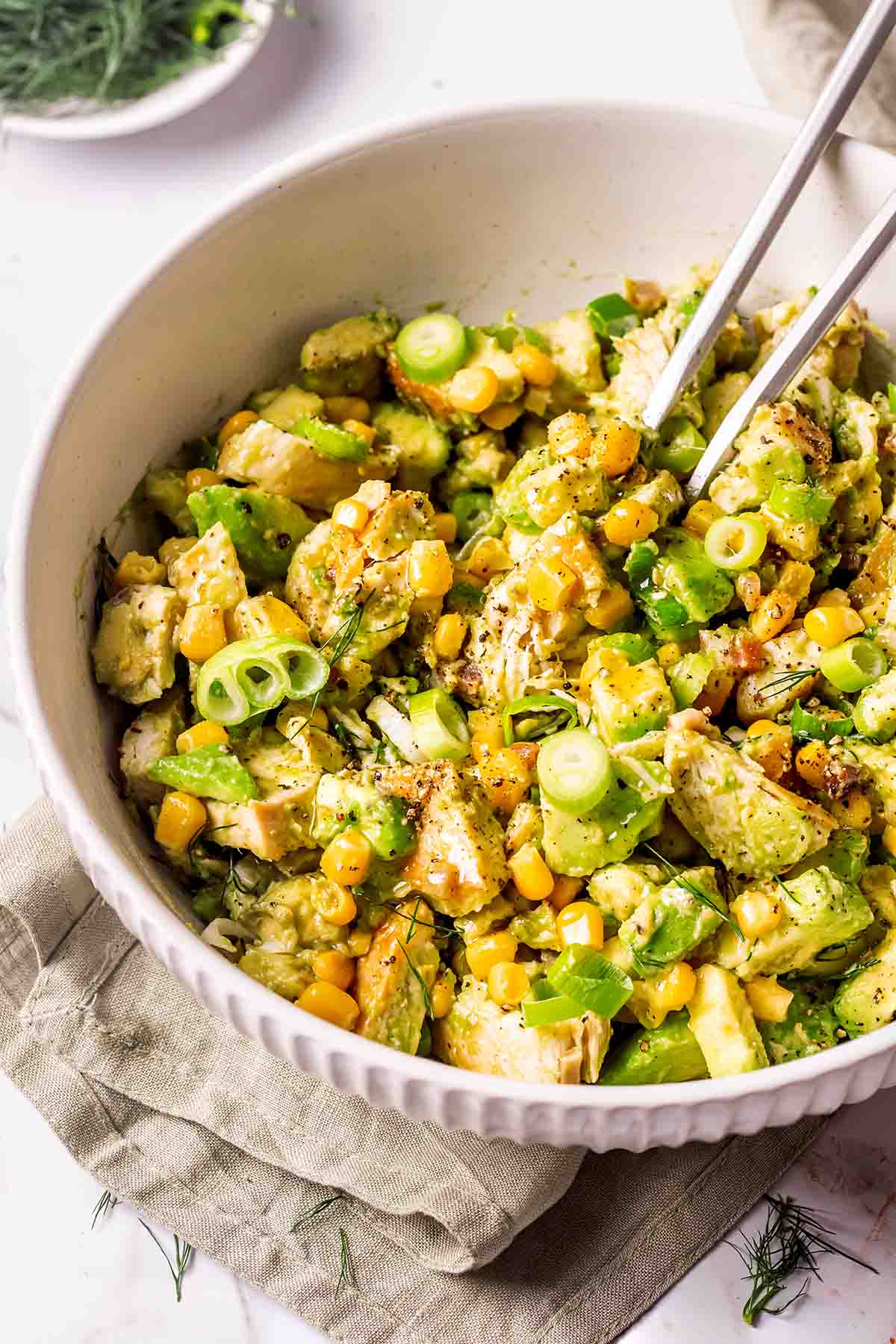 Recipe tips and tricks
Make the dressing in advance. Mix the ingredients together in a sealed jar and keep it in the fridge for later. This way, it's ready to use at a moment's notice!
Add the avocado right before serving. Avocados tend to brown very quickly. This doesn't necessarily affect the flavor of the salad, but the presentation won't be as tasty-looking.
Let it chill. Place the assembled salad in the fridge to chill for about 30 minutes before serving. This gives all of the flavors time to get to know each other, giving you tastier results.
Frequently asked questions
Should chicken and avocado salad be served cold or warm?
This salad is best served cold. Make sure to let the chicken and bacon cool to at least room temperature before assembly.
Can you use other cuts of chicken to make this recipe?
Good news: you can use practically any cut of chicken you like to make chicken salad. If you already have pre-cooked chicken thighs, tenders, drumsticks, or chicken legs in your fridge, go ahead and use it!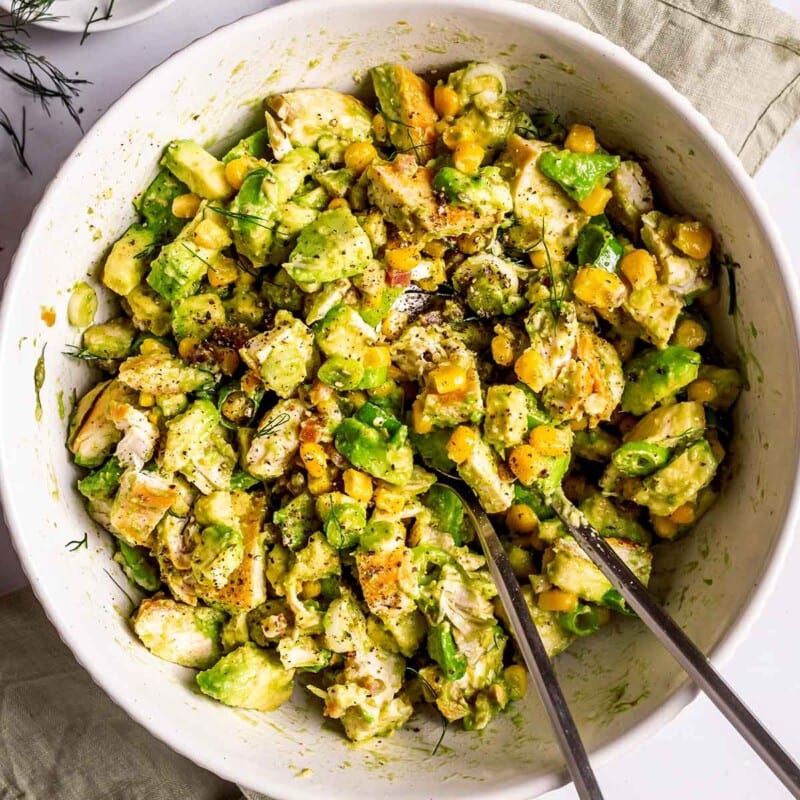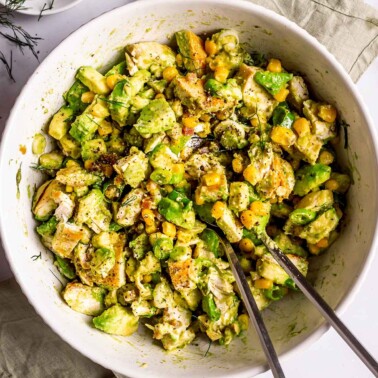 Avocado Chicken Salad
This creamy avocado chicken salad combines grilled chicken, avocado, corn, and bacon in one zesty main or side dish. Deliciously satisfying and full of flavor!
Ingredients
Instructions
In a salad bowl, combine sliced chicken breasts, diced avocados, corn, bacon, and scallions.

In a small bowl, combine lime juice, olive oil, salt, pepper, and fresh dill.

Pour the dressing over the salad and mix everything together.
Nutrition
Serving:
1
serving
Calories:
374
kcal
Carbohydrates:
14
g
Protein:
31
g
Fat:
23
g
Sodium:
883
mg
Potassium:
824
mg
Fiber:
7
g
Sugar:
2
g
Vitamin A:
289
IU
Vitamin C:
16
mg
Calcium:
33
mg
Iron:
2
mg
NET CARBS:
7
g
Disclosure: This post may contain affiliate links. I may earn a small commission for my endorsement, recommendation, testimonial, and/or link to any products or services from this website.