This 7-layer salad is an absolute crowd-pleasing recipe, featuring layers of crunchy veggies, crispy bacon, eggs, and intense cheese in a creamy mayo topping.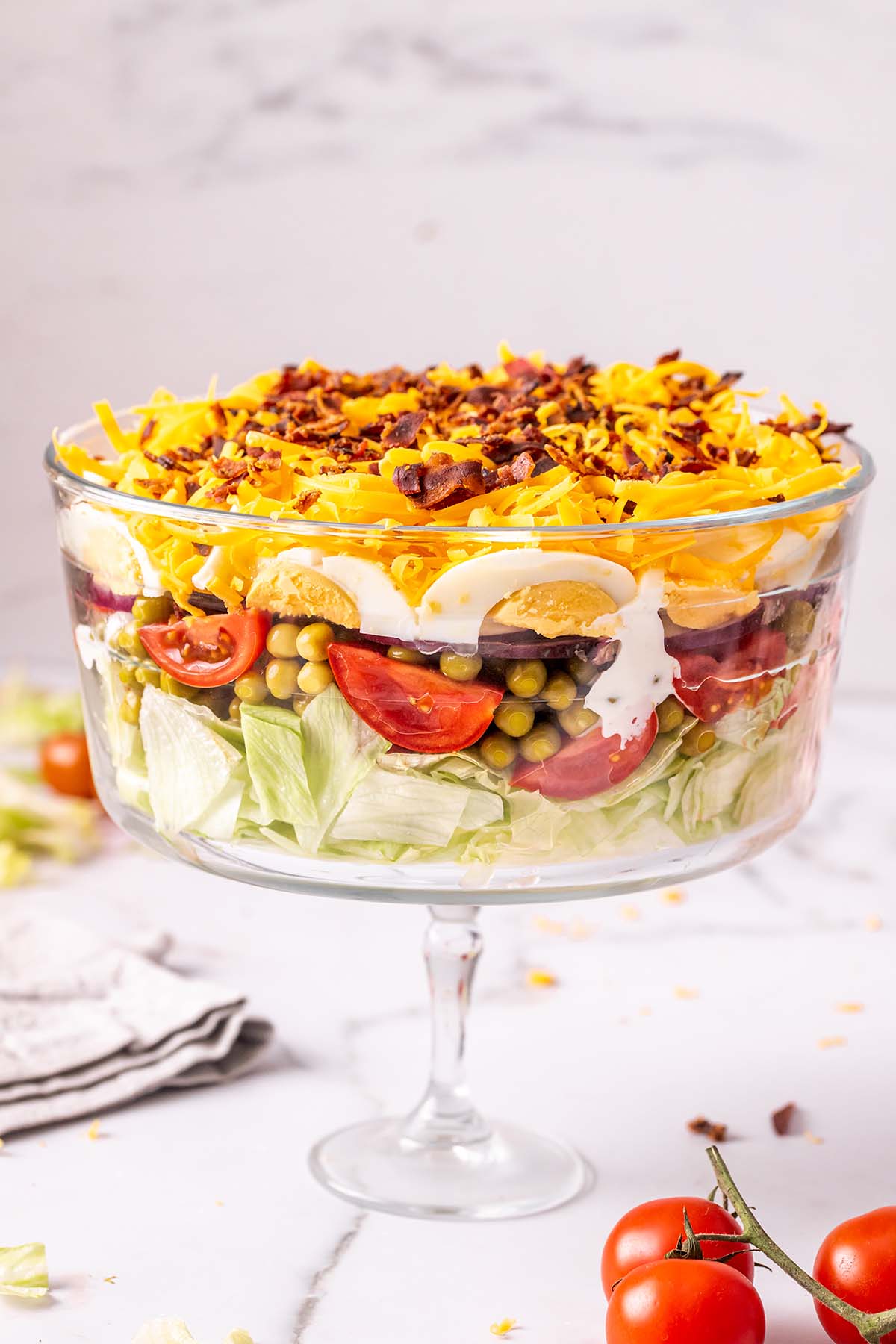 Some dishes like Philly cheesesteak casserole, charcuterie board, and trifle are meant for impressing large parties. They are hearty, generous, and often relatively healthy!
And since no party is complete without a salad or two, you must try my all-time favorite Ramen, Kani, chicken, and this scrumptious 7-layer salad.
Table of Contents
What is a 7 layer salad?
A 7-layer salad is a traditional American salad featuring seven colorful, distinct layers of crunchy lettuce and red onion, sweet cherry tomatoes and green peas, crispy bacon, sharp cheddar, and boiled eggs, topped with a creamy, sweet, and sour dressing.
Unlike most salads, it is not tossed together but layered beautifully in a clear trifle bowl (like a trifle).
Why you'll love this recipe
Customizable. You can make the OG salad with the classic ingredients or make it your own by tweaking the layers to your liking.
Make ahead. Like our chicken salad with grapes, I often assemble the salad the night before. It keeps well in the fridge overnight.
Textures. Can we take a moment to appreciate the soft, crunchy, crispy, and bitey textures in the salad?
Refreshing. Just like a shrimp salad, this salad is a savior, especially during summer when you run away from hot and hearty meals. Each bite is a small party in your mouth.
What I love about this salad is how beautiful the presentation is! It is neat, organized, vibrant, and tasty, all at the same time.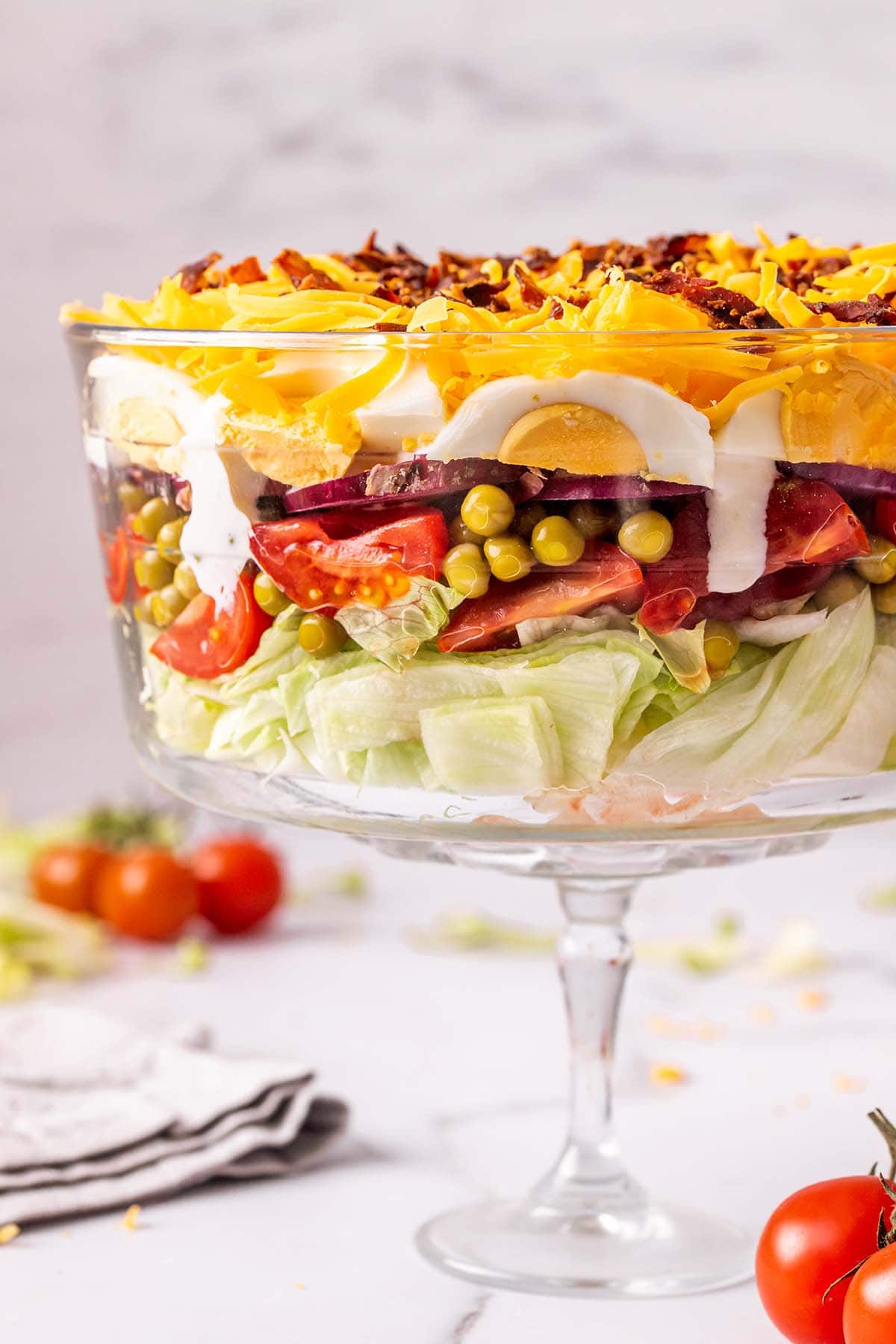 Ingredients Needed
You only need seven ingredients for the seven layers and a handful more to make a delicious dressing. Here's what you'll need:
Iceberg lettuce. Remove the wilted leaves and the top layer of the lettuce head and chop or tear it into bite-sized pieces. Rinse thoroughly and dry well before layering.
Cherry tomatoes. I love using fresh cherry tomatoes in all my salads because they are so flavorful. Cut your tomatoes into halves for this recipe.
Green peas. I make this salad with frozen peas as they are readily available. Use small, tender peas as they tend to have more flavor.
Red onion. Slice up a red onion real nice and use it in this salad.
Eggs. You'll need hard-boiled eggs for this recipe. Use cold or chilled eggs.
Cheddar cheese. You'll need strong, shredded cheese for the perfect flavor.
Fried bacon. Make it crispy.
Salt. To season.
Garlic powder. For the nutty, bold, garlicky flavor.
Mayonnaise. Make one at home using a simple recipe. Serves as the base for the dressing.
Greek yogurt. Go for an unsweetened, regular Greek yogurt for this recipe.
Sugar. Use brown sugar to sweeten the salad slightly.
Apple cider vinegar. To make a tangy dressing. You can also use fresh lemon juice instead.
How to make the prettiest 7-layer salad?
The prep can seem overwhelming, but this salad is worth the effort. And once you have all your components at hand, all you need to do is layer!
Step 1- Make the dressing
Mix mayonnaise, Greek yogurt, vinegar, sugar, salt, and garlic powder in a bowl until smooth.
Step 2- Layer the salad
Start with lettuce, and top it with tomatoes, green peas, and onions. Arrange the eggs and pour the dressing over it.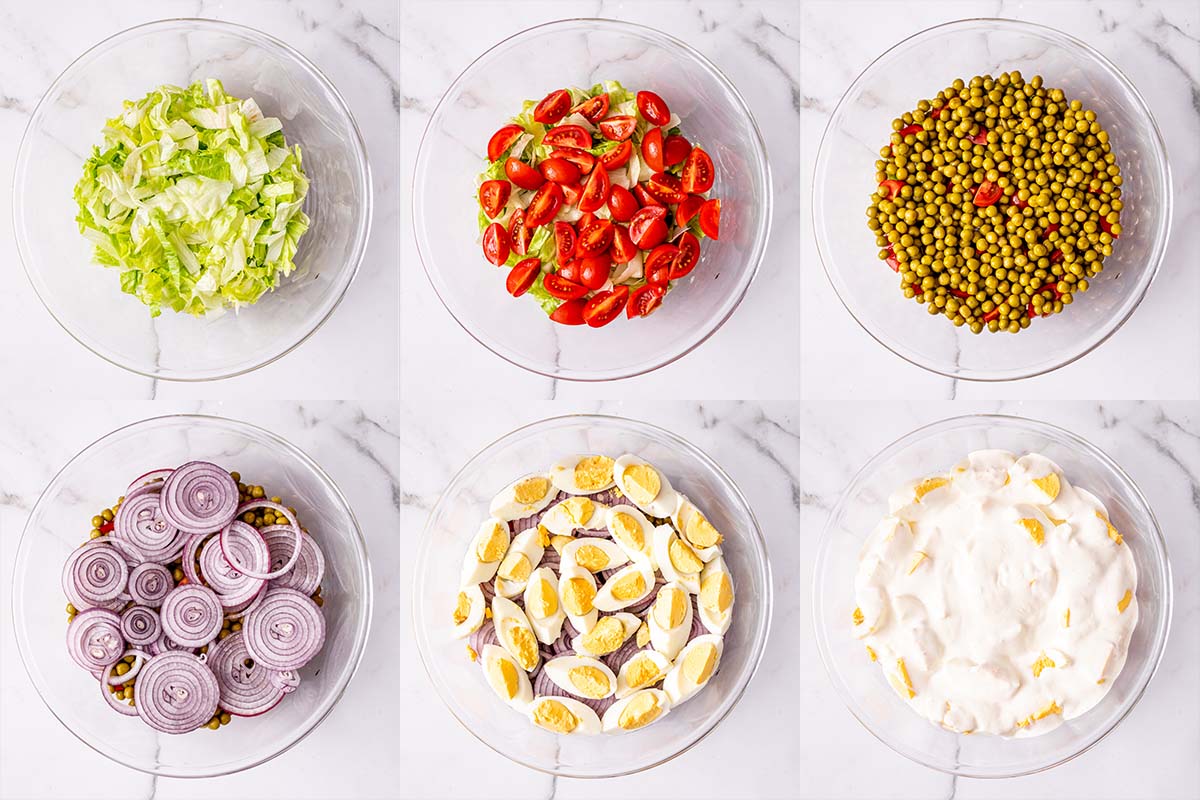 Step 3- Add the toppings and serve
Finish the salad by topping it with bacon and cheese, and serve!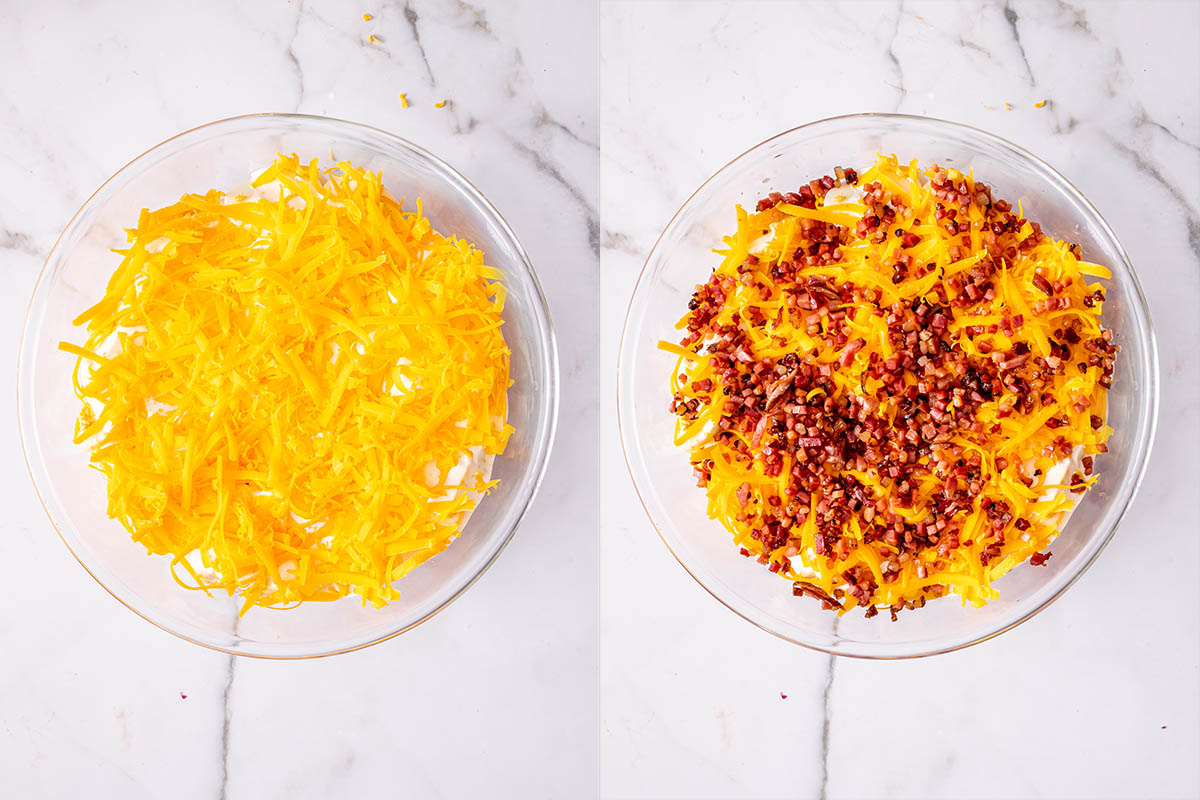 Tips to make the best recipe
Use chilled eggs. Hot eggs don't sit well in this salad, so always use cold, hard-boiled eggs.
Adjust the layer sizes. Depending on the size of your bowl, use as much of each ingredient as you wish to make the layers.
Make it vegetarian. If you find plant-based bacon, substitute the fried bacon with it.
Use a deep spoon. Use a deep spoon to get all layers in each serving.
Keep lettuce and dressing apart. To prevent the lettuce from getting soggy, maintain the layer order as suggested in the recipe.
Flavor variations
Use your leftover veggies. If you have any leftover vegetables in the fridge, like diced bell peppers, cucumbers, corn, celery, carrots, radish, or shredded cabbage, you can add them to this salad.
Make it healthier. Instead of using both mayonnaise and Greek yogurt, use only high-protein Greek yogurt in the recipe.
Also, you can substitute bacon with healthier turkey bacon and skip the cheese. You can substitute iceberg lettuce with a more fibrous Romaine lettuce or baby spinach.
Dressing variation. Add some parmesan or ranch seasoning to the mayo-Greek yogurt dressing. You can also use one of my many low-carb dressings.
Storage instructions
To store. In my experience, a one-day-old salad tastes way better than a fresh one. This salad keeps well for 3-4 days when stored covered in the refrigerator.
I do not recommend freezing this salad.
What to serve with a 7-layer salad?
Pair it with a chicken dish like baked chicken thighs and air-fryer chicken breast.
If I'm serving it during grilling season, I often serve it next to burgers, garlic parmesan wings, chili, or lamb kabobs.
Recommended tools to make this recipe
Whisk. Make a smooth dressing with this light and ergonomic whisk.
Trifle bowl. This is a kitchen must-have for a trifle or this beautiful salad.
Tongs. To serve.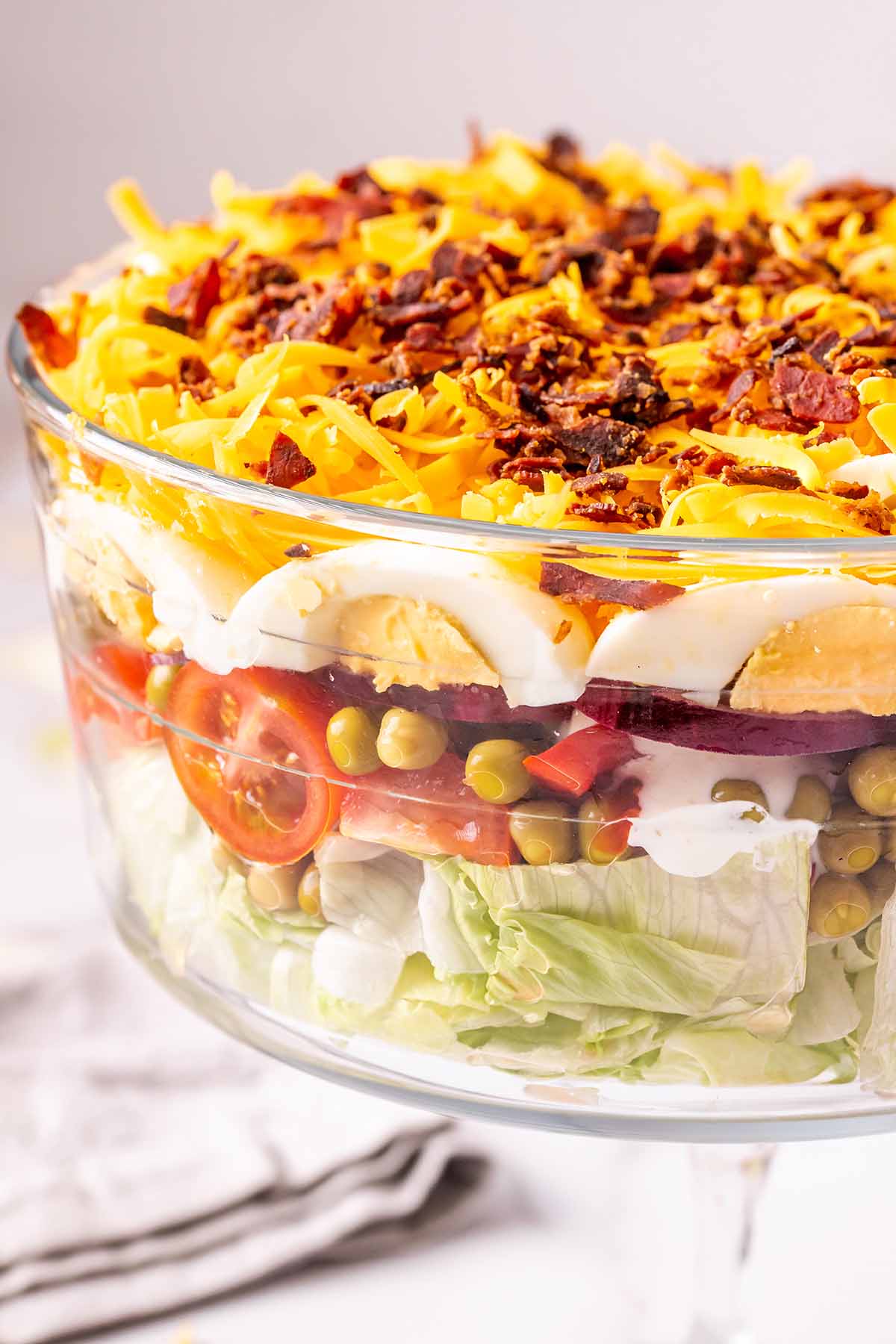 More salad recipes to try
Frequently asked questions
I don't have a trifle bowl. What can I use to assemble it?
You can layer the salad with a deep glass casserole (9×13-inch).
Can I make it vegan?
Sure, you can! Use a plant-based Greek yogurt, skip the bacon, and substitute cheese and mayonnaise with dairy-free versions.
Can I make a mini version of this salad?
Use a smaller bowl or mason jar to create a smaller version of this layered salad. Reduce the ingredient amounts according to your requirement, and make tiny 7-layer salad portions.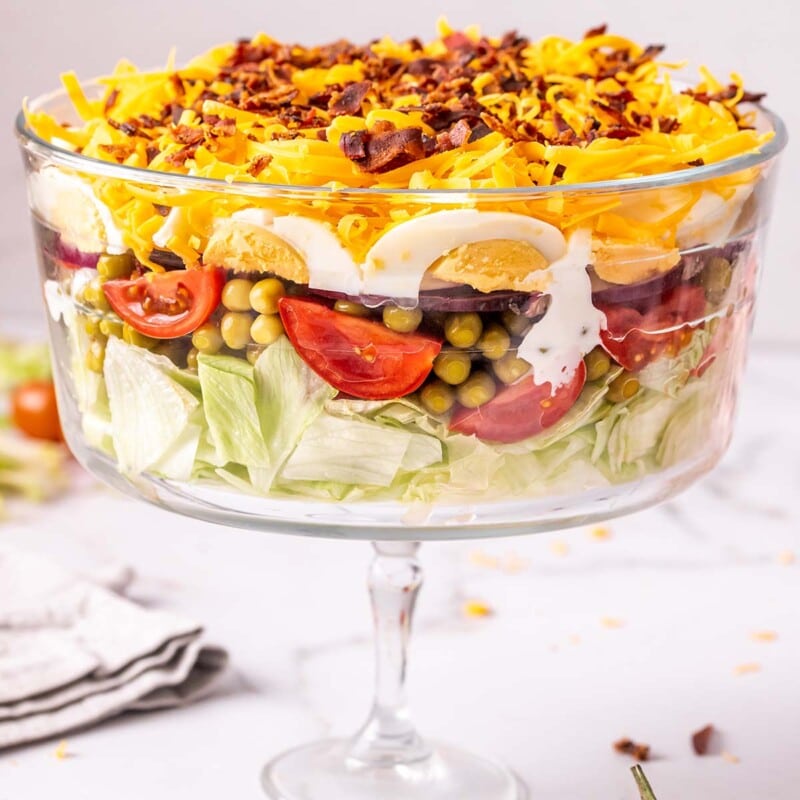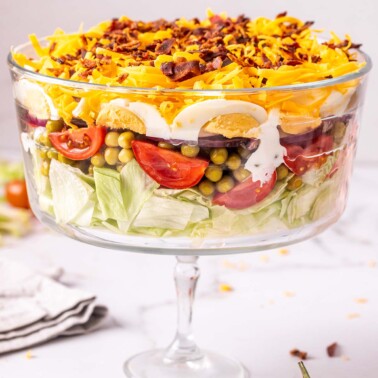 7 Layer Salad
This 7-layer salad is an absolute crowd-pleasing recipe, featuring layers of crunchy veggies, crispy bacon, eggs, and intense cheese in a creamy mayo topping.
Ingredients
1

cup

mayonnaise

3/4

cup

Greek yogurt

2

teaspoons

brown sugar

2

teaspoons

apple cider vinegar

1

teaspoon

salt

1

small

iceberg lettuce

1

cup

grape tomatoes

1

cup

green peas

1

large

red onion

sliced

6

large

hard boiled eggs

quartered

1 1/2

cups

cheddar cheese

shredded

1/2

cup

bacon

fried and chopped
Instructions
Make the dressing by whisking together mayonnaise, greek yogurt, sugar, vinegar, salt, and garlic.

Place lettuce in the bottom of the trifle bowl. Top with tomatoes, followed by green peas and onions.

Place eggs around the bowl and pour the dressing over the salad. Finally, top the salad with cheese and bacon and serve.
Notes
TO STORE. In my experience, a one-day-old salad tastes way better than a fresh one. This salad keeps well for 3-4 days when stored covered in the refrigerator.
Nutrition
Serving:
1
serving
Calories:
251
kcal
Carbohydrates:
9
g
Protein:
15
g
Fat:
17
g
Sodium:
587
mg
Potassium:
287
mg
Fiber:
2
g
Vitamin A:
911
IU
Vitamin C:
12
mg
Calcium:
208
mg
Iron:
1
mg
NET CARBS:
7
g
Disclosure: This post may contain affiliate links. I may earn a small commission for my endorsement, recommendation, testimonial, and/or link to any products or services from this website.