Picanha steak is a Brazilian steakhouse specialty! This underrated, juicy, and flavorful cut of beef is perfect for grilling and tastes naturally mouthwatering.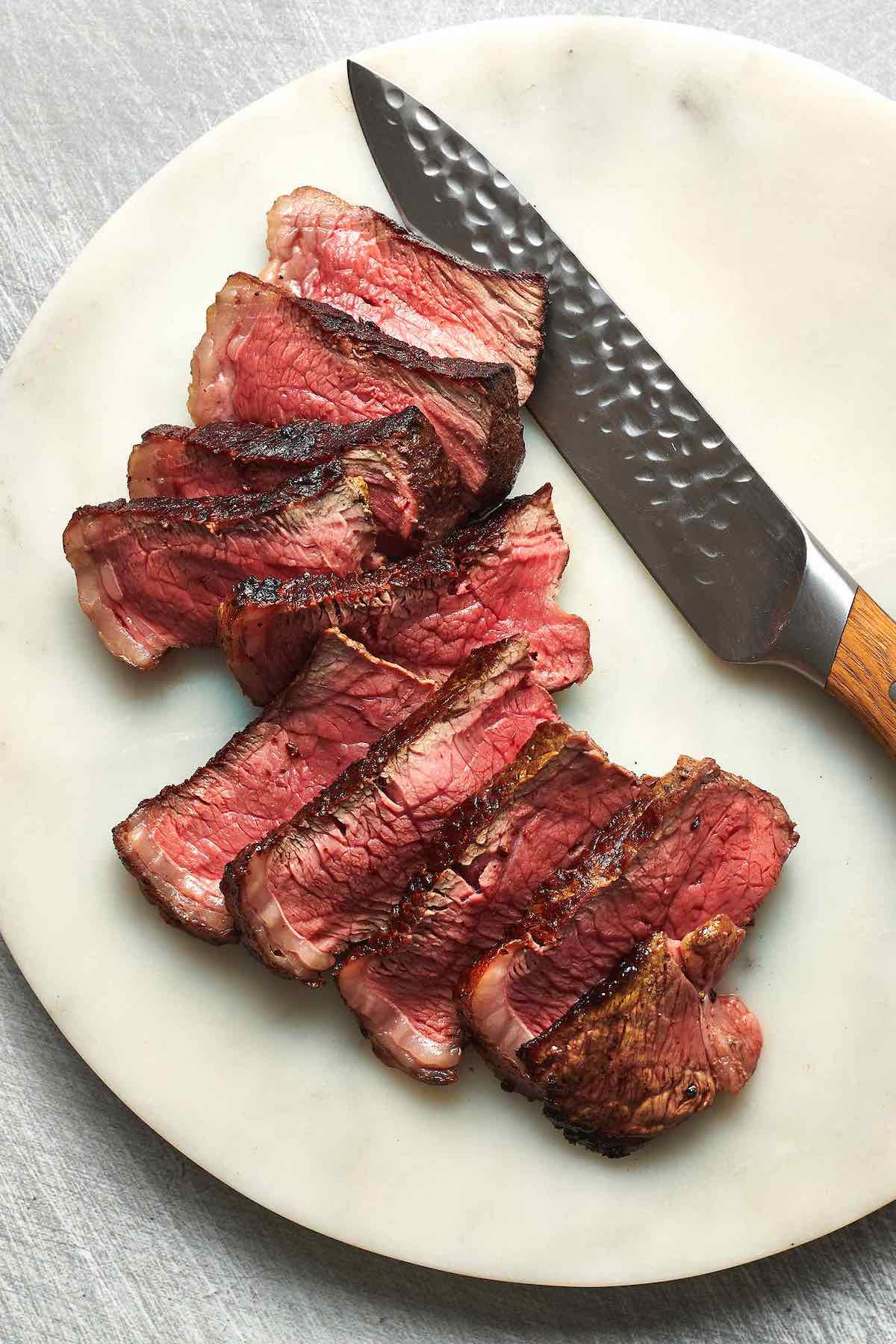 Unless you're in Brazil, you likely haven't seen picanha steak in your local supermarket. But if you can get your hands on one from a butcher or meat counter, you won't be disappointed with the taste or the price tag!
Also known as top sirloin cap, churrasco, rump cover, rump cap, or coulotte, this unique steak is fantastic, even with a light seasoning of salt and pepper. It's grilled on long skewers until tender and juicy, then served with vibrant, flavorful sides. You'll love this budget-friendly cut of beef!
What is picanha?
Picanha steak is very popular in Brazil, and for a good reason. It's a triangular steak cut from the top of the rump muscle and is left with a thick layer of fat.
Because of this, the picanha cut is excellent on the grill. The layer of fat melts into the meat, resulting in naturally succulent bites with a rich and meaty flavor. Imagine the texture and taste of sirloin enhanced with the richness and marbled fat of ribeye. Yum!
Why you'll love this recipe
What I love most about this picanha steak recipe is that it doesn't involve marinating or any complicated seasonings. Instead, you can enjoy this beautifully marbled hunk of beef in all its glory with only salt and pepper and a hot grill.
Best bang for your buck. This downright delicious slab of skewered grilled meat is a great way to impress your backyard barbecue guests without breaking the bank.
Great on the grill. Similar to arrachera, when seared on a sizzling hot grill, the fat cap melts throughout the steak, bringing moisture and irresistible flavor to every bite.
Very little prep work. Like Denver steak, the picanha cut doesn't need much TLC before cooking. All you need to do is season it with salt and pepper, skewer it, and throw it on the grill.
You only need a short list of ingredients to make this impressive meal. True to traditional Brazilian picanha steak recipes, this is all you'll need:
Picanha beef. This sirloin cap is usually between 6 to 14 ounces. For this recipe, you'll want to cut the steak into three or four equal-sized portions so they're easy to thread onto skewers.
Salt and black pepper. Stick with kosher or flaky sea salt and freshly cracked pepper. If you want to infuse even more flavor, season the beef with cumin, garlic powder, paprika, and chili powder as well.
Oil. To prevent the steak from sticking to the grill grates.
Butter. To help develop a tasty, caramelized crust on the exterior of the steaks.
How to grill picanha steak
You can cook sirloin cap steak using the reverse sear, sous vide, or air fryer methods. However, grilling is the best way to cook an incredibly tender and juicy picanha steak. Here's how it's done:
Step 1 – Cut the whole steak
Place the whole steak on a cutting board, fat-side down. Cut it with the grain into three or four smaller steaks.
Step 2 – Season the steaks
Bring the steaks to room temperature, then pat them dry and season both sides with salt and pepper.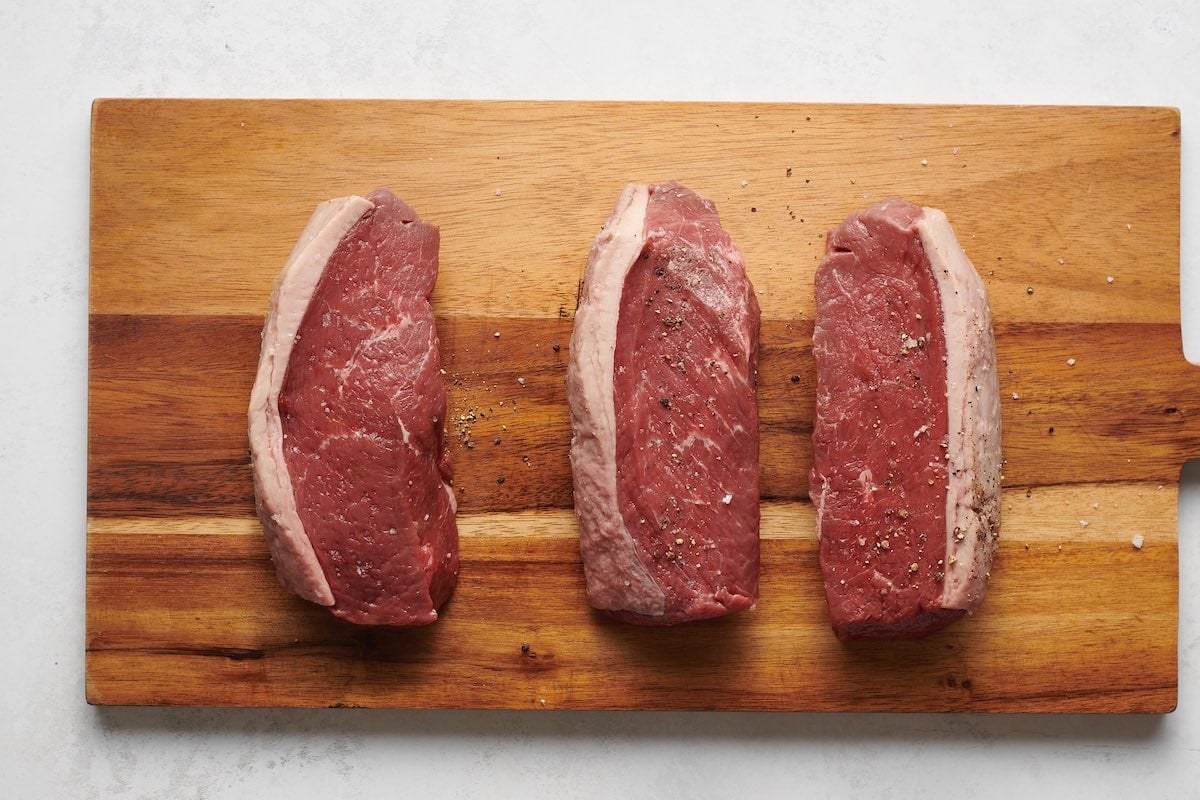 Step 3 – Skewer the steaks
Gently bend the steaks in half, making a C-shape, and thread them onto a large metal skewer or two smaller ones.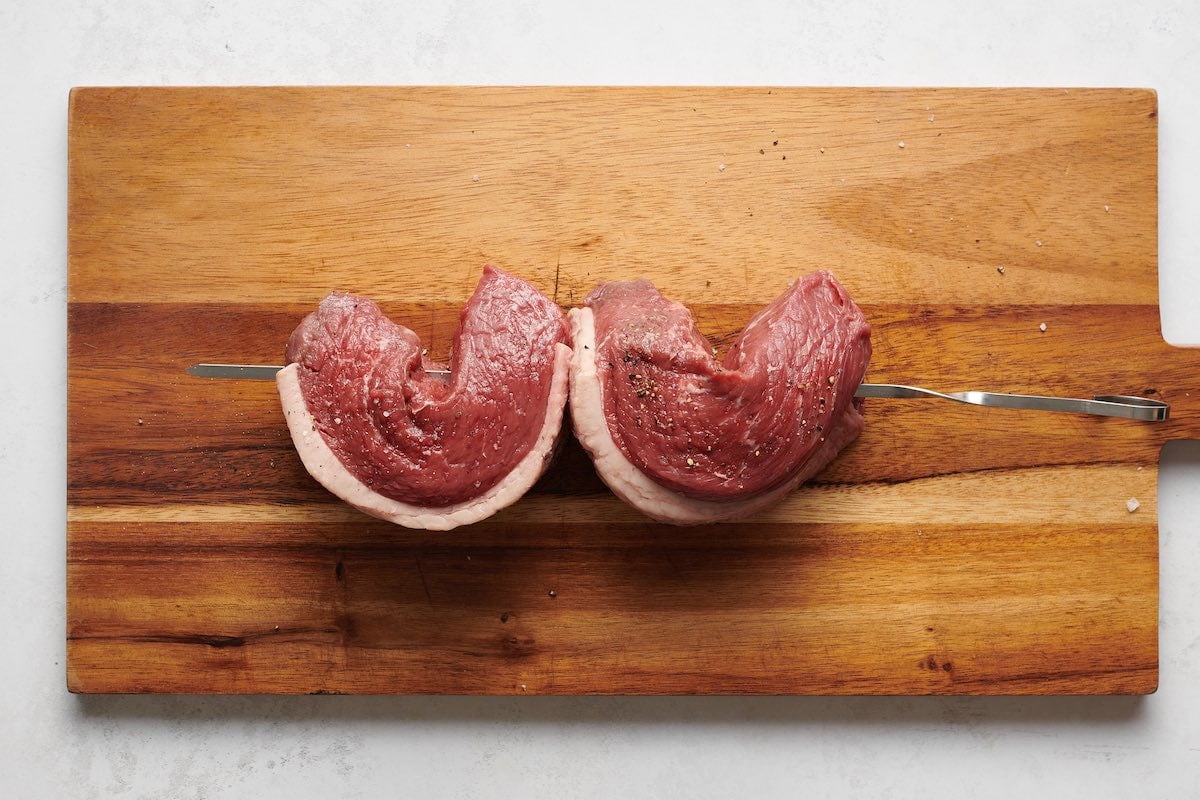 Step 4 – Grill the steaks
Brush the preheated grill grates with oil and butter (you can also use a gas grill or charcoal grill). Place the skewered steaks on the hot grill, cover, and cook until the meat reaches an internal temperature of 130ºF (medium-rare).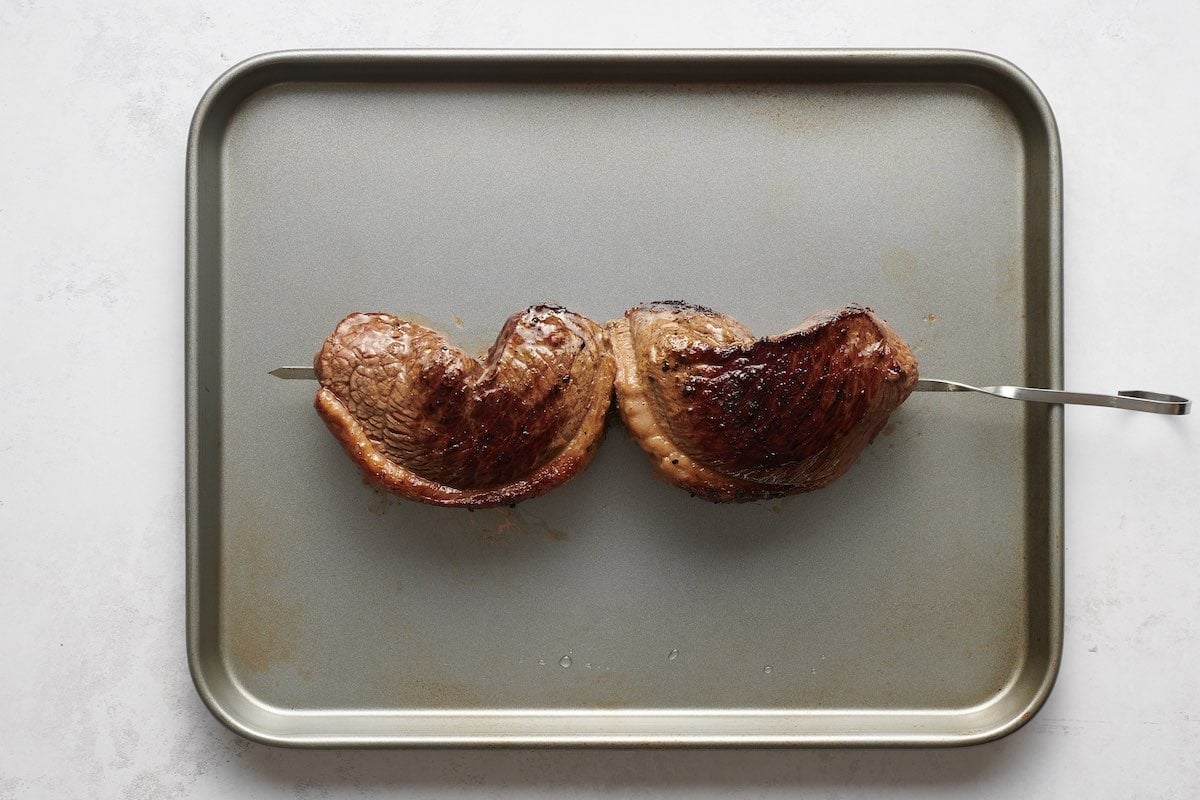 Remove from the grill, let the steaks rest, slice it with a sharp knife, then enjoy!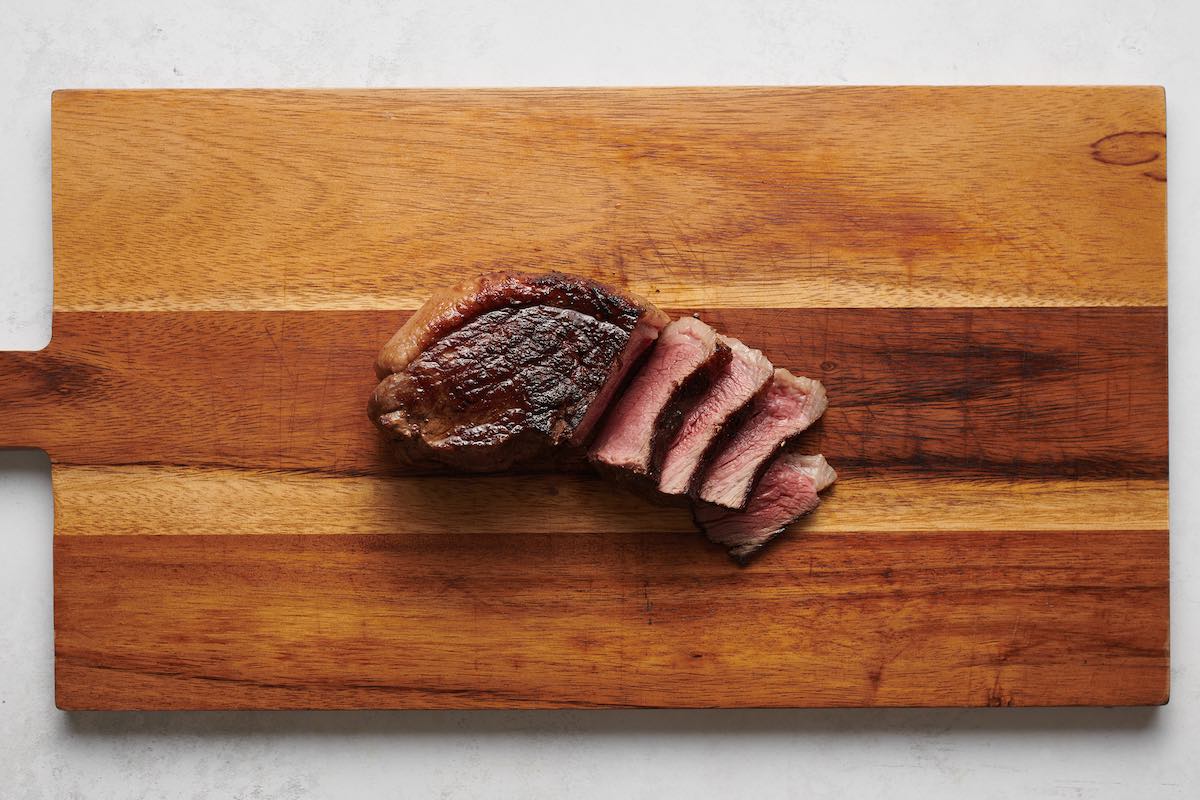 Let the steaks rest on the kitchen counter for 20 to 30 minutes before grilling. This gives them plenty of time to come down to room temperature and will help them cook more evenly.
Do not cut off the layer of fat! This is what gives sirloin cap steak its rich, meaty flavor.
Like London broil, picanha steak is best cooked between medium rare and medium. Remember that the internal temperature of the meat will continue to rise as it rests, so it's best to take it off the grill when it's 5 degrees away from your desired doneness (check it using a meat thermometer).
The grilling time will vary depending on the thickness of the steak. In this recipe, each steak takes between 18 to 25 minutes to achieve a perfect medium-rare.
Transfer the grilled steaks to a cutting board for at least 10 minutes before slicing. During this time, all of the juices absorb back into the meat, resulting in a much tastier steak.
You can use a cast-iron skillet if you don't have a grill but need one that is big enough to hold the meat.
What to serve with this steak
For a Brazilian steakhouse-inspired feast, serve this cut of meat with sides like Brazilian cheese bread, rice, refried beans, chimichurri sauce, collard greens, and deep-fried bananas. It also goes well with any of these sides:
Storage instructions
To store: Store any leftover steak in an airtight container in the fridge for 2 to 3 days.
To freeze: You can freeze the cooked and cooled steak in a freezer-safe container or ziplock bag for up to 3 months. Let it thaw in the fridge before reheating.
To reheat: The best way to reheat the leftover cooked sirloin cap is in the oven at 275ºF until the internal temperature reaches 100ºF to 110ºF.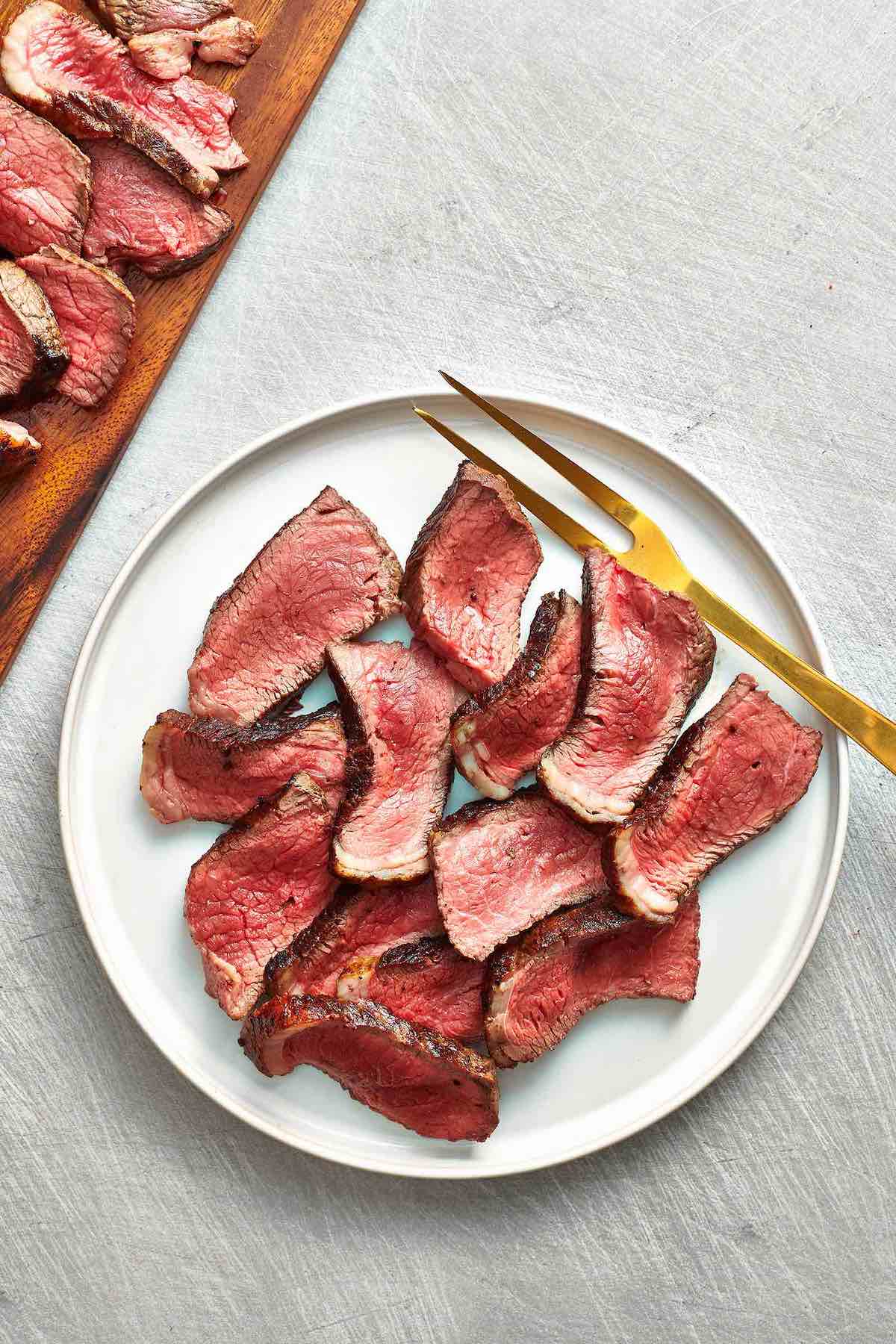 Where can you buy picanha steak?
This cut can be harder to find in North America because the fat cap is often trimmed or removed to make more common cuts like the rump, round, and loin. Ask your butcher to leave the fat cap intact or check your local Latin market. If all else fails, try ordering it online.
What should you look for when buying picanha steak?
Like any good steak, the key factors are freshness, fat marbling, color, and texture. The steak should be firm, appear dry, and have a deep red color with an opaque fat cap and consistent marbling. 
What cut of steak is the best substitute for picanha?
While tri-tip steak is cut from a different area (the tri-top comes from the bottom sirloin, and the picanha comes from the top round), it is an excellent substitute because of its similar fat cap and marbling.
More steak recipes to try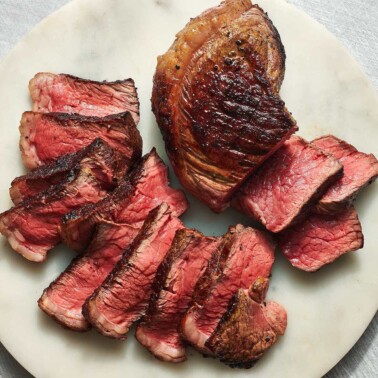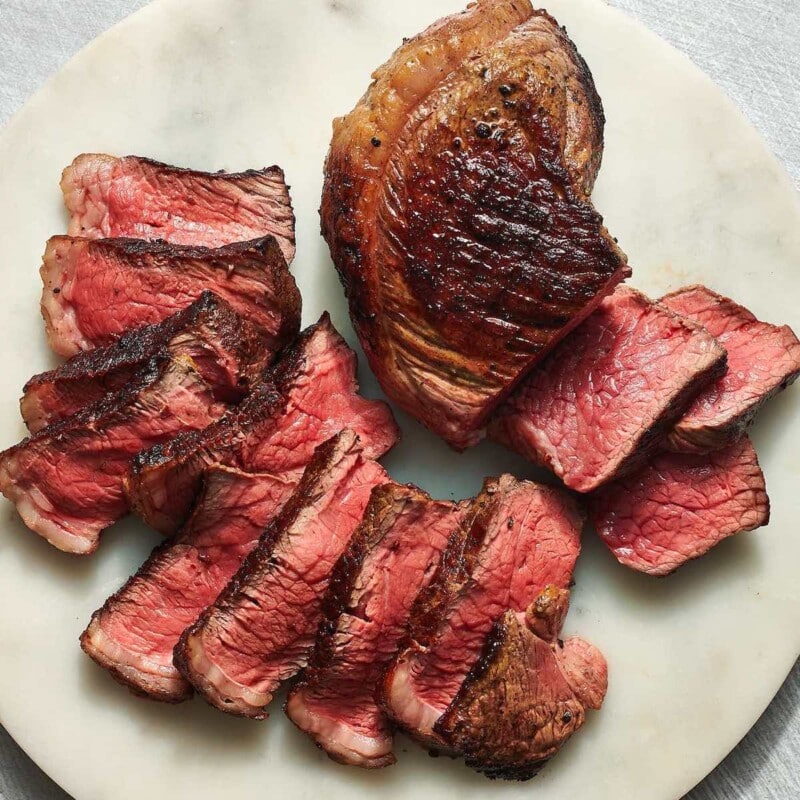 Picanha Recipe
This picanha recipe is easy to follow and sure to impress. Learn how to season and grill this flavorful Brazilian cut of beef to perfection and enjoy every juicy, tender bite.
Ingredients
Instructions
Bring your steak to room temperature. Divide them into 3 or 4 portions.

Pat dry the steaks and season both sides with salt and pepper, rubbing them into the fat.

On a large or two smaller metal skewers, curve the steaks into a C shape on top.

Preheat the grill to high and bush oil and butter over it. 

Lay the skewered steak on the grill and cook the steaks, covered, for 18-20 minutes, turning every 5 minutes. Once the meat reaches an internal temperature of 130F, remove it from the grill.

Let the meat rest for several minutes before slicing and serving.
Nutrition
Serving:
1
serving
Calories:
260
kcal
Carbohydrates:
0.1
g
Protein:
38
g
Fat:
11
g
Sodium:
252
mg
Potassium:
609
mg
Fiber:
0.03
g
Vitamin A:
44
IU
Calcium:
38
mg
Iron:
3
mg
Disclosure: This post may contain affiliate links. I may earn a small commission for my endorsement, recommendation, testimonial, and/or link to any products or services from this website.