Denver Steak is a well-marbled and budget-friendly cut of beef. Its naturally beefy and tender flavors are enhanced with a simple marinade, then grilled to melt-in-your-mouth perfection!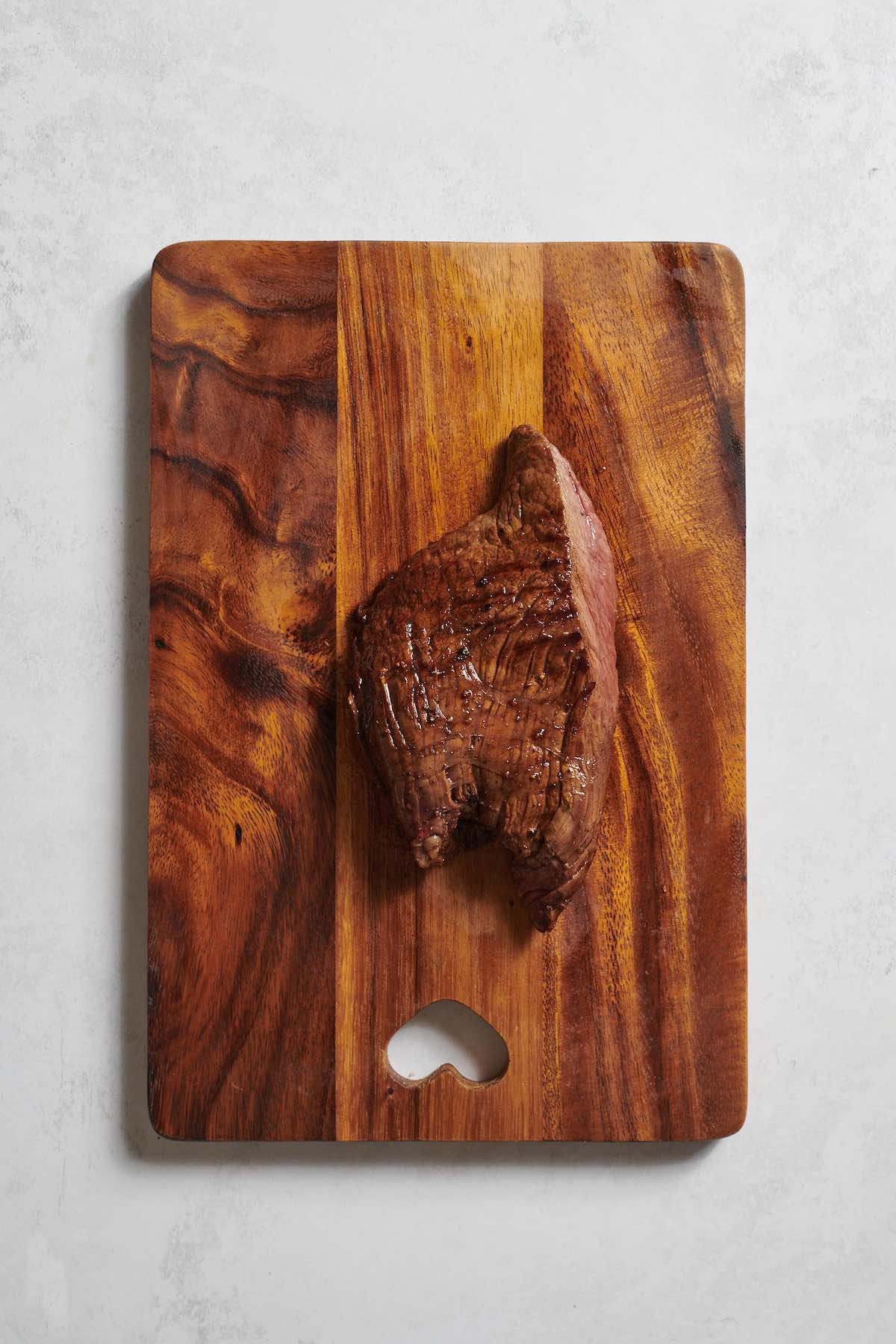 Grilled steak for dinner, like a huge Tomahawk or sliced skirt steak, is never a bad idea! But when you want to indulge in restaurant-quality flavors without breaking your budget, stick with this Denver steak recipe. It's a thick, beautifully marbled piece of meat that's soaked in a well-balanced, umami-forward marinade before it's seared to tender, juicy perfection on the grill.
What is Denver steak?
Denver steak is an underrated cut of meat. It's cut from the serratus ventralis muscle, located in the beef chuck area underneath the shoulder blade bone. It's surprisingly tender and well-marbled with fat, unlike many of the other muscles in the same area.
Why this recipe works
I love how naturally flavorful this cut of steak is! All of its marbled fat makes it perfect for grilling and the reverse sear method. A simple marinade made from 6 ingredients takes it over the top!
Best bang for your buck. Similar to picanha, Denver steak is a great option when you want to give your guests an impressive meal without having to break the bank. It's marbled with fat and thick, just like a ribeye and strip steak, but available at a fraction of the cost.
Great for grilling. As the steaks grill, the fat melts throughout the meat, providing every bite with moisture and flavor. To enhance these natural flavors, the steak soaks up a simple marinade before it's seared on the grill.
Juicy and tender. Like London broil, this steak's tenderness and low price may seem too good to be true but believe it! Simply put, marinated and grilled Denver steaks are downright delicious!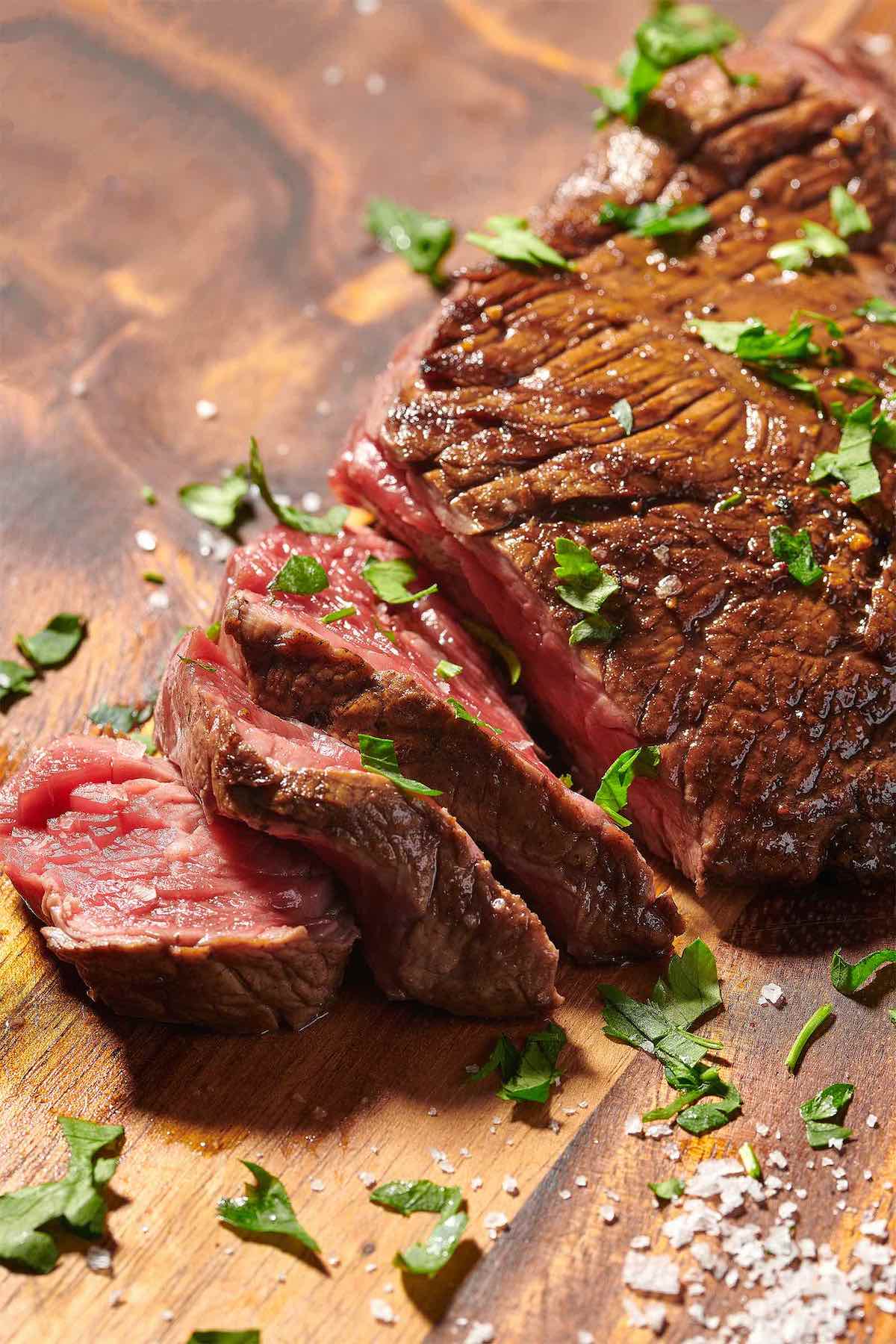 This Denver steak recipe is elevated with a simple marinade made from a handful of kitchen staples. Here are the ingredients you need:
Denver steak. These steaks are typically around 1 inch thick and weigh between 12 and 14 ounces, which should be enough for at least two servings. You can cut the steak in half before grilling or slice it against the grain after it's cooked and rested. If frozen, allow the steaks to thaw in the fridge overnight before grilling.
Denver steak substitute
Can't find Denver steaks? You can use flank, ribeye, or sirloin steaks instead!
Olive oil. This is the flavorful base of the marinade.
Balsamic vinegar. The acidity in balsamic vinegar gently breaks down the protein and fat fibers, giving you a more tender and juicy steak. It also infuses the meat with a subtle sweetness.
Worcestershire sauce. This is a flavorful condiment that's typically made with vinegar, molasses, salt, tamarind paste, and anchovies.
Substitution idea
If you don't have Worcestershire sauce at home, you can use soy sauce instead. Tamari and coconut aminos will also work as gluten free alternatives.
Garlic. Freshly minced garlic cloves are best. Garlic powder will not work as well.
Dried thyme. For an earthy, almost citrusy element in the marinade. You can use fresh thyme instead, but the flavor isn't as concentrated, so you'll need double the amount.
Salt and pepper. To season the meat before it hits the grill.
How to grill Denver steak
Grilling is the easiest and fastest way to cook up an incredibly tender Denver steak. Follow these step-by-step instructions to learn how it's done:
Step 1 – Marinate the steak
Whisk the olive oil, balsamic vinegar, Worcestershire sauce, garlic, and thyme in a small bowl. Place the steak in a larger bowl and pour the marinade over the top. Leave it to marinate.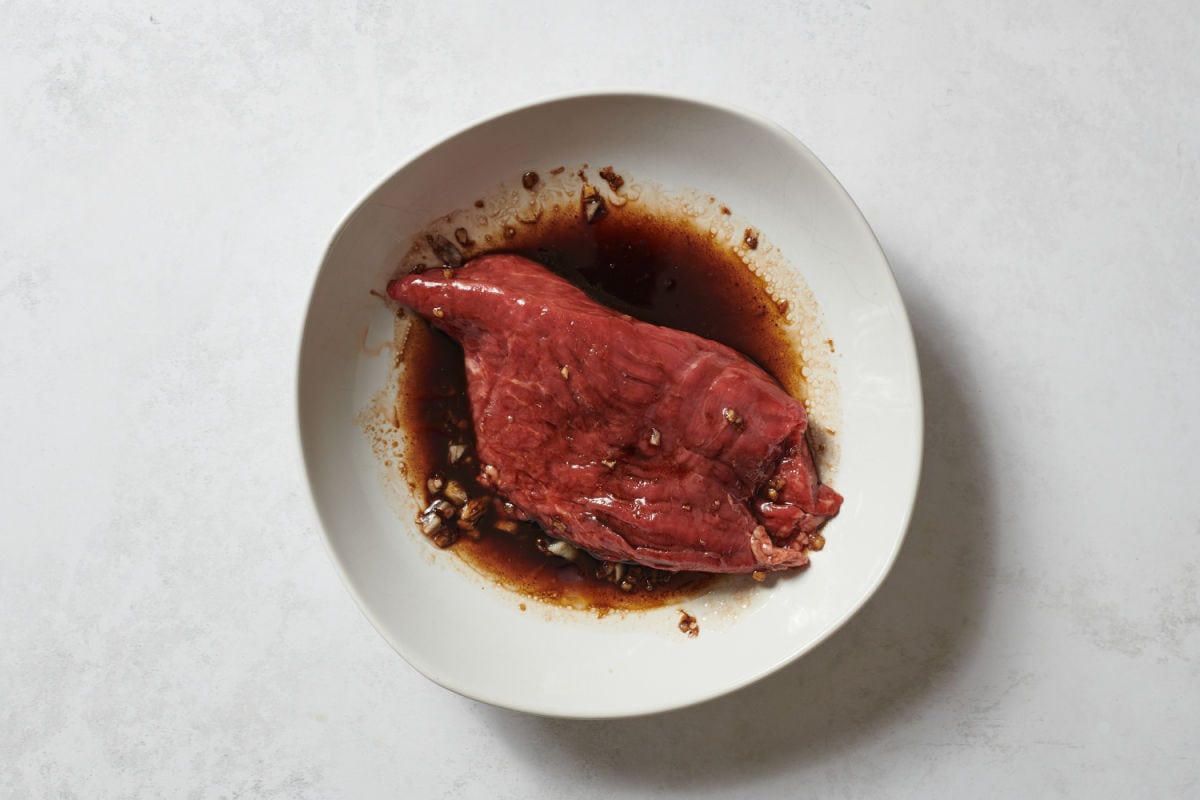 Step 2 – Season the steak
Take the steak out of the marinade and season both sides with salt and pepper.
Step 3 – Grill
Place the steak on a hot grill and cook until it's lightly charred on both sides and the internal temperature reaches your preferred doneness (see the temperature chart below).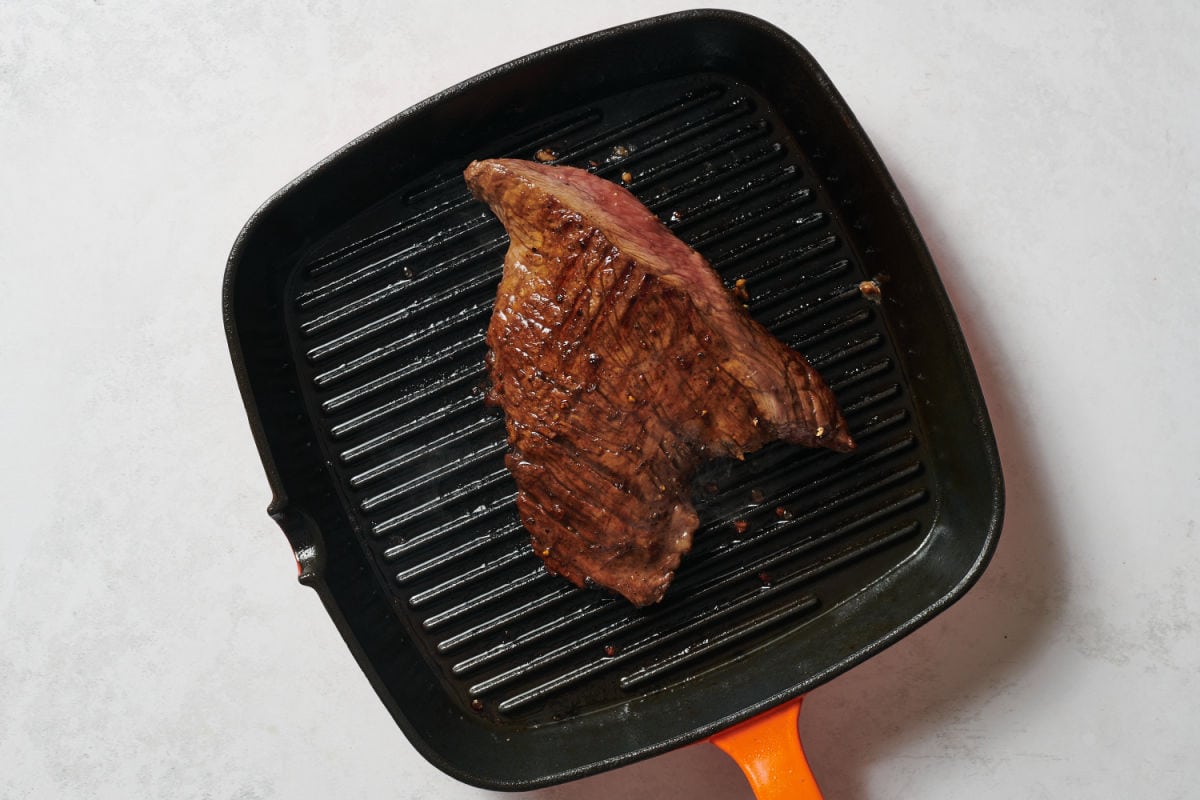 Step 4 – Rest, then serve
Let the steak rest off of the heat, then slice and serve!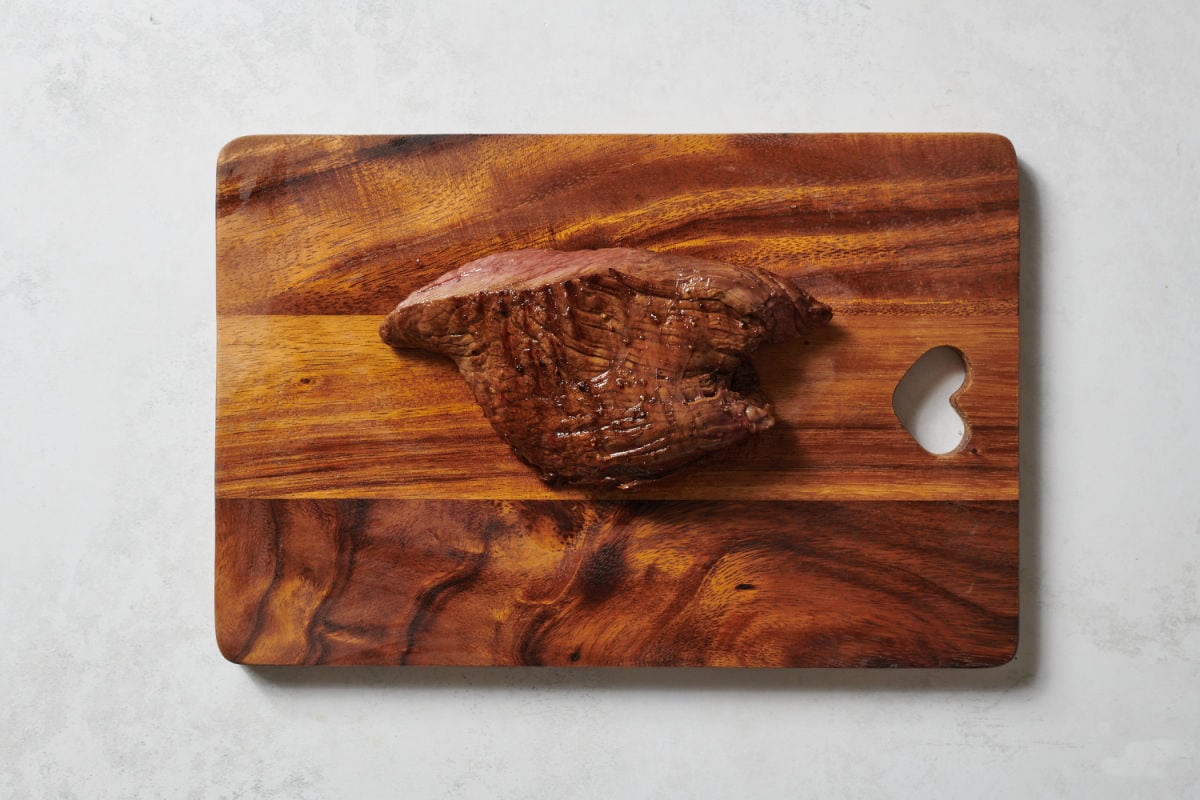 Denver steak cooking temperatures
a meat thermometer and this cooking temperatures guide:
Rare – 120ºF
Medium rare – 130ºF
Medium – 135ºF
Medium-well – 140ºF
Well-done – 150ºF
Remember that the steak will continue to come up to temperature as it's resting. Take it off of the grill when it's 5 degrees away from your desired doneness.
Marinade variations
Feel free to switch it up! Here are a few of the many flavorful marinades you could try:
What to serve with this steak
Classic barbecue sides, like German or Japanese potato salad, pasta salad, corn-on-the-cob, and grilled vegetables, are fantastic next to a grilled Denver steak.
You can get even fancier by serving it with steakhouse-inspired sides, like cauliflower mashed potatoes, asparagus, baked sweet potato, roasted brussels sprouts, carrots, wedge salads, and mushrooms instead.
As with any steak recipe, remember to take the steaks out of the fridge and set them on the kitchen counter for 30 minutes before cooking. This way, they'll come down to room temperature and grill evenly.
Make sure the grill grates are hot and preheated to 450°F to 500°F before laying the steaks down. The meat should sizzle when it hits the grates!
Always let the steaks rest for 5 to 10 minutes after cooking. This allows all of the natural juices to soak back into the meat, resulting in a much more tender and flavorful steak.
To store. Keep leftovers in an airtight container in the refrigerator for 3 to 4 days.
To freeze. Let cool, then freeze the leftover steak in a container or ziplock bag for 2 to 3 months.
To reheat. The best way to reheat steak without drying it out is to heat it in a 250ºF oven until the internal temperature reaches 110ºF. Heating in a covered pan on the stove also works well.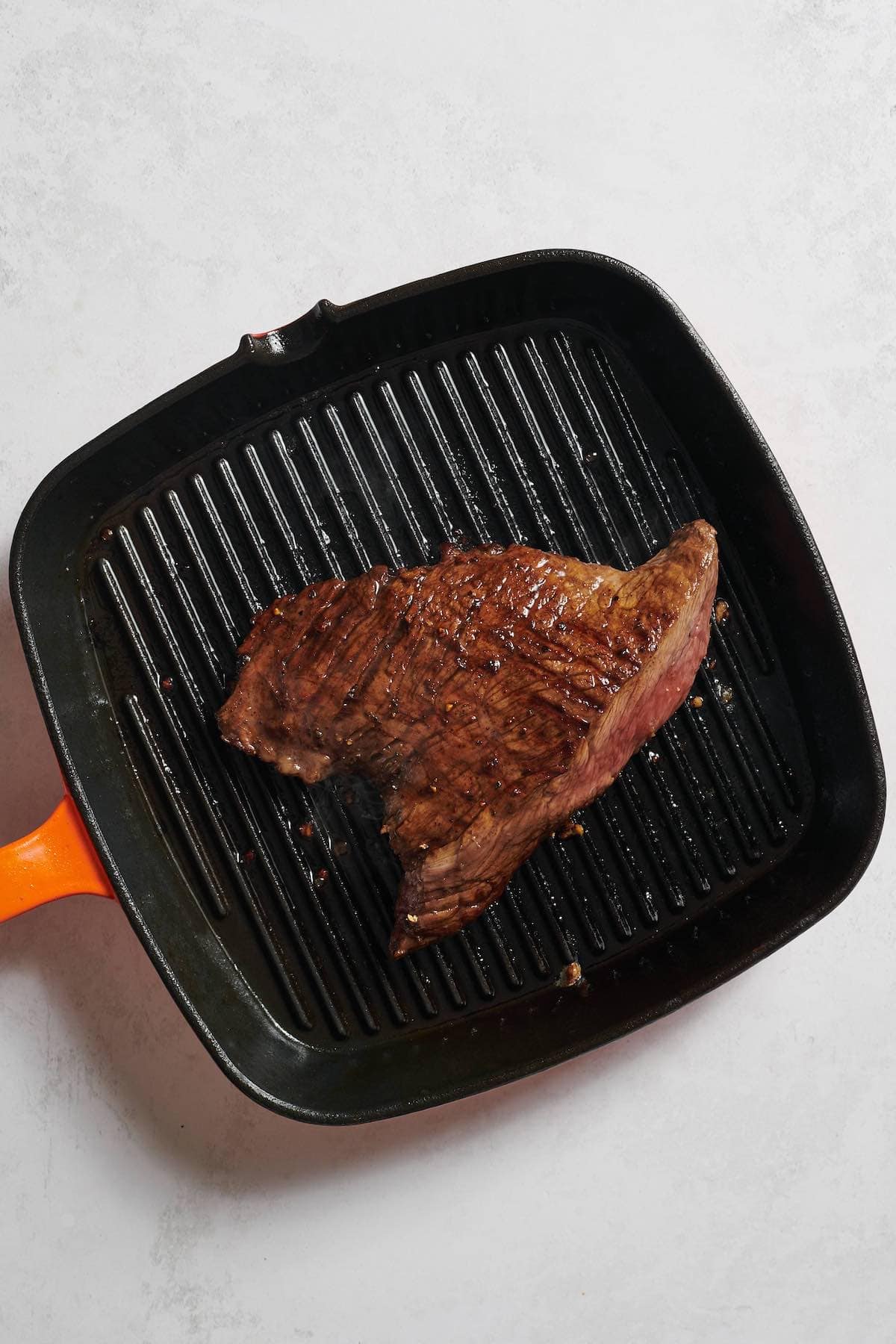 More steak recipes to try
How long should Denver steak be marinated?
You can soak this tender cut of steak for as little as 5 minutes or up to 24 hours. Any longer and the acid in the marinade will break down the protein and fat fibers, making the meat mushy.  
Can I cook this steak in a pan instead of on the grill?
After marinating, heat a large skillet over medium-high heat. Once the pan is hot, add the steak and cook to your desired doneness, flipping once during the process. 
Where can you buy Denver steak?
You may not find this cut in your everyday grocery store, but it should be available in local butcher shops. You can also buy them online.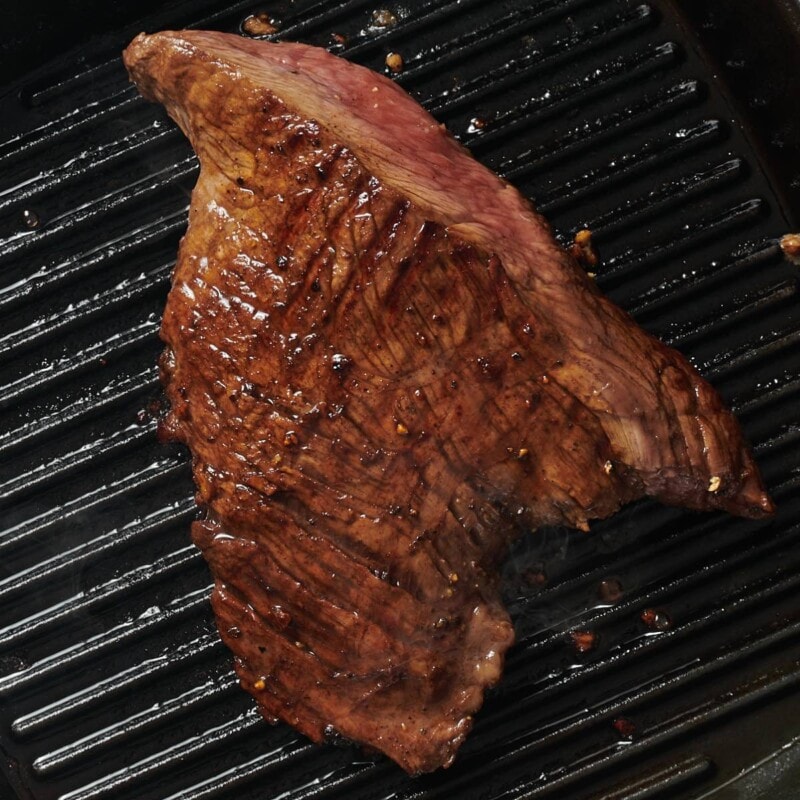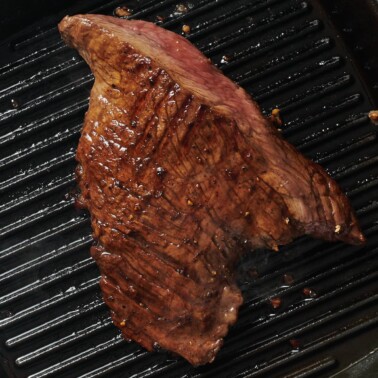 Denver Steak Recipe
Learn how to cook a Denver steak perfectly! This recipe features perfectly juicy and tender steaks with a simple marinade that cooks in just 16 minutes.
Instructions
Whisk together the olive oil, balsamic, Worcestershire sauce, and garlic. 

Add the steak to a bowl and pour the marinade over it. Let it sit for five minutes.

Heat a grill pan or barbecue to medium-high heat. Season the steak with salt and pepper and grill the steak for 8 minutes per side, or until it reaches a medium temperate of 140-145F.

Let the steak rest for 10 minutes before slicing. 
Notes
TO STORE: Keep leftovers in an airtight container in the refrigerator for 3 to 4 days.
TO FREEZE: Let cool, then freeze the leftover steak in a container or ziplock bag for 2 to 3 months. 
TO REHEAT: The best way to reheat steak without drying it out is to heat it in a 250ºF oven until the internal temperature reaches 110ºF. Heating in a covered pan on the stove also works well.
Nutrition
Serving:
1
serving
Calories:
229
kcal
Carbohydrates:
1
g
Protein:
30
g
Fat:
11
g
Sodium:
222
mg
Potassium:
490
mg
Fiber:
0.02
g
Vitamin A:
0.4
IU
Vitamin C:
0.1
mg
Calcium:
32
mg
Iron:
2
mg
NET CARBS:
1
g
Disclosure: This post may contain affiliate links. I may earn a small commission for my endorsement, recommendation, testimonial, and/or link to any products or services from this website.