Take grilling season to the next level with this show-stopping tomahawk steak! It's an out-of-this-world and naturally flavorful, tender, and buttery piece of meat that always leaves you wanting more.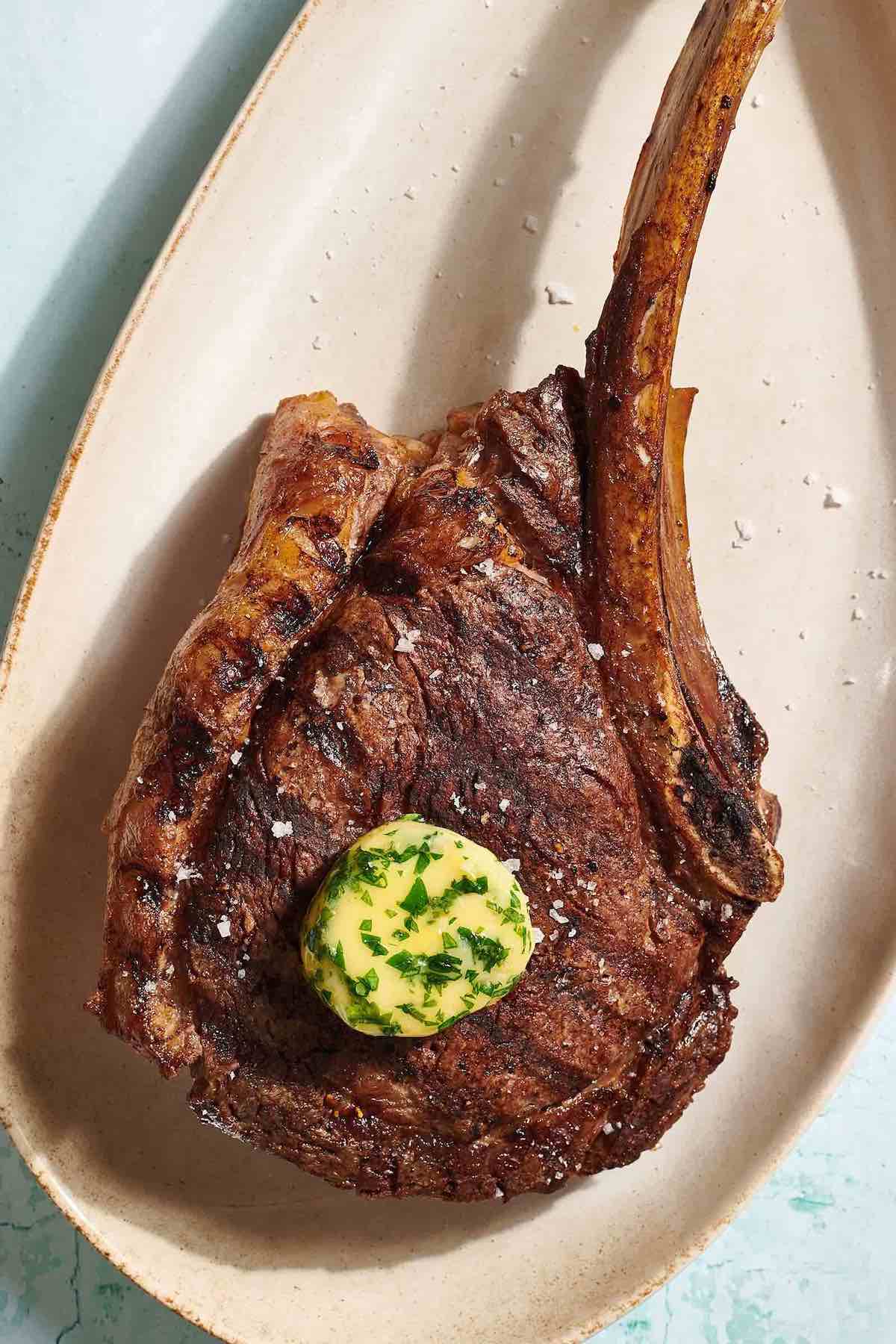 Grilling season is here and it's time to celebrate! Throw all of your favorites onto the hot grill, like grilled swordfish, skirt steak, and sweet potatoes, and indulge in the rich and smoky flavors.
When it's your turn to host the backyard barbecue and you want to make your guests' eyes pop and mouths water, you have to make this tomahawk steak recipe. It's an incredibly thick, tender, and juicy piece of meat that's easy to grill and always leaves you with show-stopping results.
Table of Contents
What is tomahawk steak?
A tomahawk steak is a large bone-in ribeye. This show-stopping cut of meat is typically "frenched", which means a large section of bone has the meat and fat removed (the same is done to lamb chops). The clean piece of bone looks just like a handle, making the entire piece of meat look like a tomahawk axe (hence its fitting name).
Tomahawk steaks are known for being pricier than other cuts because of their impressive presentation, large size, and incredible thickness (they're at least 2 inches thick). They're also just a great cut of meat; a premium tomahawk will be marbled with fat and will have a naturally buttery flavor.
What's the best way to cook a tomahawk steak?
The thickness of a tomahawk steak makes it perfect for both grilling and the reverse sear method. The latter is also a great alternative when it's too cold to grill outside.
Why this recipe works
The best part about this tomahawk steak recipe is that there is no marinade or complicated seasonings required! This cut of beef is flavorful enough, with its natural juices and veins of marbled fat. A dollop of homemade garlic butter is all you need to take it over the top!
A thick cut of meat. With an impressive 2 inches of thickness, tomahawks are ideal for grilling or reverse searing.
Perfect for special events. You can certainly enjoy your beautiful bone-in steak when grilling season rolls around. However, their higher cost makes them a worthy splurge for holidays, celebrations, and special events.
Juicy, marbled, and delicious. You'll fall for this tomahawk recipe with just one bite. The bone and marbled fat add substantially more flavor compared to other cuts. All of this also means it doesn't need many seasonings or a marinade; just dress it in garlic butter and dig in!
No prep needed. Similar to a sirloin tip roast, picanha, or Denver steak, there is barely any prep time so you can cook the meat straight away!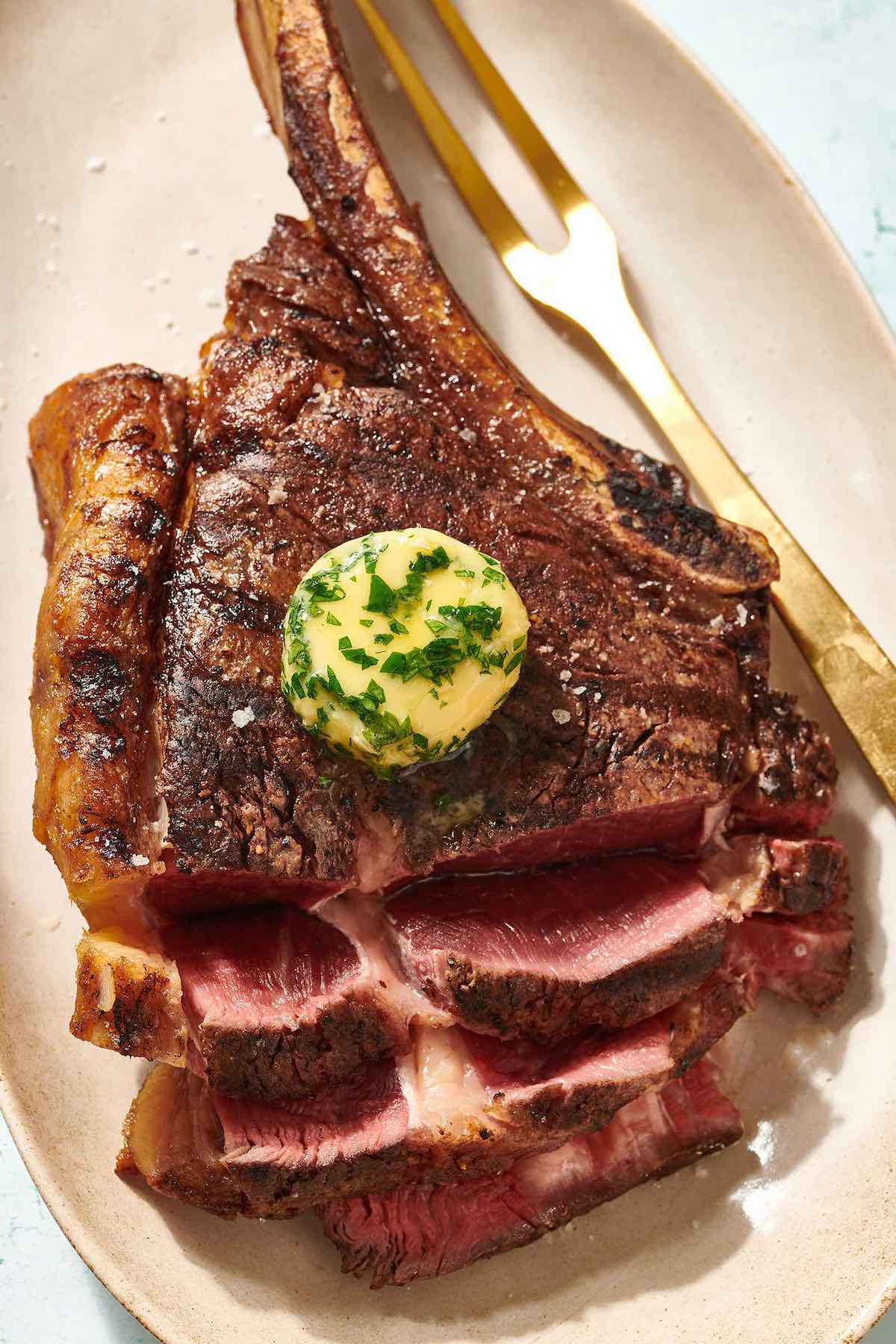 No special ingredients needed. Simple spices are enough to enhance the flavor of the perfectly cooked beef. Here is what you'll need:
Tomahawk steaks. You can either make this recipe with one extra large steak or two large steaks. Frozen steak works too, but let them thaw in the fridge first.
Salt and pepper. Because they're naturally fatty and delicious, tomahawk steak doesn't need many seasonings. Stick to kosher salt and freshly cracked pepper or enhance the smoky flavors by seasoning the meat with steak seasoning, garlic powder, cumin, smoked paprika, or cayenne. Let it marinate for 30 minutes, then grill as normal.
Flaky sea salt and garlic butter. To garnish the steak when it's done cooking. You can easily swap these for chimichurri sauce or compound butter instead.
How to cook a tomahawk steak
I prefer to grill tomahawk steak because it's an easy and faster method than the reverse sear. Here's how to grill a tomahawk steak:
Step 1 – Season the steaks
Pat the steaks very dry with a paper towel before generously seasoning both sides with salt and pepper.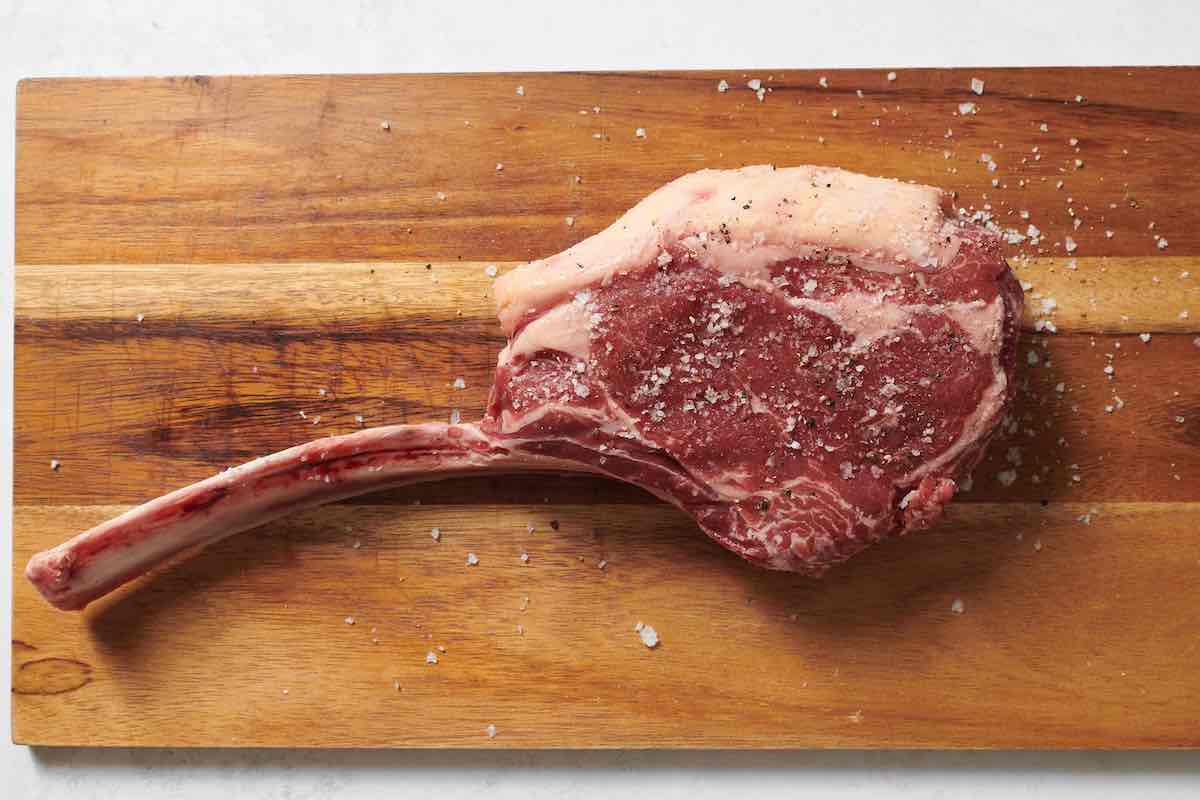 Step 2 – Grill
Lay the steaks on a preheated grill, cover, and cook until a nice crust develops on both sides. Turn down the heat and cook until both steaks have an internal temperature of 135ºF (medium).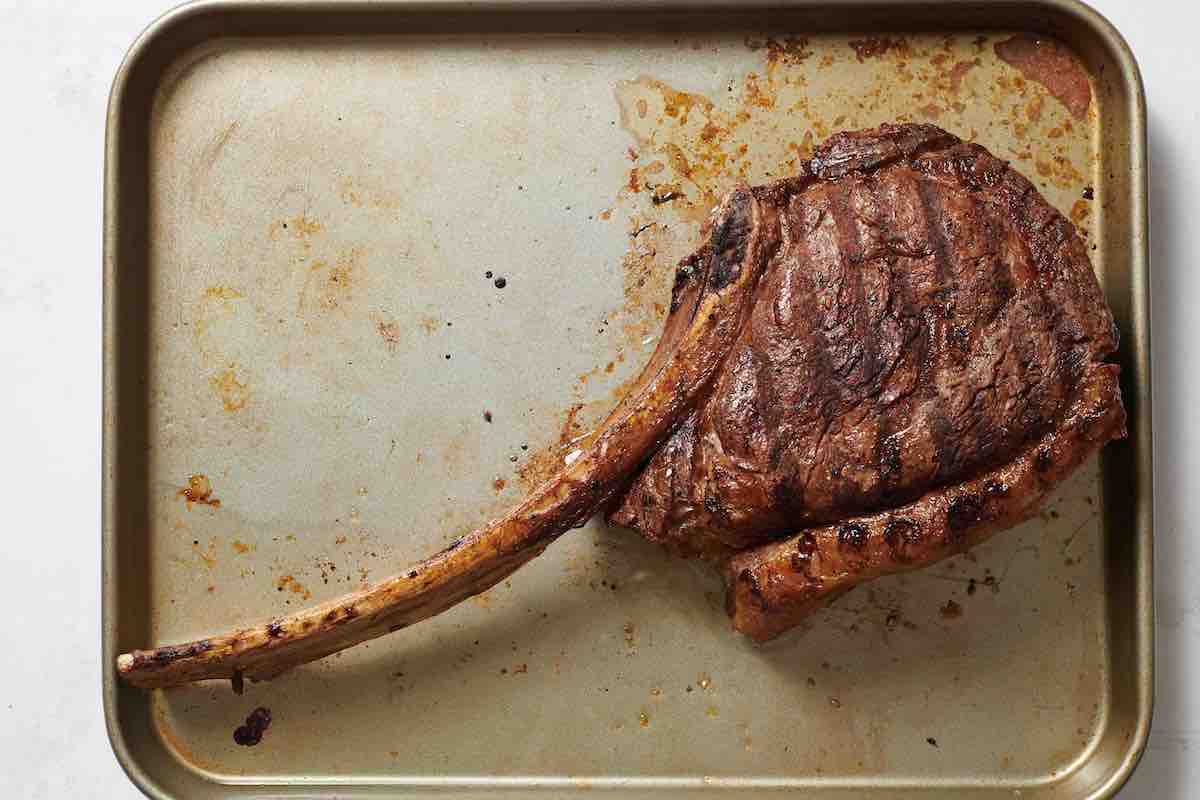 Step 3 – Make the garlic butter
Let the steaks rest on a cutting board tented with foil. Make the garlic butter while you wait by mixing the softened butter, garlic clove, and fresh parsley in a bowl.
Step 4 – Garnish and serve
Slice the steaks against the grain. Plate, top with a dollop of garlic butter, then serve and enjoy!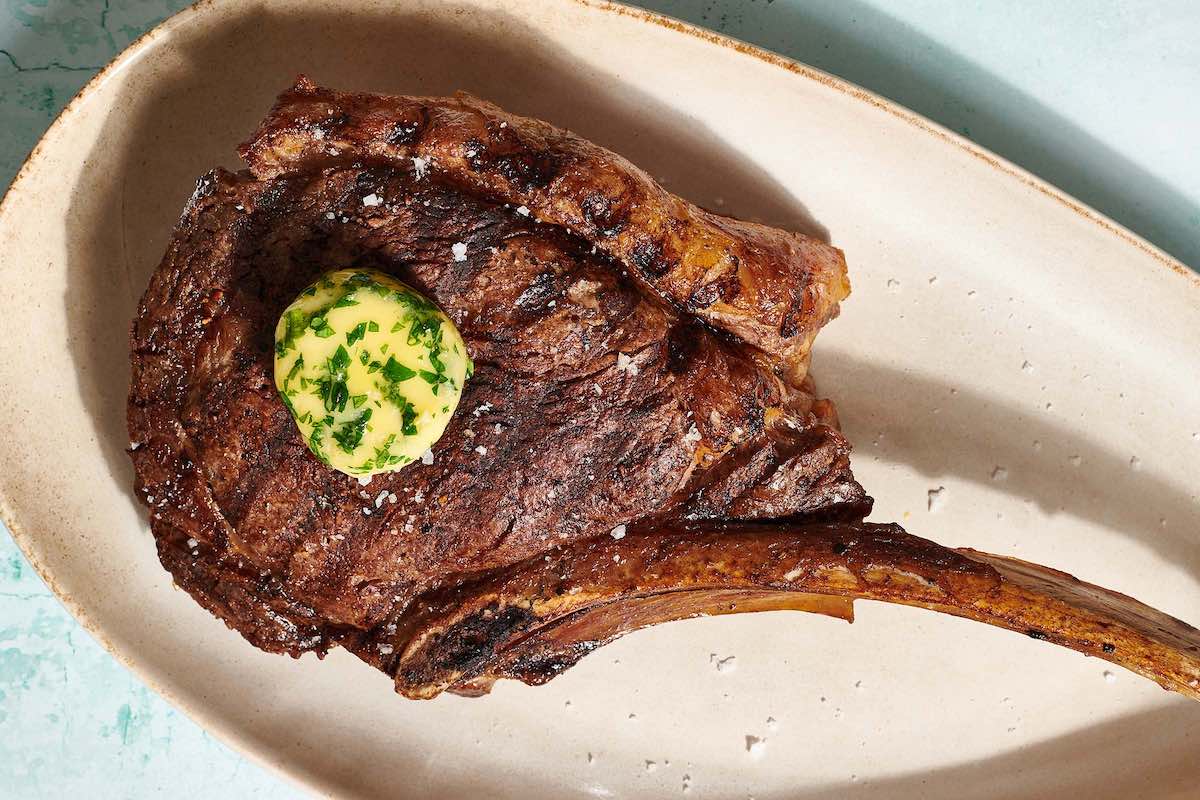 Steak cooking times
I recommend cooking a tomahawk steak to medium rare or medium. This way, you can enjoy the steak's full range of flavors.
Use these temperatures and a meat thermometer to reach your desired doneness:
Rare – 120ºF
Medium rare – 130ºF
Medium – 135ºF
Medium-well – 140ºF
Well-done – 150ºF
The steaks will continue to come up to temperature as they rest, so take them off of the grill when they're 5 degrees away from your desired doneness.
What to serve with this dish
Any kind of simple vegetable or potato side dish is perfect next to a juicy, naturally flavorful cut of steak. Here's what I suggest serving with the steak:
Remember to take the steaks out of the fridge 30 minutes before cooking. This way, they'll come down to room temperature (ideally 70ºF) and cook more evenly.
The best way to tell your steaks are done cooking is with a meat thermometer! Refer to the cooking temperatures above to cook your steak to perfection.
Always let the steaks rest for at least 10 minutes after cooking. This seals in their natural juices, resulting in a much more tasty steak!
To store. The leftovers can be stored in an airtight container in the refrigerator for up to 3 days.
To freeze. Freeze the cooked and cooled steak in a sealed container or ziplock bag and eat within 6 months.
To reheat. The best way to reheat leftover steak is in the oven. Set it to 275ºF and reheat until the internal temperature of the steak is 130ºF degrees.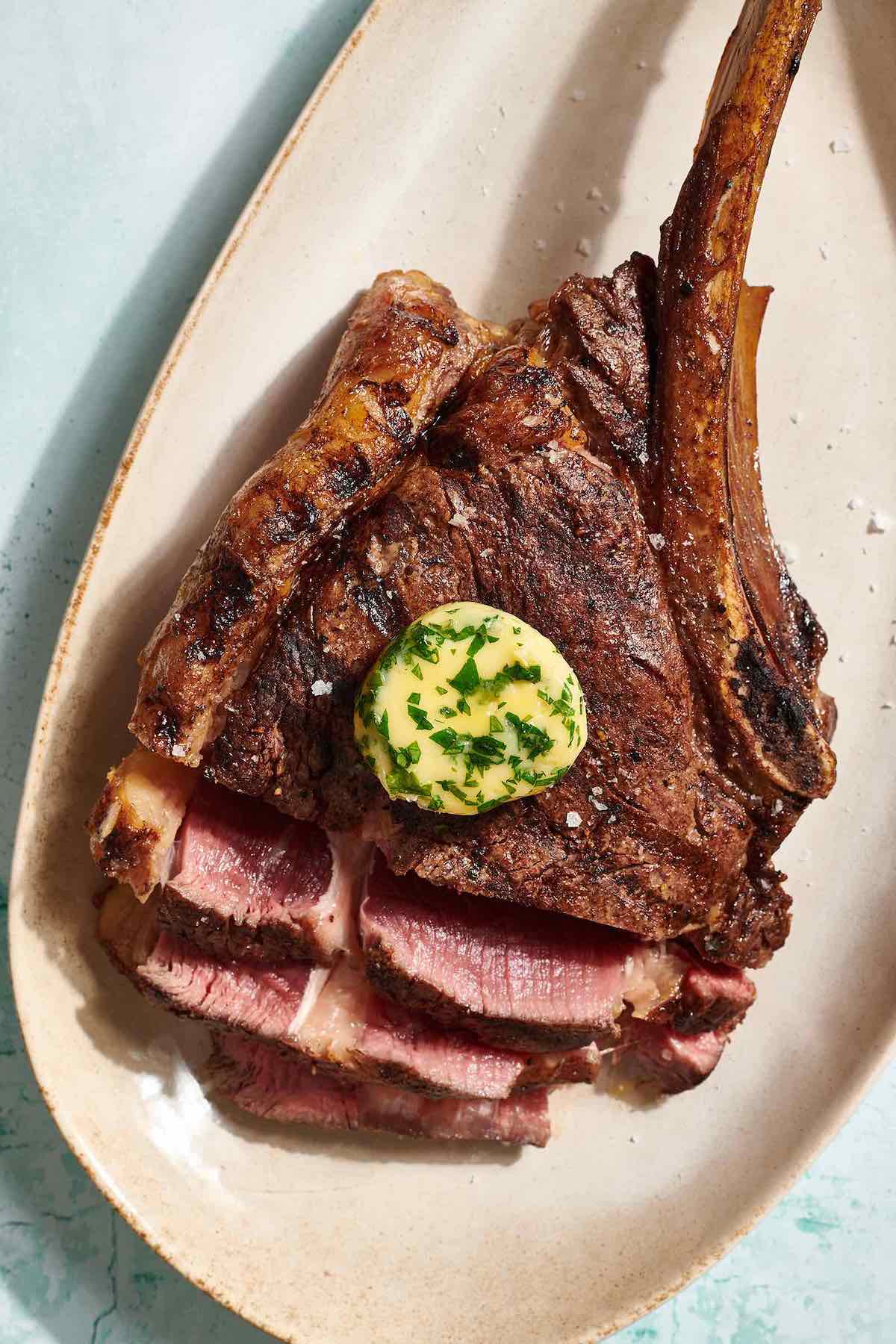 More steak recipes to try
Where can you buy tomahawk steak?
Most butcher shops and higher-end grocery stores will have tomahawk steaks available. You can also buy them online.
How long does it take to grill a tomahawk steak?
The total time it takes to grill a tomahawk is just under 20 minutes. It should be seared on the hot grill for about 5 minutes per side, then left to continue cooking and come up to temperature for 7 to 8 minutes with the heat reduced.
How many people will this recipe feed?
One large tomahawk steak will feed between 2 and 4 people. Slice it up, top it with garlic butter, and let your friends and family dig in!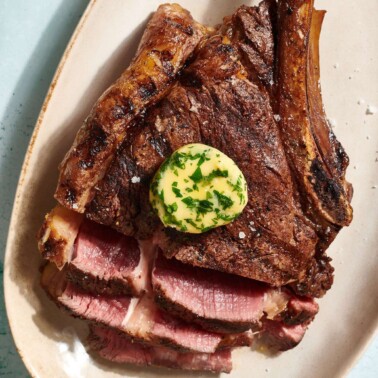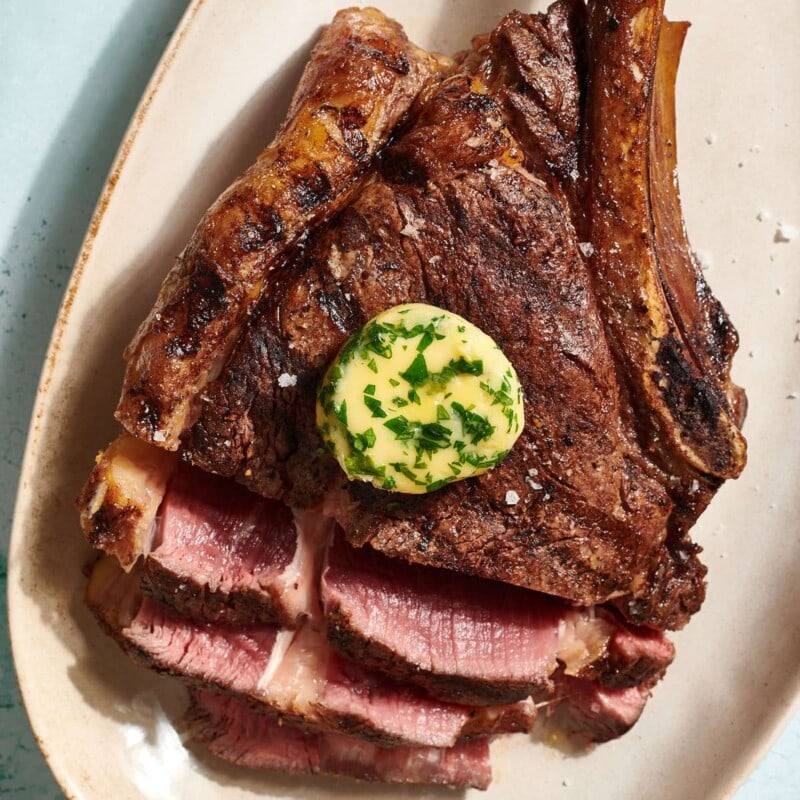 How To Cook A Tomahawk Steak (Perfect Every Time!)
Learn how to cook a tomahawk steak perfectly, with this simple recipe. It's thick, juicy, and is sure to impress.
Ingredients
Instructions
Preheat the grill to 200C/400F.

Bring the steak to room temperature.

Rub each side of the steak with a paper towel, then season with salt and pepper.

Grill the steak for 5 minutes on each side, covered, until an evident crust develops. Reduce the heat to 180C/350F for 7-8 minutes, or until the steak reaches a medium temperature of 135F.

Let the steak rest for 10 minutes, covered in foil.

While the steak is resting, whisk together the butter, garlic, and parsley. Top the steak and slice against the grain.
Notes
TO STORE: The leftovers can be stored in an airtight container in the refrigerator for up to 3 days.
TO FREEZE: Freeze the cooked and cooled steak in a sealed container or ziplock bag and eat within 6 months.
TO REHEAT: The best way to reheat leftover steak is in the oven. Set it to 275ºF and reheat until the internal temperature of the steak is 130ºF degrees.
Nutrition
Serving:
1
serving
Calories:
237
kcal
Carbohydrates:
0.2
g
Protein:
23
g
Fat:
16
g
Sodium:
931
mg
Potassium:
307
mg
Fiber:
0.04
g
Vitamin A:
18
IU
Vitamin C:
0.1
mg
Calcium:
10
mg
Iron:
2
mg
Disclosure: This post may contain affiliate links. I may earn a small commission for my endorsement, recommendation, testimonial, and/or link to any products or services from this website.