This Healthy Pho Noodle salad is perfect for a weeknight light meal or served alongside your mains! Gluten free and chock full of delicious flavours, the delicious sauce used is paleo and vegan friendly- There is also a low carb version!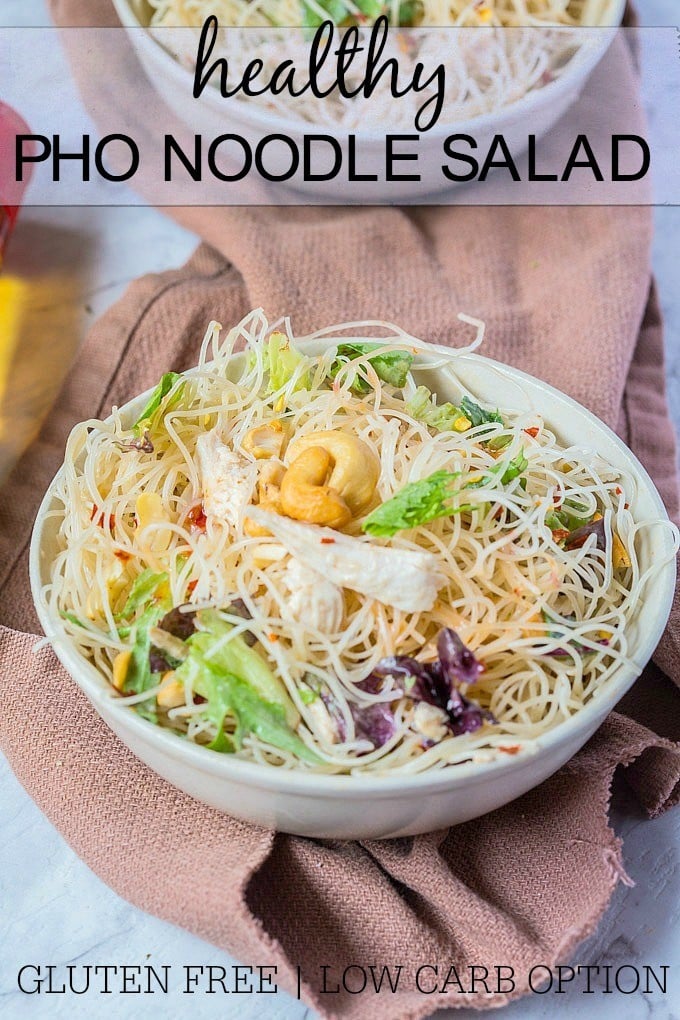 When it comes to salads, the less traditional ingredients it contains, the bigger fan of them I am.
As evidenced by my love of this Greek couscous salad (which lacked any greens, except for the cucumber), untraditional is the route I like to go.
Except in the company of my Asian side. Well, the older ones.
When I went to a family dinner recently, I offered to bring a salad and a dessert and when I suggested a noodle salad, you should have seen the face of the more older relatives.
The HORROR.
It was as though I had come home with an A – in an exam. That bad.
My elderly uncle (in very broken English) began to lecture me about how rice and noodles were to be used as baseline elements for the main dishes being served- Roast duck, stir fried cabbage and curried brisket. Noodles were NOT an appropriate ingredient in a salad.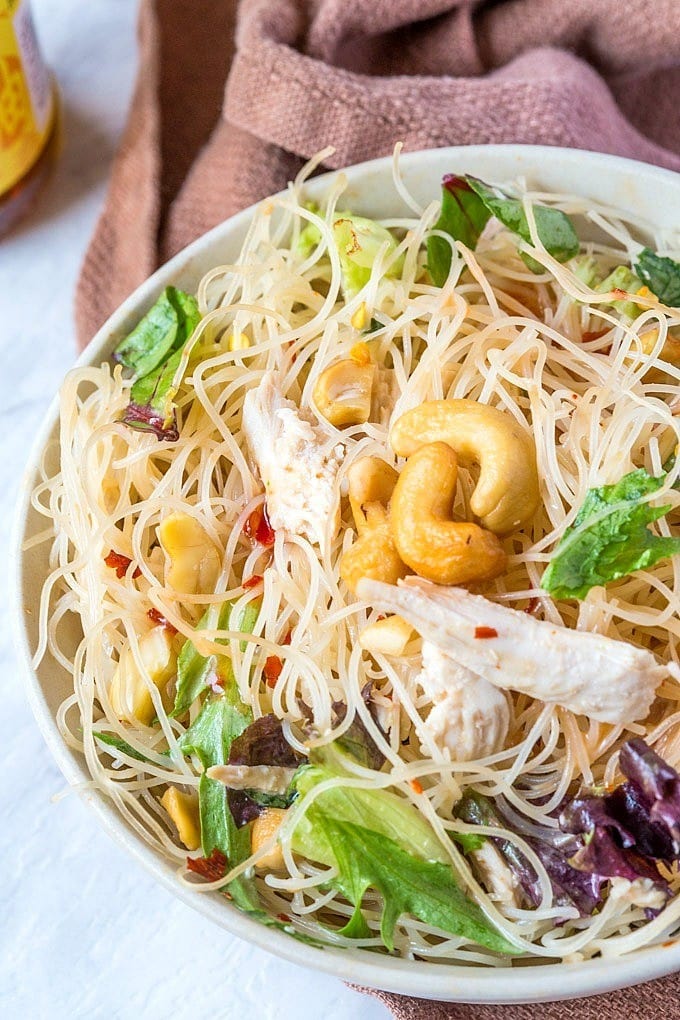 Being the respectful and charming nephew I am, I listened to him and brought a mixed salad.
Just kidding.
I made the damn noodle salad and brought it to them hoping for the best.
"Oh Arman. Good man. You didn't bring this ridiculous noodle salad you spoke of. But why did you bring noodles? You were assigned a salad!"
….I brought a noodle salad. However, because it lacked greens, it was assumed I brought a noodle dish.
Next time, I'm bringing a damn head of lettuce and calling it a day.
***
When Chang's reached out to me to create a recipe for them using some of their products, I knew I had to use their sesame oil and of course, one of their noodles.
I've been a loyal consumer of Chang's sesame oil for as long as I can remember. I used to dismiss it when I saw it at our standard Supermarkets, thinking that the best sesame oils had to be purchased from the Asian Supermarket.
Oh how wrong I was.
Unlike the imported Asian brand, Chang's sesame oil was not bitter and maintained the delicious, nutty taste. This was especially important when paired with strong Asian sauces like soy and teriyaki. Another benefit of this particular sesame oil is how flavourful it still is at room temperature. When paired with a few other ingredients, one amazing sauce was born for this delicious (and healthy!) Pho Noodle Salad.
This healthy Pho Noodle Salad is the perfect appetiser to serve before the main event, shared family style or even eaten as a main in itself (except for the elderly Asian side of my family). The noodles I used were Chang's Rice Vermicelli Noodles which reminded me of a thinner Pho noodle- perfect for a salad style recipe!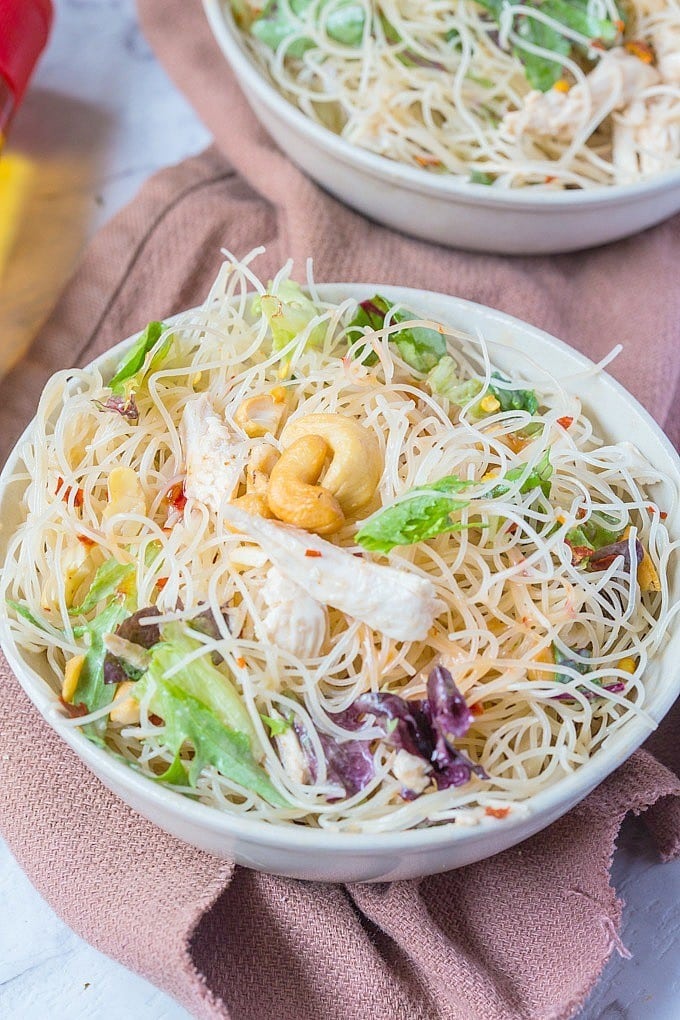 For those who've eaten Pho noodles before know that in itself, they are quite bland. Hence, a flavourful and delicious sauce is needed to compliment one another. Thanks to the robust, strong ingredients used in the sauce, a little went a long way. I based the sauce of cashew butter to make it Paleo friendly but it can easily be subbed for peanut butter or even almond butter/tahini.
Also, those of who whom are watching carbs or following a low carb style of eating, Chang's also have a Super Lo-Cal noodle product which clock in at less calories than a slice of bread. If you do go that route, I'd recommend you double the sauce.
Make this healthy Pho Noodle Salad but when you join my Asian side of the family for dinner, have a head of lettuce in your back pocket…or boot of your car.
Healthy Pho Noodle Salad
This Healthy Pho Noodle salad is perfect for a weeknight light meal or served alongside your mains! Gluten free and chock full of delicious flavours, the delicious sauce used is paleo and vegan friendly- There is also a low carb version!
Print
Rate
Ingredients
1

x 250 gram package of Chang's rice noodles

cooked (can sub for 2 x packets of super Lo-Cal noodles)

1/2

cup

mixed greens

baby spinach, baby beetroot leaves

1/2- 1

cup

shredded protein of choice

I used chicken

1/4

cup

chopped cashews
For the sauce
1/4

cup

cashew butter

can sub for peanut butter, almond butter or tahini

2

T

Chang's sesame oil

1/4

cup

liquid aminos

can sub for gluten free soy sauce

1

tsp

red pepper flakes

1

tsp

ginger powder

1/4-1/2

cup

water*
Instructions
In a large mixing bowl, combine the rice noodles, mixed greens and shredded protein of choice, mix well and set aside.

In a separate bowl, combine the cashew butter, sesame oil, liquid aminos, red pepper flakes and ginger powder and mix until a thick paste is formed. Using a tablespoon, add water to the sauce until desired consistency is reached.

Pour the sauce over the noodles and using two forks, mix very well to ensure noodles are fully coated. Garnish with chopped cashews and eat immediately or refrigerate to eat later.
Notes
* Adjust water depending on desired thickness of sauce. For a thicker sauce, use minimal liquid.
If using chicken or animal based protein, noodle salad can be kept for up to 3 days. For plant based protein (tofu, chickpeas), it can be kept for up to 5 days.

This recipe was commissioned for Chang's. Thanks for supporting The Big Man's World with brand partnerships and collaborations.
Are you a fan of noodles in salads?
Do you use sesame oil in your cooking?