Ramen Noodle Salad is a cabbage salad chock full of crunchy noodles, all covered in a tangy oriental dressing. The perfect refreshing salad that can be prepped in advance.
When it comes to salad recipes you'd actually enjoy eating, I love making broccoli salad, couscous salad, and an Asian ramen noodle salad.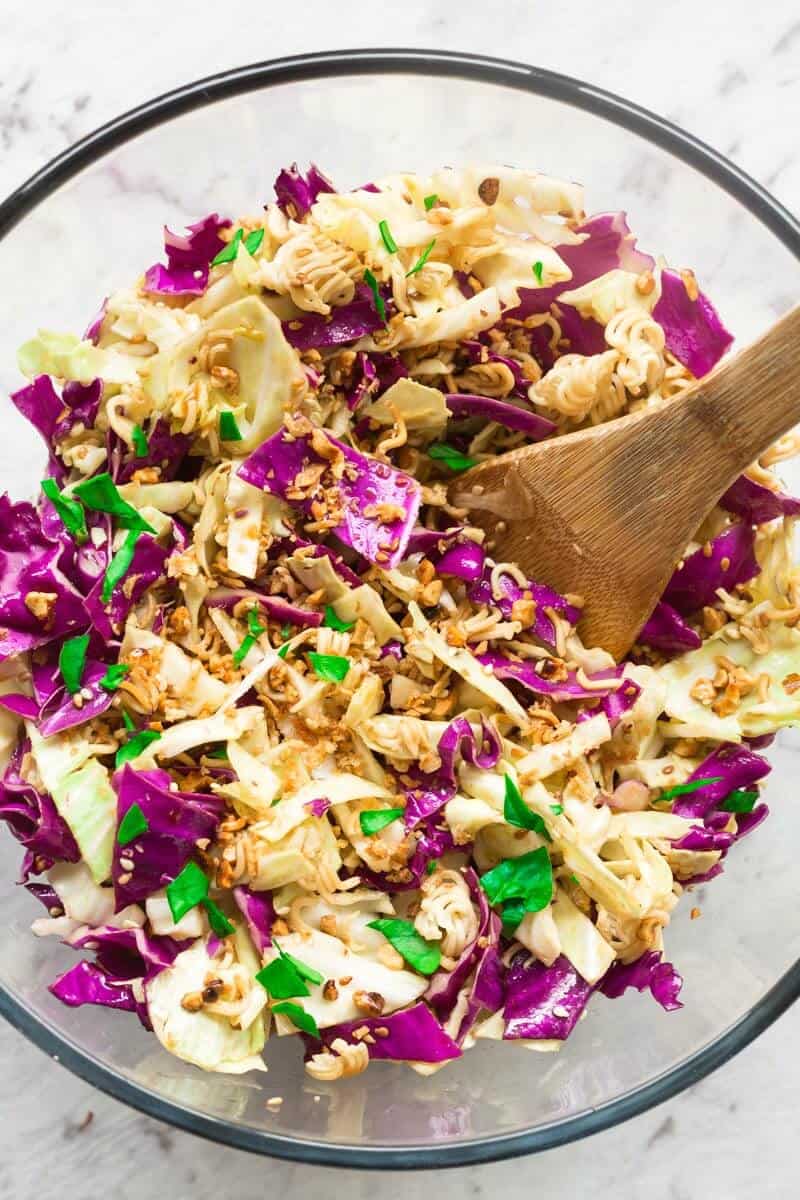 I'm not going to lie. I'm not the person who enjoys any old salad. I know some people enjoy the simple lettuce and dressing salad but that never works for me. I am someone who needs plenty of textures and flavors to REALLY enjoy a salad. Luckily, this Asian noodle salad ticks all the boxes. It's crunchy, crispy and with some much delicious flavors- Sweet, salty, tangy, and more.
It takes minutes to make and is one impressive salad to serve anywhere and everywhere. Pan-frying the noodles before adding it to the cabbage takes it up a level!
How do you make a Ramen noodle salad?
The Ingredients
Green and purple cabbage– Chopped or shredded finely. If you only have one kind of cabbage, that is completely fine. I only like using the two for some added color.
Slivered almonds– Adds some extra crunch and really compliments the sesame oil flavor throughout.
Ramen noodles– A single ramen noodle package, also known as 2 minute or instant noodles. Discard the packaging and flavorings, as they will not be needed.
Soy sauce– To sauteed the crushed ramen noodles and almonds in, for added flavor.
Sesame oil– For the Asian inspired dressing. Only a little amount will be used, as it can be quite overpowering.
Apple cider vinegar– Gives some added tang. You can also use white vinegar.
Maple syrup– gives a light sweetness to the dressing mixture, without needing any refined sugar.
The Instructions
Start by heating up a non-stick pan with cooking spray. Once hot, add the crushed up ramen noodles, slivered almonds, and soy sauce, and mix together until all the noodles are coated in the sauce. Pan fry for a further 2 minutes and remove from the heat and let cool. Once cool, add it to a large mixing bowl, along with the shredded cabbage, and mix until combined. In a small bowl, whisk together the remaining soy sauce, sesame oil, vinegar, and maple syrup. Pour over the salad and mix well, until completely mixed in. Sprinkle with sesame seeds and serve.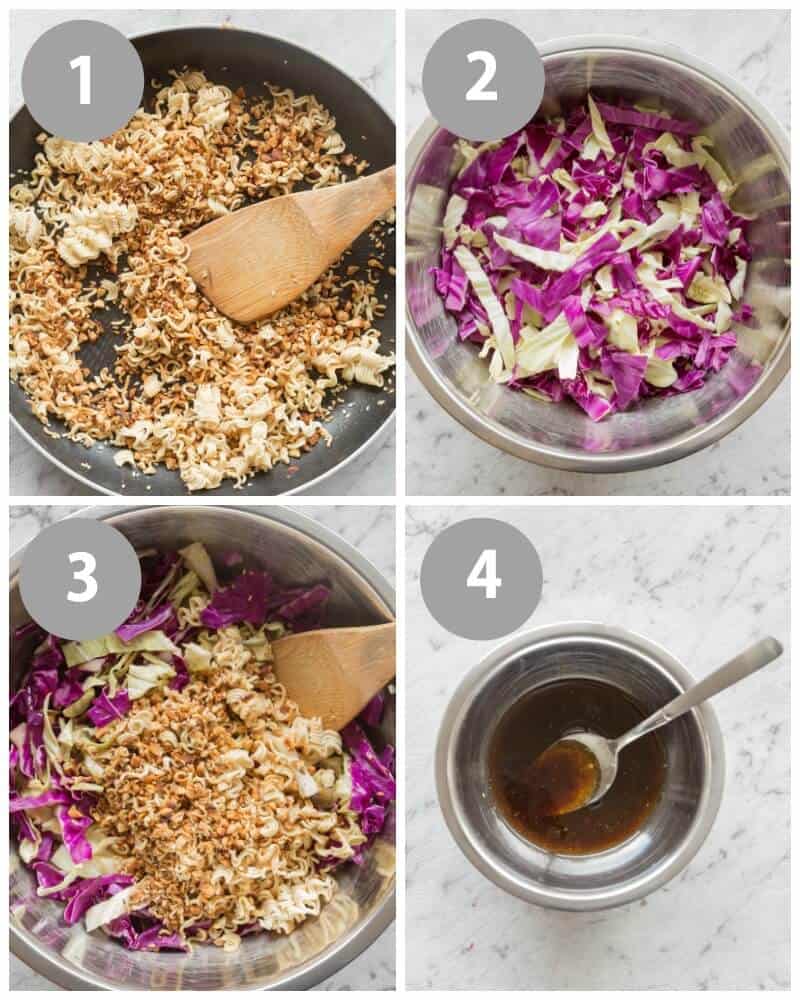 Can I prepare this salad in advance?
Yes, if you'd like to serve this salad at a barbeque, party, or even a lunch/dinner event, you can prepare it in advance. Just be sure to keep the three parts separated- the shredded cabbage mixture, the noodles/almonds mixture, and the dressing. when ready to serve, simply combine them all together. Do not prepare it more than 2 days in advance, otherwise, the cabbage will start to go limp and brown.
Can I enjoy this salad as a main dish?
I would eat this salad on its own, but it pairs well with other veggies and proteins, to give you more staying power!
Protein– Add some grilled chicken, salmon, or even some grilled shrimp.
Plant based protein– Serve this with grilled tofu, tempeh, or some garbanzo beans.
Vegetables– Add broccoli, cauliflower, or a mix of corn and peas.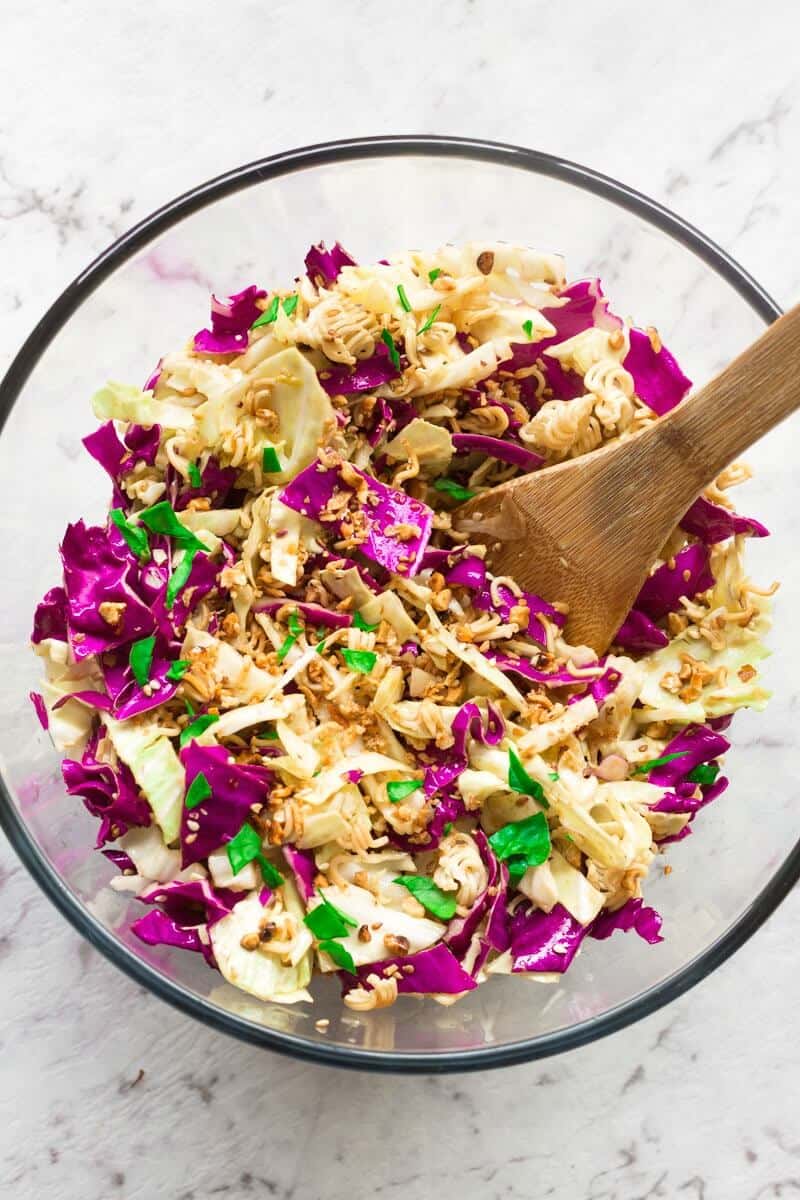 Tips to make the best ramen noodle salad
Feel free to use a pre-packaged coleslaw mix if you'd rather not chop cabbage. The additional carrots throughout will give some added crunch.
If you don't like almonds, switch it up with cashews, peanuts, or even sunflower seeds.
I used one ramen noodle package, to keep the salad on the healthier side. If you'd like even more noodles throughout, use up to 3 noodle packets. Just be sure to increase the almonds/soy sauce for sauteeing.
Feel free to use other noodles, like Pho or Udon, for some different textures.
Storing ramen noodle salad
Leftover salad should always be stored in the refrigerator, completely covered. They will keep well for up to 3 days (from the day it is made).
Do not freeze the salad.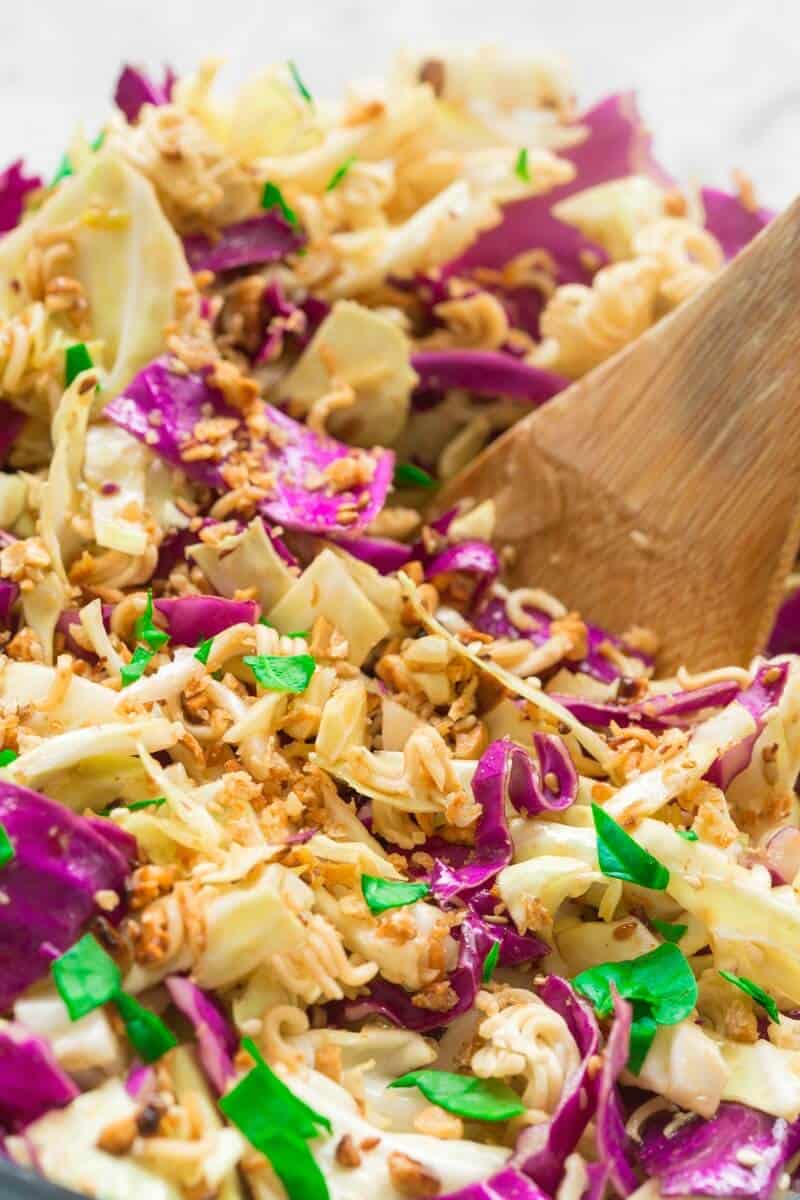 More Delicious Veggie Packed Recipes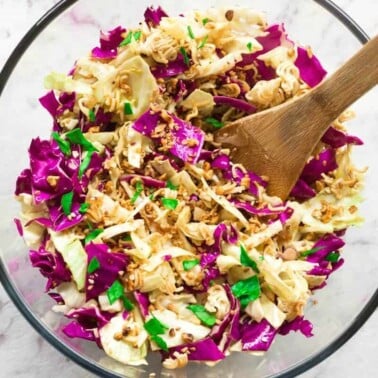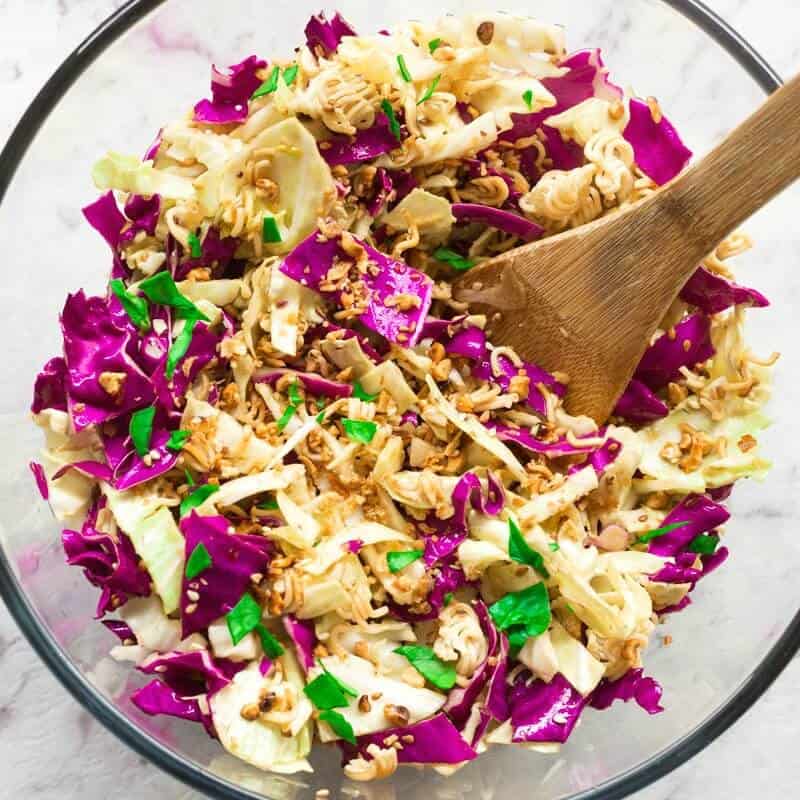 Ramen Noodle Salad
Ramen noodle salad is a crunchy, colorful salad loaded with delicious Asian flavors! This Oriental noodle salad can be made in advance and is perfect to feed a crowd!
Ingredients
1

package

ramen noodles

flavor sachets removed, gluten free, if needed

1/2

cup

slivered almonds

1/4

cup

soy sauce

gluten free, if needed

1

tablespoon

oil

4

cups

shredded cabbage
Instructions
In a non-stick pan, heat up the oil on medium heat. Once hot, add the crushed noodles, slivered almonds, and soy sauce. Pan fry for 3-4 minutes, until all the noodles are covered in the sauce. Remove from the heat.

Add the shredded cabbage into a large bowl. In a small bowl, combine the sesame oil, apple cider vinegar, soy sauce, and maple syrup, and whisk together until combined.

Add the noodle mixture over the shredded cabbage and mix well, until combined. Pour the dressing all over it and mix well, until fully incorporated.
Notes
Leftover salad should always be stored in the refrigerator, completely covered. They will keep well for up to 3 days (from the day it is made).
Do not freeze the salad.
Nutrition
Serving:
1
serving
Calories:
155
kcal
Carbohydrates:
12
g
Protein:
4
g
Fat:
10
g
Sodium:
1027
mg
Potassium:
109
mg
Fiber:
1
g
Calcium:
29
mg
Iron:
1
mg
NET CARBS:
11
g
Disclosure: This post may contain affiliate links. I may earn a small commission for my endorsement, recommendation, testimonial, and/or link to any products or services from this website.