This warm Brussels Sprouts and Chorizo Salad is the perfect meal salad which takes less than 15 minutes to whip up! Easy, quick and no mess- It also makes a great side dish to your main dish of choice!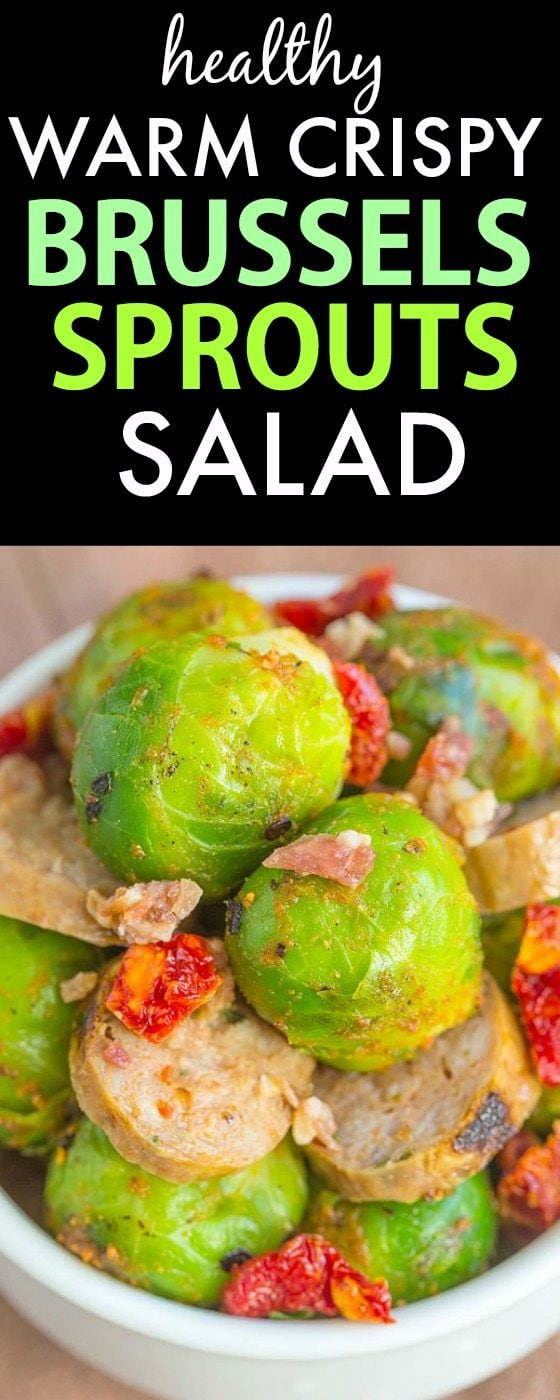 "I got dumped for organising a third date on a weeknight. Never date in the middle of the week EVER. Except Friday nights"
Two weeks ago, I was having a Skype session with my sister. The first 20 minutes included her telling me five important things…out loud.
1. Panda (her puppy) had grown and she seriously thought one of Panda's parents had an affair with a hippo.
2. She burnt her left eyebrow because she was hash-tagging on Instagram while straightening her hair
3. She has to wear an extra dark coating of make up to cover said burnt spot
4. Someone stole her ASOS purchase
5. She got dumped on a third date with her "dream guy" for scheduling a mid week date
It puzzled me. Why would someone break up a potential relationship over making a date on a weeknight? Wouldn't a mid week date be considered the highlight to many, especially those with full time jobs or in full time education?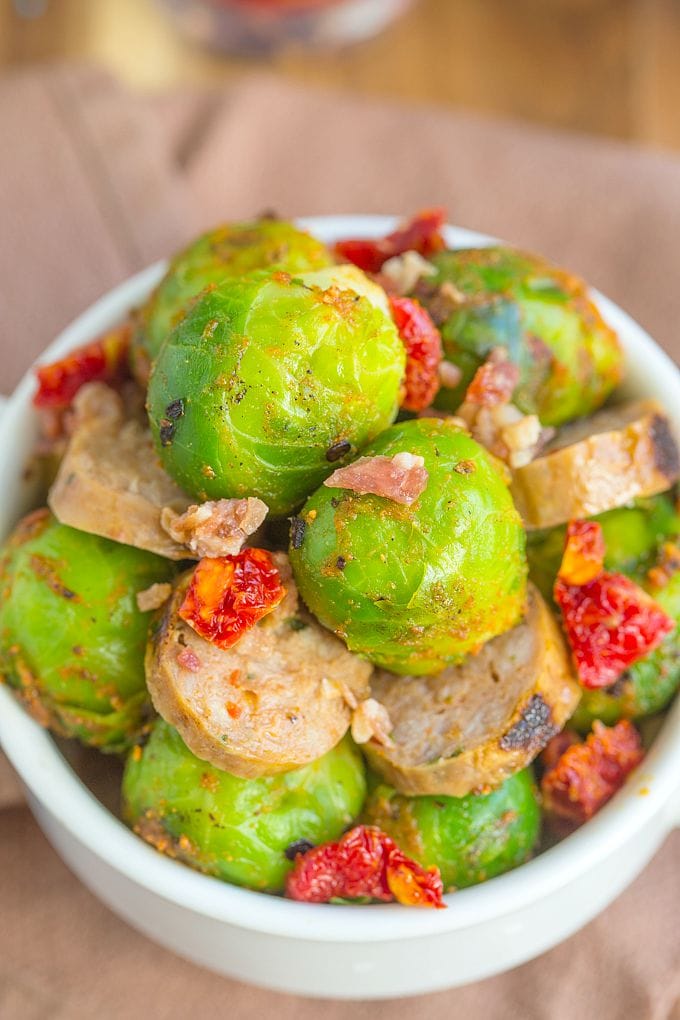 She told me about their two previous dates and how it had gone magically. He'd brought her gummy bears to the movies (her favourite candy) and was open to her suggestion to see a horror movie. He was game to do a Zumba class with her and he loved how she ordered the burger and fries on their second date and scoffed at the couple next to them who ordered the salad.
"So what went wrong on date three?"
"I don't know! It started off well, I told him how Panda jumped on mum and it was awesome. He told me how he'd just gotten a job promotion and was excited for his new co-workers because the current ones were as friendly as cabbage. We then ordered and I'd eaten cake beforehand so I just got the cheapest thing off the menu and then from there, it kind of went downhill!"
"What did you order?"
"Oh the cheapest thing on the menu, the house salad? It was just lettuce and a tomato. I'd seen Linda beforehand for coffee and cake but she's diabetic so I had to eat the whole cake."
"Did you tell him you had cake before hand?"
"No? Why would he needed to know that?"
There you go. He thought you had a double standard. You laugh at people for ordering salads and then you order one yourself. Don't go blaming the time of choice for your loss. Blame your poor meal option.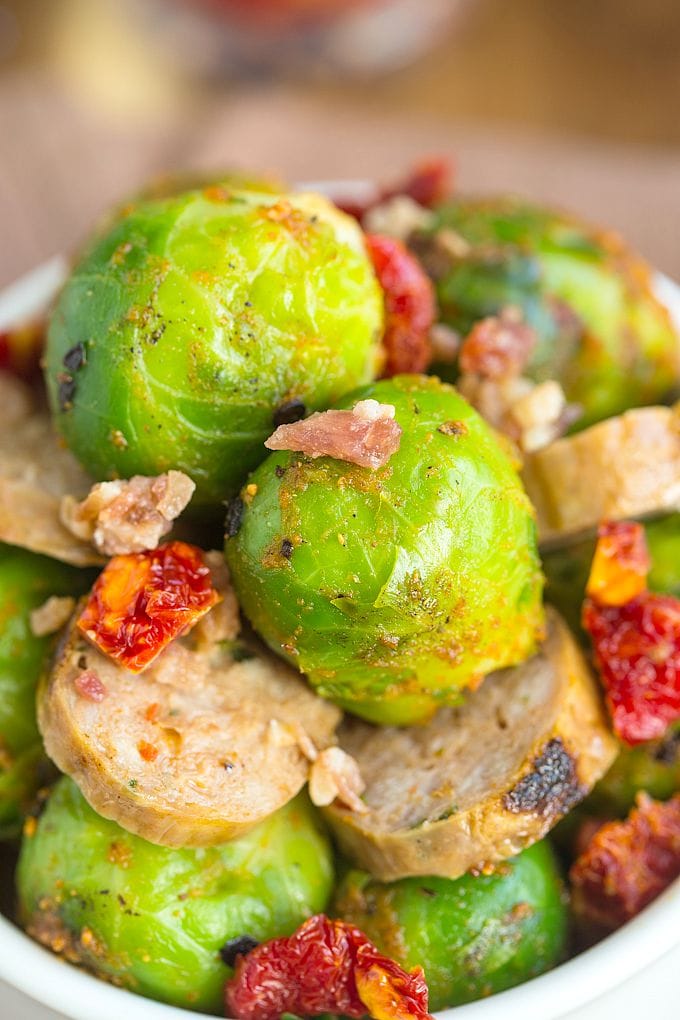 ***
So now we've cleared the misconception that weeknights are perfectly acceptable to have a date night, let's break another misconception- Salads can't be meals. For some people (*cough* Niki *cough*), choosing a salad as an actual meal might be torture. However, with some flavourful ingredients and delicious combinations, it can easily be transformed into a satisfying, hearty and delicious meal.
While I love salads based off GOOD kinds of lettuce (Iceberg is just a pretty name), I actually adore lettuce-less salad. As part of my partnership with Green Giant, I thought to create a delicious warm salad based off one of their Sauté range- The bacon brussels sprouts.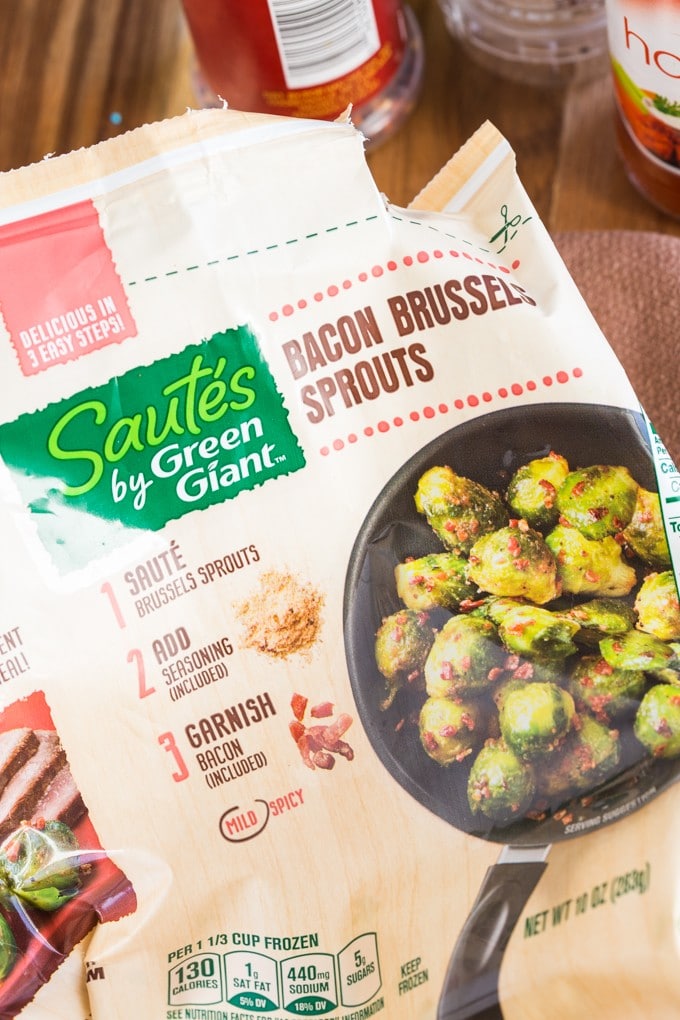 This delicious warm brussels Sprouts and Chorizo Salad will make any weeknight date night a success, even if your date of choice is your stomach (a la Arman). It's hearty and full of delicious flavours, it's easily a meal in itself. To put it together, it's an absolute breeze thanks to the hard work done with the brussels. To add some filling protein and some fun antipasto, I added spicy chorizo sausage and sun dried tomatoes. This also made the need for any additional seasonings (which the sautés package comes with) very minimal- I simply added a dash of cayenne and some extra black pepper and voila- Dinner done in under 10 minutes!
The beauty of the Sautés range is how the bacon is kept separate from the Brussels Sprouts and the seasoning in the package. For those wanting a completely meat free meal, simply omit it and sub the chorizo for tofu or eat as it is!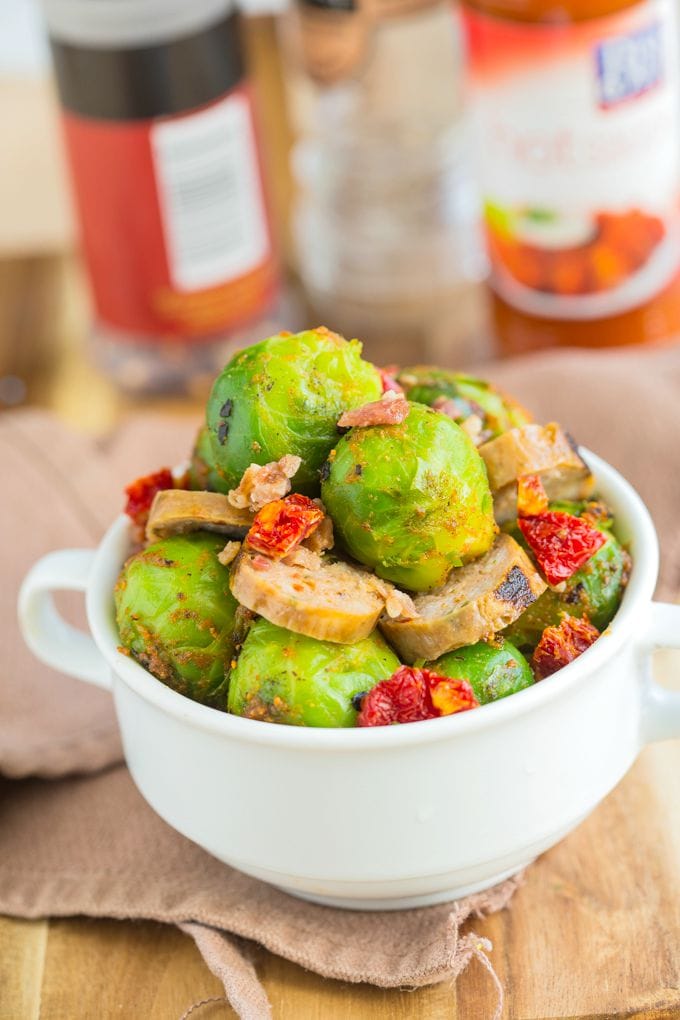 Make this delicious Warm Brussels Sprouts and Chorizo Salad and lettuce remove the unfair stigma salads have. Also, let's not blame mid week dates for being dumped.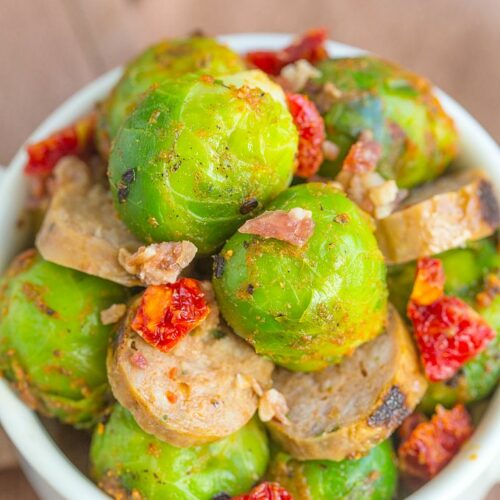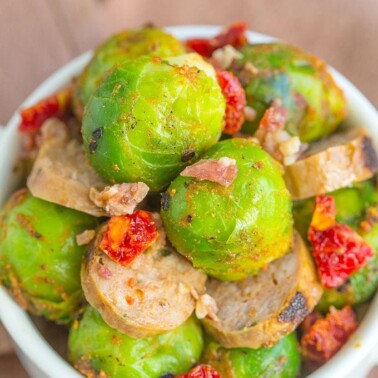 Warm Brussels Sprouts and Chorizo Salad
This warm Brussels Sprouts and Chorizo Salad is the perfect meal salad which takes less than 15 minutes to whip up! Easy, quick and no mess- It also makes a great side dish to your main dish of choice!
Ingredients
1

Package Green Giant Sautés Bacon Brussels Sprouts

2-3

x pre-cooked chorizo sausages

chopped (Can sub for any sausage of your choice or for a meat free version, vegan sausages or even a veggie patty)

1/4

cup

sun dried tomatoes
Cayenne pepper

to taste

Black pepper

to taste
Instructions
Coat a large frying pan with oil and once hot, add the brussels and the spice mixture and mix very well.

Once fully cooked, add the chorizo sausage, sun dried tomatoes and mix well. Add the spices to taste and remove from heat.

Divide into two bowls and add the chopped bacon package and dig in.
Notes
Be creative with the add ins- Use olives or any other antipasto.
If you use raw sausages, cook first and keep pan cooking and add the brussels mixture to that- I tried it out and it tasted great!
This salad can be reheated or even eaten cold.

Disclosure: This post may contain affiliate links. I may earn a small commission for my endorsement, recommendation, testimonial, and/or link to any products or services from this website.