Ready in under 20 minutes, this one pot easy couscous paella is the perfect quick, healthy meal! A delicious Spanish inspired spice blend gives a paella like flavour with a different grain! Gluten free and high protein too!

Growing up, my choice of grains was pretty limited. Dinners would always be based on Persian style batsmati rice (thanks mum), Asian style steamed rice (thanks dad) or uncooked microwave rice still left in the packet because some of us didn't know how to rip open a packet and turn the microwave on (thanks Niki).
Okay, fine. Niki gets the green light here because she was five and was banned from the kitchen to begin with but since I get the blame for everything in life, she gets called out here.
The older I got, I branched out to rolled oats in the mornings, brown rice on occasion and then this new, circular nutty grain- Couscous.
I remember seeing it in the supermarkets when I was told to go buy milk and these were 'new' on our shelves and being the marketer's dream I am, chucked it in my basket. I arrived back home and gave it to mum and told her to make it.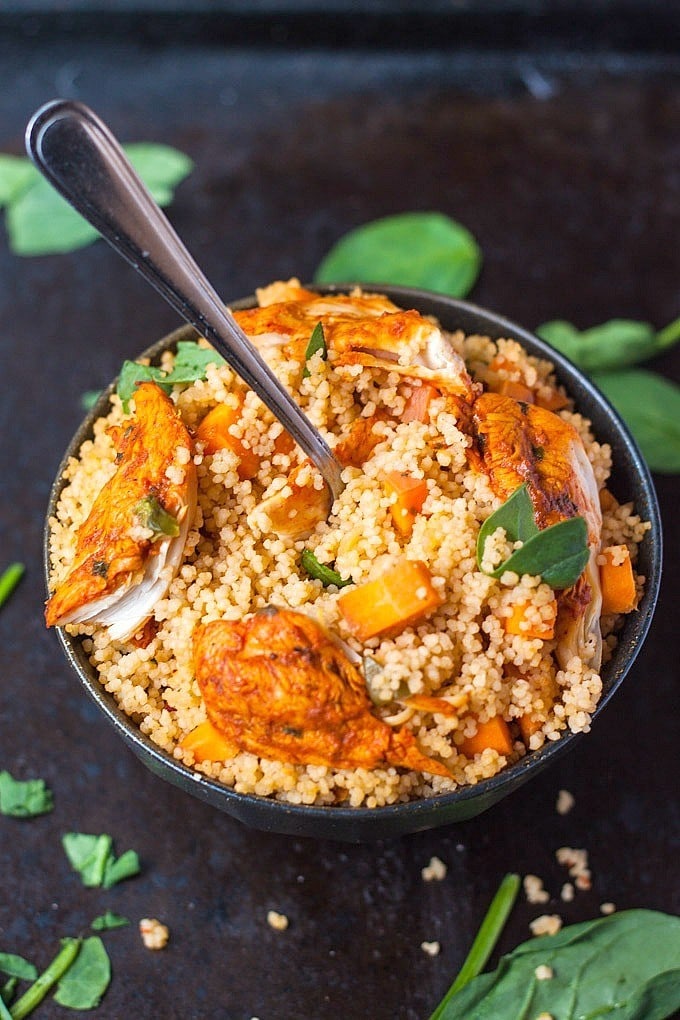 "What is this couscous?"
"I don't know, I saw it at the shops"
"It must be the Australian word for Risotto. It is risotto. This is not new."
"Mum, that is NOT risotto."
"Potato. Tomato."
…………..Oh mother. Potato. Potato.
Those who have made risotto before AND have made couscous before would know that the cooking methods are VASTLY different. Any guesses what the end result was?
Couscous soup. Followed by pizza hut on speed dial and ME getting told off for wasting time and money.
I think it was a while later when I ate couscous again (made appropriately) and loved it- It had a nutty, savoury flavour which picked up any spice or sauce you mixed with it. It also reiterated to me that associating this grain with a soup would be punishment.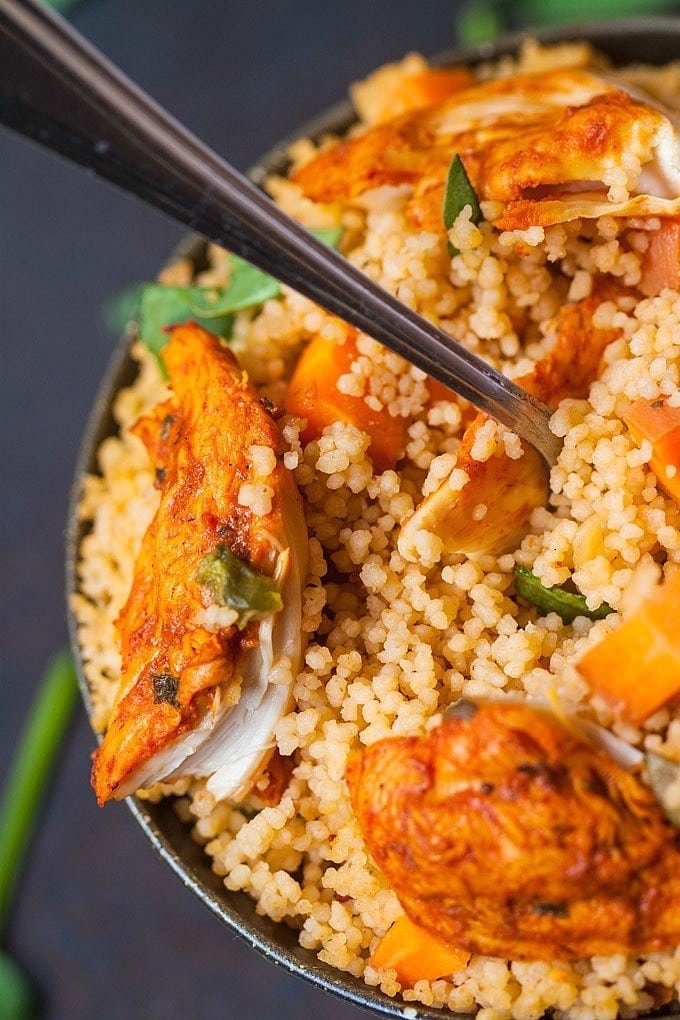 Couscous has always been one of my lunch time grains of choice- Eaten under some curried salmon patties or slow roasted Persian chicken, it was the complementary carb option. Recently and for this recipe, I've loved using pulled Tandoori chicken or the fillets basted with the tandoori sauce. Because of it's quick cooking method and ability to absorb flavours and spices really well, I wanted to try a Paella like dish using that as the grain over arborio rice.
The beauty of this recipe is how quick it is to make- Couscous + Mix ins of choice + Spices = A meal ready in under 20 minutes. My favourite kind of paella has chargrilled chicken, carrots, chorizo sausage, pine nuts and celery. I didn't have any chorizo when I made this version but I'd highly recommend it. Another benefit of this dish is how customisable it is. Vegetarian? Omit the chicken and add some legumes or extra veggies. Vegan? I'm keen to try this with tempeh cubes and try a vegan friendly stock. A fan of seafood? This tastes delicious with prawns and mussels tossed through. Whichever method you use to jazz it up, you'll be thrilled at how quickly it comes together.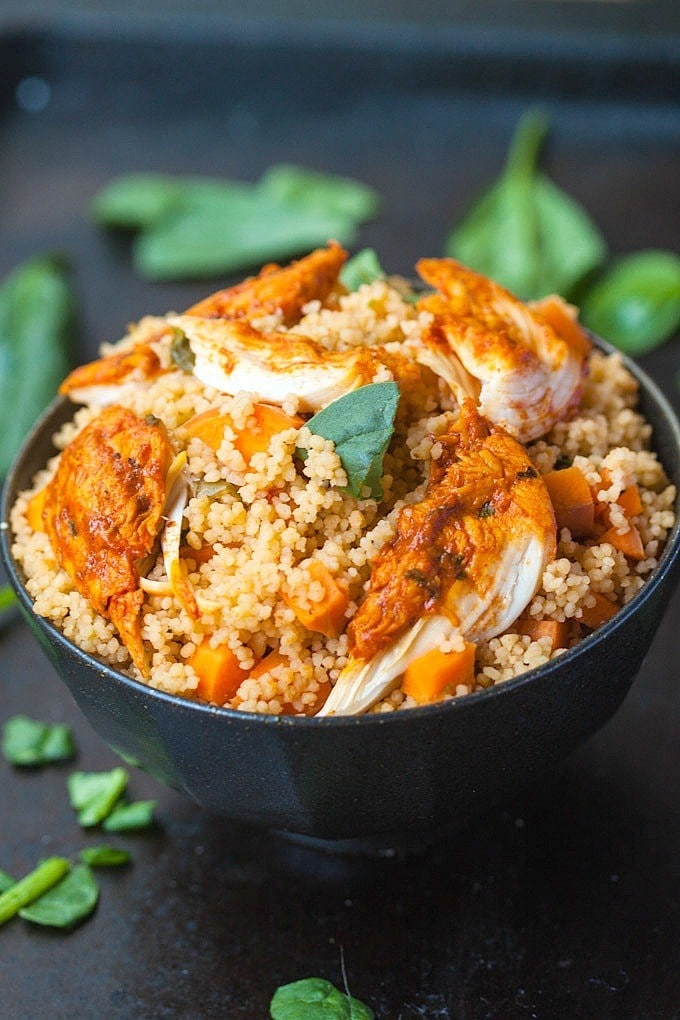 Make this delicious Easy One Pot Couscous Paella and have all the delicious flavours and textures of a traditional paella minus the time.
Potato Tomato. Tomato Potato.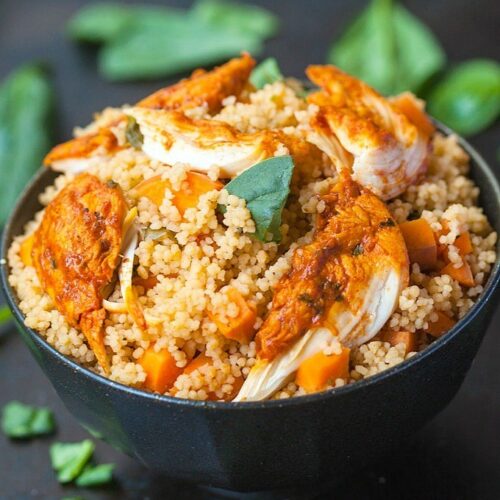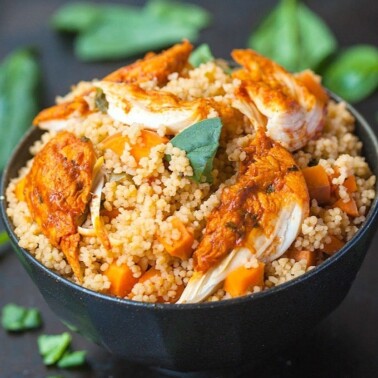 Easy Couscous Recipe
Ready in under 20 minutes, this one pot easy couscous recipe is the perfect quick, healthy meal! A delicious Spanish inspired spice blend gives a paella like flavour with a different grain! Gluten free and high protein too!
Ingredients
1 1/2

cups

couscous

can use gluten free

3

cups

flavoured stock of choice

I used gluten free chicken

1

teaspoon

olive oil

1/2

teaspoon

sea salt

1

teaspoon

cayenne pepper

1

teaspoon

smoked paprika

1

teaspoon

garlic powder

1

teaspoon

onion powder

1

teaspoon

saffron

2

tablespoon

unsalted butter

can sub for olive oil or oil of choice

1

cup

cooked protein of choice

I used chicken

1-2

cups

diced vegetables of choice

I used red peppers, carrots and celery

Chopped spinach to cover
Instructions
In a large pot, add the stock of choice and on medium heat, bring to the boil.

Once boiling, reduce to a simmer and add the olive oil and sea salt and mix well. Add the dry couscous and allow to cook for 1-2 minutes before removing from the heat. Allow the couscous to sit for 5-6 minutes, until most of the liquid has been absorbed.

While this is happening, lightly microwave or steam your diced vegetables until just tender. Set aside.

After the liquid has been absorbed, fluff the couscous with a fork and add the cayenne pepper, smoked paprika, garlic powder, onion powder and saffron and mix very well. Stir through the unsalted butter until the couscous is coated.

Put the pot back on the stove and turn the heat to low. After 1 minute, add the protein of choice and vegetables and mix and cook for an extra minute before removing from the heat, fluffing once more with a fork and serving. Top with chopped spinach.
Notes
This refrigerates really well and leftovers taste great cold.
If using chicken, dish can be kept for up to 3 days. If using vegetables only, can be kept for up to one week.
For an even quicker way, omit the first two directions and use instant couscous.
Nutrition
Serving:
1
serving
Calories:
310
kcal
Carbohydrates:
52
g
Protein:
9
g
Fat:
7
g
Sodium:
299
mg
Potassium:
145
mg
Fiber:
4
g
Sugar:
0.2
g
Vitamin A:
629
IU
Vitamin C:
1
mg
Calcium:
22
mg
Iron:
1
mg
NET CARBS:
48
g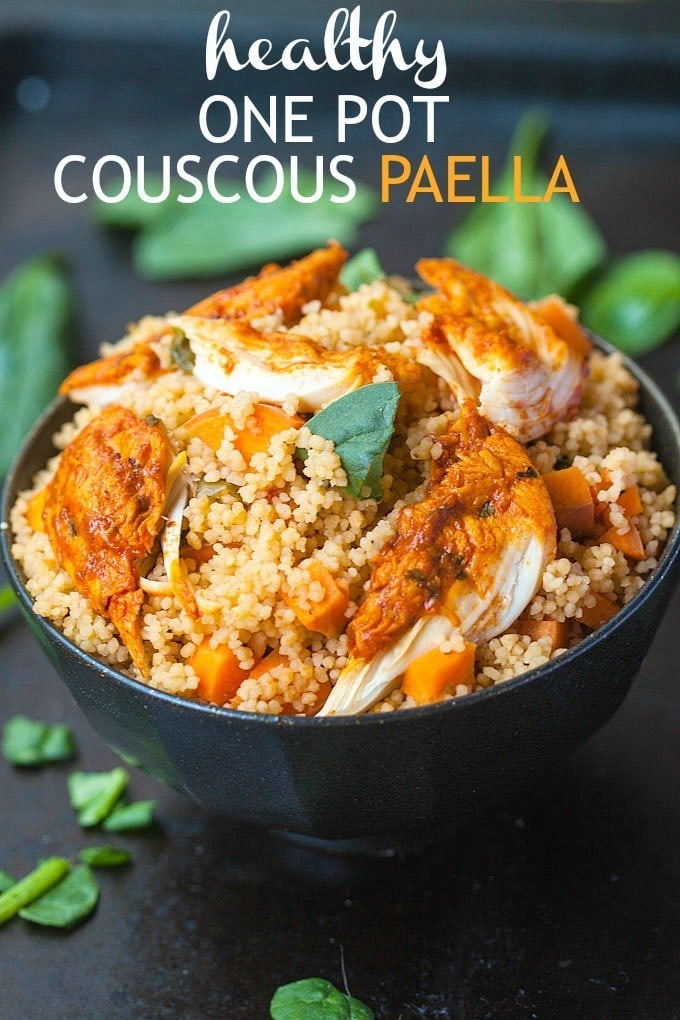 Disclosure: This post may contain affiliate links. I may earn a small commission for my endorsement, recommendation, testimonial, and/or link to any products or services from this website.