A delicious, flavorful Mexican chicken filling inside a delicious flatbread low in carbs yet extremely satisfying! The Mexican chicken is a flavor lovers dream and are perfect to prep in advance and freeze for grab and go lunches or quick dinners!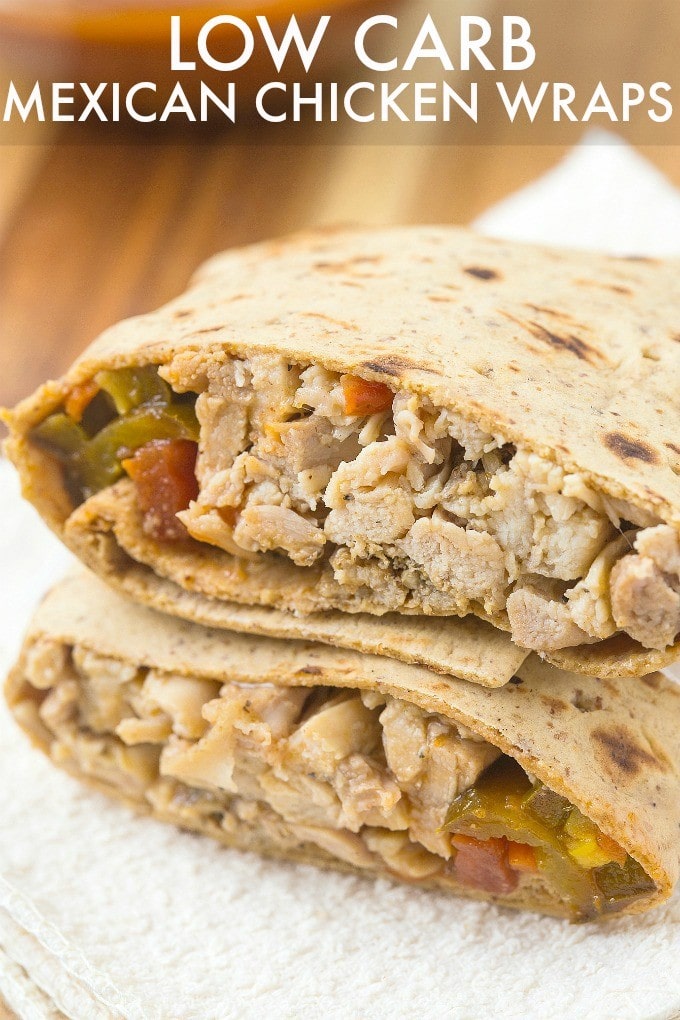 Low carb products.
Since moving to America, I've been quite amazed at how many food products have 'low carb' on their packaging. While I've seen protein bars and some beverages include this in their labels, I never would have thought items like cereal, candy and even breads have this too.
From previous experience, I'd tried out a couple of 'low carb' cereals before and the kindest critique I can give them is that they reminded me of cardboard.
Actually, cardboard would have been more appetising.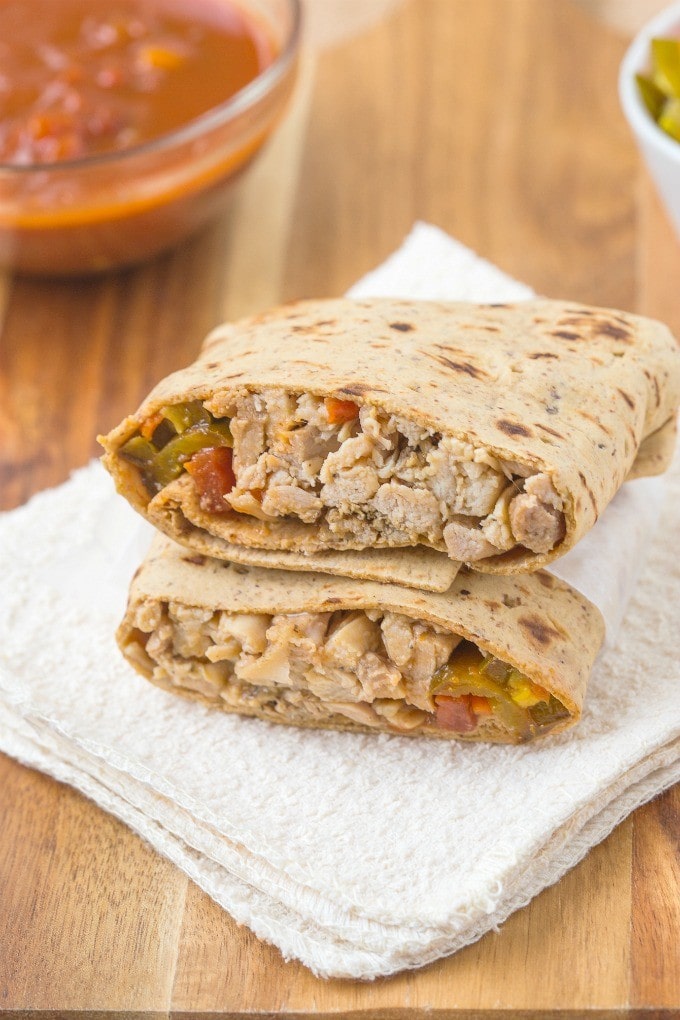 Safe to say, I was not a huge fan. That was okay though- I don't follow a low carb diet and have no real need to eat low carb at this stage in my life. Saying that, it is a dietary lifestyle I've recently started to enjoy experimenting with. Last year, I went vegan for a week, paleo for a week and sugar free for a week to be able to use those times to spark some creativity in the kitchen and learning to swap different ingredients out to be able to fit these lifestyles. I've also received quite a number of recipe requests which are just that- Low in carbs yet high in flavor so just for the fun of it, I've decided to go low-carb for a full week.
Friends, you have been warned. If I am cranky and evil, blame my grain (Free) brain.
ANYWAY.
When my friends at Flatout sent over a package of a variety of their flatbreads, I didn't even realise one of them was low carb. It wasn't until I went to make a breakfast burrito that I noticed that one of them was their ProteinUP Carb Down variety– Boasting half the carbs yet double the protein. I was definitely intrigued, as it certainly didn't have the consistency of cardboard and actually resembled a standard flatbread.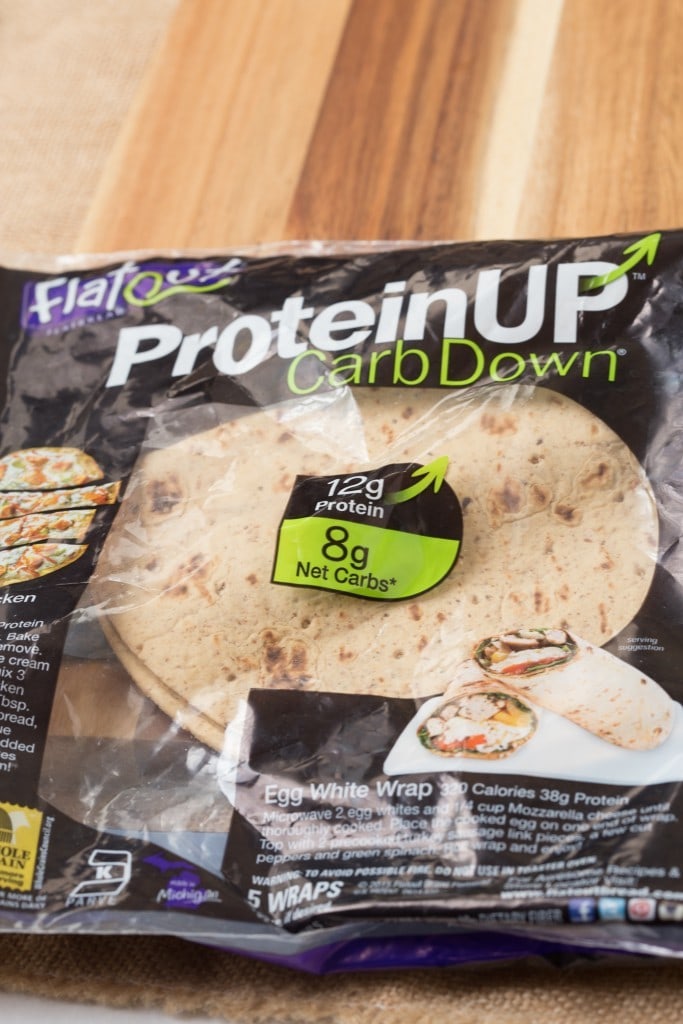 Friends, I am not one to follow a low carb diet but I must say- I was VERY impressed with it. It had the taste and texture of a standard flatbread and with no artificial aftertaste. In fact, I found the flatbread to be quite delicious sans topping.
Bar one flatbread I ate on it's own, I used the remaining ones to make an old family favorite recipe (Mexican style chicken) into wraps- Enter- these healthy low carb Mexican chicken wraps!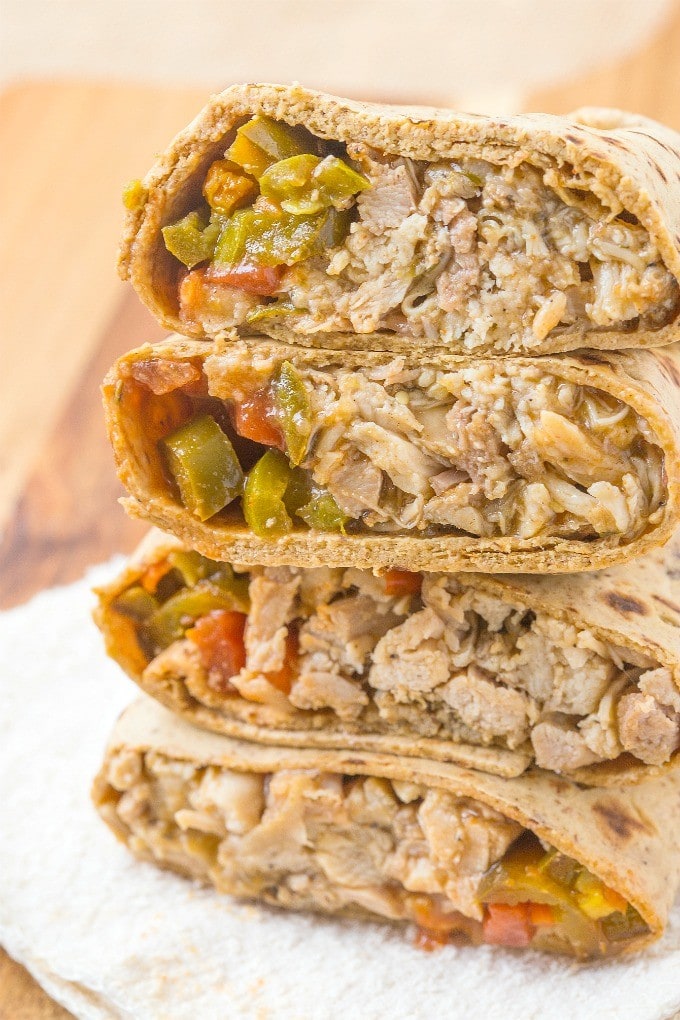 These healthy low carb Mexican chicken wraps are spicy, sweet and flavorful all in one! It's the perfect sandwich for anyone to enjoy, low carb or not! The Mexican chicken filling is quick and easy to prepare- Either using store bought plain grilled chicken or as I did, making my pulled tandoori chicken, minus any of the seasonings. I used a unique sauce blend which most likely fails on the 'Mexican' part, but trust me, it helped bring out the chipotle salsa flavor- Maple syrup. It really takes the Mexican chicken filling to the next level! These are also perfect to batch cook and freeze- Simply prep them in one go and freeze individually for grab and go lunches, dinners or even a filling snack!
HACK! Long term readers know that I consider cilantro to be edible punishment so omitted it from my life this sandwich. Saying that, when I used to make this Mexican chicken back in Australia (we ate it with tacos or over pasta…don't ask), my mum and sister would top theirs with this poison herb.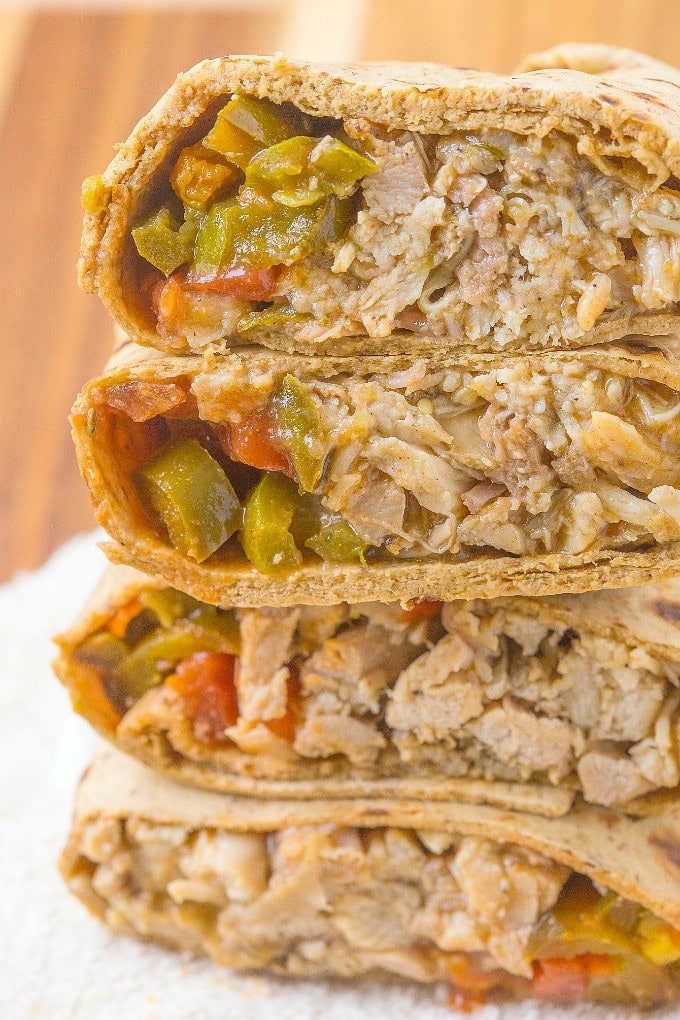 Make these delicious low carb Mexican Chicken Wraps and while you should be wary of products labelled as 'low carb', don't be afraid to give some a shot.
You may be surprised!
Healthy Low Carb Mexican Chicken Wraps
2016-03-05 00:12:03
Serves 4
A delicious, flavorful Mexican chicken filling inside a delicious flatbread low in carbs yet extremely satisfying! The Mexican chicken is a flavor lovers dream and are perfect to prep in advance and freeze for grab and go lunches or quick dinners!
Ingredients
4 cooked chicken breasts, shredded
1 cup salsa of choice (I used hot chipotle salsa)
1 T pure maple syrup (can sub for sugar free maple syrup)*
1/4 cup chopped jalapeno peppers
Salt and pepper, to taste
4 Flatout ProteinUP Carb Down flatbreads
Jalapeños/salsa/cheese etc (optional)
Instructions
In a large mixing bowl, combine all your ingredients and mix until fully incorporated.
Spread out your four flatbreads. In the centre of each, add 1/4 of the filling mixture. Add extras (jalapeños/salsa/cheese etc) and roll up.
If eating immediately, cut each flatbread wrap in half. If prepping to freezer, wrap each one in aluminium foil or in freezer bags individually.
Notes
If freezing wraps, thaw overnight completely before enjoying.
The Big Man's World ® https://thebigmansworld.com/
More delicious recipes using Flatout wraps? Gotcha covered!
Healthy Baked Protein Cinnamon Sugar Pita Chips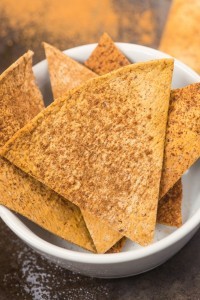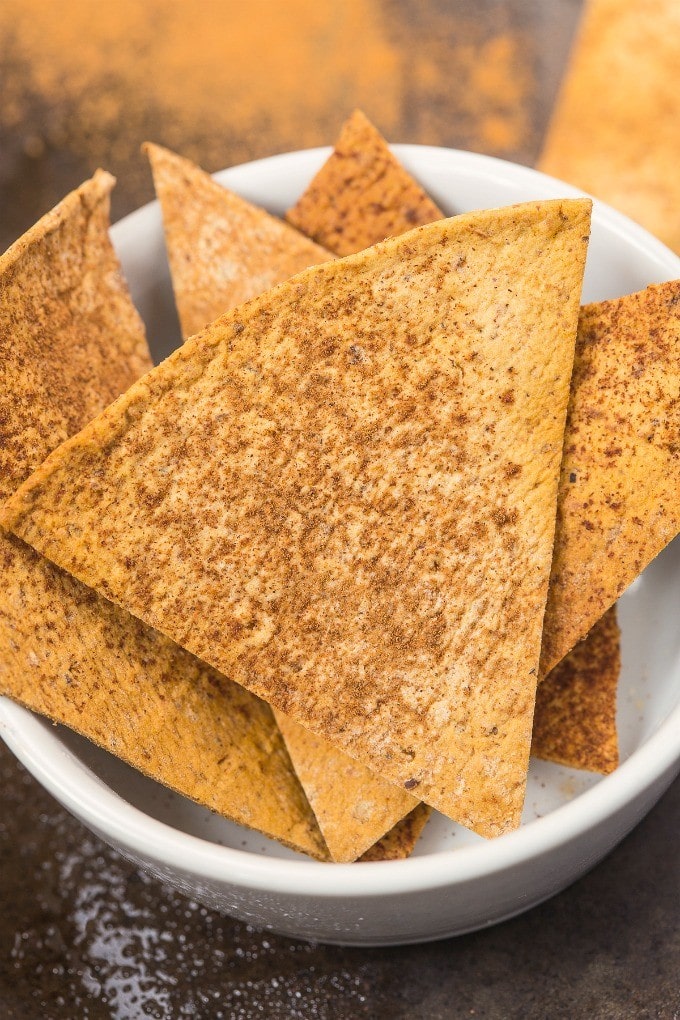 Healthy No Bake 3 Ingredient Butterfinger Bites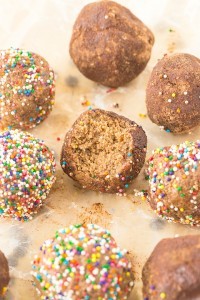 Pop on over to Amanda's joint for this recipe and more recipes for Sweet and Savory Saturdays.
Next week's theme? Mug Cakes!
This post is sponsored by Flatout. Cheers, hugs and handshakes for supporting companies and brands which allow me to do what I'm passionate about every day and make The Big Man's World possible.
Have you ever tried any commercial low carb products? Thoughts on those?
Are you a fan of any low carb products? Don't say eggs, cheese or meat.