Spruce up your sandwiches, wraps or bowls with this delicious healthy satay chicken salad! Chock full of flavour, this healthy salad combines peanut butter, sweet chilli sauce and liquid aminos to give your standard chicken salad a run for it's money- Gluten Free, low carb and a paleo option!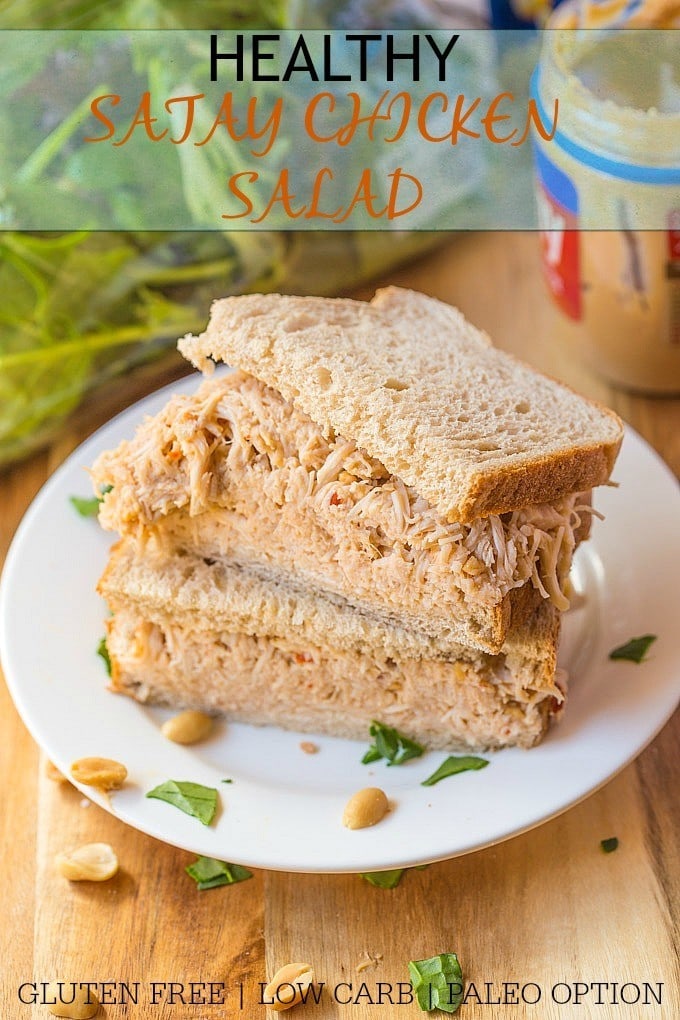 I've mentioned on here multiple times before but I come from a mixed background. My dad's side is Malaysian so I had a very 'cultured' palate growing up. To be completely honest, there wasn't very much food I'd consider 'Malaysian'. Anything remotely Asian tasting, I'd associate with it being Chinese.
Rice = Chinese.
Spicy chicken dishes = Chinese.
Soy Sauce = Chinese.
Chopsticks = Chinese.
Hell = Chinese school. Oh Geebuz, those were some bad, bad memories.
The only dish I would associate with Malaysia would be one of my all time favourite foods- Satay chicken, or more preciously, the satay sauce. Every time we'd go out to eat (which would 90% of the time be at a Malaysian restaurant), satays were compulsory and an extra TWO servings of satay sauce were non negotiable.
Why two EXTRA?
The first one was used for it's purposes. To dip the satay chicken skewers in.
The other two? One for me and one for Niki…..to eat by the spoon.
I kid you not, this would be standard and it killed my mum a little inside. It was also perhaps one of the perks of birthing two mixed children- She could claim we were adopted and get away with it.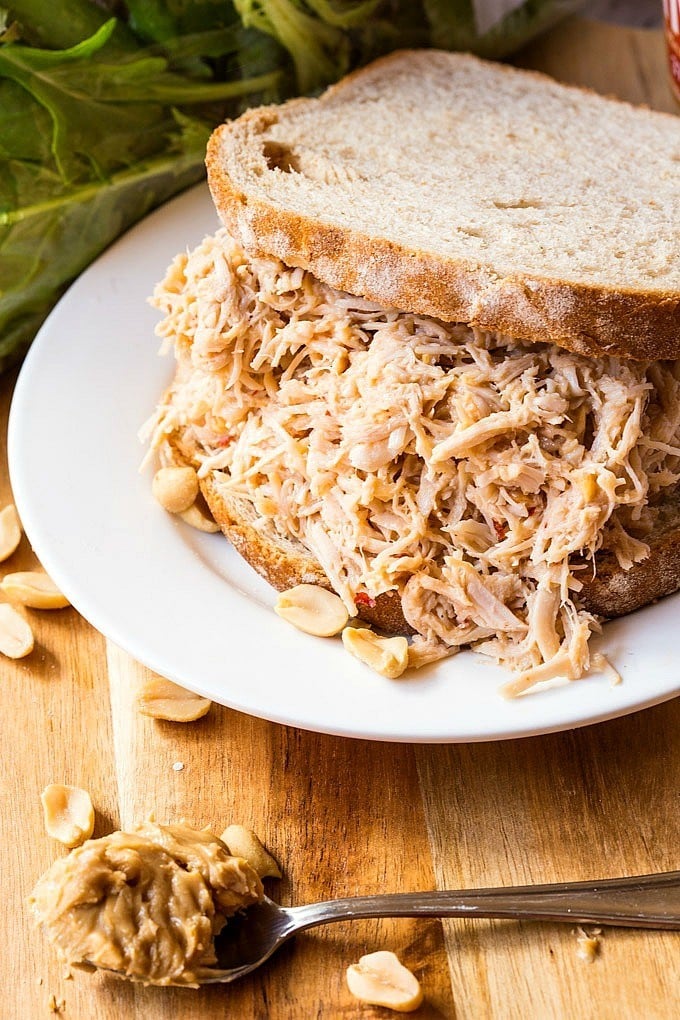 Whilst our behaviours have become more civilised when dining out, our love for this delicious sauce hasn't wavered and to this day, whenever we go out or get take away Malaysian food- The non negotiable two extra servings of satay sauce is always there (Although many of our local choices have cottoned on..they now charge!).
A few years ago, Niki and I realised that the amount of money we were spending on the sauce alone could have bought a small island off Malaysia so we did (what we thought at the time), smart people would do.
No, we didn't make our own.
We went to the Asian supermarkets and bought pre made tubs of it!
Genius? So we thought.
1 Jar of satay sauce = 10 servings of restaurant extras.
As you can imagine, we both overdosed on it now that we didn't need to order Malaysian takeout to get our fix. As the saying goes, too much of anything can be a bad thing and 4 jars and 1 month later- We were satay sauced out.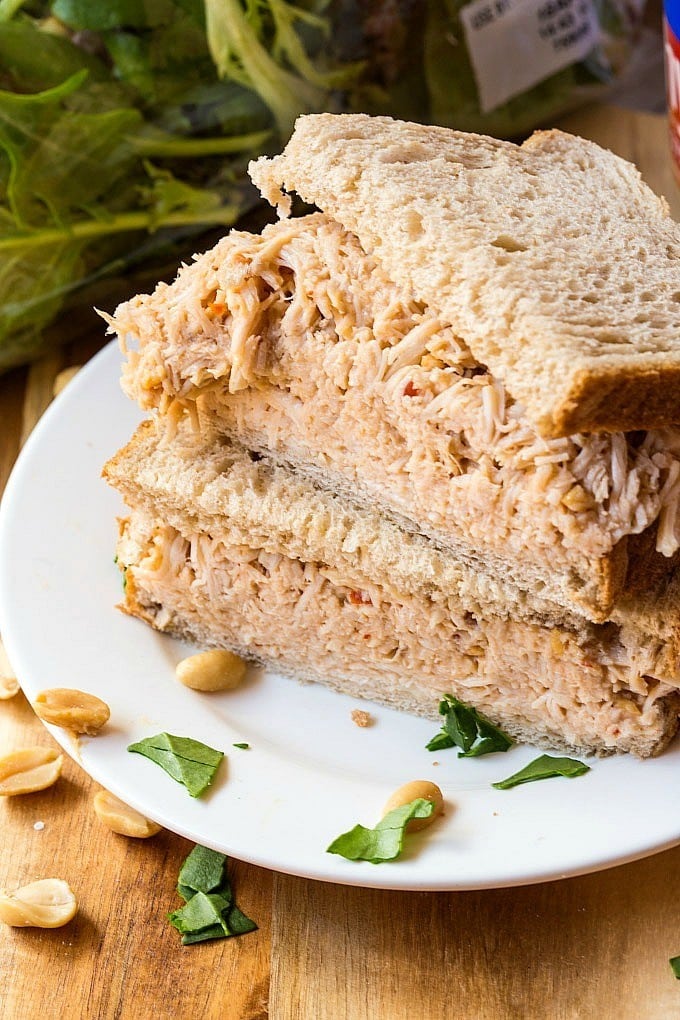 A few weeks ago, I was perusing the Asian supermarket trying to find sriracha because our local food store stopped selling it for some absurd reason. I saw the jars of satay sauce we used to buy and a craving was sparked. Before chucking it in my trolley, I glanced at the ingredients and was both shocked and embarrassed.
Besides the first two ingredients being two forms of sugar followed closely by MSG- This 'peanut sauce' product didn't even contain PEANUTS.
PEANUT SAUCE WITHOUT PEANUTS.
I don't even want to think of what chemicals they used to create something which tasted like that.
I knew unicorns weren't make belief.
I knew I had to create my own and what better way than to pair it with it's best partner (chicken) and spruce up an old school classic. Chicken salad sandwiches are one of my favourite things, mainly because of the mayonnaise and salt. This version subs both with this delicious, easy and healthy homemade satay sauce- One which actually contains peanuts.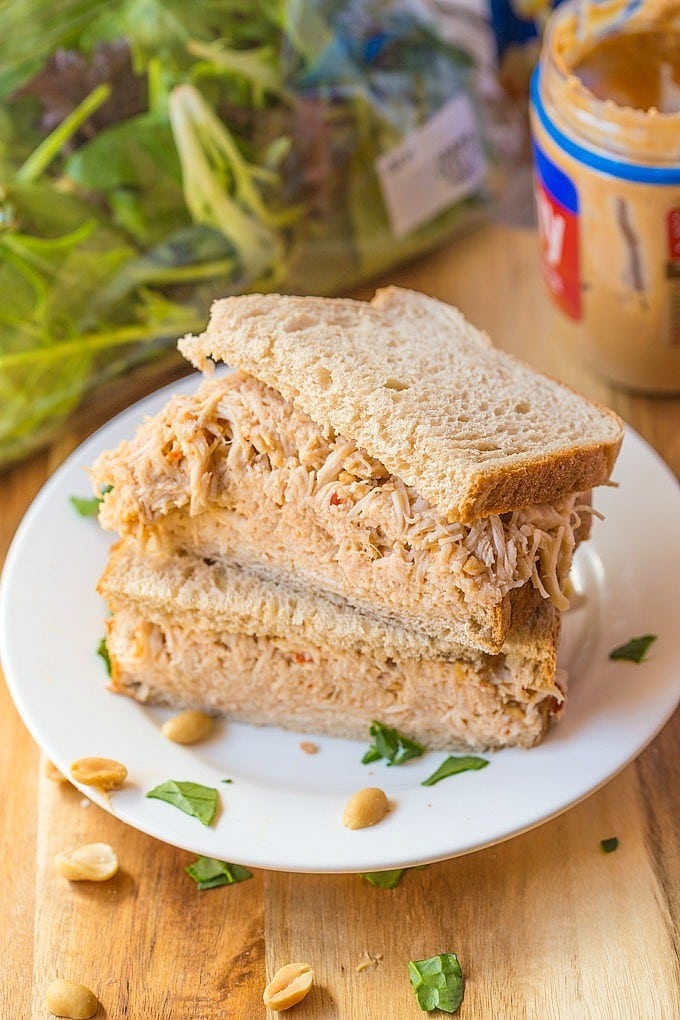 This healthy Satay Chicken Salad is a flavour explosion with hints of sweet, salty and spicy in one. It's the perfect sandwich filling or hearty salad topping or even eaten on it's own. It's gluten free, high protein and healthy fats from the nut butter. It's much lower in sodium that store bought or take out brands and comes without the preservatives and unicorns. For those whom have peanut allergies or follow a paleo lifestyle- I've tried this out with tahini AND almond butter and both have worked out really well!
Make this Healthy Satay Chicken Salad and be thankful you never shared meal times with me and my sister.
We're all class.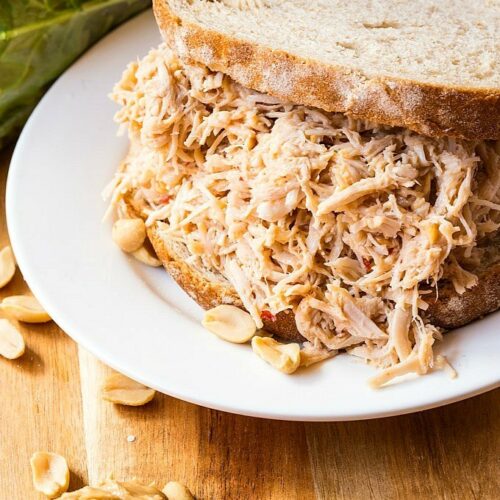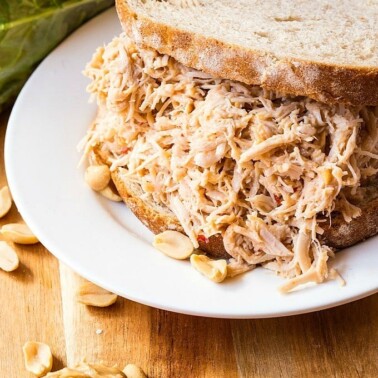 Healthy Satay Chicken Salad
Spruce up your sandwiches, wraps or bowls with this delicious healthy satay chicken salad! Chock full of flavour, this healthy salad combines peanut butter, sweet chilli sauce and liquid aminos to give your standard chicken salad a run for it's money- Gluten Free, low carb and a paleo option!
Ingredients
2

tablespoon

peanut butter

sub for tahini or almond butter if strictly paleo/allergy friendly

2

tablespoon

chilli sauce of choice

I used a sweet chilli blend

1

tablespoon

liquid aminos

Can substitute for GF soy sauce

1- 2

tablespoon

chopped peanuts

optional

1

teaspoon

red pepper flakes

1

teaspoon

coconut palm sugar

can sub for any sweetener of choice

1- 2

tablespoon

coconut or dairy free milk of choice

1-2

cups

shredded chicken*
Instructions
In a mixing bowl, combine the peanut butter, chilli sauce, liquid aminos, red pepper flakes and coconut palm sugar and mix very well until the peanut butter has been relatively thinned out. ad the chopped peanuts if using it.

Using a tablespoon, add the coconut milk until a thick sauce has formed to desired consistency (I like a thinner sauce so used more).

Pour the sauce over the shredded chicken and mix well until chicken is fully coated. Use the mixture in a sandwich, over a salad or any other way you like!
Notes
* For a heartier salad, use 1 cup of shredded chicken. I used this for sandwiches and wraps and didn't want the sauce overpowering.
ground chicken burgers(Paleo, Gluten Free, Low Carb)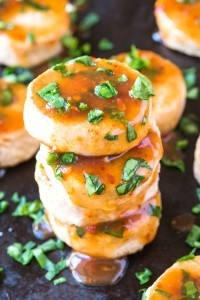 Healthy One Pot Couscous Paella (Gluten Free)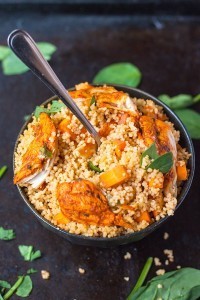 Stovetop Pulled Tandoori Chicken (Paleo, Gluten Free)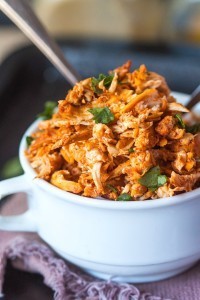 The Best Chicken Patties (Paleo, Gluten Free)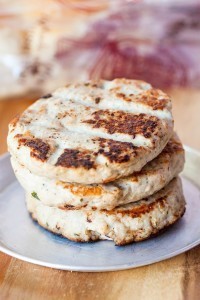 Paleo Burger King Chicken Nuggets (Paleo, Gluten Free)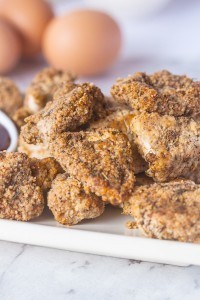 Linking up with my friend Linda and her crew for Gluten Free Wednesdays
What was your typical take away or restaurant cuisine growing up?
Did you have any strange foodie habits as a kid?
What is your favourite kind of sandwich?
Disclosure: This post may contain affiliate links. I may earn a small commission for my endorsement, recommendation, testimonial, and/or link to any products or services from this website.