Szechuan chicken features succulent and crispy chicken drenched in a flavor packed sweet and spicy sauce. Ready in just 15 minutes and tastes like Takeout!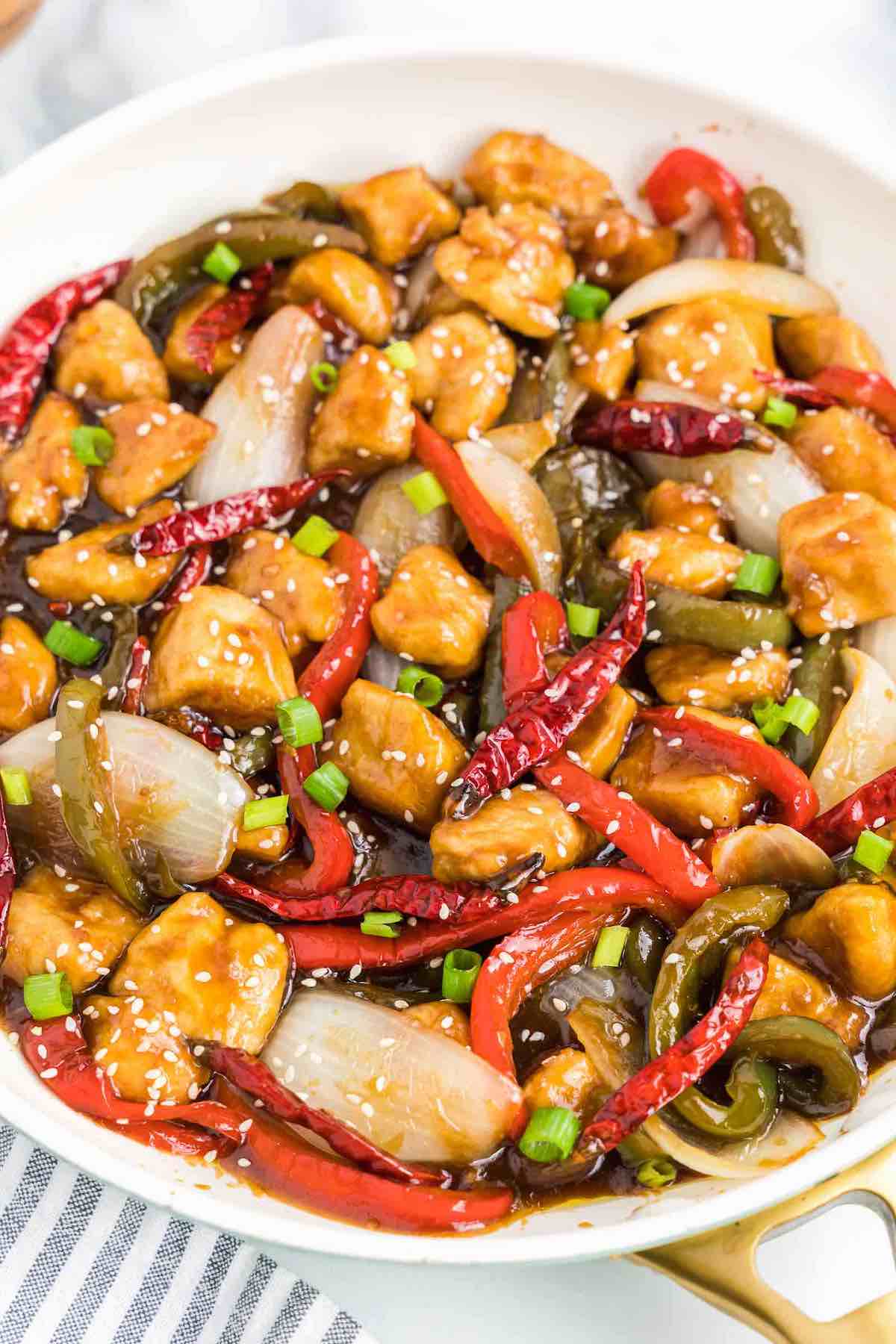 Copycat Chinese chicken takeout dishes are our jam. If you've tried our Mongolian chicken or Hunan chicken before, you are in for a treat with this Szechuan chicken recipe.
It's so much cheaper than takeout and uses good-for-you ingedients that you can pronounce- no MSG or additives here!
Table of Contents
What is Szechuan chicken?
Szechuan chicken (Sichuan chicken) is a popular Chinese dish known for its bold and spicy flavors. It hails from the Sichuan province in southwestern China, which is renowned for its fiery and mouth-numbing cuisine.
A key ingredient is the Szechuan peppercorns, which give many local dishes a pleasantly mouth-numbing sensation. Drier than other stir-fries, combined with juicy and crispy chicken, vegetables, and an umami-forward sauce, it's no wonder it is one of the most popular dishes in Chinese restaurants too.
Why this recipe works
Quick to make. From prep to plate, this entire dish takes less than 15 minutes to make.
Perfect texture and flavor. The chicken is crispy, the sauce is sticky, and the vegetables are tender. It's spicy, a little sweet, and honestly a flavor explosion in the mouth (in the best possible way!).
Customizable. Easily switch up the cuts of chicken, the vegetables, or even the heat level.
Recreate your Asian restaruarant experience at home by also whipping up some egg drop soup and crab rangoon to start!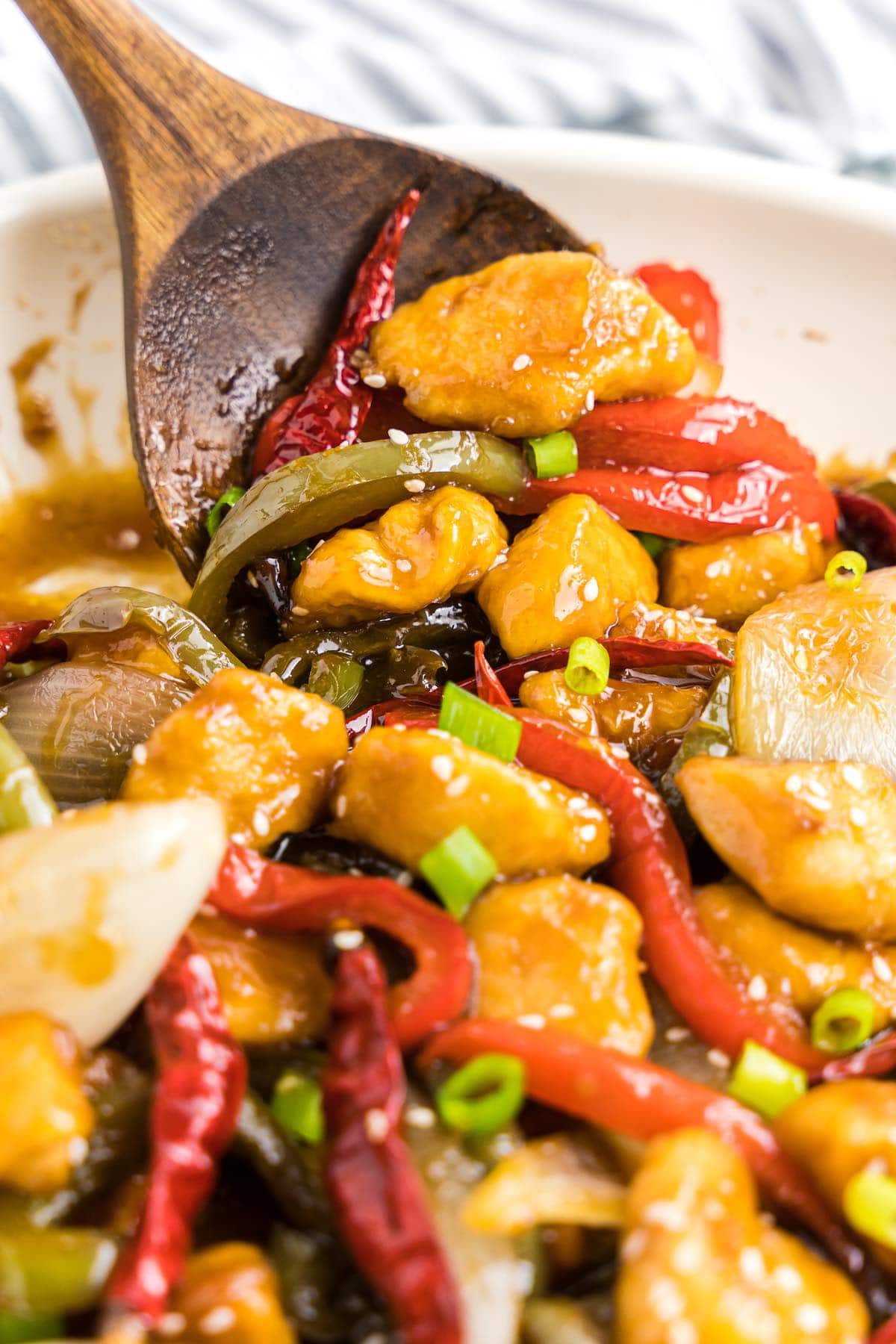 Ingredients needed
This chicken Szechuan style is so easy, and besides some staple Asian sauces and aromatics, there isn't much else that is needed to make. Here is what you'll need:
Chicken. Skinless and boneless chicken breast cut into 1-inch cubes.

Cornstarch. To coat the chicken bits and make them crispy.

Ginger and garlic. A must for Asian stir-fries. Both will be finely minced, which will distribute the flavor perfectly.
Onion. I prefer using yellow onions as they are not as distinct as white ones but use whichever you have on hand.
Bell peppers. Sliced or cut into squares.

I use a mix of red and green peppers for color.
Szechuan peppercorns.

The special ingredient that gives this dish its signature flavor. You can find these peppers at any Asian grocery store or even in the Asian section of popular supermarkets.
Dried red chilis. For the spicy element. I typically use 15-20 small chilis for this recipe which does sound like a lot, but it's not overly spicy. I recommend you start small, then work your way up.
For the Szechuan sauce:
Soy sauce. The base of the Szechuan sauce. It provides saltiness and a rich umami flavor.
Rice vinegar. Gives the sauce its glossy and sticky texture. Please note this is not the same as white vinegar!
Water.
Hoisin sauce. Another staple Asian sauce with a salty and slightly sweet flavor.

I like to compare it to Asian-style BBQ sauce but so much more flavorful.
Brown sugar. To add sweetness. You can use the sweetener of your choice, including honey and maple syrup.

Cornstarch. To thicken the sauce.
How to make Szechuan chicken
While this recipe may look incredibly time consuming, it's actually deceptively easy to make and comes together very quickly.
Prep the chicken: Cut the chicken breast into 1-inch cubes. Put the chicken pieces into a zip-top bag, add cornstarch, and shake until the chicken gets coated in starch.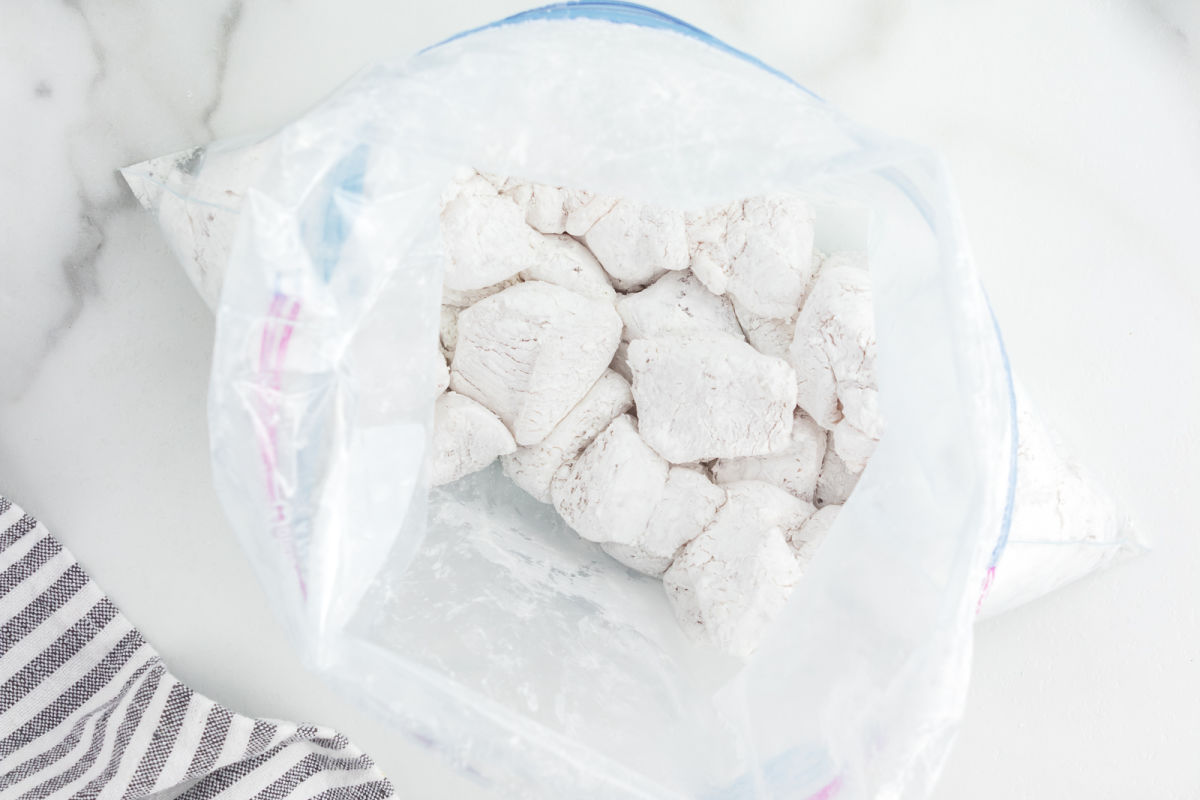 Make the sauce: Whisk the sauce ingredients together in a bowl or a measuring cup. When adding the cornstarch, mix it with a small amount of water to make a slurry, and only then add it to the rest of the ingredients.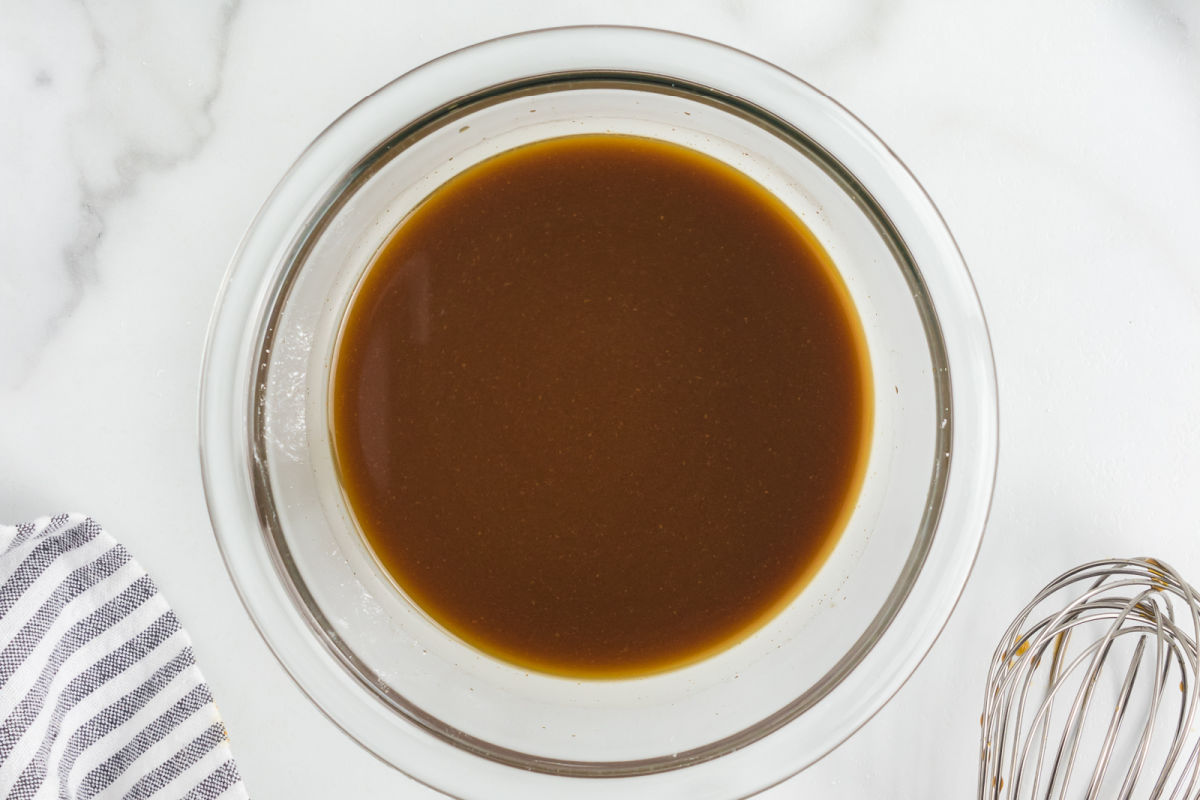 Cook the chicken: Add vegetable oil to a non-stick pan and when the pan is hot, add the chicken pieces. Stir-fry the chicken for 7 to 8 minutes or until they are golden and crispy. Remove the chicken.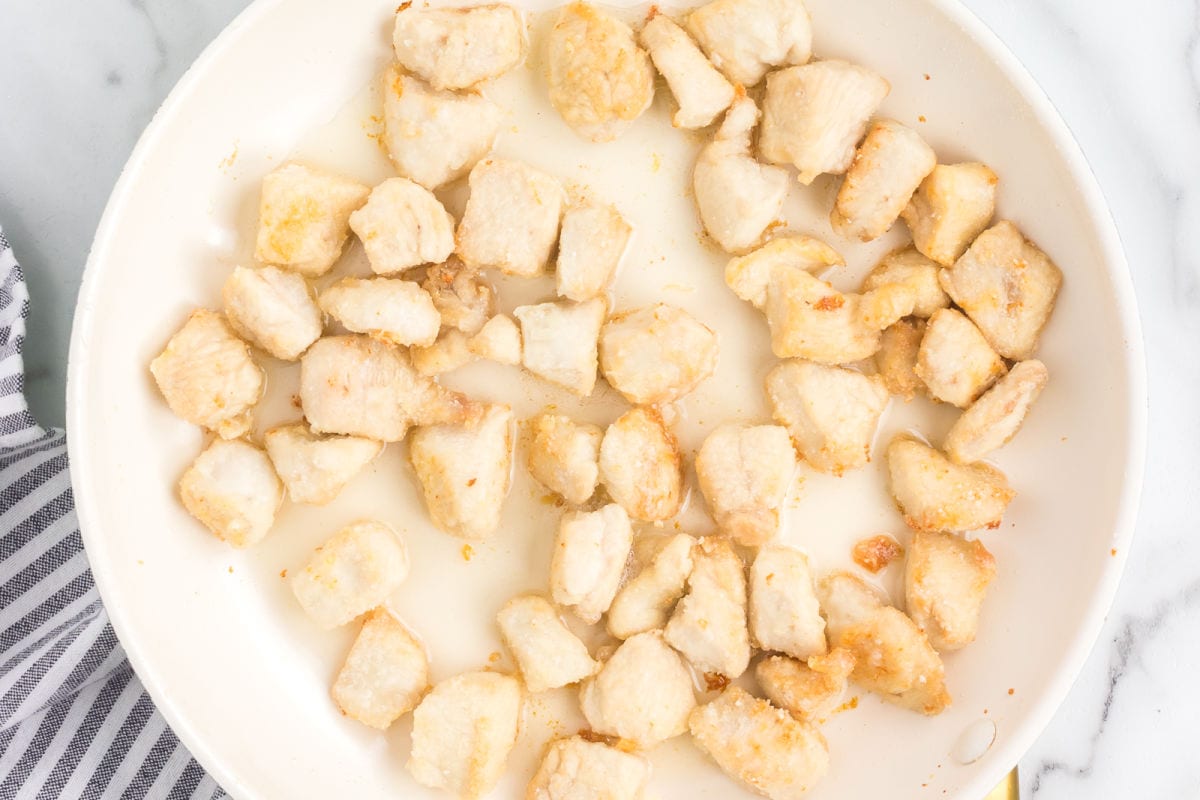 Cook the vegetables: Cook minced ginger and garlic until fragrant and add the chopped vegetables. Cook onion and bell peppers until they are tender.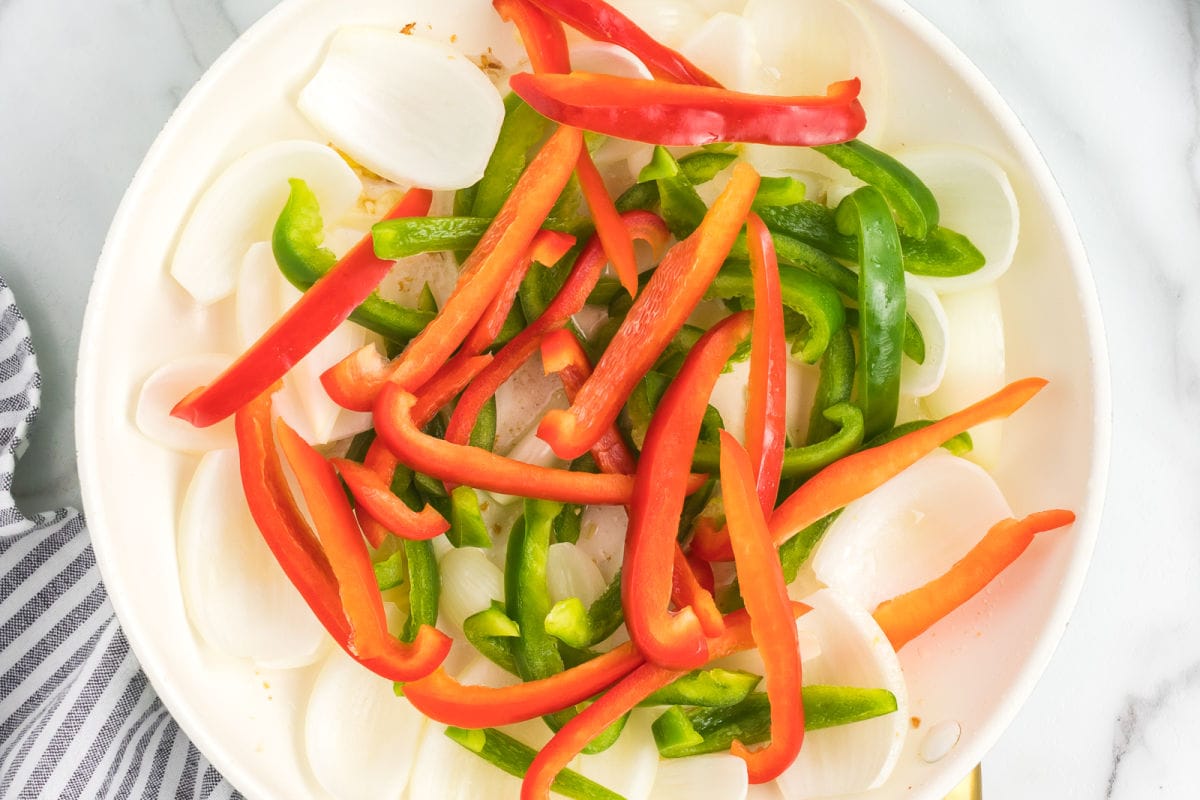 Bring everything together: Bring back the cooked chicken and drizzle everything with the sauce. Cook everything together until the sauce thickens.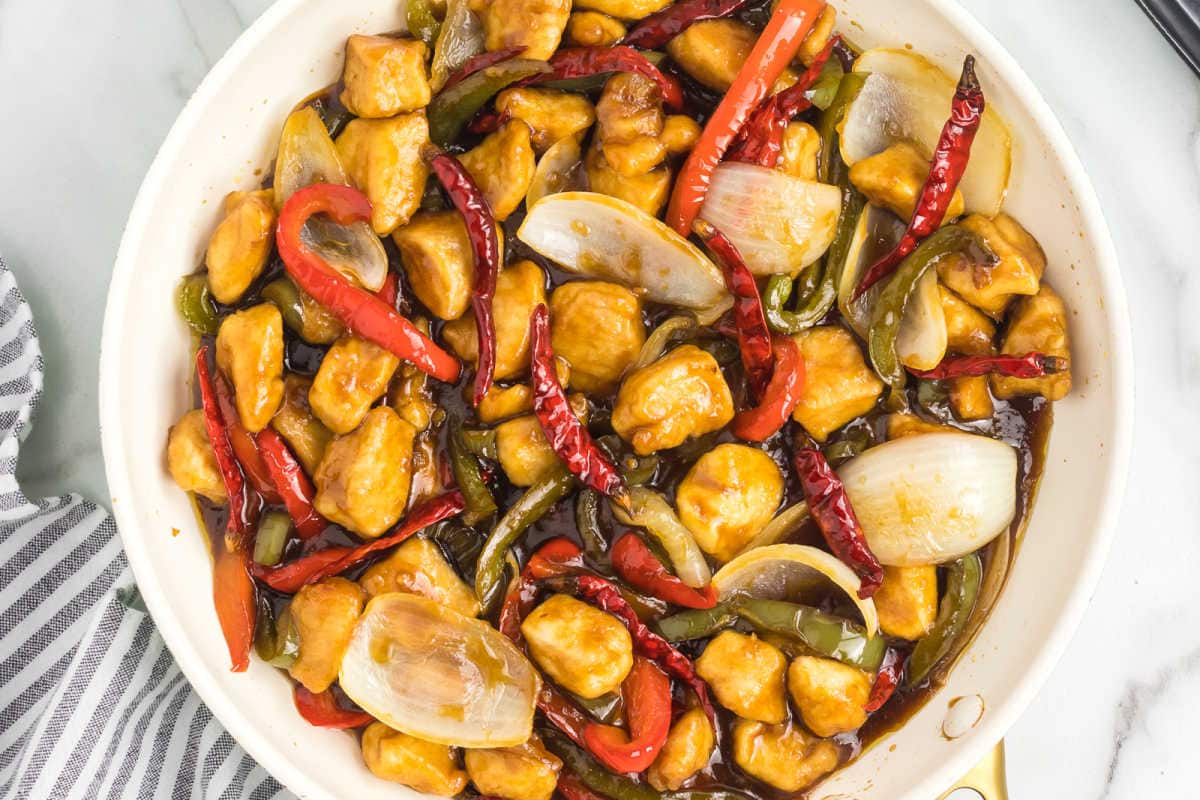 Tips to make the best recipe
Follow the cooking order of the ingredients. When making stir-fir fries, you should first fry the chicken or meat, remove it from the pan, and only then pan-fry the vegetables, starting with onions and hard vegetables and finishing with the fast-cooking ones.

Cut the ingredients evenly: This ensures everything cooks evenly, and let's be real- it makes this dish look so much better, too!
Avoid overcrowding the pan: When frying the chicken, do not overcrowd the pan or else it won't be as crispy. If needed, cook it in batches.
Variations
The beauty of homemade Szechuan chicken is just how easy it is to customize with whatever ingredients you have on hand. Here are some ideas:
Add more vegetables: Mushrooms, broccoli, green peas, baby corn, and eggplant are some simple and delicous options.
Make it vegan: If these Asian flavors and colors are too tempting for you but you're vegan, swap the chicken breast with tofu. Both are great sources of protein and are good at absorbing different flavors.
Add nuts: Adding nuts to this stir-fry is a great way to add some crunch. Cashews and peanuts are popular choices, although almonds are also a delicious addition.
Use other cuts of chicken: Skinless thigh fillets, chicken tenderloins, and even cutlets will all work.
Storage instructions
To store: Place leftovers in an airtight container. It will last 3 to 4 days in the fridge.
To freeze. Place the cooked and cooled chicken stir fry in an airtight container and place it in the freezer for up to 6 months.
To reheat. Reheat leftovers in a non-stick pan over low to medium heat. You can also the chicken in the microwave.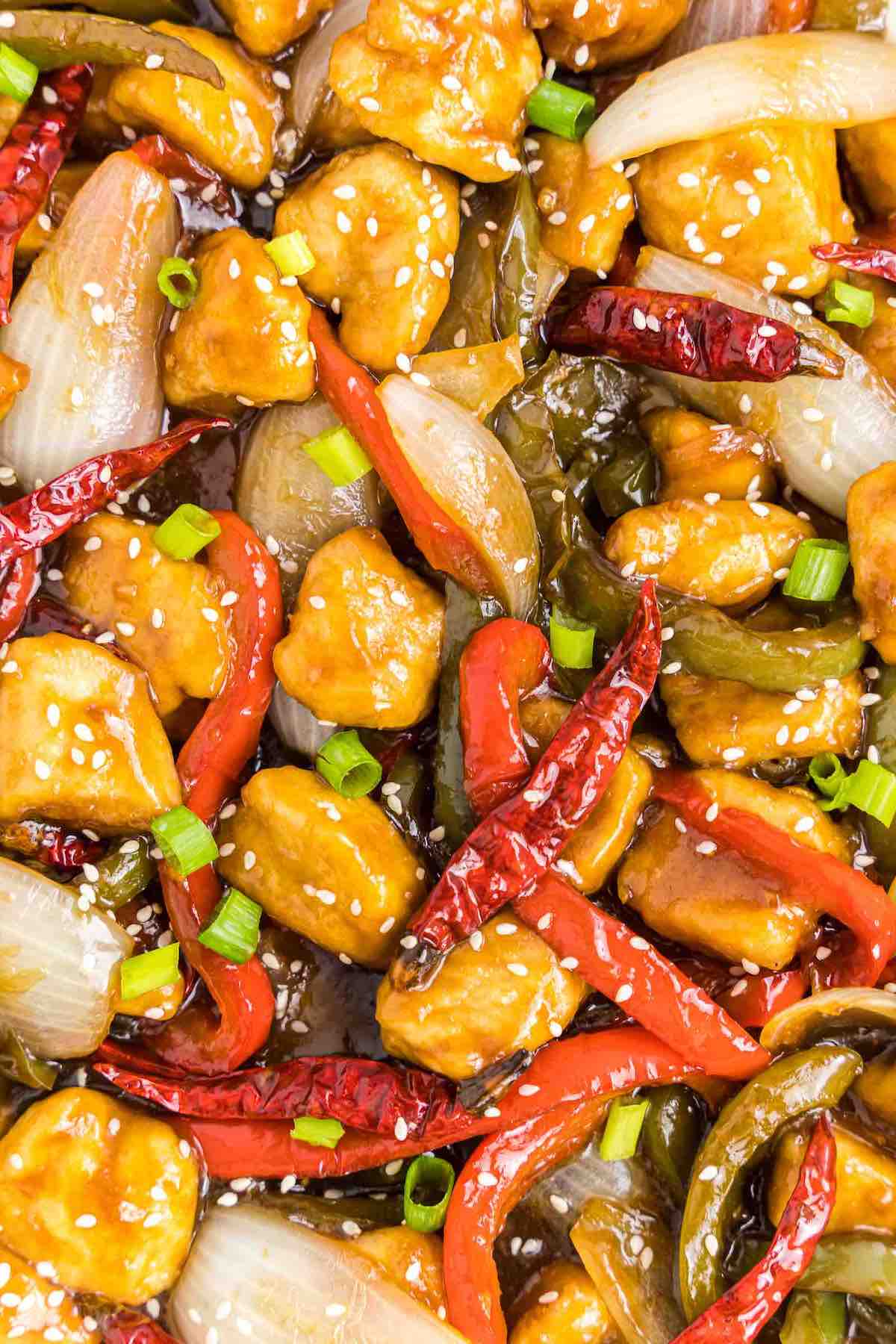 More better than Takeout recipes
Frequently asked questions
What is the difference between Szechuan chicken and General Tso's chicken?
Szechuan chicken is spicy and numbing, featuring a bold Szechuan peppercorn-laden sauce, while General Tso's chicken is sweeter, with a tangy and mildly spicy sauce, and the chicken is deep fried.
Can I make this gluten-free?
Yes! Use gluten-free soy sauce (or tamari!) and gluten-free Hoisin sauce and this recipe will be suitable for celiacs.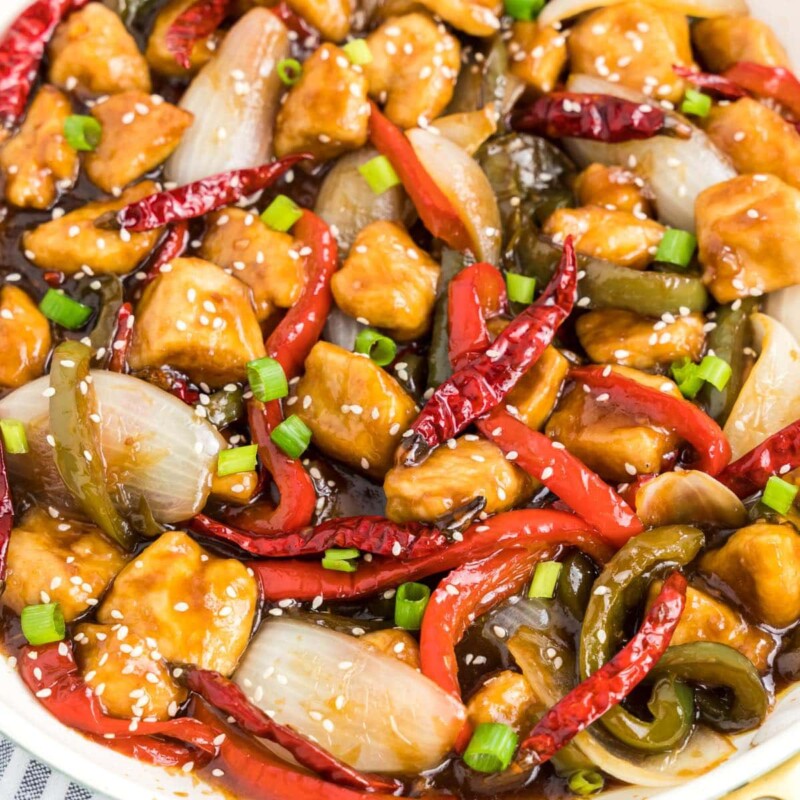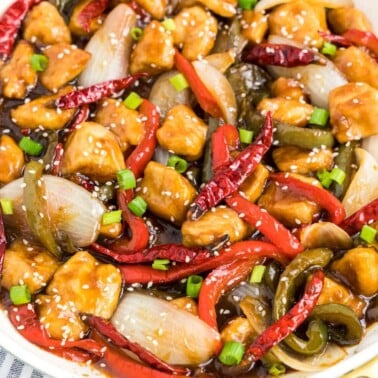 Szechuan Chicken Recipe
This Szechuan chicken recipe features succulent and crispy chicken bites drenched in a flavorful sweet and spicy sauce. Ready in just 15 minutes and tastes like Takeout!
Ingredients
1

lb

chicken breast

skinless

1/4

cup

cornstarch

1

tablespoon

oil

1

tablespoon

ginger

minced

2

cloves

garlic

minced

1

large

yellow onion

quartered

2

large

bell peppers

sliced

15

small

Dried chilis

optional

1

teaspoon

Sichuan peppercorns

optional
Instructions
Add the chicken in a ziplock bag with the cornstarch and mix together until combined.

Make the sauce by whisking everything together in a small bowl.

Add the oil to a non-stick pan or skillet and place it over medium heat. Once hot, add the chicken and cook for 4-5 minutes, until crispy. Remove from the heat.

To the same pan, add the ginger and garlic and cook until fragrant. Add the onion and bell peppers and cook until tender.

Add the chicken back into the pan and then drizzle the sauce on top. Cook everything together until the sauce has thickened.
Notes
TO STORE: Place leftovers in an airtight container. It will last 3 to 4 days in the fridge. TO FREEZE: Place the cooked and cooled chicken stir fry in an airtight container and place it in the freezer for up to 6 months. TO REHEAT: Reheat leftover Szechuan chicken in a non-stick pan over low to medium heat. You can also reheat the chicken in the microwave.
Nutrition
Serving:
1
serving
Calories:
265
kcal
Carbohydrates:
22
g
Protein:
27
g
Fat:
7
g
Sodium:
1015
mg
Potassium:
732
mg
Fiber:
3
g
Vitamin A:
3099
IU
Vitamin C:
110
mg
Calcium:
30
mg
Iron:
1
mg
NET CARBS:
19
g
Disclosure: This post may contain affiliate links. I may earn a small commission for my endorsement, recommendation, testimonial, and/or link to any products or services from this website.