This recipe for Hunan chicken is made with tender chicken stir fried with fresh vegetables covered in a spicy authentic Hunan sauce! Ready in under 10 minutes, it tastes like takeout!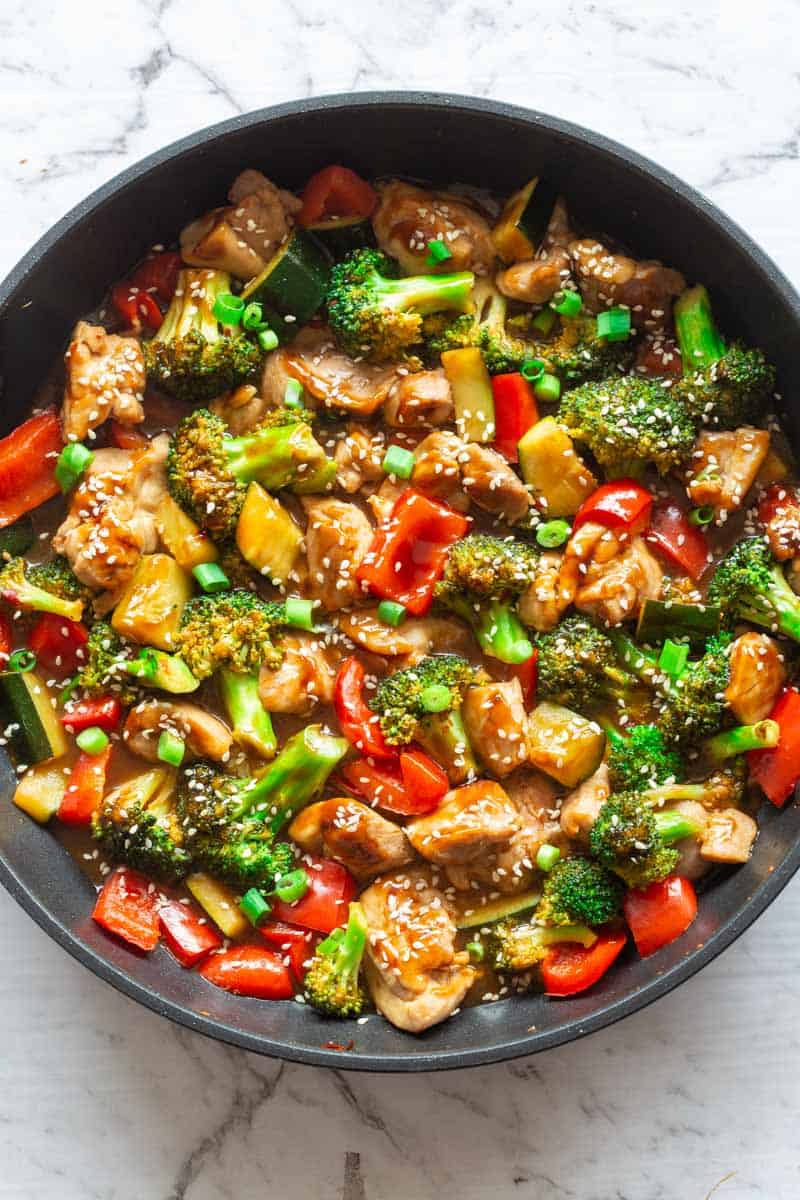 Coming from a half-Chinese household, we grew up eating various stir fries that have become more and more popular in Western countries. My dad introduced us to several staples, like Mongolian chicken and Szechuan chicken. Our family favorite was easily the Hunan style chicken.
What is Hunan chicken
Hunan chicken is a chicken stir fry that originates from the Hunan region of China (as the name suggests). Compared to other Chinese stir-fries, this kind has a spicier kick to it, often in the form of chili paste.
Now, depending on where in the world you live, Hunan chicken may be prepared differently. It is a popular dish in American Chinese restaurants, which can sometimes use different ingredients and be milder on the spice. However, it's still just as delicious, and you can always jazz it up to be as spicy as you want it to be!
Why this recipe will be a dinnertime favorite-
Ready in 10 minutes. From prep the plate, this entire dish cooks up in no time!
Healthy and delicious. If you've ever eaten Hunan chicken at a restaurant, you'll know that they are laden with calories and sugary sauces. This homemade version, however, is healthy and nutritious.
Tastes like takeout. Okay, so even though we don't use MSG or any sugary sauces, it tastes just like the real thing.
Tender chicken and crisp vegetables are covered in a delicious spicy sauce that will leave you reaching for a second helping. The secret to the perfect Hunan chicken is to use a good quality chili paste– We used sambal oelek, and it takes this dish to another level!
Ingredients needed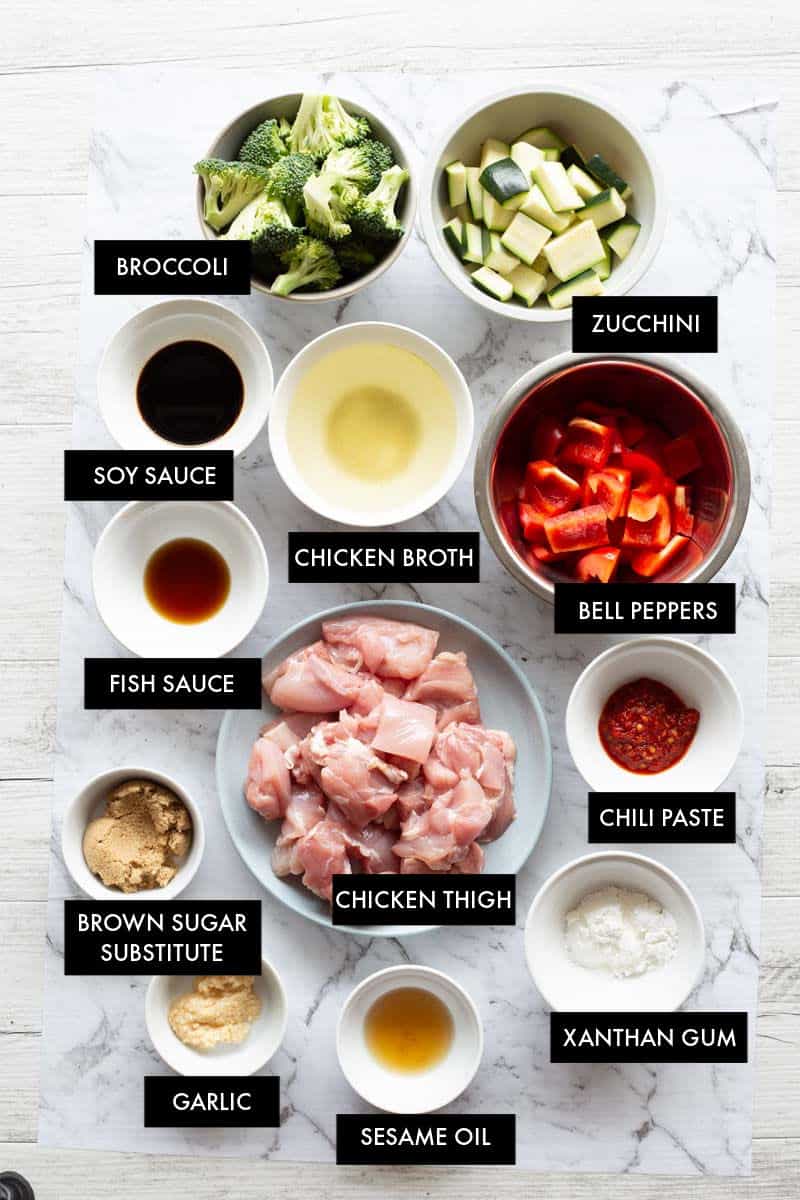 For the chicken
Skinless chicken thigh– Chicken thigh is best to use for any chicken stir fry, as it remains moist and juicy and holds the sauce so much better than other cuts. You can use chicken breast if that is all you have on hand.
Almond flour OR cornstarch– Blanched almond flour is used to lightly coat the chicken before frying. This helps keep it tender and golden on the outside.
Oil– Any neutral flavored oil with a high smoke point. I recommend safflower oil or sunflower oil.
For the stir fry
Sesame oil– A must for any good Asian-inspired stir fry! A little goes a very long way, so don't be too heavy handed with this.
Ginger and garlic– A must for any good stir fry!
Broccoli- Chopped into bite-sized florets.
Bell peppers– Any color works, but we love using red bell peppers to give the stir fry extra color!
Zucchini– Chopped into bite sized pieces.
Hunan sauce
Chicken broth– Also known as chicken stock. This gives the sauce a richer flavor profile. You can also use vegetable broth if you don't have any on hand.
Soy sauce– Use Tamari or gluten free soy sauce if needed.
Fish sauce– Adds some umami flavor and an extra kick of flavor.
White vinegar– Balances out the salty and sweet ingredients.
Brown sugar OR substitute– Balances out the soy and fish sauce. Skip the store bought kind and make your own.
Chili paste– The key ingredient that distinguishes this chicken stir fry from other stir fries! I like using Sambal Oelek, but any spicy chili sauce can be used!
Xanthan gum OR cornstarch– Thickens the sauce and is a fabulous keto substitute for cornstarch.
How do you make Hunan style chicken?
1. Lightly dust your chicken in almond flour.
2. Brown your chicken in a pan until no longer pink. Transfer to a plate or dish.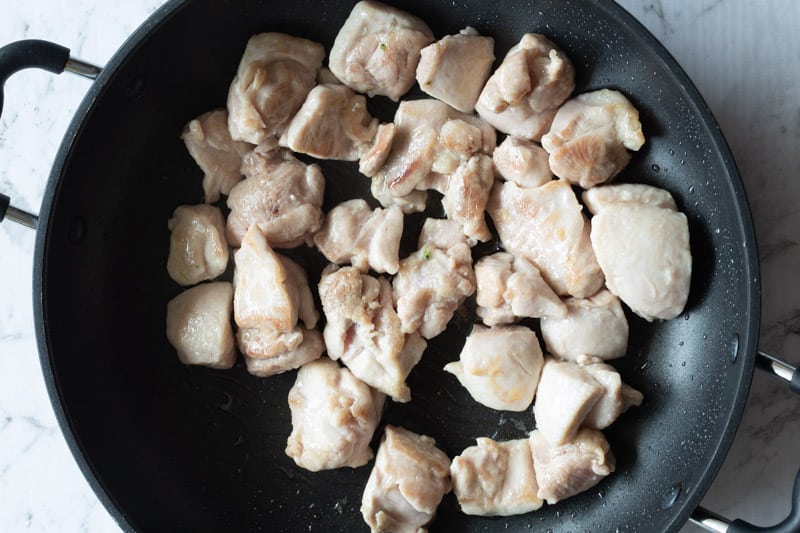 3. Add the sesame oil and once hot, add the ginger and garlic. Add the remaining vegetables and stir fry until tender.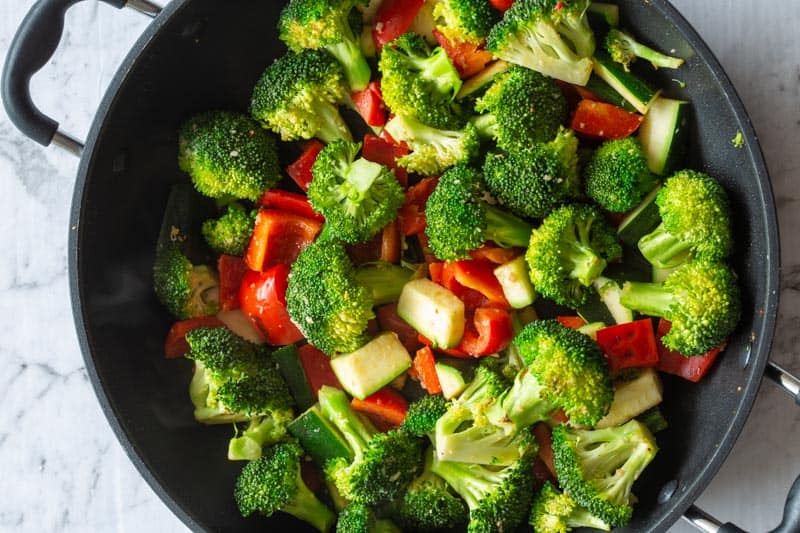 4. Add the chicken back into the pan.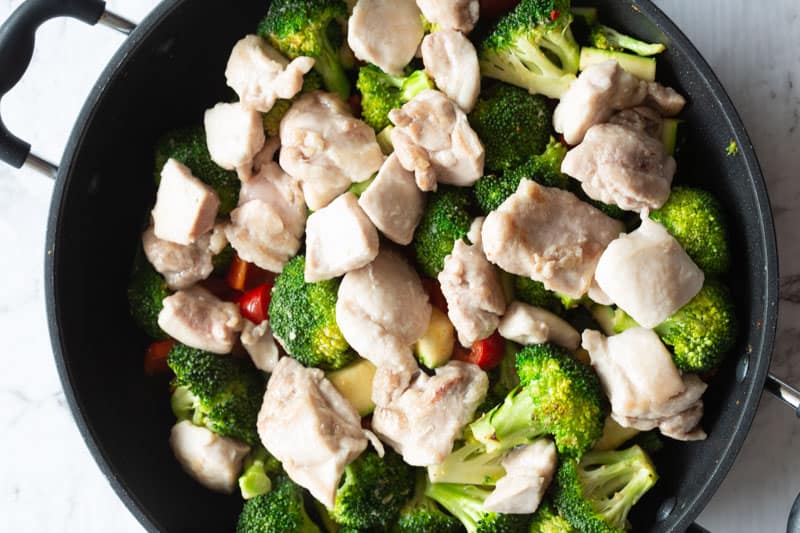 5. Whisk together the Hunan sauce and pour over the chicken and vegetables. Cook for a further 5-10 minutes, until the sauce has thickened.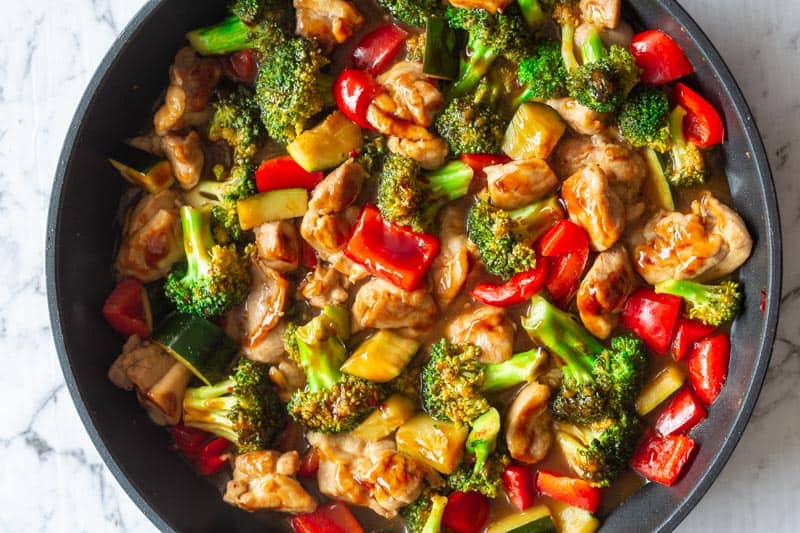 What is the difference between Hunan chicken and Szechuan chicken?
Both chicken dishes originate from China from the Hunan province and Sichuan provinces, respectively. However, outside of their origin, they have some key differences.
While Hunan chicken has slightly spicier properties, Szechuan chicken relies on Szechuan peppers to give it its flavor kick. Szechuan chicken also uses more citrus flavors in it, like orange or lemon juices, which balances out the spicy kick from the peppercorns.
Furthermore, the Szechuan chicken dish often contains nuts, like cashews and peanuts.
Tips to make the best recipe
Feel free to adjust the spice level depending on your taste buds. If you'd prefer a spicer Hunan sauce, double the amount of chili paste.
If you'd like a leaner cut of chicken, you can use finely sliced chicken breast.
For a balanced low carb dinner, serve this chicken dish over some cauliflower fried rice. If you don't follow any specific diet, you can serve this with steamed Jasmine rice.
Switch up the vegetables used with other greens, like Chinese broccoli, bok choy, or even eggplant.
Storing, freezing, and reheating tips
To store: Leftovers can be stored in the refrigerator, covered, for up to 5 days.
To freeze: Place the Hunan chicken in a shallow container and store it in the freezer for up to 6 months.
Reheating: Either microwave for 1-2 minutes or pan fry until warm and sizzling.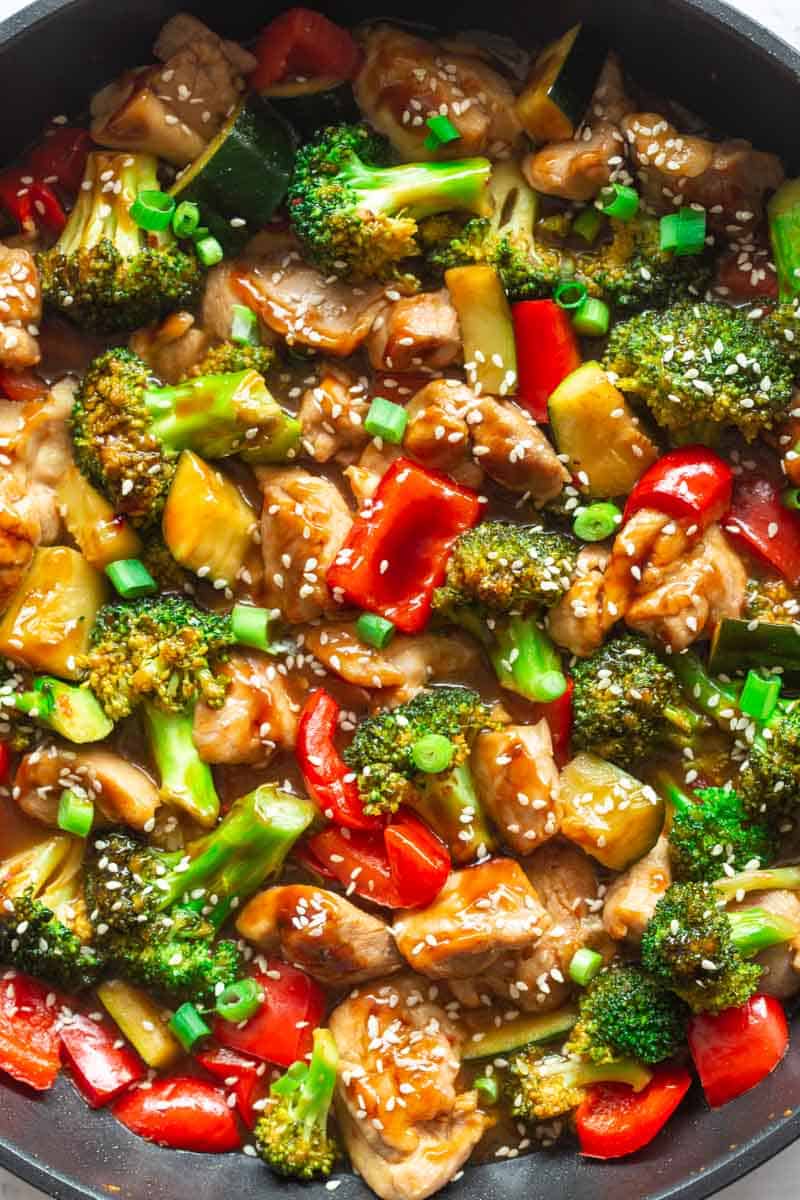 More stir fry dishes to try
Frequently Asked Questions
What does Hunan sauce taste like?
Hunan sauce has sweet and spicy flavors, heavier on the spicier side. The xanthan gum thickens the sauce which holds onto the chicken and vegetables beautifully, giving you a flavor sensation with every bite. 
Is this dish sweet?
While there are sweet elements of the dish, it is a very minor part of the dish. You can add or adjust the sweetness level if desired.
Is this low carb?
Swap out the cornstarch for almond flour and this stir fry would be suitable for a low carb diet.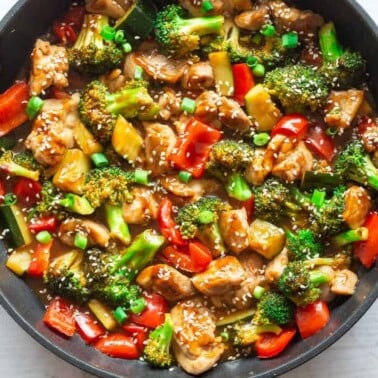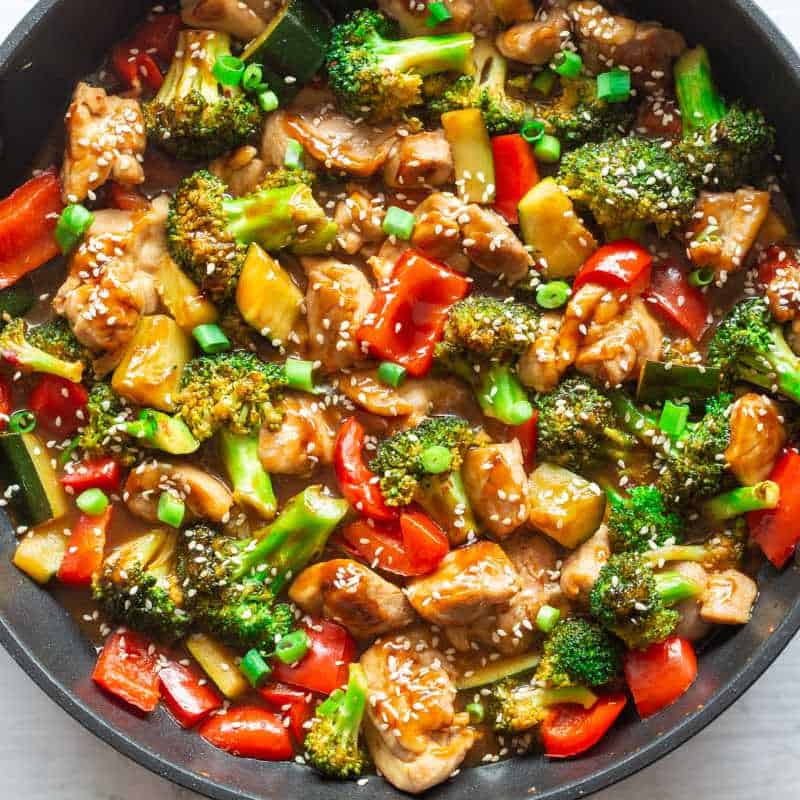 Hunan Chicken (10 Minute Recipe!)
This recipe for Hunan chicken is full of seasoned chicken, fresh vegetables, all covered in a sweet and spicy sauce! Ready in 10 minutes with minimal prep needed!
Ingredients
For the chicken
1

lb

chicken thigh

skinless, chopped into bite sized pieces

1

tablespoon

almond flour

or cornstarch

1

tablespoon

oil
For the stir fry
1

tablespoon

sesame oil

2

cloves

garlic

minced

1

tablespoon

ginger

minced

3

cups

broccoli

chopped

1

large

bell pepper

chopped

1

medium

zucchini

chopped
Instructions
Make the Hunan sauce by whisking together all the ingredients and setting aside. 

In a bowl, add the chopped chicken and almond flour and lightly mix together. 

Add the oil in a non-stick pan or wok and place over medium heat. Stir fry the chicken until mostly cooked. Remove the chicken from the pan.

Add the sesame oil and when hot, add the minced garlic and ginger and stir fry for several minutes. Add the remaining vegetables and cook until mostly tender. Add the chicken back to the pan, before adding the Hunan sauce. Let it bubble and thicken for several minutes, before removing it from the heat.

Serve over cauliflower rice or one your favorite low carb side of choice.
Notes
TO STORE: Leftovers can be stored in the refrigerator, covered, for up to 5 days. TO FREEZE: Place the Hunan chicken in a shallow container and store it in the freezer for up to 6 months. TO REHEAT: Either microwave for 1-2 minutes or pan fry until warm and sizzling.
Nutrition
Serving:
1
serving
Calories:
358
kcal
Carbohydrates:
8
g
Protein:
26
g
Fat:
22
g
Sodium:
1319
mg
Potassium:
527
mg
Fiber:
4
g
Vitamin A:
1471
IU
Vitamin C:
64
mg
Calcium:
33
mg
Iron:
2
mg
NET CARBS:
4
g
Disclosure: This post may contain affiliate links. I may earn a small commission for my endorsement, recommendation, testimonial, and/or link to any products or services from this website.