Vegetarian Ketogenic dieters rejoice- Enjoy a thick, juicy and FAT keto veggie burger! These EASY keto veggie burgers take minutes to make! No beans, no nuts, no tofu!
These easy, crispy zucchini cauliflower fritters are your meat-free and veggie burger alternative! They need just four ingredients, minus the spices! With an egg-free and grain-free option, these delicious vegetarian patties are naturally gluten-free, whole30, vegan, keto, paleo and dairy free!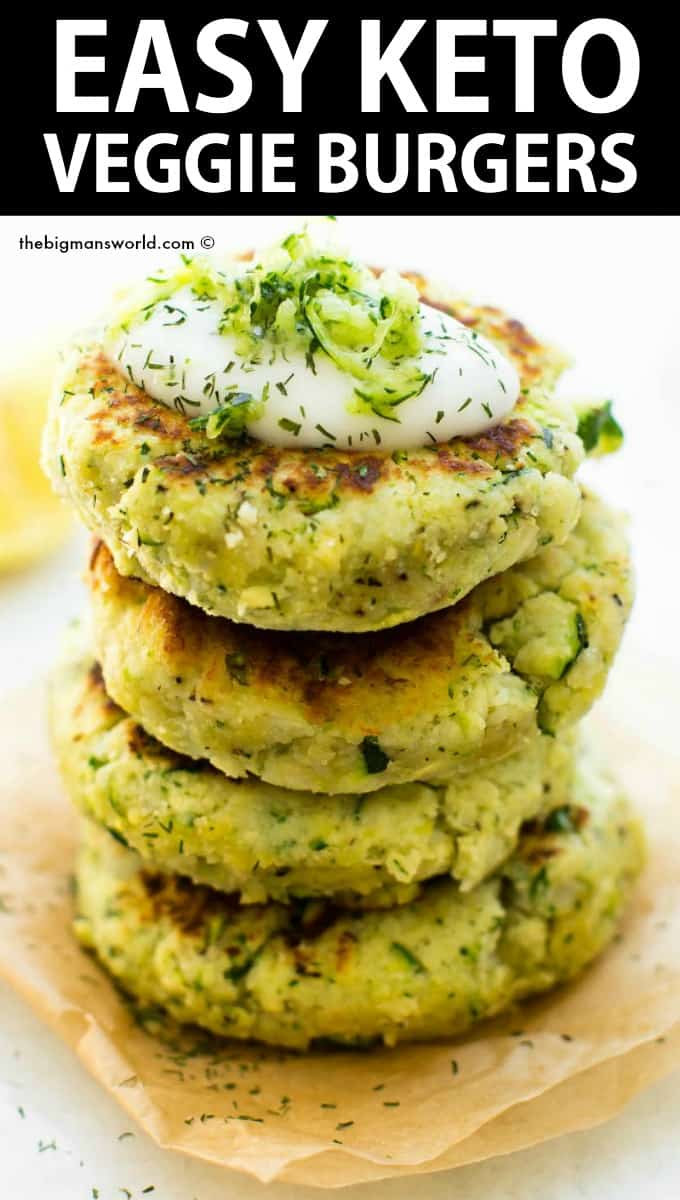 As someone who LOVES a good veggie burger, transitioning to a ketogenic diet made it incredibly difficult to maintain this burger love.
Now, don't get me wrong. I COULD still get my burger love. I mean, fast food chains are jumping on the vegan burger bandwagon, like Burger King (Hungry Jacks) and even McDonalds.
Alas, while vegan friendly, they are still a no-go for one who follows a vegetarian keto diet.
It was time to roll my sleeves up and come up with a meat-free keto burger, that happens to be low carb too!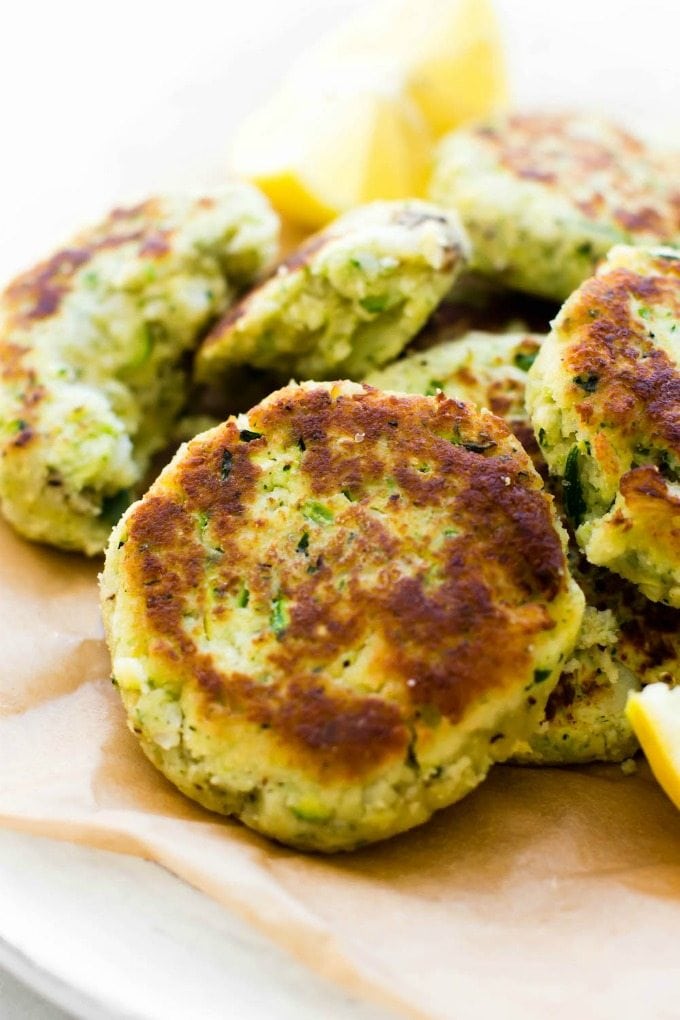 Are veggie burgers keto?
Supermarkets and grocery stores are LOADED with a variety of veggie burgers. Unfortunately, barely any of them are suitable for a paleo or grain free diet, let alone a keto diet!
Brands like Morningstar and dr.praeger's veggie burgers are not keto-friendly.
Like many other brands, they are primarily made up of legumes or beans, which, while healthy and full of fiber, are not suitable for any of those diets.
Even though they are relatively high in protein, they also contain lots of carbs, and cannot be considered a low carb food.
Can you eat veggie burgers on keto?
YES. You CAN eat veggie burgers on a keto diet and we are here to prove it!
My homemade zucchini cauliflower fritters are thick and juicy, just like a burger, and 100% keto-friendly and low carb.
Granted, they won't be as meaty or tender as a 'real' burger, but it's 100% better than frying a mushroom and calling THAT a veggie burger.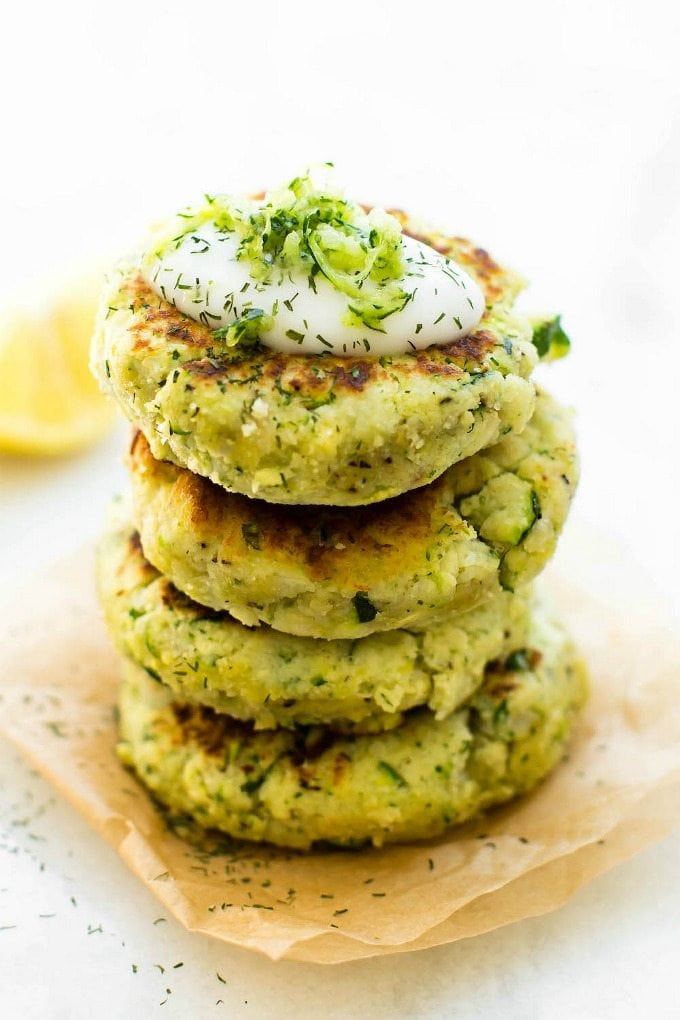 Why make these keto zucchini fritters (keto veggie burgers!)
These Keto Zucchini Cauliflower Fritters are very different than those nuggets. For one thing, they are fritters, not nuggets because the fritter shape is much more mature.
Also, I simplified the ingredient list from 10 down to just 4 ingredients (+ salt and pepper) because 10 was way too much measuring and fuss. Plus carrots are so sweetly snack-perfect a veggie on their own, no need to hide them in fritter form.
I switched from baking to pan-frying because hello crispy delicious exterior.
I don't know about you but I would much rather leave the oil out of the mixture itself and save it for creating extra flavor in the pan.
Plus it ended up being less oil in the end anyways.
But most importantly, they don't fall apart if you so much as look at them funny because I remembered the egg and worked out an egg-free version too… because we don't want our vegan friends to miss out!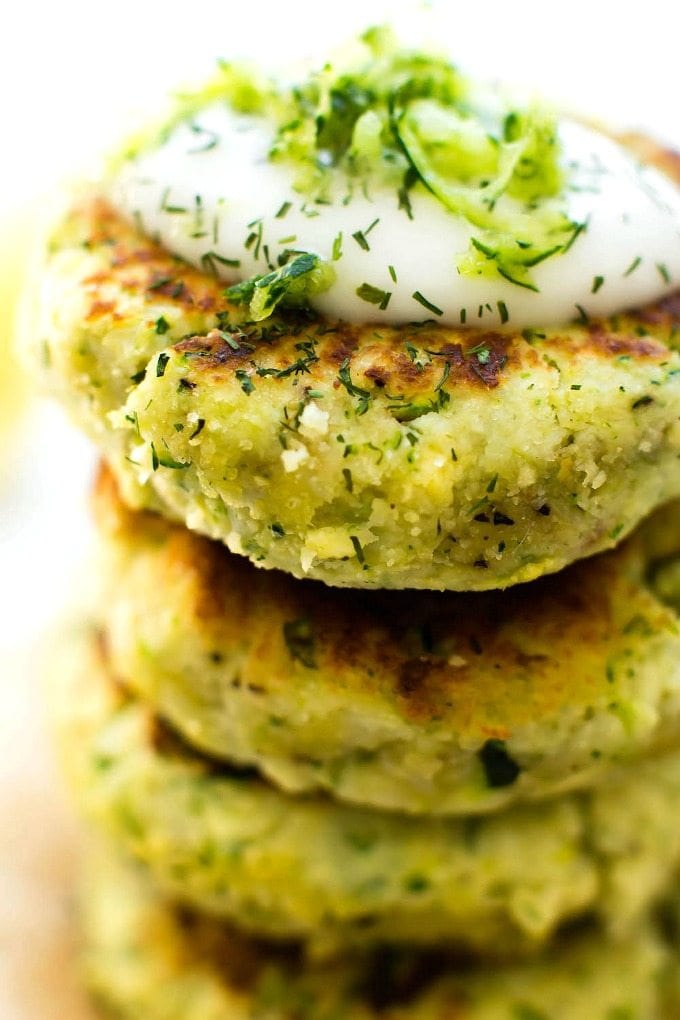 How to make the BEST keto zucchini cauliflower fritters
Step 1- Prepare the vegetables
For either version, there are a few important steps when it comes prepping the veggies. These fritters get their green from zucchini. You can either grate the zucchini by hand or let your food processor do the work for you.
The other, more discreet veggie is cauliflower. You want to use already cooked cauliflower because the few minutes of pan-frying will not be enough to cook the cauliflower completely. If you are using frozen cauliflower, that step is already done for you. If you are using fresh, simply steam it for 5 minutes or so until just soft.
After both the veggies are grated, it is crucial that you squeeze out as much extra liquid as possible so you don't end up with soggy fritters. A towel works, but personally, I love using a nut milk bag if you have one. I find it is even more effective and keeps your dishtowel from turning green.
Step 2- Add the other ingredients and mix!
For the version with egg, you will then add a couple of eggs, a quarter cup of coconut flour, and salt and pepper (plus any other seasonings you like).
For the egg-free version, instead of using flax egg I just switched up the flour to a more naturally bind variety: all-purpose or a gluten-free blend.
Step 3- Fry the burgers/fritters!
Both versions are equally easy to shape into burgers and cook on the stove-top, but I personally prefer the texture of the version with egg so if you are not vegan I recommend that one.
Cook the burgers for 2-3 minutes each side, before flipping and cooking the other side too, until golden.
For fritters (i.e. thinner patties), cook for less time (around 2 minutes each side).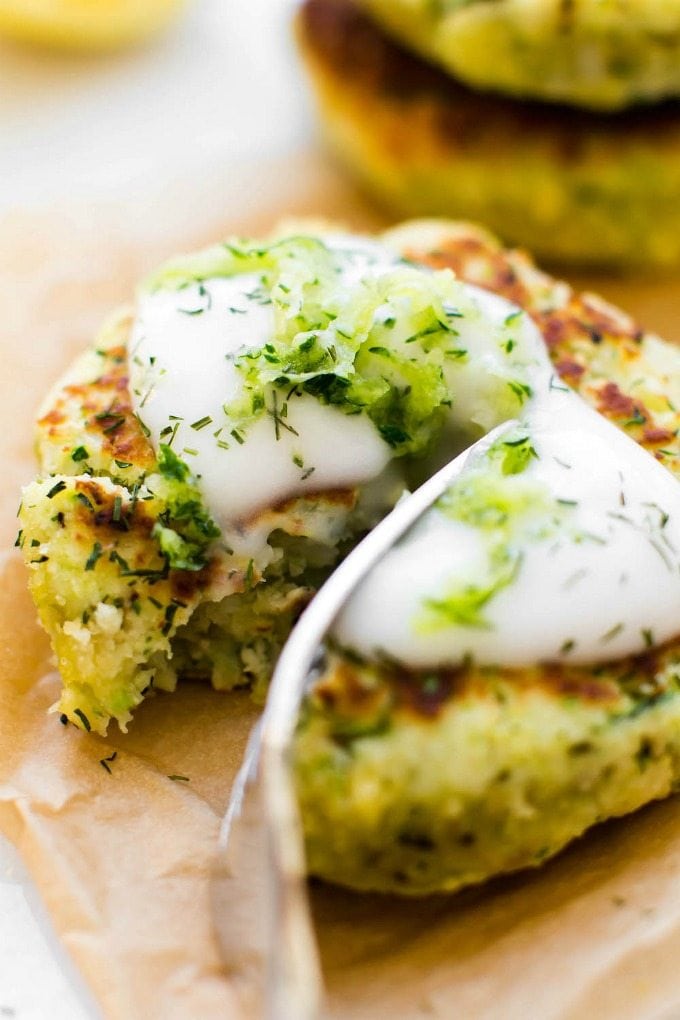 How many net carbs are in a veggie burger?
Store-bought veggie burgers can contain up to 34 grams net carbs- and those are the ones with added fiber!
My homemade version contains just 1.7 grams net carbs!
Can you freeze keto veggie burgers?
Leftover cauliflower zucchini burgers should always be stored in the fridge in a sealed container, to avoid spoiling. They will keep fresh for up to 1 week.
Freeze burgers for quick dinners or as part of a meal prep. Wrap cooled burger patties/fritters in parchment paper, and place in a ziplock bag.
Frozen fritters/burgers will keep fresh for up to 6 months.
How to eat keto cauliflower zucchini burgers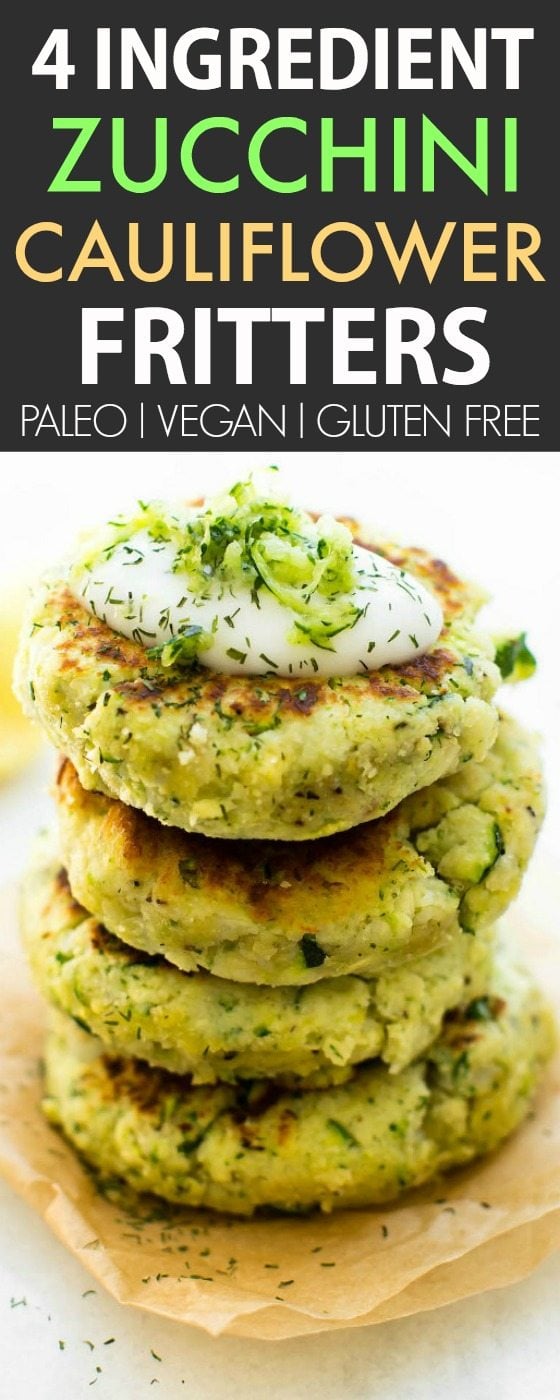 Watch the step-by-step video below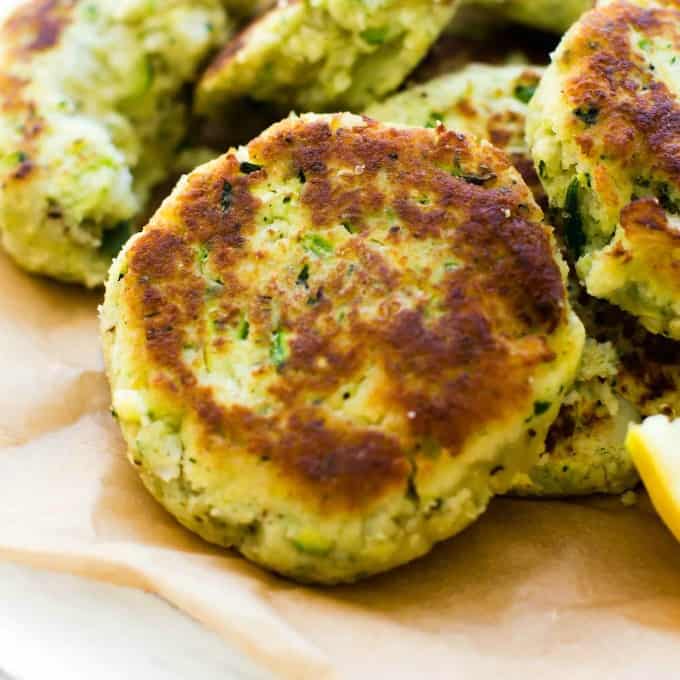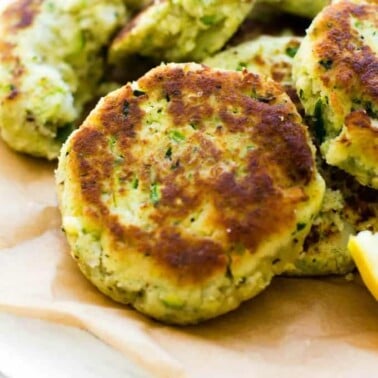 Paleo Vegan Zucchini Cauliflower Fritters (Keto Veggie Burgers!)
These easy, crispy zucchini cauliflower fritters are your meat-free veggie burger alternative! Made with just four ingredients, minus the spices! With an egg-free and grain-free option, these delicious vegetarian ketogenic burgers are also paleo, gluten free and vegan!
Ingredients
Original version
1/2

head

cauliflower

approximately 3 cups, chopped

2

medium

zucchini

1/4

cup

coconut flour

2

large

eggs

1/2

teaspoon

sea salt

1/4

teaspoon

black pepper
Egg-Free version
1/2

head

cauliflower

approximately 3 cups, chopped

2

medium

zucchini

1/4

cup

all-purpose flour

can be gluten-free, if needed

1/2

teaspoon

sea salt

1/4

teaspoon

black pepper
Instructions
Grate the zucchini in a food processor or high-speed blender.

Steam the cauliflower for about 5 minutes until just fork tender. Add the cauliflower to the food processor/blender and process until broken down into small chunks. Do not over process or it will become a mash.

Use a dishtowel or nut milk bag to squeeze as much moisture as possible out of the grated veggies.

Transfer to a bowl and add the flour of choice, egg (if using), salt, pepper, and any other seasonings you like. Mix to thoroughly combine. Shape into small patties or burgers (I got about 8).

Heat up 1 tablespoon of coconut oil in a large pan. Add 4 fritters/burgers to the pan and cook over medium heat for 2-3 minutes per side. Repeat with the second half of the fritters/burgers. 

Serve with dipping sauce of choice or low carb burger bun.
Notes
Fritters can be refrigerated and are freezer friendly.
Nutrition
Serving:
1
burger
Calories:
54
kcal
Carbohydrates:
6
g
Protein:
4
g
Fat:
2
g
Sodium:
188
mg
Potassium:
255
mg
Fiber:
3
g
Vitamin A:
175
IU
Vitamin C:
26
mg
Calcium:
24
mg
Iron:
1
mg
NET CARBS:
3
g

Disclosure: This post may contain affiliate links. I may earn a small commission for my endorsement, recommendation, testimonial, and/or link to any products or services from this website.