One Bowl Chocolate Chip Banana Bread (NO eggs!)
Hands down, this is the BEST banana bread recipe with chocolate chips you need to have on hand! One bowl, no eggs, and no dairy, it's moist and secretly healthy! No mixer needed, it's perfect with a cup of coffee or tea!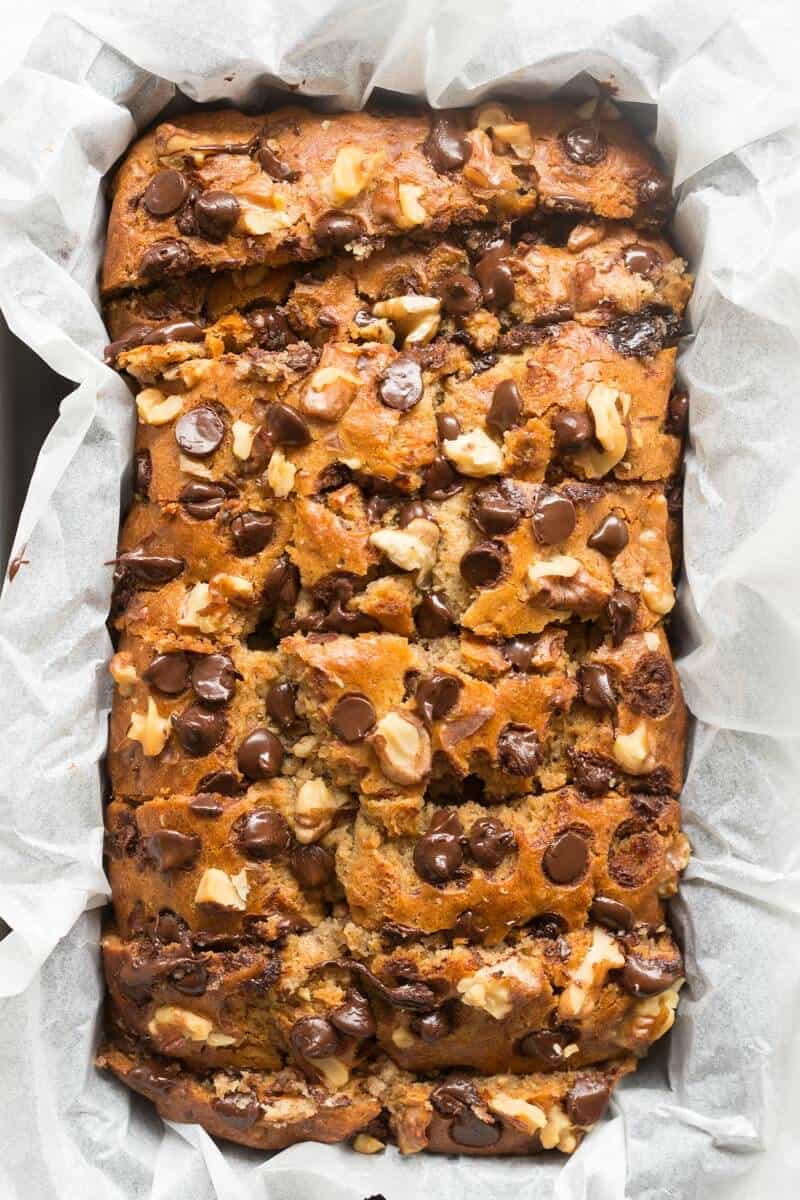 With all the home baking happening at home right now, it's no surprise that classics like chocolate chip cookies, peanut butter cookies, and banana bread are being made.
In times of doubt, nothing is more comforting than spending time in the kitchen baking from the heart. It takes our minds off what is happening around the world and gives us an excuse not to watch the news.
Many of you have told me you've stocked up your pantry with basics, so let's get our bake on.
We ALL have that leftover banana or two on our kitchen counters and for me, using leftover bananas is screaming for banana bread, but not just any banana bread…
Chocolate Chip Banana Bread.
The very BEST recipe.
I might even have it for breakfast.
Banana Bread Recipe with Chocolate Chips
Okay, so my original banana bread recipe had over one hundred 5 star reviews. That recipe is made with no flour, so it is the perfect flourless recipe to have on hand.
This chocolate chip banana bread is a little bit different.
It's made with no eggs, no refined sugar, and no dairy, but you'd never tell.
Texture-wise, it ticks ALL the boxes in what a delicious chocolate chip banana bread should be.
Moist on in the side, tender on the outside, and loaded with chocolate chips throughout and on top.
Taste-wise, it's sweet, with hints of banana (not too much!) and bits of chocolate in every bite.
Bonus? It's eggless and refined sugar-free, making it PERFECT for those following a vegan and gluten-free diet! Oh, and it's secretly healthier than traditional ones!
How to make chocolate chip banana bread
The Ingredients
Bananas– the browner your bananas are, the sweeter they will be!
All-purpose flour– You can use regular all-purpose flour or gluten-free all-purpose flour. Be wary of the brands of gluten-free flour you use, as some have additives in it that can make sweet bread gummy.
Granulated sweetener of choice– I recommend sticking to white sugar (table sugar, monk fruit sweetener), or use part white and part brown sugar. Using all brown sugar (or coconut sugar) will yield a heavier loaf, and also have a very strong flavor.
Baking soda– To help the bread rise and have that gorgeous dome shape we love!
salt-
Dairy-free butter– Replaces the need for any oil in the recipe, while keeping the bread buttery and super moist.
Dairy-free milk– Any dairy-free milk will work- I've used oat milk, unsweetened almond milk, and soy milk.
Vanilla extract– A must for any good banana bread recipe!
Apple cider vinegar– This helps the bread rise and be fluffy, without the need for any eggs!
Chocolate Chips– Use a mix of chocolate chunks and chocolate chips, to ensure the chocolate is evenly distributed between the entire loaf. Be sure to reserve a few to top the bread with it.
Walnuts– Optional, but highly recommended. There is nothing I love more than the chocolate/walnut combination.
The Instructions
Making this banana bread is so simple, and needs no fancy kitchen gadgets to prepare!
In a large mixing bowl, combine your dry ingredients and mix well. Mash your bananas, and add those to the bowl, along with the other wet ingredients. Mix until just combined, as we don't want to overmix it! Using a rubber spatula, fold through the chocolate chips and walnuts (if using them). Transfer to a loaf pan and top the bread with extra chocolate chips and walnuts.
Now we bake! Bake the chocolate chip banana bread for around 45-50 minutes, or until a skewer comes out clean from the center. Oven makes and models vary, so you may find your banana chocolate chip bread taking a little longer to cook. Once cooked, remove from the oven and let cool completely in the pan.
NOTE: Remember, the banana bread continues to cook as it cooled!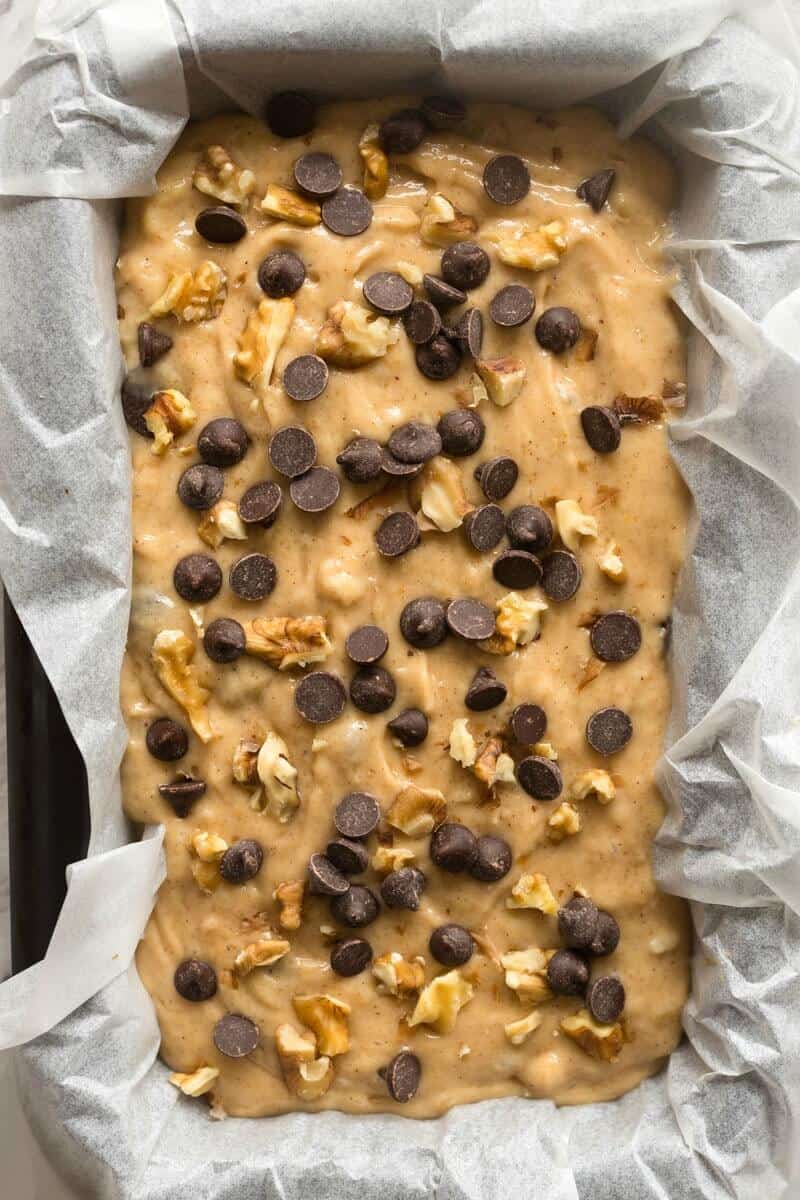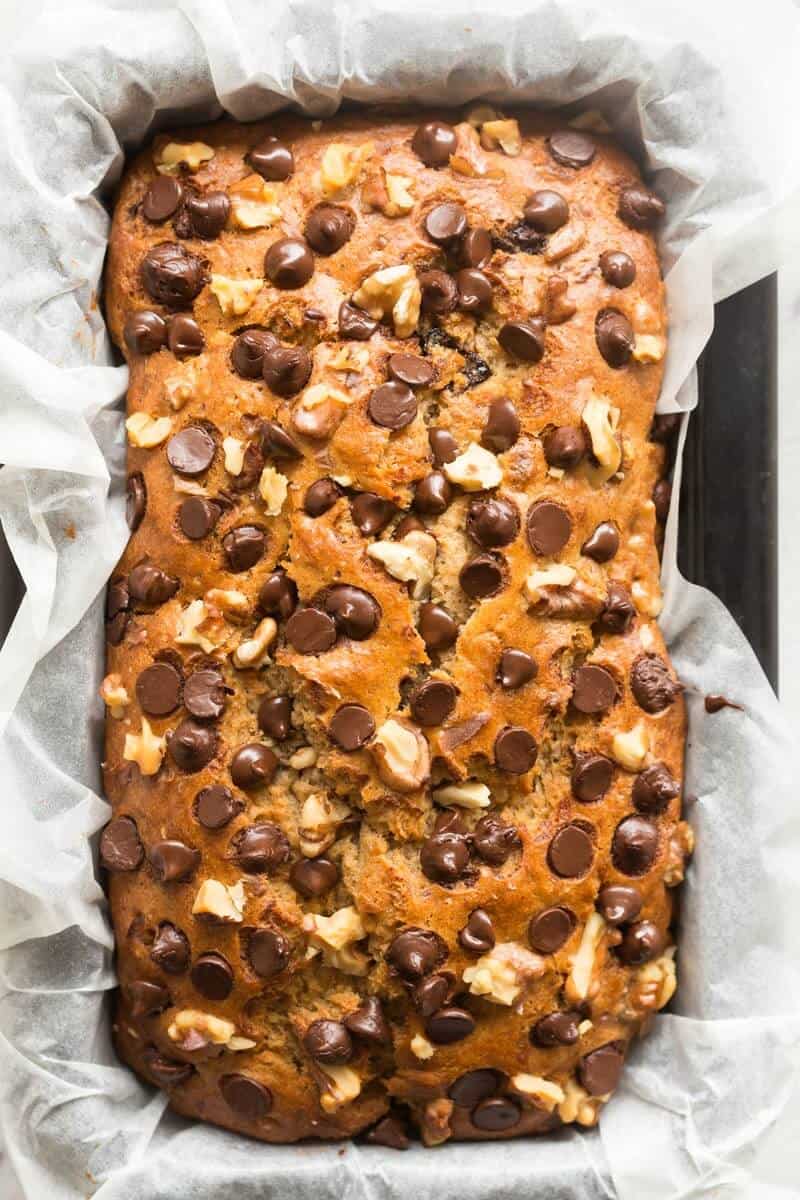 Can I use 'real' butter and 'real' milk if I'm not vegan?
I often get asked by non-vegan readers if they can use eggs or butter in recipes that call for egg substitutes or dairy-free butter. The same goes for non-dairy milk.
The answer is YES!
If you don't follow a vegan diet, you can use butter instead of dairy-free butter and use milk instead of plant-based or non-dairy milk.
How do you keep chocolate chips from sinking in banana bread?
You often hear that chocolate chips can sometimes sink to the bottom of the banana bread.
To combat this, you should ALWAYS fold through the chocolate chips at the end of the recipe preparation, instead of all at once.
Alternatively, you can toss the chocolate chips in a few tablespoons of flour. This stops them from sinking to the bottom too.
NOTE: you don't need to do this with the chocolate chips you are topping the bread with, as they stay put!
Tips and tricks for PERFECT Chocolate Chip Banana Bread
Do not overmix the batter, as that can really affect whether the banana bread rises beautifully, or sinks. I know it is tempting, but avoid it!
Mash the bananas with a fork, instead of blending it, as the extra lumps will give the bread an even more delicious texture.
Always line the loaf pan with parchment paper, instead of just greasing it. This bakes the banana bread more evenly and avoids any potential for it to stick. Also, use more than necessary, so that there is an inch on each side 'overhanging'. This makes removing the cooked banana chocolate chip bread from the loaf pan seamless.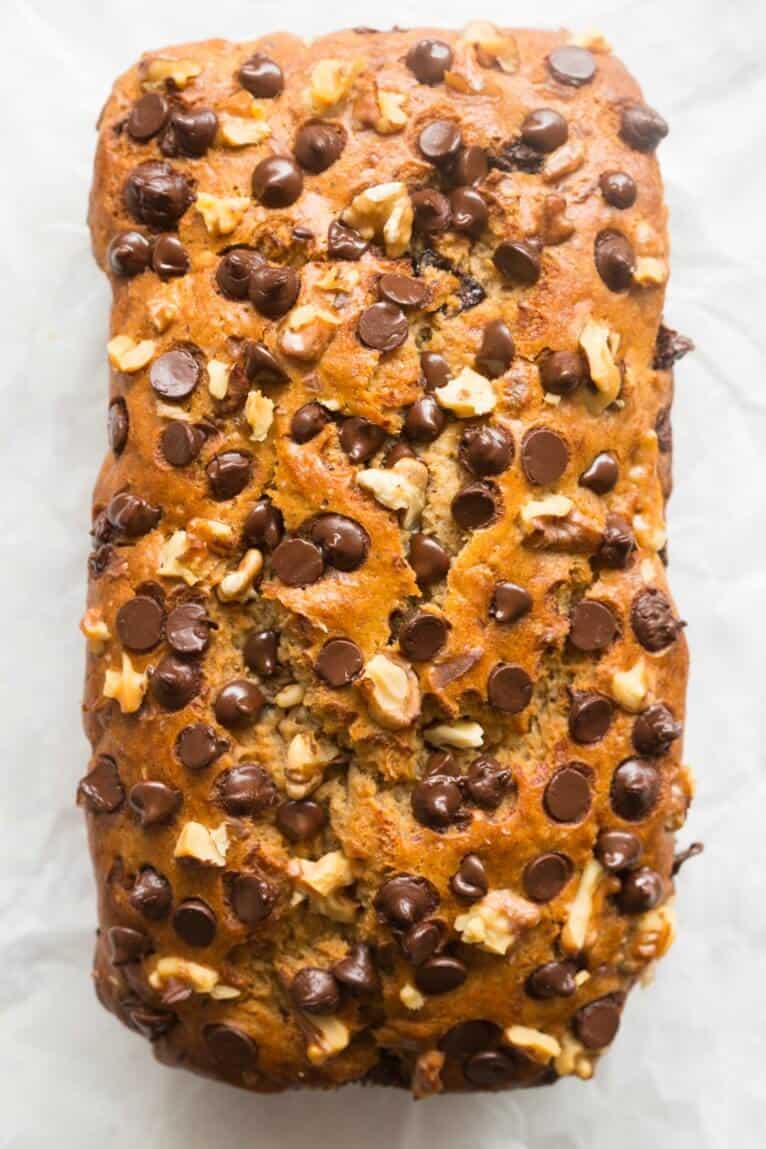 Can you cook banana bread in a glass pan?
I got asked this question over and over again in my other banana bread recipes, so I had to try it out for myself.
Yes, you can cook or bake your banana chocolate chip bread in a glass pan, but be wary that the heat distributes differently. To combat this, bake the banana bread at 170C/325F to compensate.
How to store chocolate chip banana bread
Store banana bread in a sealed container or covered in plastic wrap, in the refrigerator at all times. Because of how moist it is, it can easily spoil if left at room temperature.
How long does banana bread last? Refrigerated banana bread will keep for up to 7 days. I recommend consuming within 5 days for optimum freshness.
Can you freeze banana bread? YES! Banana chocolate chip bread is freezer friendly and can be stored in the freezer.
Either freeze the loaf completely whole or slice up pieces individually. Place them in a ziplock bag. They will keep well frozen for up to 6 months.
To thaw, either remove from the freeze and microwave instantly or thaw at room temperature until no longer frozen.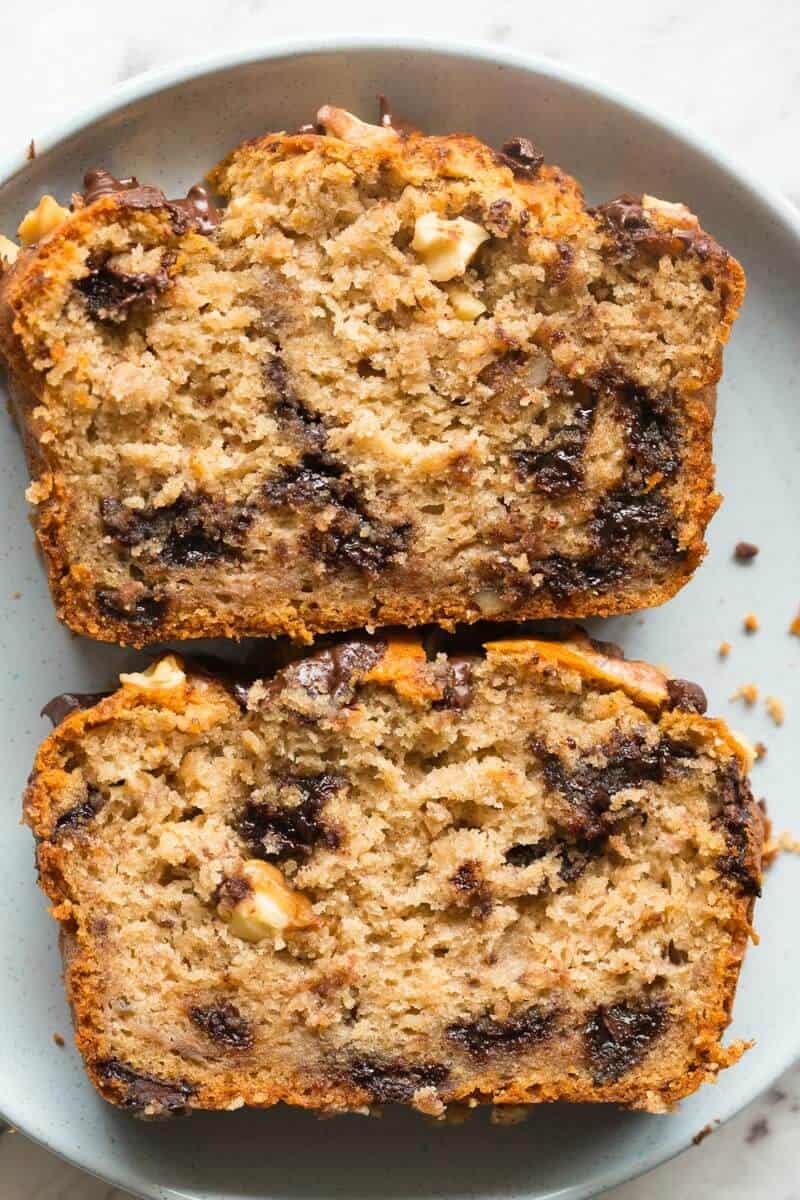 How do you dress up banana bread?
Or rather, what flavor combinations can I make banana bread? Well, I have a few for you…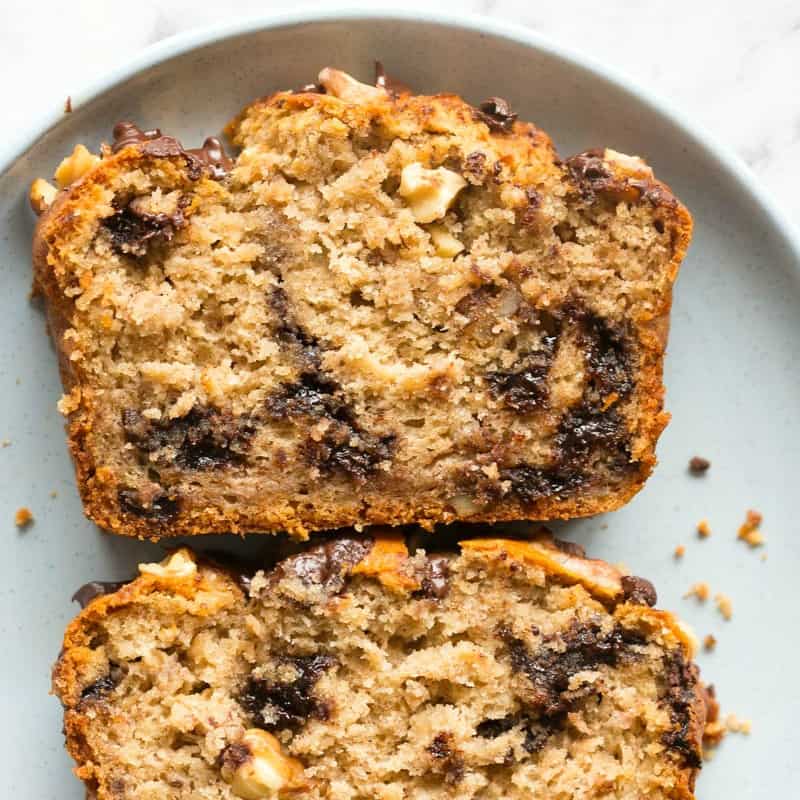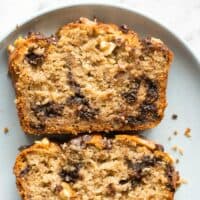 Chocolate Chip Banana Bread
The BEST one bowl banana bread recipe with chocolate chips! Moist and fluffy on the inside, tender on the outside- It's loaded with chocolate chips and walnuts, and are secretly healthy! No eggs, No dairy and no fancy gadgets needed!
Print
Rate
Instructions
Preheat the oven to 180C/350F. Line a loaf pan with parchment paper, reserving a few inches on each side overhanging.

In a large mixing bowl, add your flour, sugar, salt, baking soda and mix well. Add your mashed bananas, softened butter, vanilla extract, apple cider vinegar and mix of choice, and mix until just combined. Using a rubber spatula, fold through your chocolate chips of choice.

Transfer your batter into the lined loaf pan. Top with extra chocolate chips and bake for 45-50 minutes, or until a skewer comes out just clean from the center.

Remove banana chocolate chip bread and allow to cool in the pan completely.
Notes
* White sugar is best, but to keep it sugar free, use monk fruit sweetener (granulated). You can also use half brown sugar/coconut sugar and half white sugar. Avoid using all brown sugar, as the flavor will be too deep.
** If you don't follow a vegan diet, you can use standard butter and standard milk. Coconut oil works, but the texture can be a little more dense.
Key Recipe Equipment and Ingredients
Nutrition
Serving:
1
slice
|
Calories:
226
kcal
|
Carbohydrates:
29
g
|
Protein:
3
g
|
Fat:
9
g
|
Sodium:
195
mg
|
Potassium:
22
mg
|
Fiber:
5
g
|
Vitamin A:
360
IU
|
Calcium:
19
mg
|
Iron:
2
mg
|
NET CARBS:
24
g