This ultimate peanut butter granola is made with just five simple ingredients! It is chunky, crunchy, and loaded with sweet, salty, and nutty flavors.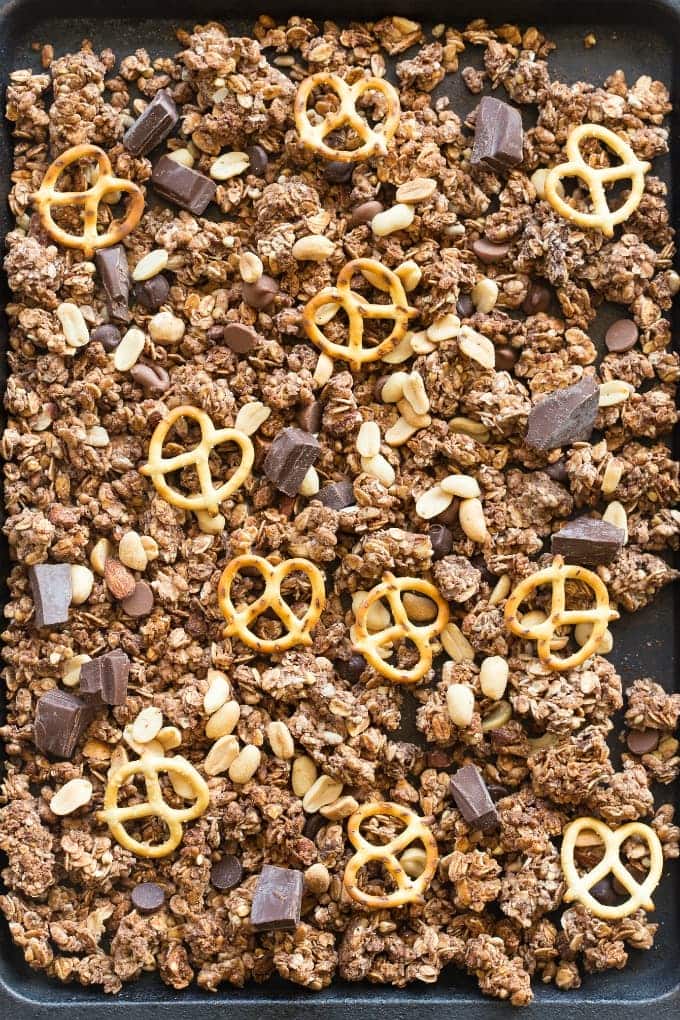 Crispy and crunchy peanut butter-flavored granola using wholesome ingredients- count me in!
Granola gets an unfair wrap for being a glorified sugar-laden cereal, but that is far from the truth. When made correctly, it can be a healthy, wholesome, and delicious breakfast the whole family will adore!
Table of Contents
Why this recipe works
It is way cheaper when you make it at home. You don't have to spend money on generic granola anymore (or any of those fancy ones, either!). Instead, make your gourmet-style granola at home at a fraction of the price!
Scale it up! Like chocolate granola or protein granola, this granola stays at room temperature for a month. So, feel free to make it in bulk and enjoy a healthy breakfast daily!
It's diet friendly. Unless you're allergic to peanuts, you can enjoy this delicious recipe. Whether you're vegan, vegetarian, or a meat enthusiast, I promise you'll enjoy it.
Healthy and delicious. My favorite kind of food! With no added refined sugars or flour, fiber-rich oats, and healthy fats from peanut butter, peanut butter granola is a healthy addition to your diet.
Ingredients Needed
Rolled oats. I prefer using rolled oats to make granola, but you can mix rolled and quick oats.
Nuts. Nuts make up for a large portion of granola, and you can mix in your favorite nuts. I like to have a mix of chopped and whole nuts for various textures. You don't need to toast them before use as you'll bake the granola eventually.
Salt. Trust me, you must add a generous salt pinch to your granola! It elevates the flavor of this cereal.
Peanut butter. The World is divided over crunchy and smooth peanut butter. But the good news is that you can use either one to make this recipe.
Peanut butter substitute
Even though this is a 'peanut butter'-esque recipe, you can swap it out for any nut or seed butter. These include almond butter, tahini, or sunflower seed butter.
Maple syrup. My preferred liquid sweetener. It's healthier than white or brown sugar and lends itself to a lovely flavor. Honey or agave nectar also works.
How to make peanut butter granola
Mix the dry ingredients. Add oats, salt, and chopped nuts in a large bowl.
Mix the wet ingredients. Heat maple syrup and peanut butter in a microwave-safe bowl or a saucepan until it bubbles.
Make the granola mix. Pour the wet mix into the dry oat mix and coat everything nicely.
Bake the granola. Spread the wet granola mixture on a baking tray, and bake it in a preheated oven at 180°C/350°F until golden. Then, remove it from the oven, stir, and place it back in the oven until golden brown.
Store until later use. Let it cool, break it into smaller chunks, and store it in an airtight container for later munching.
Flavor variations
Add seeds. A vegetarian diet often lacks omega-3 fatty acids! Add a tablespoon or two of ground flax seeds to the granola mix to get your healthy fats. Add pumpkin, sunflower, sesame, or chia seeds for a crunch and bite.
Make it chocolaty. Toss ½ a cup of chocolate chips or shavings with granola for a peanut butter-chocolate granola.
Double down on the peanut flavor. If you like the peanut flavor, mix in salted and unsalted toasted peanuts with the granola mix.
Add more flavors. While peanut butter remains dominant, you can experiment by adding spices like cinnamon or pumpkin spice mix, or vanilla extract.
Add dried fruits. For fruity granola, stir through dried figs, cranberries, raisins, dates, and banana chips.
Storage instructions
To store. Good news, guys! Granola stays fresh at room temperature for a month when stored in an airtight container.
To freeze. Freeze the granola in ziplock bags for up to six months.
Recommended tools to make this recipe
Mixing bowls. These sets of mixing bowls are a great addition to your kitchen.
Baking sheet. To cook the granola evenly and completely.
Spatula. Mixing the wet and dry ingredients becomes extremely easy with this spatula.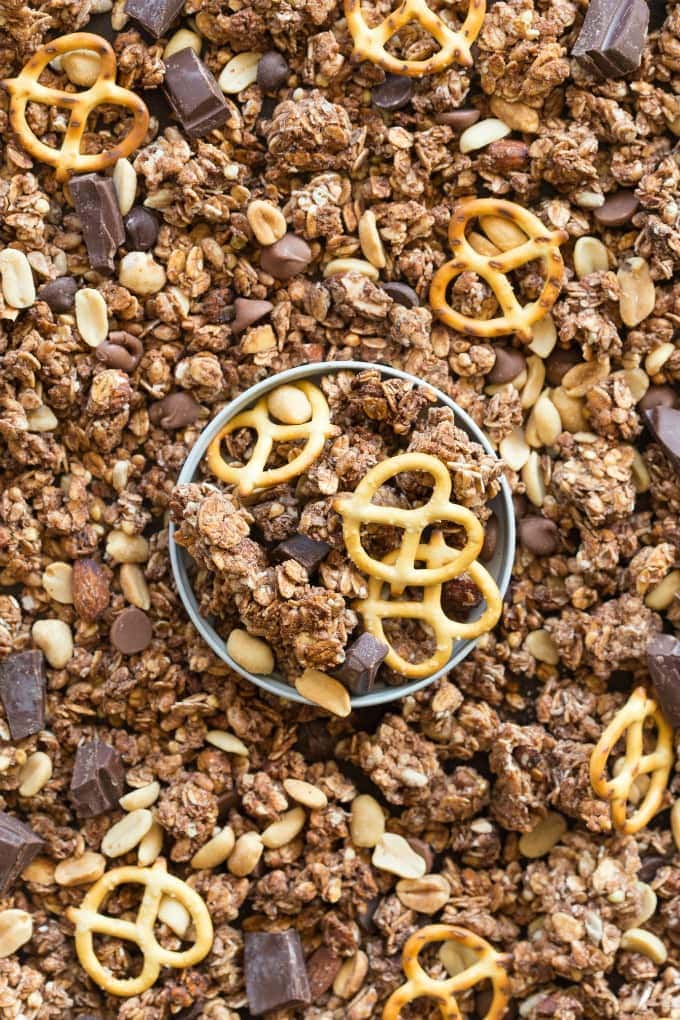 Recipe tips and tricks
Adjust the sweetness. Depending on whether you are using sweet, salty, or unsweetened peanut butter, you'll have to adjust the amount of added maple syrup.
Use good-quality peanut butter. Make peanut butter at home or buy good-quality, natural peanut butter with only peanuts. You don't want added flavors, sweeteners, and oil.
Avoid overbaking the granola. While this recipe is pretty hands-off, you must watch your granola as it bakes! In your quest to get crispy granola, don't burn it. Blackened and burnt granola pieces are just not fun!
Cool down the granola. Don't disturb the granola when you remove it from the oven. Let it cool to room temperature so the sugar recrystallizes with granola to form crunchy and chunky bits.
More cereal and granola recipes to try
Frequently asked questions
What is the difference between granola and muesli?
While both recipes have oats as their primary ingredient and contain dried fruits and nuts, they differ in how they're prepared. While muesli is uncooked, granola is baked with fat and sweet components.
Can I refrigerate granola?
I don't recommend storing granola in the refrigerator. It becomes soggy and loses its crunch.
Can I revive soggy granola?
If your granola goes soft or soggy over time, toss it in the oven for a few minutes. It'll be crispy and fresh.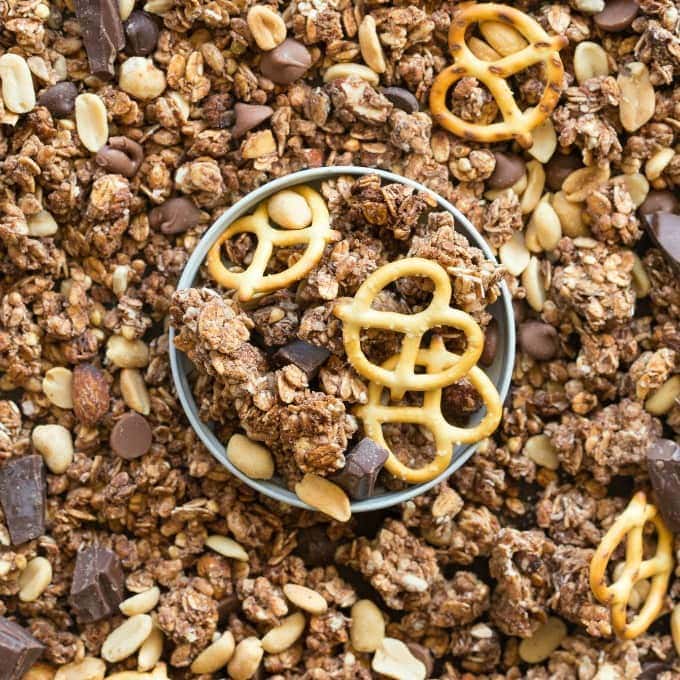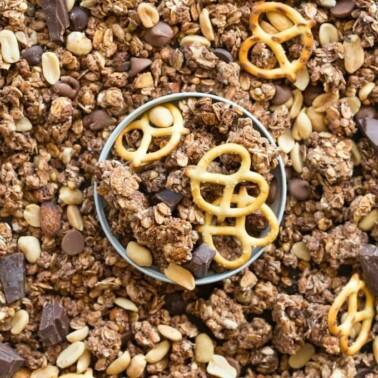 Peanut Butter Granola
This ultimate peanut butter granola is made with just five simple ingredients! It is chunky, crunchy, and loaded with sweet, salty, and nutty flavors.
Instructions
Preheat the oven to 180C/350F. Line a large baking sheet with parchment paper and set aside.

In a large mixing bowl, combine the rolled oats, salt and nuts.

In a small saucepan or microwave-safe bowl, heat the peanut butter with the syrup until it just begins to bubble. Add the liquid mixture to the dry mixture and combine until fully incorporated.

Spread the granola mixture evenly on the lined sheet and bake for 10 minutes or until the edges start to go slightly golden. Remove the granola from the oven and give it a good mix. Place back in the oven for another 12 minutes, or until golden brown.

Let the granola cool completely, before breaking it apart and adding your mix-ins of choice.
Nutrition
Serving:
1
serving
Calories:
203
kcal
Carbohydrates:
22
g
Protein:
6
g
Fat:
11
g
Sodium:
149
mg
Potassium:
199
mg
Fiber:
4
g
Sugar:
3
g
Vitamin A:
3
IU
Vitamin C:
0.1
mg
Calcium:
26
mg
Iron:
2
mg
NET CARBS:
18
g
Disclosure: This post may contain affiliate links. I may earn a small commission for my endorsement, recommendation, testimonial, and/or link to any products or services from this website.