Homemade egg drop soup is deliciously comforting and ready in just 15 minutes! It's an easy dish with restaurant-quality flavors and perfectly bloomed "egg flowers" in every bite.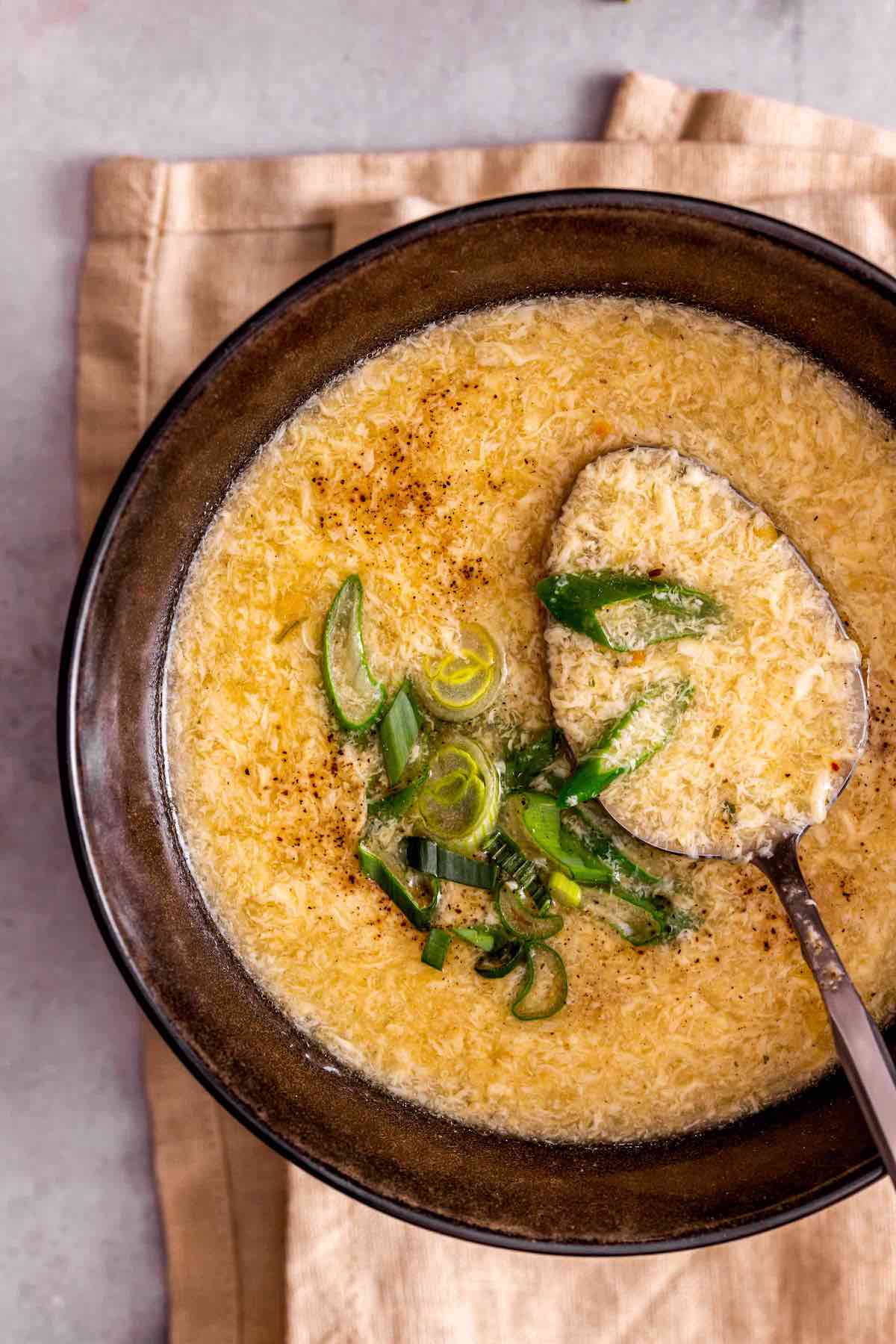 Craving Chinese takeout but don't have a lot of time on your hands? Egg drop soup is the answer! It's easy to make using a short list of simple, everyday ingredients that you likely already have in your kitchen.
Just like keto ramen and shrimp curry, this Chinese egg soup is known for being incredibly comforting and cozy. Wispy strands of eggs (known as the "egg flowers") are surrounded by a rich and umami chicken broth base, leaving you feeling full and satisfied after every bowl.
What is egg drop soup?
Egg drop soup (AKA egg flower soup) is a crowd-pleasing Chinese dish made with chicken stock, sesame oil, soy sauce, cornstarch, and eggs. It's called egg drop soup because you essentially "drop" the eggs into the soup stock!
The "dropping" technique is what makes this recipe special. First, the eggs are slightly beaten, then poured into a swirling vortex of simmering stock. This method leaves you with strands of cooked eggs that resemble bloomed flower petals.
Growing up, dad made it ALL the time because he spent much of his teen years in a Chinese restaurant. Lucky for us, we love egg drop soup!
It's easy, hearty, and delicious. It's a no-frills soup with close-to-authentic flavors. Best of all, it's easy to make with a short list of budget-friendly ingredients!
It's good for you! Egg drop soup is an inherently low-calorie, high-protein, and keto-friendly dish. Plus, with chicken stock as the soup base, you reap the benefits of all that collagen.
A 15-minute recipe. Like hot and sour soup, this recipe results in restaurant-quality egg drop soup in less time than it would take to order takeout!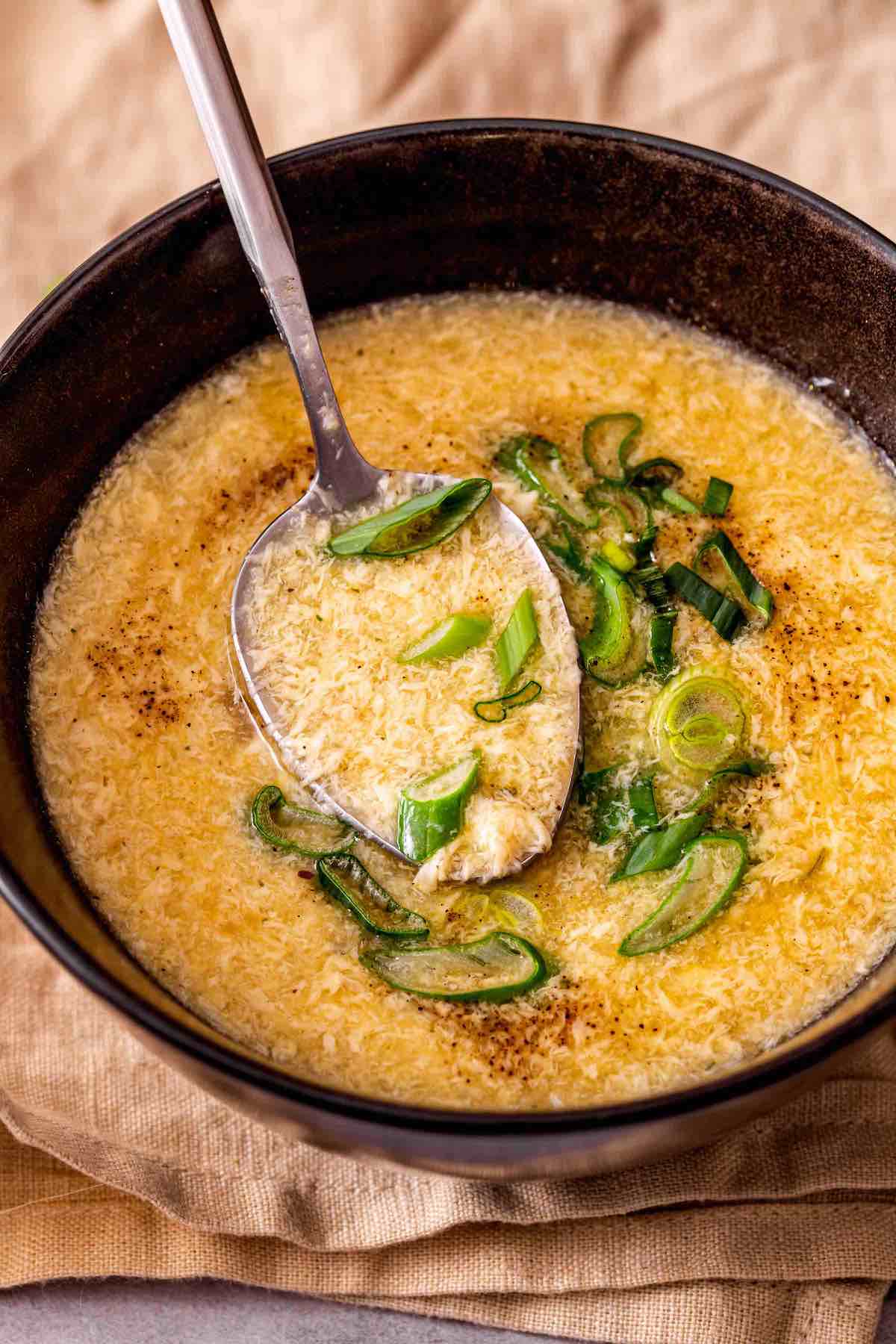 How to make egg drop soup
Making egg drop soup at home is easier than you think. Here's how to make it happen:
There aren't many places to hide here, which is why using the freshest ingredients is key. This is what you need:
Chicken stock. Homemade chicken stock will elevate the luxurious savory flavors here, but store-bought will work just as well.
Sesame oil. This adds a distinctively rich and nutty flavor.
Soy sauce. It adds a hint of umami flavor.
Dietary swap
You can use tamari instead of soy sauce if you would prefer to make gluten free egg drop soup.
Salt and pepper. To season the soup.
Cornstarch. Combining cornstarch with water creates a slurry that thickens the soup as it simmers.
Eggs. Use the freshest eggs that you can get your hands on. The older ones are better for boiling whole, so save those for deviled eggs and egg salad.
Scallions. To finish the dish with a fresh pop of flavor.
Step 1 – Simmer and season the broth
Start by heating the chicken stock in a pot over medium-high heat until it simmers. At this point, you can mix in sesame oil, soy sauce, salt, and pepper.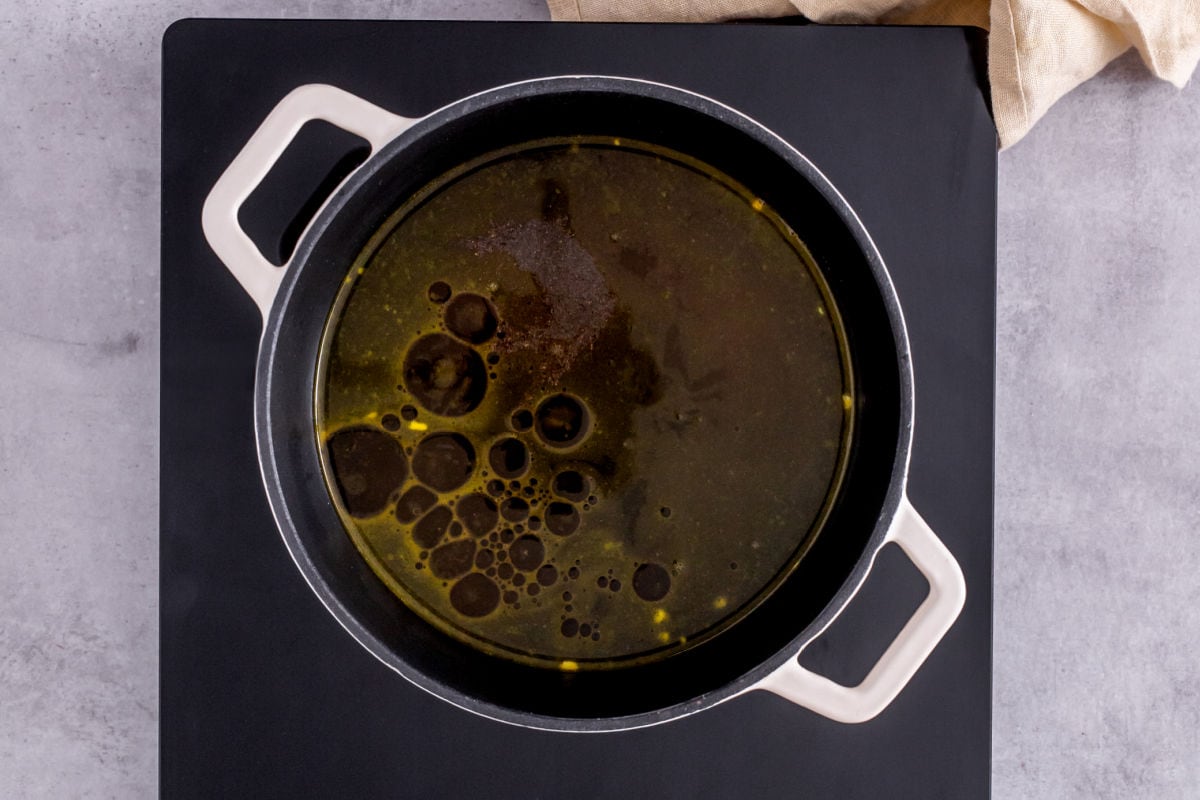 Step 2 – Thicken with a cornstarch slurry
Whisk the cornstarch with some water in a bowl while you wait. Once the seasoned stock starts boiling, stir in the slurry.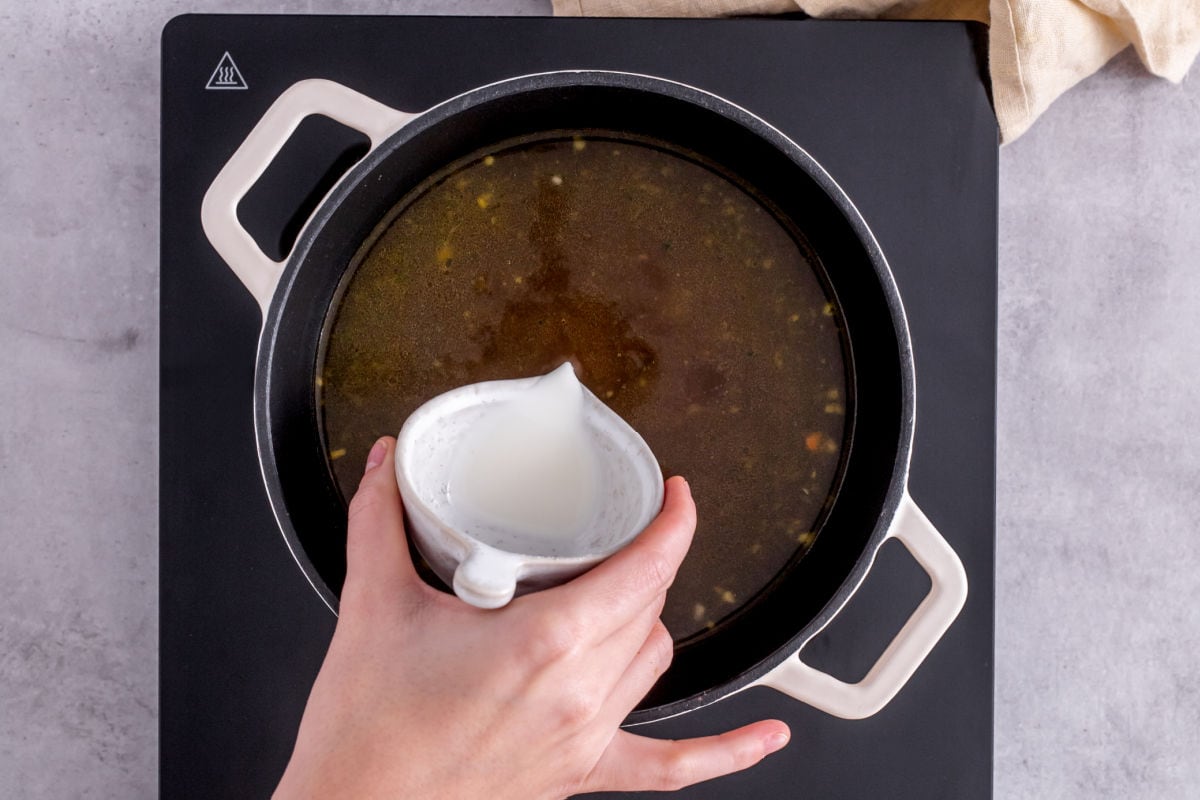 Step 3 – Drop in the eggs
Swirl the soup in a circular motion with a ladle to make a vortex (the same method you'd use if you were poaching an egg). Slowly pour the beaten eggs into the middle of the vortex while you continue to stir. This is how you end up with wisps of eggs.
Tip!
The speed at which you stir will determine the size of the egg wisps (AKA the egg flowers). The faster you stir, the smaller the wisps. Stir slowly and you'll end up with larger pieces of egg.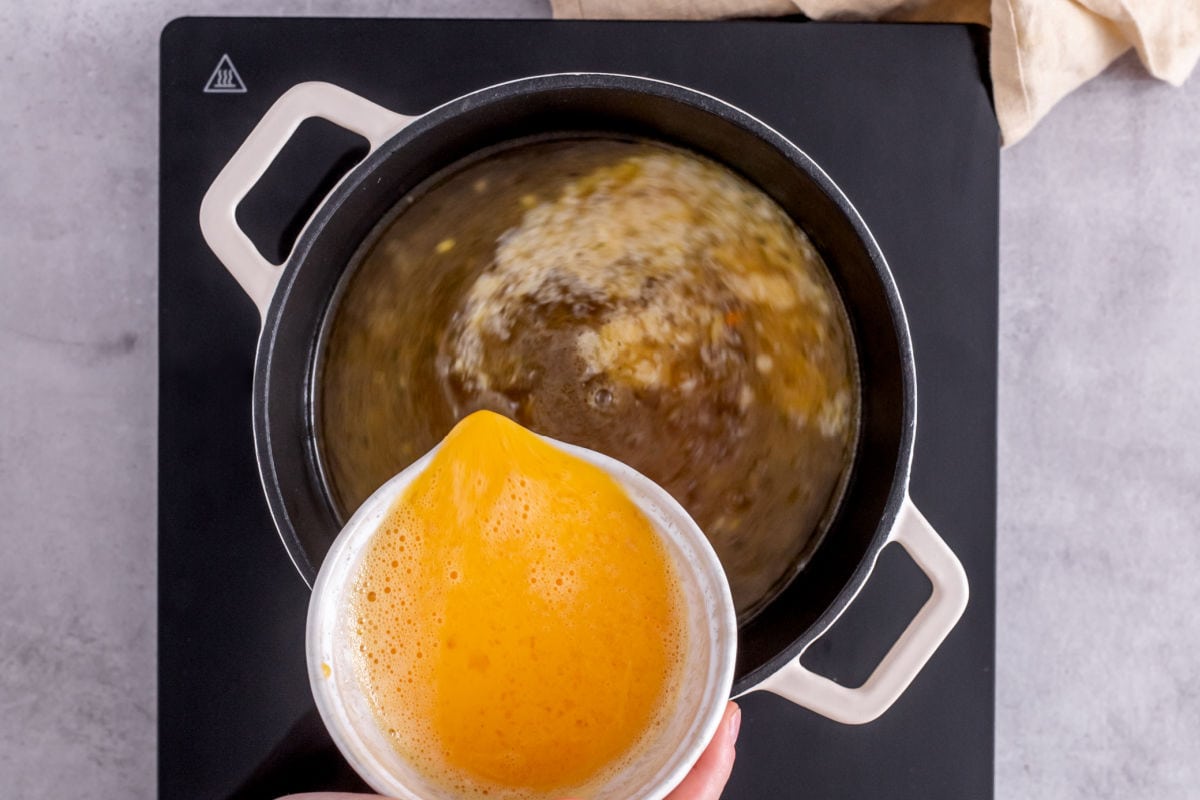 Step 4 – Simmer, then serve
Let the soup continue to cook until the eggs are set. Take the pot off of the heat, then ladle the soup into bowls and top with scallions. Enjoy!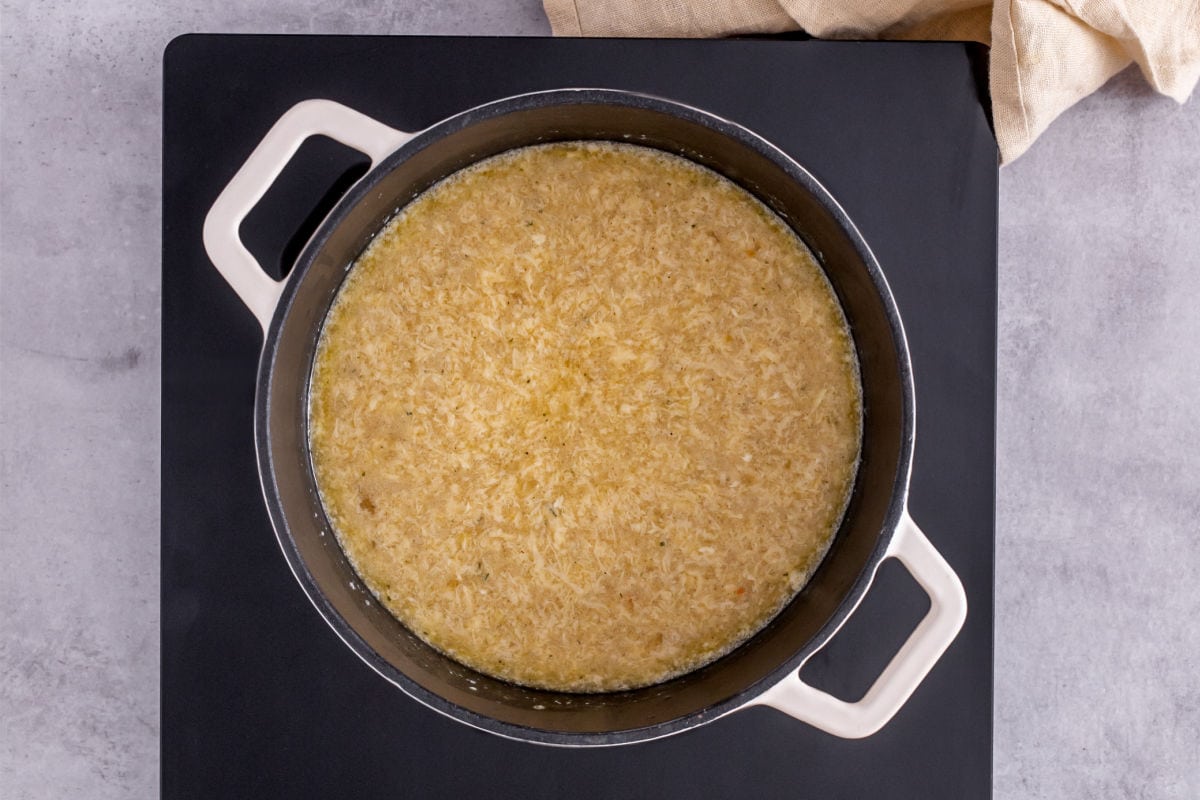 Don't rush the stock once you add the seasonings. Letting everything bubble together before adding the cornstarch will leave you with deeper layers of flavor.
Only slightly beat the eggs. You can stir the whites and yolks together but you should still be able to see stains of the whites.
Maintain a thin, consistent stream as you "drop" the eggs into the soup so they set as soon as they hit the hot stock.
Authentic egg drop soup is known to have a distinct vibrant yellow color. If yours isn't as yellow as you'd like, stir in ½ teaspoon of turmeric to replicate that same gorgeous color.
Variations and toppings
While I wouldn't recommend straying too far from the recipe, there are a handful of ways you can make this Chinese-inspired soup your own:
Make it meaty. Feel free to stir in shredded chicken, leftover pieces of chicken breast, or pre-cooked shrimp if you want your soup to be extra filling.
Vegetarian egg drop soup. Substitute vegetable stock or mushroom broth for the chicken stock. Feel free to add lightly seasoned mushrooms and/or cubed tofu as well!
Topping ideas. Take every bowl of egg drop soup over the top with crispy wontons, sesame seeds, or a drizzle of sriracha or spicy mayo.
To store. Let the leftovers cool before storing them in an airtight container in the refrigerator for 2 to 3 days.
To reheat. Gently reheat the leftover soup in a saucepan over medium-low heat to avoid overcooking the eggs. You can also reheat it in the microwave in 15-second increments, stirring in between.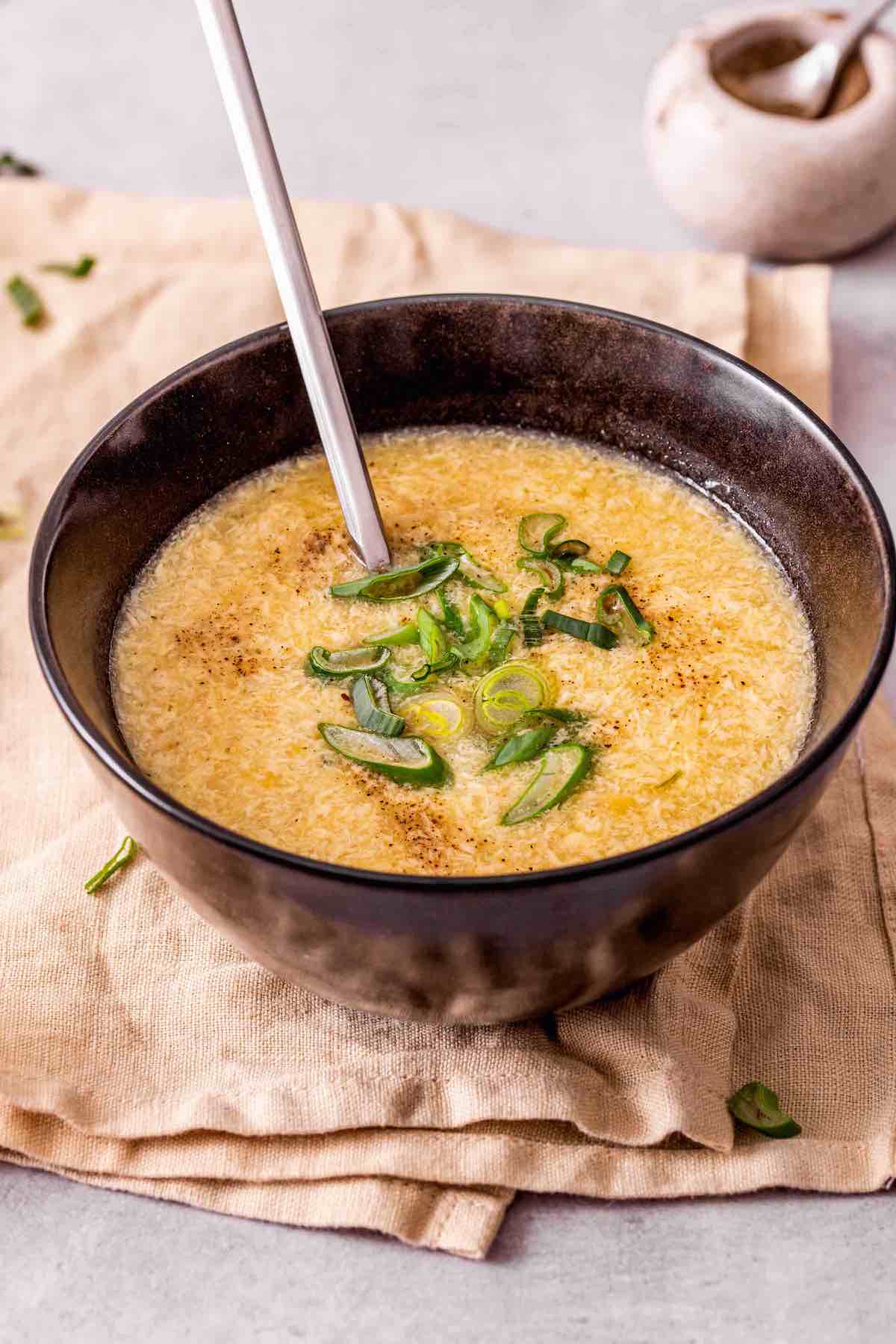 Why is my egg drop soup so thick?
If prepared properly, egg drop soup should be thick with a rich and creamy mouthfeel. It shouldn't, however, be so thick that it's practically gelatinous. A soup that's too thick likely means you used too much cornstarch or the swirl-and-pour technique was done incorrectly. 
Can you make egg drop soup with just egg whites?
Yes, you can make egg drop soup with egg whites instead of whole eggs. Separate the yolks from the whites and put them to use in my sugar free pudding or chocolate creme brulee recipes instead.
Can you substitute flour for cornstarch?
Technically, yes, but I wouldn't recommend it. You'll have to use twice as much flour to achieve the same thickening effect and it tends to make the soup cloudy and less visually appetizing. 
More copycat takeout recipes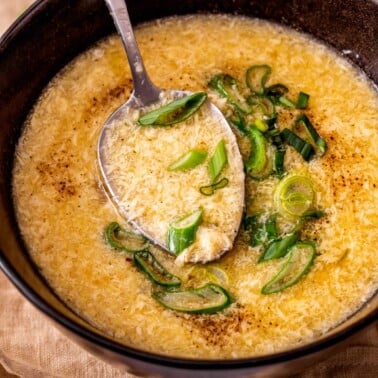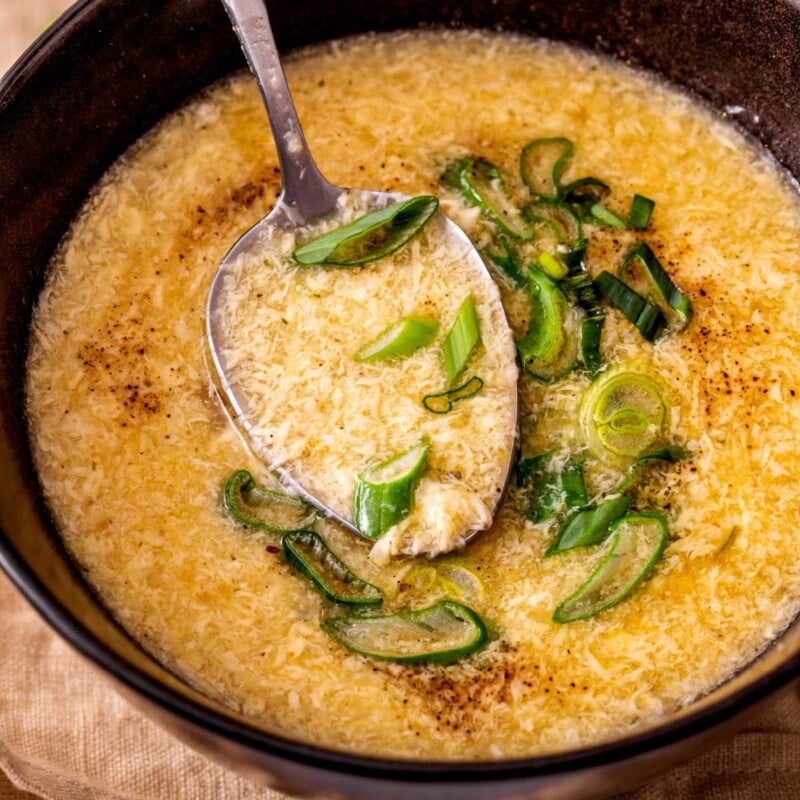 Egg Drop Soup
This homemade egg drop soup is a Chinese restaurant copycat recipe that is so easy to make at home! It's ready in just 15 minutes and makes a fabulous appetizer.
Instructions
Add the chicken broth to a large pot and place over medium heat. Bring it to a simmer.

Stir in the sesame oil, soy sauce, salt, and pepper and mix well.

Combine cornstarch with the water and stir well. Once the soup starts boiling, pour in the cornstarch slurry and stir the soup.

Lightly beat the eggs and before adding them to the soup, swirl the soup with a ladle in a circular motion. Slowly pour the eggs into it.

Cook the soup for a couple of minutes and serve with some freshly sliced scallions.
Notes
TO STORE: Let the leftovers cool before storing them in an airtight container in the refrigerator for 2 to 3 days.
TO REHEAT: Gently reheat the leftover soup in a saucepan over medium-low heat to avoid overcooking the eggs. You can also reheat it in the microwave in 15-second increments, stirring in between. 
Nutrition
Serving:
1
serving
Calories:
103
kcal
Carbohydrates:
7
g
Protein:
7
g
Fat:
5
g
Sodium:
1469
mg
Potassium:
111
mg
Fiber:
0.2
g
Vitamin A:
221
IU
Vitamin C:
0.2
mg
Calcium:
34
mg
Iron:
1
mg
NET CARBS:
7
g
Disclosure: This post may contain affiliate links. I may earn a small commission for my endorsement, recommendation, testimonial, and/or link to any products or services from this website.