Learn how to make restaurant-quality hot and sour soup from the comfort of your kitchen! This tangy Chinese takeout favorite features a savory broth loaded with mushrooms, smoked tofu, bamboo shoots, and wisps of eggs in every bite.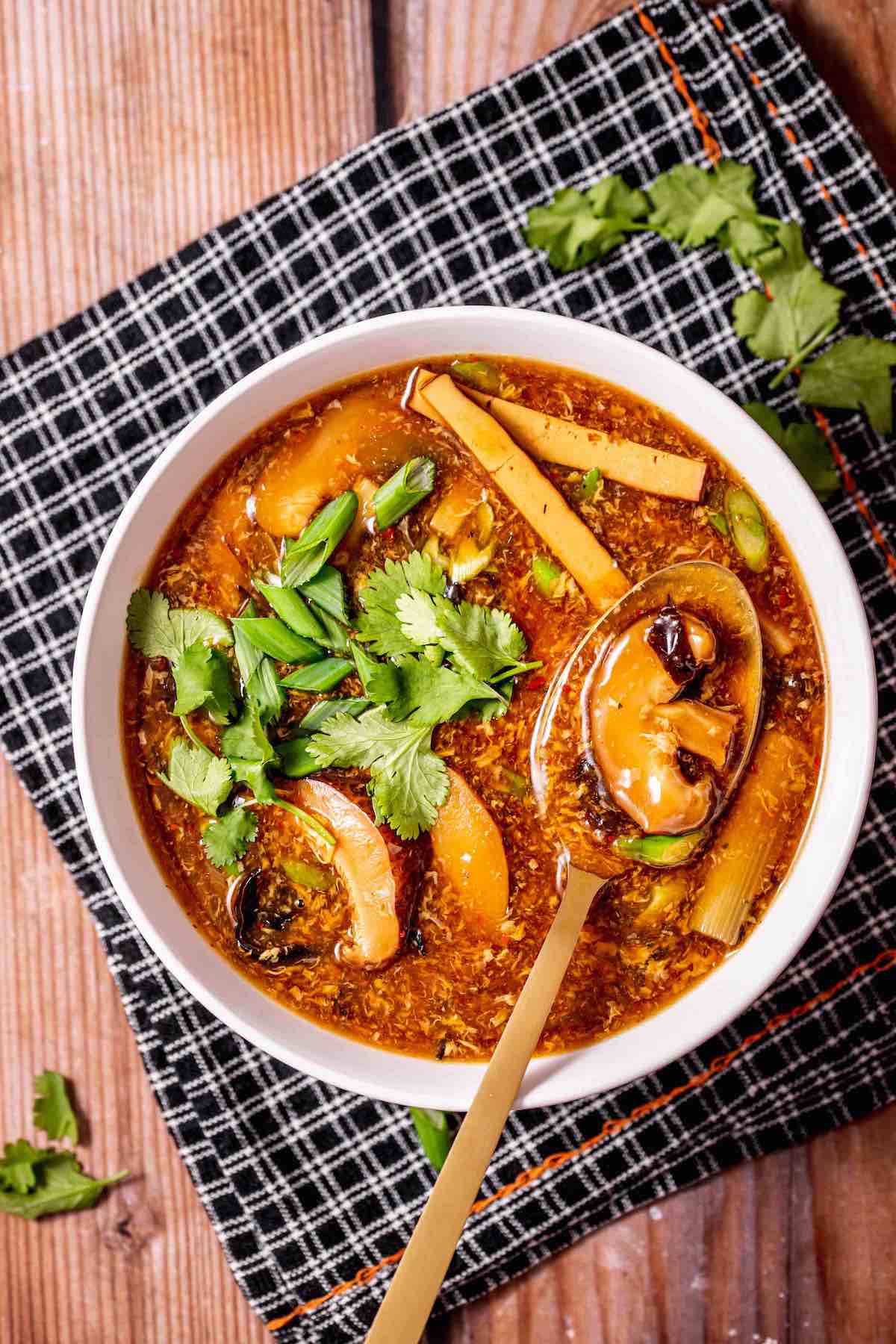 I love recreating Chinese takeout recipes at home. Many of them, like egg drop soup, lettuce wraps, and salt and pepper tofu, are easy to make in less time than it would take for the order to arrive. And this copycat hot and sour soup recipe is no different!
If you are unsure what this soup is, it's a popular Chinese takeout appetizer that is super flavorful. The broth is rich, umami-forward, and filled with mushrooms, tofu, eggs, and bamboo shoots. It's a one-of-a-kind recipe that's easy to make from the comfort of your kitchen!
Table of Contents
Recipe highlights
Easy and just plain delicious! Making hot and sour soup from scratch is easier than you think. This recipe always leaves you with practically perfect and close-to-authentic flavors.
A nutrient-packed powerhouse. You get dietary fiber from the mushrooms, protein from the egg and tofu, plus the benefits of collagen with chicken stock as the soup base.
Have fun with it! The flexible flavors and ingredients are all easy to adjust to your taste buds.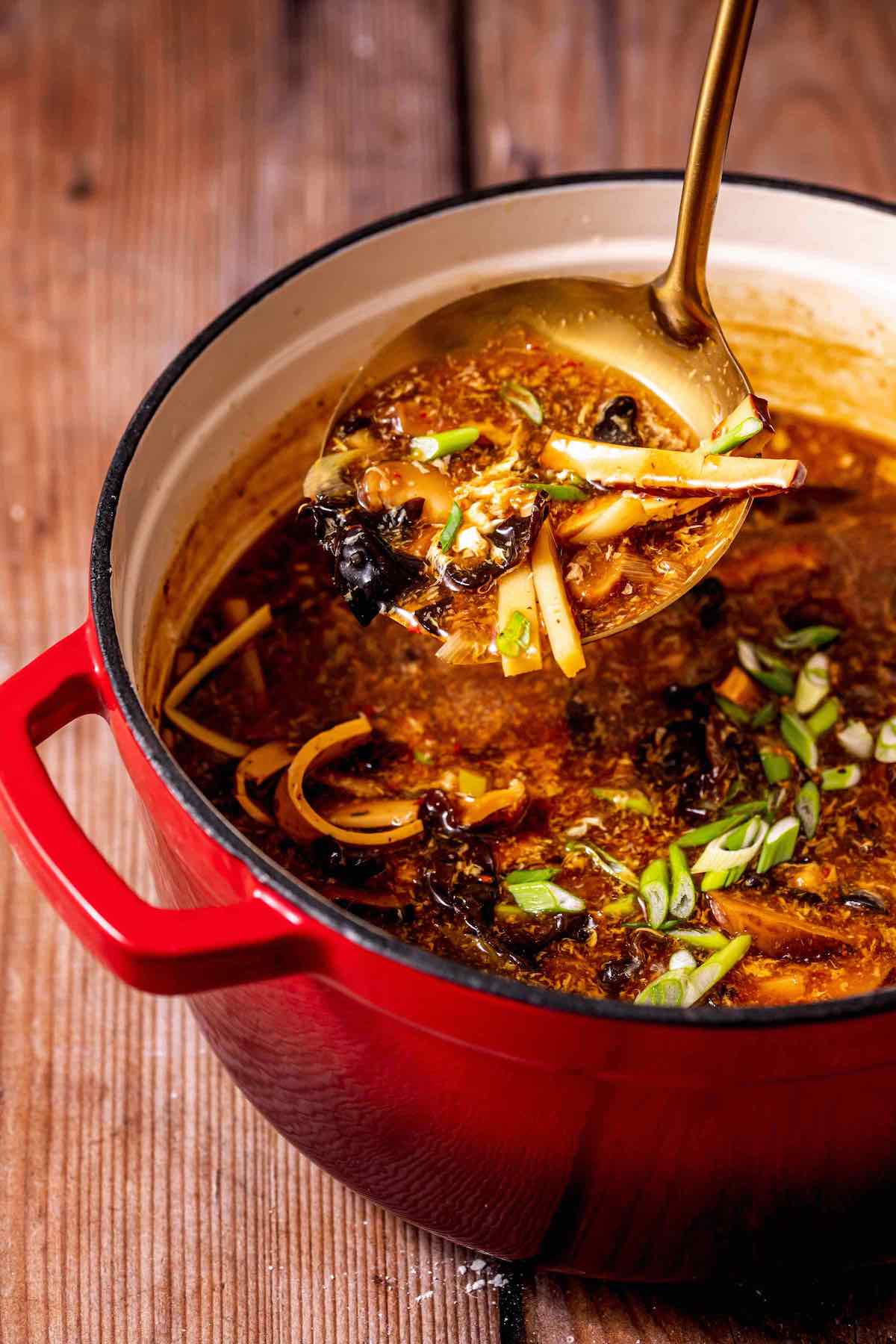 This soup is made mostly from staples used in Chinese cuisine. I recommend taking a trip to your local Asian grocery store to find all or most of them if they're not already in your pantry. This is what you'll need:
Dried wood ear mushrooms. These don't have much flavor on their own, but they take on the other flavors and enhance the pleasantly silky consistency hot and sour soup is known for.
Dried shiitake mushrooms. Once rehydrated and simmered, their savory, earthy, and smoky flavor intensifies, and they take on a tender, meat-like texture.
Chicken broth. Homemade chicken stock will elevate the rich and savory flavors, but store-bought works just as well.
Smoked tofu. This is pre-baked, seasoned, and smoked extra-firm tofu.
Bamboo shoots. You should be able to find canned bamboo shoots in well-stocked grocery stores or Asian markets.
Dark and light soy sauce. Dark soy sauce enhances the umami and rich color, while light soy sauce adds just enough saltiness to improve the flavor without taking away from the overall balance.
Dietary swap
Replace the dark soy sauce with tamari and use more rice vinegar in place of the light soy sauce.
Rice vinegar. To season the soup base. Apple cider vinegar works well as a substitute.
Sesame oil. For a distinct nutty element.
Scallion. It adds a fresh flavor and some crunch to contrast the softer textures.
Sugar. Just enough to balance the rich, tangy, and somewhat spicy flavors.
Crushed red chili peppers. To build on the hot and spicy flavor tones.
Pepper. For seasoning.
Cornstarch. Combining cornstarch with water creates a thickening agent for the soup known as a slurry.
Egg. Use a fresh egg if you can. The older ones are better suited for hard-boiling for deviled eggs and egg salad.
Coriander. For garnish.
How to make hot and sour soup
Step 1 – Rehydrate the dried mushrooms
Place the two kinds of mushrooms in separate bowls. Pour boiling water over each, then let them soak until they're rehydrated. Thinly slice the rehydrated shiitakes and roughly chop the wood ears. Set the shiitake water aside and discard the wood ear water.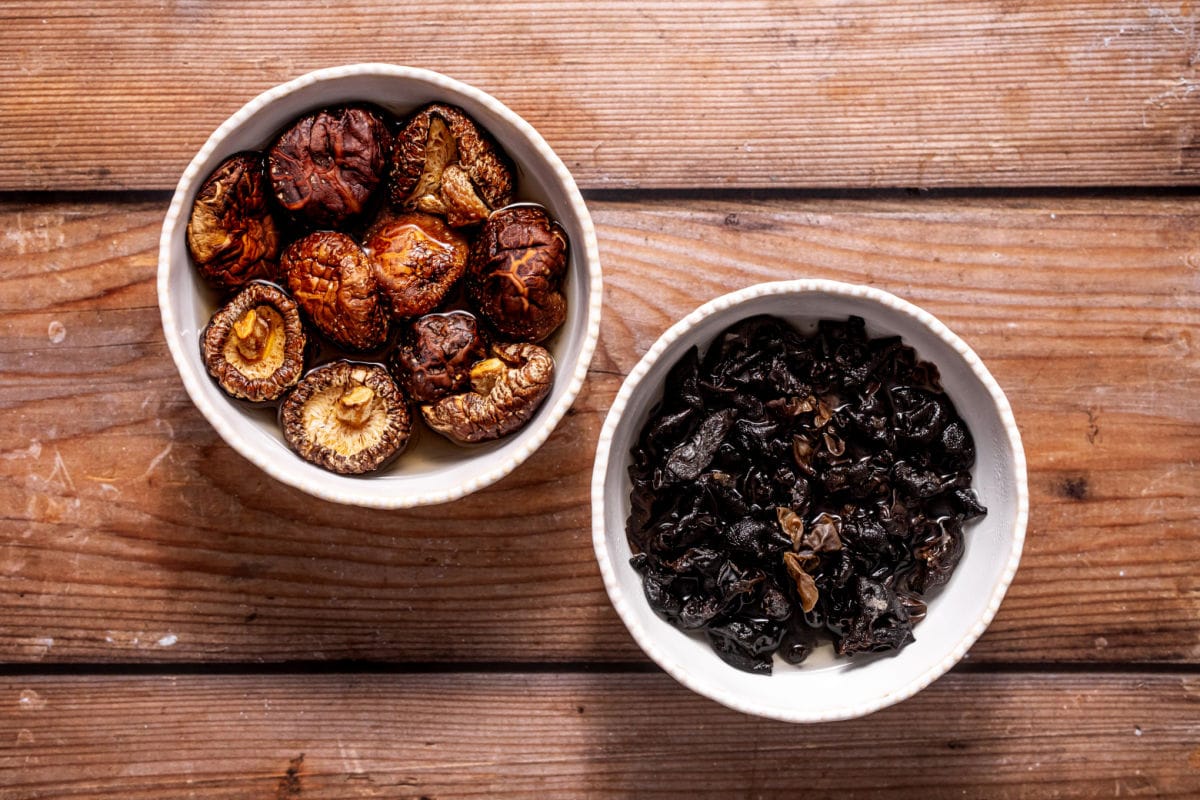 Step 2 – Simmer and season the soup
Transfer the shiitake water to a pot on the stove, then add the chicken stock.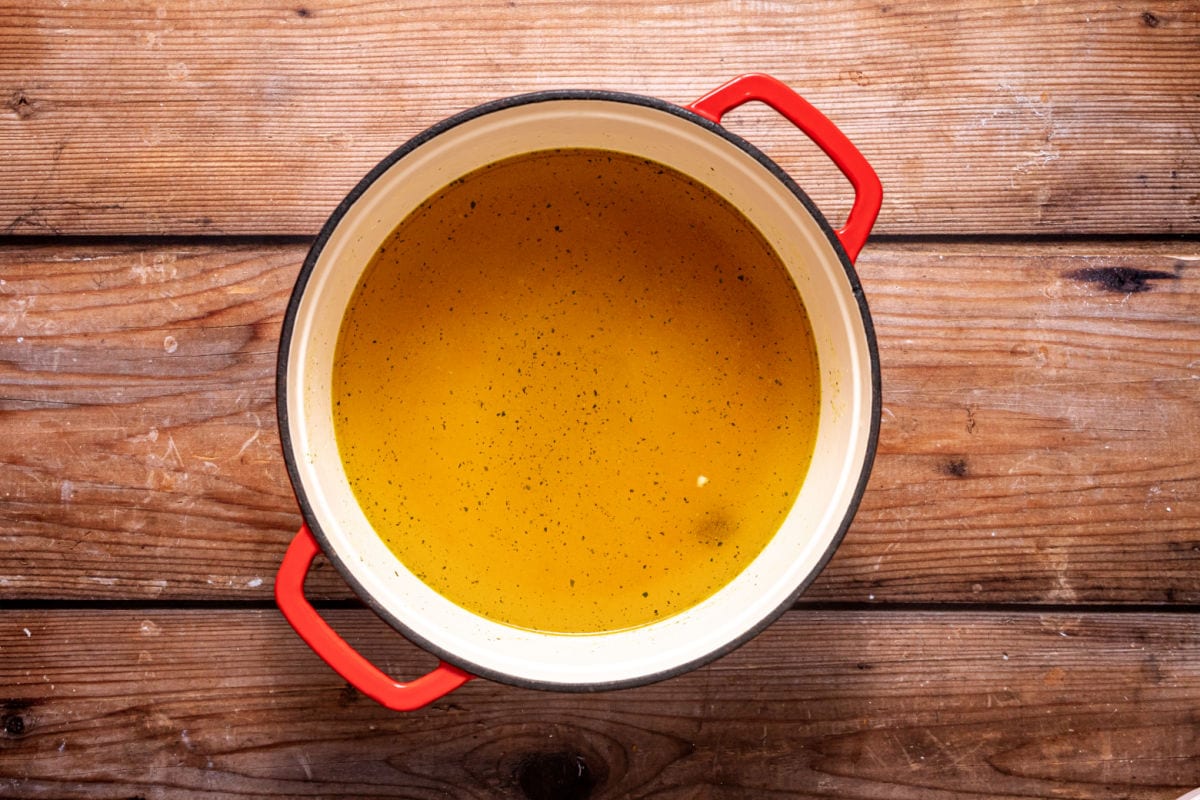 Bring it up to a boil, then add the mushrooms, bamboo shoots, and tofu. Let the soup simmer for a few minutes before adding the soy sauce, rice vinegar, sesame oil, scallions, sugar, crushed chili peppers, and pepper.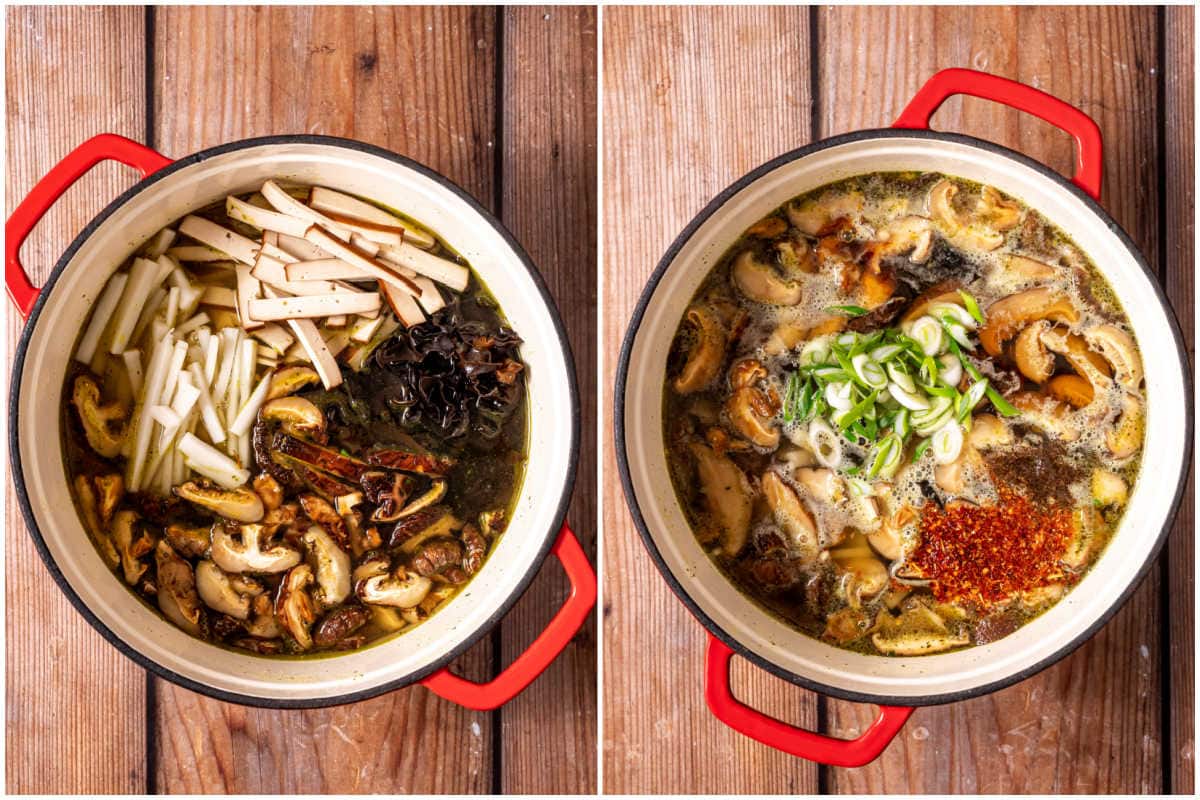 Step 3 – Thicken with cornstarch
Whisk the cornstarch and water together in a small bowl. Using a soup ladle to stir the soup constantly in a circular motion, slowly pour the cornstarch mixture into the middle of the vortex. Let the soup simmer until it thickens.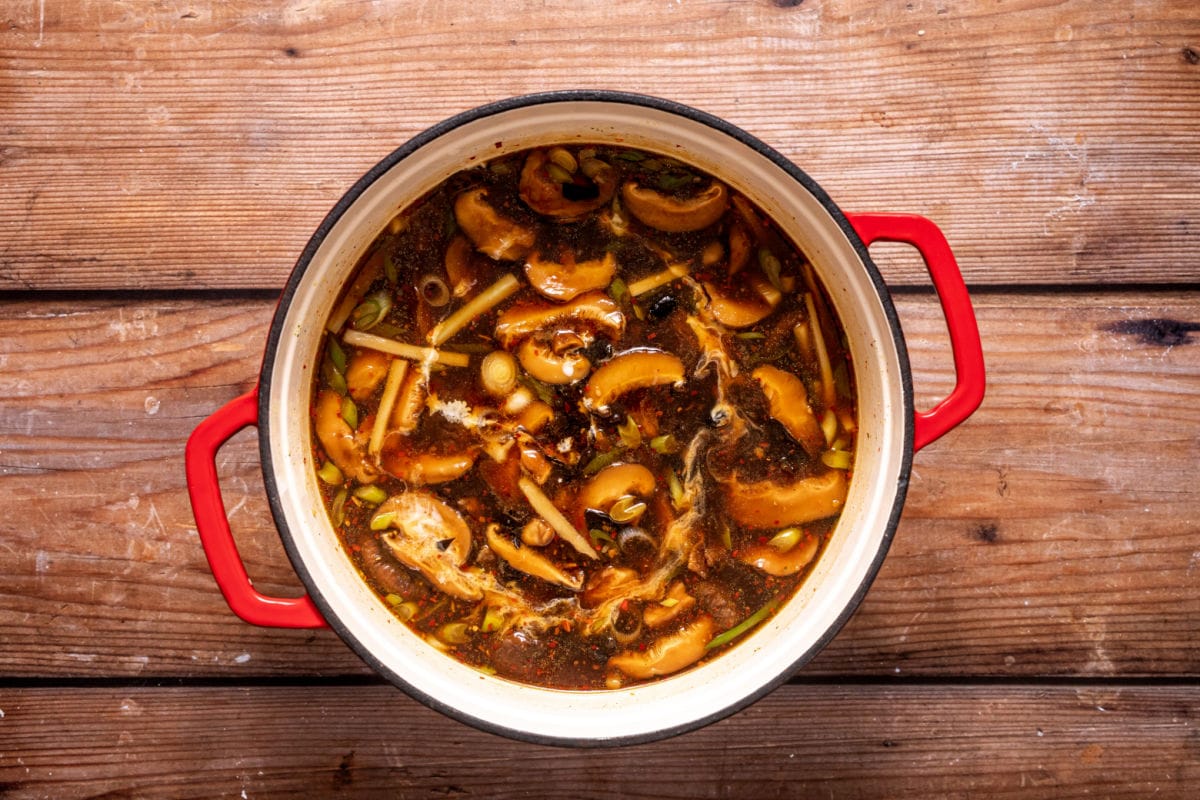 Step 4 – Drop in the egg
Again, stir the soup in a circular motion while pouring the beaten egg directly into the middle of the swirling vortex.
Tip!
Check out my egg drop recipe for more instructions on getting the egg wisps in the soup just right.
Step 5 – Serve
Take the pot of soup off of the heat as soon as the egg strands are cooked. Ladle into bowls and top with fresh coriander leaves and scallions. Enjoy!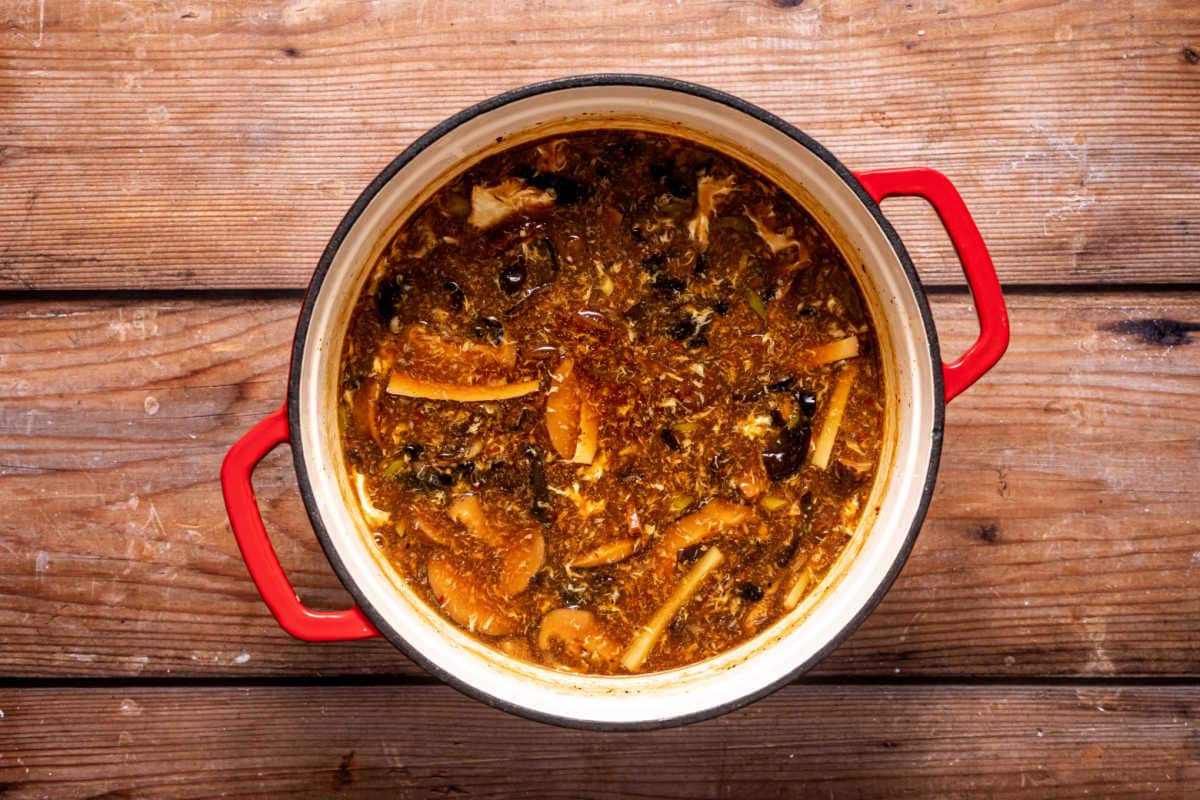 Give the stock and mushroom mixture time to simmer after you add the mushrooms, tofu, bamboo shoots, and seasonings. This builds on the layers in the soup and gives all of the flavors time to develop.
How vigorously you stir the soup while pouring in the beaten egg will determine the size of your egg wisps (AKA the egg flowers). For tiny, delicate wisps, stir the soup quickly, and go slowly for larger pieces of egg.
Adjust the flavor before serving the soup. Use extra crushed red pepper for more spice or give it a stronger sour flavor with extra rice vinegar.
Variations
You'll want to stick to the ingredients list to achieve the most authentic flavor here. Or, to find your perfect flavor or to have more fun with the recipe, use these variation ideas:
Hot and sour chicken soup. Poach a chicken breast in the simmering chicken-mushroom stock. Once it's cooked through, shred or chop the chicken before returning it to the pot along with the mushrooms, tofu, and bamboo shoots.
More meaty mix-ins. Try stirring in cooked shrimp or thin slices of tender beef or pork at the end.
Make it vegetarian. Simply swap vegetable broth or vegan mushroom broth for the chicken stock.
Storage instructions
To store. Let the leftover soup cool completely, then store it in an airtight container in the refrigerator for 2 to 3 days.
To reheat. Gently heat the soup in a pot over medium-low heat until it's warmed through. You can also reheat it in the microwave in 15-second increments, stirring in between.
Frequently asked questions
Can you freeze hot and sour soup?
If you plan on freezing the soup, leave the tofu out until it's time to reheat the batch. This way, you can freeze the batch in an airtight container for up to 3 months.
How spicy is hot and sour soup?
This hot and sour soup recipe has a mild level of heat thanks to the crushed red chili peppers. If you don't like spicy food, reduce the amount of chili flakes to 1 teaspoon or omit them entirely.
Is hot and sour soup supposed to be thick?
If prepared properly, hot and sour is thick with a rich and glossy mouthfeel. However, it shouldn't be so thick that it's gooey or gelatinous.
More Asian takeout-inspired recipes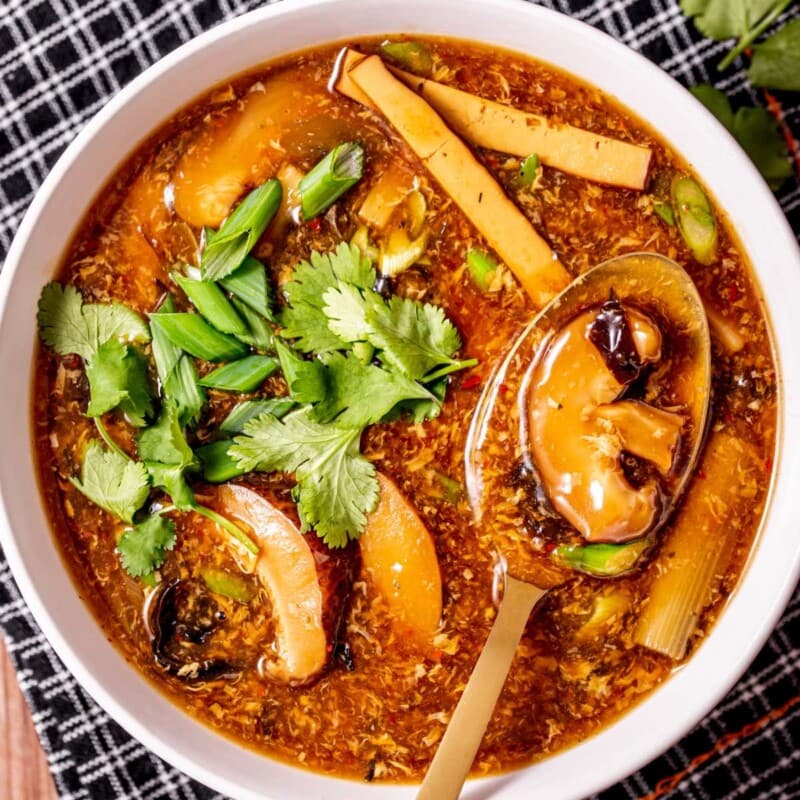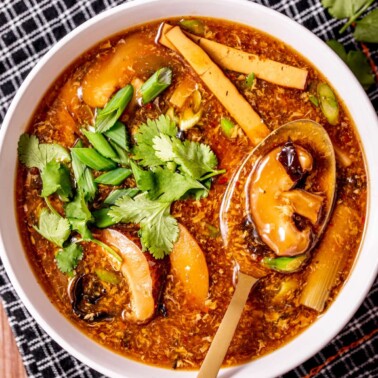 Hot And Sour Soup (Takeout Style!)
This hot and sour soup recipe features a savory and tangy broth loaded with tofu, mushrooms, and spices. Ready in just 10 minutes, this tastes like the Chinese takeout classic.
Ingredients
1

tablespoon

wood ear mushrooms

dried

1/4

cup

shiitake mushrooms

dried

7

cups

chicken broth

7

ounces

smoked tofu

sliced into strips

4

ounces

bamboo shoots

cut into strips

2

tablespoons

dark soy sauce

1

tablespoon

light soy sauce

1/4

cup

rice vinegar

1

teaspoon

sesame oil

1

scallion

sliced

1

tablespoon

sugar

1

teaspoon

red pepper flakes

1/4

teaspoon

pepper

2

tablespoons

cornstarch

1/4

cup

water

1

large

egg

lightly whisked
Instructions
In separate bowls, soak the dried mushrooms with one cup of boiling water each. Let it sit for at least 30 minutes.

Thinly slice the shiitake mushrooms, keeping the water, then roughly chop the wood ear mushrooms, discarding that water.

Add the chicken broth to a small saucepan, along with the water from the shiitake mushrooms. Add mushrooms, bamboo, and tofu to the soup and let it simmer for several minutes. Pour in both soy sauces, vinegar, sesame oil, scallion, sugar, chili pepper, and black pepper.

Combine the cornstarch and water in a small bowl. Make a whirlpool with a soup ladle and drizzle the cornstarch mixture into the soup, stirring constantly.

Once the soup is thicker, repeat the process with a soup ladle stirring the soup and adding the whisked egg.

Serve the soup garnished with some fresh coriander and scallions.
Notes
TO STORE: Let the leftover soup cool completely, then store it in an airtight container in the refrigerator for 2 to 3 days.
TO REHEAT: Gently heat the soup in a pot over medium-low heat until it's warmed through. You can also reheat it in the microwave in 15-second increments, stirring in between.
Nutrition
Serving:
1
serving
Calories:
149
kcal
Carbohydrates:
15
g
Protein:
10
g
Fat:
6
g
Sodium:
1811
mg
Potassium:
243
mg
Fiber:
2
g
Vitamin A:
258
IU
Vitamin C:
1
mg
Calcium:
95
mg
Iron:
2
mg
NET CARBS:
13
g
Disclosure: This post may contain affiliate links. I may earn a small commission for my endorsement, recommendation, testimonial, and/or link to any products or services from this website.