Learn how to make pad see ew, a traditional Thai noodle dish made with lightly charred rice noodles, flank steak, and Chinese broccoli stir-fried in a sweet and sour sauce.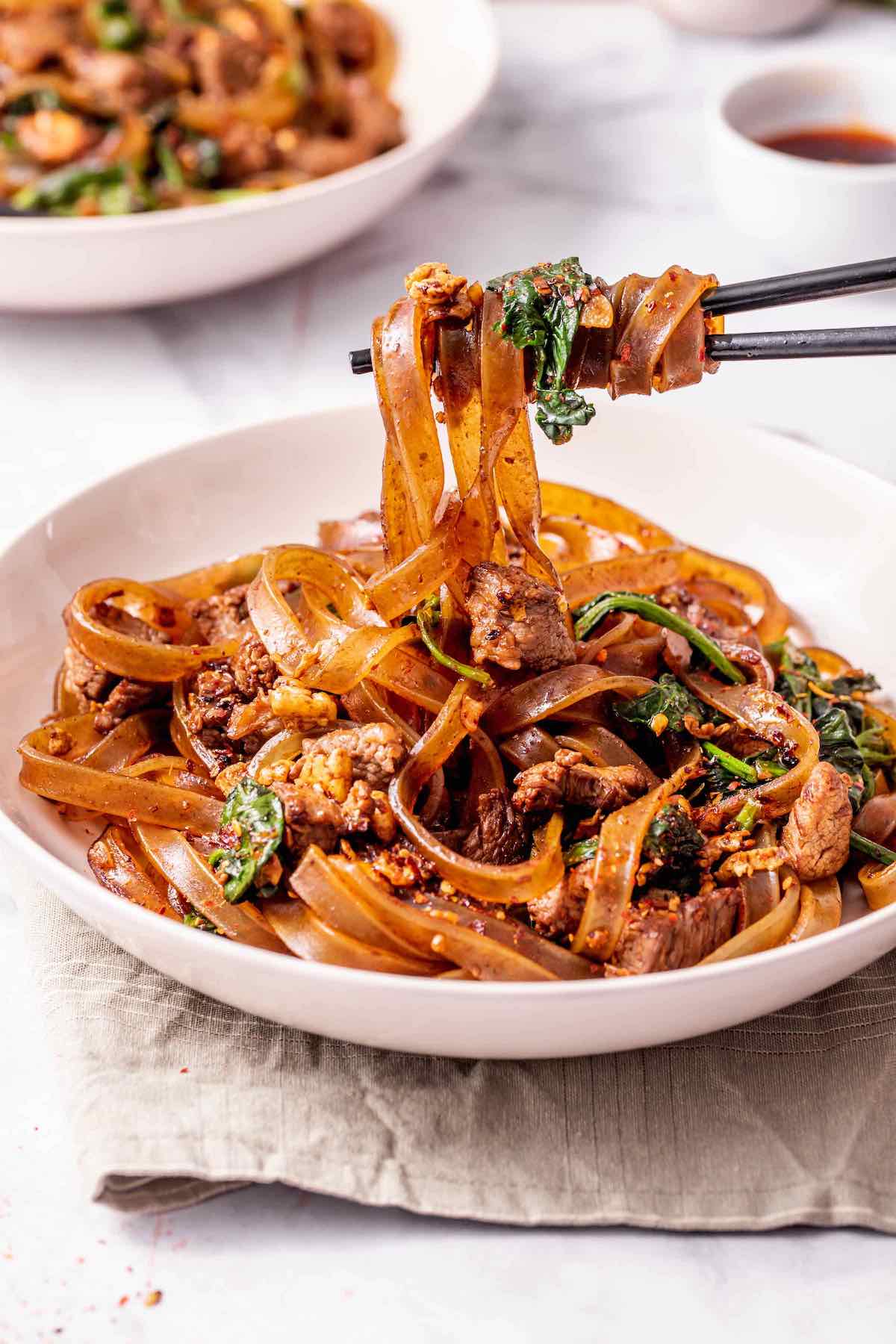 If you've never had pad see ew, prepare yourself for a sensational stir fried noodle dish!
This popular, one-pan Thai dish is made with rice noodles, marinated flank steak, Chinese broccoli, and scrambled eggs. This flavorful mixture is tossed in a layered, bright, and savory sauce, then is ready to eat after just 10 minutes of work.
Table of Contents
Why this recipe works
Also known as stir fried soy sauce noodles, our family grew up eating this dish at least once a week. My father spent time in Thailand as a teen and learned many of their traditional dishes, including this one.
It's quick and easy. This takeout-inspired recipe comes together in less than 10 minutes. You can make some fun appetizers while this cooks like an egg drop or hot and sour soup.
Incredible taste and textures. Like many Asian-inspired recipes, pad see ew is sweet, sour, spicy, and savory. It also showcases a unique charred flavor that elevates it above the rest.
Easy to customize. While delicious as is, these noodles go great with other vegetables and proteins. It's also easy to adapt to gluten free, vegetarian, and low carb lifestyles.
Pad see ew vs. pad thai
These are two very different stir-fried noodle dishes. The main difference is that pad see ew is made by slightly charring and tossing wide rice noodles in a sticky and savory soy sauce. Pad Thai, on the other hand, is made with thin rice noodles coated in tamarind sauce.
This Thai recipe calls for staples that can be found in the Asian aisle of any grocery store. Here is what you'll need:
Rice noodles. Wide rice noodles are best here because they aren't as delicate as smaller, thinner varieties and hold their shape well when charring.
Flank steak. Skirt steak will also work well. Check out the Variations section for more proteins you can use in pad see ew recipes.
Use pre-cooked steak
If you have leftover picanha, arrachera, or skirt steak, simply slice it up and toss it through the noodles instead of cooking steak from scratch.
Dark soy sauce. This is the base of the pad see ew sauce.
Oyster sauce. This darkens the caramel color of the sauce and adds depth of flavor.
Fish sauce. This builds on the distinct salty and sour flavors.
White or black pepper. White pepper is much more pungent and used in many Chinese and Asian-inspired dishes. If you can't find it, use black pepper instead.
Sugar. This is necessary because it helps the noodles caramelize while adding a subtle sweetness to the dish. Use granulated white or brown sugar.
Light soy sauce. For marinating the steak.
Oil. Use an oil with a high smoke point, like peanut, safflower, or avocado oil.
Garlic. Fresh cloves.
Egg. Because it wouldn't be a traditional pad see ew without scrambled eggs.
Chinese broccoli stems. These are the greens in the pad see ew. Feel free to swap these for bok choy, broccolini, or any other veggies you like. Head to the Variations section for more ideas.
How to make beef pad see ew
This pad see ew recipe moves quickly. For this reason, it's best to pre-measure and prep all of your ingredients before cooking so everything is ready to go. Here's how it comes together:
Step 1 – Prep the beef, noodles, and sauce
Toss the sliced steak with the light soy sauce and set it aside to marinate. Meanwhile, cook the noodles according to the package instructions, then set aside. Lastly, whisk the dark soy sauce, oyster sauce, fish sauce, and pepper in a small bowl.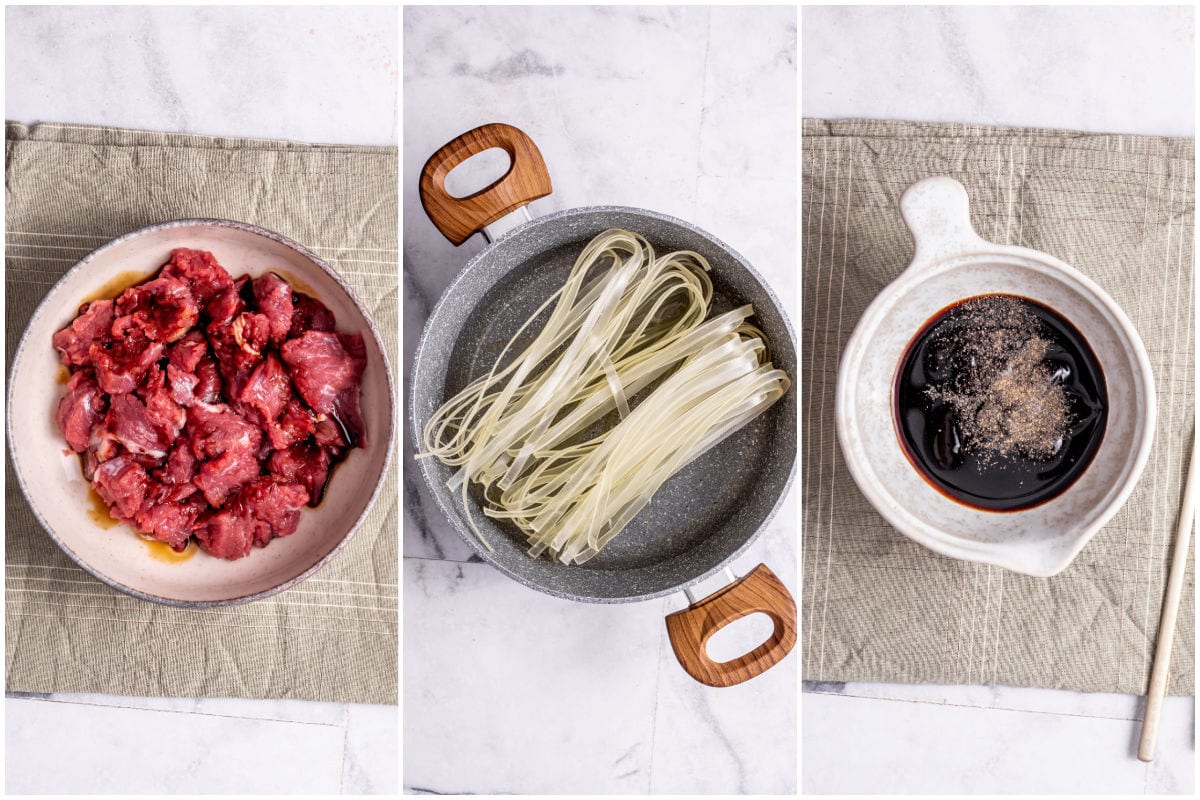 Step 2 – Stir fry the beef and veggies
Heat the oil in a wok until it sizzles. Add the marinated beef and cook until all of the pieces are browned evenly. Transfer the steak to a separate bowl, then add the garlic and beaten egg to the wok. Add the Chinese broccoli last and stir fry until it starts to wilt.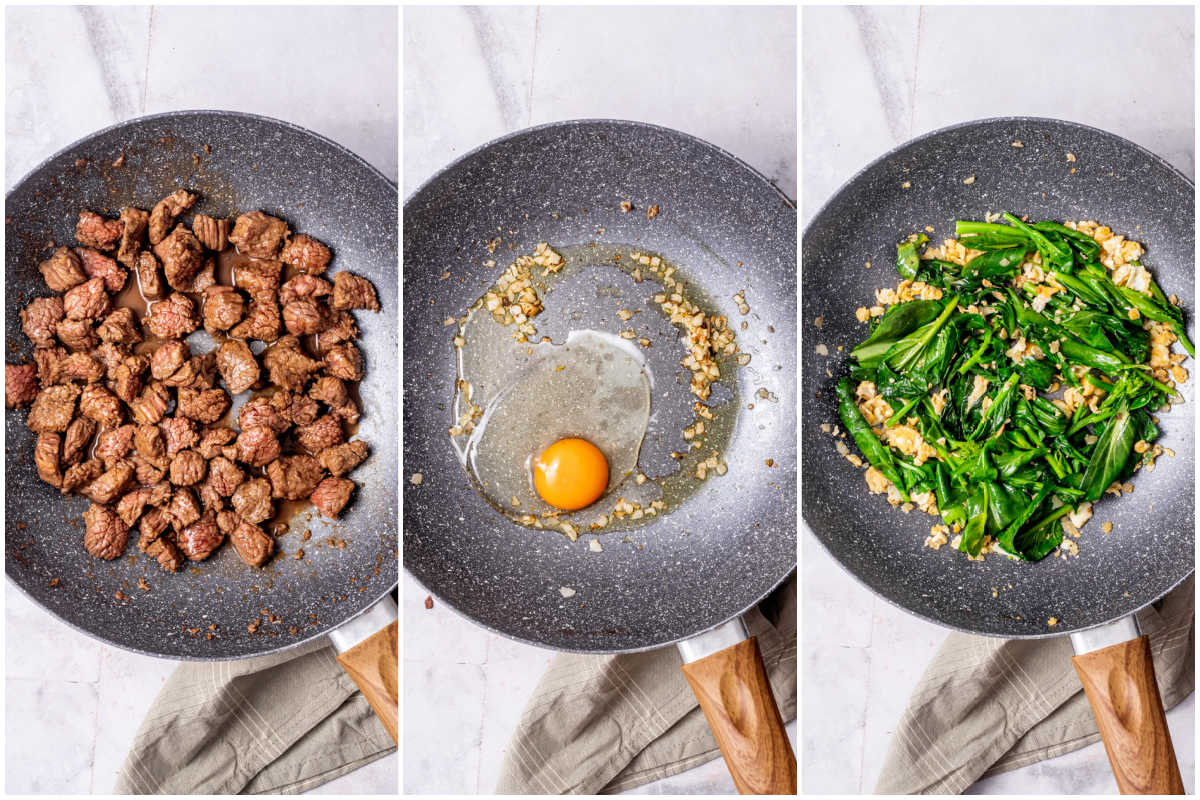 Step 3 – Add the noodles and sauce
Now add the par-boiled noodles to the wok along with the sauce and sugar. Let the noodles caramelize and char around the edges, then toss everything together. Repeat this step one more time to get a nice char on the noodles.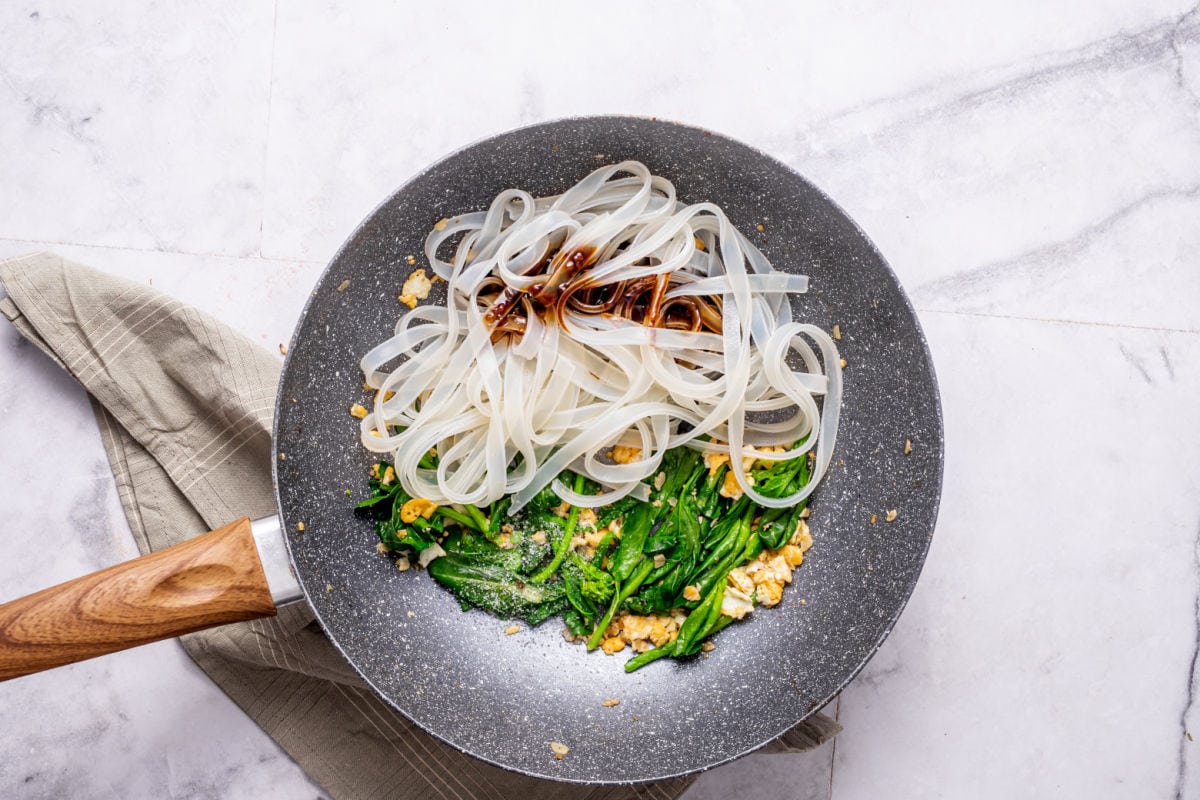 Step 4 – Toss everything together
Return the steak to the wok and toss to incorporate it with the rest of the ingredients. Scoop the pad see ew into bowls, top with chili oil, and enjoy!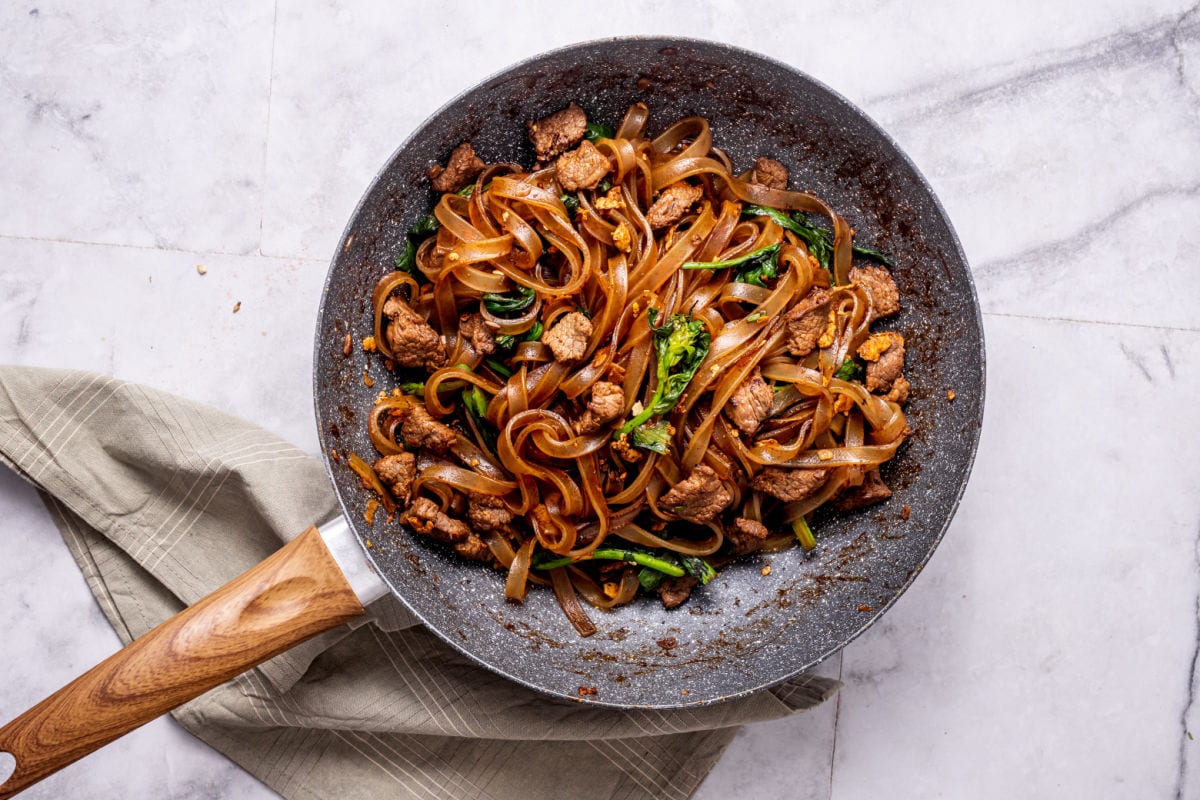 Don't clutter the wok. To achieve the caramelization pad see ew is known for, push the scrambled eggs and Chinese broccoli to the side before spreading the noodles in the pan.
Lightly char the noodles. After laying the noodles in the wok, leave them be for 30 seconds so they caramelize and char on the bottom.
Noodle breakage. As we see in chow mein or spicy noodles, It's bound to happen when tossing the noodles with the sauce. To minimize the breakage, very gently toss the noodles with the rest of the ingredients and do so with a wooden spoon.
Variations and dietary swaps
Most pad see ew recipes use different proteins, and veggies, or are even made to be dietary friendly! Here are ways you can tweak it:
Make it vegetarian and vegan-friendly. Swap the beef for crispy tofu, the oyster sauce for a vegetarian oyster sauce made with mushrooms, and the fish sauce for rice vinegar. If vegan, omit the scrambled egg.
Make it gluten free. Always double-check the ingredients, but typically wide rice noodles are safe for a gluten free diet. You'll also need a gluten free soy sauce and gluten free oyster sauce (like the Kikkoman brand).
Low carb and keto. You can easily swap the rice noodles for spiralized zucchini or shirataki noodles to cut back on the carbs.
Switch up the protein. Instead of beef, use chicken breasts or chicken thighs cut into strips, diced pork, or shrimp.
Load up on the veggies. You also have the option to swap the beef with more veggies, like zucchini, bell peppers, broccoli, green beans, snow peas, and bean sprouts.
To store. Place the leftovers in an airtight container and store them in the refrigerator for 4 to 5 days.
To reheat. Warm the noodles in the microwave or a lightly oiled non-stick pan until warmed through.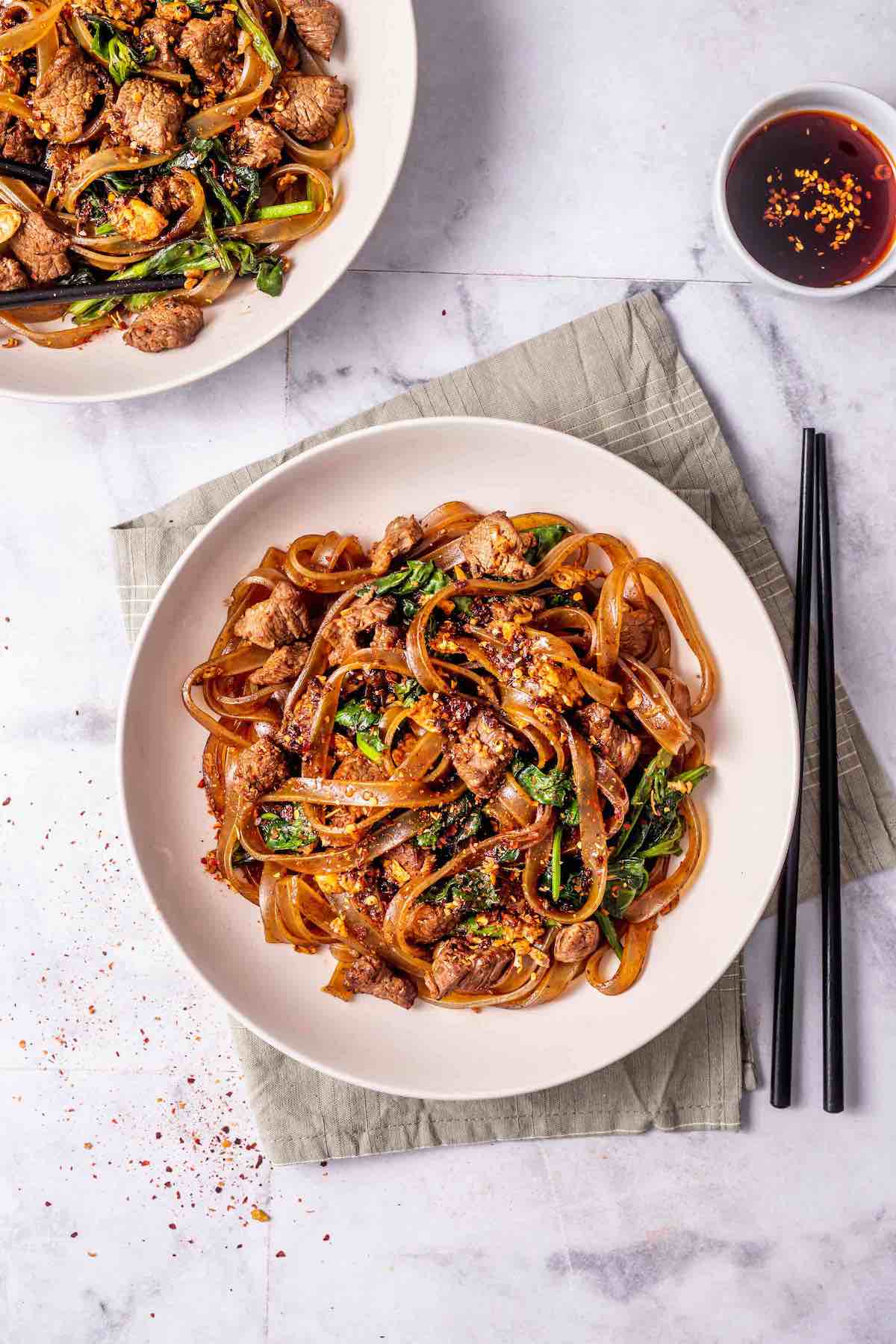 More Asian-inspired recipes
What kind of noodles are best for pad see ew?
Pad see ew is traditionally made with wide, flat rice noodles. If you can't find them, use soba, udon, or any other type of thick, chewy noodle instead.
What is pad see ew usually served with?
This dish is typically served on its own. However, just like pad thai, you can upgrade the textures and flavors by topping each bowl with chopped peanuts, scallions, bean sprouts, cilantro, and lime wedges.
Can I freeze this?
Like our Korean spicy noodles, we don't recommend freezing noodle dishes as the sauce thins out and you are left with brittle noodles.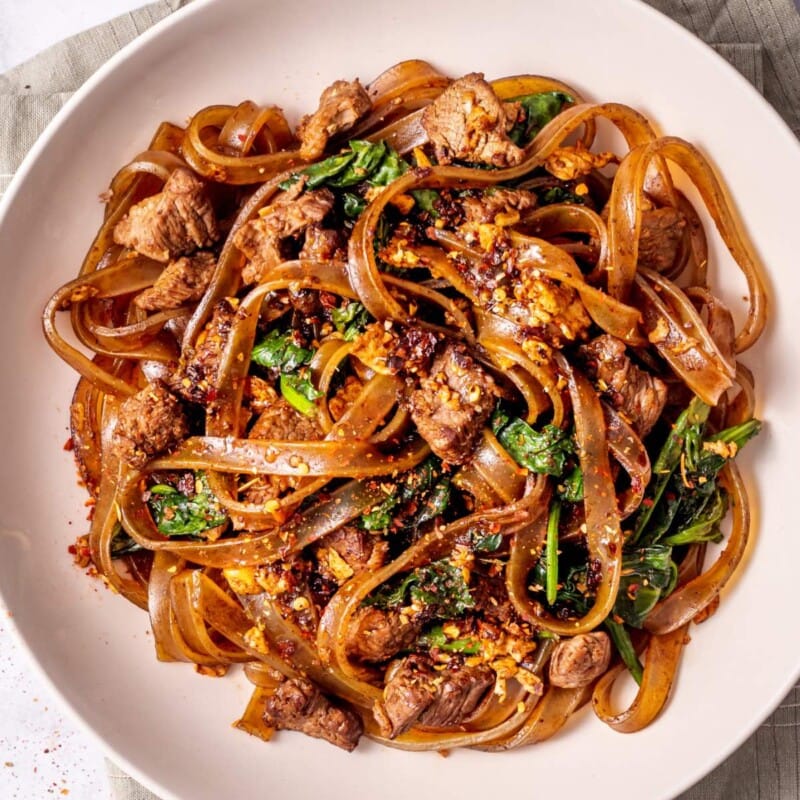 Pad See Ew
This pad see ew is a popular Thai recipe featuring stir-fried rice noodles, vegetables, and beef, tossed through a sweet and savory soy-based sauce.
Ingredients
8

ounces

rice noodles

uncooked

1

tablespoon

light soy sauce

7

ounces

flank steak

thinly sliced

2

tablespoons

dark soy sauce

2

tablespoons

oyster sauce

1 1/2

tablespoons

fish sauce

1/4

teaspoon

pepper

1

teaspoon

sugar

3

tablespoons

oil

3

cloves

garlic

minced

1

large

egg

5

stems

Chinese broccoli
Instructions
Prepare the noodles according to the package, but until just al dente.

Combine the light soy sauce and steak and set aside to marinate.

In a small bowl, whisk together the dark soy sauce, oyster sauce, fish sauce, and pepper.

Add a tablespoon of oil to a wok and place over medium heat. Once hot, Add the marinated steak and cook until no longer pink. Remove from the pan.

Remove any moisture in the pan then add the remaining oil. Add garlic and stir for 10 seconds. Add the egg and let it cook until half set, scramble it, and break the cooked pieces into smaller ones. Add the Chinese broccoli and toss it in the wok until it starts wilting.

Spread the noodles in the wok, followed by the sauce mixture and sugar. Turn the heat up to high and let the noodles lay around for 30 seconds without tossing, so the noodles start caramelizing and slightly burning. Toss the noodles and repeat the process for 1-2 minutes.

Return the meat to the wok and combine it with the rest of the ingredients.
Notes
If you don't have Chinese broccoli (gai lan), you can use bok choy or even spinach.
Nutrition
Serving:
1
serving
Calories:
392
kcal
Carbohydrates:
48
g
Protein:
15
g
Fat:
15
g
Sodium:
1175
mg
Potassium:
248
mg
Fiber:
1
g
Vitamin A:
69
IU
Vitamin C:
1
mg
Calcium:
39
mg
Iron:
2
mg
NET CARBS:
47
g
Disclosure: This post may contain affiliate links. I may earn a small commission for my endorsement, recommendation, testimonial, and/or link to any products or services from this website.