Need a last-minute recipe for dinner tonight? These vegan red curry noodles are easy to make in one skillet in about 15 minutes! They're vibrant, flavorful, and so versatile.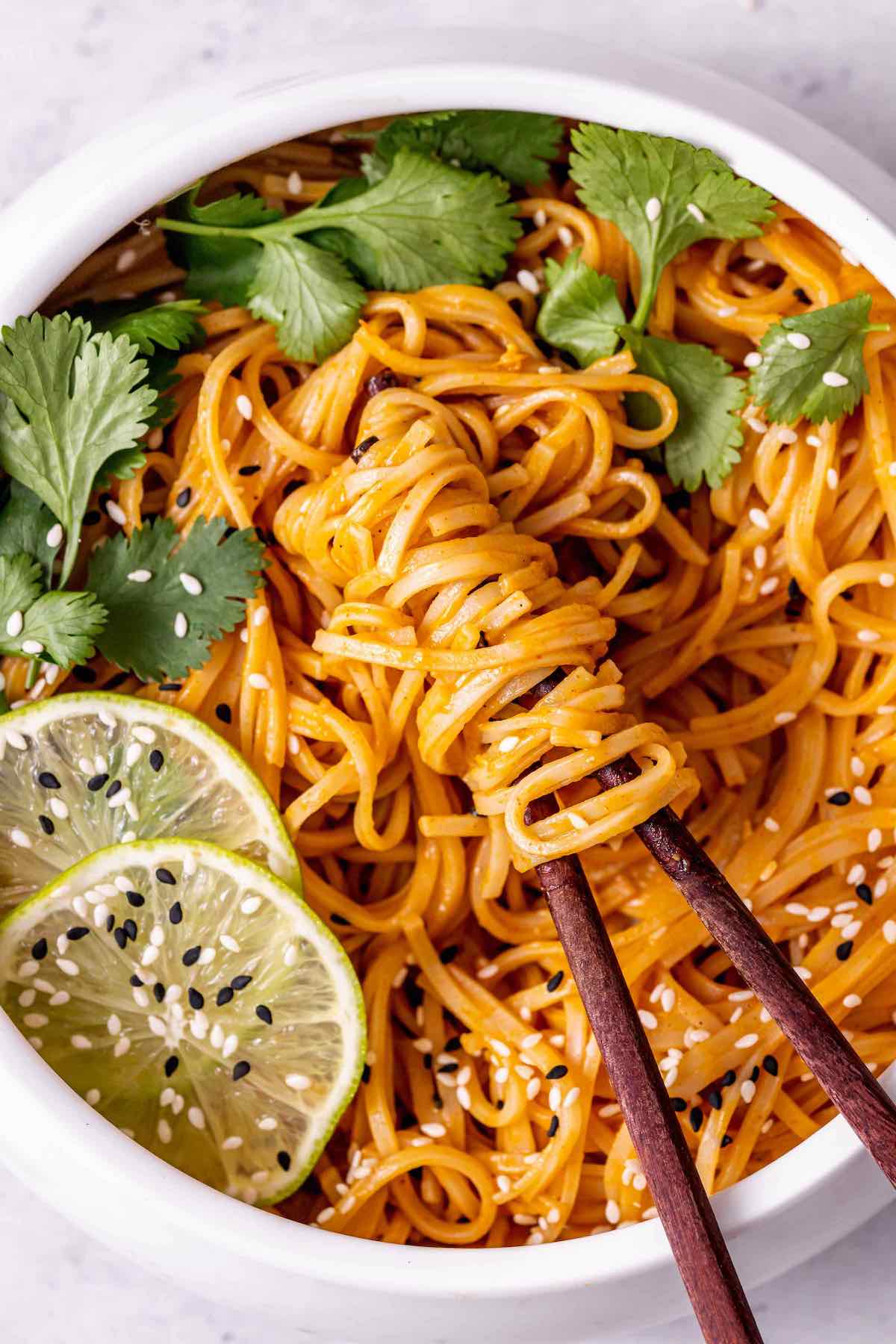 Noodle dishes are some of my favorites because they come together so easily and always feature a layered, flavorful sauce. These red curry noodles are no different! It's an easy Thai-inspired recipe that puts red curry sauce-coated rice noodles on display.
And just like my lettuce wraps, chicken chow mein, and spicy noodles, Thai curry noodles make for an excellent last-minute dinner idea. The saucy noodles are ready to serve and slurp in about 15 minutes!
15 minute Thai curry noodles
Push the bowl of tomato sauce-covered pasta aside. Red curry pasta is so much more exciting!
This fun and flexible dinner features a vibrant and creamy sauce made from red curry paste, coconut milk, lime juice, and simple aromatics. To finish, rice noodles are tossed in with the sauce and the meal is ready to serve! It's a super quick and easy recipe you can turn to when you need dinner in a hurry.
An easy, one-pan recipe. The aromatic, bright, and vibrant red curry sauce comes together in a wok on the stove. Toss in the rice noodles and dinner is on the table in about 15 minutes!
Versatile and fun to customize. You can think of this recipe as a blank canvas. The noodles and sauce can easily be customized to fit your taste buds, and you can even add veggies or meat to bulk up the meal.
A delicious lazy dinner. Out of ideas for dinner tonight? Too tired to cook? Don't want to spend a lot of time in the kitchen? Thai curry noodles are the ultimate meal because it's quick, made with minimal ingredients, and always deliver on flavor!
Did you find a few extra minutes to prepare a side dish or two? Make it a well-rounded meal, with green beans and coconut basmati rice on the side.
This simple weeknight meal is made with a short list of pantry staples. Despite their simplicity, they still result in BIG flavors in every bite. Here are the ingredients you need:
Rice noodles. Wide rice noodles are my favorite here because they're not only naturally vegan and gluten free, but they also scoop up the red curry sauce very easily.
Thai red curry paste. Try to use a good quality store-bought red curry paste. It should be easy to find in most major grocery stores or at Asian markets. And remember to check the ingredients before you buy! Many jars of red curry paste contain shrimp paste, which is fine if you aren't vegan, but not great for your vegan guests or those with an aversion to shellfish.
Garlic. The first of the two aromatics. Fresh garlic cloves give the red curry sauce a savory baseline of flavor.
Ginger. The second aromatic in the sauce. Use fresh ginger if you can.
Coconut milk. Canned full fat coconut milk is the secret to a luscious and creamy sauce. It also tones down the heat from the red curry paste.
Soy sauce. Or you can use tamari if you're gluten free.
Maple syrup. For a subtle sweetness. Agave will also work well as a substitute.
Lime juice. The acidity from the fresh lime juice helps round out the rest of the flavors and gives the dish a nice, refreshing pop!
Vegetable stock. To help thin out the sauce.
Fresh coriander and sesame seeds. For garnish.
How to make red curry noodles
I've said it before, and I'll say it again: red curry noodles are one of the easiest noodle dishes you can make, along with my Korean spicy noodles! They're ready to eat after 4 simple steps:
Step 1 – Cook the rice noodles
Place the rice noodles in a heat-proof bowl and pour boiling water over top until it covers the noodles. Let the noodles soak until they're just about al dente, then drain.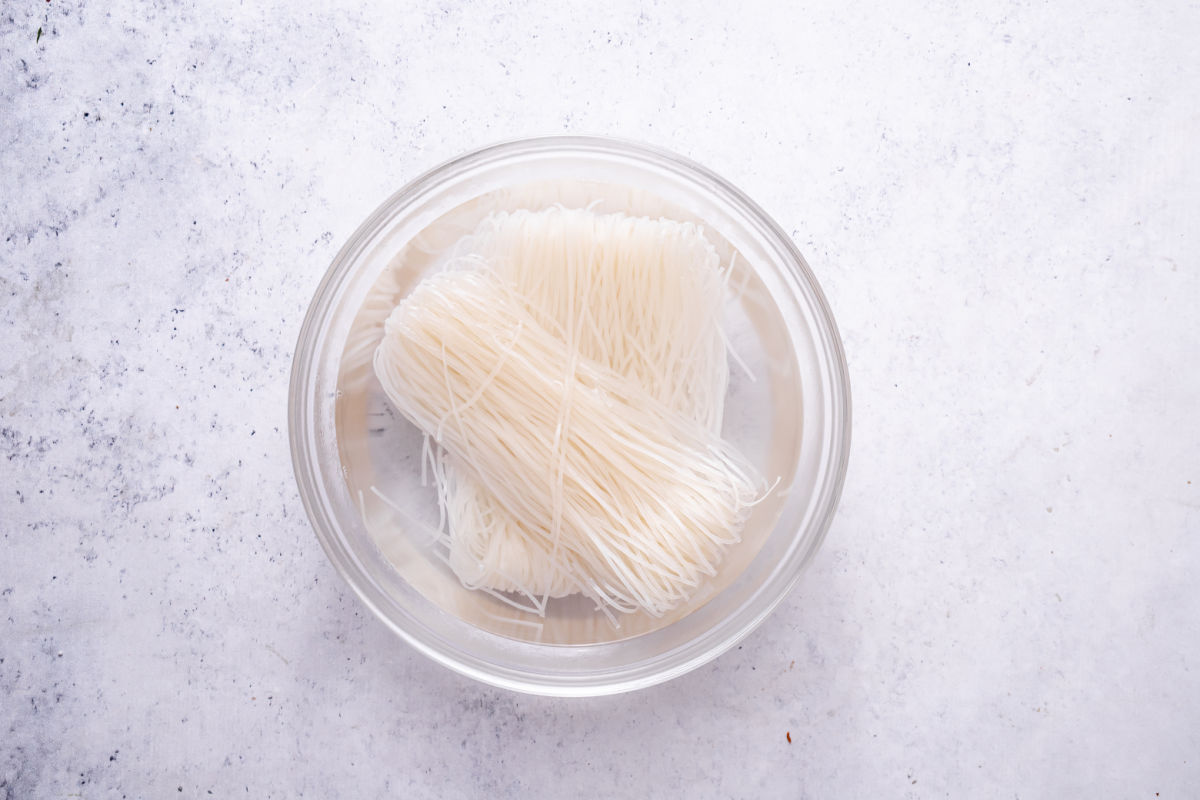 Step 2 – Start the sauce
Heat the curry paste in a wok over medium-high heat. Next, add the garlic and ginger and cook until fragrant. Turn down the heat and stir in the coconut milk.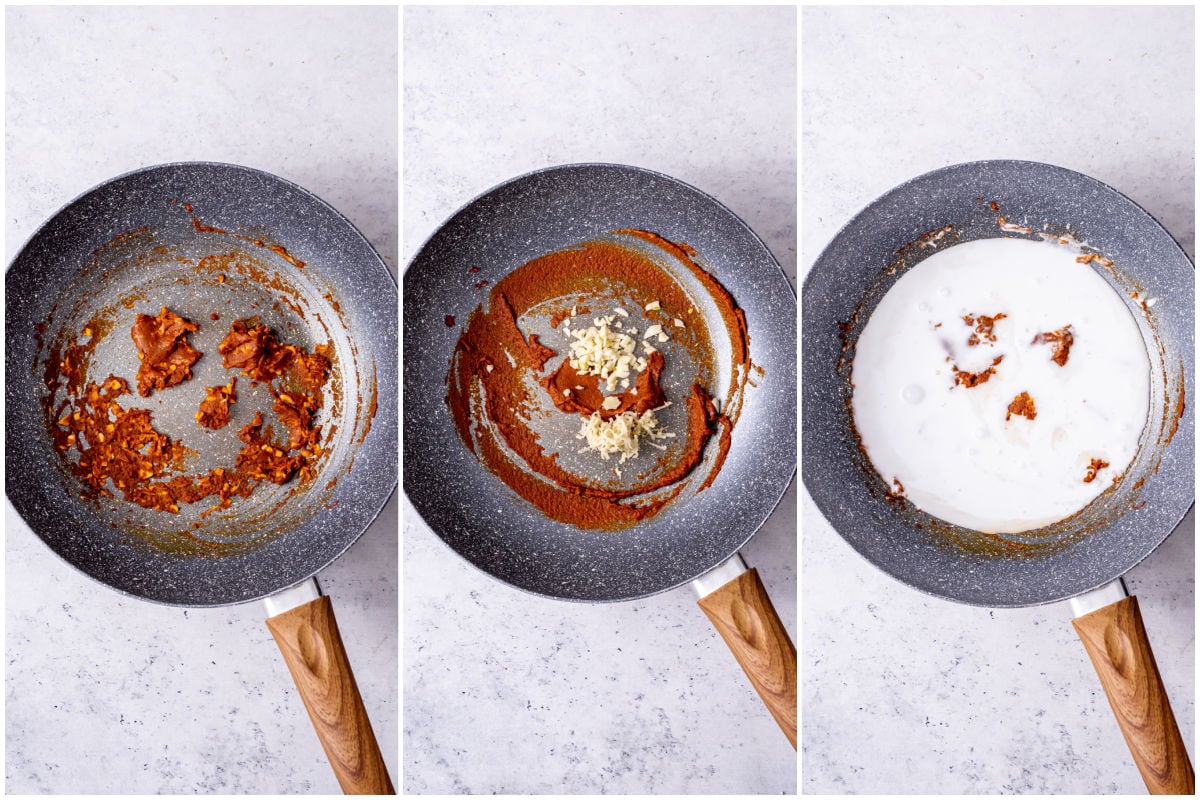 Step 3 – Toss the noodles in the sauce
Next, add the par-boiled noodles and toss to combine. To finish, stir in the soy sauce, maple syrup, lime juice, and vegetable stock.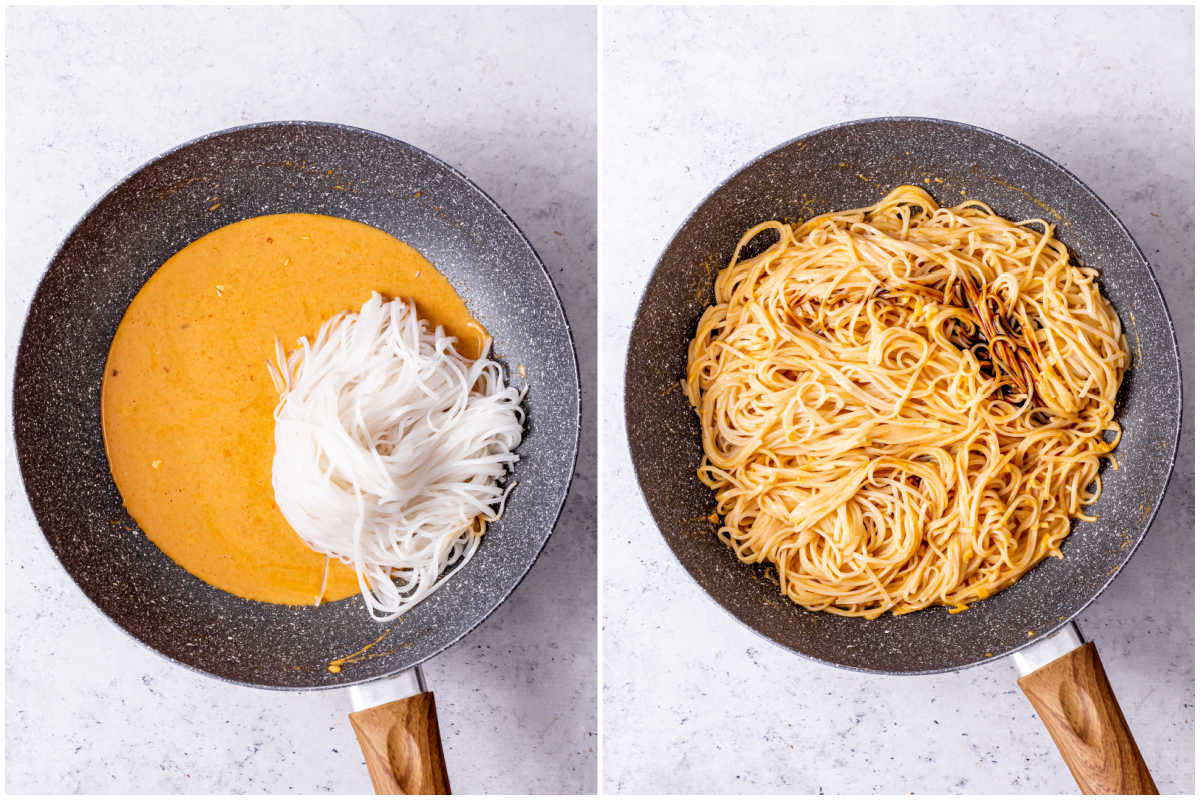 Step 4 – Serve
Once all of the flavors in the sauce have come together, scoop the curry pasta into bowls and top with fresh coriander and sesame seeds. Enjoy!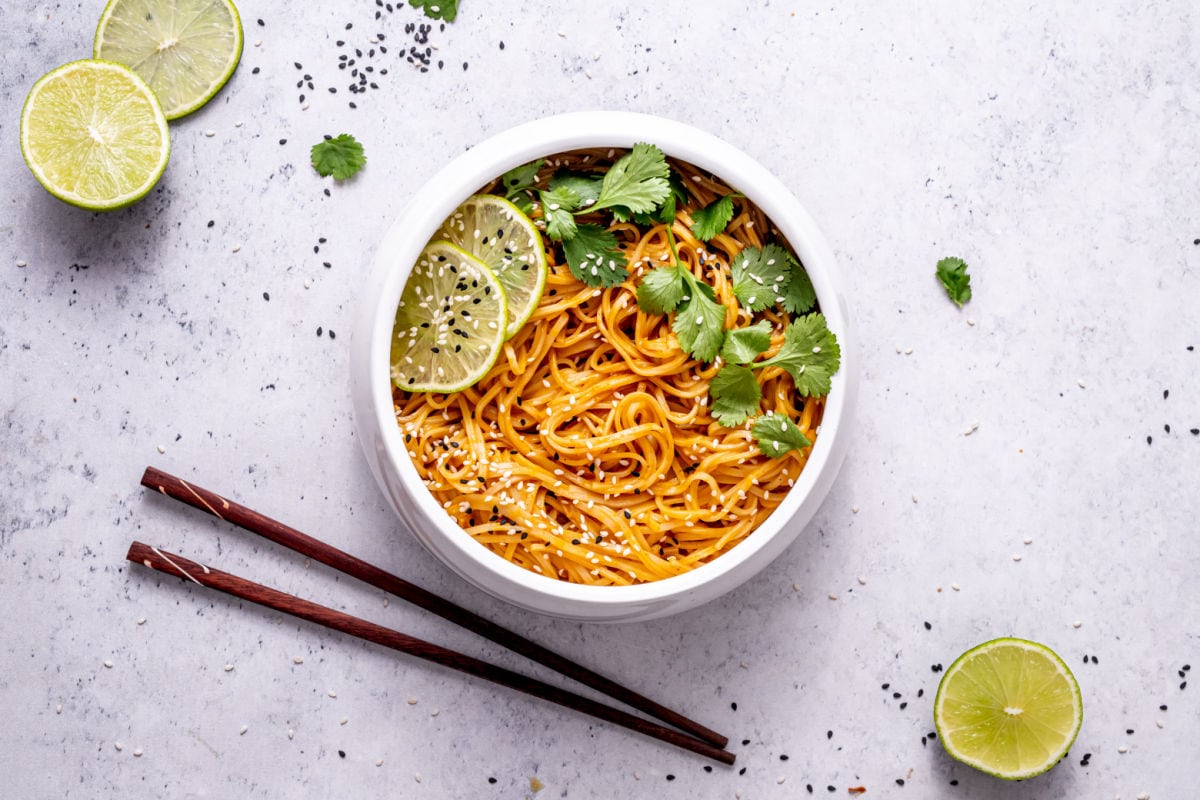 The rice noodles should be just about al dente when they're done soaking. You want them to still have a slight bite because they'll continue to cook and soften when tossed in the sauce.
If you don't have a wok, you can use a large non-stick skillet or cast iron skillet instead.
Use metallic tongs to toss the noodles with the sauce to ensure they are evenly coated so every bite is a flavor explosion.
For the ultimate curry fix, use these noodles as a base for paneer tikka masala or an eggplant curry.
Variations
This is a fun recipe to customize with different add-ins and flavor enhancers. Use these ideas for inspiration:
Bulk it up with vegetables! All kinds of vegetables can be sauteed in the pan with the garlic and ginger, like bell peppers, spicy chili peppers, carrots, edamame, scallions, broccoli, cauliflower, bok choy, and more.
Or add protein: Baked or air fryer tofu would fit in perfectly here. Otherwise, feel free to top each bowl with cooked shrimp, sliced baked chicken breast, or salmon filets to make this a filling meal.
If red curry paste is too spicy: Use only 2 tablespoons instead. Alternatively, yellow curry paste can be used as a more mild substitute.
To store: Keep the leftover sauce-covered noodles in an airtight container in the fridge. They should stay fresh for up to 5 days.
To reheat: Either reheat the noodles in the microwave or warm them in a skillet on the stove. Add a splash of vegetable broth or water to the pan to help loosen the sauce.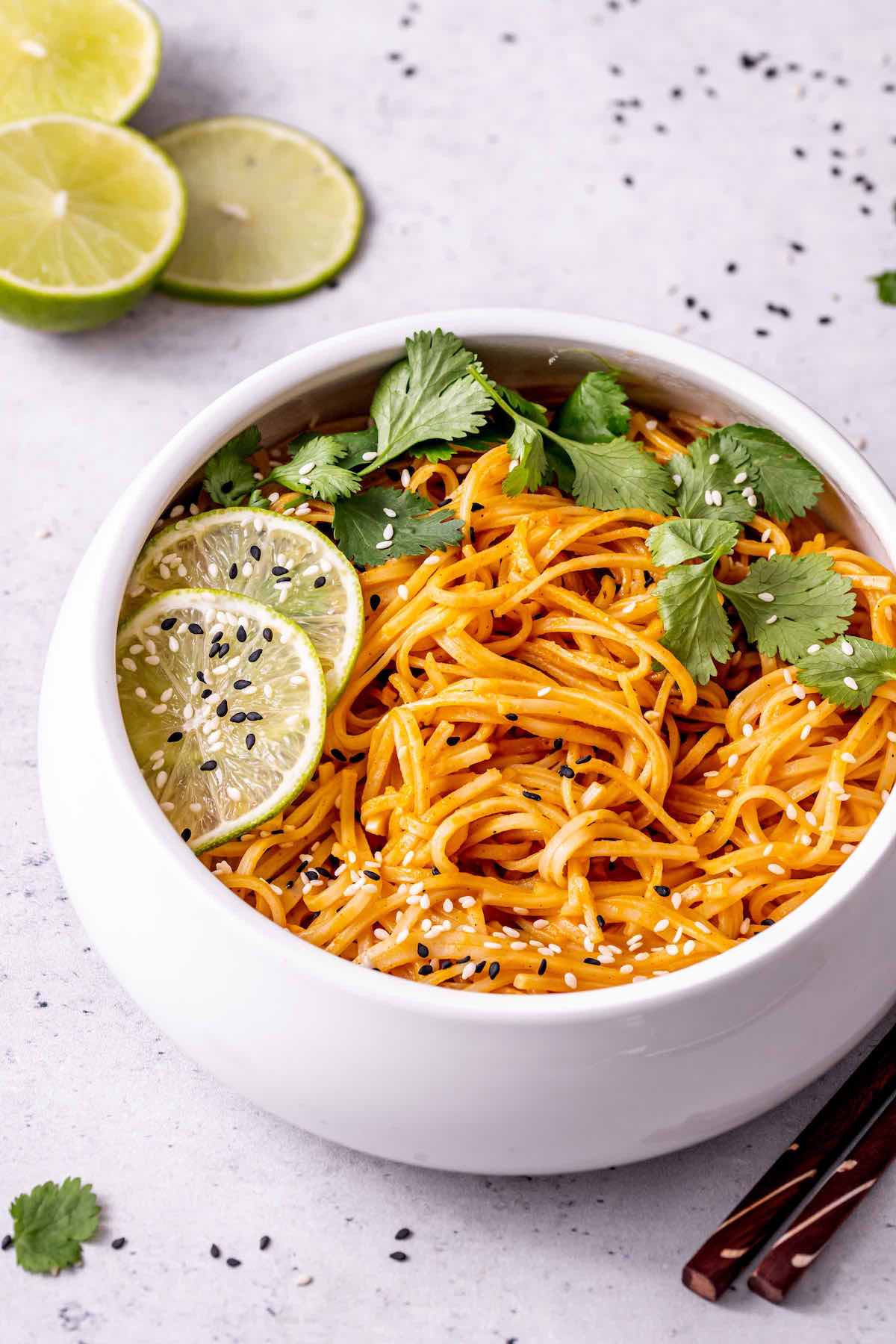 Are red curry noodles spicy?
Red curry paste is the main source of warmth and heat in this recipe. All brands are different in flavor and spice level, but the coconut milk does a fantastic job of tempering any spice in this dish.
What noodles are best to use?
Rice noodles are fantastic here, but they aren't the only option. If you want to mix things up, swap the rice noodles for soba noodles, vermicelli, udon noodles, or regular long-cut pasta noodles, like spaghetti or linguine.
Is curry pasta the same thing?
Yes, curry pasta and curry noodles are both the same dish.
More quick and easy dinner recipes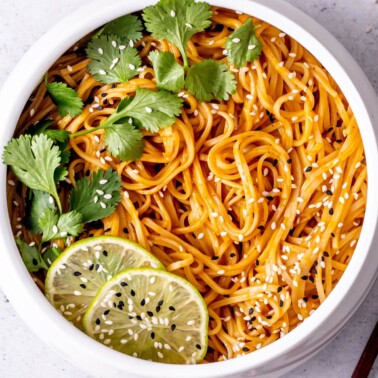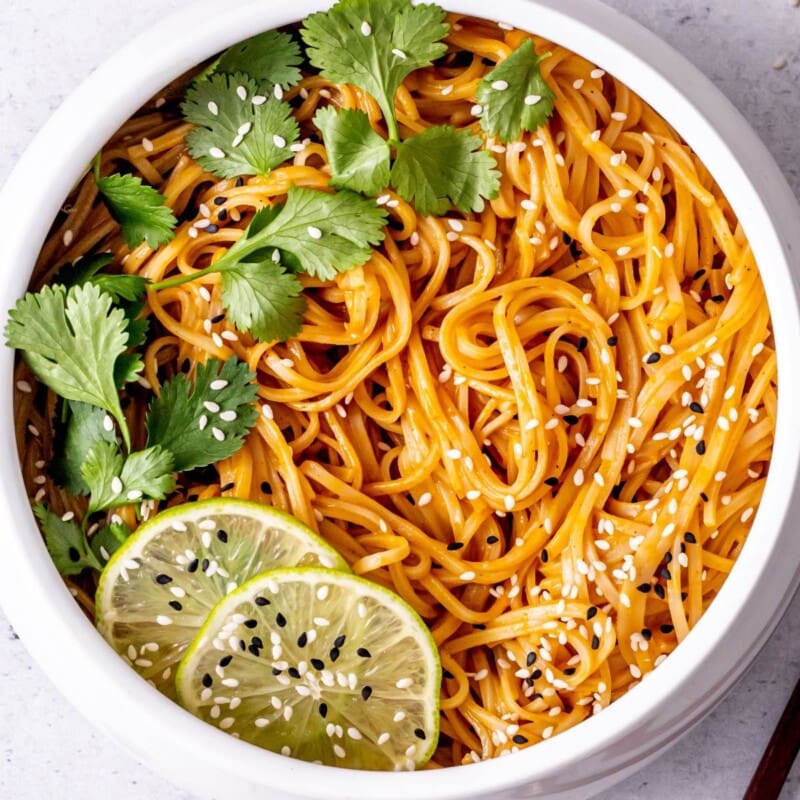 Curry Noodles (10 Minutes!)
Satisfy your takeout cravings with curry noodles – a flavorful and aromatic dish infused with fragrant spices and so easy to customize! This recipe comes together in less than 10 minutes!
Instructions
Place the rice noodles in a large bowl and pour boiling water over them until completely covered. Let it sit for 4 minutes and drain immediately.

Add the curry paste to a wok and cook for a minute over medium-high heat. Add garlic and ginger and cook for another minute.

Reduce the heat and pour in the coconut milk. Stir everything well.

Add drained noodles and stir them to combine with the mixture, followed by the soy sauce, maple syrup, and lime juice. Mix everything together before adding the vegetable broth.

Cook everything together for another 2-3 minutes, before removing the wok from the heat and serving the noodles immediately.
Notes
TO STORE: Keep the leftover sauce-covered noodles in an airtight container in the fridge. They should stay fresh for up to 5 days.
TO REHEAT: Either reheat the noodles in the microwave or warm them in a skillet on the stove. Add a splash of vegetable broth or water to the pan to help loosen the sauce.
Nutrition
Serving:
1
serving
Calories:
393
kcal
Carbohydrates:
57
g
Protein:
7
g
Fat:
16
g
Sodium:
892
mg
Potassium:
210
mg
Fiber:
6
g
Vitamin A:
1836
IU
Vitamin C:
4
mg
Calcium:
37
mg
Iron:
2
mg
NET CARBS:
51
g
Disclosure: This post may contain affiliate links. I may earn a small commission for my endorsement, recommendation, testimonial, and/or link to any products or services from this website.