Easy Paleo Tuna Patties (Keto, Whole30)
These quick and easy tuna patties (tuna cakes) are a cheap, versatile and easy recipe made with canned tuna! Perfect for meal prep, quick dinners, and lunches, they take less than 10 minutes! Keto, paleo, low carb and whole30 approved, these healthy tuna patties are made without breadcrumbs!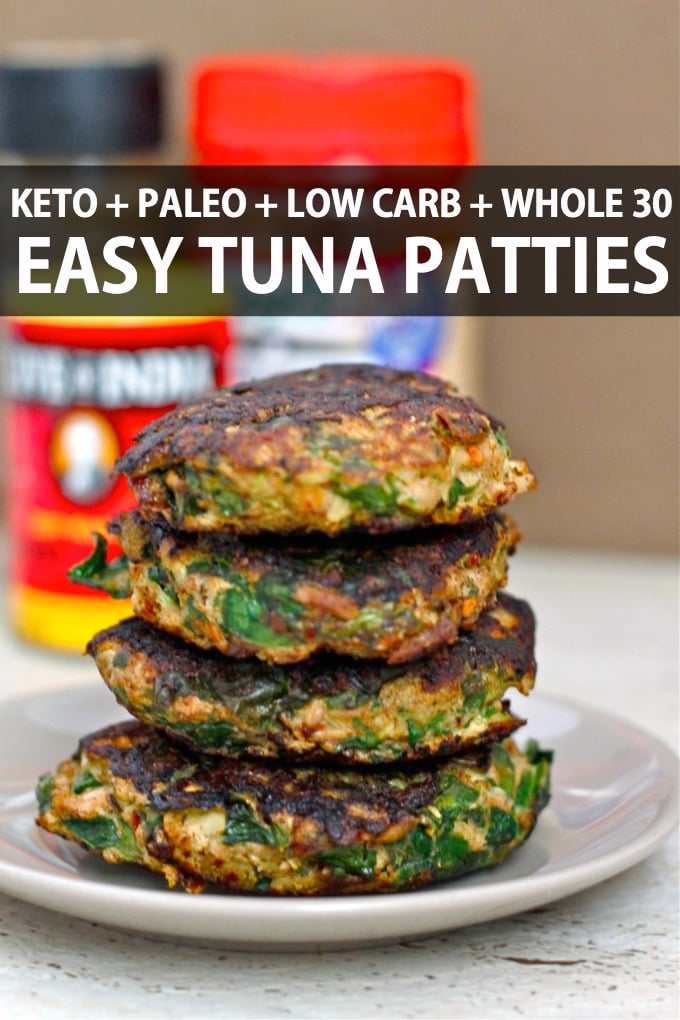 Healthy Tuna Patties
Delicious tuna patties are made with canned tuna, chopped spinach, delicious spices and held together with an egg. They are perfect in sandwiches, a high protein main dish, and a great way to use canned/tinned tuna in a creative way!
Growing up, I used to have an aversion to canned tuna. I found it to be bland and flavorless, especially compared to other high protein choices. My mum used to try and make me enjoy it- She tried flavored tuna, she tried to mix in in pasta and even tried to put a twist on a grilled cheese with it…it never worked.
During an overseas trip, we had a lengthy layover in one of the airports. Keen to use up some time, we went to find something to eat. Not knowing what the menu said, I simply pointed to something which looked like a fried veggie burger.
This 'fried veggie burger' turned out to be a tuna cake (or tuna patty). It was only after I had polished it all off (and the container of sweet chili sauce with it) that my mum brought it to my attention that it was involving my canned nemesis- tuna fish.
Ever since then, my mum started to make a mock tuna cake recipe, but with her own twist. She added spices and fried it to perfection, and it soon became a weekly staple.
Low Carb Tuna Patties
Since moving home, I still regularly make her tuna patties, but with a twist. As I was (at the time) following a paleo diet and doing a whole30 challenge, I had to put my own spin on it.
Instead of using bread crumbs and parmesan cheese, I used a bunch of chopped vegetables shredded very finely. I added various spices (curry, chili, salt, pepper and more!) and even after my challenge, they became an integral part of my weekly meal prep.
Crispy on the outside, warm and soft on the inside, you'll fall in love with canned tuna!
Easy Tuna Patties Ingredients
Canned Tuna, in spring water (400 grams with liquid)
1 medium zucchini, grated
1/2 cup baby spinach, chopped
salt
pepper
Spices of choice (I used red pepper flakes, garlic powder, and curry powder)
Egg
Cooking spray
How to make healthy tuna patties
Step 1: Grate your zucchini and squeeze out excess moisture. Chop up your baby spinach and set aside.
Step 2: In a mixing bowl, add your canned tuna (drained of excess liquid), salt, pepper and spices and mix well. Add your shredded zucchini and chopped spinach and mix well, until combined.
Step 3: Add your egg and mix very well, ensuring the entire mixture is fully incorporated.
Step 4: Heat a large non-stick pan with cooking spray and heat up on medium heat. Once hot, form 4 portions of the tuna patty mixture. Place each tuna patty quickly on the hot pan, using a spatula to shape into a patty form.
Step 5: Fry the patties for 3-4 minutes, or until sizzling on the edges, before carefully flipping the patties to cook on the other side. Cook until golden brown on both sides.
How to make tuna patties stick together
Traditional tuna cakes or tuna patties rely on breadcrumbs to hold together. To keep this recipe 100% paleo, low carb, and keto-friendly, this is omitted.
Instead, the egg and shredded zucchini together help hold the patties together.
Can you freeze tuna patties
Tuna patties are fantastic to make as part of meal prep, and they freeze beautifully.
Simply allow cooked tuna patties to cool completely, before wrapping up in parchment paper and placing in a sealed bag or container.
To enjoy paleo tuna patties from a frozen state, simply thaw in the fridge overnight and enjoy.
Frozen tuna patties will keep fresh for at least 6 months.
What to serve with tuna patties
Healthy tuna patties are so versatile and can be paired with a plethora of sides! Being a virtually carb-free/zero carb recipe, it's best to pair it with a non-protein food.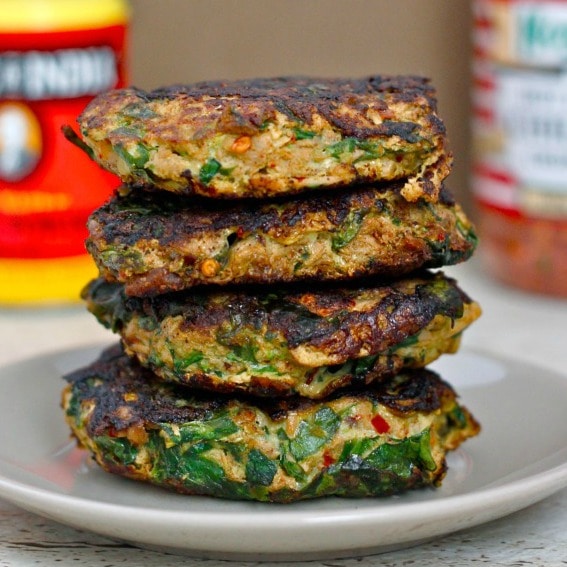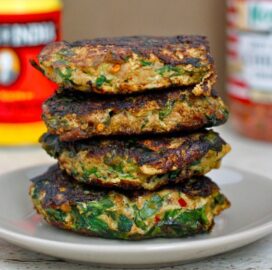 Easy Paleo Tuna Patties (Keto, Whole30)
Easy and homemade tuna patties made with canned tuna- They are a low carb, paleo and keto lunch or dinner recipe, perfect for meal prep and ready in 10 minutes! Whole30 approved and a delicious way to use canned tuna!
Print
Pin
Rate
Ingredients
1

can

tuna in springwater

400 grams, 185 drained

1/2

medium

zucchini

1/4

cup

baby spinach

1

teaspoon

salt

Add more, if needed

1/2

teaspoon

pepper

1

teaspoon

spices of choice

red pepper, curry etc

1

large

egg
Instructions
Grate your zucchini and squeeze out extra moisture. Chop your baby spinach finely.

In a large mixing bowl, add your drained tuna, salt, pepper, and spices and mix well. Add your zucchini and baby spinach and mix very well, until combined.

Add your egg and mix to ensure it is incorporated. Allow the tuna patty mixture to sit, before forming into 4 portions.

In a large non-stick pan, coat with cooking spray and heat on medium heat. When hot, add your four portions and press into a circular shape. Fry for 4-5 minutes, or until the edges start to bubble. Carefully flip the patties and fry until golden on both sides.

Allow to cool slightly, before serving.
Notes
Easy Paleo Tuna Patties (Keto, Whole30) can be refrigerated to enjoy later, for up to 5 days,
Tuna patties are freezer friendly and will keep well for at least 6 months.
Nutrition
Serving:
1
serving
|
Calories:
185
kcal
|
Carbohydrates:
2
g
|
Protein:
35
g
|
Fat:
9
g
|
Fiber:
2
g
|
Vitamin A:
150
IU
|
Vitamin C:
0.8
mg
|
Calcium:
10
mg
|
Iron:
0.4
mg