Just ten minutes is all you'll need to whip up these Curried Salmon (or tuna!) patties- No fancy ingredients and chock full of veggies, these patties are paleo, gluten free, grain free and low carb- You'd never believe these beauties started out from a can!

When it comes to protein choices- if I could eat fresh seafood for each and every meal, I'd be one happy camper. Unfortunately, my wallet dictates otherwise and that is something to be left to special occasions….or the rare event or party which may be edging on fancy.
If you spend a solid week with me, you'll probably see my seafood protein choices are tuna (from a can), sardines (from a can) and more recently- Salmon…from a can.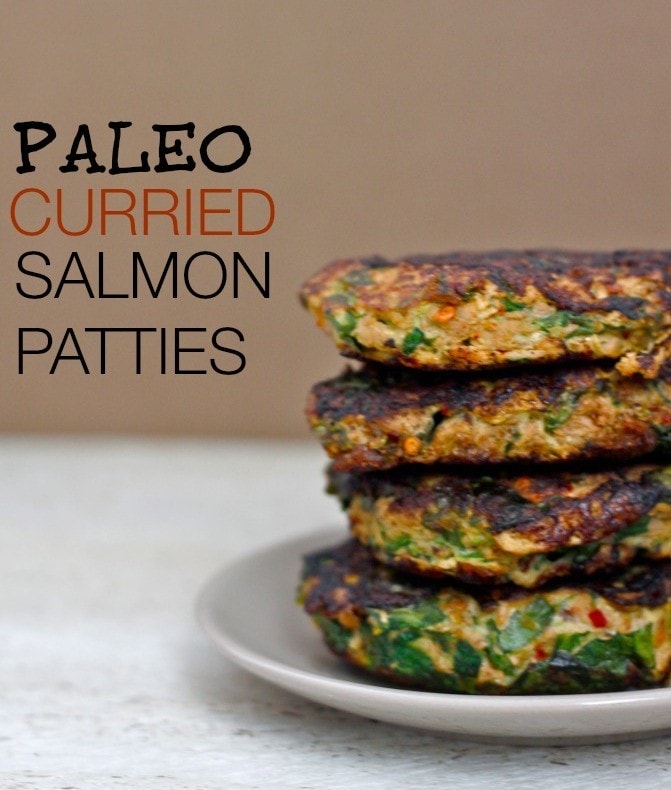 Salmon is without a doubt my all-time favourite fish– I find it to be one which doesn't need any fancy marinades or spices- like my spicy ginger style or my Asian pan seared style. Because Australia likes to spite me (like making cherries MIA or not selling epic products like these), salmon prices are through the roof. My once a month splurge on two salmon fillets has now decreased to one salmon fillet- and that's if I'm being generous. The next best thing? Salmon in a can.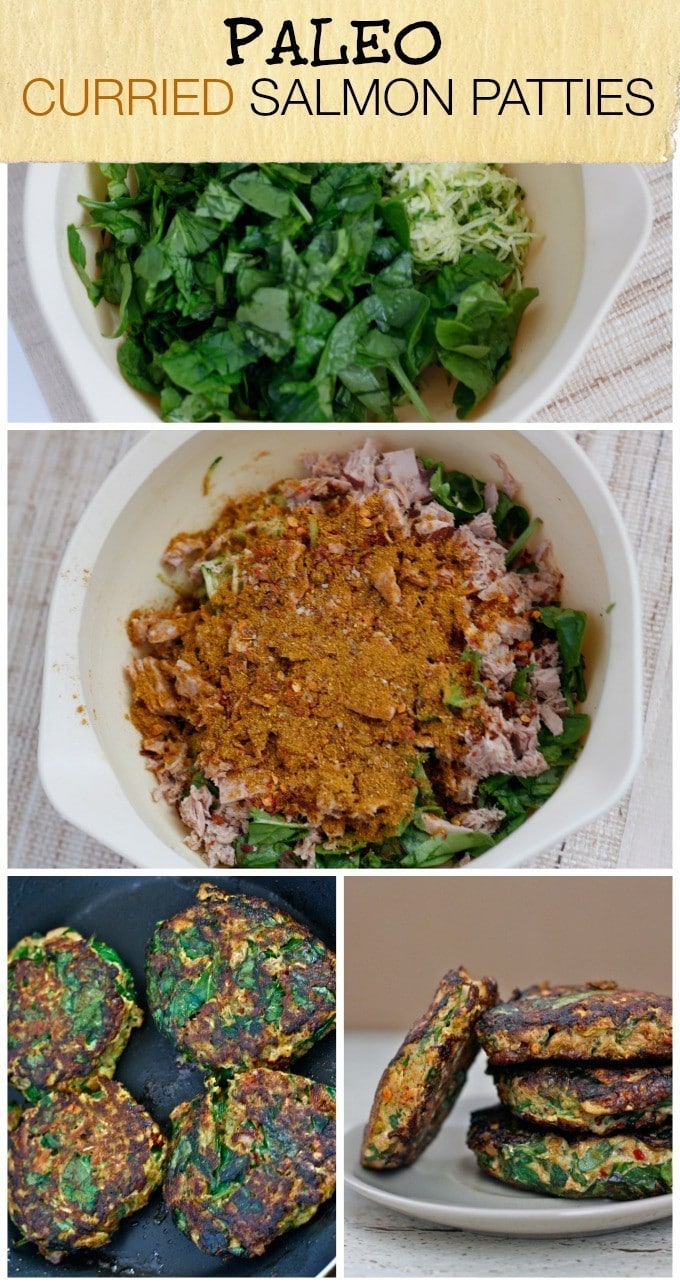 I'm not sure how it is around other parts of the world but just because it is in a can does not mean it will automatically be cheap. Canned salmon is still bloody expensive- but two cans = 1 piece of salmon. Let's do some maths.
(Please note- my mathematical skill is dismal and the below may be incorrect).
Two can of salmon = 1 salmon fillet.
Six cans of tuna in chilli oil = two cans of salmon = 1 salmon fillet.
Twelve cans of sardines (I eat 2 at a time) = six cans of tuna in chilli oil = two cans of salmon = 1 salmon fillet.
Not eating anything = free.
Okay, scrap the last one. So pretty much, the meals which involve salmon are pretty damn epic and should be considered a borderline event.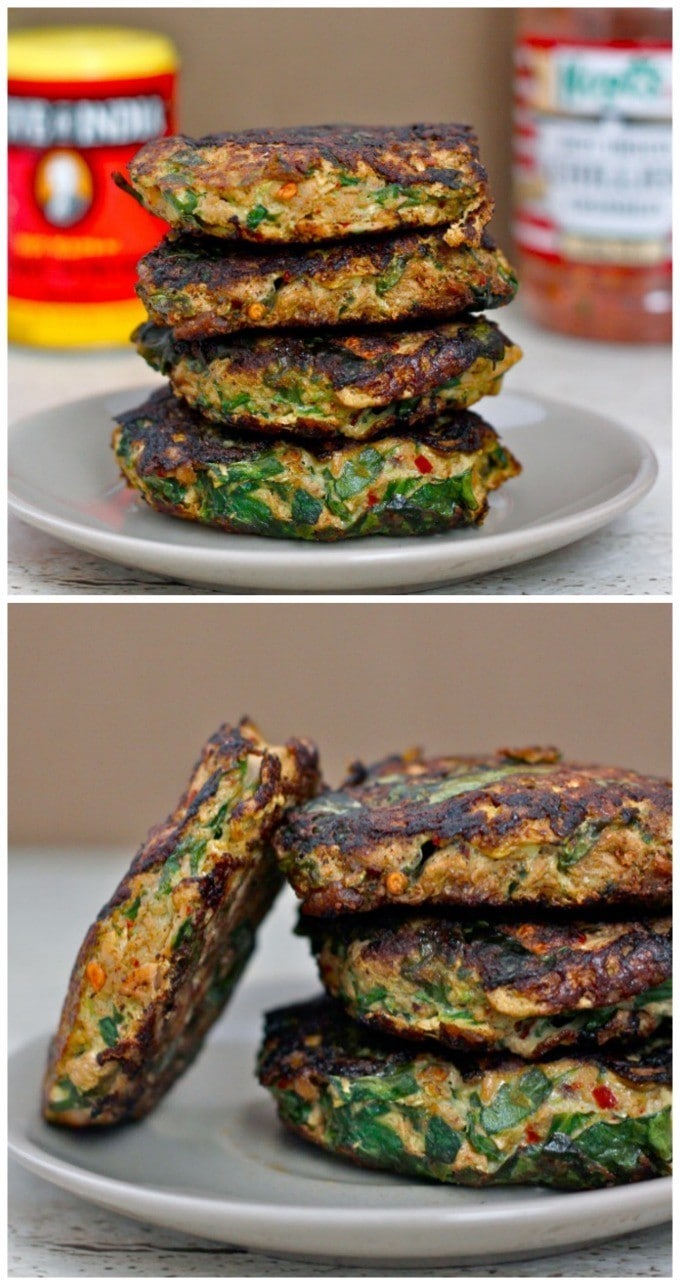 When it comes to canned fish, unless it's flavoured or in a delicious oil (like the tuna is), I need to spruce it up. The same stands for expensive canned salmon. My favourite way of jazzing up canned tuna is in my curried tuna patties which may or may not be one of my all-time favourite recipes ever posted here. This recipe is a spin on it with a few different additions and two versions- a Paleo friendly version (which is also gluten free) and one which isn't paleo (but is still gluten free). Does that make sense? Well regardless, it's delicious, takes barely any time to prep and you'd surprise yourself that something so delicious once started in a can.
When it comes to patties, you often think they need a binder of some sort to ensure it maintains shape and density- usually in the form of bread crumbs or flour. These, however, keep shape and don't fall apart- without using either. I personally prefer the paleo version but for those who do prefer a grain or flour binder, there is an option to add those in too!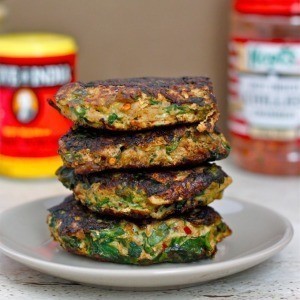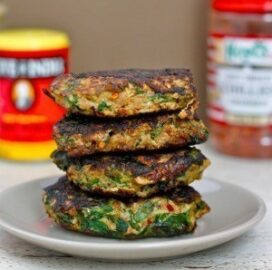 Curried Salmon Patties
Easy, delicious and all from a can- Curried Salmon Patties!
Print
Rate
Ingredients
· 185 gram can of salmon in spring water

I used red salmon, flaked

· ½ cup baby spinach

chopped finely

· ½ medium zucchini

grated

· 1 T curry powder

I used hot Madras

· 1 tsp red pepper flakes

· 1 tsp ginger

· Salt to taste

· 1 large egg

· 1 T butter
Instructions
In a large mixing bowl, combine the grated zucchini, spinach and flaked salmon. Add the curry powder, red pepper flakes, ginger and salt. Mix until fully incorporated. Add the egg and stir until combined.

Heat a large frying pan on high heat and add the butter. Once melted and sizzling, form the mixture into four patties and place on the frying pan. Fry the patties for approximately 4 minutes or until golden brown, flip over and repeat.

Remove from heat and serve immediately.
Notes
This recipe is for a single serving, but I have quadrupled the batch on multiple occasions during food prep and eaten cold in sandwiches or broken up over a potato salad. They freeze really well and can be kept in the fridge for up to 5 days.
To include a flour like binder, add 1 T gluten free oat flour or breadcrumbs to the dry mixture.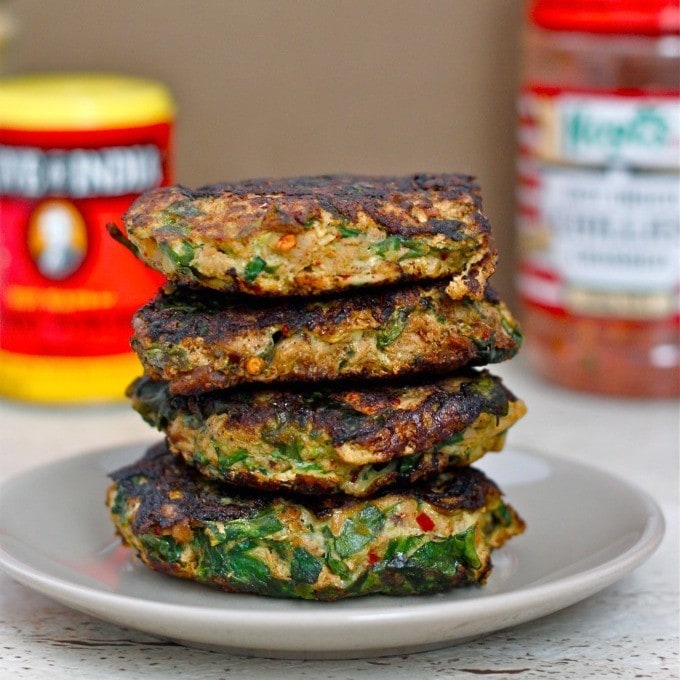 Linking up with these amazing parties- #recipeoftheweek, RealfoodWednesdays, Share your stuff Tuesdays, simple supper Tuesdays and Gluten Free Wednesdays, and what's cookin' Wednesdays,#glutenfreefridays, foodiefridays, glutenfreetuesdays with some weekend pot luck lovin
See you guys Sunday for some Sunday Sessions. Yep. New Name. No link up. All explained then.
Do you eat canned fish?
Have you ever had canned salmon?
Favourite type of fish?