Just five ingredients are needed to make this paleo friendly curry pumpkin soup which can be made stovetop or in a slow cooker. Filling, spicy and suitable for those following a gluten free or vegan lifestyle!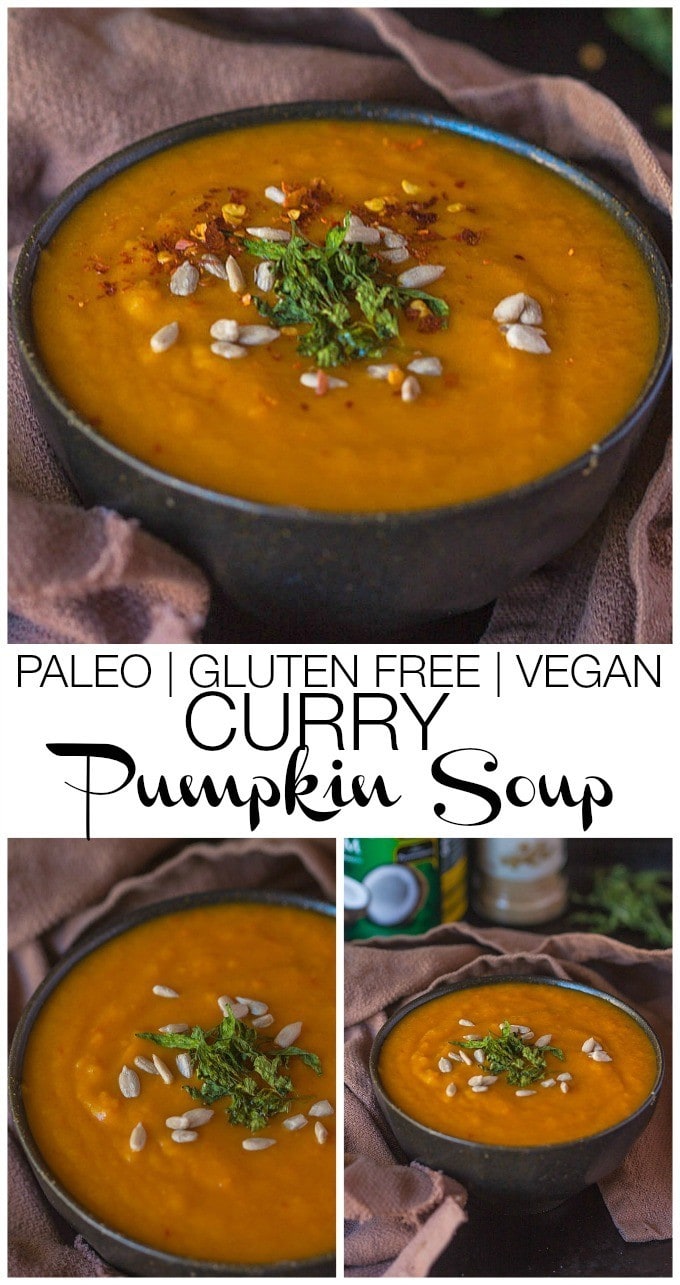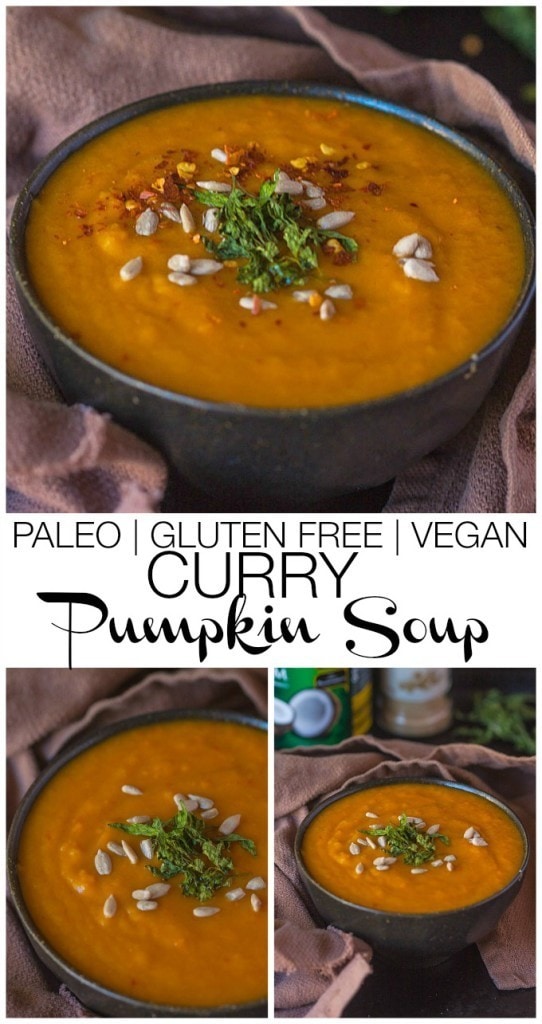 Ever since I made this spicy sweet potato and pumpkin dip, I've been obsessed with pureed or mashed pumpkin. It's often used in sweet desserts like these pancakes or hidden in these brownies,
I've mentioned on here before how in Australia, pumpkin is available year round and is mostly eaten savoury style. It's considered one of the most popular vegetables here however, I was never a fan growing up.
I know, right?
During primary school and high school, you'd always have the opportunity to go to school camp which involved between three to five days away from home doing the typical 'camp' like activities- Sports, outdoor games and campfires. Always a campfire.
The worst part of school camps was always the food. It was usually the most bland and basic foods and the teachers always made it a point to eat vegetables and start with a soup. Usually, I'm pretty good with eating what is served to be but one thing I could never fathom was pumpkin soup. The colour, the texture and the flavours just never won me over. Because life likes to tease me, every single camp I went on served pumpkin soup as a starter. Every single camp. This is probably due to the fact that everyone, besides me, enjoyed this.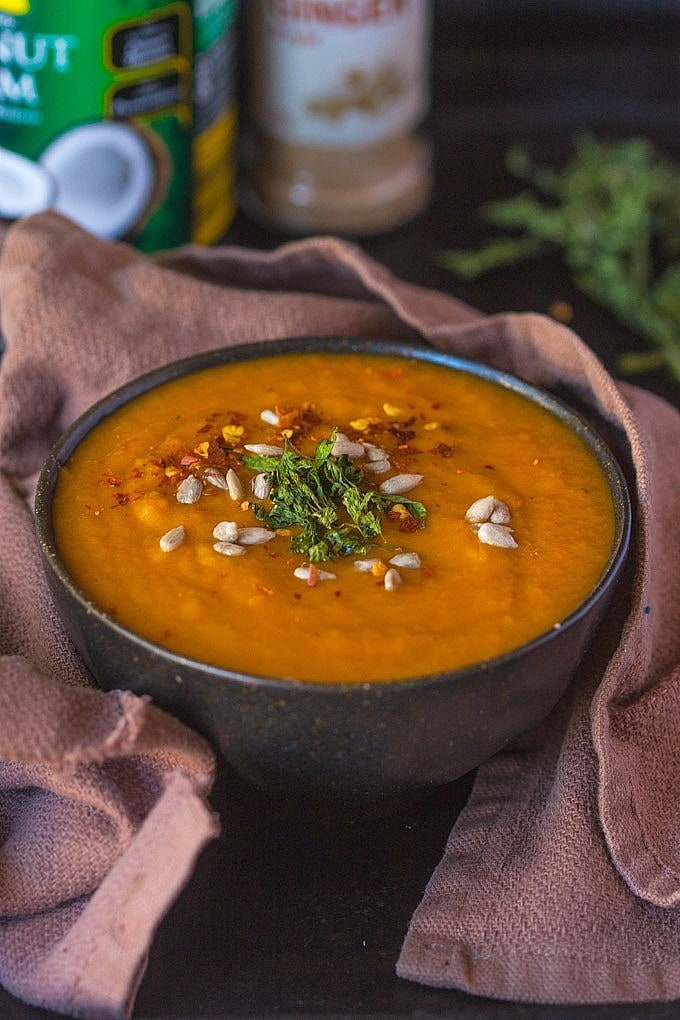 Wow, from all the fun memories you can bring back from school camps, I just spite on the damn soup. I think I have issues…
Thankfully, my taste buds have changed for the better and pumpkin soup is one of my all time favourites. However, it most certainly was NOT inspired by the soup served at camp. If it was, you'd need two ingredients- Pumpkin and water. This soup was inspired off one of my favourite foods, curry. I'm not going to lie- While the thick, curry sauce tastes delicious over rice or mopped up with some naan, it's even better eaten straight with a spoon.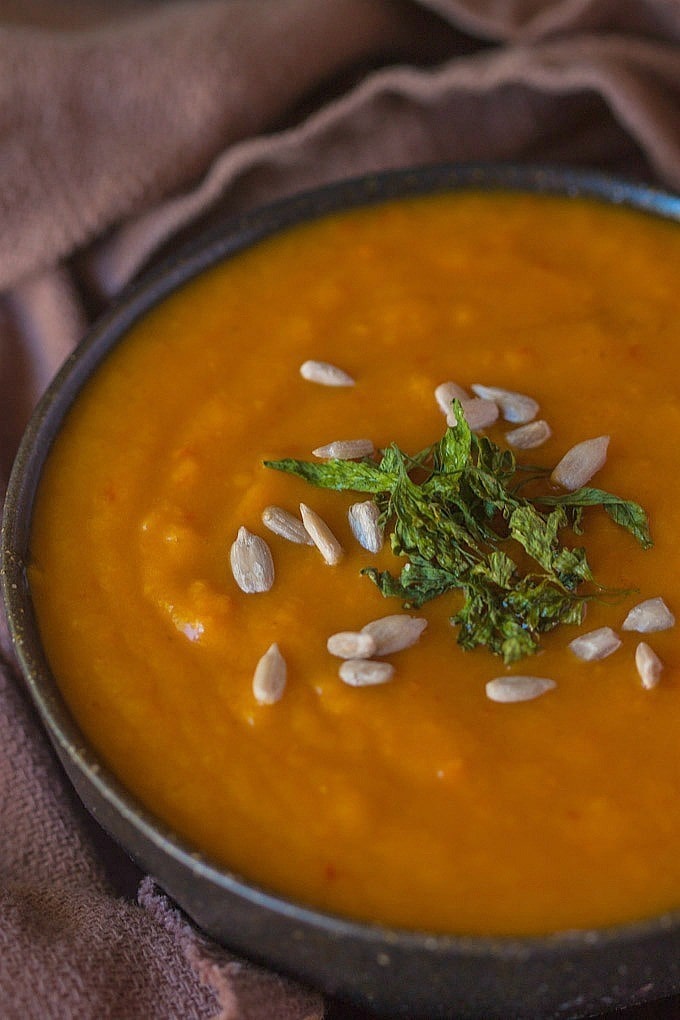 This Paleo and vegan friendly curried pumpkin soup is just like eating curry with a spoon. The simple ingredient list and a few flavourful spices is the perfect bowl of comfort. There are two ways to make it- The quicker option (like I did here) was doing it over the stove. However, I have made it in a slow cooker before and it is my preferred method, purely for the reasons mentioned here.
When it comes to using the coconut milk, I highly recommend you opt for full fat- It provides a delicious, thick soup and a creamy texture without the need for actual dairy cream. Continue the pumpkin trend by sprinkling some pumpkin seeds on top and dried cilantro.
Confession- I threw the cilantro out before eating my bowl. Cilantro is edible punishment in herb form.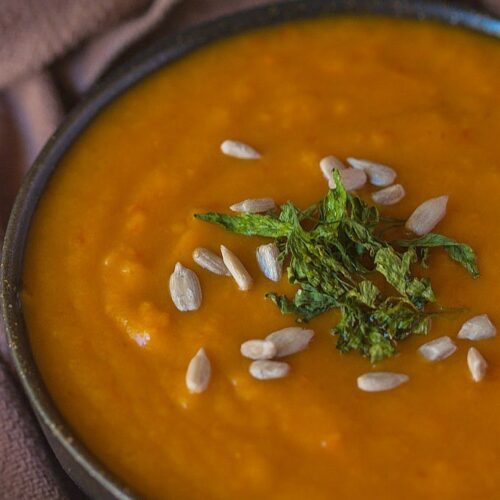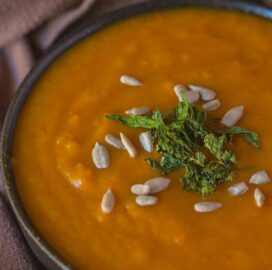 Paleo Curry Pumpkin Soup
Just five ingredients are needed to make this paleo friendly curry pumpkin soup which can be made stovetop or in a slow cooker. Filling, spicy and suitable for those following a gluten free or vegan lifestyle!
Print
Rate
Ingredients
1

kilogram

butternut or Kent pumpkin

raw

1

can coconut milk

400 grams

2

tablespoon

+ 1 tsp curry powder*

1

tablespoon

salt

adjust to taste

2

teaspoon

pepper
Instructions
Stovetop version
Turn the stovetop to medium and lightly coat a deep pot or saucepan with a dash of coconut oil.

Once hot, add the pumpkin and curry powder, salt and pepper and mix well so the spice mixture is evenly spread. Add the coconut milk and water to just cover the pumpkin and once it starts boiling, reduce to a simmer and allow to cook until pumpkin is very tender and soft.

Once tender, either use a potato masher to ensure no pumpkin is left intake. Alternatively, you can use a stick blender to to puree until desired thickness.

Serve with dried cilantro, pumpkin seeds and red pepper flakes.
Slow Cooker Version
Add the pumpkin, curry spices, salt and pepper into the slow cooker and stir several times for spices to coat. Evenly pour the coconut milk over it and slowly add enough water to just cover the pumpkin.

Cook on low for 6-8 hours or high for close to 5.
Notes
If you don't have a curry powder, use 2 T cumin, 1 T garam marsala, 1 tsp turmeric.
You can use pre cooked pumpkin for the stove top version but need to adjust the water and/or simmer longer until desired thickness is reached.
Try to use full fat coconut milk for the richer, creamier texture.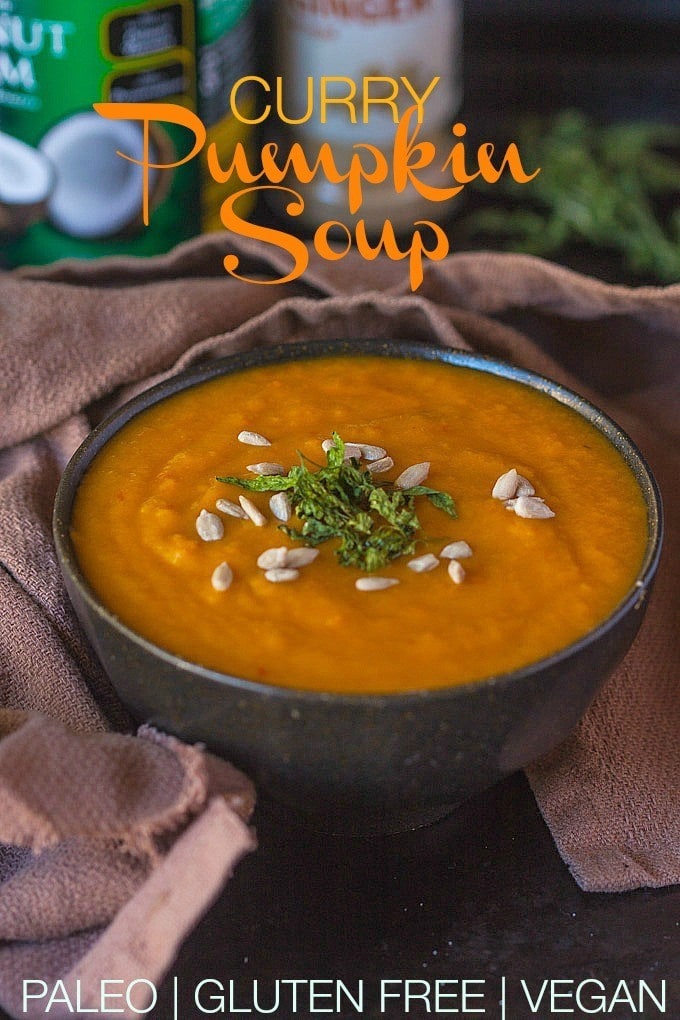 3 Ingredient Paleo Flatbread (Paleo, Gluten Free, Vegan)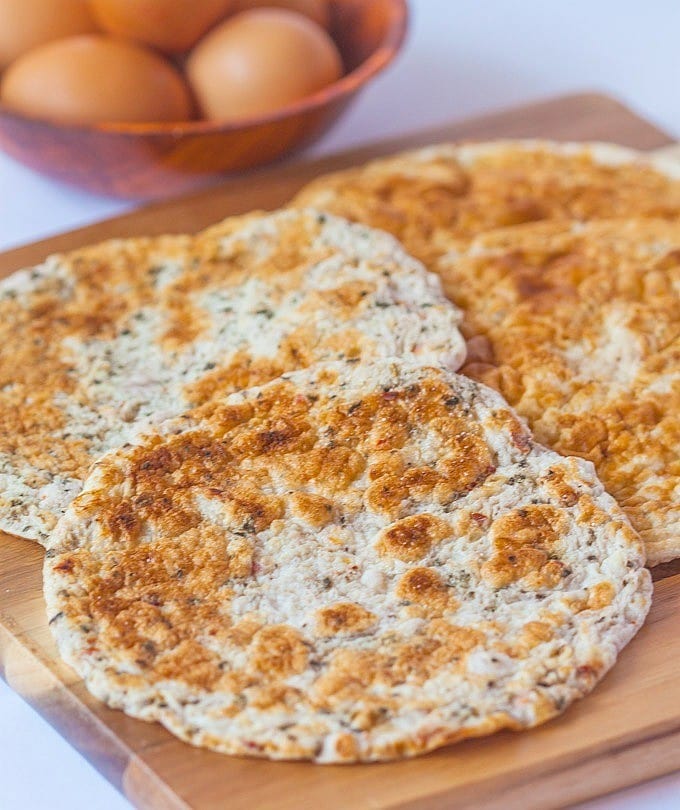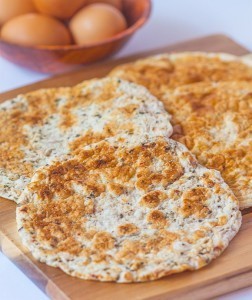 The Best Persian Eggplant Dip (Gluten Free, Vegan)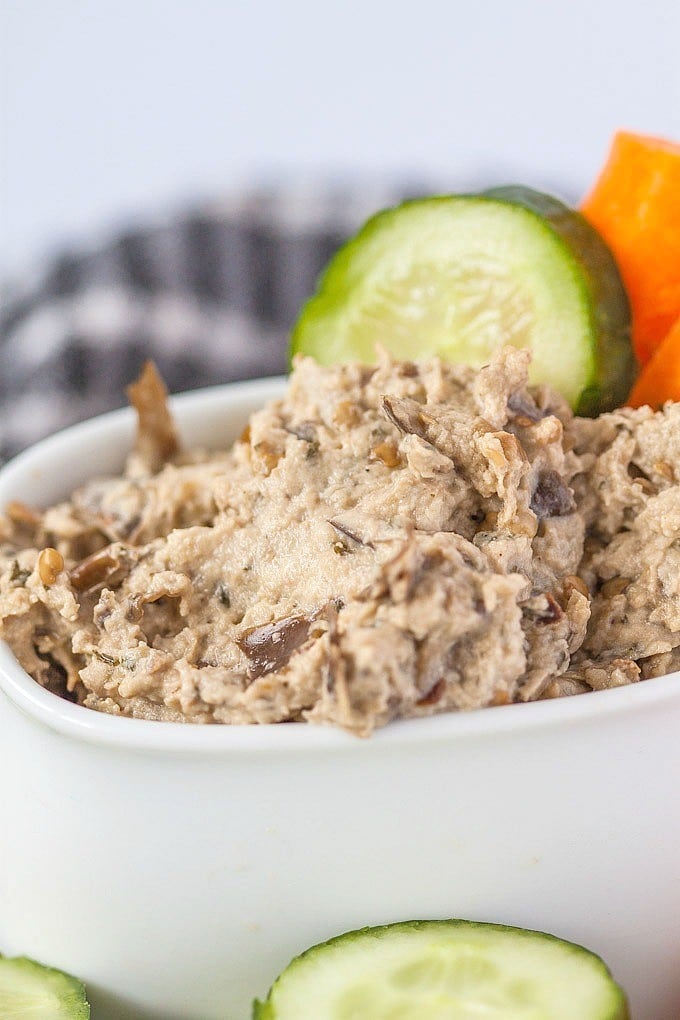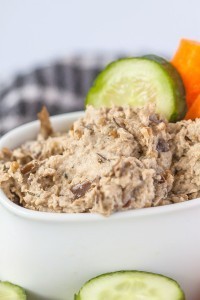 Paleo Chicken and Mushroom Pilaf (Paleo, Gluten Free, Low Carb)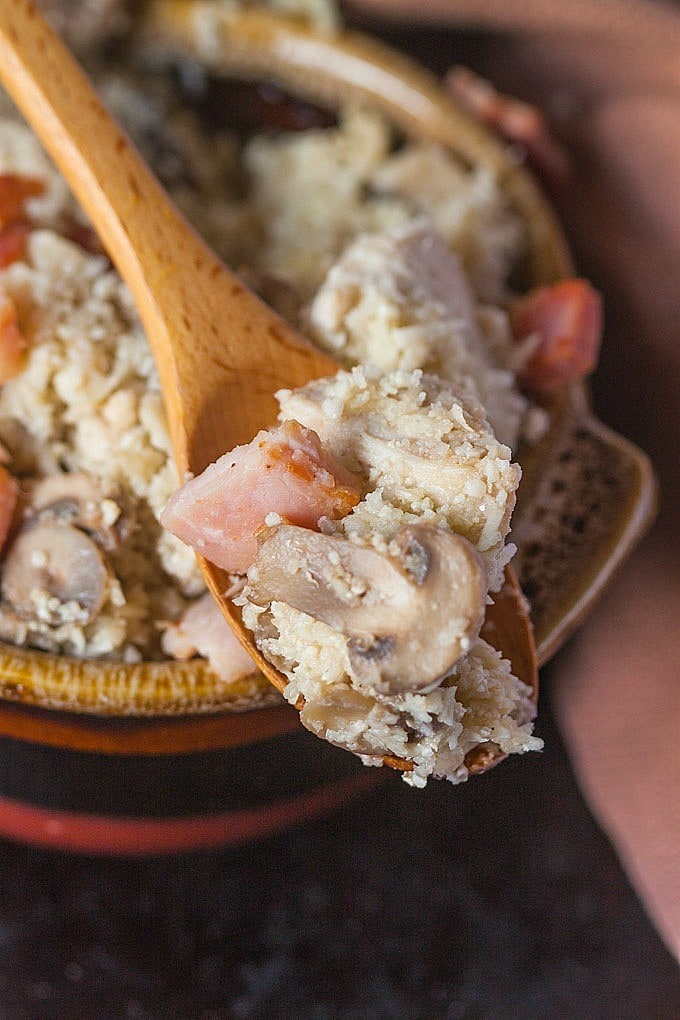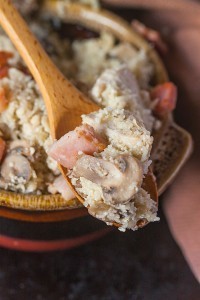 Fluffy Coconut Basmati Rice (Gluten Free, Vegan)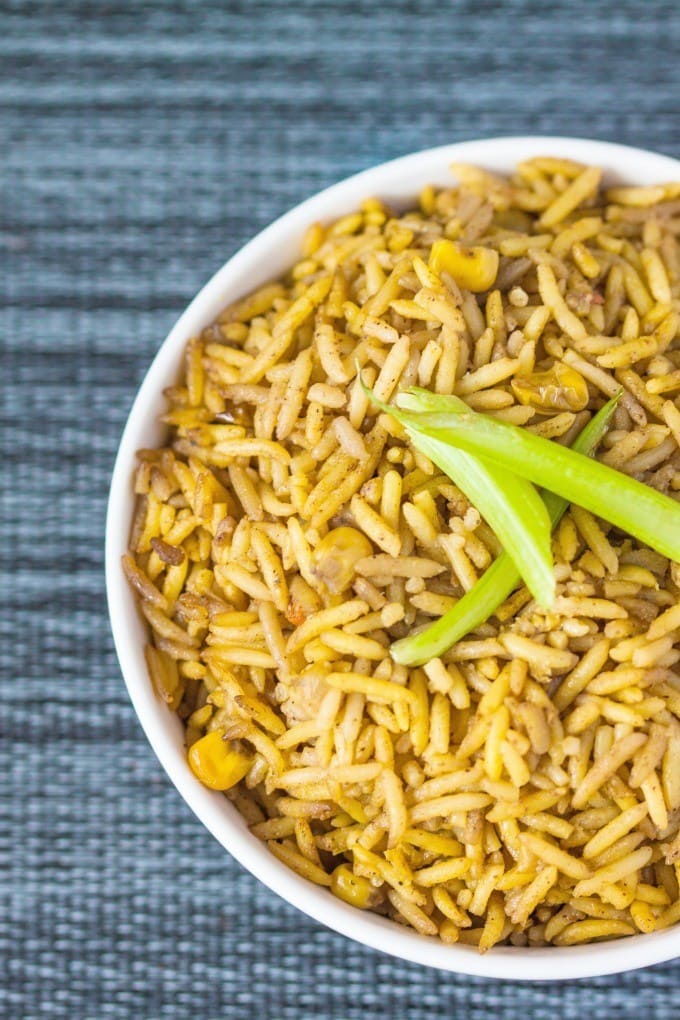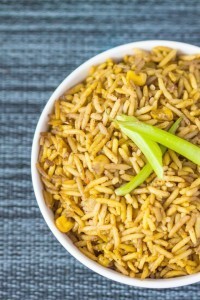 Did you go on many camps as a primary/high school student?
Where you a fan of food served at camp?
What was one dish served which would always be there? I recall Shepherds Pie being another one!