This creamy Tuscan white bean soup is easy to make in one pot and ready in just 30 minutes. Naturally vegan and gluten free, it's a fantastic budget-friendly recipe you can enjoy as a weeknight meal.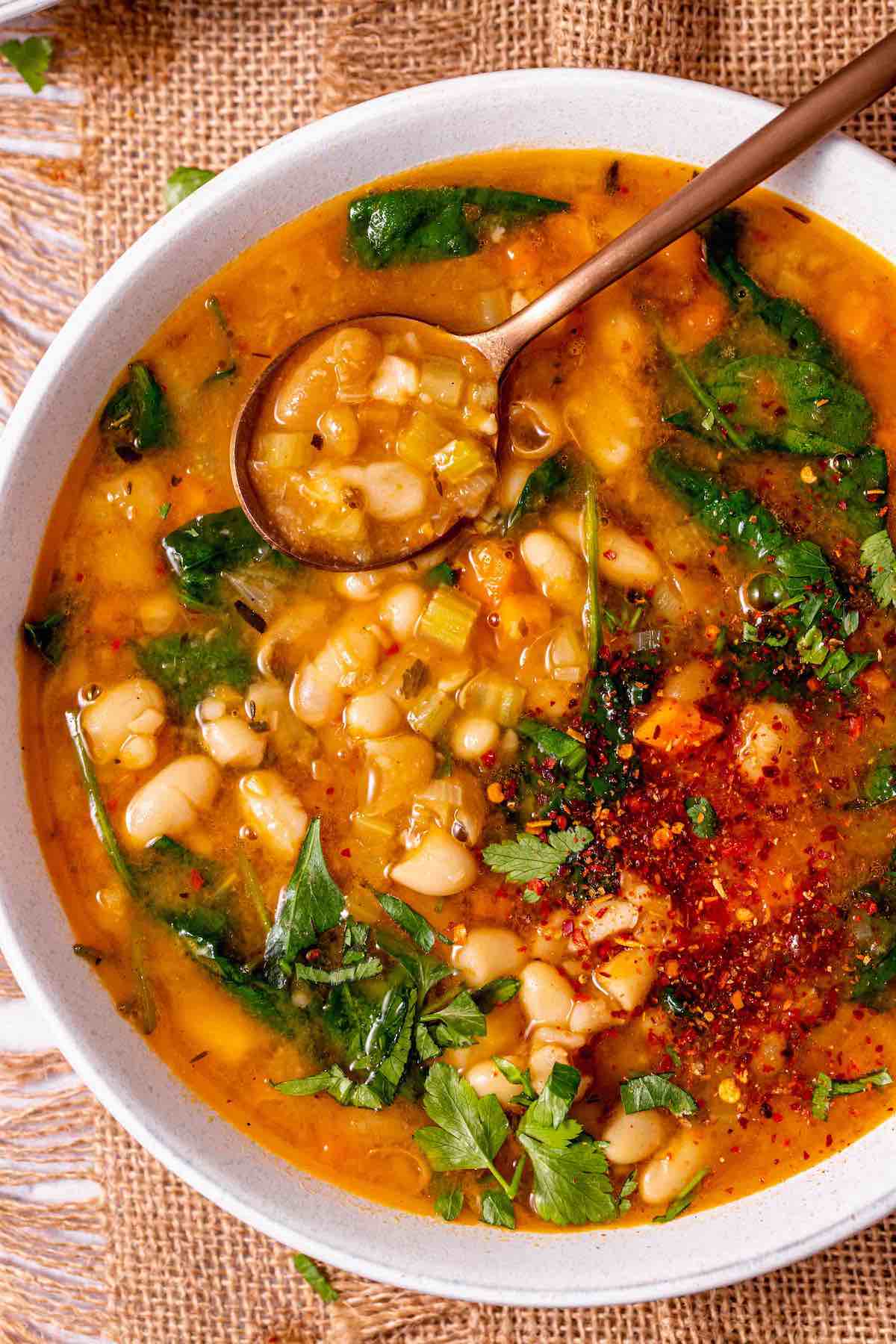 If you're searching for a flavor-packed meal that will fill you up, look no further than this delicious Tuscan white bean soup. It's an easy one-pot meal made from simple and budget-friendly ingredients. Best of all, it's naturally vegetarian and gluten free but just as warm and comforting as classic chicken soup.
The best white bean soup recipe
A one-pot, 30-minute recipe. Just like my easy Taco Soup, this is a simple meal that comes together in one pot and 30 minutes. Perfect for weeknight dinners or when you want to get your meal prep done in a hurry.
Budget-friendly. Simple, everyday ingredients are all you need to put Tuscan bean soup together. You probably have most of them in your pantry already!
Hearty, comforting, and satisfying. A mix of beans, savory seasonings, and vegetables in every bite makes this the ultimate vegetarian comfort food.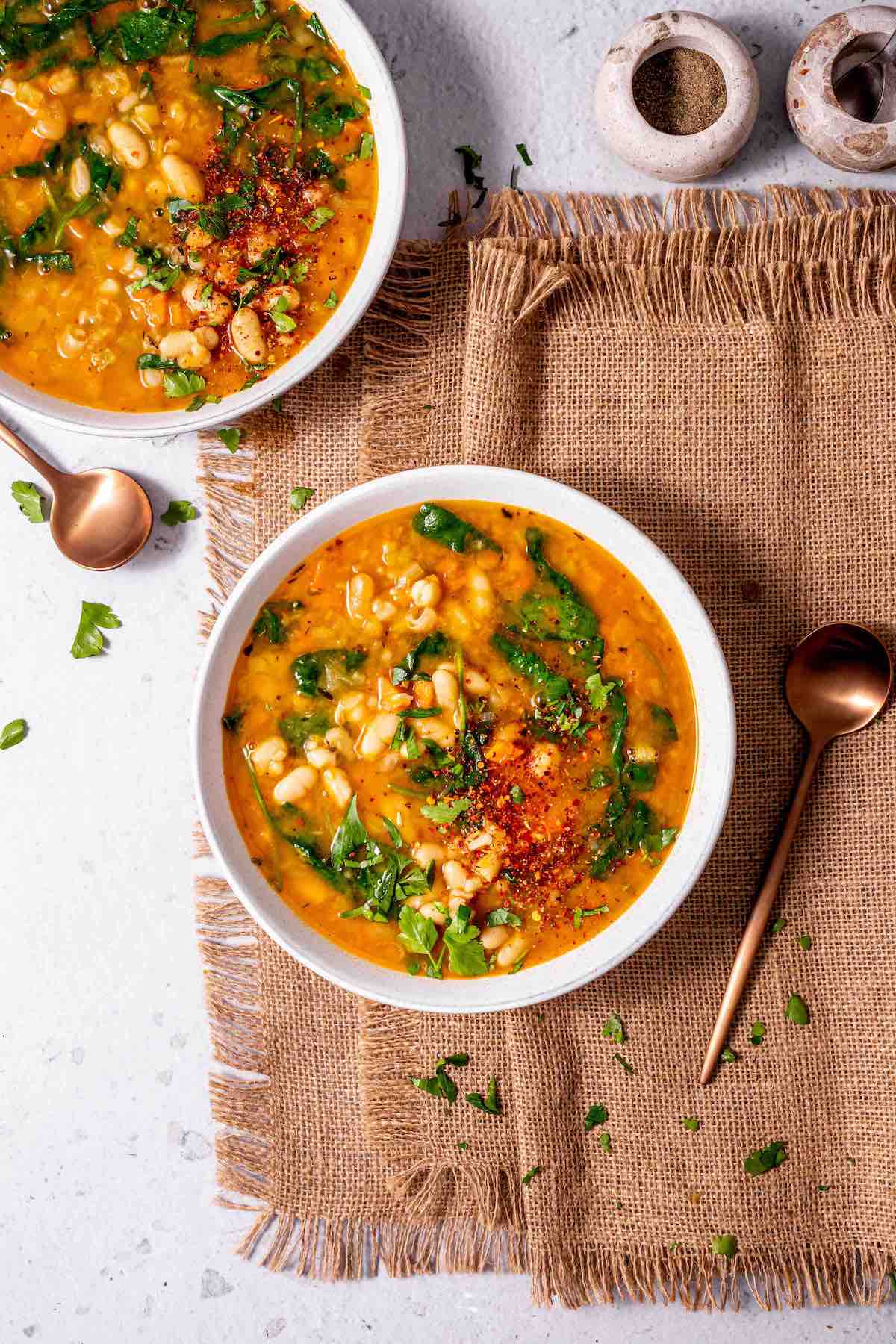 Olive oil. To prevent the vegetables and aromatics from sticking as they sauté in the soup pot.
Shallots. Or you can use onions.
Garlic. Fresh garlic cloves give the soup a savory baseline of flavor.
Carrots. Diced carrots not only add heaps of vitamins and minerals to the soup but also add a nice pop of color.
Celery. The second of the two vegetables in this soup.
Tomato paste. This adds a nice acidic tomato flavor, which breaks through the rich and savory base.
Cannellini beans. Also known as white kidney beans, cannellini beans are tender and hearty white beans. They're also the main protein in this Italian-inspired soup. Use canned beans to make this recipe as easy as possible or head to the FAQs to learn how to make this with dried beans.
Vegetable soup. Or replace this with a good-quality vegetable broth. Chicken broth would also work well when you don't need the recipe to be vegetarian.
Salt and pepper. For flavor.
Italian seasoning. Because it wouldn't be Tuscan soup without the Italian herbs and spices.
Red chili pepper. These spicy chili flakes give the soup just the right amount of heat without being overwhelming. You can add more or less, depending on how much spice you like.
Kale. Or use baby spinach.
Fresh parsley. For garnish.
How to make Tuscan white bean soup
Step 1 – Sauté the aromatics and veggies
Heat the olive oil in a large pot over medium-high heat. Once it's hot, add the onion and garlic. Cook until soft and fragrant, then add the carrots and celery.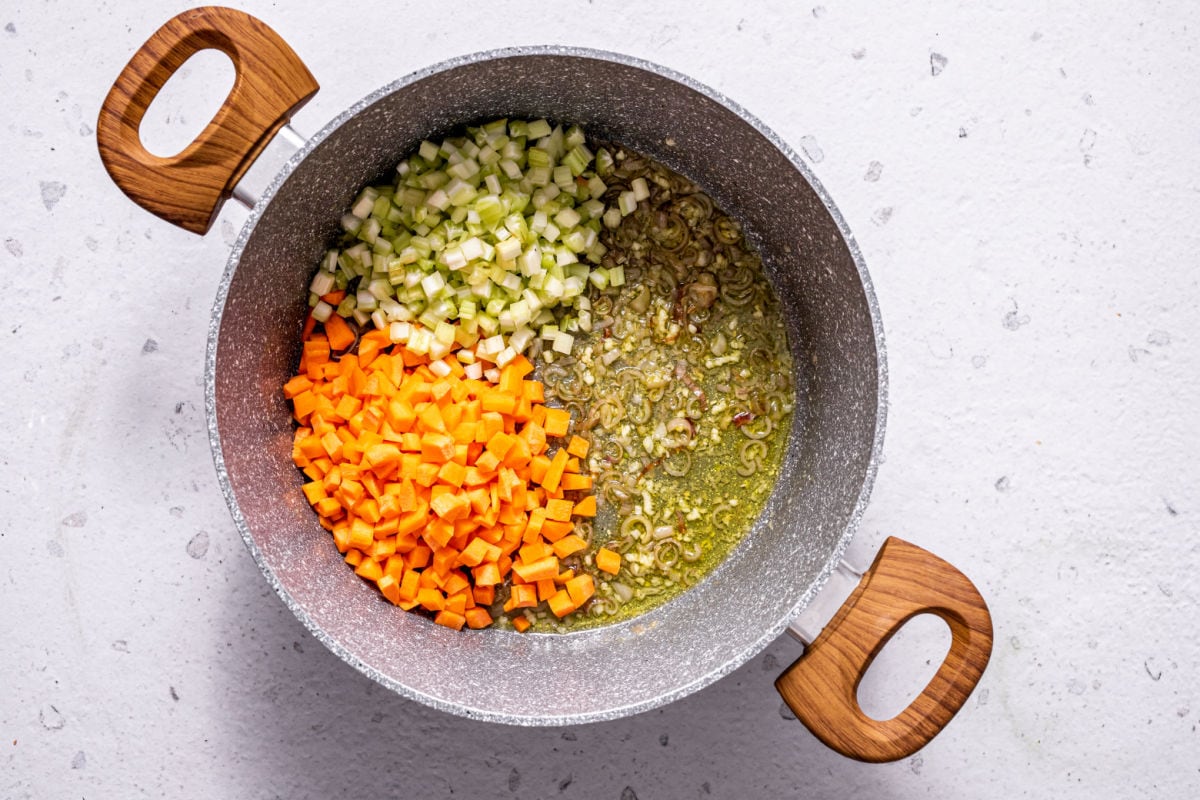 Step 2 – Add the rest, then simmer
Stir the tomato paste into the pot when the vegetables are starting to soften. Next, add the beans, soup/broth, and spices. Bring the soup up to a boil, then lower the heat to a simmer. Cover and cook until the vegetables are soft.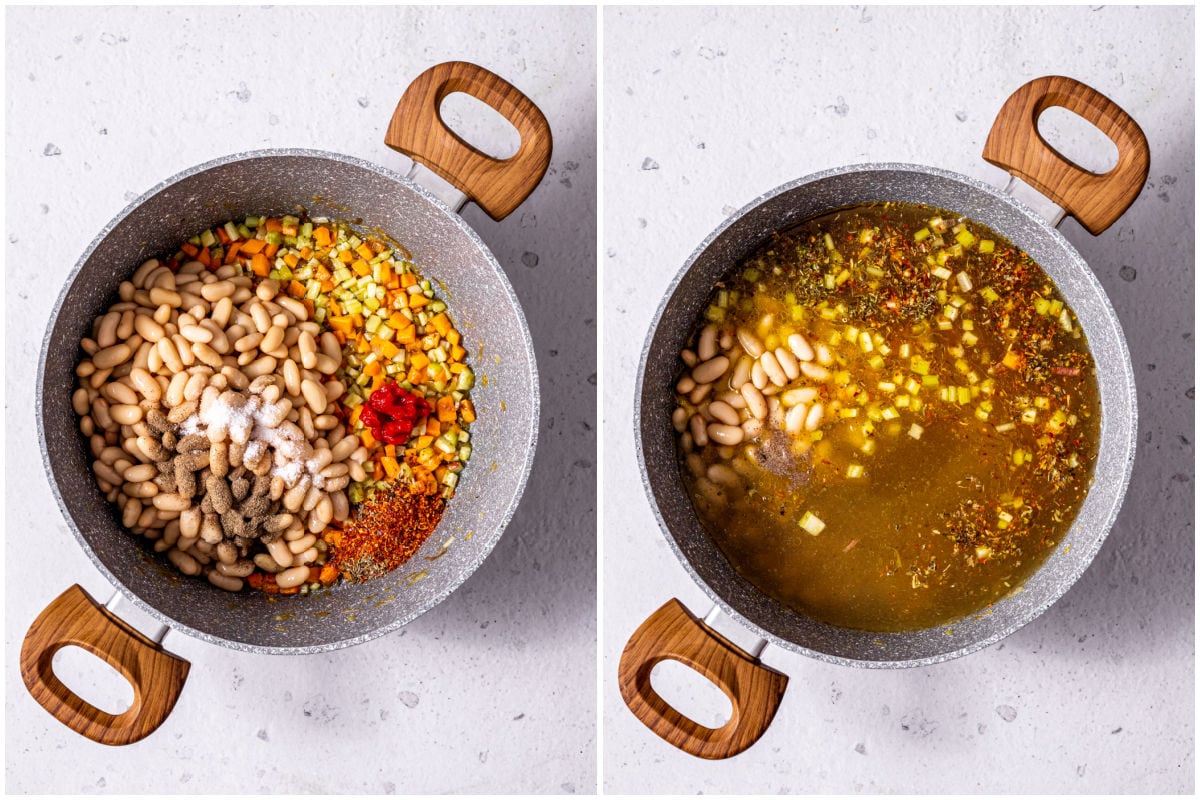 Step 3 – Puree and serve
Use a hand blender or regular blender to puree half of the soup until smooth. This gives it a creamier and thicker consistency without losing all of the texture.
Stir the spinach or kale into the soup and cook until the leaves wilt. Garnish the batch with parsley and red pepper flakes, then serve!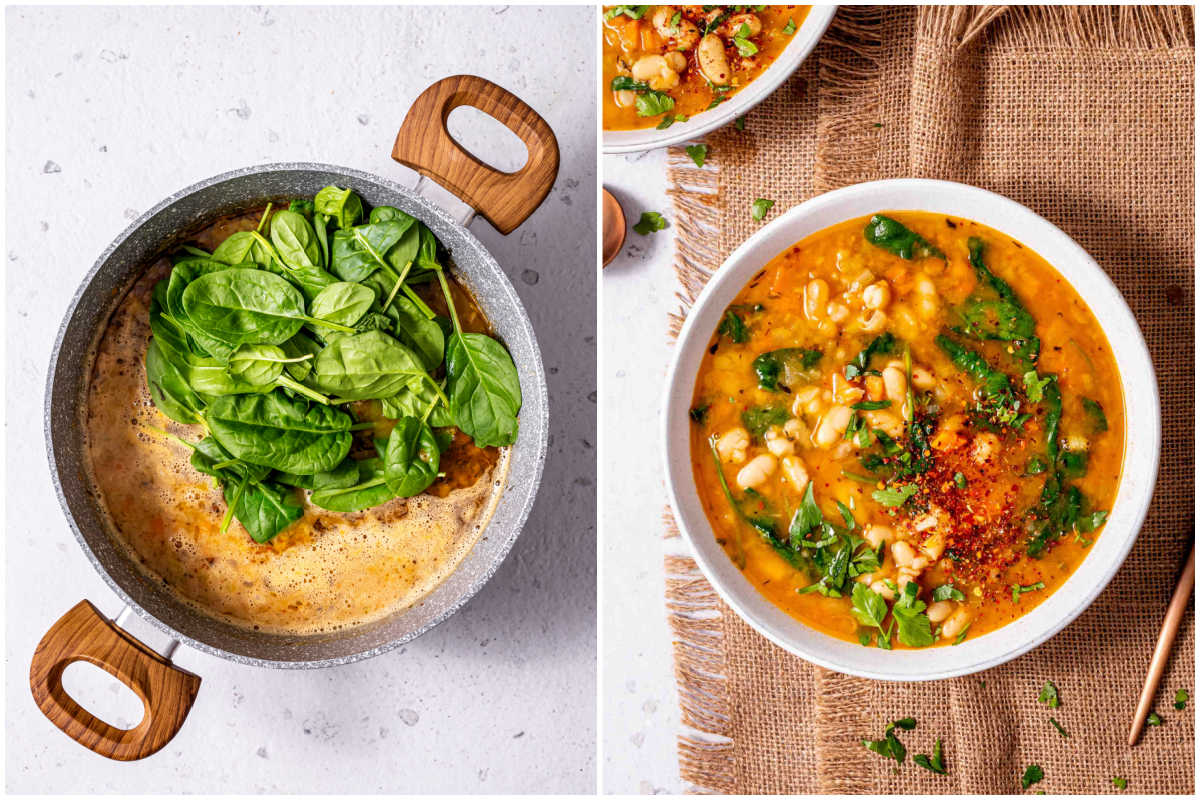 Finish with the garnish. Top each bowl of soup with a sprinkle of fresh parsley, freshly cracked black pepper, basil leaves, red chili flakes, or grated parmesan cheese.
Serve the next day. While you can absolutely serve this fresh from the stove, the flavors will be even better the next day! Head to the Storage Instructions to learn how to store the soup overnight.
Serving suggestions
Making soup with white beans means it will be filling all on its own. Still, a side of crusty bread, garlic bread, or garlic knots never hurts!
Planning on serving this as the appetizer? It would be a wonderful beginning to an Italian-inspired feast featuring chicken florentine, eggplant rollatini, and linguine with clam sauce. Don't forget the ricotta cookies for dessert!
Flavor variations
Add meat. Sauté Italian sausage, bacon, or ground pork in the pot until browned, then set it aside before stirring it back into the soup with the spinach. For a more low-maintenance option, add pre-cooked shredded chicken breasts, shredded rotisserie chicken, or chicken meatballs to the soup when you add the spinach.
Add more beans. Chickpeas, Great Northern beans, or pinto beans can all be used in addition to or instead of cannellini beans.
Add more vegetables. Bulk it up with chopped cabbage, sautéed mushrooms, white potatoes, or parsnips.
Make it extra creamy. Pureeing the white bean soup gives it a naturally creamy consistency. However, if you love that creamy texture, stir in ½ cup of heavy cream or coconut milk towards the end of the cooking process.
Brighten it up. As you're cooking the aromatics, deglaze the pot with dry white wine. A drizzle of lemon juice or zest stirred in at the end will also add brightness.
To store. Wait for the soup to cool, then store it in an airtight container for up to 1 week.
To freeze. White bean soup freezes well for up to 3 months. Keep it in a freezer-safe container or ziplock bag, then thaw it in the fridge before reheating.
To reheat. Warm the leftover soup in a saucepan on the stove or zap it in the microwave until heated through.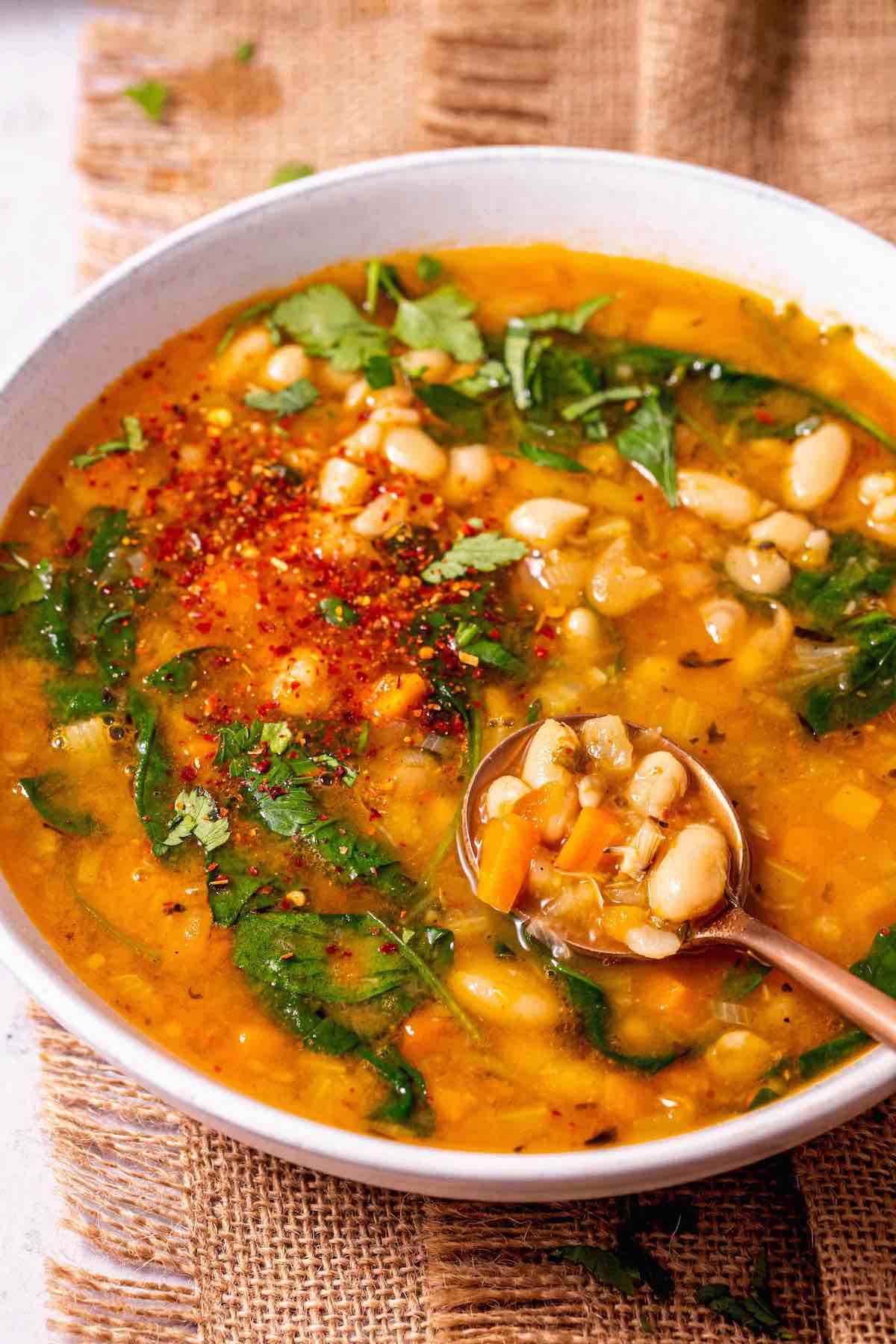 Can I make this with dried beans?
You can make white bean soup with dried cannellini beans if that's what you prefer. The beans will need to be soaked and cooked before being simmered in the soup, though.
Are cannellini and Great Northern beans the same?
Not quite. As this article from EatingWell discusses, cannellini beans are better in soups and stews because they hold their shape well and have a stronger flavor. Great Northern beans are a bit more delicate and better off eaten as-is, like in bean salads.
Is this recipe the same as zuppa toscana?
My vegetarian white bean soup is similar to the popular Olive Garden zuppa toscana. Both are creamy soups with Italian flavors, but classic zuppa toscana is made with Italian sausage, chicken broth, potatoes, kale, and bacon.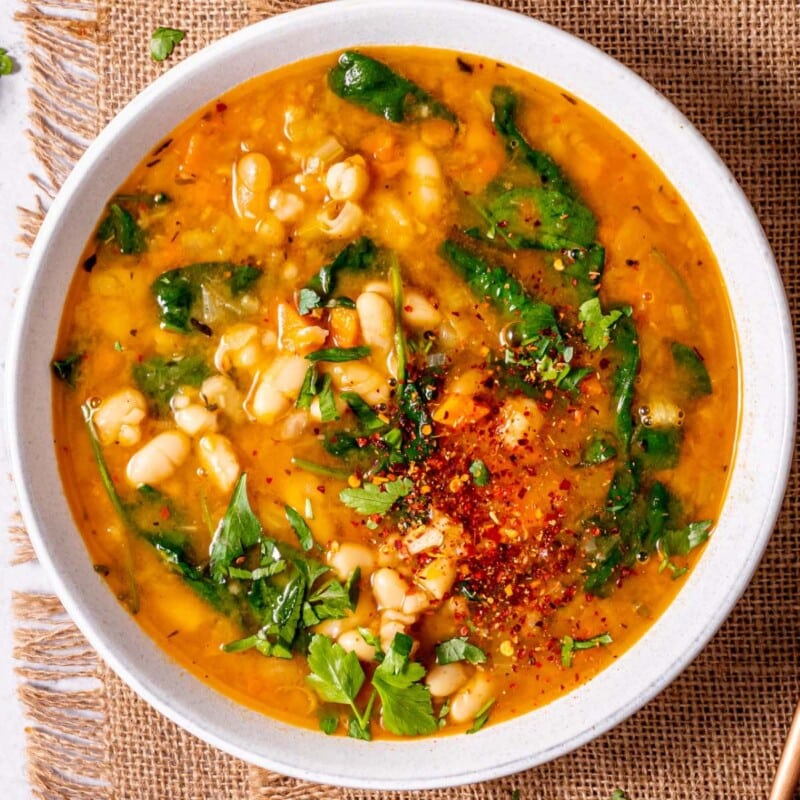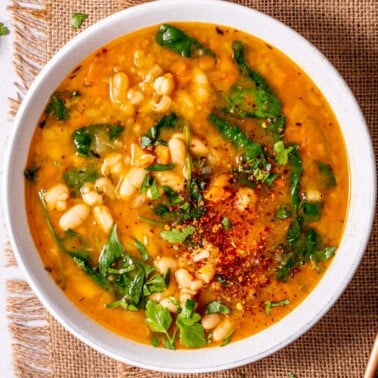 Tuscan White Bean Soup
This Tuscan white bean soup is a hearty and comforting dish featuring cannellini beans and tender vegetables simmered to perfection.
Instructions
Heat olive oil in a large pot and place over medium-high heat.

Saute onion and garlic for 3 minutes, then add carrots and celery stalks and saute until the vegetables start getting soft.

Add tomato paste, quickly stir and add beans, soup, and spices. Bring the soup to a boil, then reduce the heat to low. Cover and simmer for another 10-15 minutes.

Using a hand mixer, blitz half of the soup in the pot, so it becomes creamier, careful not to blend everything.

Add spinach or kale and cook for several more minutes, until it wilts.
Notes
TO STORE. Wait for the soup to cool, then store it in an airtight container for up to 1 week.
TO FREEZE. White bean soup freezes well for up to 3 months. Keep it in a freezer-safe container or ziplock bag, then thaw it in the fridge before reheating.
TO REHEAT. Warm the leftover soup in a saucepan on the stove or zap it in the microwave until heated through.
Nutrition
Serving:
1
serving
Calories:
263
kcal
Carbohydrates:
31
g
Protein:
9
g
Fat:
14
g
Sodium:
950
mg
Potassium:
427
mg
Fiber:
10
g
Vitamin A:
9358
IU
Vitamin C:
33
mg
Calcium:
193
mg
Iron:
4
mg
NET CARBS:
21
g
Disclosure: This post may contain affiliate links. I may earn a small commission for my endorsement, recommendation, testimonial, and/or link to any products or services from this website.