Enjoy a smooth, creamy and easy chocolate peanut butter cheesecake for breakfast! Inspired by Reese's Peanut Butter Cups, this no bake cheesecake is high protein and low in fat, and completely vegan, gluten free, dairy free and sugar free!

Cake for breakfast is standard in this neck of the woods. Whether it be a classic carrot cake, a lemon poppyseed creation or even one which replicates a cinnamon bun, there is something here for everyone.
Something which hasn't been done yet? Cake of the cheese or 'cheese' variety- Cheesecake! When you think of cheesecake, you think of something sweet, creamy, slightly tangy and a little bit fancy. We'll be incorporating all of that into today's recipe, plus two little extras.
While a traditional cheesecake is something I'm a huge fan of, I'm an even bigger fan of flavored cheesecakes. My two favorite flavors are cookies and cream (my sister and I would beg our mom to buy us slices from the cafe) and Reese's Peanut Butter Cup. After some umming and ahhing, I went with the one which combines my two favorite things- Chocolate and peanut butter.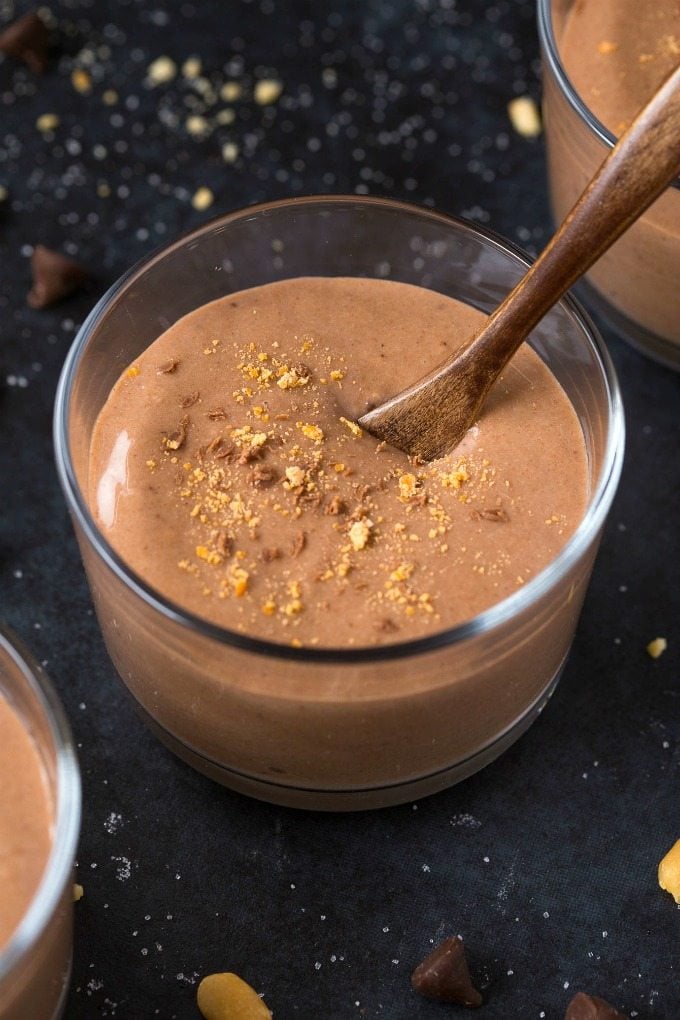 When you first think of cheesecake, you'll most likely never associate it with the word healthy. It's something you'd typically only enjoy on occasion, as they are filled with cream cheese, butter, oil and several kinds of sugar. Today's version has the same taste and texture of a creamy, thick and mousse-like cheesecake (loaded with a delicious peanut butter flavor) but with a healthy makeover! It will also be low fat, high protein, sugar free and suitable for those following a vegan, gluten free and dairy free lifestyle!
Not only do you get this recipe for a delicious peanut butter spiked breakfast cheesecake but as a special treat, I'm also sharing a perfect pairing with it- healthy baked Peanut Butter Cup Pita Chips!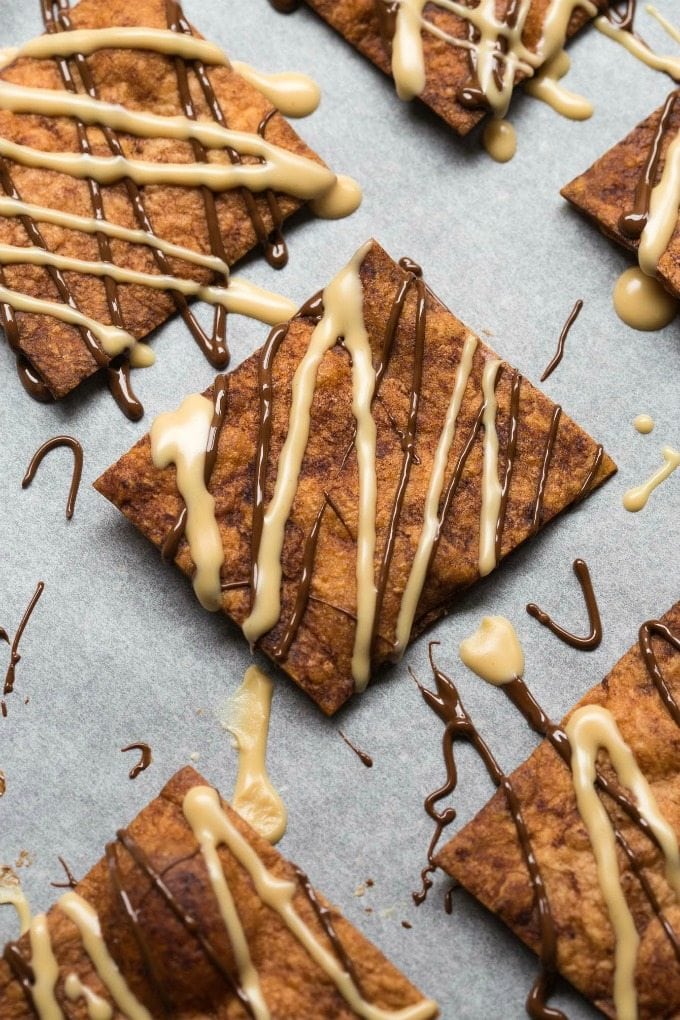 You may have noticed some new ingredients used here (not typically used in my traditional recipes) and more substitution options. A big reason for this is the partnership with my favorite flatbread, Flatout, with Weight Watchers. Ever since I learned of this collaboration, I wanted to learn more about the Weight Watchers program and learn how I could combine recipes to fit both the bills!
Several of my new readers (Hello Mandy, Elle, and Severna- Three Weight Watchers members and Flatout fans!), requested a recipe which included peanut flour (a fantastic peanut butter substitute) and something crispy-crunchy-snacky…and sweet.
For the cheesecake, it only uses four ingredients and with tested options for those following a dairy free lifestyle! The 'cheesecake' base will either use non-fat Greek yogurt, non-fat smooth cottage cheese, or dairy free cultured Greek yogurt. This will ensure the slight tart factor all cheesecakes have will be there.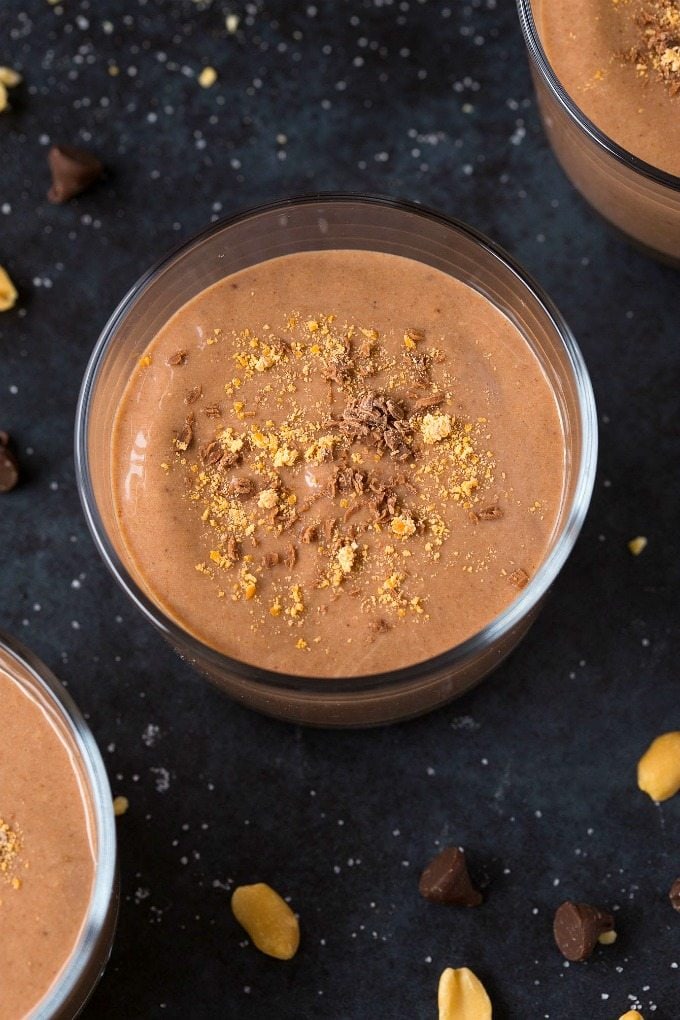 The key flavor profiles are peanut butter and chocolate, and we'll be using some smart swaps to keep the flavor high, yet being healthy and well balanced. Instead of using ALL peanut butter, I've opted to use peanut flour, which is defatted peanuts, without any added sugar or salt- Also referred to as powdered peanut butter. When mixed with a liquid (water or milk), it produces a thick, peanut butter-like texture. Unlike traditional peanut butter, it contains a fraction of the calories and fat. Also unlike peanut butter, it doesn't have the full delicious flavor. For those who don't have access to peanut flour, a popular substitute for it is PB2.
In the cheesecake, the powdered peanut butter will be used more as a thickener and flavor enhancer than completely replacing peanut butter. While it will still give some peanut butter flavor, we'll be ensuring the full experience remains, by including a tablespoon of actual peanut butter. This really brings out maximum flavor, without overloading on the fat content!
Instead of swirling through any melted chocolate or chocolate sauce, I've opted to simply add a tablespoon of good quality cocoa powder. This provides the cheesecake with a subtle cocoa note, without overtaking or overpowering the peanut butter flavor! To keep things extra rich, use a dark cocoa powder!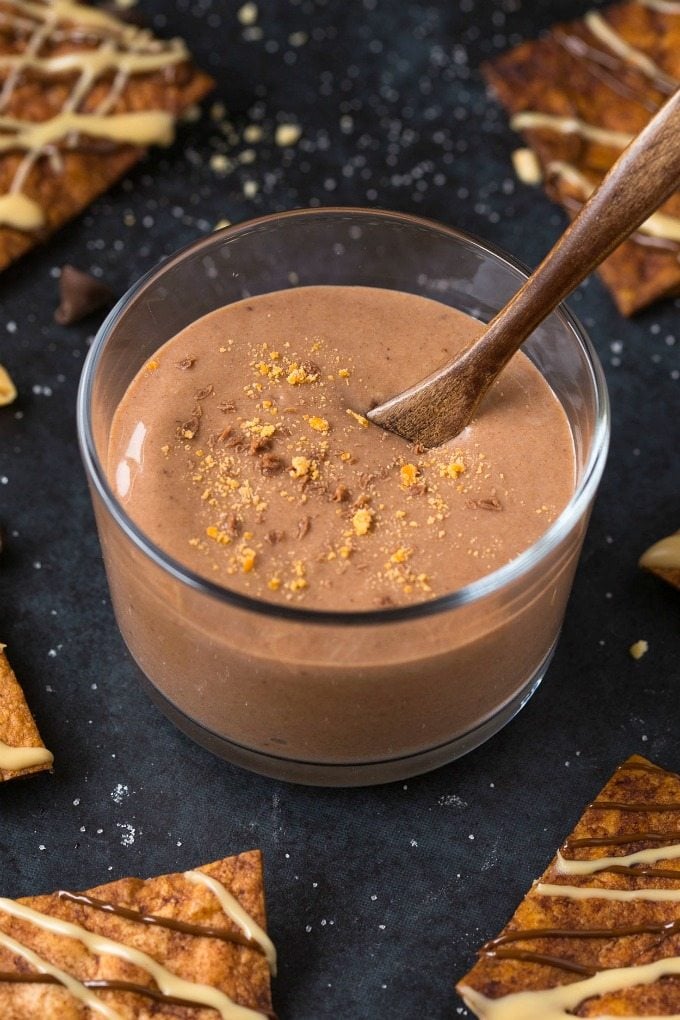 For the crispy baked pita chips, you'll be starting out with a Flatout flatbread of choice. I used the Flatout Light, but any of the unseasoned ones will work. After you bake it, simply drizzle with either powdered peanut butter or if you have some points left over, a tablespoon of melted peanut butter. For the chocolate, you'll simply melt half a tablespoon of chocolate chips- I prefer these dairy free chips but to keep the entire recipe sugar free, I recommend these sugar free chips.
Weight Watchers and Flatout never advocating cutting out any food groups either. While the healthy chocolate peanut butter breakfast cheesecake IS low in carbs, we've remedied it by pairing it with these crispy baked pita chips- Perfect for dipping, dunking or eating on the side!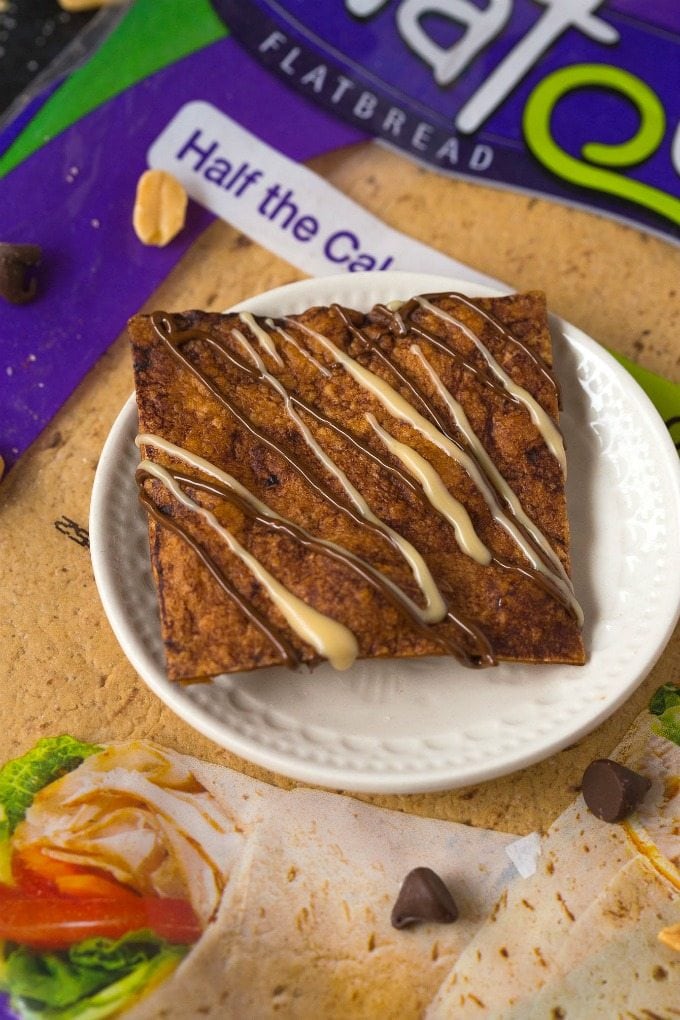 Weight Watchers Smart Points calculations-
Chocolate Peanut Butter Breakfast Cheesecake- 5 SMART POINTS
Crispy Baked Peanut Butter Cup Pita Chips- 4 SMART POINTS
Share this recipe on Pinterest
Love this Breakfast Cheesecake recipe?
Share it with the world on Pinterest.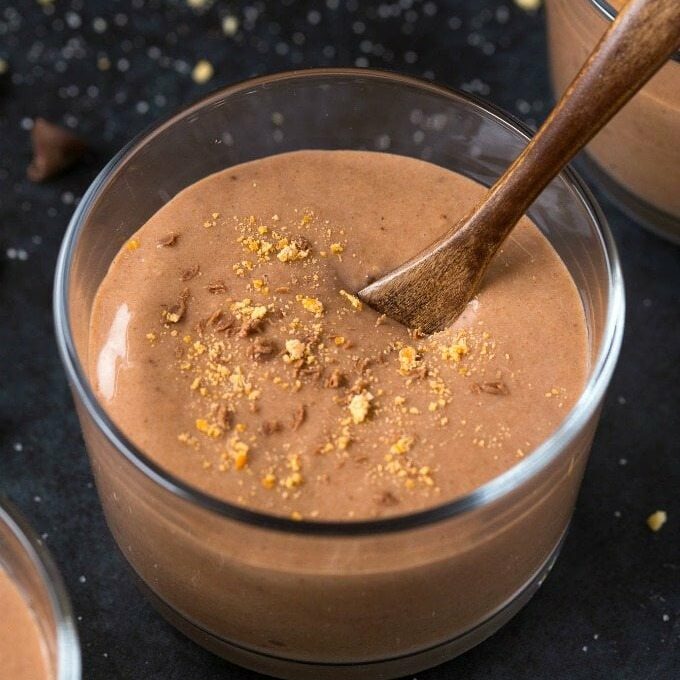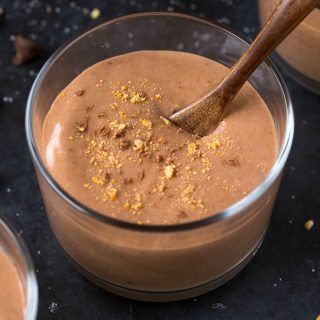 Healthy Chocolate Peanut Butter Breakfast Cheesecake
Enjoy a smooth, creamy and easy chocolate peanut butter cheesecake for breakfast! Inspired by Reese's Peanut Butter Cups, this no bake cheesecake is high protein and low in fat, and completely vegan, gluten free, dairy free and sugar free!
Ingredients
For the healthy chocolate peanut butter breakfast cheesecake
For the Peanut Butter Cup Pita Chips
Instructions
For the healthy chocolate peanut butter breakfast cheesecake
In a small mixing bowl, add your powdered peanut butter, cocoa powder and granulated sweetener of choice and mix well.

In a separate bowl, add your non-fat yogurt of choice. Add your dry mixture and mix very well until yogurt thickens to a thick, pudding-like texture. Add your peanut butter.

Enjoy immediately or for an even thicker texture, refrigerate for at least 30 minutes.
For the pita chips
Preheat the oven to 350 degrees and line a baking tray with parchment paper.

Cut the Flatout wrap into squares and lay out evenly. Spray the triangles lightly with more cooking spray and sprinkle cocoa powder over it. Bake for 8-10 minutes, or until crispy and golden on the edges. Remove from oven and allow to cool.

While cooling, prepare your powdered peanut butter and melt your chocolate chips. Drizzle over the pita chips.
Notes
Breakfast cheesecake can be prepped in advance or doubled, tripled etc. It can also be prepped the night before- It will become even thicker.
Pita chips can be kept covered for up to 3 days at room temperature.
Nutrition
Serving:
2
servings
Calories:
221
kcal
Carbohydrates:
26
g
Protein:
18
g
Fat:
7
g
Sodium:
337
mg
Potassium:
473
mg
Fiber:
9
g
Iron:
2
mg
NET CARBS:
17
g
More delicious Flatout recipes? Gotcha covered!
Healthy High Protein Cake Batter Wraps
Skinny Sweet Chilli Egg Salad Wraps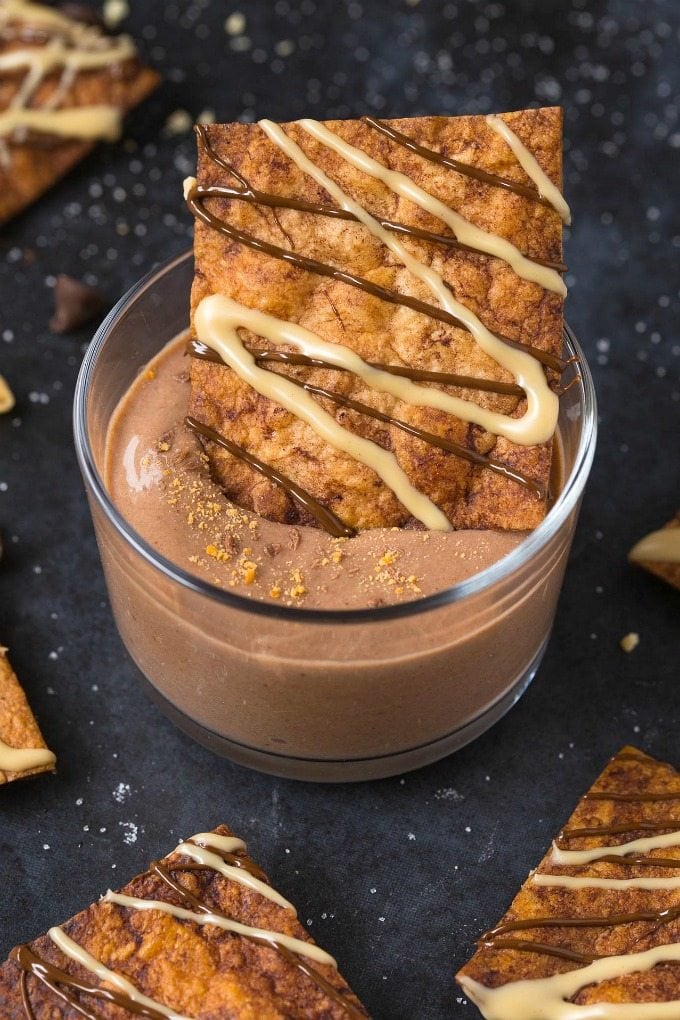 Disclosure: This post may contain affiliate links. I may earn a small commission for my endorsement, recommendation, testimonial, and/or link to any products or services from this website.