An Australian classic biscuit gets a healthier makeover- Vegan, gluten free, granulated sugar free; These biscuits (cookies) take less than 20 minutes from prep to plate!

*Please note- These are not completely sugar free. They are granulated sugar free but have sweetness added via golden syrup*
There's been a handful of recipes I've stolen from my mum over the last year. These include her slow roasted Persian chicken, eggplant dip and her crispy flourless peanut butter cookies. Today, however, is the first time I'm sharing a recipe of hers which she physically had physically made herself for the blog- Classic Anzac Biscuits.
For those outside of Australia and New Zealand, the term 'Anzac' may seem foreign to them so let me explain it to you. ANZAC is simply the acronym for 'Australia and New Zealand Army Corps'. The 25th of April marks the day of remembrance for the soldiers who lost their lives in battle at Gallipoli during World War 1. I've discussed more on this day in keto pancakes.
I still recall the first time I ate an Anzac biscuit as a kid. It was a weekend when I was in primary school and mum wanted to treat Niki and myself to some cookies. She asked which cookie we'd like and we both said chocolate chip cookies.
She proceeded to make Anzac biscuits instead.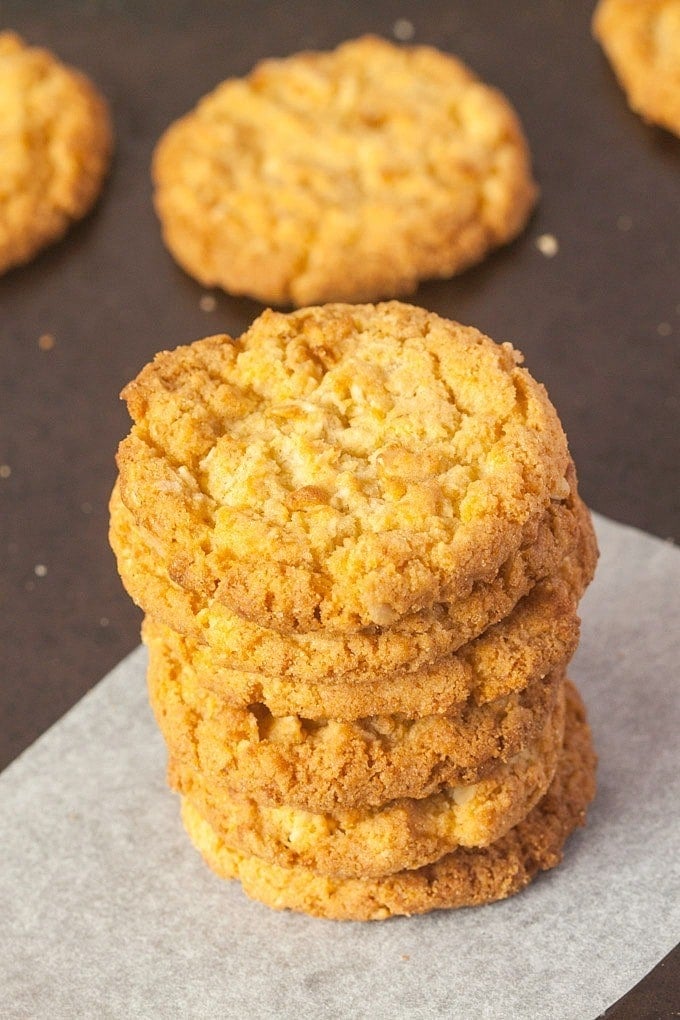 My sister and I were NOT happy campers. Rather, I was not a happy camper and Niki was the age where she played the copycat game with me (Anyone with younger siblings here remember that?) and followed suite. Why ask us what cookies we wanted if she had intentions to make Anzac biscuits from the get go?
My mum refrained from chasing us with wooden spoons and tried to explain her reasoning. A few weeks earlier I had complained to my mum about how her cooking was "un-Australian." Day after day she'd make traditional Persian dishes, Asian inspired stir fries and European style casseroles. Any human with common sense would be appreciative of having a mother treat them every night to such meals but being the stubborn, easily influenced chicken I was growing up, this was not the case.
I'd compare them to the fish fingers, schnitzels and steak with 3 veggies my fellow class mates would be dining on. After my little outburst, my mum tried to make more of an effort to change dinners up. She started buying frozen fish fingers from the supermarket and her saffron stopped getting daily usage.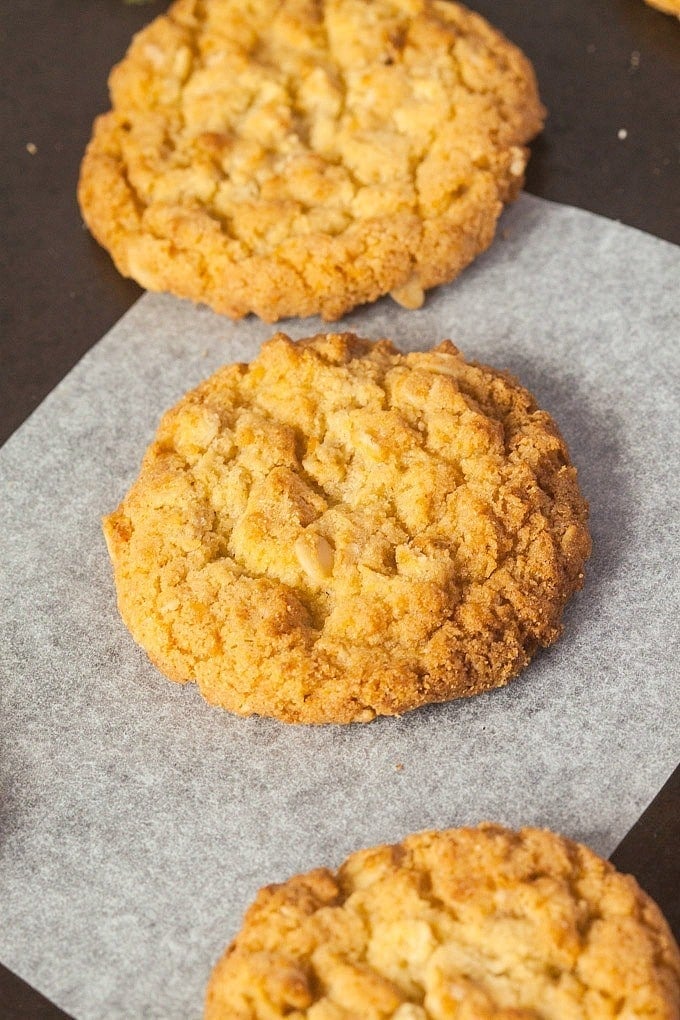 I was under the guise that this new change was only reserved to dinner time but my mother had other ideas. Her traditional baklava, Persian bran muffins and homemade chocolate chip cookies were now getting the new 'Australian' makeover too- Starting with Anzac biscuits. If Niki and I were opposed to her typical dinners, then we clearly were opposed to her typical desserts and treats. She proceeded to make the cookies and my sister and I reluctantly ate them. Rather, I reluctantly ate them and Niki pretended to mope while her body language said otherwise.
My mum tried to gloat to us but was too busy mopping up the golden syrup she'd conveniently spilt over the benchtop.
Serves her right for not making chocolate chip cookies.
***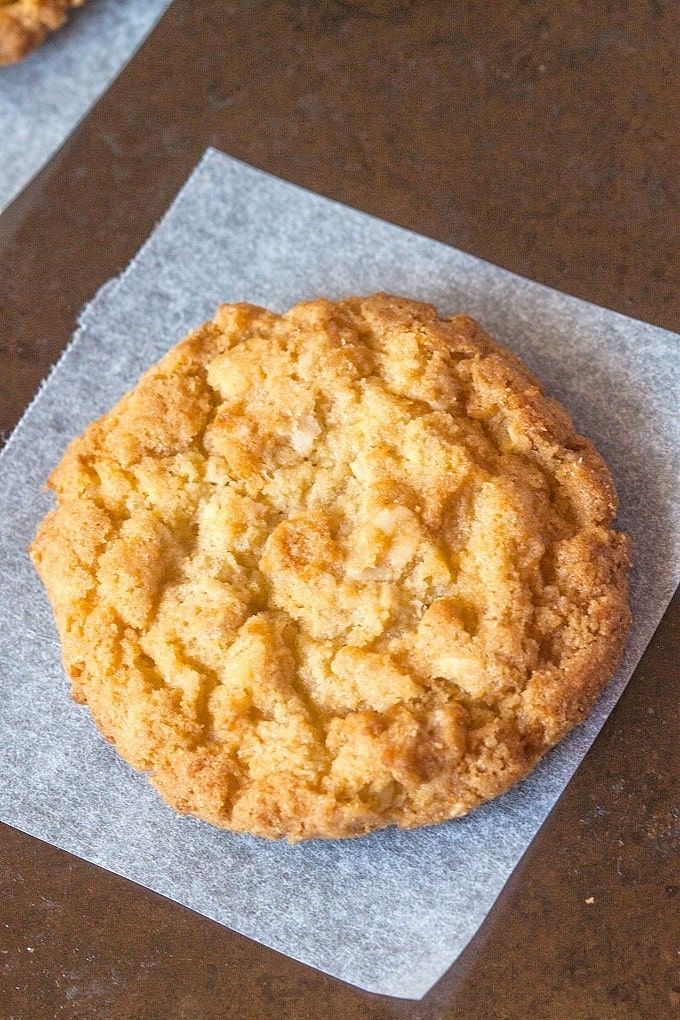 Whilst made by my mum, these Anzac biscuits are not her original recipe. I requested she try one I'd seen last month in a free supermarket magazine which was granulated sugar free and didn't use eggs, making them vegan friendly. I was pleasantly surprised that there was no bitter aftertaste and the cookies still came out dense, slightly crispy and with the delicious taste of golden syrup and coconut coming through.
These sugar free Anzac biscuits are a vegan, gluten free and granulated sugar free. A simple ingredient list and short cooking time means they could not be any easier to whip up. The only 'added sugar' comes from the tiny amount of golden syrup which 'makes' the cookies. For those who don't have access to it, sub it for maple syrup.
Make these Sugar Free Anzac Biscuits and pretend my mum made them….making you instantly Australian.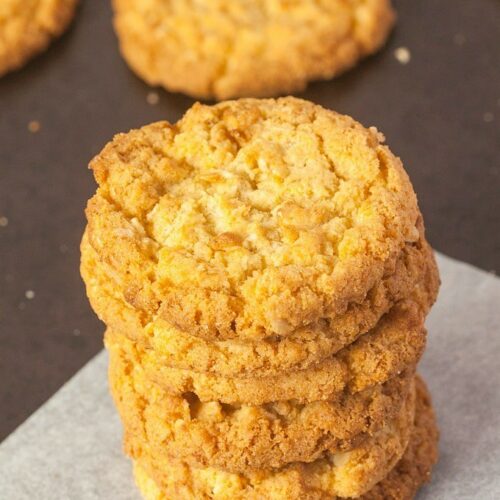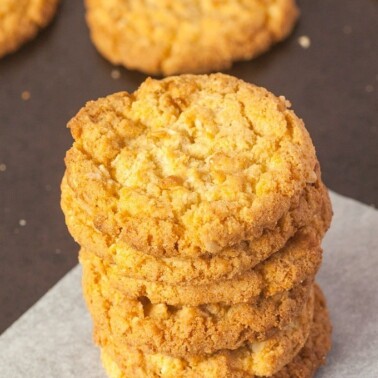 Sugar Free Anzac Biscuits
An Australian classic biscuit gets a healthier makeover- Vegan, gluten free, granulated sugar free; These biscuits (cookies) take less than 20 minutes from prep to plate!
Ingredients
1

cup

gluten free quick oats

1

cup

gluten free flour

can sub for standard if not gluten free

1/3

cup

granulated sugar free sweetener of choice

can sub for coconut or brown sugar

2/3

cup

unsweetened shredded coconut

1/2

cup

unsalted butter

can sub for coconut oil

2

tablespoon

golden syrup

1/2

teaspoon

bicarb soda
Instructions
Preheat the oven to 140 degrees celsius and line a baking tray with baking paper and set aside.

In a large mixing bowl, combine the quick oats, flour, granulated sweetener and unsweetened coconut and mix until combined.

In a microwave safe bowl, add the butter and golden syrup and heat for approximately 1 minute, until just melted.

Add the bicarb soda to the butter mixture before transferring immediately to the dry mixture. Mix very well until fully incorporated. Form balls with the batter (approximately 1-2 tablespoons) and place on the lined baking tray. Flatten each one slightly and bake for approximately 10-15 minutes, or until golden on top.

Remove from oven and let sit for 5 minutes before transferring to a wire rack to cool completely.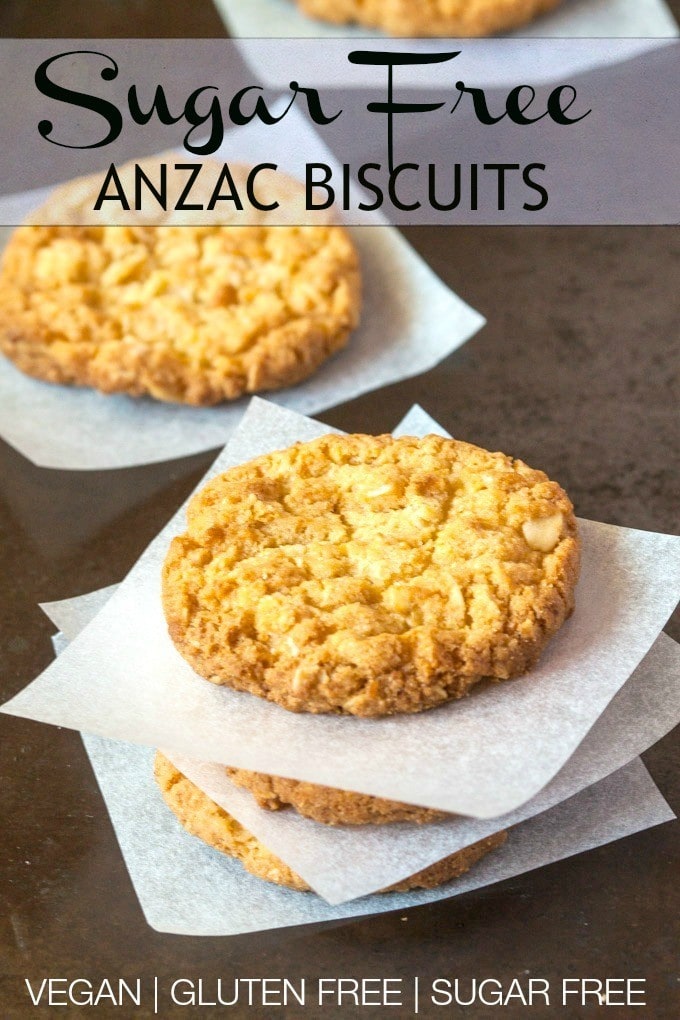 Linking up with these amazing parties-simple supper Tuesdays, Gluten Free Wednesdays, Saturday Sharefest, DIY With the SITS and some weekend pot luck lovin
Have you ever heard of Anzac biscuits (cookies)?
Did you ever compare your home made meals to your friends?
All time favourite cookie? Long term readers know for me, it's these ones.
Disclosure: This post may contain affiliate links. I may earn a small commission for my endorsement, recommendation, testimonial, and/or link to any products or services from this website.