Elevate your everyday eggs with this easy Turkish eggs recipe! Poached eggs are served over a garlic-enriched Greek yogurt sauce and finished with a sweet paprika butter sauce on top.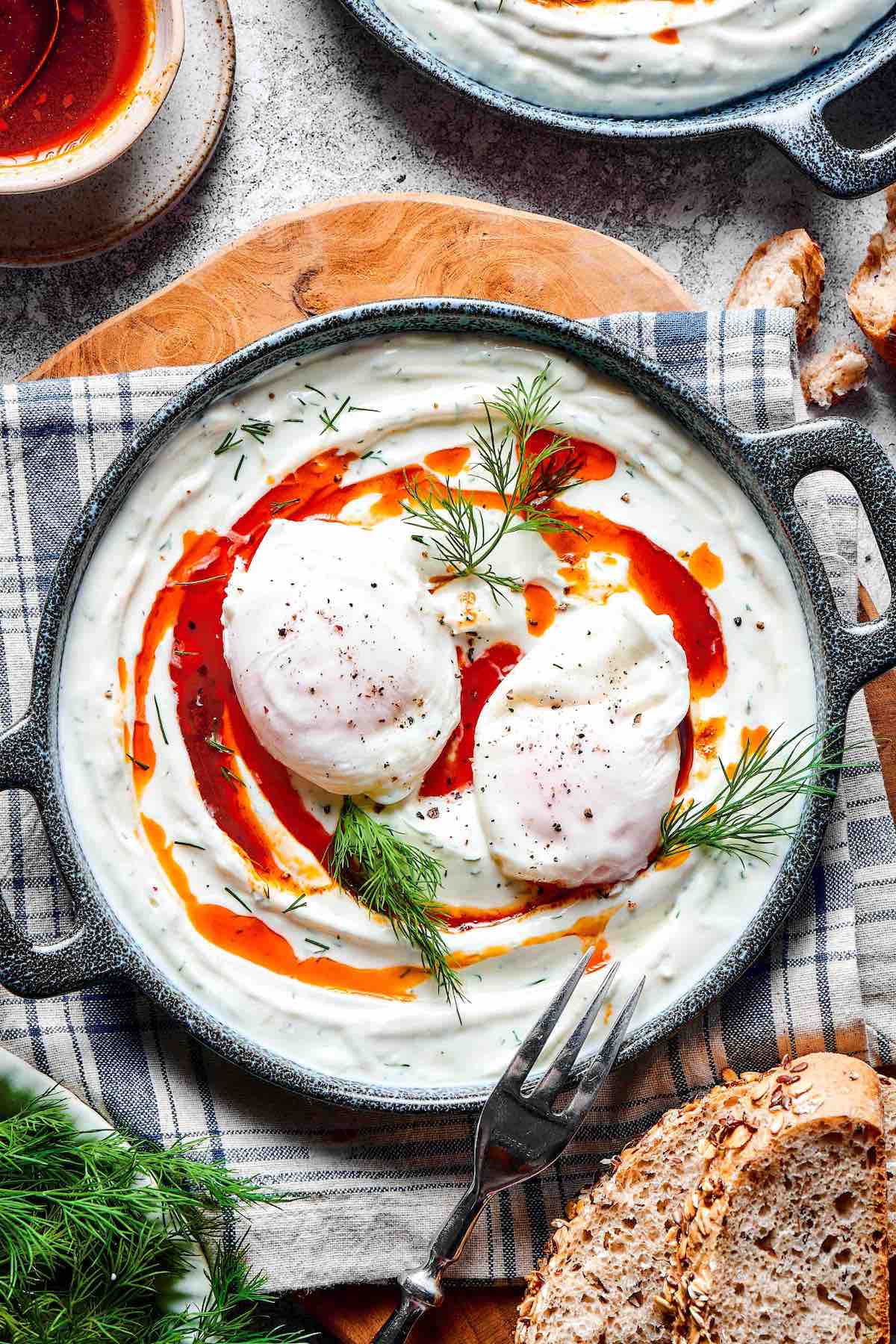 As much as I love making over easy eggs and egg bites for breakfast, sometimes I crave something a little more unique. That's where Turkish eggs come in! Turkish eggs, AKA Çilbir, layers perfectly poached eggs over a bed of rich, garlicky Greek yogurt and finished with a warming drizzle of sweet paprika butter sauce on top.
While the trio may sound a little unconventional, they're all deeply rooted in Turkish breakfast traditions. There's creamy-yolky goodness in every bite and the finished meal is best served with a crusty piece of bread, pita, or flatbread to soak up every last drop. One taste and it's sure to become a new breakfast staple!
Table of Contents
What are Turkish eggs?
Turkish eggs or Çilbir (pronounced "chil-burr") is a Turkish dish with origins dating back to the 15th century. It's a breakfast dish that consists of poached eggs placed neatly on top of a thick and savory garlic-enhanced Greek yogurt sauce. To finish, it's usually topped with a swirl of warm, velvety butter spiced with sweet paprika or Aleppo pepper.
The best Cilbir
Growing up, mom would treat us to her famous Turkish egg recipe for an elegant weekend breakfast! Coming from a middle Eastern background, the combination of yogurt and eggs was a staple for us.
It's quick and easy. Honestly, if you can cook an egg, you can make this Çilbir Turkish egg recipe! And even if you've never poached an egg before, I walk you through it in the Tips section below.
Fun and flexible. Not feeling the poached eggs? While that is the traditional choice, you can easily swap it for a fried egg over easy, over medium, or over hard. The Greek yogurt always acts as a delicious base for any toppings you like.
It's good for you! Eggs and Greek yogurt are both excellent protein sources and have a long list of other beneficial nutrients (like vitamin B12, vitamin A, probiotics, and calcium) to help jumpstart your morning.
If you're looking for more easy breakfast recipes, you might like these Copycat Sausage McMuffins, crustless quiche, or these hash browns.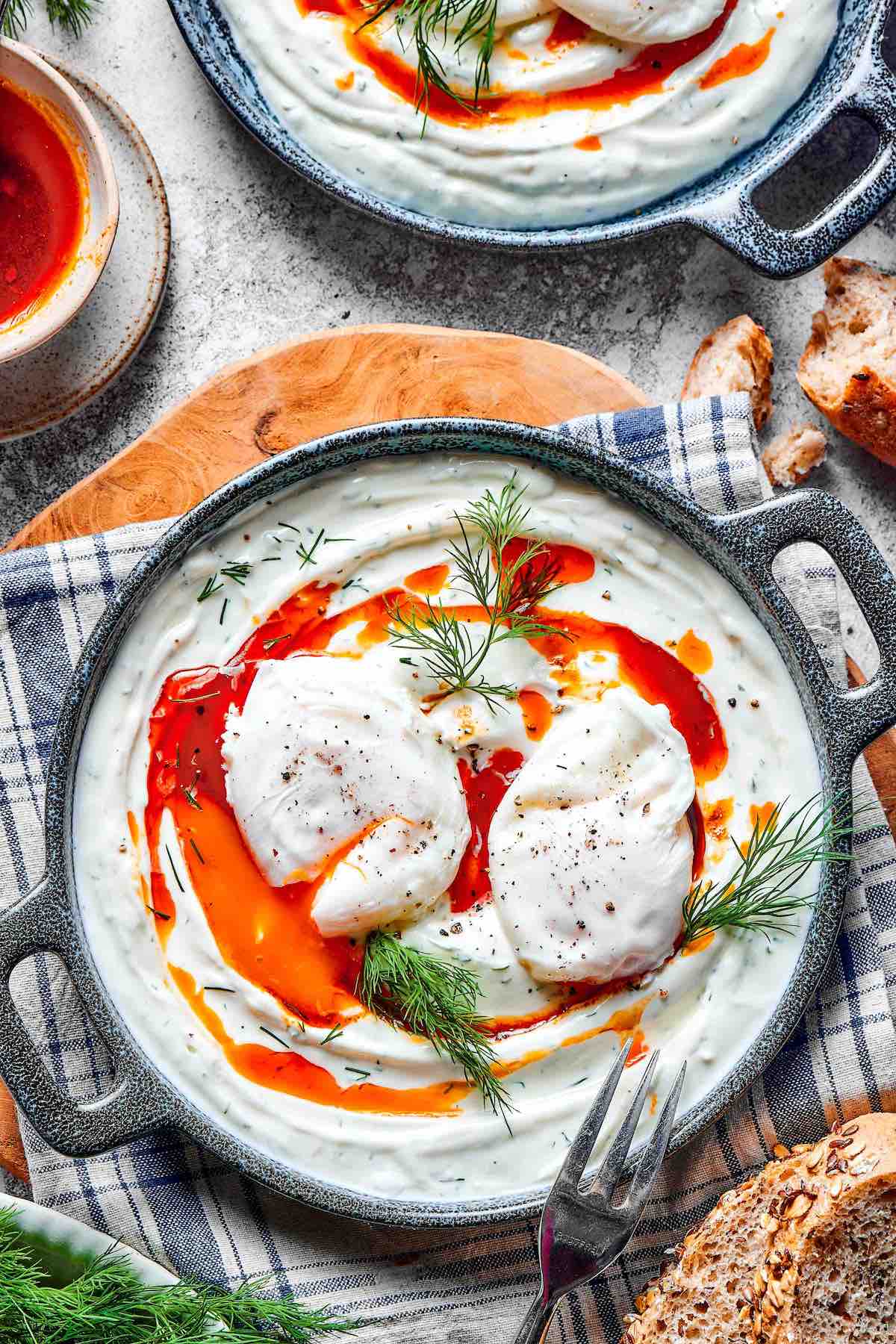 This tasty breakfast is easy to put together using a shortlist of no-frills ingredients. Despite its simplicity, the recipe always delivers on flavor! Here is what you'll need:
Greek yogurt. While Greek yogurt is the best choice for the full Turkish Çilbir experience, you can use regular yogurt, low-fat yogurt, or even this Keto Yogurt.
Yogurt tip
If you can find Greek-style natural yogurt, that is the most authentic to use for this recipe. It is not as high in protein as traditional Greek yogurt but has a delicious tang.
Garlic. You need fresh garlic cloves to give the yogurt sauce its signature savory flavor.
Salt and pepper. For flavor.
Vinegar. A small amount of white or apple cider vinegar helps to firm up the egg whites without adding a powerful vinegary flavor.
Eggs. Use the freshest eggs you can get your hands on for the best results, and bring them to room temperature before poaching. Fresh eggs have thicker, stronger whites, meaning they'll hold their shape better when submerged in boiling water.
Butter. It's melted, mixed with the paprika, and poured over the eggs for the warm finishing drizzle.
Sweet paprika. Made from dried red peppers, sweet paprika has a distinctively sweet, fruity, and slightly tangy flavor. Feel free to switch things up here with smoked or hot paprika. For a close-to-authentic experience, use spicy Aleppo pepper.
How to make Turkish eggs
Making Turkish eggs from scratch is easy – the hardest part is poaching the eggs. Once you master this skill, preparing and assembling the three layers is a breeze and something you can do in just a few minutes every morning! Here's how it's done:
Step 1 – Make the garlic yogurt sauce
Start by stirring the Greek yogurt, minced garlic, salt, and pepper in a bowl. Set aside.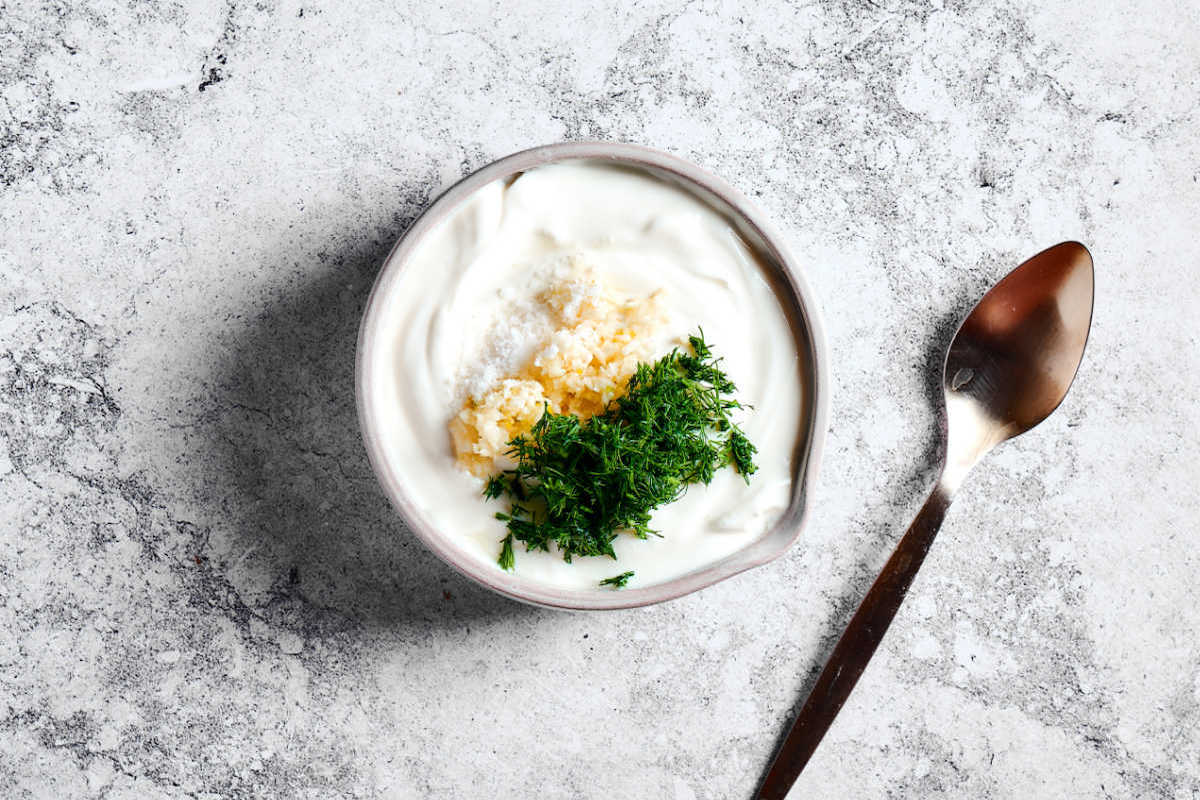 Step 2 – Poach the eggs
Bring a large saucepan of water up to a boil. Reduce the heat to low and add the vinegar. Using a metallic spoon, stir the water to form a vortex or whirlpool in the center.
Carefully crack the eggs one at a time into the center of the whirlpool and cook until the whites are set. Again, using a metallic spoon, transfer the poached eggs from the boiling water to a bowl with ice water.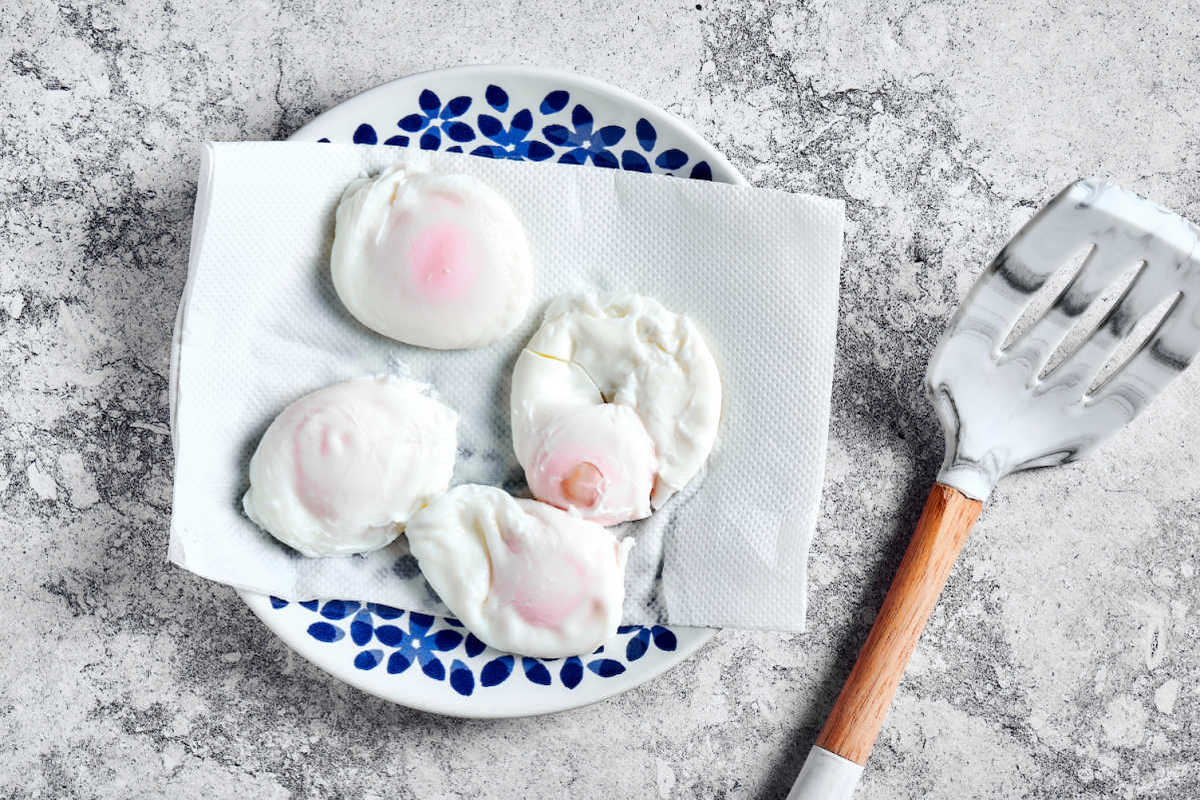 Step 3 – Make the sweet paprika butter sauce
Melt the butter in a small saucepan, then whisk in the sweet paprika until combined.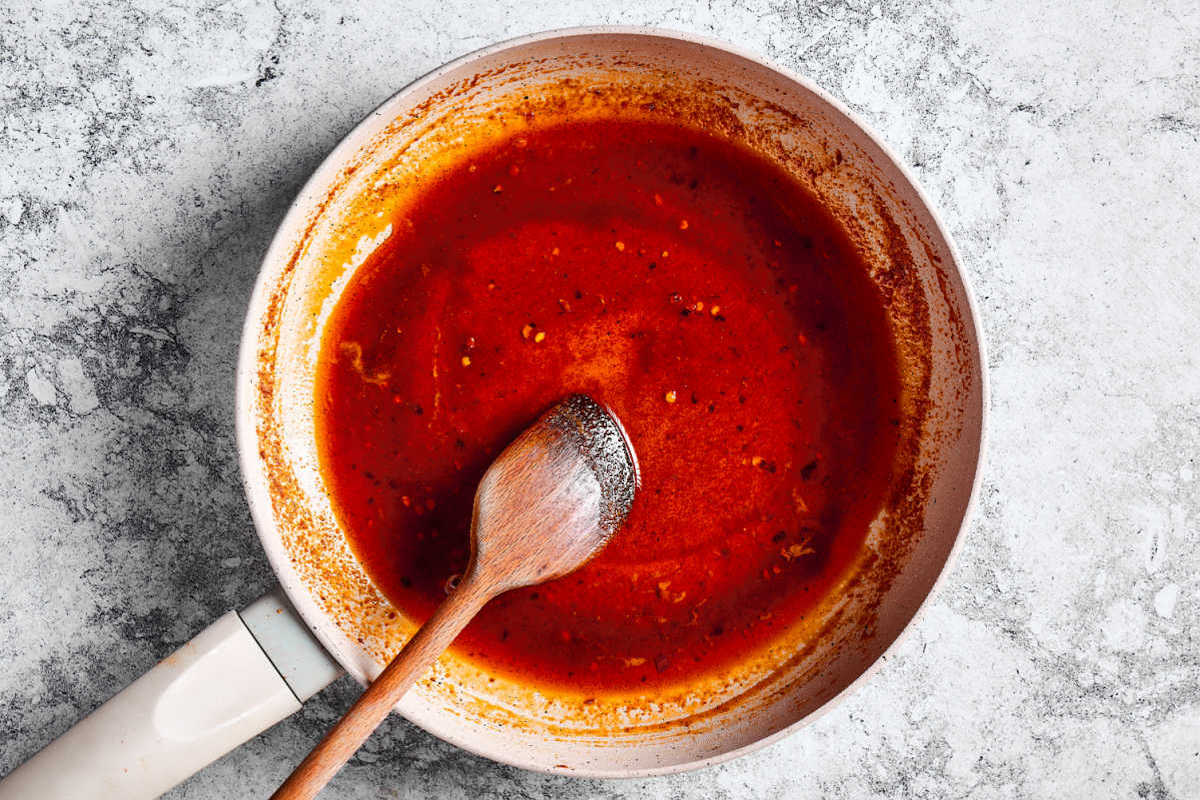 Step 4 – Assemble and serve
Divide the garlic Greek yogurt sauce into two bowls and top with two poached eggs each. Add a drizzle of the sweet paprika butter sauce over the top, then enjoy!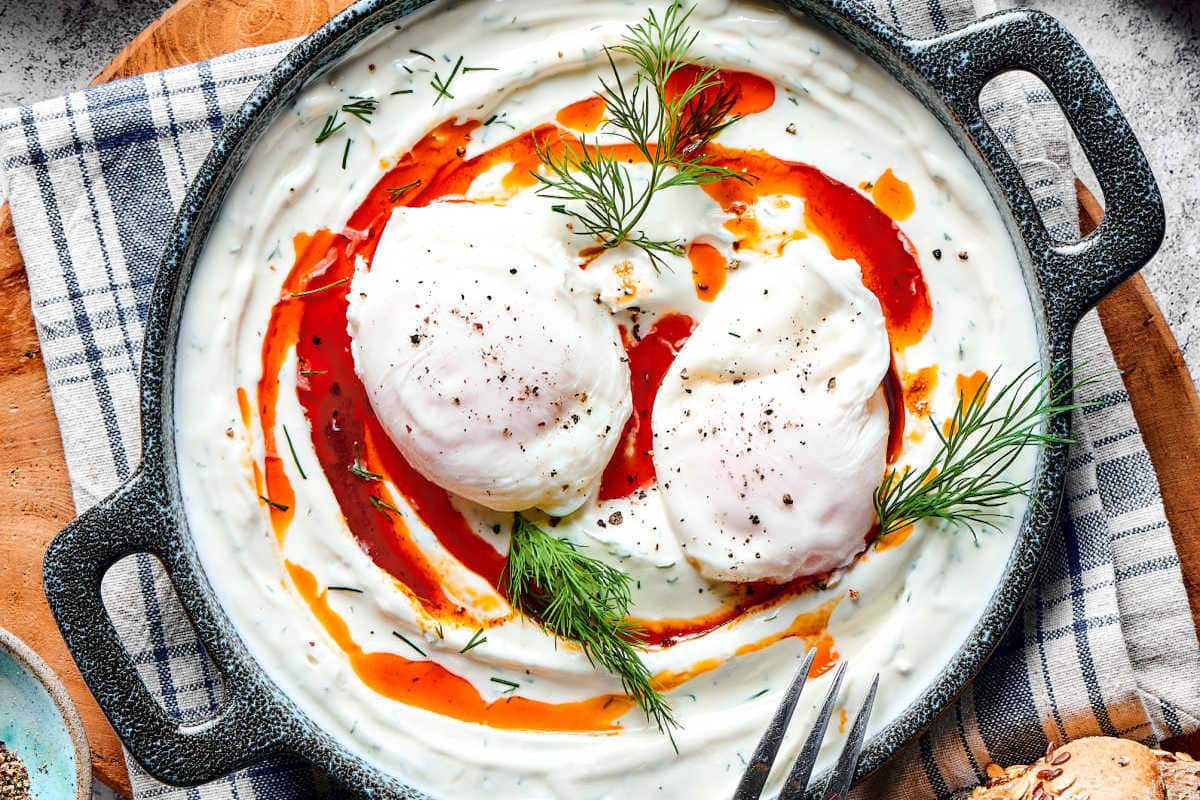 Poach the eggs in a vortex. Before cracking an egg into the boiling water, stir the water vigorously in the middle of the pot. Dropping the eggs directly into the swirling vortex helps create a more spherical shape.
Only poach one egg at a time. The vortex hack only works if you cook one egg at a time.
Or poach in a metallic ladle. If you don't have time to poach each egg separately, skip the vortex trick and, instead, crack each egg into a metallic ladle. Very, very slowly lower the spoon into the boiling water until the whites are set. For more guidance on poaching an egg in a soup ladle, check out this video by Epicurious.
To tell when poached eggs are ready. You'll know the eggs are perfectly poached when they've cooked for at least 3 minutes and they look a bit jiggly, but still firm.
Finely mince the garlic. No one likes biting into a big piece of garlic. To avoid this, mince the cloves very finely or use a citrus zester to grate each one before stirring them into the yogurt.
What to serve with this dish
A side of rustic, crusty bread is an absolute must! It soaks up every last drop of the creamy, savory sauce so you don't miss out on the spectacular flavors. It's delicious as-is with the sweet paprika and butter on top or you can add toasted pine nuts, crumbled cooked bacon, or crispy chickpeas for some crunch.
After plating, adding one last pop of fresh flavor and color from herbs like fresh dill, mint, parsley, or cilantro is always a good idea!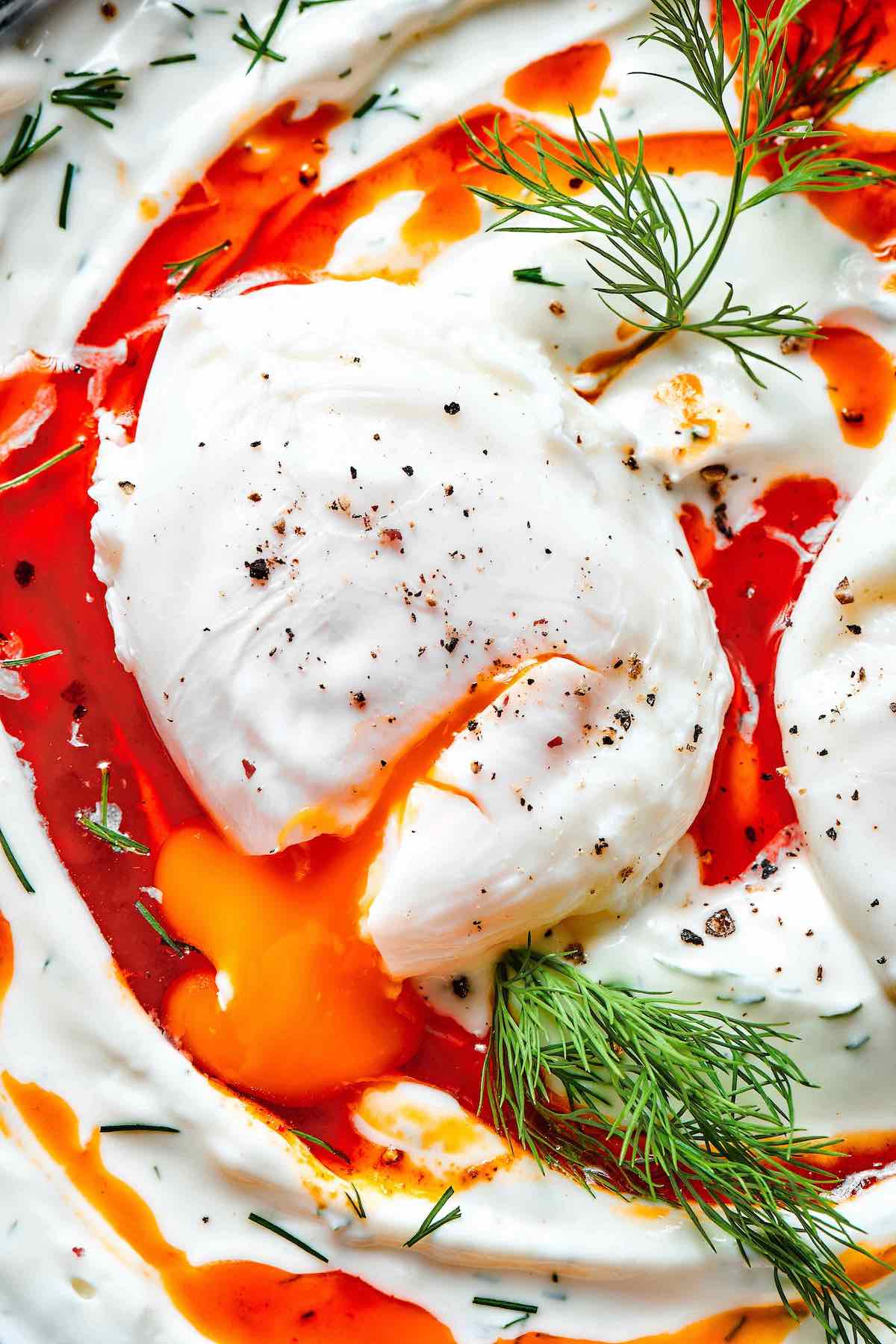 Are you a fan of starting your mornings on a savory note or want something a little more impressive for your brunch? These are some creative ways to use up some eggs.
Is there a way to make this dairy free?
The yogurt and butter play important parts in the richness of this dish. Still, you can achieve similar results with a thick, preferably coconut-based vegan yogurt in place of the Greek yogurt and vegan butter or olive oil instead of regular butter.
Can I make this ahead?
You can prepare both the Greek yogurt sauce and poached eggs 1 to 2 days in advance and keep them in separate containers in the fridge for later. Just make sure the eggs are stored in a sealed container filled with cold water.

To reheat poached eggs, Serious Eats recommends placing them in a bowl of hot water for 2 minutes or until they're warmed through.
How do you store leftovers?
If you don't finish it all, keep the leftover Cilbir in an airtight container in the fridge for 1 or 2 days.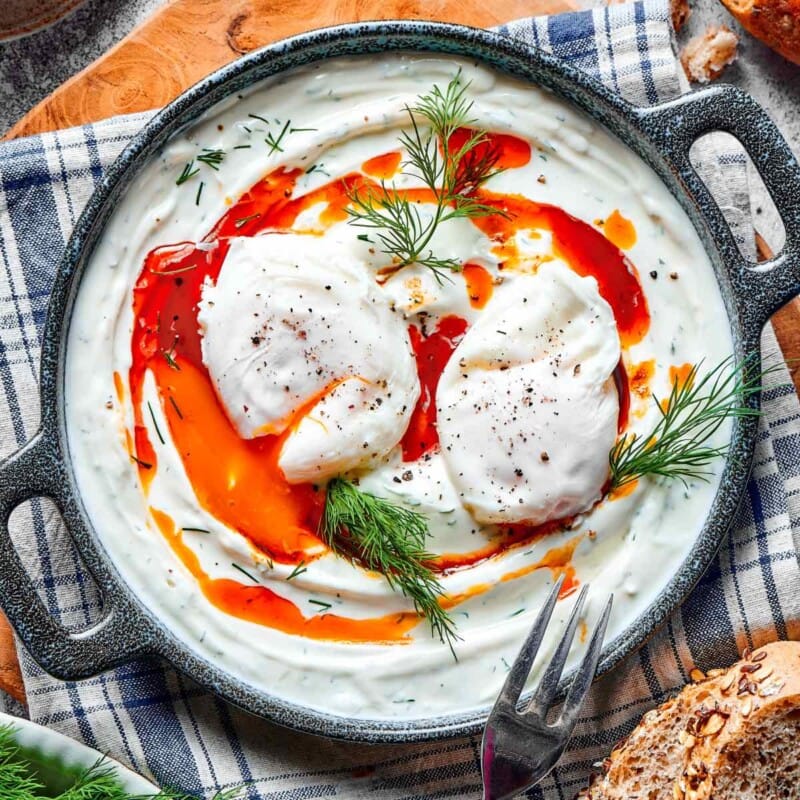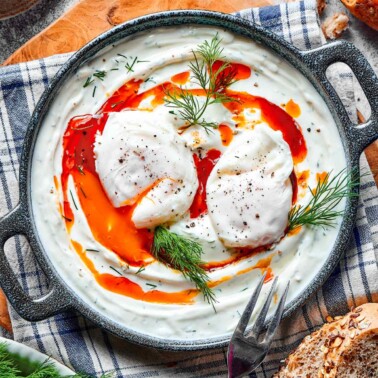 Turkish Eggs (Cilbir)
This recipe for Turkish eggs, or cilbir, is poached eggs served on top of a creamy garlic yogurt sauce! It comes together in minutes and makes a healthy and wholesome breakfast.
Ingredients
Instructions
Combine the yogurt, garlic, salt, and pepper, and mix until combined.

Bring a large saucepan of water to a boil. Once it begins to boil, reduce the heat to low and add the vinegar.

Using a metallic spoon, give the water a stir in the center and, one at a time, break the eggs into them. Cook the eggs for 2-3 minutes, or until the whites are set. Using a large metal spoon, remove the eggs from the boiling water.

In a small saucepan, add the butter and once melted, add the sweet paprika and whisk until combined.

Divide the yogurt into two bowls, top with two eggs each, and drizzle the sweet paprika butter sauce over the top.
Nutrition
Serving:
1
serving
Calories:
347
kcal
Carbohydrates:
8
g
Protein:
29
g
Fat:
22
g
Sodium:
578
mg
Potassium:
392
mg
Fiber:
0.5
g
Vitamin A:
1390
IU
Vitamin C:
1
mg
Calcium:
236
mg
Iron:
2
mg
NET CARBS:
8
g
Disclosure: This post may contain affiliate links. I may earn a small commission for my endorsement, recommendation, testimonial, and/or link to any products or services from this website.