These super thick and fluffy flourless pumpkin pancakes are a filling, healthy, satisfying, protein-packed and easy breakfast recipe! Made with no eggs, butter, oil or flour, these pumpkin pancakes are naturally gluten free, vegan, dairy free and come with a sugar free option!
If there is one recipe which could fight for pumpkin NOT being a seasonal food, these pillow-like pancakes are your answer. In a world where pumpkin only makes a short, temporary appearance, this pumpkin pancakes will have you enjoying them year-round!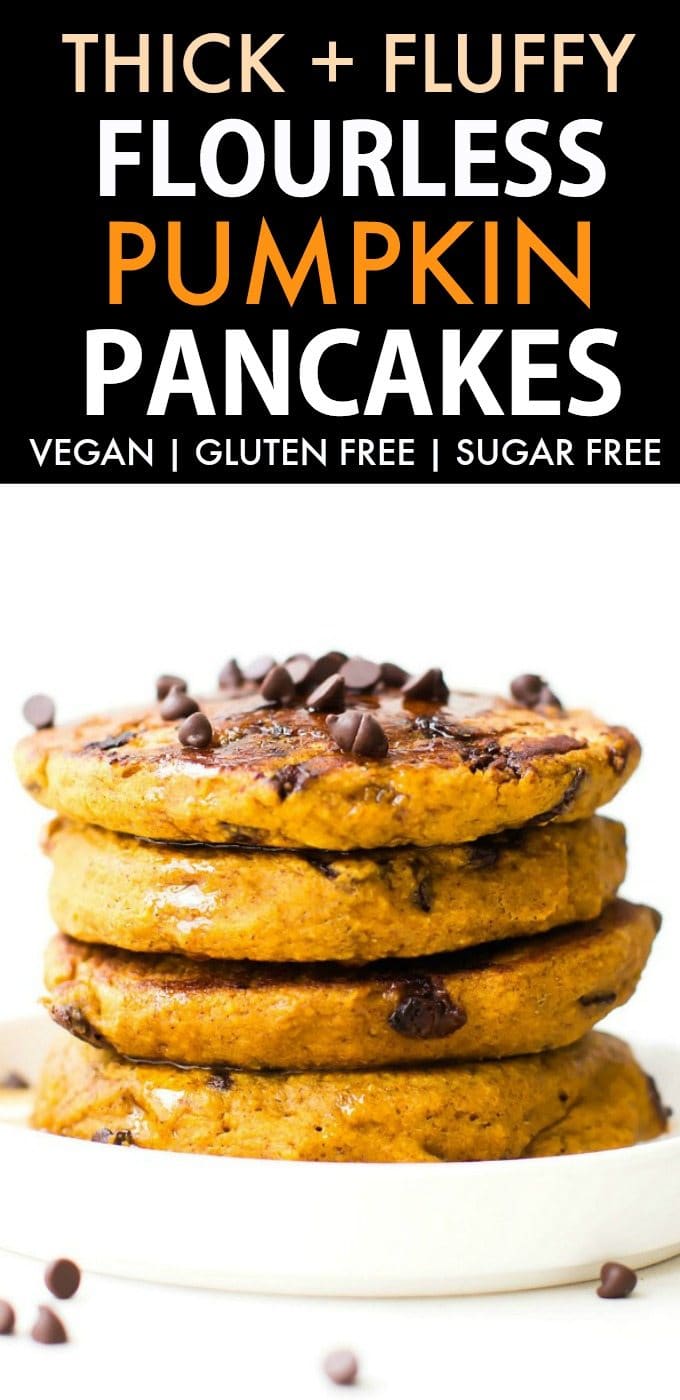 Pancakes. A classic weekend favorite breakfast or brunch.
Is there anything better than a huge stack of thick and fluffy pancakes topped with your favorite toppings? Not when it comes to breakfast foods. The only thing which may come close are flourless pancakes, but they are still in the same realm.
With weekend pancakes comes the association that they lead to a lazy, relaxing day ahead. What If I told you that you could enjoy fluffy pancakes regularly because they were healthy? These flourless pumpkin pancakes tick all the boxes. Not only that, but they were quick, easy and fool-proof?
You read that correctly. These pancakes are secretly healthy and guilt-free, perfect to enjoy on weekends or even during the week- They freeze beautifully and are freezer friendly! Unlike traditional fluffy pancakes, these ones contain no eggs, no flour, and no sugar, yet have an almost identical texture!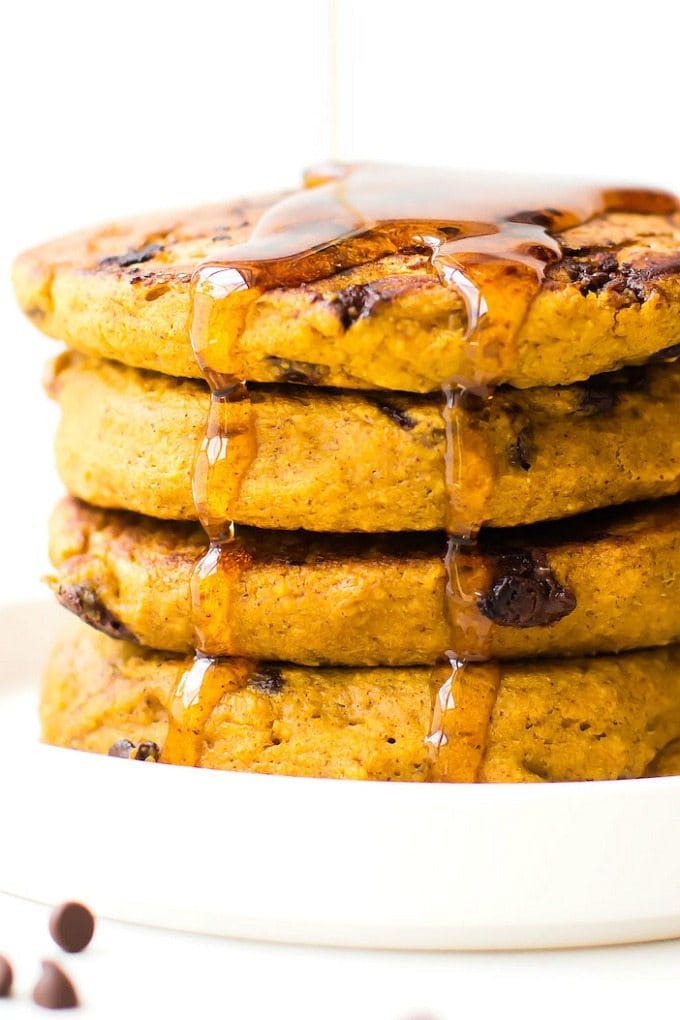 These pumpkin pancakes only require one bowl or one blender to whip up, proving to be an easy recipe. Depending on how hungry you are, they can serve up to three people, or aim for one then freeze the leftovers. They are also naturally gluten free, vegan, dairy free and sugar free!
Pancakes without flour? Yes indeedy! To keep these pancakes flourless, I used rolled oats which I blended to a fine consistency. If you blend all the ingredients together from the get go, you can add them whole or use a quick oat or oat bran variety. If you opt to use a mixing bowl, you can use a pre-blended mix, often referred to as oat flour.
For those who are intolerant to oats, these can easily be replaced for quinoa flakes or buckwheat flakes. If you use either of these two, you may need a little liquid to achieve a smoother batter.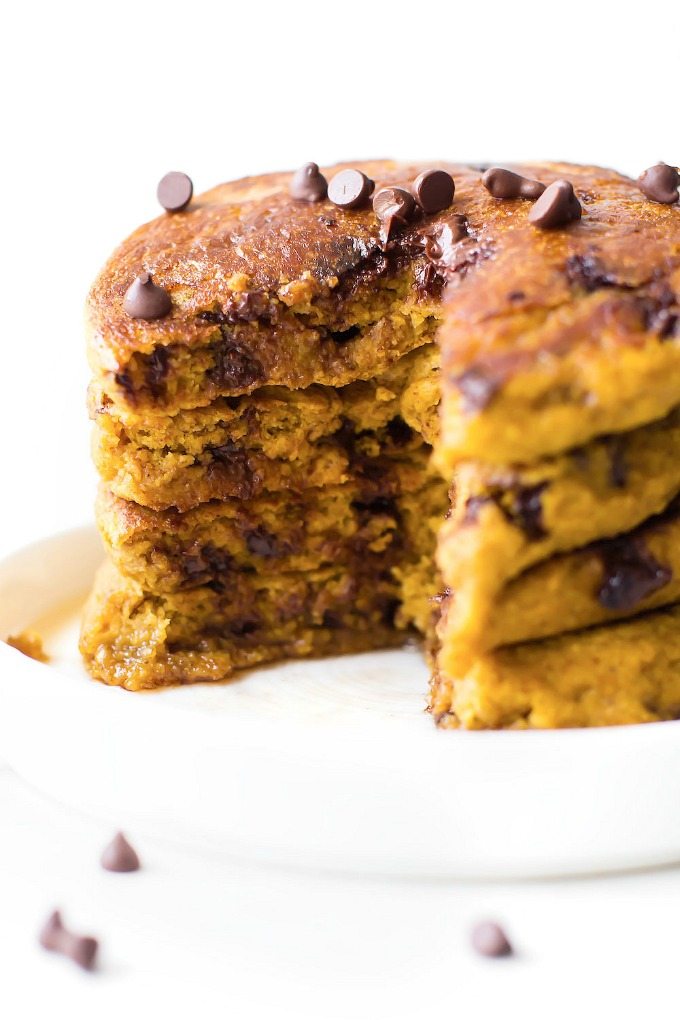 I mentioned earlier that these are egg-free, yet still incredibly thick and fluffy. This is thanks to the inclusion of apple cider vinegar. In my other flourless pancake recipes, I had a few readers mention they didn't have any on hand. You can easily replace it with lime or lemon juice, and one reader even had success with orange juice.
You'll notice that it include a full tablespoon of baking powder. This isn't a mistake, it really adds to the texture of the pancakes. Be sure to use a good quality baking powder, as some tend to leave a metallic aftertaste. You can decrease the amount by half, but the fluffiness will decrease a little bit.
As someone who enjoys quick and easy breakfasts, I always make a double or triple batch of them. Pancakes aren't something you'd typically freeze, but trust me, these freeze beautifully. Simply portion them into single servings (once cooked and cooled) and simply defrost before eating. You can either reheat in the pan or warm them up in a microwave.
For anyone skeptical about pumpkin in pancakes, I promise you'll be converted. The pumpkin adds moisture to the batter and doesn't have a particularly overpowering taste. If you DO want the pumpkin to be evident, add some pumpkin pie spice to it. If you want it more like a delicious loaf of warm, hearty, pumpkin chocolate chip bread, you can never go past some mini chocolate chips.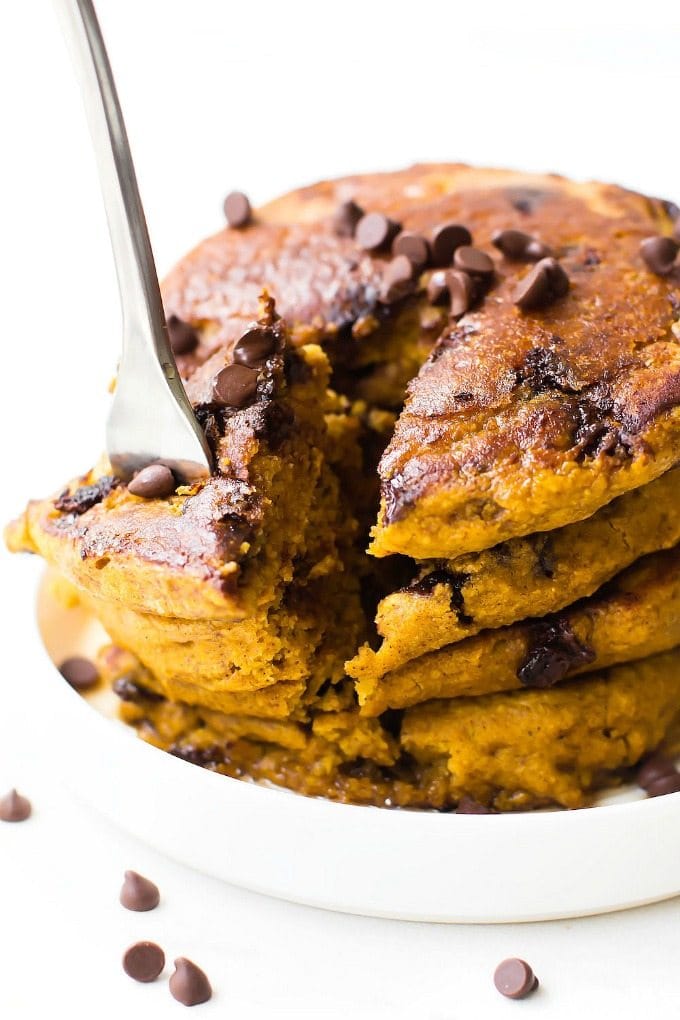 Patience is key to achieve perfectly thick and fluffy pancakes. I highly recommend using low to medium heat and allowing the edges of the pancakes to brown lightly before flipping. Another easy hack is to cover the pan while the pancakes are cooking, which results in evenly cooked pancakes.
If there is one recipe which will ensure pumpkin is a yearly staple in your breakfast rotation, these healthy flourless pumpkin pancakes are your answer.
Looking for more freezer friendly breakfast ideas? I gotcha covered!
Healthy Flourless Blueberry Smoothie Pancakes
Sticky Cinnamon Roll Baked Oatmeal
The Best Grab-and-Go Breakfast Ideas
Healthy No Bake Peanut Butter Cup Breakfast Bars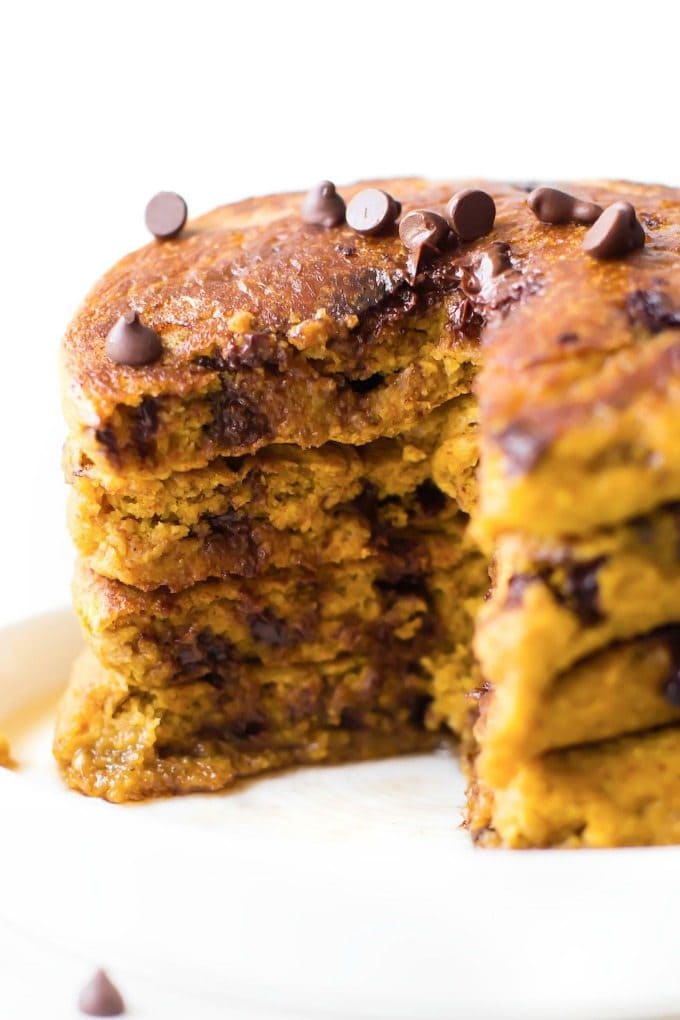 PS- Check out just how easy these pancakes are to make below!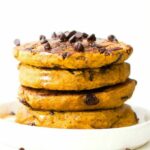 Fluffy Flourless Pumpkin Pancakes
These super thick and fluffy flourless pumpkin pancakes are a filling, healthy, satisfying, protein-packed and easy breakfast recipe! Made with no eggs, butter, oil or flour, these pumpkin pancakes are naturally gluten free, vegan, dairy free and come with a sugar free option!
Ingredients
Instructions
Combine all the ingredients in a blender. Blend until smooth. Alternatively, use a large mixing bowl. Start with the dry ingredients, before adding in the wet ones. Mix until fully combined.

Let the batter sit for at least 5 minutes, for the mixture to thicken.

Preheat a nonstick pan over medium high heat. Once hot, use a 1/4 cup and pour pancake batter on the pan. Cook for 1-2 minutes or until you can easily slide a spatula underneath. Flip. Cook for another 1-2 minutes on the second side.

Repeat until all the batter is used up. If possible, cover the pan when cooking.
Recipe Notes
Pancakes can be doubled, tripled or even quadrupled. This is perfect to be frozen for quick and easy breakfasts. Ensure the pancakes are fully cooled and wrap each portion individually.
Nutrition Facts
Fluffy Flourless Pumpkin Pancakes
Amount Per Serving
Calories 174
* Percent Daily Values are based on a 2000 calorie diet.