This healthy 3 Ingredient Spicy Barbecue Tofu recipe is a flavor and texture lovers dream and SO easy! Perfectly grilled or baked, this recipe is naturally gluten free, vegan and low carb!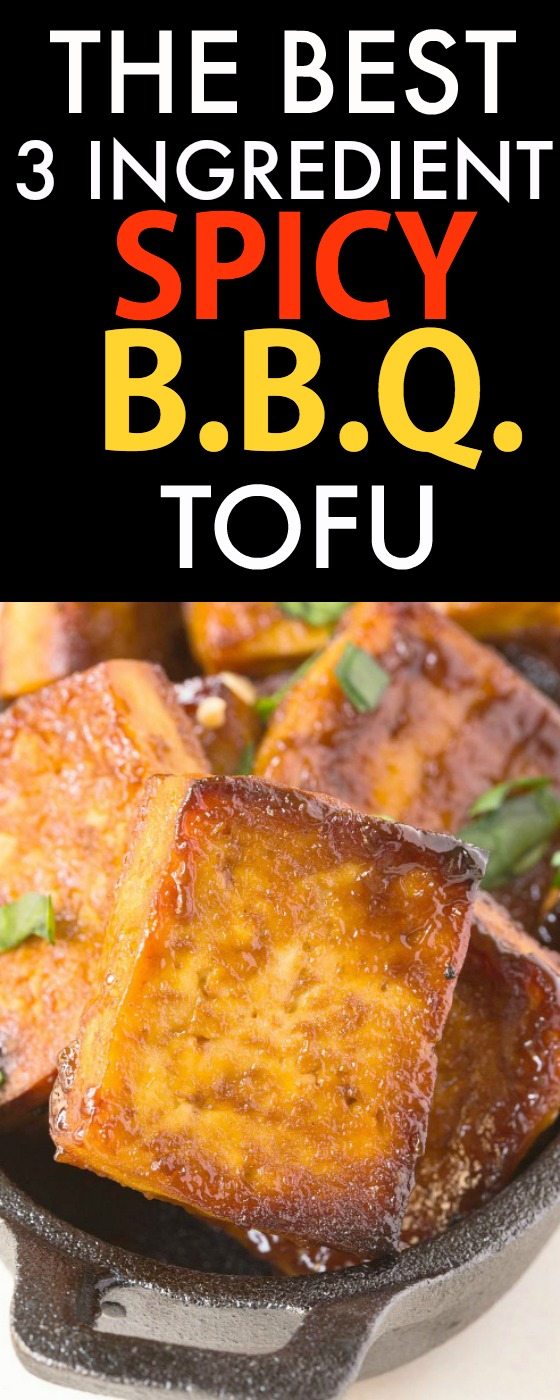 Friends, I'm so excited to share with you guys a new collaboration for 2016- Stubbs Legendary Bar-B-Q.
I've been a huge fan of Stubb's- Their marinades, sauces, and rubs (not even kidding, we'd dip our fries and even chips in the marinades). In fact, before I moved to America, I'd bring back their BBQ marinades in my suitcase, especially their Spicy BBQ one.
Earlier this year, I was fortunate to meet a few of the faces behind the Stubb's team at Expo West. It was especially amazing to meet Jess, who I'd been communicating with back forth via email. I went past the Stubb's booth later in the day and frankly, didn't even need a map to find it- The team there were grilling brisket and other goodies for consumers to sample and I was salivating! There were people lining up to get a portion of meat basted in their infamous marinades and I may or may not have walked by 4 times.
No shame.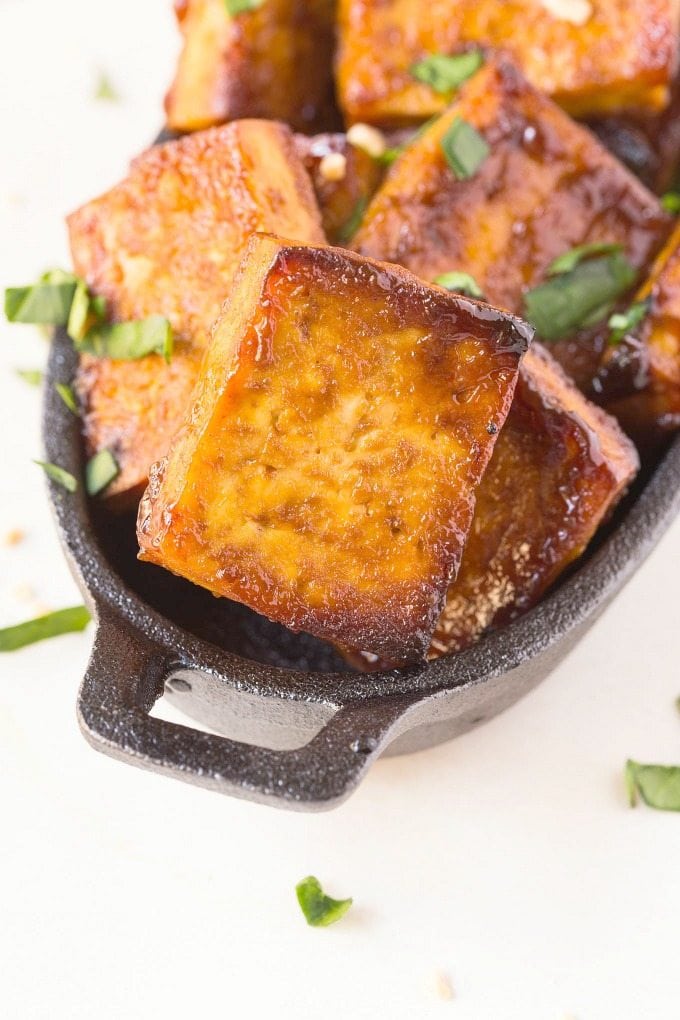 Anyway, while I wasn't able to meet the entire team behind Stubbs Legendary BAR-B-Q, Jess DID tell me to hit them up whenever I'm in Austin, Texas. I can guarantee that will be happening because well….barbecue (and also I really want to check out the restaurant down Red River Street).
Anyway, let's talk giving grilling in my household. Growing up, it would always be the same (albeit delicious) items hitting the grill-
Chicken….marinated.
Steak….marinated.
Lamb chops….marinated.
Sausages….NOT marinated, because that would just be odd.
You get the picture here. None of the grilled meals we enjoyed were vegetarian or vegan-friendly. Granted, no one in my family followed either of those dietary lifestyles, but we were comfortable with what we were familiar with. As we've broadened our palettes (and Niki realized tofu wasn't JUST a dish available at Japanese restaurants), we've embraced branching out more, especially with tofu.
Oh, tofu.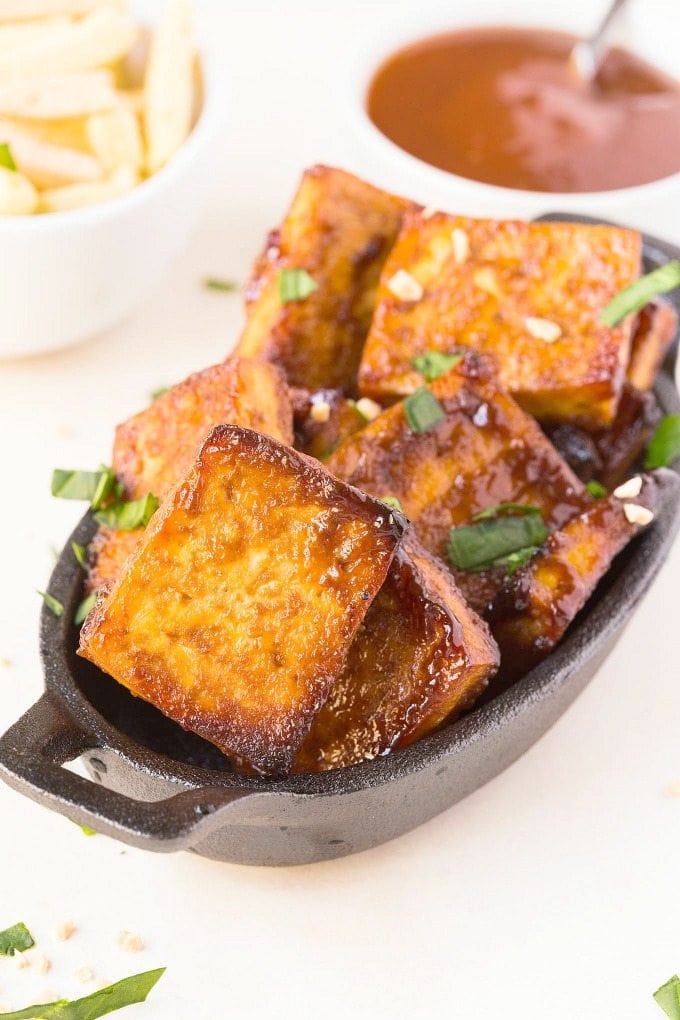 If there is one food item which marinades/dressings/sauces are designed for, it's tofu. Tofu is like a blank canvas- Dress it up to the nines (mum's fusion marinade- Ginger, shallots, onion, soy sauce, tamari, a splash of Worcestershire sauce and unicorn horn) or keep it simple (this is my go-to tofu marinade and recipe– excuse the ugly pictures!).
For recipes involving grilling or baking, I always use extra firm or momen tofu. I find these best to achieve a crispy exterior with a light and fluffy interior. It's also the best way to convert tofu skeptics into tofu fans- Trust me on this, until I ate tofu this way. I thought it was like jello punishment.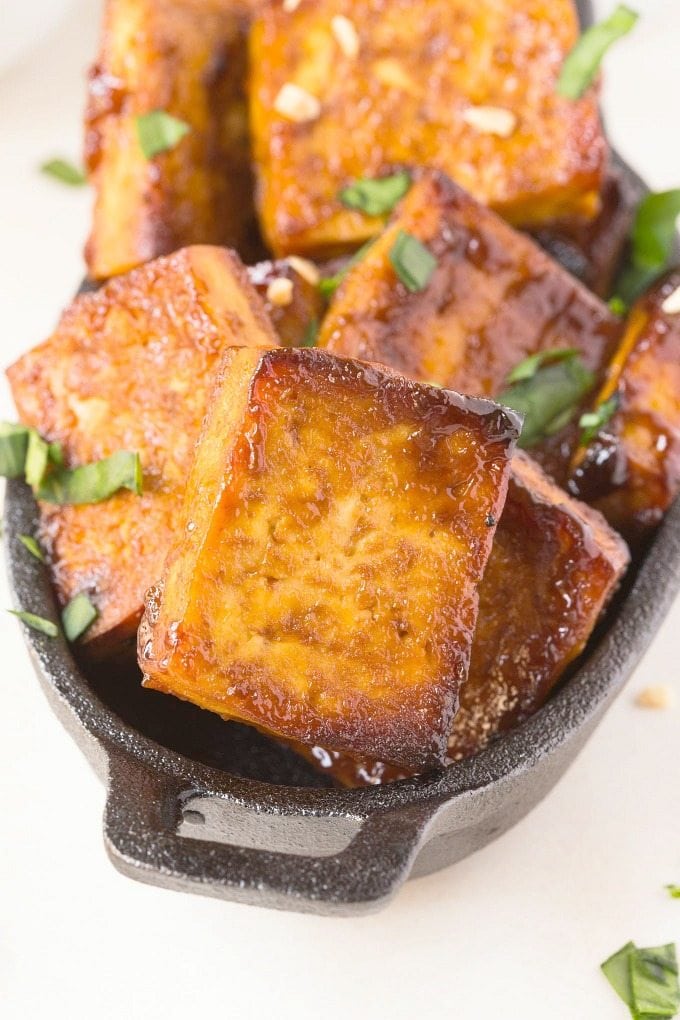 This 3 Ingredient spicy barbecue tofu is a flavor and texture lovers dream savory meal! I combined Stubb's original BBQ sauce and their Spicy sauce to hit the happy balance of spicy, sweet, smokey and salty! This versatile, easy and delicious recipe can be cooked a variety of methods, but I personally love it grilled or baked! Because of the sauces used (Stubb's BBQ and Spicy blends), this recipe is suitable for those following a vegan and gluten free diet! In fact, all of Stubb's products are certified gluten free and vegan, except for their Honey Pecan.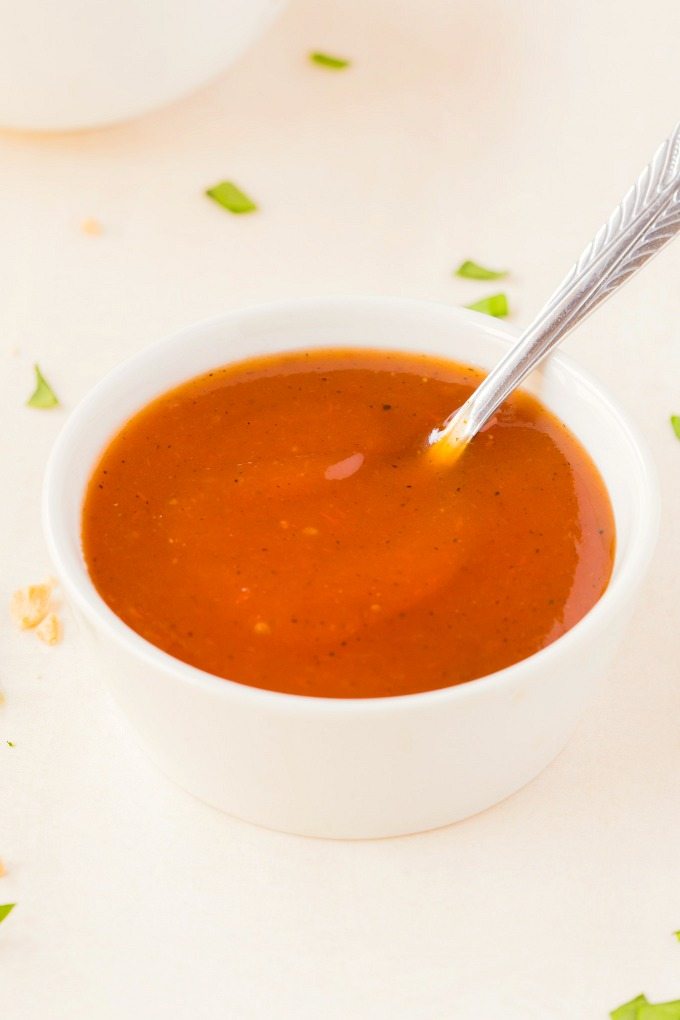 HACK! Not a fan of spice? Simply keep it all barbecue sauce! Also, for those who don't have the time to marinade it overnight, the beauty of Stubb's sauces and marinades are that they are fast acting- You can simply coat the tofu before grilling and baking, and the flavor will still be there!
Make this 3 Ingredient Spicy Barbecue Tofu and let's convert all tofu skeptics with this winner of a recipe.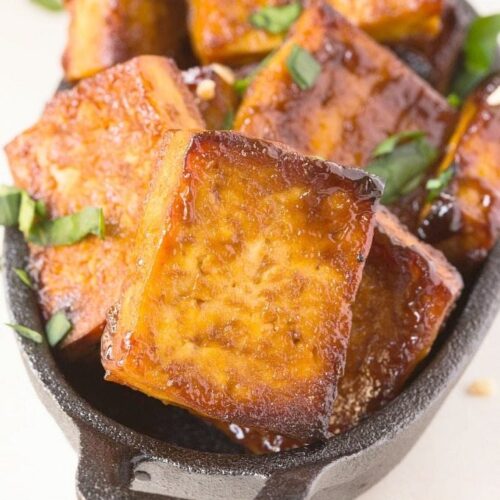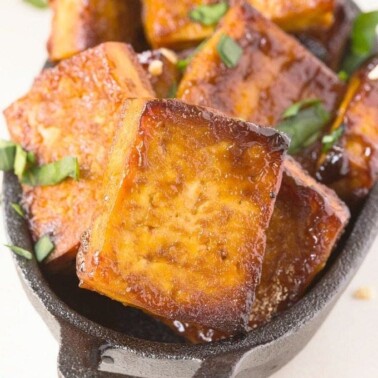 Bbq Tofu
This healthy 3 Ingredient Spicy Barbecue Tofu recipe is a flavor and texture lovers dream and SO easy! Perfectly grilled or baked, this recipe is naturally gluten free, vegan and low carb!
Ingredients
2

x 12 oz packages of extra firm of Momen tofu

750-800 grams total

1/2

cup

Stubbs Original sauce

1/4

cup

Stubbs Spicy sauce*

Cooking spray/oil/butter to coat grill
Instructions
Preparation
Slice tofu into inch thick slices and place in a plastic tupperware or container.

In a small bowl, mix together the original and spicy sauces and pour over the sliced tofu. Refrigerate overnight, or for at least 2 hours.
To grill
Heat grill as per model. Once hot, lightly coat with cooking spray/oil/butter and place marinated tofu and cook each side for 3 minutes, until crispy on the outside. Flip and continue cooking until golden brown.
To bake
Preheat the oven to 350 degrees. While heating up, coat a large baking tray with oil/cooking spray and place marinated tofu in a single layer. Once hot, bake for 40 minutes, flipping halfway through.
To sear
Coat a large pan with cooking spray/oil/butter and heat. Once hot, reduce to medium and place marinated tofu in a single layer. Cook for 3-5 minutes, until golden brown on the edges before flipping and cooking for a further 2-3 minutes. Remove from the heat and serve immediately.
Notes
* If you don't enjoy spice, use an extra 1/4 cup of the original sauce.
This recipe can be enjoyed cold (in a sandwich, thrown over a salad)- Allow to cool completely before refrigerating. Tofu can be kept for up to 3 days. It can be frozen for up to a month, however thaw completely before reheating.
Nutrition
Serving:
1
serving
Calories:
10
kcal
Carbohydrates:
1
g
Protein:
1
g
Fat:
1
g
Fiber:
1
g
Vitamin A:
1
IU
Vitamin C:
1
mg
More grilled recipes? Gotcha covered!
Grilled Kettle Corn Sweet Potatoes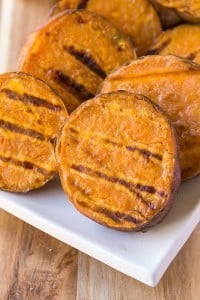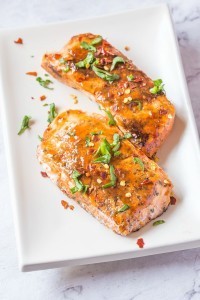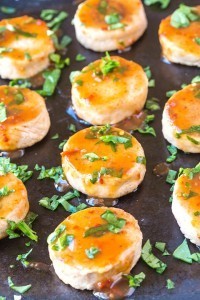 Disclosure: This post may contain affiliate links. I may earn a small commission for my endorsement, recommendation, testimonial, and/or link to any products or services from this website.