These baked chicken tenderloins are fabulous for easy weeknight dinners! They are perfectly seasoned, easy to make, healthy, and always a hit!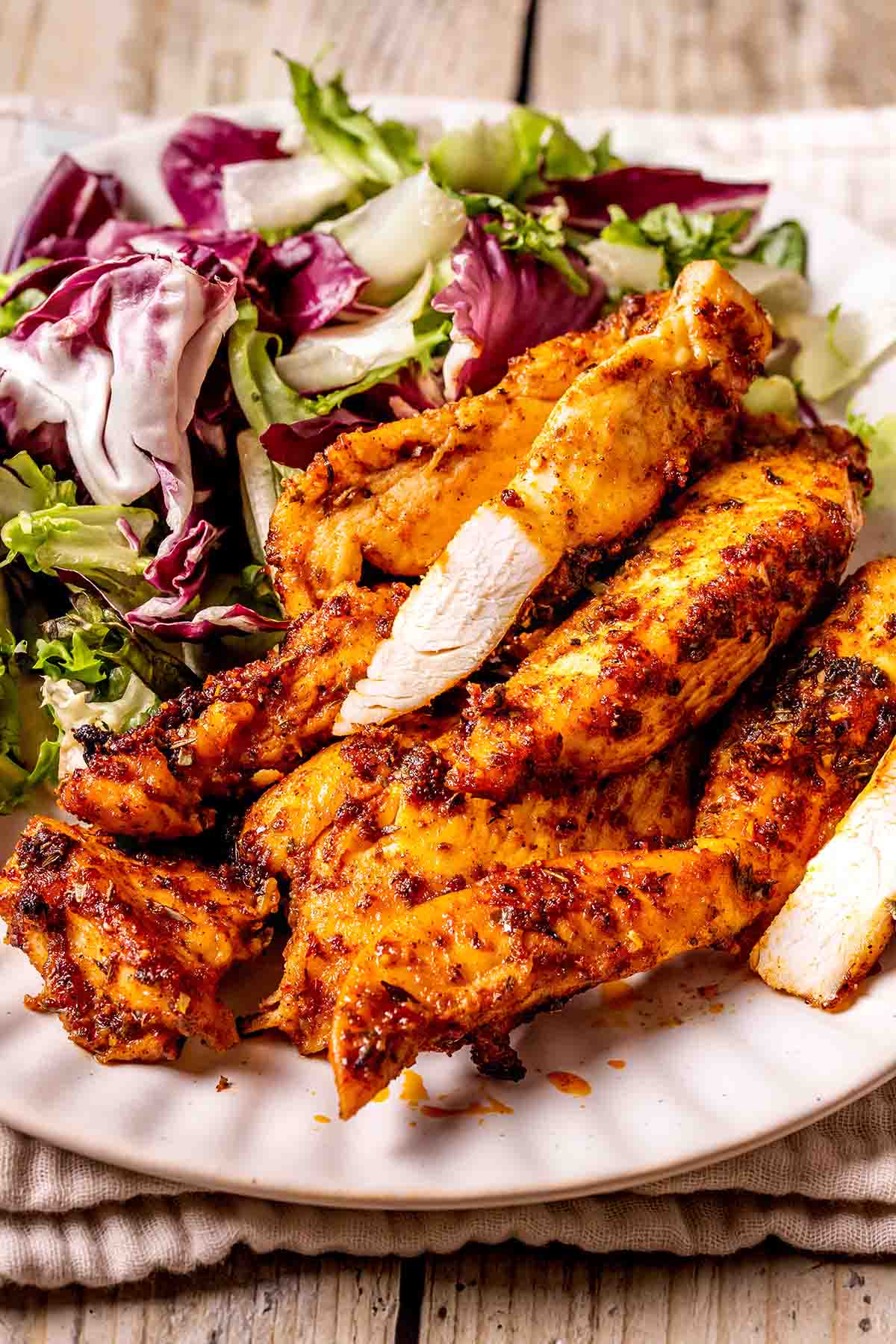 As someone who eats chicken on an almost daily basis, chicken tenderloins are definitely one of my favorite cuts. They are quick to cook and work as a blank canvas for pretty much any marinade or seasoning!
This baked chicken tenderloin recipe is made with a seasoning blend featuring smoked paprika, a touch of brown sugar, and Italian seasonings, and is perfect for any meal!
Bonus? No frying or deep frying is needed.
Table of Contents
Why this recipe works
No breading. Most chicken tender recipes call for some form of breading, but not this one. Like we did with our air fryer chicken tenderloins, a simple spice mix is all you need for extra juicy, crisp, and tender chicken.
It's healthy. Chicken tenderloins have a similar nutritional profile to a standard chicken breast, meaning they are packed with protein, low in calories, and naturally low in fat! Oh, and we also oven bake them instead of frying them, which cuts out all the excess oil.
Versatile. Make this dish the protein option in any lunch or dinner, or add it to your meal prep rotation! I love making a double or triple batch and adding the leftovers over salads or grain bowls for a well-balanced meal.
Ready in under 30 minutes. This is the kind of recipe you can make on busy weeknights and have dinner on the table in no time!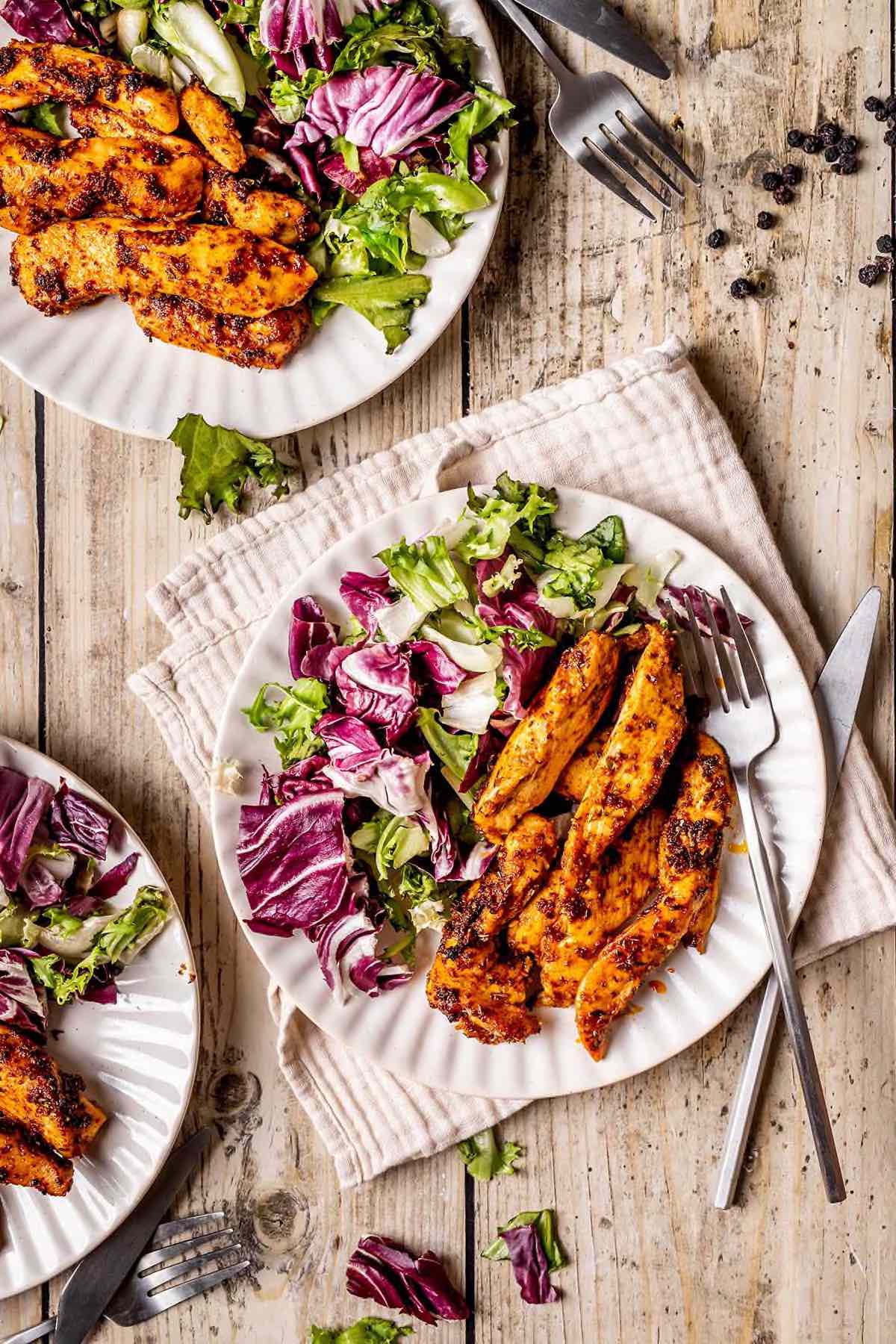 Ingredients Needed
Baking chicken tenderloins requires a handful of regular kitchen staples and chicken. Here's what you'll need:
Chicken breast tenderloins. Buy boneless and skinless chicken tenderloins. You can often find these in the poultry section of any grocery store.
Butter. I prefer using butter instead of oil when baking leaner cuts of chicken as it crisps up better and has a much better flavor. As we already add salt, opt for unsalted butter.
Paprika. Paprika has a lovely, sweet heat that complements the Italian seasoning.
Italian seasoning mix. This dried herb mix is just what the recipe needs.
Brown sugar. With just a dash of brown sugar, you'll get a beautiful caramelization and subtle smoky sweetness. Liquid sweeteners work too, so feel free to use agave, maple syrup, or honey instead.
Salt and pepper. To taste.
Garlic and onion powder. It helps build an aromatic profile and sticks perfectly to the chicken tenderloins.
Red pepper flakes. For a bit of heat. If serving to kids, you can skip this ingredient.
How to bake chicken tenderloins
Make the spice mix. Melt the butter, add spices, and whisk to combine.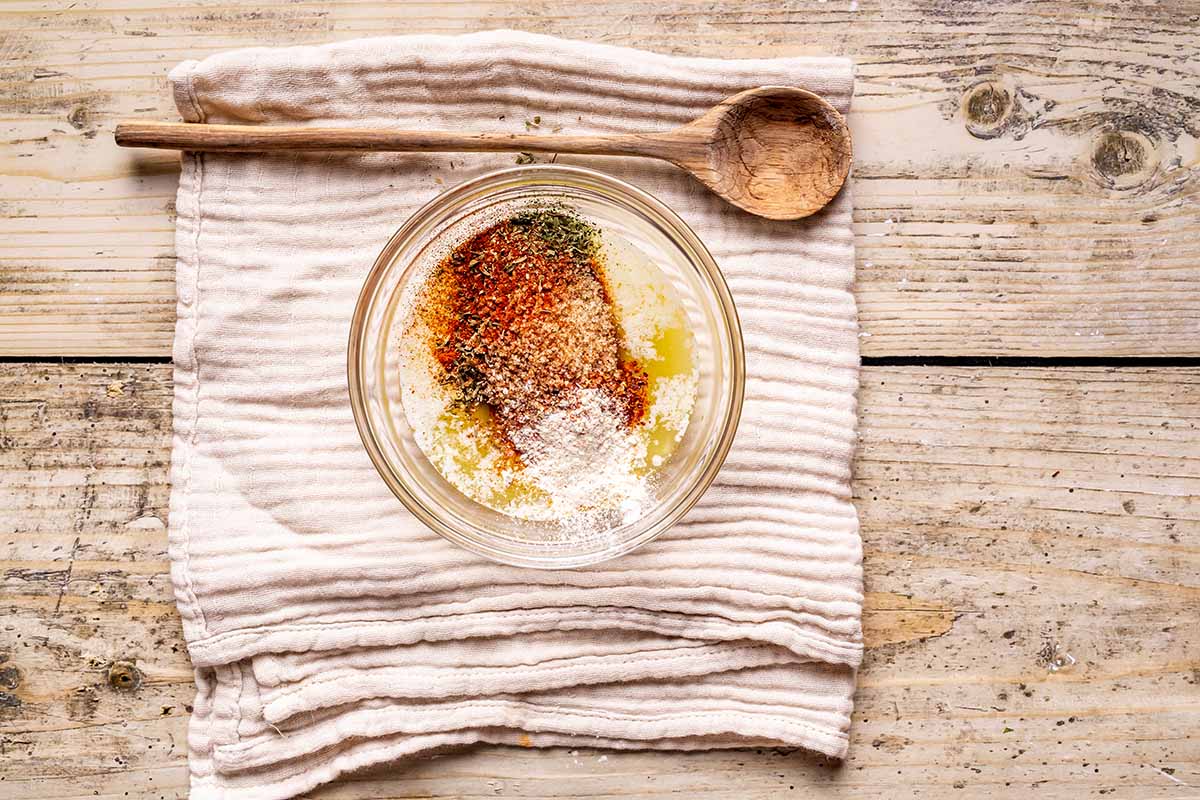 Season the chicken. Dredge the chicken tenderloins in the butter and place them on a baking sheet in a single layer.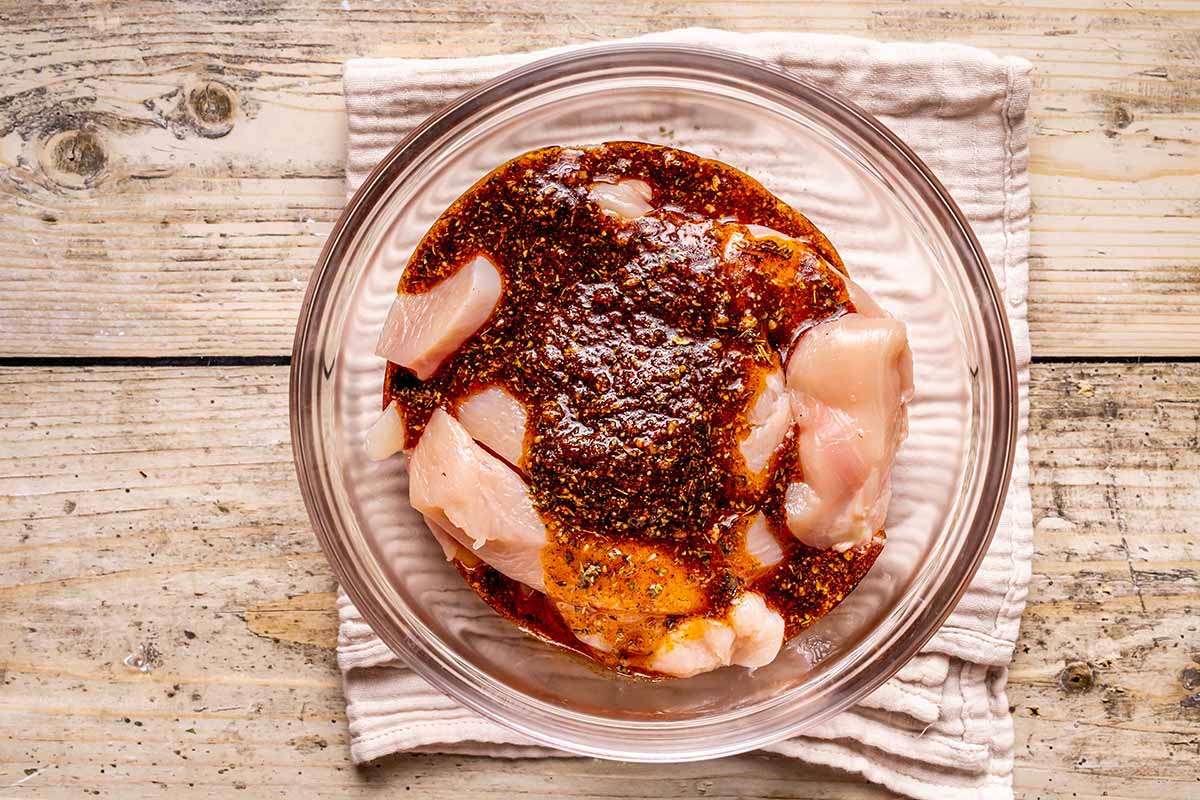 Bake the chicken. Bake in a preheated oven for 25-30 minutes at 180C/350F.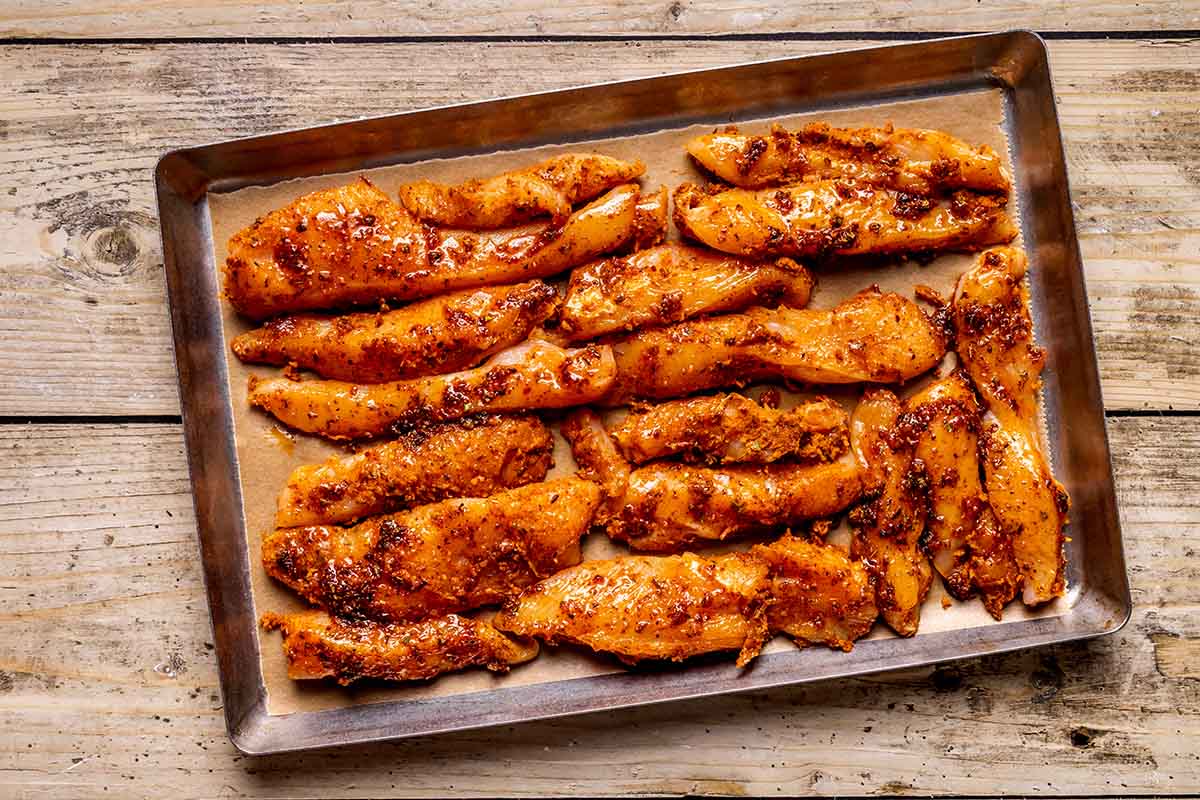 Serve. Remove the chicken from the oven and serve warm over some salad.
How long to bake chicken tenderloins
The ideal baking time for chicken tenderloins is 25-30 minutes. However, not all chicken tenderloins are created equal, and depending on the size and weight, they may need to be cooked longer.
To check if the chicken is properly cooked, use a meat thermometer to check the internal temperature. If it is at 165F, you are all set!
Recipe tips and tricks
Choose uniformly sized chicken tenderloins. Evenly cut chicken strips will have similar cooking times, resulting in a consistent result.
Always dry your chicken. Get rid of any moisture on the chicken's surface by drying it with clean paper towels. Doing this will help you get perfectly crispy chicken tenders!
Start with room-temperature chicken. I highly recommend you take the chicken out of the refrigerator 20-30 minutes before cooking. This ensures uniform internal and external cooking.
Flavor and recipe variations
Bread your chicken. If you love the texture of the crispy bread coating like oven-fried chicken, feel free to coat it with a mix of flour and cornstarch for maximum crunch.
Customize the spice mix. Switch gears and make an Asian spice coating with ginger, garlic, soy, and gochujang. Or make an Indian-style spice mix with garlic, curry, coriander, and red chili powder.
Marinate with buttermilk. Instead of butter, use buttermilk to marinate the chicken tenderloins for a few hours. The acid from buttermilk will tenderize the chicken and make it extra juicy!
Make tenderloin chicken parm. After cooking the chicken, slather them with marinara sauce and add pieces of fresh mozzarella. Broil until the cheese bubbles, and serve fresh!
Grill the tenderloins. Check out our grilled chicken tenders recipe.
What to serve with oven baked chicken tenderloins?
While the most apparent food pairing for chicken tenderloins is a cracking sauce, you could try some of my serving suggestions below.
Sauces. You can never go wrong with a good dipping sauce. Keep things classic with ketchup or ranch, or something a little more fun like a big mac sauce.
Salads and wraps. Whenever we have baked chicken leftovers, I love to add it to a salad or stuff it into a wrap or pita. Bonus? You don't need to heat it up!
Pasta. Add a punch of protein to your favorite pasta! Some ideas include a simple tomato-based pasta, Gigi Hadid pasta, or Boursin cheese pasta.
Veggies. The world is your oyster when it comes to veggie pairings! Simple sauteed greens, steamed vegetables, or anything made in the air fryer!
Storage instructions
To store. Refrigerate cooled chicken in an airtight container for 3-4 days.
To freeze. If frozen in ziplock bags, consume it anytime within 2-3 months.
To reheat. I toss the thawed or refrigerated chicken on a baking tray and heat it for a few minutes in a preheated oven. You could also heat in a skillet, air-fryer, or microwave (although the microwave could dry out the chicken!).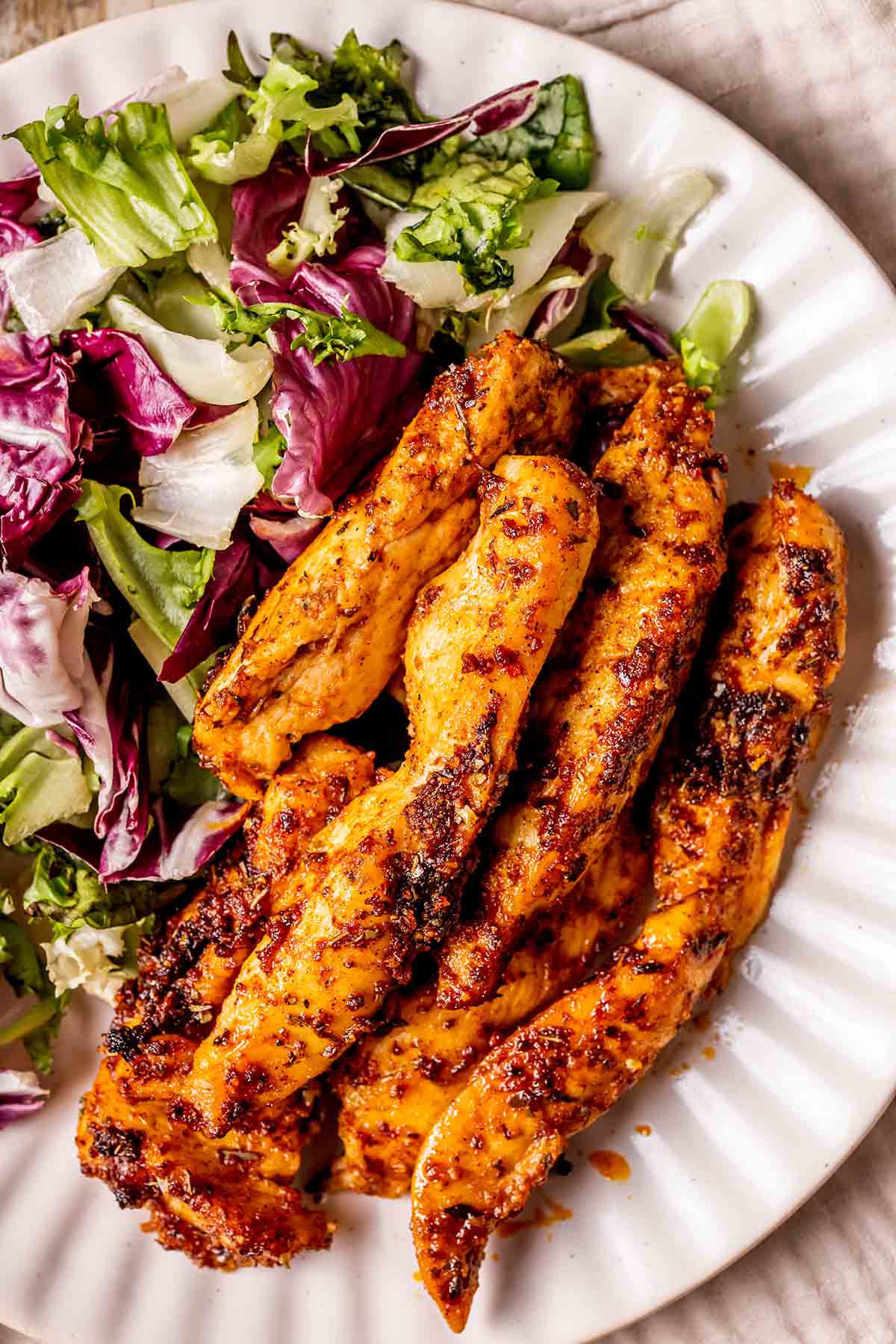 More baked chicken recipes to try
Frequently asked questions
Are chicken breast tenderloins the same as chicken tenders?
No. Chicken breast tenderloins are located under the chicken breast. They are incredibly lean, thin strips of meat. Chicken tenders, on the other hand, are strips cut from the breast meat.
Can I make this recipe with frozen tenderloins?
Sure! Ensure you thaw and dry the chicken entirely before using it.
Can I make this recipe without butter?
You can substitute the butter with olive oil for a healthier alternative.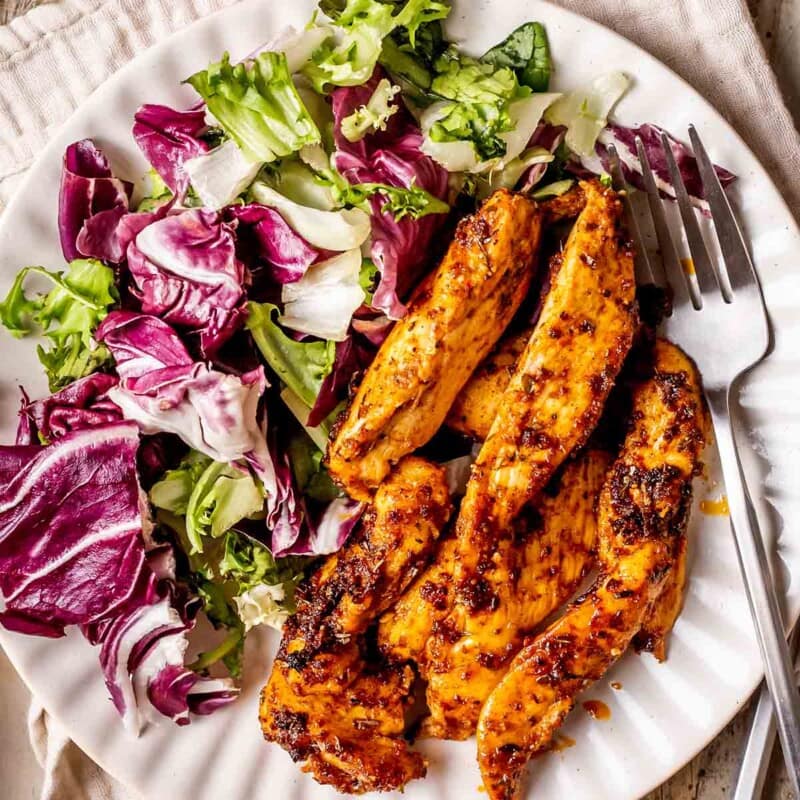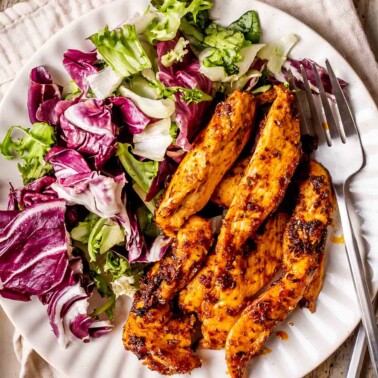 Baked Chicken Tenderloins
These oven baked chicken tenderloins are perfectly seasoned without needing any breading! They cook in less than 30 minutes and make a healthy and delicious protein option.
Instructions
Preheat the oven to 180C/350F.

Melt the butter in the microwave until it is liquid. Combine spices and butter in a small bowl.

Dredge the chicken tenderloins in the melted butter mixture.

Lay the chicken in a single layer on a baking sheet.

Bake the chicken for 25-30 minutes or until it reaches an internal temperature of 165F.
Notes
TO STORE. Refrigerate cooled chicken in an airtight container for 3-4 days.
TO FREEZE. If frozen in ziplock bags, consume it anytime within 2-3 months.
TO REHEAT. I toss the thawed or refrigerated chicken on a baking tray and heat it for a few minutes in a preheated oven. You could also heat in a skillet, air-fryer, or microwave (although the microwave could dry out the chicken!).
Nutrition
Serving:
1
serving
Calories:
256
kcal
Carbohydrates:
6
g
Protein:
25
g
Fat:
15
g
Sodium:
809
mg
Potassium:
501
mg
Fiber:
1
g
Sugar:
3
g
Vitamin A:
1310
IU
Vitamin C:
2
mg
Calcium:
39
mg
Iron:
1
mg
NET CARBS:
5
g
Disclosure: This post may contain affiliate links. I may earn a small commission for my endorsement, recommendation, testimonial, and/or link to any products or services from this website.