This simple recipe features perfectly cooked beef liver with soft, caramelized onions. Pan-seared with butter, the beef liver is soft, tender, and flavorful.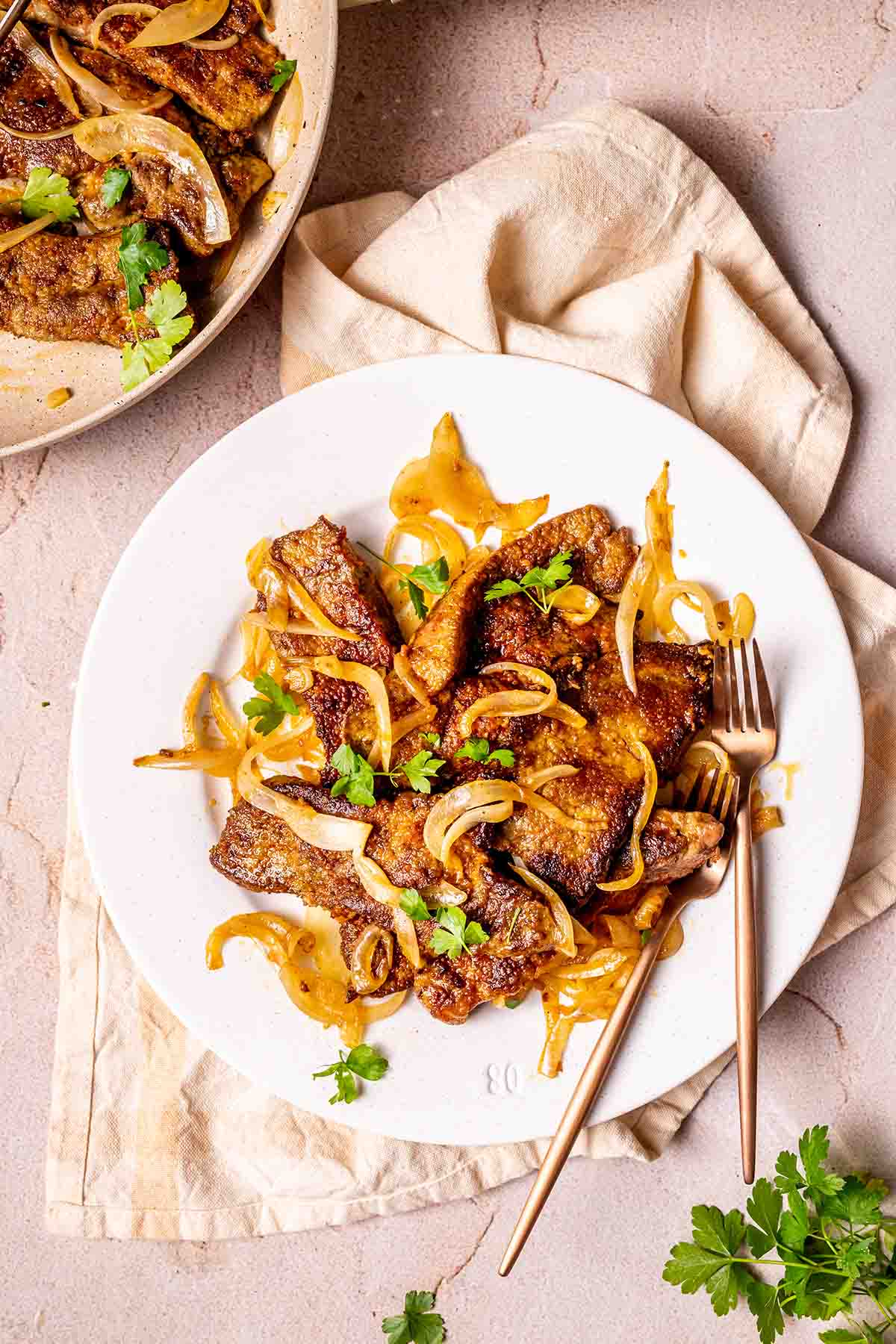 Beef is a versatile protein and tastes incredible in all shapes, sizes, cuts, and organs! I love some beef shank and short ribs as much as I love pretty much any cut of steak.
Livers often get a bad rap for being too intense and metallic. But they taste fantastic when cooked with love, care, and complementary flavors.
If you like my chicken liver recipe, I am confident this recipe will convert you into a liver lover!
Why you'll love this beef liver recipe
Mild flavors. Some beef liver recipes can be a little bit bland, but this recipe is delicious, subtle, and mildly earthy.
Quick and easy. This recipe is very quick to cook. Once you finish soaking the liver, you'll need only minutes to pan-sear it.
It is super healthy. Owing to its nutrient-dense and low-calorie nature, beef liver is considered a superfood. It is rich in iron, vitamins A and B complex, and proteins, making it an extremely healthy addition to your diet.
Easy to customize. I like how easy it is to customize this dish. Keep it classic with just onions, or cook it with as many veggies as you like. Mushrooms, bell peppers, or tomatoes go well with the old-fashioned garlic and onions combination.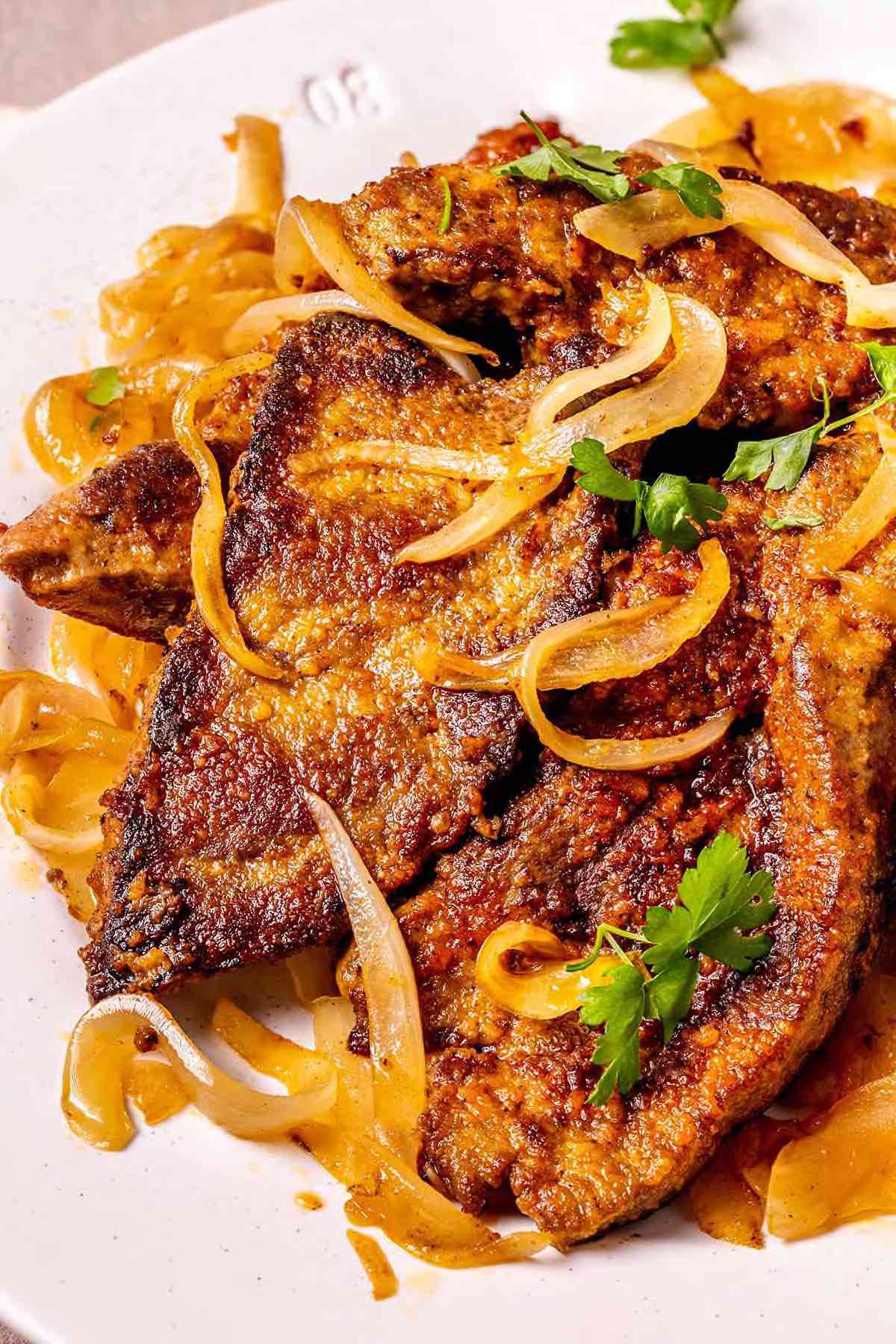 Ingredients Needed
Beef liver. I have used freshly sliced beef liver for this recipe, but you can also use frozen beef. Thaw the meat entirely before soaking it in buttermilk if using frozen beef.
Buttermilk. Buttermilk helps to dial down the intense liver flavor. Feel free to substitute buttermilk with regular or dairy-free milk.
Homemade buttermilk
If you struggle to find buttermilk in a store, DIY at home by adding a teaspoon or two to a cup of milk.
Olive oil. I like using olive oil for pan frying, but you can use any neutral oil for this recipe.
Salt and ground black pepper. To season.
Paprika. It adds a lovely hint of heat.
Garlic and onion. We'll use powerful aromatics like minced garlic and sliced onion to complement the intense beef liver flavor.
Flour. To lightly bread the beef liver.
Butter. Butter helps to mask the beef liver flavor by adding richness to this recipe.
How to cook beef liver
Tenderize the liver. Soak beef liver in buttermilk and refrigerate for 10 minutes or up to an hour.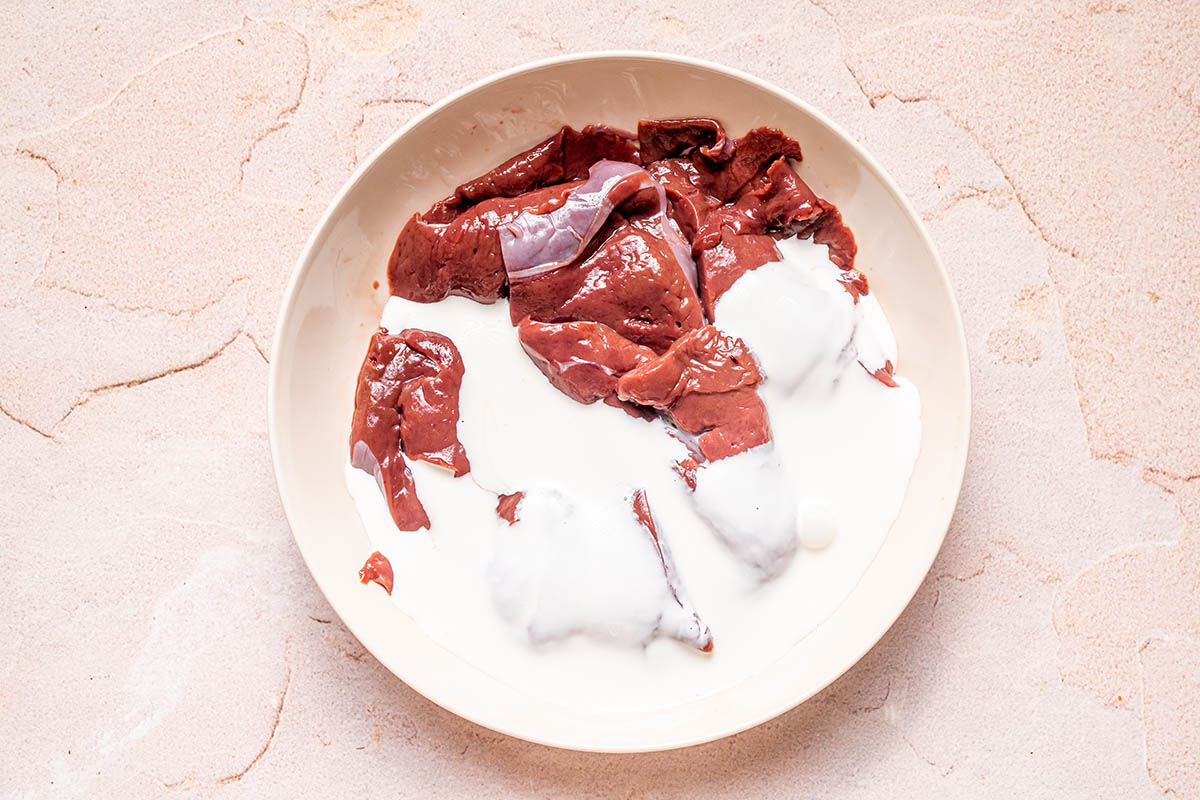 Season the beef. Drain the beef liver, pat dry, and season with pepper, paprika, and salt on both sides.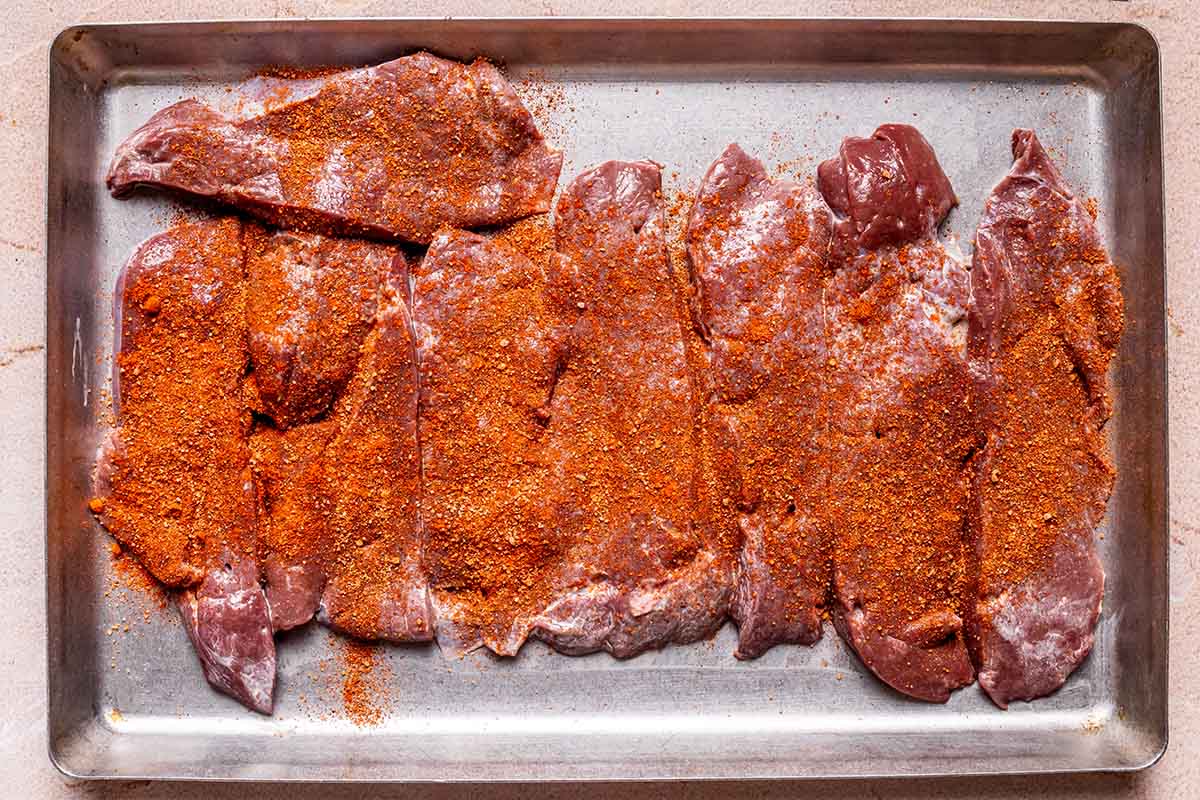 Pan fry the beef liver. Coat the liver in flour, shake off the excess, and pan-fry them in melted butter, 3 minutes per side, until they change color.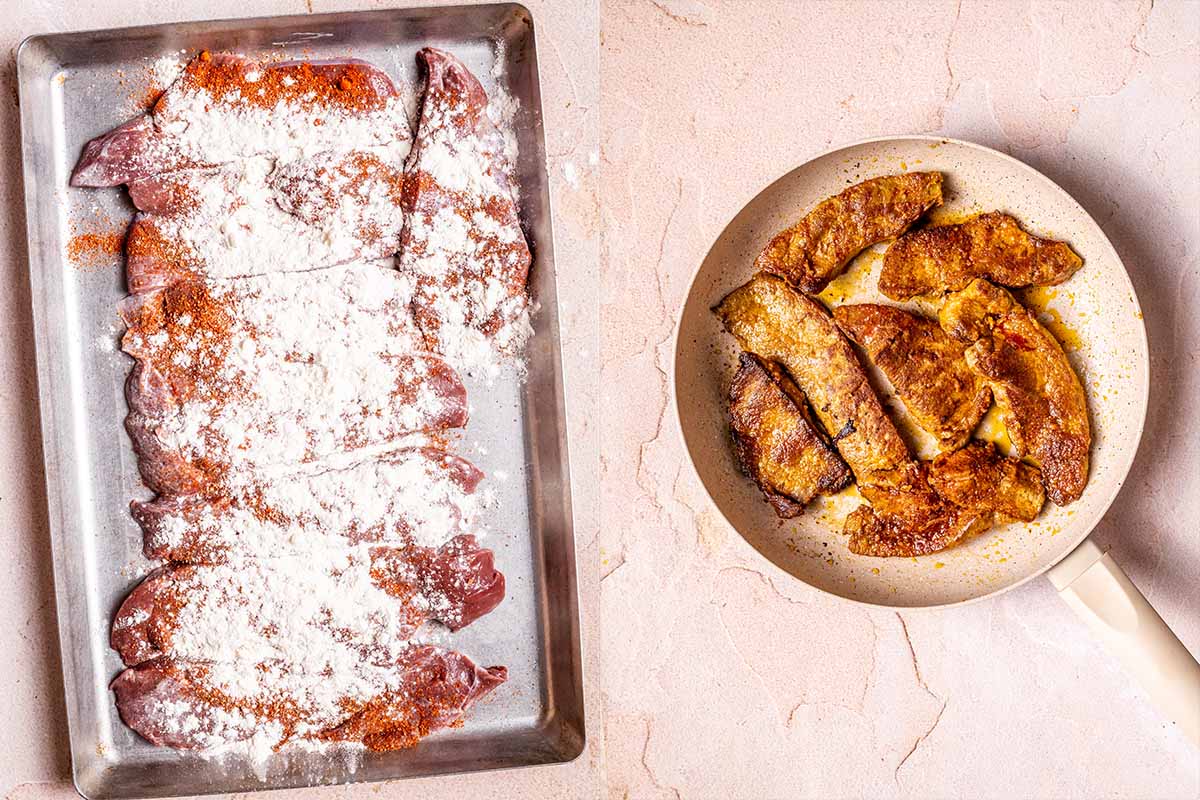 Cook the onions. Remove the cooked liver pieces from the pan, throw sliced onions and minced garlic, and sauté in oil until tender.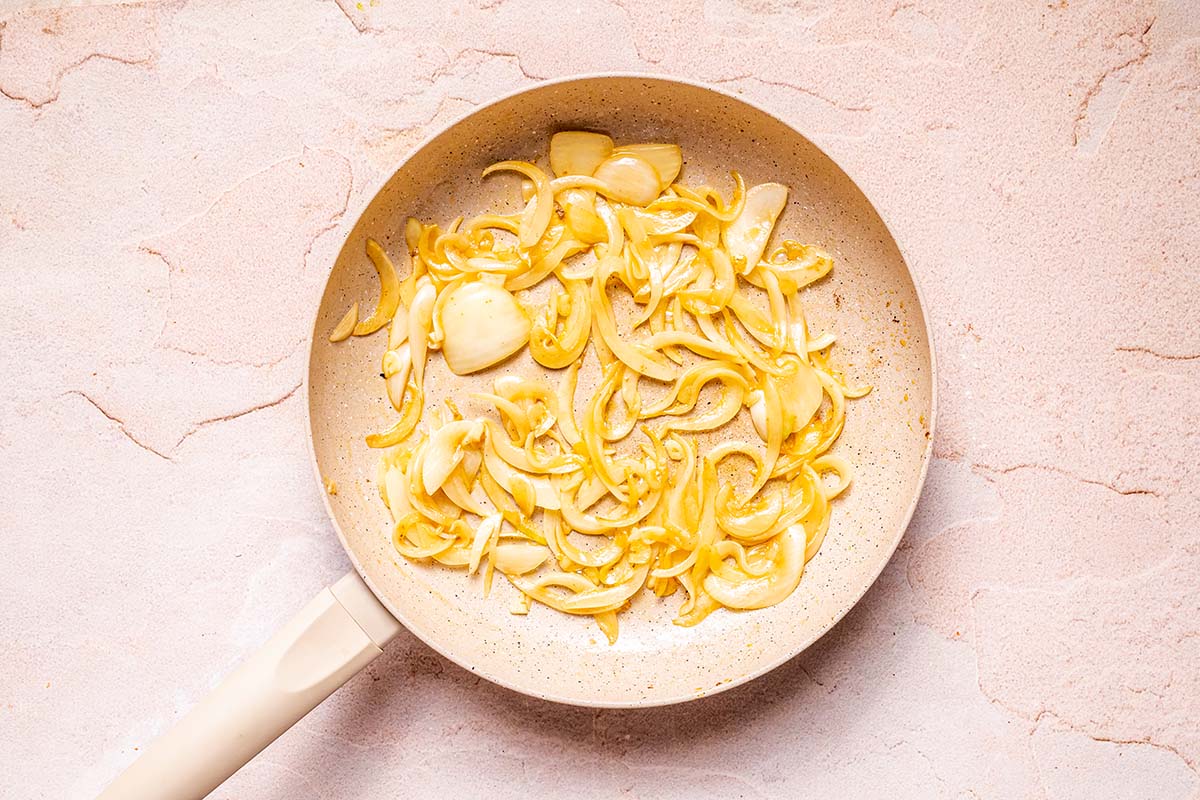 Serve hot. Place the liver back in the pan and cook with the aromatics for a few minutes. Remove from the heat, garnish with freshly chopped parsley, and serve warm!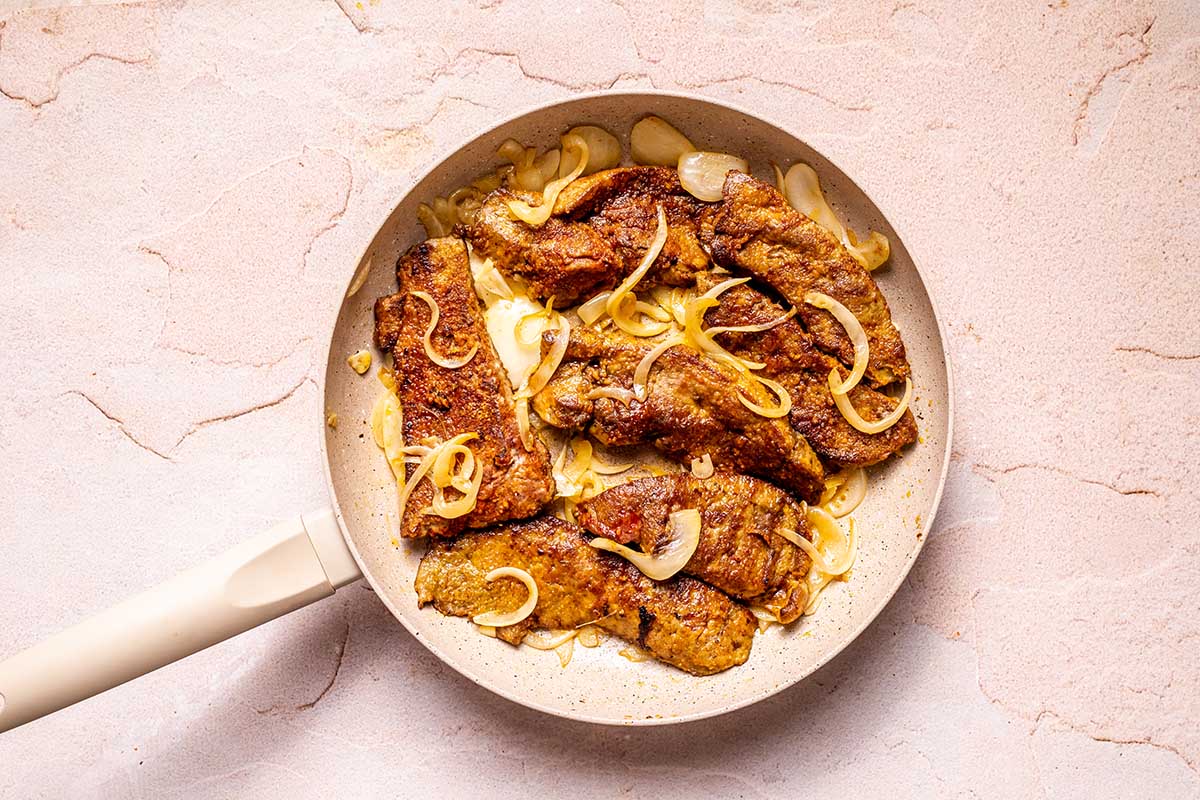 Flavor and recipe variations
Make it gluten-free. Substitute wheat flour with a gluten-free substitute like gram, rice, or cornflour.
Add bacon. Since the liver is a leaner cut of meat, you can add bacon to infuse a rich, savory flavor while cooking it.
Change the flavor profile. Use herbs like thyme and rosemary with garlic, pepper, and olive oil to make it more fragrant. You could also complement beef's strong flavor with Worcestershire sauce, mustard, and balsamico.
Use a different cooking method. While pan searing works the best, you can also grill, broil, or fry the liver for a texture and flavor variation.
What to serve with beef livers?
Finding the right partners for your dishes is as important as cooking them right! Here are a few serving ideas.
Potatoes. Nothing is more satisfying than pairing this hearty dish with potatoes in all forms- mashed, fried, steamed, or sauteed.
Roasted vegetables. Grab a sheet pan and add a bunch of root vegetables (try pumpkin, carrots, and beets!) and bake them as you fry up the liver.
Carbs. When craving starchy food, my go-to accompaniments are some simple steamed rice or couscous or a thick slice of crusty sourdough bread.
Recommended tools to make this recipe
Non-stick pan. Sauté, pan-fry, or shallow-fry like a pro using this versatile pan.
Spatula. I prefer using a spatula to turn the beef livers as they can be fragile, but tongs also work.
Storage instructions
To store. Refrigerate the leftover beef liver in a sealed container and consume it within 2-3 days.
To freeze. Although I don't prefer freezing beef, you can freeze the beef liver in a ziplock bag and use it within 2-3 months.
To reheat. I recommend reheating beef liver in the oven until it's warmed up. Sprinkle broth or brush with water to lock in the moisture. Avoid heating beef livers in the microwave.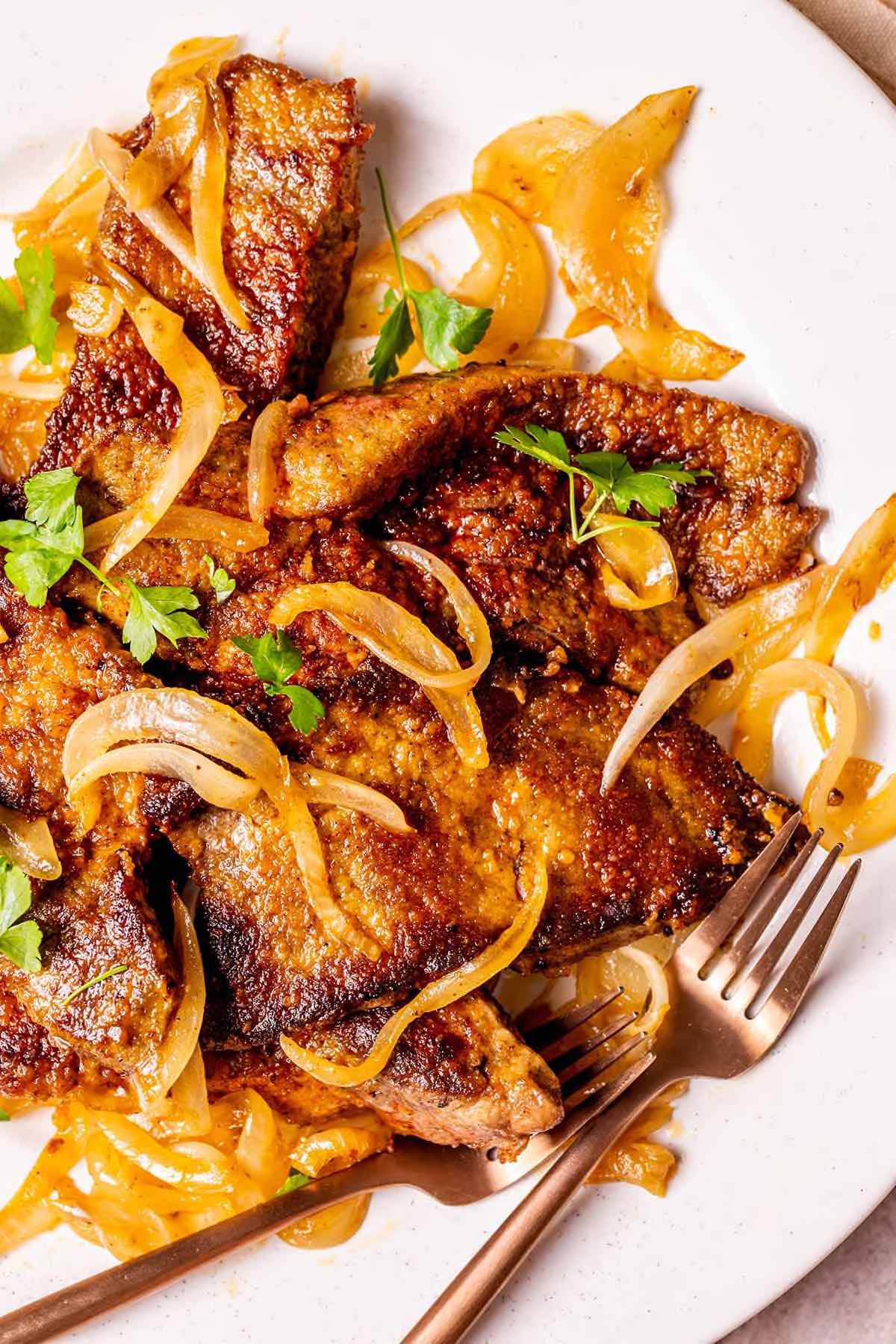 Recipe tips and tricks
Do not overcook the meat. Like any other beef recipe, overcooking will make your beef liver chewy and tough. It cooks quickly, so don't leave it unattended.
Select a fresh beef liver. Look for a deep red, brownish, or purplish-colored liver with a firm texture. Do not buy it if it has a foul odor or appears discolored.
Use calf liver. Ease into the liver diet by starting with calf liver instead of mature cow. The calf's liver is way tender and mild compared to an adult cow.
More beef recipes to try
Frequently asked questions
What else can I make with beef liver?
You can make burgers by mixing ground beef liver with another cut of beef. You can also make beef stroganoff or liver pâté using beef liver.
Can I skip soaking the beef liver in buttermilk?
No, I wouldn't recommend skipping this step. Soaking beef liver in milk or buttermilk draws out the metallic-tasting blood impurities, tenderizes the meat, and neutralizes the acidity and bitterness of the liver.
How do I know if my beef liver is cooked?
You want the beef liver to be medium-rare to medium for a tender and moist preparation. It should be blushing pink when you cut into it. 
You can also stick a meat thermometer in the liver to confirm its doneness. When the internal temperature reaches 145°F, stop the beef from further cooking.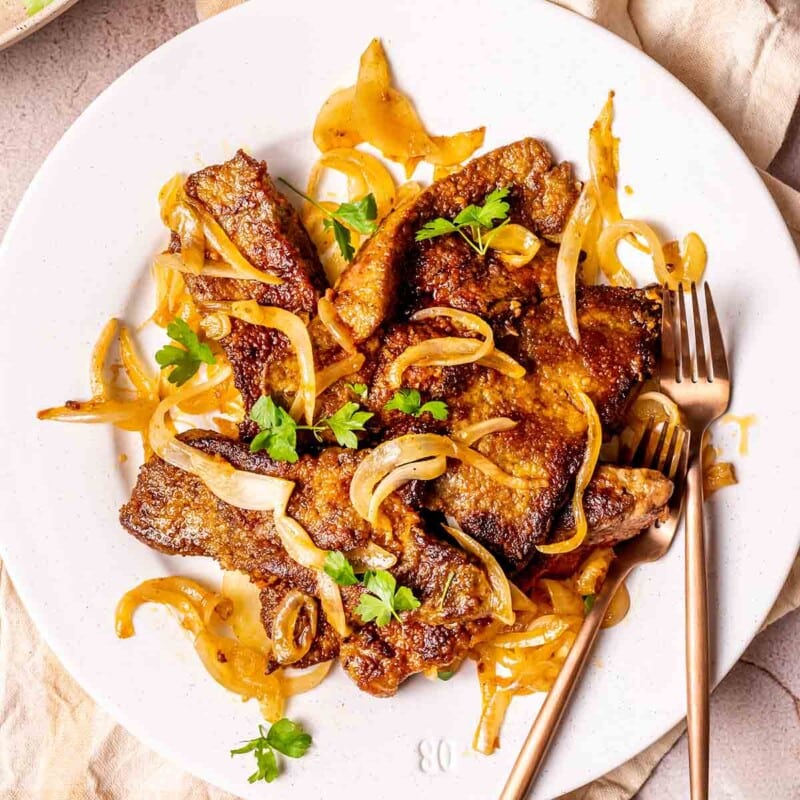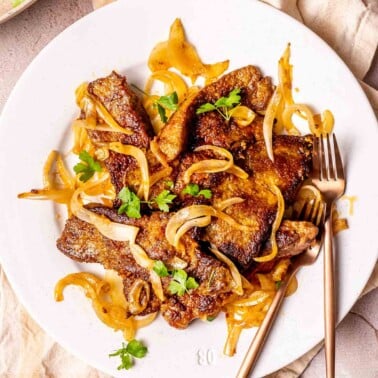 Perfect Beef Liver
This simple recipe features perfectly cooked beef liver with soft, caramelized onions. Pan-seared with butter, the beef liver is soft, tender, and flavorful.
Ingredients
21

ounces

beef liver

3/4

cup

buttermilk

1

tablespoon

olive oil

2

teaspoons

salt

1/2

teaspoon

black pepper

1

onion

sliced into strips

3

cloves

garlic

minced

1/4

cup

all-purpose flour

2

tablespoons

butter
Instructions
Soak the beef liver in the buttermilk and let it rest in the refrigerator for 10 minutes or up to an hour.

Discard the buttermilk and pat dry the beef livers with paper towels.

Season on both sides with salt, pepper, and paprika, and dredge in flour. Shake off any excess.

In a frying pan, melt the butter and cook the livers for 3 minutes on each side until they change color. Remove them from the pan once cooked.

Add oil to the pan, along with the onions. Cook until they become tender with occasional stirring.

Bring back the liver to the pan and cook together for another minute.
Nutrition
Serving:
1
serving
Calories:
328
kcal
Carbohydrates:
12
g
Protein:
32
g
Fat:
16
g
Sodium:
1365
mg
Potassium:
589
mg
Fiber:
1
g
Sugar:
4
g
Vitamin A:
25411
IU
Vitamin C:
5
mg
Calcium:
80
mg
Iron:
7
mg
NET CARBS:
11
g
Disclosure: This post may contain affiliate links. I may earn a small commission for my endorsement, recommendation, testimonial, and/or link to any products or services from this website.