This caramel ribbon crunch frappuccino is a copycat recipe of the popular Starbucks blended beverage! Affordable, delicious, and secretly low carb!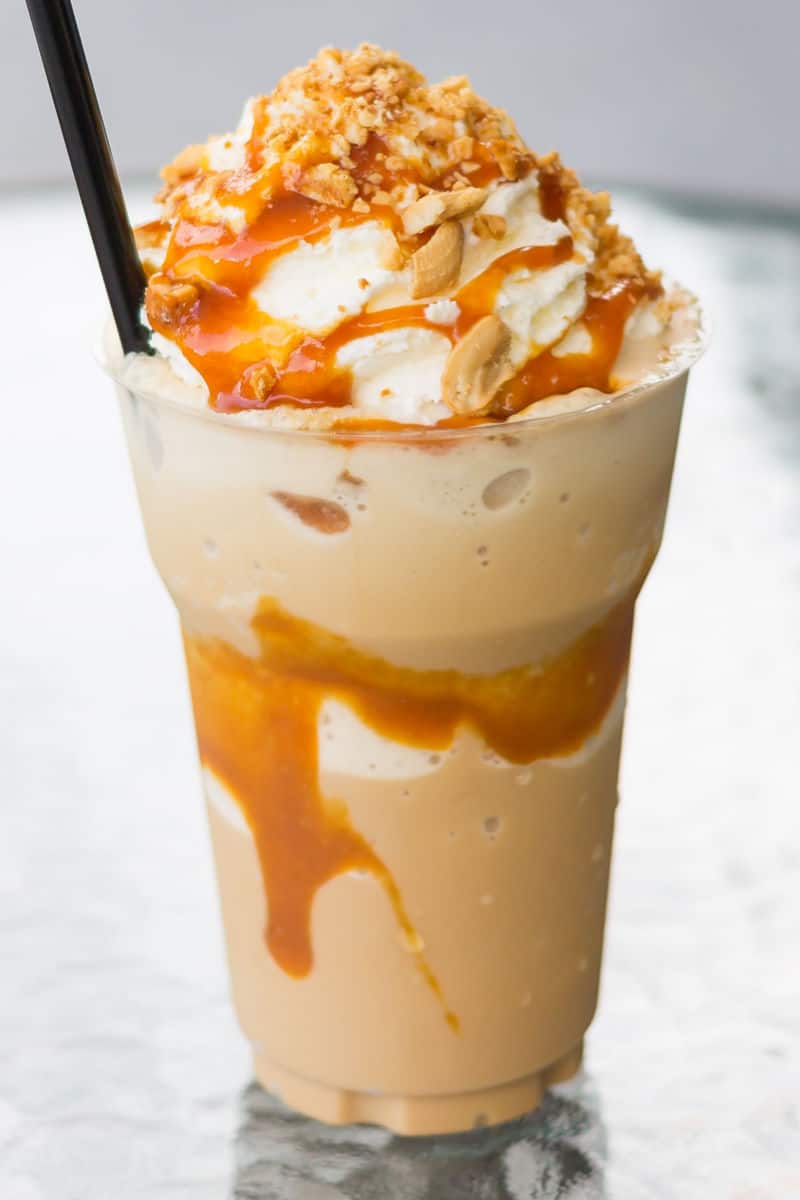 Caramel Ribbon Crunch Frappuccino
I love giving keto makeovers to some of my favorite Starbucks beverages. My favorites include a pink drink, classic frappuccino, and this caramel ribbon crunch frappuccino.
Coffee is something I enjoy on a daily basis, but the blended beverages are ones I enjoy only on special occasions. It's partly due to the ridiculous price tags attached to them (most Starbucks blended beverages start from five dollars for their smallest size!) but mostly due to their high calories and sugar content.
Now, I'm not someone who vilifies calorie-dense foods or sugar, but it's not something I choose to enjoy on a regular basis. Especially since I've started following a keto diet, I've had to navigate this habit and make my own.
What is in the caramel ribbon crunch frappuccino?
Starbuck's caramel ribbon crunch frappuccino is caramel syrup blended with coffee, milk, ice, and then topped with more caramel, whipped cream, and crunchy caramel sugar on top. Now, all these ingredients can be easily made at home and even better- made low carb!
This homemade caramel ribbon crunch frappuccino recipe is a keto version of the original. It looks and tastes exactly like the inspiration, but tastes so much better and is healthier to boot. No refined sugar and no dairy are needed, but you'd never tell. It's perfectly smooth and creamy with bursts of creamy caramel throughout.
Although this isn't something I make on a consistent basis, it's much cheaper and healthier than if I had bought it at Starbucks, and it is SO easy to make!
How to make a caramel ribbon crunch frappuccino
The Ingredients
Ice– What is a frappuccino without ice? The smaller the ice you use, the creamier it will be.
Brewed coffee– Depending on how strong you want your frappuccino to be. I've tried this with an espresso shot and also instant coffee. If you'd like this to be coffee-free, you can omit it completely.
Milk– I used unsweetened almond milk, but any milk of choice can be used.
Sugar of choice– To keep it keto, I used erythritol, but any sweetener will work (white, brown, coconut, etc).
Caramel syrup– I used a homemade sugar free caramel syrup but store bought versions can also be used. Half will be used in the blended coffee and the rest is used to drizzle on top.
Whipped cream– A must for any good frappuccino. I love using keto whipped cream for this.
Candy bits– Optional, but this stays true to a traditional caramel ribbon crunch beverage. Skip the grocery store candy and add some chopped up keto candy.
The Instructions
Start by adding the ice, coffee, milk, sugar (or substitute), and caramel syrup into a high speed blender. Blend until the ice has broken down and is mostly smooth. Pour into a tall glass, add whipped cream, extra caramel syrup, and optional candy bits and enjoy immediately.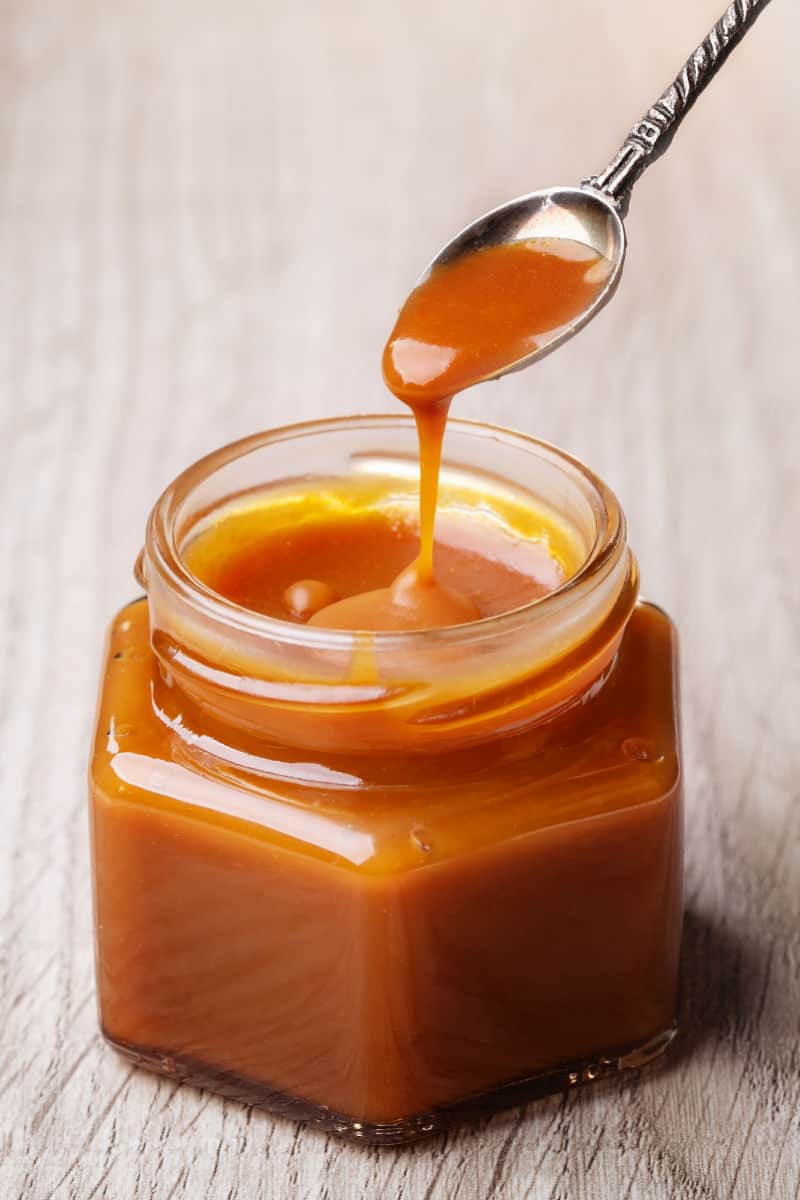 Dietary swaps and flavor variations
Just like you can adapt any beverage to be dietary friendly, you can do the same with this homemade caramel frappuccino!
Make it vegan. Use a plant based milk (like almond, coconut, or soy), use vegan caramel, and add whipped coconut cream on top.
Lower the calories. Use a zero calorie sweetener (like erythritol or Splenda) and use a sugar free caramel coffee syrup (like the one from Starbucks or Torani). Skip the whipped cream or use a fat free whipped topping.
Serve it warm. Perfect if you'd like a caramel latte. Make an oat milk latte and whisk in the caramel syrup.
Skip the crunch. Stay true to the classic caramel frappuccino recipe. Omit the crushed candy bits completely.
Add the salt. Make it a salted caramel frappuccino by adding some flaky salt into the blender AND on top.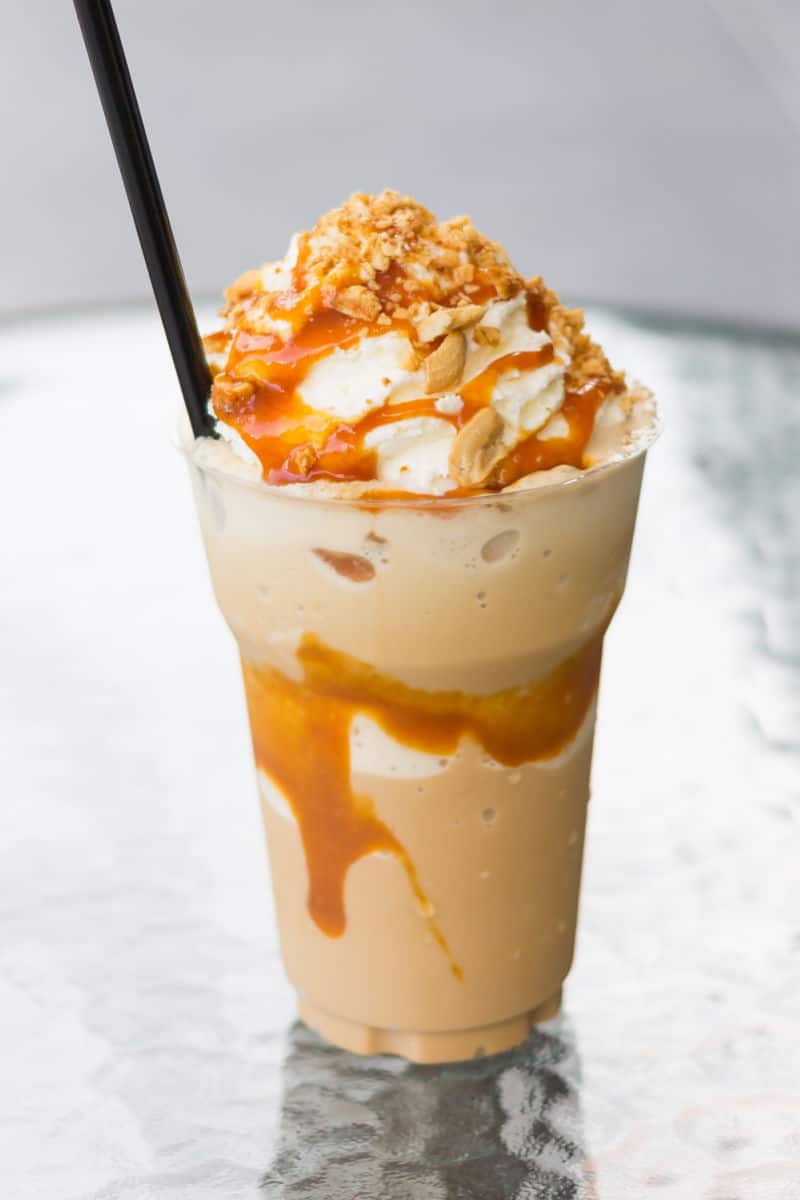 More homemade coffee drink recipes to try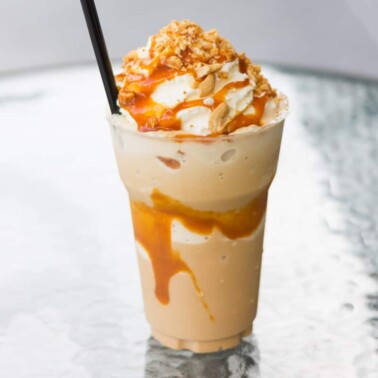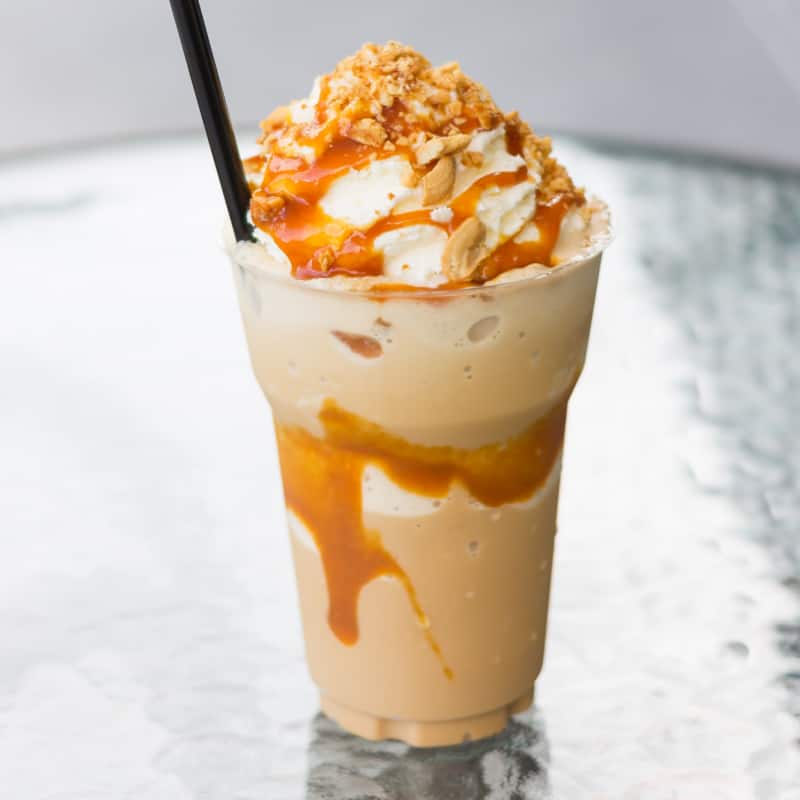 Caramel Ribbon Crunch Frappuccino
This caramel ribbon crunch frappuccino is a copycat recipe of the popular Starbucks blended beverage! Affordable, delicious, and easy to adapt to many diets!
Instructions
In a high speed blender, add the ice, coffee, milk, sweetener, and two tablespoons of caramel sauce. Blend until completely combined.

Transfer into two glasses and top with whipped cream, drizzle with the remaining caramel sauce, and sprinkle the crushed up candy pieces.
Notes
* You can use two 30 ml shots of espresso (or two coffee pods). If you'd like this blended beverage to be caffeine free, use decaffeinated coffee.
Nutrition
Serving:
1
serving
Calories:
75
kcal
Carbohydrates:
5
g
Protein:
2
g
Fat:
4
g
Potassium:
3
mg
Fiber:
3
g
Vitamin A:
3
IU
Vitamin C:
3
mg
Calcium:
3
mg
Iron:
3
mg
NET CARBS:
2
g
Disclosure: This post may contain affiliate links. I may earn a small commission for my endorsement, recommendation, testimonial, and/or link to any products or services from this website.