This oat milk latte is a homemade version of the popular coffee shop beverage! Made with just 2 ingredients, learn how to make it with or without a coffee machine!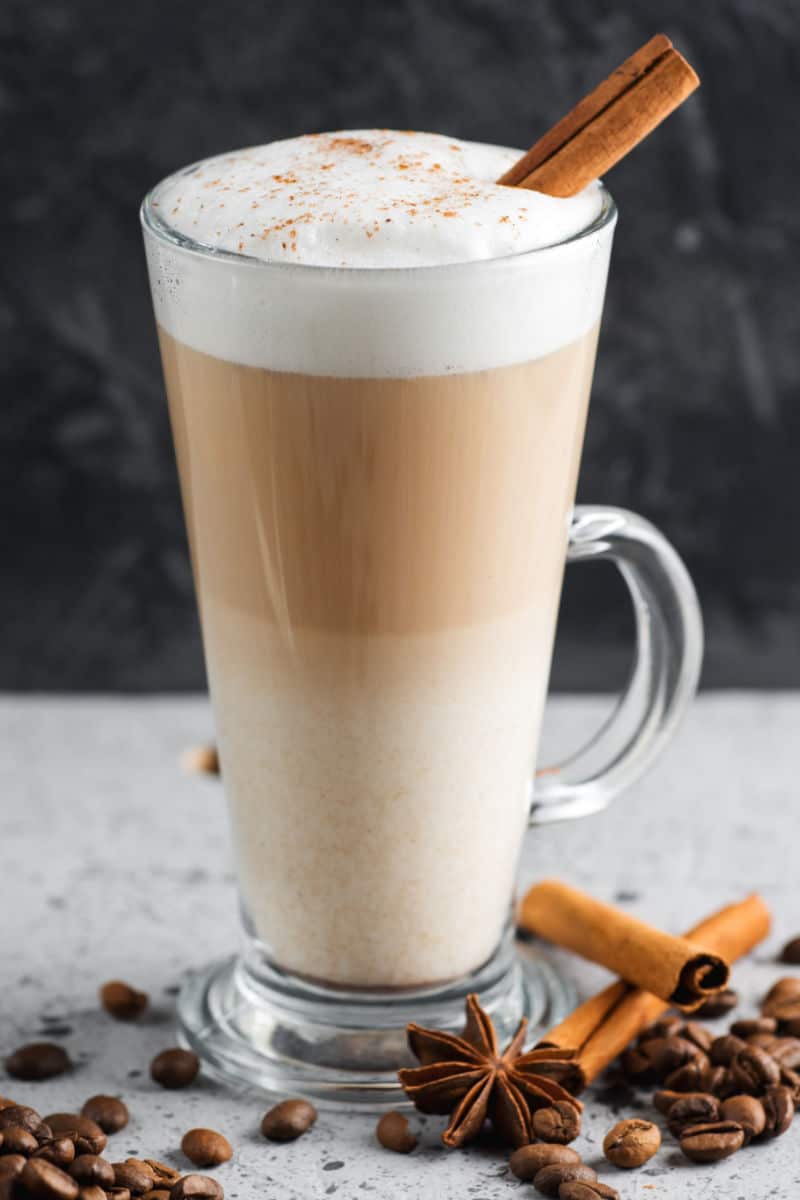 Oat Milk Latte
When it comes to using oat milk, my favorite recipes to make are ice cream, smoothies, and this oat milk latte.
Over the past few months, I've had to cut dairy out of my diet. While I love foods that contain dairy, my body is not a fan and I find myself breaking out. To combat this, I've had to make a fair few changes to my daily food habits.
Initially, I was a little skeptical about swapping out my standard dairy products for non-dairy counterparts. I've often heard that they don't taste as good as they are often more expensive too. As someone who drinks multiple lattes a day, I had to find an alternative. While I can say that I was not a fan of soy milk or lactose free milk, I found a new obsession with oat milk!
Unlike other plant based milks, oat milk has a natural sweetness and creaminess, something I find lacking in most kinds of milk. It tastes great with cereal or even on it's own, but I really love it with my coffee! As such, I've been meaning to share an oat milk latte recipe for quite some time. It's been a savior since I've cut dairy out of my diet, and honestly, I prefer it to normal lattes! It needs just two ingredients and can be made three ways!
No dairy and no sugar are needed, but you'd never tell. The texture is smooth, creamy, and a light froth on top. It's naturally sweet and pleasantly bitter, without being overpowering.
I love inviting my friends over for coffee and making them homemade oat milk lattes- They love how easy it is AND it saves them over $5 a pop each time. In fact, they said it was better than Starbucks and Dunkins!
Ingredients to make an oat milk latte
Espresso OR brewed coffee– I prefer using espresso, as you can adapt it as to how many servings you will make. However, freshly brewed coffee can also be used. You will need to adjust the strength based on personal preference.
Oat milk– Barista blend/edition of oat milk. This gives the lattes an even creamier texture, and easy crema on top (the dark froth on top). If you can't find any barista blends, standard oat milk will be fine.
Sweetener of choice– Optional, but only add it if you prefer a sweet latte.
How do you make an oat milk coffee?
There are three ways to make this latte. While I prefer using the coffee machine, I understand not everyone has one. You can also use the stovetop or even the microwave!
Coffee machine
Start by brewing two shots of espressos in two coffee mugs or glasses. Next, pour your milk into the metallic milk jug and steam the milk until it reaches 55C/130F. Lightly invert the jug at a slight angle to create a thin form.
Now, use a spoon to hold back the foam and pour the warm milk over the espresso shots. Spoon out the froth on top.
Stovetop
Pour your milk into a small saucepan and place over medium heat. Once it begins to simmer, remove it from the heat and whisk vigorously, to create a form.
Microwave
Place your oat milk into a sealable glass jar. Shake it vigorously, until the milk becomes frothy and it doubles in size. Remove the lid and microwave for a minute, or until a froth appears on top.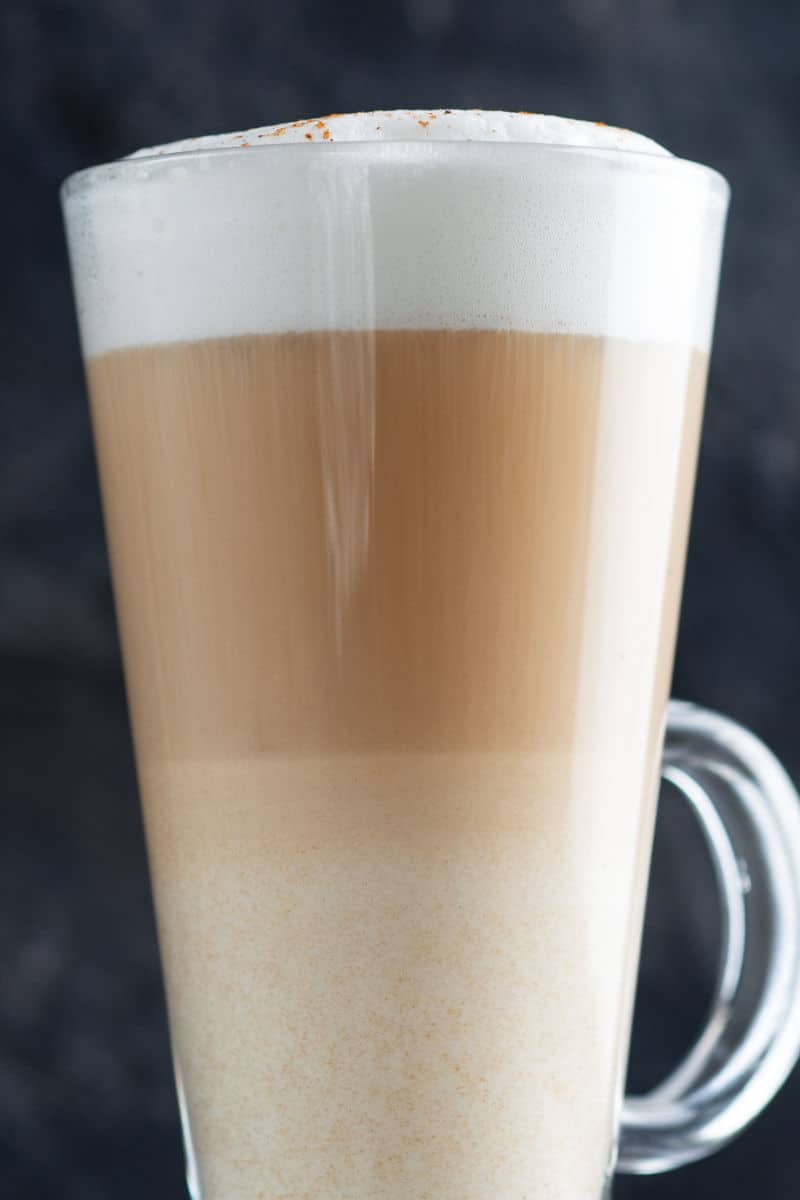 What is the difference between standard oat milk and barista oat milk?
Standard oat milk and barista oat milk are both a little bit different. The former is perfect to use as you would with traditional milk (cereal, baking, oatmeal, etc). The barista blend can also be used for all of that but has also been formulated to be able to steam and heat better, and perfect for coffee-based beverages.
Can I make this an iced oat milk latte?
To make an iced oat milk latte, simply pour the espresso over ice, and omit warming up the milk. Instead, pour cold oat milk over the top and enjoy.
Alternatively, you can make a double or triple serving and refrigerate it all in a jug and keep it for when the coffee craving strikes!
Tips to make the best oat milk coffee
If you use instant or freshly brewed coffee, be sure it is very strong. 1/2 cup (125 ml) of freshly brewed coffee is enough for 2 oat milk lattes.
If you can't tolerate caffeine, caffeine free espresso and coffee can be used.
Use a thermometer to gauge the temperature of the milk when steaming it. The perfect temperature is 55C/130F, however, if you prefer an extra hot latte, you can allow it to reach 62C/144F.
Not all oat milk is created equal. Some can be quite flavorless and watery, and lose their natural sweetness once heated up. If your oat milk is sweet and creamy BEFORE in its room temperature/chilled state, it should maintain all the flavor and creaminess once heated.
Oat milk coffee variations
Not a fan of lattes? Oat milk works in every single coffee beverage out there. Here are some ideas to try-
Cappucino– Equal parts steamed milk and froth.
Flat white– Omit the froth and increase the steamed milk.
Macchiato– Omit the steamed oat milk and instead, double the amount of foam on top.
Cafe au lait– Just a few tablespoons of the steamed oat milk.
Mocha– Use chocolate flavored oat milk and make the latte as instructed.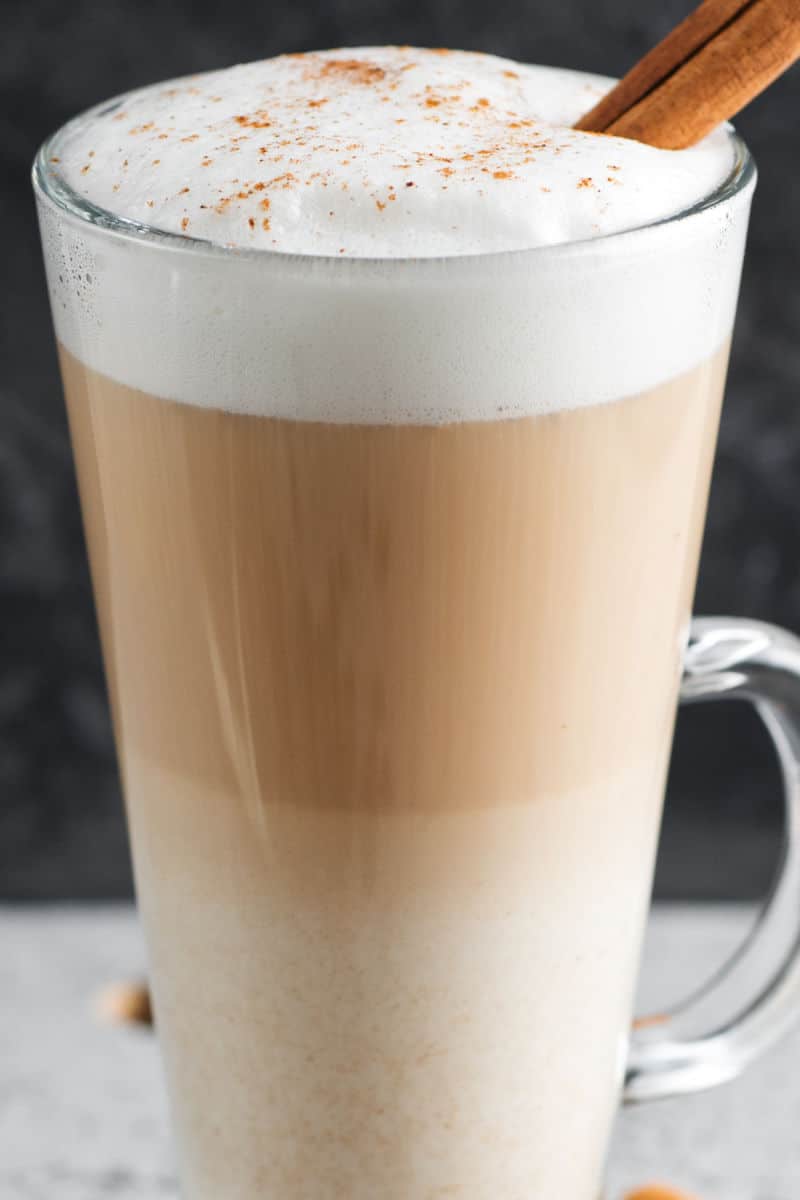 More coffee recipes to try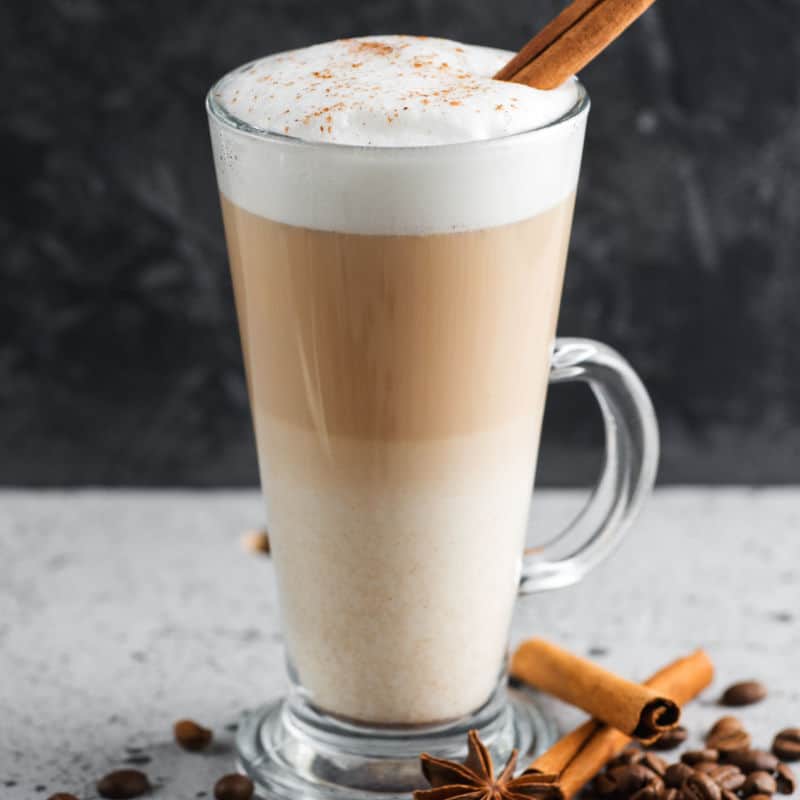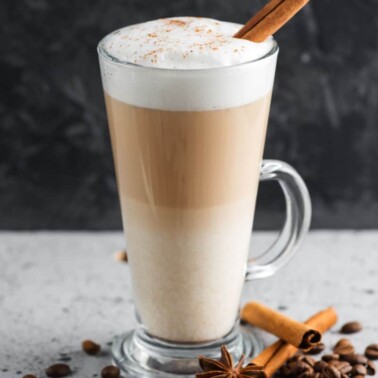 Oat Milk Latte
This oat milk latte is a homemade version of the popular coffee shop beverage! Made with just 2 ingredients, it can be made with or without a coffee machine!
Ingredients
2

shots

espresso

or 1/2 cup strongly brewed coffee * See notes

1 1/2

cups

oat milk
Instructions
Pour two shots of espresso into two glasses or mugs and set them aside.

Add your oat milk to a metallic milk steamer or jug. Steam your milk using the milk steamer attachment of the coffee machine. When the temperature reaches 55C/130F, tilt it slightly to on the side and create a gentle froth. Remove it from the steamer.

Using a spoon, hold back the foam portion and pour the warm milk into the two glasses. Spoon the froth on top of them both and enjoy.
To make it stovetop
Pour your milk into a small saucepan and place it over medium heat. Once it begins to simmer, whisk it vigorously for several minutes, until it begins to foam. Remove the milk from the heat and pour the warm milk into the glasses and scoop out the foam on top.
To make it in the microwave
Add your oat milk to a sealable glass jar and vigorously shake it until it becomes frothy and doubles in size. Microwave it for 1-2 minutes, or until the milk is warm and froth appears. Pour the warm milk into the coffee glasses and spoon out the froth on top.
Notes
* 1-2 tablespoons of instant coffee mixed with 1/2 cup boiling water.
For an iced oat milk latte- Pour the espresso shots over ice and add cold oat milk. Let it sit for several minutes to chill.
Nutrition
Serving:
1
serving
Calories:
49
kcal
Carbohydrates:
9
g
Protein:
1
g
Fat:
1
g
Sodium:
45
mg
Potassium:
62
mg
Fiber:
1
g
Vitamin A:
185
IU
Vitamin C:
1
mg
Calcium:
130
mg
Iron:
1
mg
NET CARBS:
8
g
Disclosure: This post may contain affiliate links. I may earn a small commission for my endorsement, recommendation, testimonial, and/or link to any products or services from this website.