This quick and easy grilled swordfish recipe is ready to eat in less than 30 minutes! Featuring a foolproof marinade and a short grilling time, swordfish steaks are the ultimate meal for summer entertaining.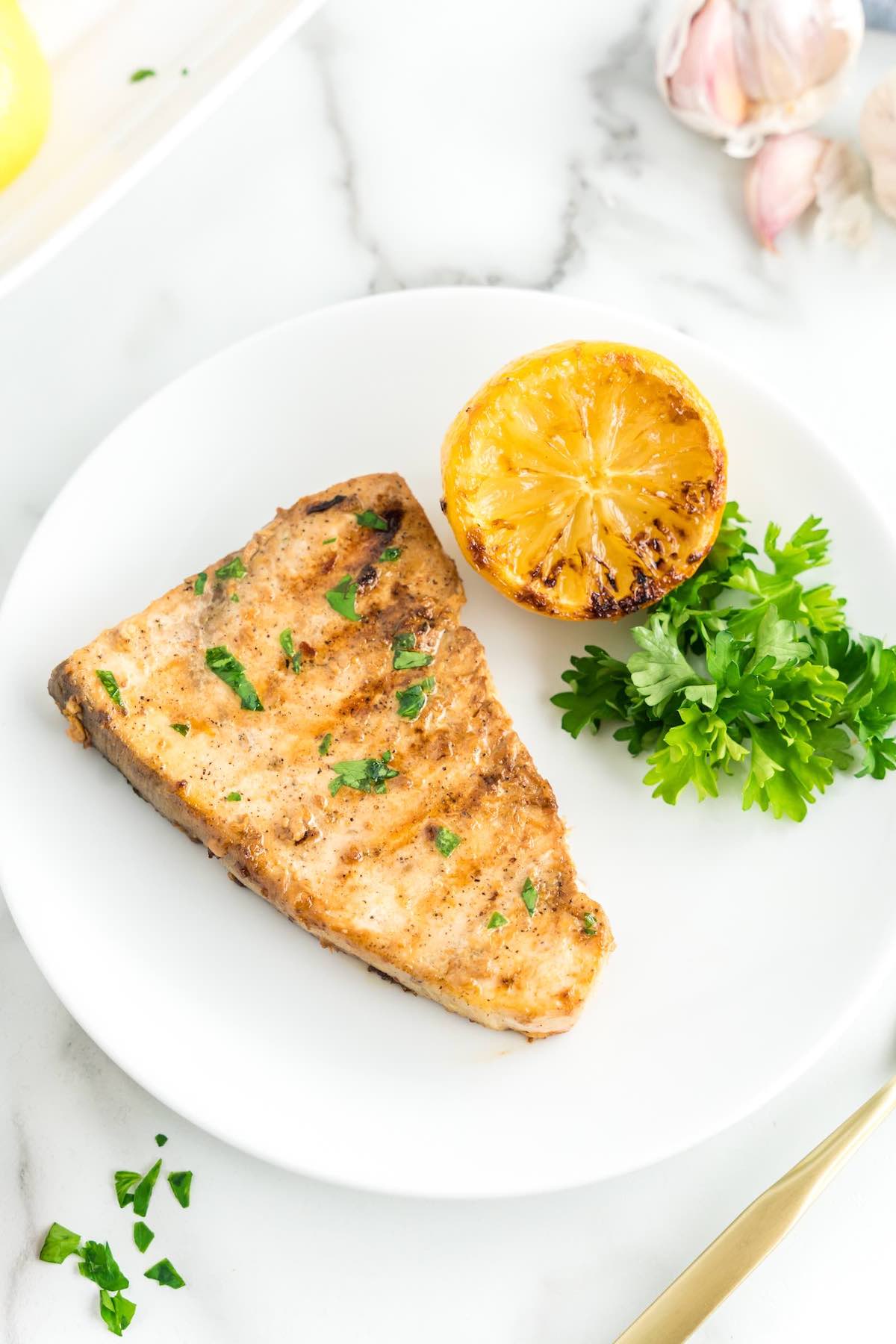 Gear up for grilling season with this foolproof grilled swordfish recipe. While swordfish is already naturally mild and light-tasting, marinating it in a vibrant, umami-forward marinade helps every bite shine. The best part is you can have grilled swordfish steaks on the table in less than 30 minutes!
Table of Contents
What is swordfish?
Like ahi tuna, swordfish is sold in thick, steak-like cuts that absorb flavor without needing much time to marinate. This helps it hold up exceptionally well on the grill, unlike more fragile pieces of fish, like Chilean sea bass or haddock.
As for taste and texture, swordfish is considered a meaty fish with a mild, sweet taste similar to salmon.
Why you'll love this swordfish recipe
Swordfish is a fantastic seafood to enjoy for dinner, but the real star of this recipe is the marinade. It comes together quickly using pantry-staple ingredients but showcases a nice blend of umami, savory, and bright flavors.
Quick and easy. Like grilled haddock, the firm swordfish steaks marinate quickly and cook easily on the grill without falling apart. They're ready to eat after 20 minutes of marinating and less than 10 minutes on the grill.
Star-quality marinade. The swordfish steaks are infused with a simple mix of olive oil, fresh lemon, garlic, and soy sauce. The result is a savory, tangy, and pleasantly salty piece of fish!
It's good for you! Swordfish contains essential vitamins and minerals like niacin, B12, zinc, and omega-3 fatty acids. Best of all, it's naturally low in fat and calories but rich in protein.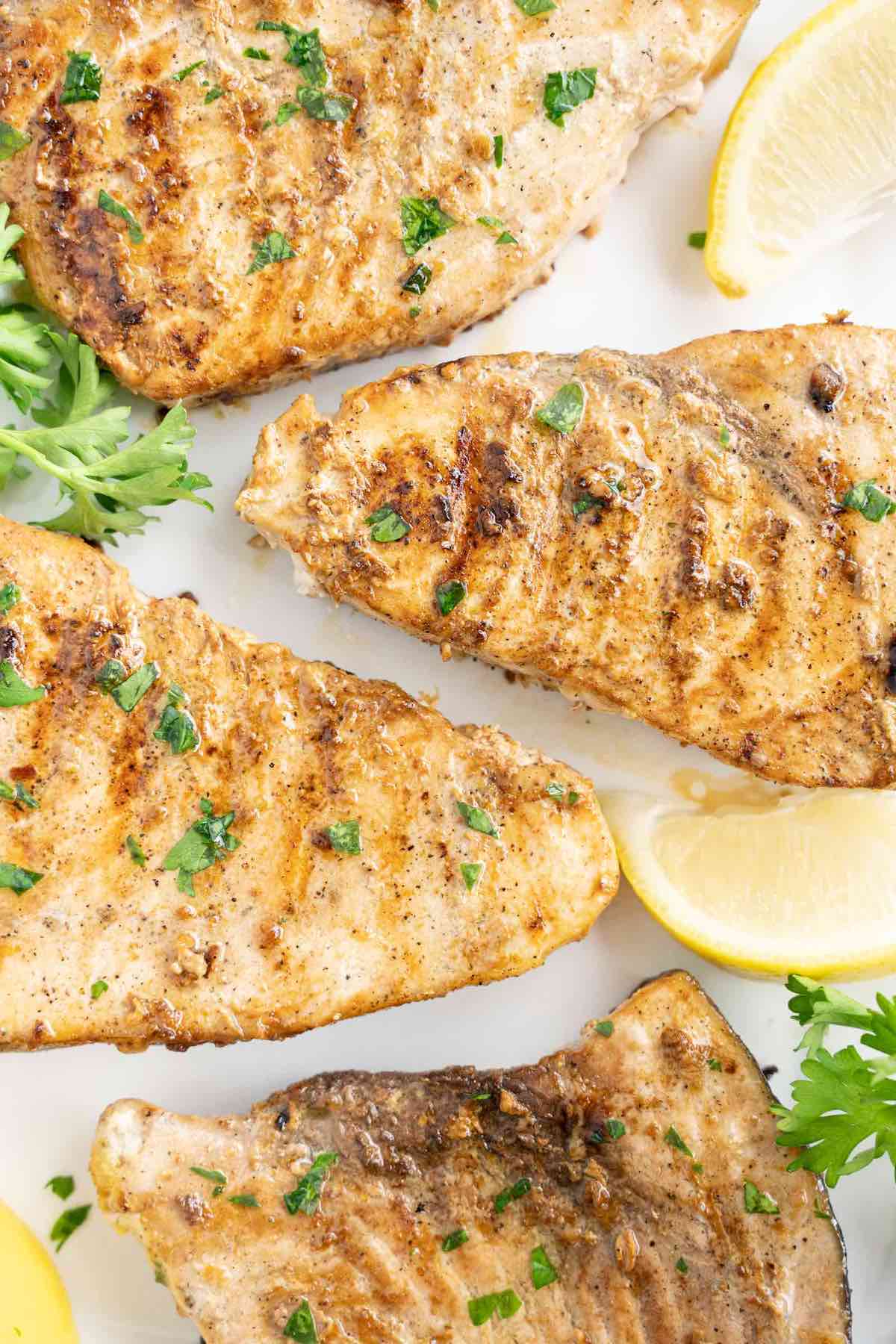 There isn't much that goes into making this dish besides the fish and marinade. Here is what you'll need:
Swordfish steaks. You should be able to source swordfish steaks through your local fishmonger.
Lemon. You need the juice and the zest.
Olive oil. This is the base of the marinade. For the best-tasting grilled fish, use good-quality olive oil or avocado oil as an alternative.
Soy sauce. For the umami flavor in the marinade. Use gluten free tamari or coconut aminos if you're gluten free.
Garlic. Fresh garlic cloves are non-negotiable in the seafood marinade.
Salt and pepper. To flavor the marinade and season the cooked fish.
Butter. Don't skip the butter! It prevents the fish from sticking to the grill grates and infuses the steaks with even more succulence.
Garnishes. To finish, the swordfish is dressed in butter, freshly cracked pepper, and parsley. Lemon wedges on the side really make the presentation pop.
How to cook swordfish steaks on the grill
From the time you put the marinade together to when you're plating the fish, this entire recipe comes together in about 30 minutes. Here's how it's done:
Step 1 – Make the marinade
Whisk the lemon juice, lemon zest, olive oil, soy sauce, and garlic in a small bowl, then pour it into a large ziplock bag.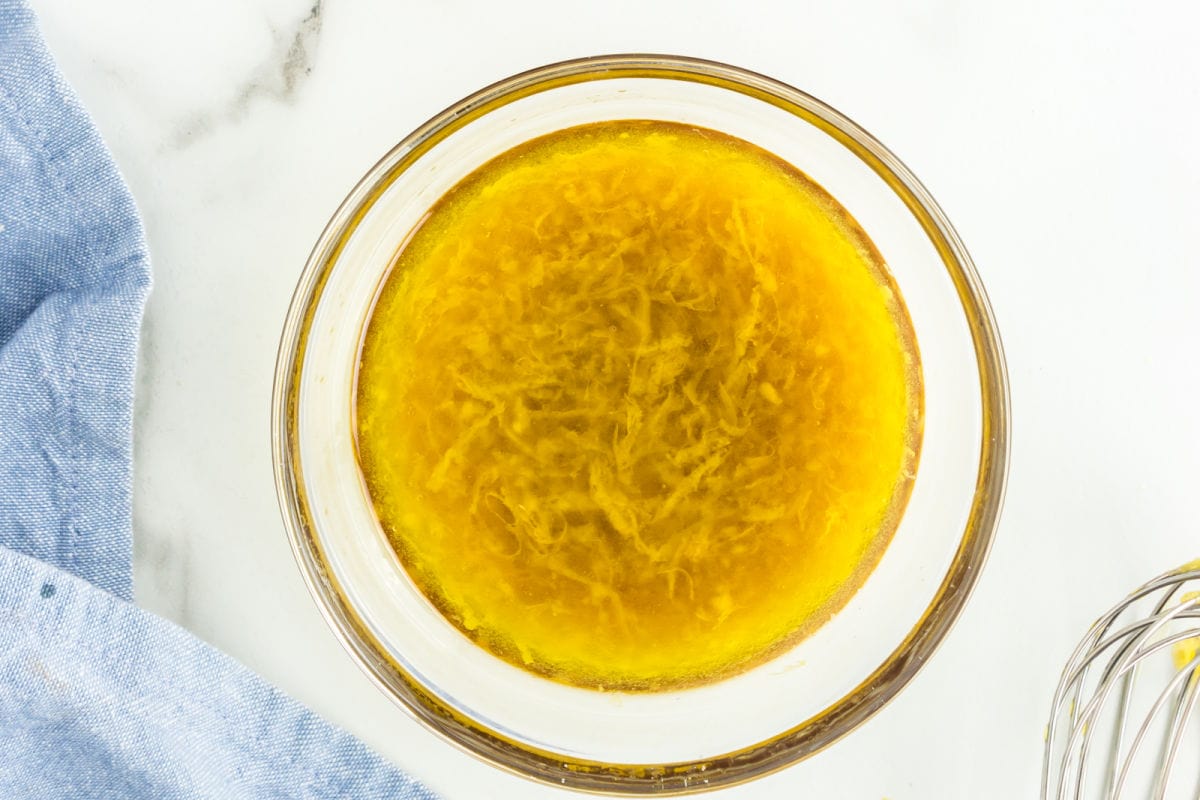 Step 2 – Marinate the swordfish
Pat the fish dry with a paper towel and season both sides with salt and pepper. Place it into the bag with the marinade, then set aside so the flavors can soak into the fish.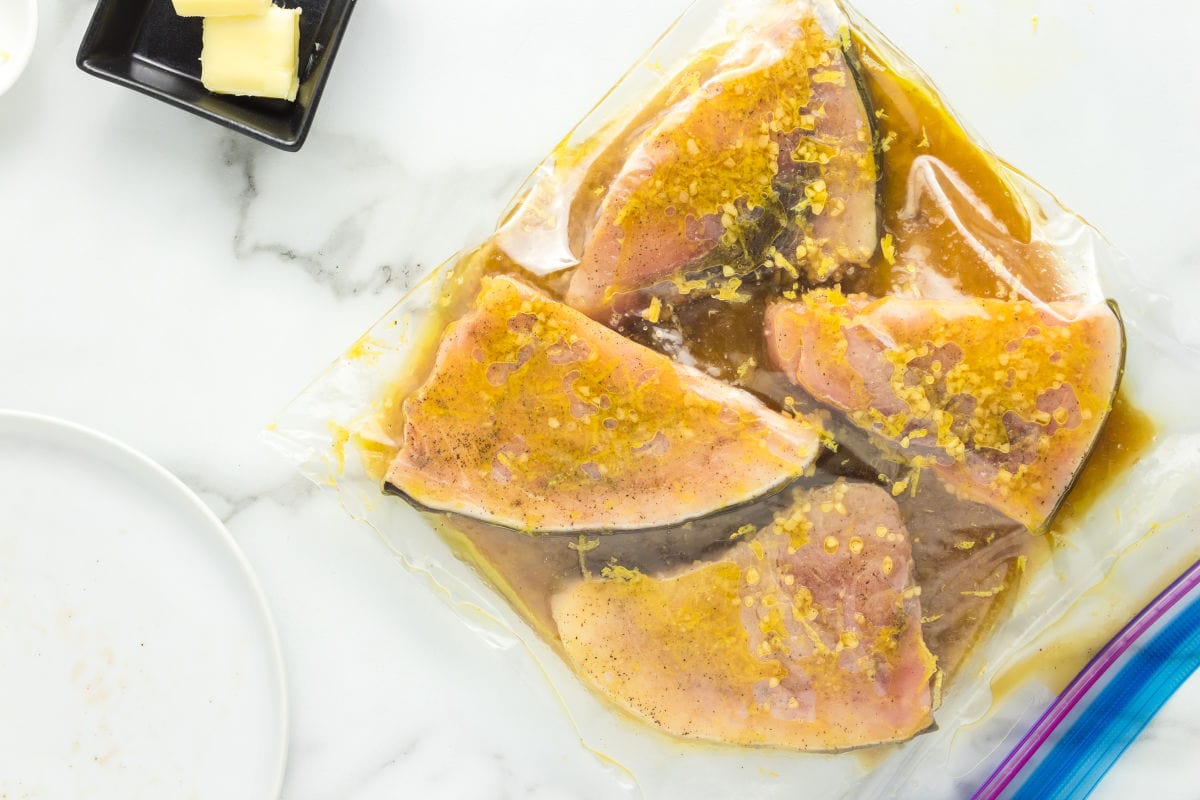 Step 3 – Grill the swordfish
Brush the preheated grill grates with butter, then add the swordfish steaks. Grill until cooked through.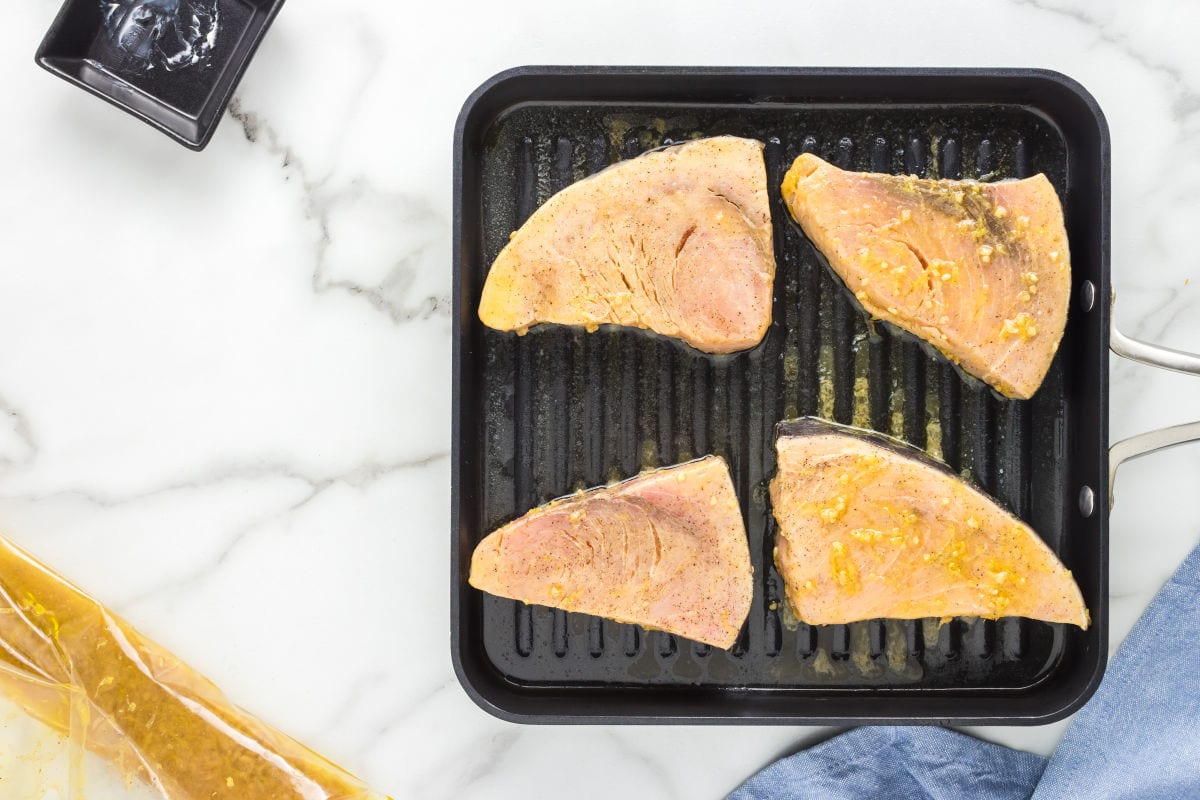 Step 4 – Season and serve
Take the fish off the grill and brush it with melted butter. Season the top with freshly cracked black pepper and fresh parsley, then serve.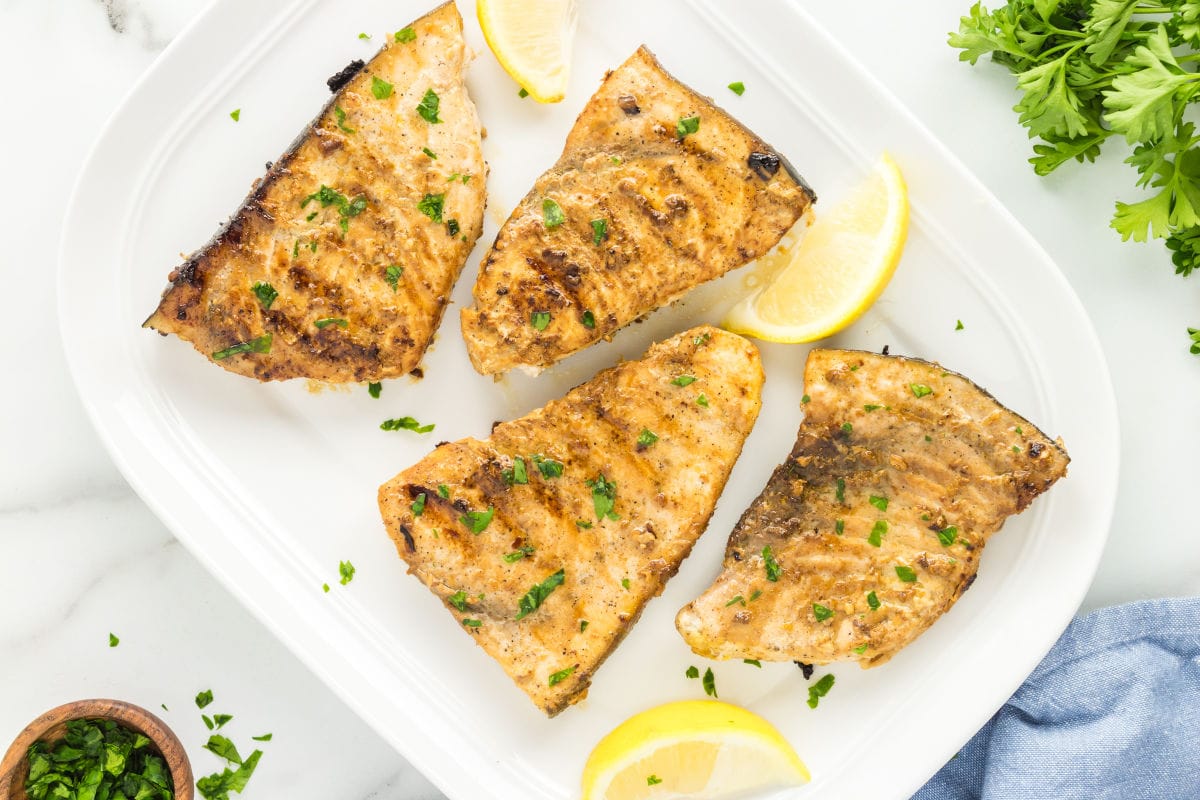 Pan fry instructions
No grill at home? You can easily pan fry the marinated swordfish instead! Heat the butter in a skillet over medium heat, then add the swordfish steaks and sear for 3 to 4 minutes per side.
Flavor variations
I encourage you to experiment with the swordfish marinade to strike your perfect flavor balance. There's plenty of room for customizations and new variations, such as:
Add fresh herbs. Freshly chopped herbs like dill, cilantro, and tarragon give the marinade a vibrant pop of fresh flavor.
Use condiments in the marinade. Like sesame oil, ginger, scallions, or sriracha.
Swap the marinade. And use my teriyaki sauce instead! Don't forget to baste more on top of the fish as it's grilling.
You don't need to grill the fish on a layer of foil as long as your grill is hot and the grates are clean and well-oiled. If you want to grill the steaks in foil packets, you can, but don't forget to poke holes in the top to let the steam escape.
You'll know the swordfish is done when the flesh feels firm to the touch and has become opaque on the outside and is no longer pink in the middle.
The best way to tell when the fish is done is with a meat thermometer. Swordfish is safe to eat once it reaches an internal temperature of 145ºF.
What to serve with this dish
Grilled swordfish is complemented best with fresh and flavorful vegetable sides, like green salads, asparagus, broccolini, and grilled sweet potatoes.
Another great idea is to make swordfish steak kebabs. First, marinate large cubes of swordfish, then add them to a skewer with fresh veggies, like squash, zucchini, mushrooms, and bell pepper. Grill over medium heat, turning the skewers every 2 minutes until cooked.
Storage instructions
To store. Store the leftover cooked and cooled fish in an airtight container in the fridge for up to 3 days.
To freeze. Keep it in an airtight container and freeze it for up to 2 months. Thaw in the refrigerator before reheating.
To reheat. Cover and reheat the swordfish in the microwave to prevent it from drying out.
Leftover ideas
Like most grilled protein, leftover swordfish is a fantastic addition to tons of recipes! Add it over a green salad for a low carb lunch, stuff it into a quesadilla, or replace the beef in chopped cheese with it.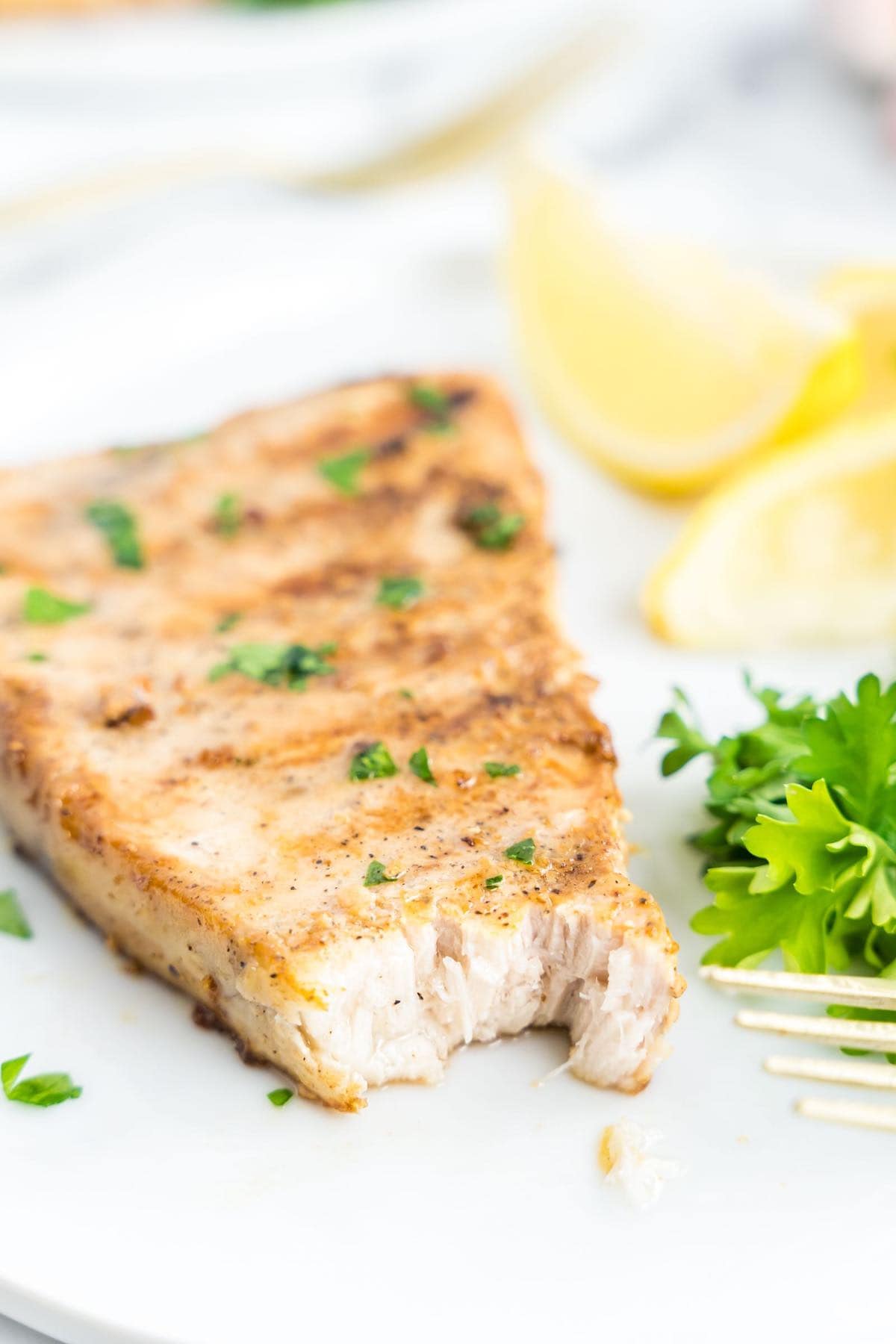 How long do you marinate swordfish?
Fish and seafood do not hold up as well as chicken and beef in a marinade. For this reason, it's best to only soak the swordfish steaks for 20 minutes or a maximum of 1 hour.
How long do swordfish steaks take to grill?
The exact length of time will depend on the size of the steaks. 1-inch thick steaks, for instance, shouldn't need more than about 4 minutes per side.
Can you use frozen swordfish?
Yes, but it will need to be thawed in the fridge the night before you plan to cook it on the grill.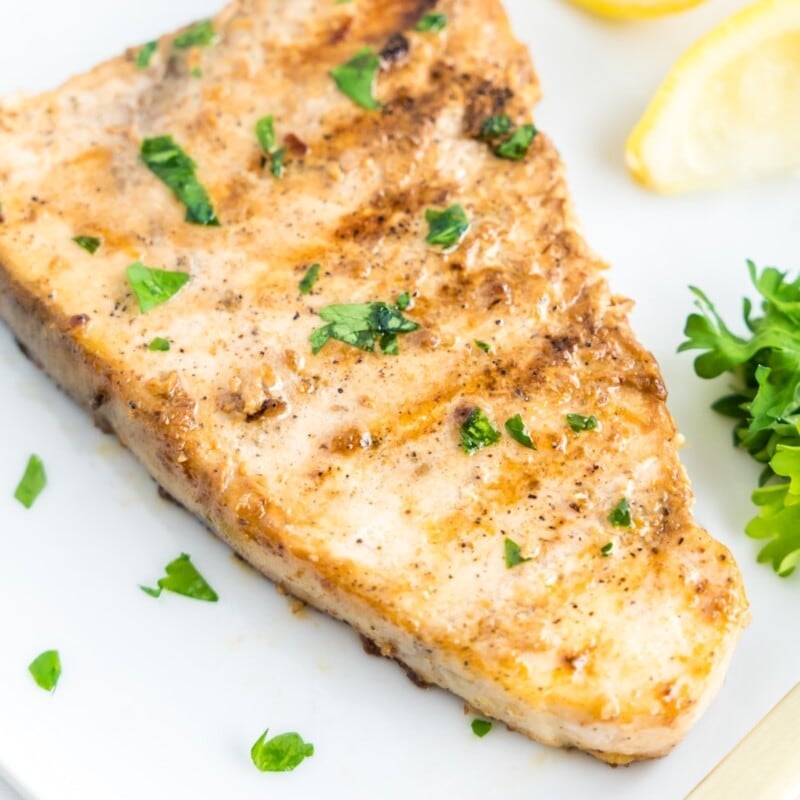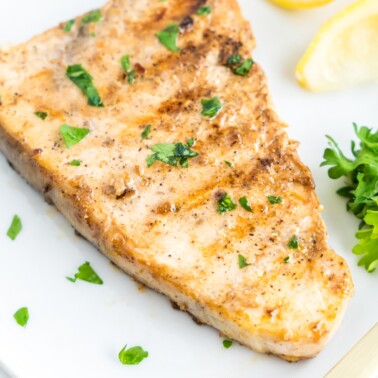 Grilled Swordfish
This grilled swordfish recipe is seasoned simply to enhance its natural flavor. It's Perfect for a quick, easy, and healthy weeknight dinner.
Ingredients
Instructions
Whisk together the lemon juice, lemon zest, olive oil, soy sauce, and garlic.

Pat dry the fish then season both sides with salt and pepper. Add the marinade to a ziplock bag and add the swordfish steaks in it. Marinate the fish for 20 minutes.

Heat a non-stick skillet over medium heat. Add the butter and once melted, add the swordfish steaks and cook for 3-4 per side, until fully cooked.

Remove from the heat and brush with melted butter and serve immediately.
Nutrition
Serving:
1
swordfish steak
Calories:
229
kcal
Carbohydrates:
4
g
Protein:
324
g
Fat:
18
g
Sodium:
726
mg
Potassium:
772
mg
Fiber:
1
g
Vitamin A:
387
IU
Vitamin C:
17
mg
Calcium:
25
mg
Iron:
1
mg
NET CARBS:
3
g
Disclosure: This post may contain affiliate links. I may earn a small commission for my endorsement, recommendation, testimonial, and/or link to any products or services from this website.