The infamous and popular Canadian fast food specialty gets a healthy makeover- Breakfast style! It's a filling, delicious and easy recipe which is also made vegan, gluten free, dairy free and oil free!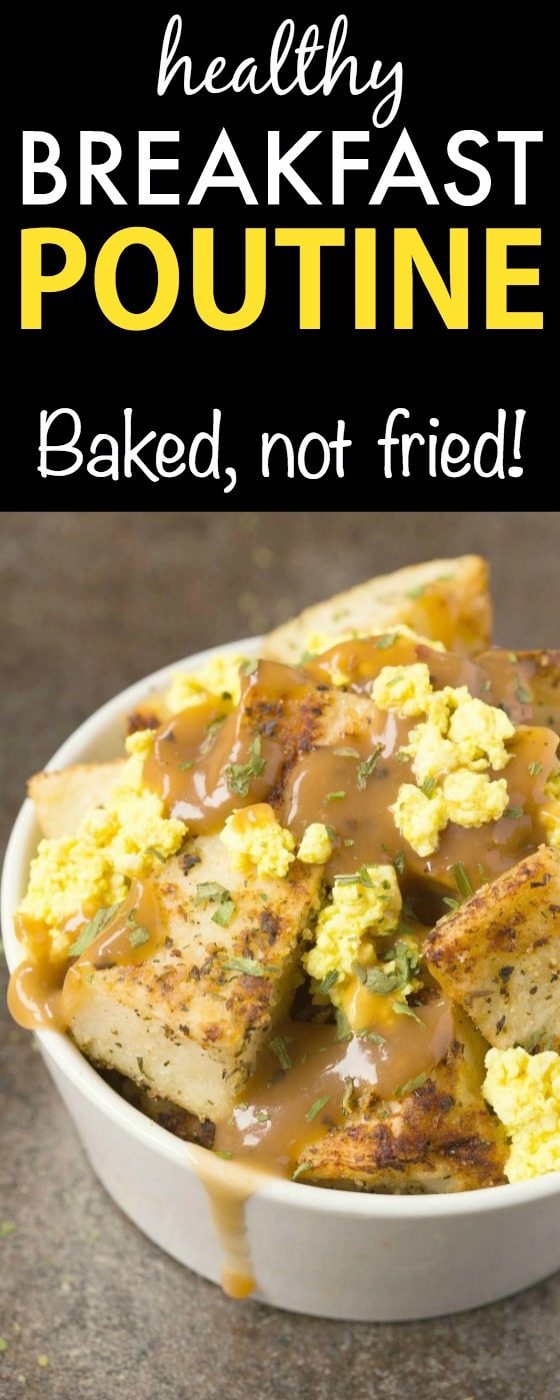 Wait.
Savory AGAIN?
Hear me out.
Over the last couple of months, sweet foods have taken precedence over the savory. Much of this has stemmed with my new daily routine, involving recipe development and experimentation not too long after waking. With the cookbook draft due date looming, I've been trying to be strict with my days. Saying that, breakfasts have started to become failed and/or visually unfortunate results from said recipes.
All sweet.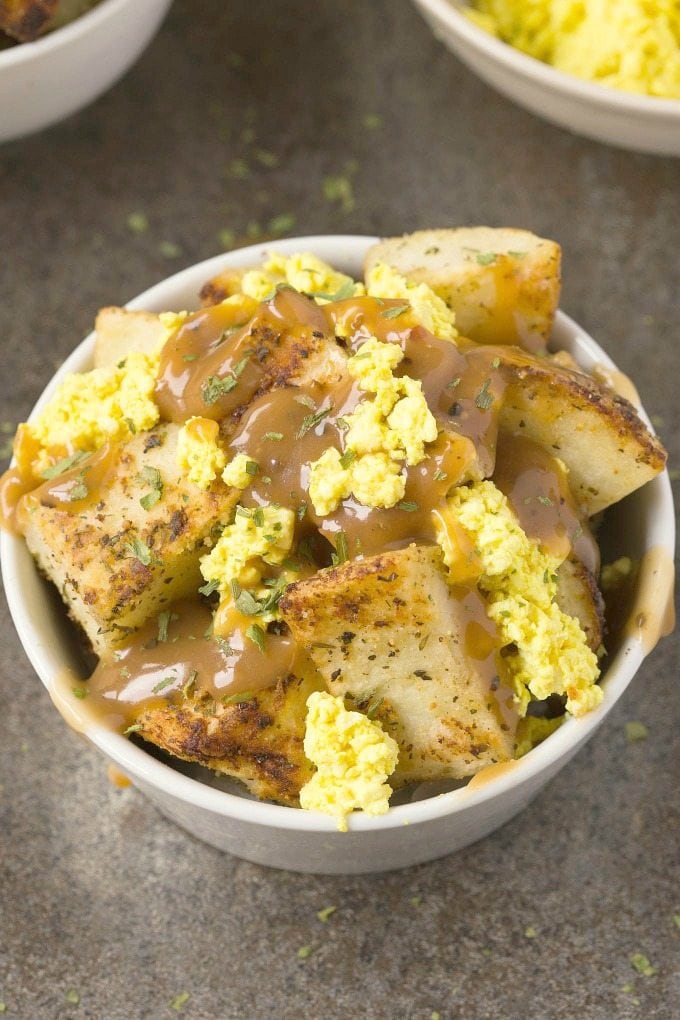 To combat this, I've challenged myself to stick to savory breakfasts for the coming few weeks. I'll also be sharing them on here so I hope I can rope more of you into some savory goodness for your first meal of the day- I feel like NO ONE enjoys savory breakfasts….C'mon, there's so much goodness out there! (Actually, when Kelly isn't on her random cereal phase, she has it on point).
So how has is it been so far? Pretty good, actually! For those of you who follow along on Snapchat (-> thebigmansworld) saw the brunch goodness consumed (toast + hummus + smashed avocado + egg) and since then, I've been on a roll.
But first, it's Wednesday! Let's see what made my plate!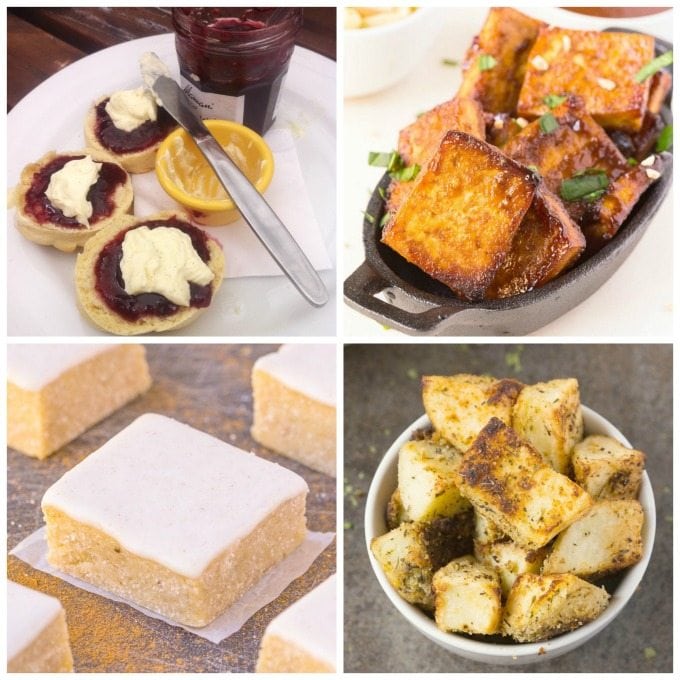 Breakfast- A savory experiment involving last week's amazing tofu recipe. Snacks/Lunch- Throughout the day, I had these banana bread breakfast bars post photo shoot (oh, the irony) and then met a friend for coffee and we shared some scones with jam and cream. Dinner- Leftover potatoes from today's recipe and an unpictured omelet.
Safe to say, this particular day was a little bit of a mess. C'est la vie.
***
So let's talk poutine and how we've made this a breakfast choice.
Even though I've been to Canada several times, I've never actually enjoyed the infamous poutine there. The first time I tried it was in London, at a place called 'Dip and Flip'. Granted, I didn't go here for their poutine, but actually for their burgers which you DIP in gravy. We got the poutine on the side and frankly, I couldn't recall it being particularly amazing. The second time I had it, was in New York, at a food stand in Astoria. The mere combination of hot potatoes with cheese curds and smothered in a rich gravy….my life was made.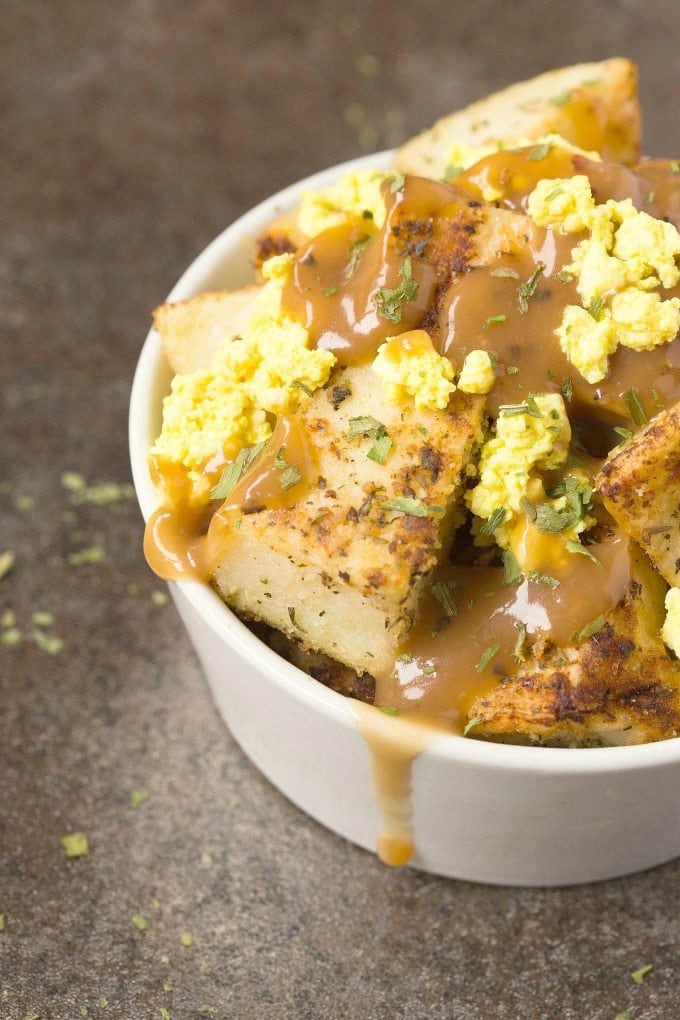 In both New York and Melbourne, finding cheese curd ingredients (and having to make them from scratch!) has been a time consuming and lengthy process. Trust me, I did it once and it was NOT worth the effort, especially since you could barely taste the curds! As such, I tried to find some substitutes. So far, I'd tried out low fat cottage cheese (fail), whole milk SMALL CURD cottage cheese (good, but drippy), whole milk LARGE CURD cottage cheese (YESSSSS), and goat cheese (a waste- eat it on its own). I also tried crumbled tofu which…..worked out the best! When mixed with the right spice blend and very lightly pan grilled, it really resembled a cheese curd texture, perfect for today's recipe- This healthy breakfast poutine!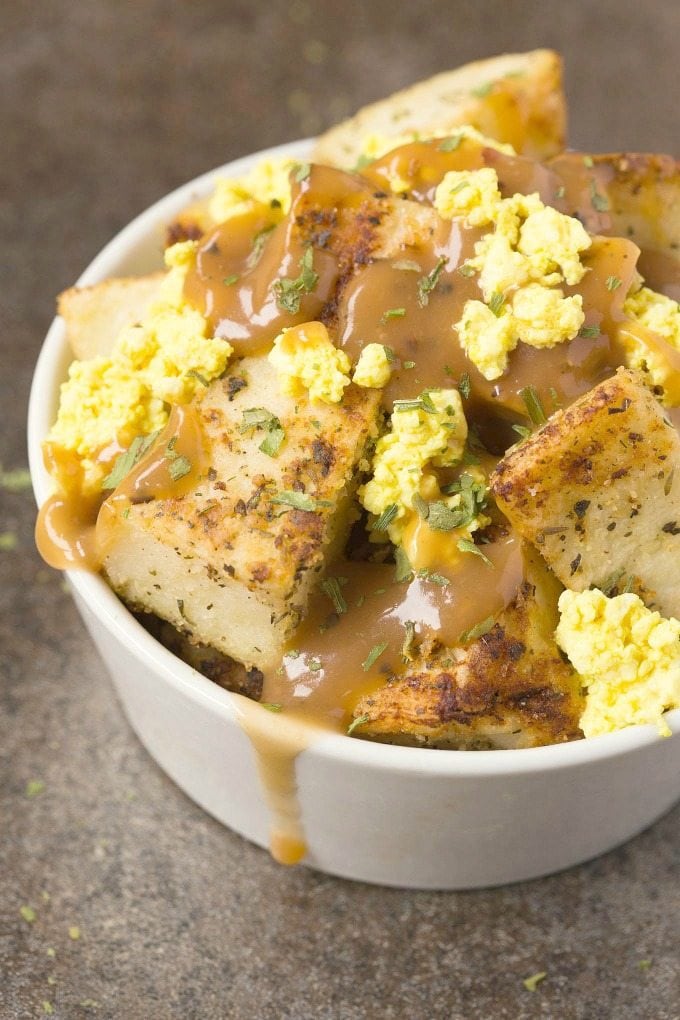 This healthy spin on the classic poutine has been designed specifically for a balanced breakfast- It's full of wholesome carbohydrates, filling plant based proteins and healthy fats. Unlike traditional poutine, it's not made using deep fried potatoes, deep fried cheese curds and thick, meat cut gravy!
Instead of fried potatoes, we'll be using seasoned baked potatoes, which are crispy on the outside and fluffy on the inside.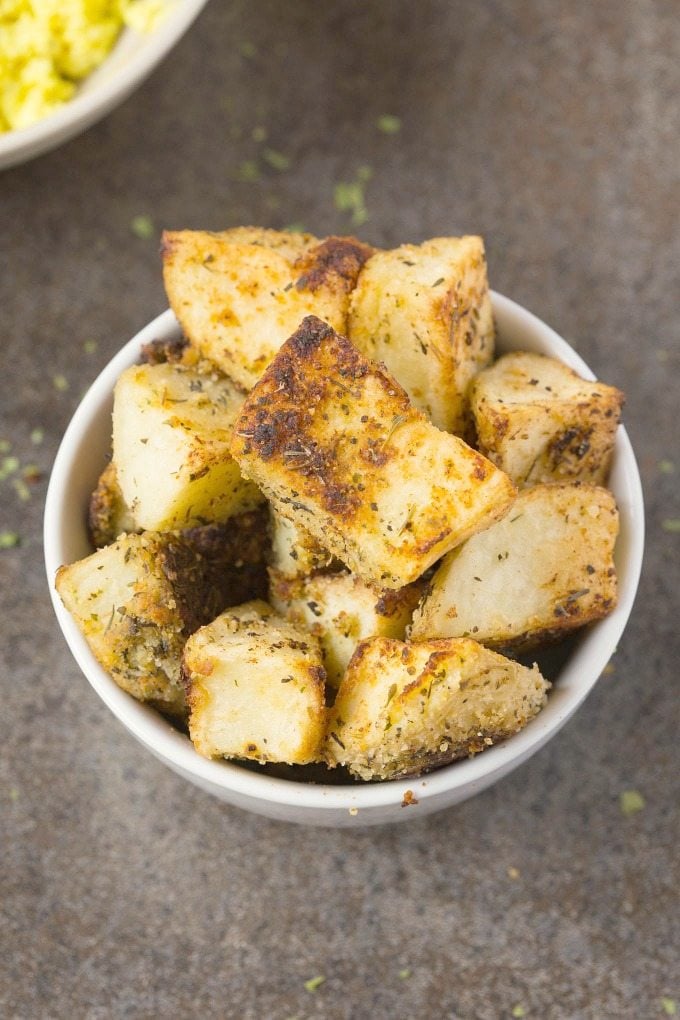 For the deep fried cheese curds, we'll be using crumbled firm tofu, mixed with some nutritional yeast, turmeric, and sea salt.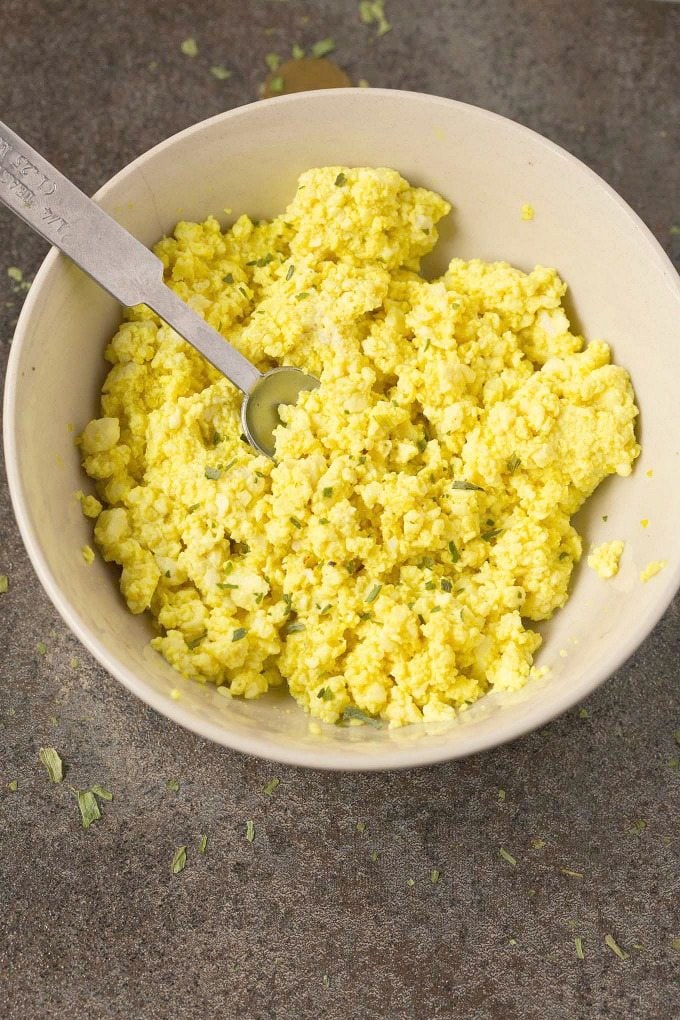 As for the gravy, I tried out a couple of recipes and both had different textures- This recipe was a little too oily for my liking, but kept REALLY well. It was this recipe by my favorite Jamie Oliver which was perfect- Thick, hearty and….involved a savory yeast spread. The only substitution I made was use this gluten free flour and vege spread to keep it completely gluten free! I do, however, prefer Vegemite. ZING.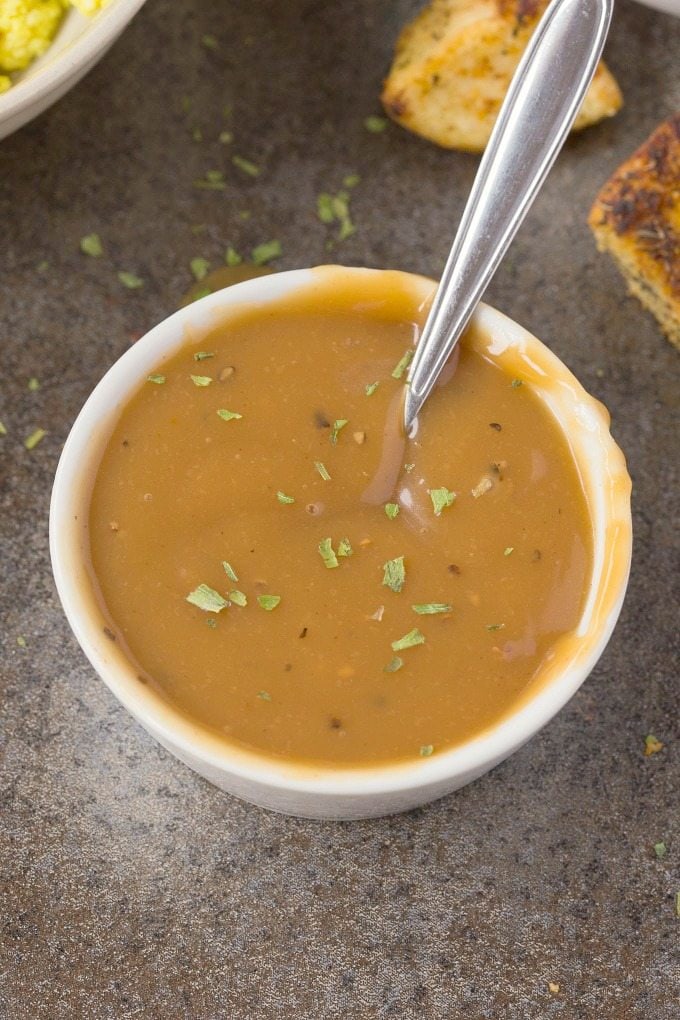 HACK! If you don't follow a vegan and/or dairy free lifestyle, feel free to sub the crumbled tofu for cottage cheese, but please make sure it's the whole milk kind! If you can't be bothered making your own gravy, I've tried this one before– However, I'm not sure if it will keep well. The Jamie Oliver recipe above kept really well for a week, perfect for multiple poutine breakfasts!
Make this healthy breakfast poutine and let's toast so savory first thing in the morning.
Well, until my sweet tooth prevails. Let's see how long this takes!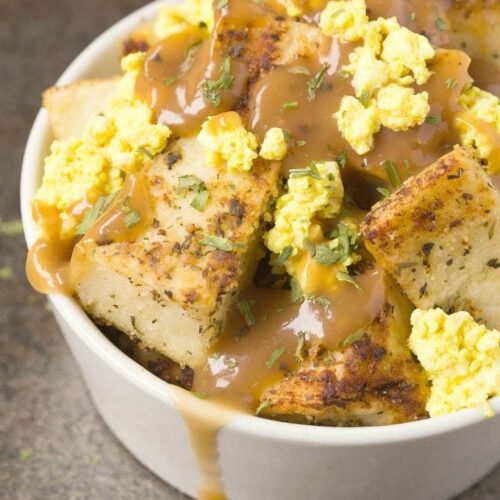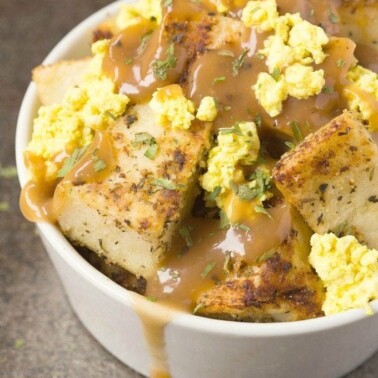 Breakfast Poutine
A classic Canadian fast food staple gets a healthy makeover, breakfast style! Filling, satisfying and made gluten free, vegan and dairy free!
Ingredients
For the potatoes
2

lbs

white flesh potatoes

chopped into quarters (1 kilogram)

2

T

olive oil

1

tsp

mixed herbs

1

tsp

sea salt

1

tsp

cayenne pepper

optional

1-2

T

flour of choice
For the 'cheese curds'
1

x 12 oz block of firm tofu (375-400 grams

1

T

nutritional yeast

1

tsp

turmeric

Sea salt

adjust to taste

1

cup

gravy of choice

warmed
Instructions
Preheat the oven to 350. Spray a large baking tray with cooking spray and set aside.

In a large mixing bowl, combine the potatoes with the olive oil and mix until well combined. Add the dry ingredients and mix until the potatoes are completely coated in it. Place on the greased baking tray and bake for 40-45 minutes, flipping halfway through.

While the potatoes are baking, start prepping your 'cheese curds'. In a mixing bowl, add your crumbled tofu, nutritional yeast and turmeric and mix well. Add sea salt to taste and set aside. Heat a large grill/frying pan lightly with oil and heat on medium. Once hot, add the tofu and cook for 4-5 minutes, stirring occasionally, until cooked. Once it is done, set aside to allow to cool.

Once potatoes are cooked, divide evenly amongst 4 bowls and divide the tofu mixture evenly between them. Add 1/4 cup gravy to each bowl, top with mixed herbs and extra sea salt and enjoy!
Notes
* If you can tolerate dairy and/or aren't vegan, you can sub it for large curd cottage cheese.
This recipe can easily be prepped in advance and reheated on the day. The potatoes can keep for 2-3 days, however they will lose the crispiness. The 'cheese curds' can be kept for up to five days.
Nutrition
Serving:
1
serving
Calories:
79
kcal
Carbohydrates:
3
g
Protein:
1
g
Fat:
7
g
Sodium:
582
mg
Potassium:
63
mg
Fiber:
1
g
Vitamin A:
210
IU
Vitamin C:
1
mg
Calcium:
2
mg
Iron:
1
mg
NET CARBS:
2
g
Disclosure: This post may contain affiliate links. I may earn a small commission for my endorsement, recommendation, testimonial, and/or link to any products or services from this website.