Healthy Flourless Lemon Poppy Seed Breakfast Cake
A delicious healthy flourless lemon poppy seed breakfast cake with a subtle tang of citrus from the lemon! The light and fluffy filling is studded with poppy seeds, with a tender exterior! Made with no butter, it's a keto and paleo breakfast recipe with an eggless and vegan option included!

Healthy Lemon Poppyseed Bread with Glaze
Growing up, my mum used to make a healthy lemon yogurt bread. Every weekend morning, a fresh loaf would come out of the oven.
Every weekend morning, I'd refuse.
Mum would try her best to make me eat it- Adding frosting to it, turning them into lemon poppy seed muffins but no.
None of it would work.
I'm pretty sure I self-diagnosed myself with a lemon allergy, purely because I THOUGHT I didn't like citrus in my baked goods.
"Mum, you know the lemon poppy seed loaf you used to make growing up?"
"The one you said you were allergic to and never ate?"
"…..Yes"
"What about it?"
"Well, I'd like to know the proportions of lemon ride and lemon juice you used in it."
"Why? Have you found a cure for your lemon poppyseed loaf allergy?"
"Yes".
Lemon Poppy Seed Cake With No Butter
I don't actually know why I claimed to be allergic so said loaf growing up- I think it comes down to being blessed with mum making other sweet treats, in which the lemon flavored ones got the stink eye. That, and the fact that I associated citrus foods to only be reserved to savory recipes.
I swear since being in Los Angeles, my inner lemon has come out to frolic and it doesn't seem to be going anywhere.
Over the last 3 weeks, I've gravitated towards all things lemon-
Jamba Juice- Lemon Dream something... (the server told me it was a secret menu item he could make for me after I told him I was craving lemons…)
Baskin Robbins- Lemon Custard Ice cream
Whole Foods– Lemon Sponge Cake
Safe to say, I need to pucker up and apologize to my mum.
Healthy Lemon Poppy Seed Cake
After sharing a handful of breakfast cake recipes (let's face it- It's purely an excuse to advocate eating dessert for breakfast) recently, I knew it was only a matter of time before I shared one of the citrus variety.
As much as I am an advocate of (some) convenience foods or aids, using fresh lemon juice AND lemon rind is key- It's also something my mum preached over and over again when she FINALLY gave me the proportions.
She told me not to use bottled lemon juice and definitely NOT lemon extract- She also advised me that some brands use coloring in it and after a quick scan at the supermarket- She was (unfortunately) right. Anyway, it's high time you pucker those faces up to make this healthy flourless lemon poppy seed breakfast cake!
Healthy Lemon Poppy Seed Cake with Cream Cheese Frosting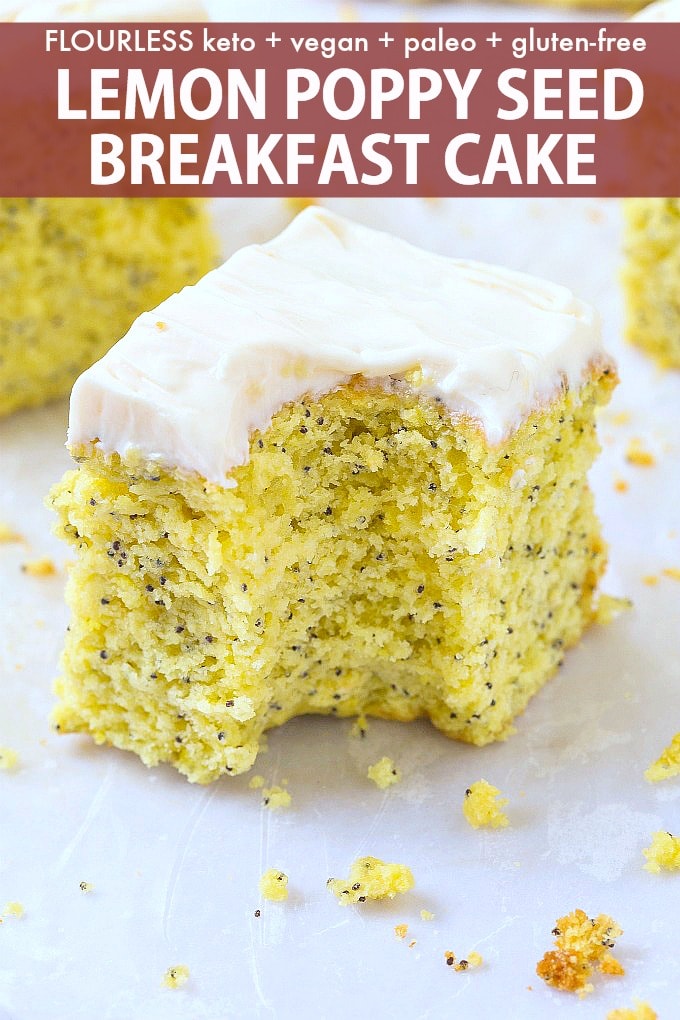 This healthy flourless lemon poppy seed breakfast cake is light and fluffy on the inside, but don't let that fool you- It's insanely filling and a satisfying choice for your first meal of the day!
It's full of slow releasing carbohydrates, healthy fats and protein to literally keep you satisfied between breakfast and lunch (but let's face it- We're not one to skip snack time, so save yourself a corner slice!).
An easy, one bowl recipe which is diet friendly! Not only is it keto, low carb, and paleo, there is an option to keep it eggless, flourless and vegan too.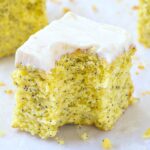 A healthy, flourless lemon poppy seed breakfast cake- The light and fluffy filling is studded with poppy seeds, with a tender exterior- Keto, paleo and low carb with a vegan and eggless option!
Print Recipe
Ingredients
Instructions
Preheat the oven to 180C/350F. Grease a loaf pan with cooking spray and set aside.

In a large mixing bowl, combine the dry ingredients and mix well. Add the lemon zest and poppy seeds and set aside.

In a small bowl, whisk the milk, lemon juice, vanilla extract and egg/flax egg. Pour into the dry mixture. Add the melted nut butter (and sticky sweetener and applesauce for paleo option) and mix very well until a batter is formed.

Transfer the batter to the loaf pan or baking dish. Bake for 25-35 minutes, depending on your oven (Paleo option can take up to 50 minutes!), or until golden brown on top and a toothpick comes on clean. Remove from oven and allow to cool completely before serving or frosting, if desired.
To make the frostings (Except for the cream cheese one)
Combine all the ingredients and using a tablespoon, add dairy free milk until a thick, firm batter is formed. For the cream cheese one, allow to sit at room temperature until it softens. Mix with granulated sweetener and cinnamon.
Notes
Breakfast cake is freezer friendly- It's best kept in the refrigerator. If you decide to use the frosting(s), it's best to keep them separate.
Nutrition
Serving:
1
Slice
|
Calories:
135
kcal
|
Carbohydrates:
7
g
|
Protein:
8
g
|
Fat:
11
g
|
Fiber:
4
g
|
Vitamin A:
4
%
|
Vitamin C:
2
%
|
Calcium:
3
%
|
Iron:
3
%
Healthy Flourless Sticky Cinnamon Bun Muffins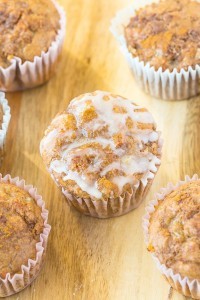 Healthy Double Chocolate Overnight Baked Oatmeal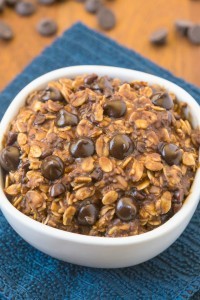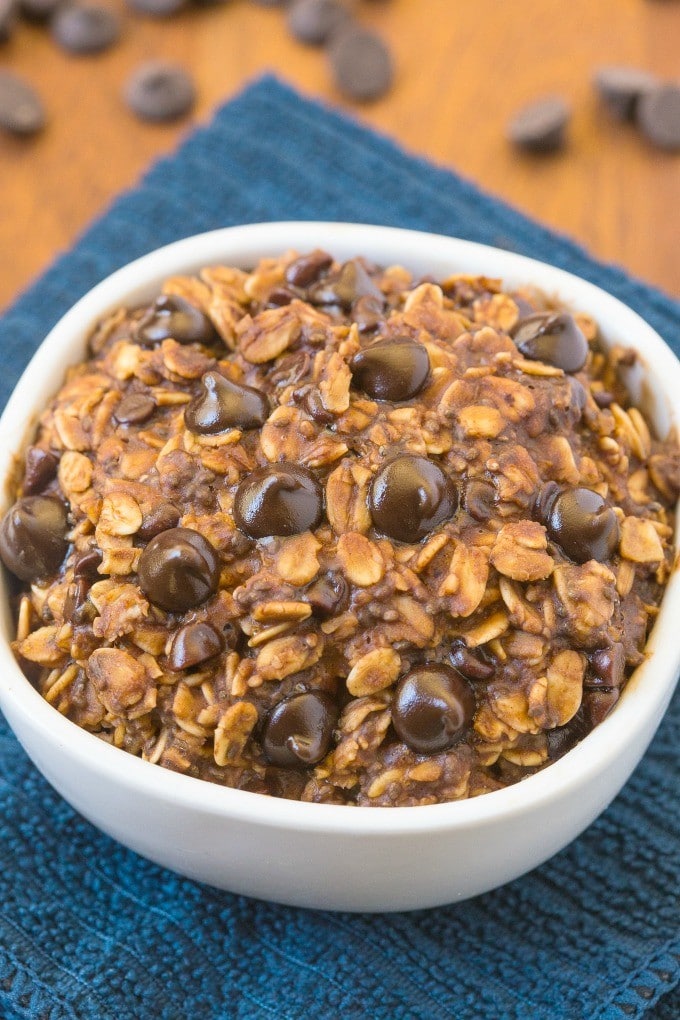 Healthy Peppermint Patty Smoothie