Have a healthy breakfast prepped in advance and ready in grab-and-go portions with these No Bake Cookies and Cream Bars! Perfect for a quick school morning breakfast, these sugar free and dairy free bars are paleo, vegan and gluten free- They are also freezer friendly and kid/adult friendly too!

I remember first trying a cookies and cream bar as a kid, and it was in cheesecake form.
It was a package of flavors- A smooth and creamy filling with chunks of dark cookie pieces throughout. Not only was it seriously addictive, but it was a texture lovers' dream.
It soon became my yearly birthday cake (the family one- Friends got the classic chocolate mud cake!) until 2005. Post-2005, I became too fancy for non-cake cakes but I'm bringing it back with a vengeance.
I've recently been making my no bake cookies and cream protein bars to snack on during the day, but found myself in a new (healthy!) situation. I've started working out late morning, and have needed a filling yet not overly heavy breakfast beforehand.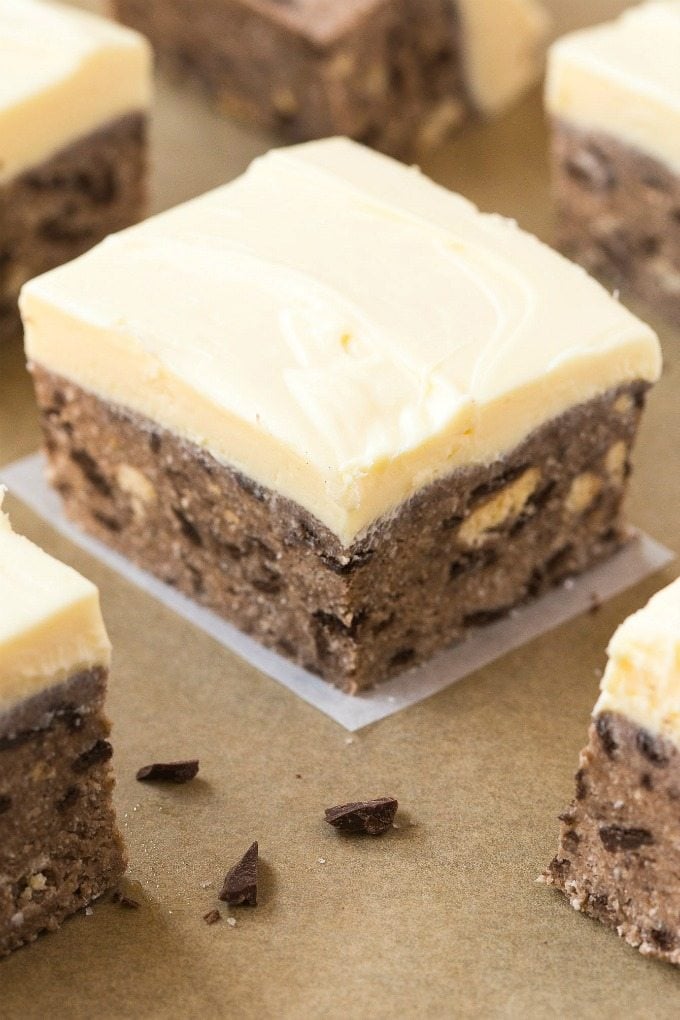 How can something traditionally considered a dessert be eaten for breakfast?
Easy.
For me, I need a balance of nutrients to keep me satisfied and fuel for my next meal. These no bake breakfast bars do just that. They are packed with wholesome grain-free carbohydrates (coconut and almond flour), healthy fats (nut or seed butter of choice) and a hefty dose of natural protein.
Bonus? You can even amp up the protein with a secret protein-packed frosting!
Don't desserts take FOREVER to make?
Some do. This, however, isn't a dessert and I promise it will take barely any time!
It only uses a total of SIX ingredients, and if you choose to frost it, will be LESS THAN 10!
The creamy and chewy cookies and cream base is made up of coconut flour, almond flour, smooth nut or seed butter, a sticky sweetener of choice, unsweetened applesauce, and some milk or liquid of choice to firm up. Let's also not forget the chewy bits of healthy cookie pieces throughout!
Let's go into a little bit more of the specifics!
I love using the combination of coconut flour and almond flour and it gives it a slightly doughy and creamier flavor than using just coconut flour alone. Saying that, if you want to keep it nut free, you can swap out the almond flour for gluten free oat flour or quinoa flour (ground oats and ground quinoa flakes).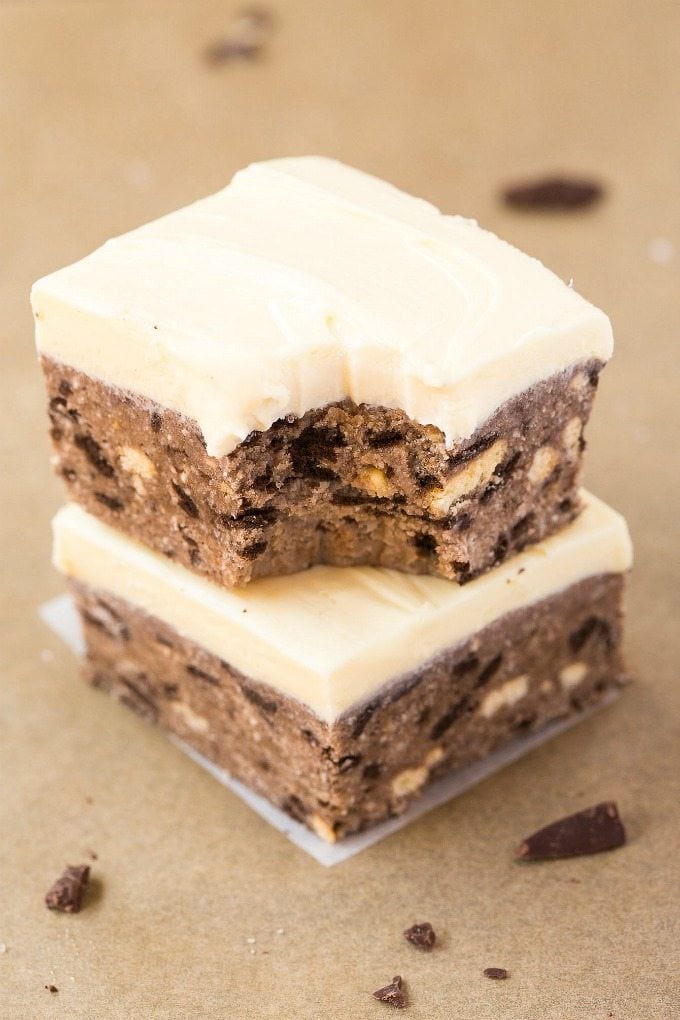 The nut and seed butter mixed with the sticky sweetener helps provide the creamy AND chewy texture we are after. This part is very easy to adapt to your personal preferences.
To keep this peanut free (and paleo!), I opted to use sunflower seed butter as my nut/seed butter of choice. It mimics peanut butter in texture and has a mild flavor. You can also use almond butter or cashew butter, but please note- If you intend these to be enjoyed in a school lunch box, ensure that there aren't any policies in place regarding nuts and allergies.
Maple syrup, agave nectar, and brown rice syrup are all perfect to be used as the sticky sweetener here. Instead of using one of those three, I favored using this monk fruit sweetened maple syrup, which kept this entire recipe SUGAR FREE!
Unsweetened applesauce is perfect to add some moisture, without providing any overriding taste to the recipe. These unsweetened cups have no added sugar to them and bonus? You can use the extras to pack and healthy lunch box snacks!

The final part of the base is of course, the cookie pieces! If you want to ensure these breakfast bars are made from scratch, use a homemade healthy chocolate cookie recipe of choice. I simply crushed up my
Brownie protein cookies
and dispersed them in the batter. Alternatively, crush your favorite store bought chocolate cookies throughout it!
For those who want an extra dose of protein, add a scoop or two of your favorite vanilla protein powder to it. I did include a single scoop, as I found it to give it a more 'cream' flavor. I also wanted the additional protein. Ensure that you only use a vegan protein powder, a casein protein powder or a paleo friendly protein powder. Other forms or blends tend to have mixed results and I cannot vouch for the final outcome.
While these portable breakfast bars are perfect on their own, I added a thick healthy frosting to take it up a notch. You can either go the protein frosting route, the cream cheese frosting route, the coconut butter route or really, a store bought frosting of choice.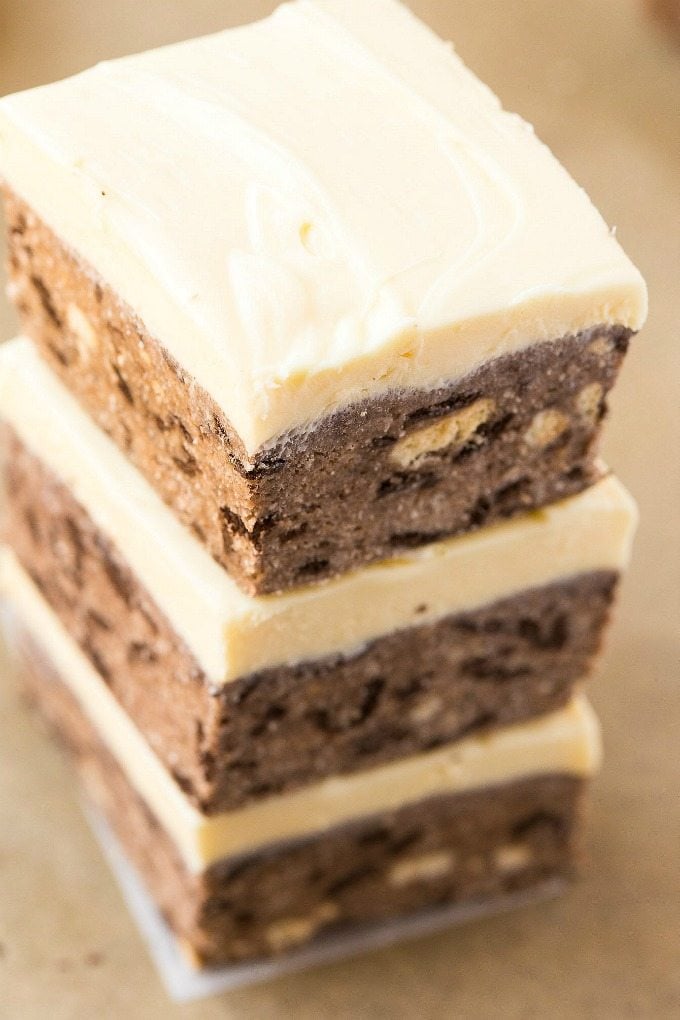 However, I've done one better and tried a new to me one…
A Game changing frosting….Dairy Free!
What you see pictured, is something new I tried- A cashew 'cream cheese' frosting- It's dairy free too but you'd never be able to tell! I can't take credit for it, it was in the Woolworths May issue of their free monthly magazine. It was fool-proof and all I needed was my blender. It also thickened beautifully and lasted for over a month.
Simply blend 4 cups of soaked cashews (soak the cashews in hot water for around 45 minutes- remove from water before blending!) with 1/4 cup coconut oil, 1/2 cup of lemon juice, 1/3 cup non-dairy milk or water! You continue blending until a cream cheese frosting texture remains and voila- Perfection.
Please note- This frosting is thick, creamy but NOT sweet- If you want it sweet, add some liquid stevia or a dash of pure maple syrup to it. I kept it plain because the cookies and cream bars were sweet enough!
I seriously hope you'll add these no bake cookies and cream bars to your breakfast menu- They are…
Grab-and-go
Healthy
Portable
Freezer friendly
Nut-Free options
Lunch box friendly
Easy
Customizable
Low carb and sugar free
Are you a fan of all things cookies and cream? If so, you'll love this 1-minute mug cake, this single serving cookie dough dip and a protein ice-cream!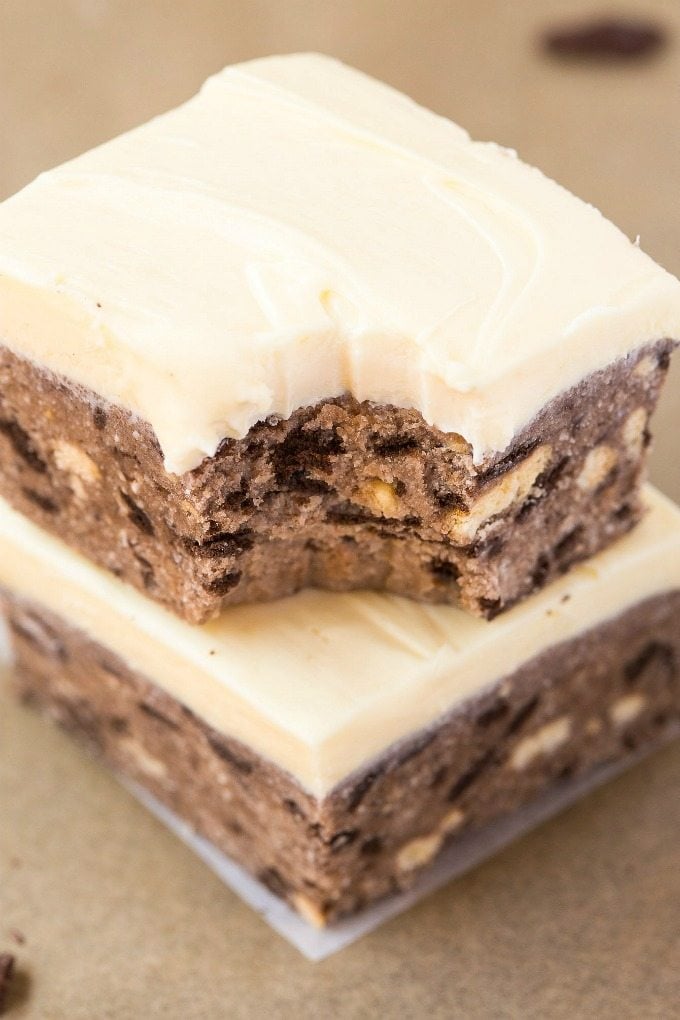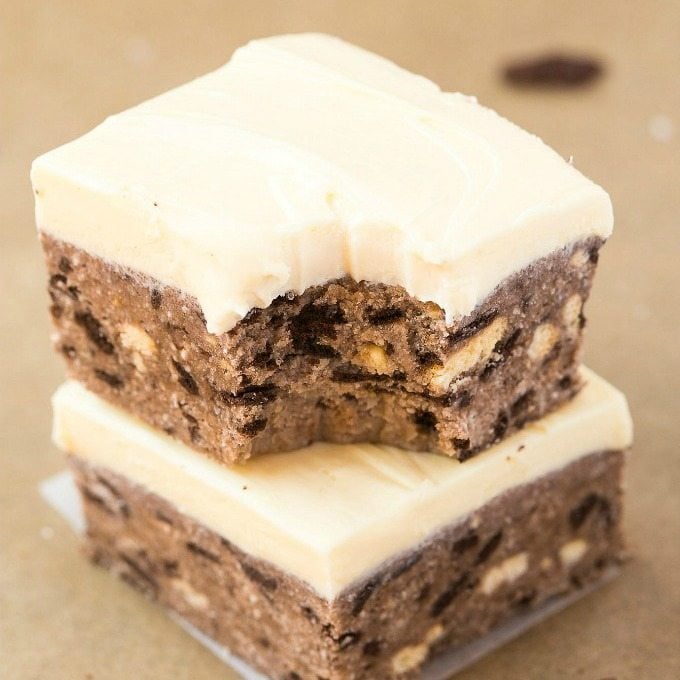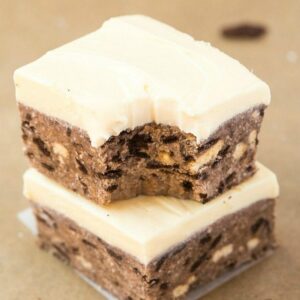 Healthy No Bake Cookies and Cream Breakfast Bars
Have a healthy breakfast prepped in advance and ready in grab-and-go portions with these No Bake Cookies and Cream Bars! Perfect for a quick school morning breakfast, these sugar free and dairy free bars are paleo, vegan and gluten free- They are also freezer friendly and kid/adult friendly too!
Ingredients
For the cookies and cream bars
Instructions
Line a large 8 x 8 inch baking dish or loaf pan with tin foil or parchment paper and set aside.

In a large mixing bowl, add your dry ingredients and mix well. Add your wet ingredients, except for the cookie crumbles and liquid of choice. Mix very well until a crumbly texture remains.

Using a tablespoon, add milk of choice until a thick batter remains. Add chopped cookie pieces and mix well. Add additional milk if necessary and transfer to the lined baking dish. Press firmly into place and refrigerate.

If using frosting, prep it now and spread over the breakfast bars. Refrigerate until firm and slice into bars.
Notes
* Depending on the protein powder and coconut flour, you'll likely need more. Adjust accordingly.
** See notes above for options- The cream cheese frosting listed makes much more than needed.
No Bake Cookies and Cream Breakfast Bars should be kept refrigerated, but are freezer friendly too.
Nutrition
More delicious grab and go breakfasts? Gotcha covered!
Healthy No Bake Peanut Butter Cup Breakfast Bars
Healthy No Bake Carrot Cake Breakfast Bars
Healthy No Bake Mocha Breakfast Bars
Healthy No Bake Breakfast Brownies
Healthy No Bake Vanilla Breakfast Blondies
The Big Man's World is a participant in the Amazon Services LLC Associates Program, an affiliate advertising program. This means that if you click and make a purchase, TBMW receives a small commission, at no cost to you. Cheers, hugs, and handshakes for supporting TBMW!
Disclosure: This post may contain affiliate links. I may earn a small commission for my endorsement, recommendation, testimonial, and/or link to any products or services from this website.