2 Ingredient Dough Cinnamon Rolls- No Yeast!
Enjoy a fresh batch of homemade cinnamon rolls in just 20 minutes, using 2 ingredient pizza dough! Soft, fluffy and loaded with cinnamon flavor, they are made without yeast, without milk, and without butter!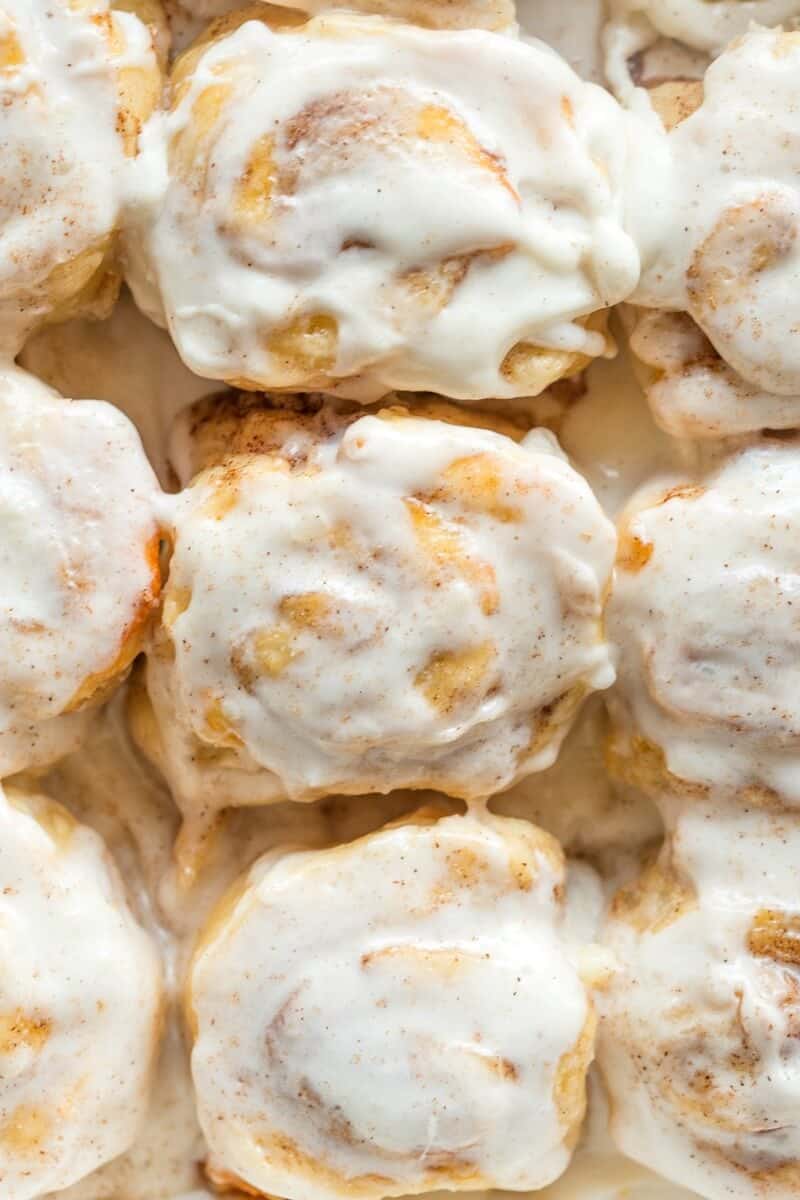 Many of you have said there is NO yeast available, and to be quite frank, I'm not a fan of it.
As such, we've had a slew of recipes using the famous 2-ingredient weight watchers dough.
We've had the 2 ingredient dough soft pretzels, 2 ingredient naan (reader favorite!), and the famous 2-ingredient pizza dough.
Today, we are on a mission to give a sweet twist, with these 20 minute no yeast cinnamon rolls!
Homemade Cinnamon Rolls without yeast OR baking powder
Yes, you read that correctly.
These homemade cinnamon rolls have no yeast and no baking powder, but you'd never tell.
They are giant, fluffy and loaded with a sweet cinnamon flavor, and have the extra sweetness from the vanilla glaze, and they pull-apart beautifully.
They are relatively healthier than traditional cinnamon rolls, as they have no butter and no milk.
Easily made vegan and gluten-free, they literally take 20 minutes to make- no resting time, no constant kneading or anything.
Bonus? No fancy mixers or kitchen equipment needed! In fact, they could be called pizza dough cinnamon rolls.
How do you make dough rise without yeast?
Traditional cinnamon rolls tend to use yeast, to ensure the dough rises and becomes puffy.
In my recipe, you'll notice there is no yeast. Instead of yeast, we use self-rising flour. This ensures the dough rises beautifully, without the need to rest, knead of proof!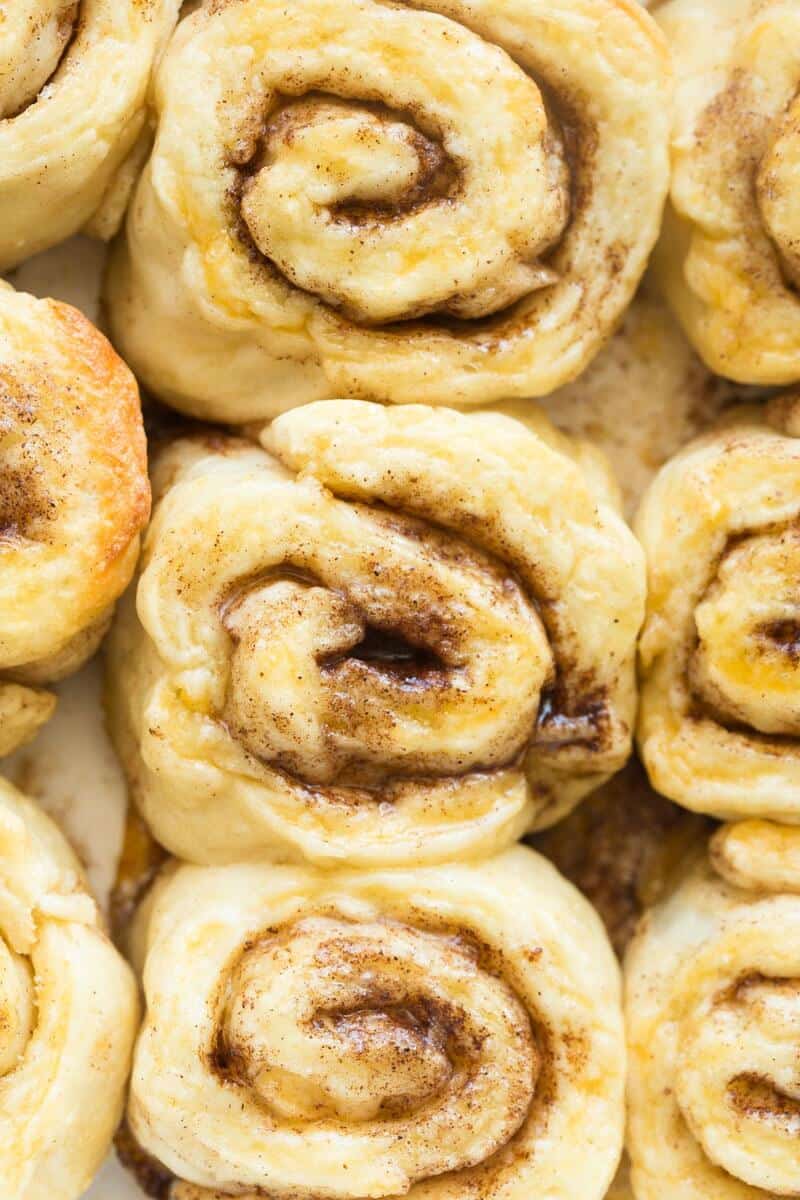 How to make cinnamon rolls from scratch (without yeast!)
As you see, there is no yeast needed to make the cinnamon rolls. The magic 2 ingredient dough is all you need to form the cinnamon roll base!
The Ingredients-
Self-rising flour– The flour MUST be self-rising (self-raising). If you don't have self-rising flour, you can easily make your own. Check out this post for how to make your own.
Greek Yogurt- Any kind of Greek yogurt works (non-fat, reduced-fat and full-fat), along with coconut yogurt (perfect for vegans!).
Cinnamon- I used Saigon cinnamon, as it has a very pronounced cinnamon flavor.
Granulated sweetener of choice- You can use any kind of sugar; white sugar, brown sugar or even coconut sugar. To keep it sugar-free, I used monk fruit sweetener in one trial recipe. You will use the sweetener in the dough AND the filling.
Coconut oil- To lightly brush the dough before adding the cinnamon/sugar mixture.
For the frosting-
Confectioners sugar– Either sugar-free confectioner's sugar or standard confectioners sugar works. In some countries, they call this icing sugar.
Greek Yogurt– To add slowly to the sugar to produce a thick and delicious glaze.
Vanilla extract– To give a dash of vanilla flavor!
The Instructions-
Step 1- Prepare the dough
Start by preparing your 2 ingredient dough! In a large mixing bowl, add your self-rising flour, 1 tablespoon of the sweetener with yogurt and mix very well, until a smooth dough remains and form it into a ball. Depending on the type of Greek yogurt you use (non-fat VS full-fat, for example), you may need to add a little more flour to it. Do not add too much- just until its sticky, but smooth.
Step 2- Roll out, fill and roll up!
Lightly flour a kitchen surface. Sprinkle a tablespoon of flour on top of the ball of dough. Transfer the ball of dough onto the floured surface, and press into a large ball of dough. Knead several times.
Using a rolling pin, roll out the dough into a thin, half an inch layer. Form it in a rectangular shape.
Use a pastry brush to brush coconut oil over the top of the dough. Then, you'll want to sprinkle the cinnamon and sweetener on top of it.
Step 3- Slice and Bake!
Use a sharp knife (or even pizza cutter) and slice the rolled-up dough into 12 pieces. Place them in a shallow baking dish, side-by-side. If desired, brush with some oil or liquid, for some sheen.
Bake them at 180C/350F for around 20 minutes, until golden on top.
Step 4- Frost and enjoy it!
Allow the cinnamon rolls to cool for 10 minutes. While they are cooling, prepare your glaze, then drizzle over the tops of them. Enjoy warm, or let sit until room temperature, for the glaze to firm up.
How to make cinnamon roll icing:
In a small mixing bowl, add your confectioners' sugar with yogurt and vanilla extract, and mix together. For a smoother icing, add a little more yogurt. For a thicker icing, add more sugar, as needed.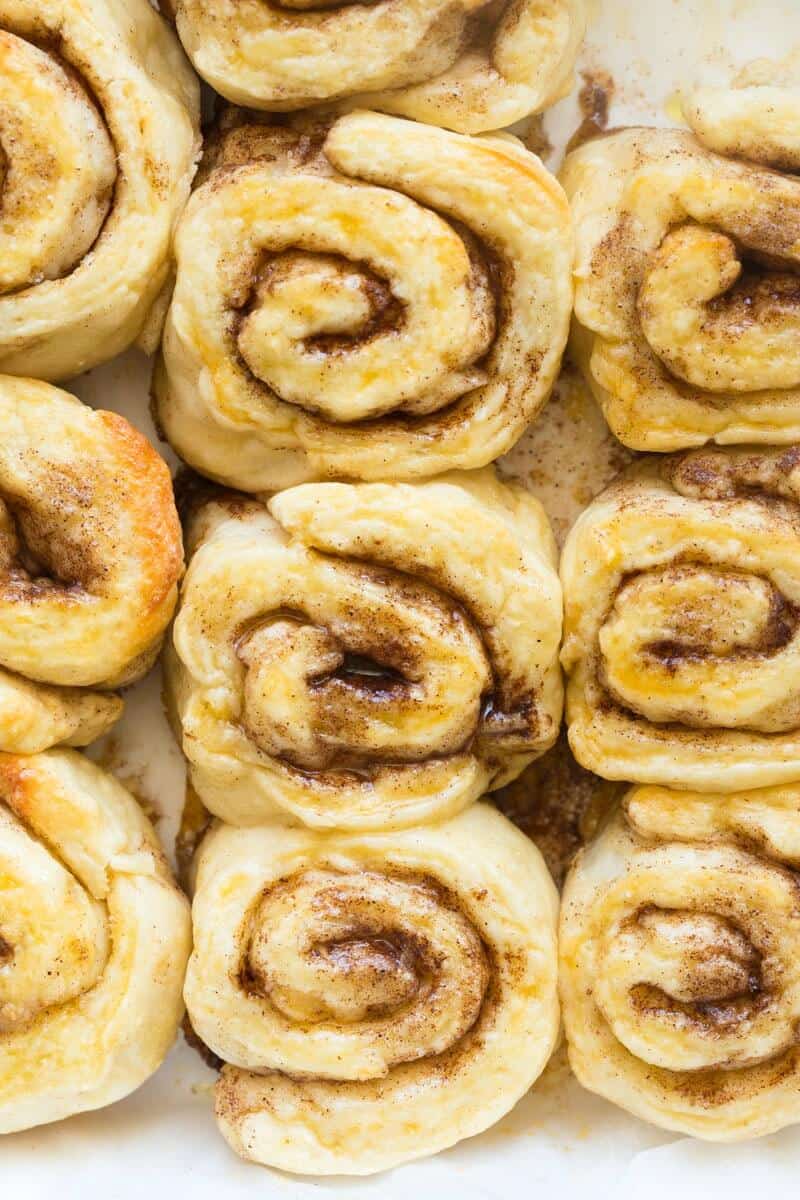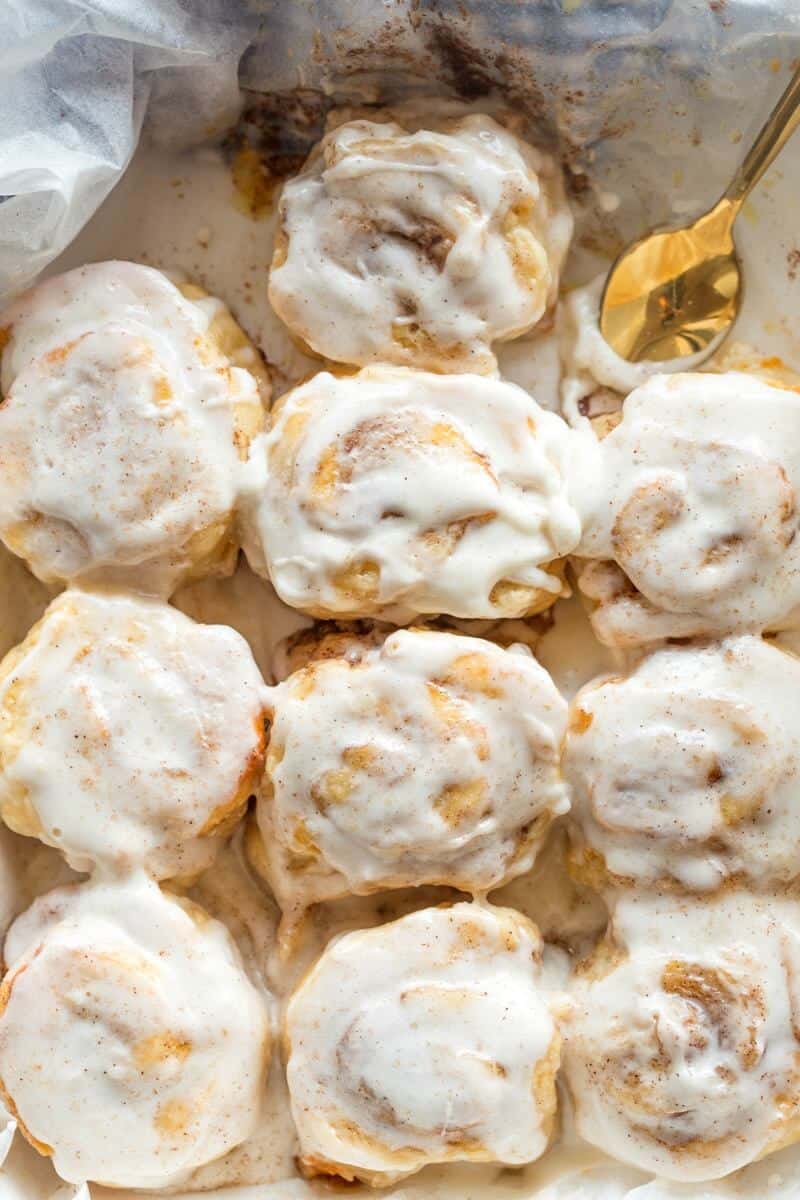 Can I use all-natural yogurt?
I've made many 2 ingredient dough recipes, and have tried a bunch of yogurts. Some have worked consistently well (Greek yogurt and coconut yogurt), but some have been difficult to use.
Plain yogurt, also referred to as natural yogurt, has been a difficult one. Several brands have been okay, but most have been difficult to form into a dough.
What will happen is the dough will become super sticky, and you'll continue to add more and more flour. Eventually, you'll have a smooth dough. However, once it is baked, it remains flat, doughy and very, VERY undercooked.
Stick to Greek Yogurt or Coconut Yogurt.
Can I make these vegan and/or gluten-free?
YES! These easy no yeast cinnamon rolls are actually vegan and gluten-free.
To keep it vegan, it uses coconut yogurt (vegan Greek yogurt also works). To keep it gluten-free too, we used gluten-free self-rising flour.
NOTE: Please do not make your own gluten-free self-rising flour for this recipe unless you have used it to replace other recipes successfully. Making your own gluten-free self-rising flour can sometimes require extra binders, as the addition of baking powder changes the other ingredients in it.
Can I make these sugar-free?
Yes, if you follow a sugar free or lower-carb diet, easily make these cinnamon rolls sugar free.
Use a zero sugar and calorie-free sweetener for the filling, like monk fruit sweetener or Splenda.
For the glaze, use sugar-free confectioners' sugar.
Storing Cinnamon Rolls
These cinnamon rolls should be eaten fresh, or within a day. If you plan on eating them over 2-6 days, they need to be stored in the fridge. Cover them in plastic wrap or keep them in a sealable container.
Can you freeze cinnamon rolls?
Yes, you can freeze these cinnamon rolls. They should not be frozen individually but in portions of 2 or more. Place them in a shallow container or a ziplock bag.
Frozen cinnamon rolls will keep fresh for up to 6 months.
How to reheat cinnamon rolls
If you are re-heating from the fridge, either microwave them for 20-30 seconds or in a preheated oven (180C/350F) for 6 minutes.
If you are re-heating from the freezer, either microwave them on the thaw setting (around 4 minutes) then again on normal settings (for 1 minute). Or, allow to thaw at room temperature then reheat in the oven.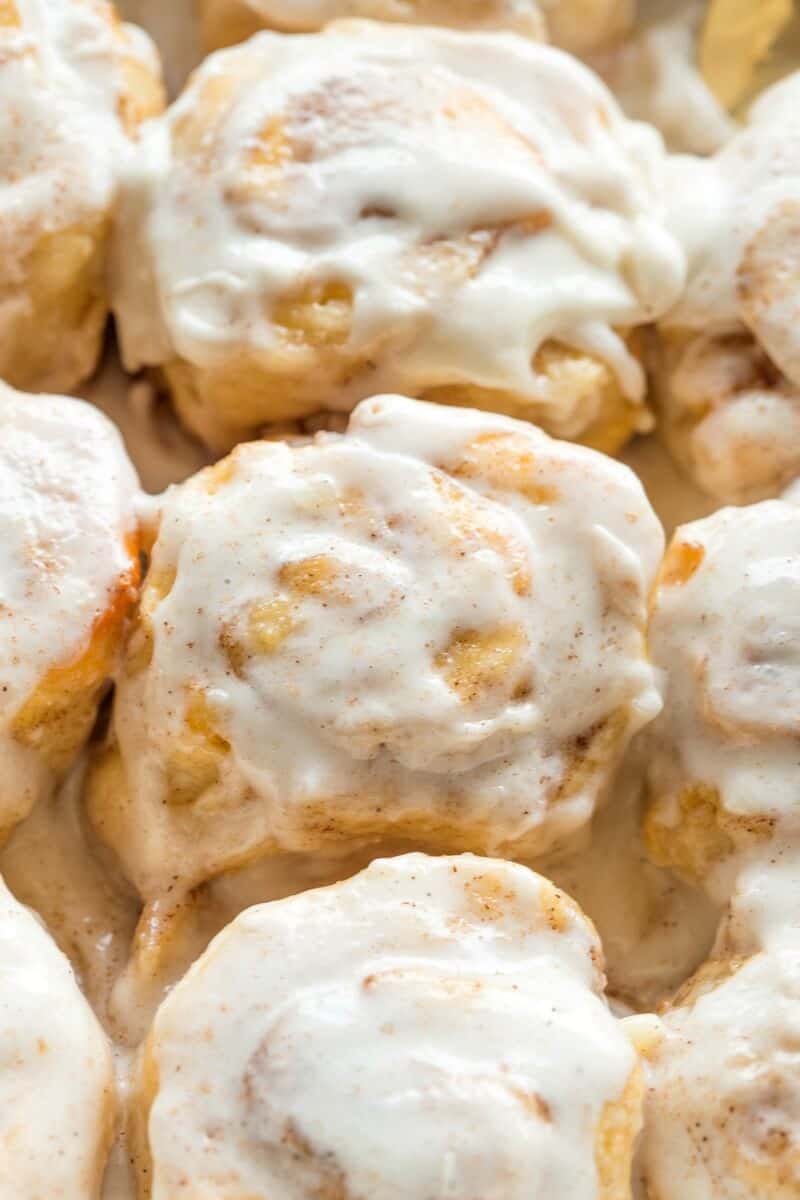 More delicious 2-ingredient dough recipes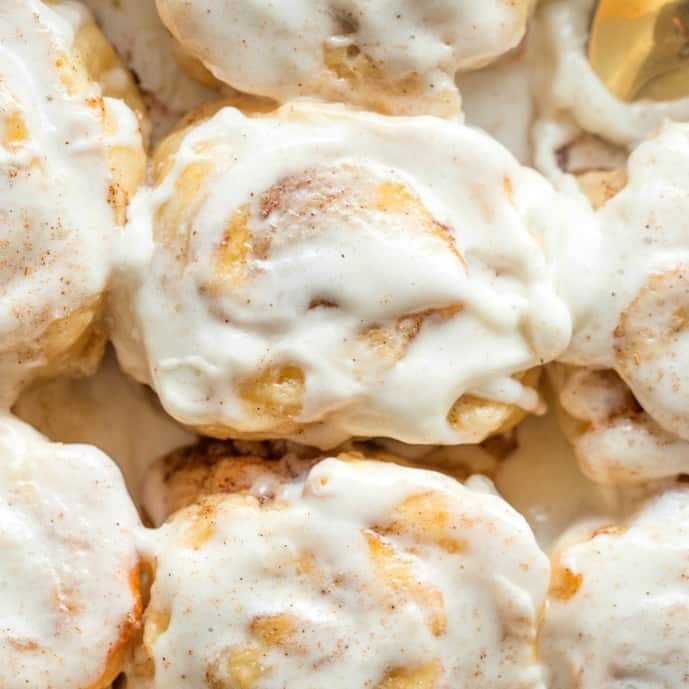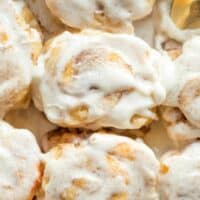 Easy Cinnamon Rolls (No yeast!)
20 minute 2 ingredient dough cinnamon rolls made with no yeast and no baking powder! Doughy, fluffy and delicious cinnamon rolls made with weight watchers yogurt dough- Easily made vegan, gluten free and sugar free! (Cinnamon Scrolls!)
Print
Rate
Instructions
Preheat the oven to 180C/350F. Line a large, shallow tray with parchment paper.

In a large mixing bowl, add your flour, 1 tablespoon of sweetener, and yogurt and mix well, until combined. Form the dough into a ball.

Lightly flour a kitchen surface. Add a tablespoon of flour onto the bowl of dough and transfer to the floured surface. Use a rolling pin, and roll out into a thin (around 1/2 an inch) rectangular shape.

Brush your melted coconut oil over the top of the dough. Sprinkle with remaining sweetener and cinnamon, evenly distributed on top. From one end of dough, slowly roll it up until all the dough is used. Using a sharp knife, slice into 12 pieces.

Place each piece of cinnamon roll dough into the lined dish/tray. If desired, make sure each piece is sticking together. Bake for 20 minutes, or until the edges start to turn golden.

Remove from the oven and let sit for 10 minutes. While it's cooling down, prepare your glaze/icing by mixing your confectioners' sugar with yogurt and vanilla extract. If you want a thinner glaze, add more yogurt. Drizzle over the top of the cinnamon rolls and enjoy immediately.
Notes
* I used coconut yogurt. You can use any kind of Greek yogurt- non-fat, reduced fat or full-fat. I don't recommend other types of yogurt.
** I used sugar-free powdered sugar, but you can use standard powdered sugar (confectioners' sugar).
*** Any yogurt works for this.
For more delicious breakfast recipes, click here.
Key Recipe Equipment and Ingredients
Nutrition
Serving:
1
roll
|
Calories:
97
kcal
|
Carbohydrates:
20
g
|
Protein:
4
g
|
Fat:
1
g
|
Sodium:
7
mg
|
Potassium:
42
mg
|
Fiber:
1
g
|
Calcium:
29
mg
|
Iron:
1
mg
|
NET CARBS:
19
g