This single serving, vegan, and gluten-free cinnamon roll for one is a GAME CHANGER. No yeast, no resting time, and no microwave needed!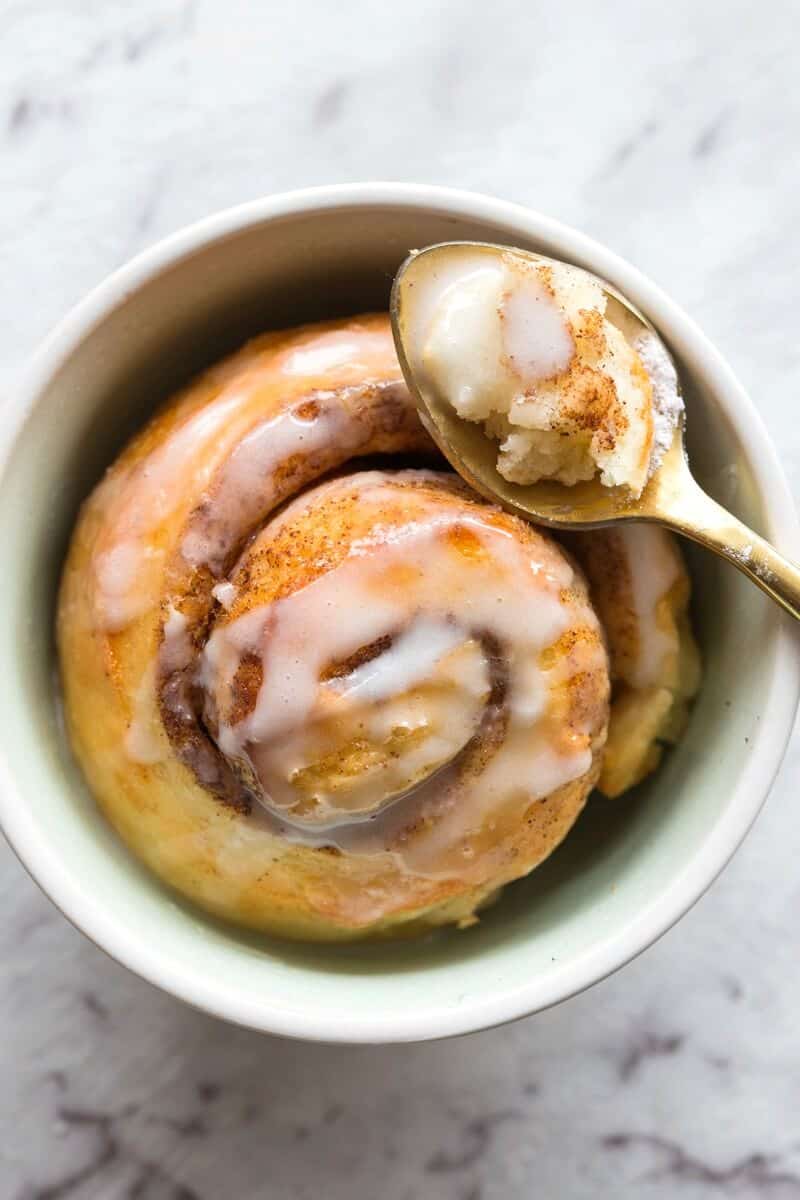 It's no secret I love single-serving desserts around here. Some of my favorites include this protein mug brownie, vanilla mug cake, and cinnamon roll mug cake.
Now, all of those are nice and everything, but sometimes, you want something a little more close to the real deal.
Sometimes, you want a fluffy, doughy, and deliciously sweet cinnamon roll, but can't justify making an entire batch. Even though I have a simple and easy 20-minute cinnamon roll recipe, I know myself and I'll end up polishing it all off.
Enter- The cinnamon roll for ONE.
Single Serving Cinnamon Roll
No, friends. This is NOT a mug cake or a cinnamon roll substitute. It is the real deal all made in a single serving size.
No sharing, no leftovers, nada. And it couldn't be any easier! It's perfect for when you want a quick and simple dessert, perfectly portioned.
Unlike traditional cinnamon rolls, there is no yeast, no resting time and no kneading required. The dough itself requires just 2 ingredients, and you will be left with a fluffy, doughy, giant cinnamon roll.
You'll also notice the ingredients make it suitable for a vegan, gluten-free, and dairy-free diet. You can easily make it sugar-free too!
Taste-wise, it is sweet, spicy from the cinnamon, and tastes just like a classic cinnamon roll (like my favorite from Cinnabon!).
Texture-wise, it is doughy, fluffy and light, and pulls apart beautifully.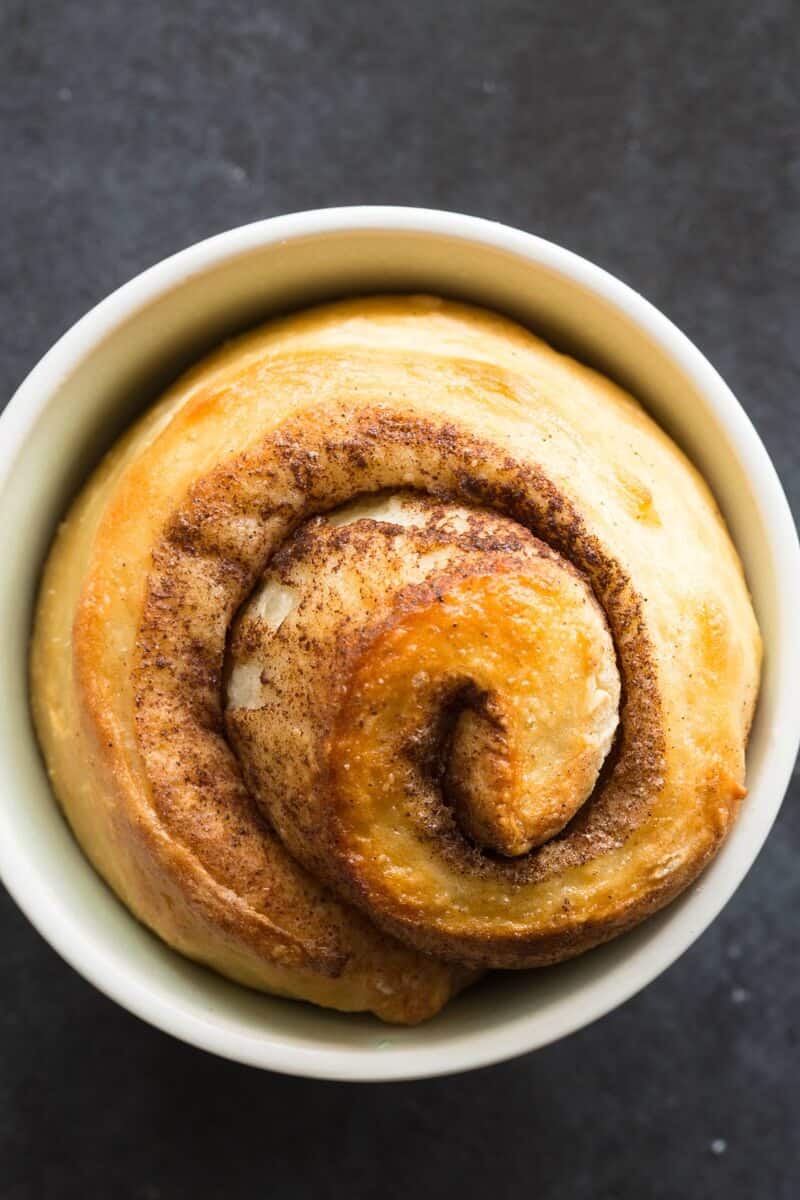 How to make a cinnamon roll for one from scratch
Step 1- Prepare the dough
Start by preparing your dough. In a large mixing bowl, combine your self-rising flour with yogurt and mix well. After it is mixed, use your hands to form it into a ball of dough.
Step 2- Roll it out and shape
Sprinkle some flour onto the dough. Then, on a kitchen surface, add some flour. Transfer the dough onto it and roll it out in a rectangular shape, approximately 3 inches by 5-6 inches (the longer it is, the more it will 'scroll'.
Step 3- Add the cinnamon filling and roll
Spray one side of the dough with cooking spray. Then, add your cinnamon and sweetener mixture over the top. Carefully, using the thin end of the dough, roll it up until you have a single large cinnamon roll!
Step 4- Bake and Glaze!
Transfer your cinnamon roll on to a baking tray or oven-safe dish. Brush the outside of it with either milk, butter, or water. Bake the cinnamon roll for 15-17 minutes, or until golden on the outside. Remove from the oven and let cool for 5 minutes, before drizzling with the glaze.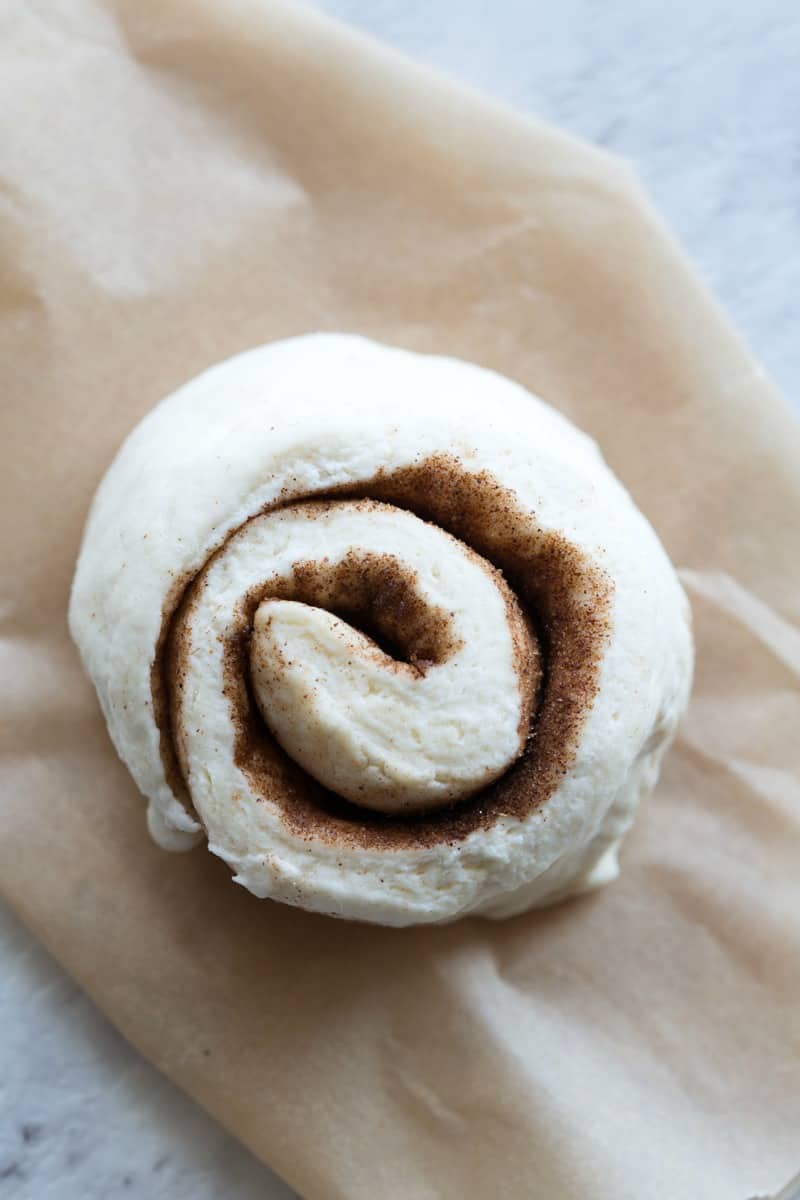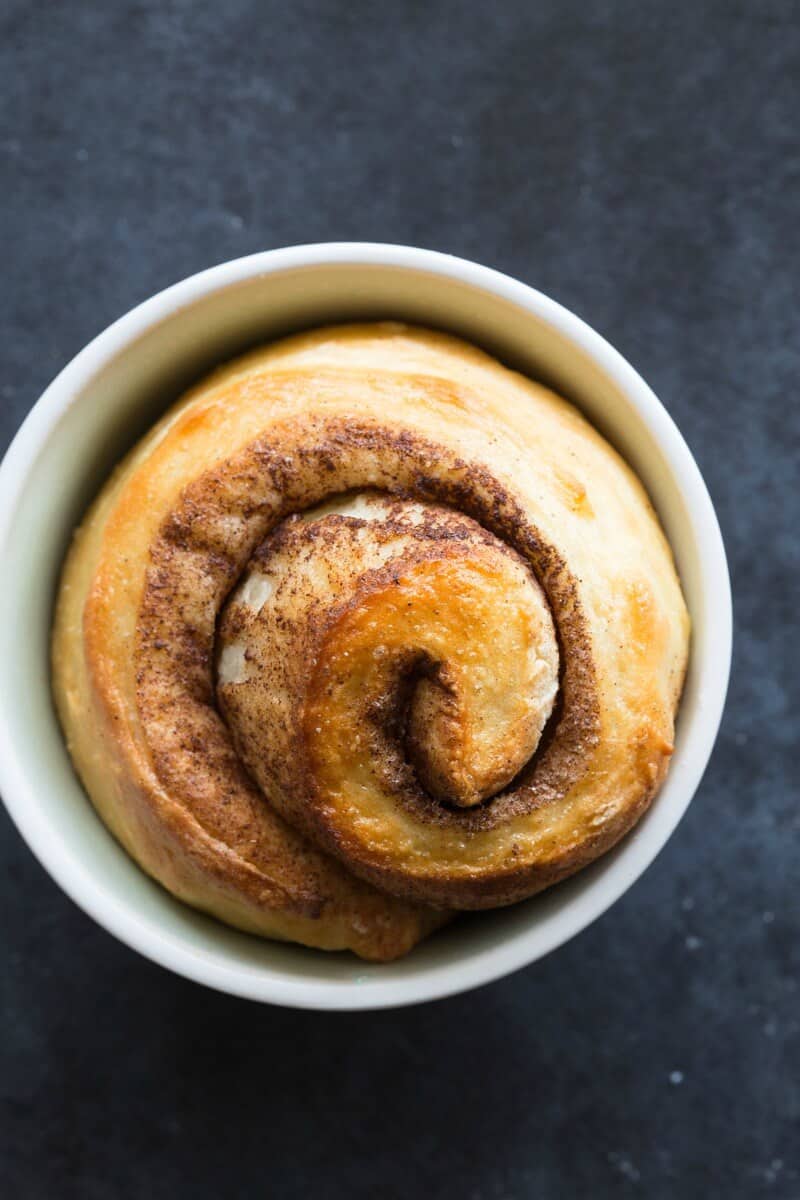 Single Serving Cinnamon Roll Ingredients and Substitutions
Self-rising flour. This is one part of the dough recipe. If you don't have self-rising flour, you can easily make your own. Please note, no other flour will work.
Yogurt. Greek yogurt, coconut yogurt (vegan!), or any thick yogurt of choice can be used. I don't recommend using plain or natural yogurt, as the consistency just doesn't mix well with the flour.
Cinnamon. A must for any cinnamon-style dessert! If you can, try and find Saigon Cinnamon– It has the most intense, delicious cinnamon flavor.
Granulated Sweetener of choice. You have plenty of options here. I've tried these with coconut palm sugar, white sugar and also swerve, a keto-friendly sugar with zero calories and zero carbs. I prefer the coconut sugar or keto sugar, but use whatever you have on hand.
Cooking Spray. This is sprayed on the dough, for it to stick. You can use coconut oil or even melted butter instead.
Powdered sugar. To make the glaze! You can make this as thick or thin as you want. Mix it with either yogurt, milk, or even water. To make it sugar free, use this sugar free powdered sugar.
Can I make this in the microwave?
I haven't tried this in the microwave, but I don't recommend it. This cinnamon roll fore one isn't like a mug cake, which generally just has flour and a mixture of sweeteners and/or egg.
If you are looking for a microwave cinnamon roll cake, try this recipe.
Can I prepare the dough overnight or in advance?
I don't recommend preparing the dough overnight, as it becomes super sticky, and will be hard on the exterior once cooked.
You can prepare the dough up to 2 hours in advance before baking.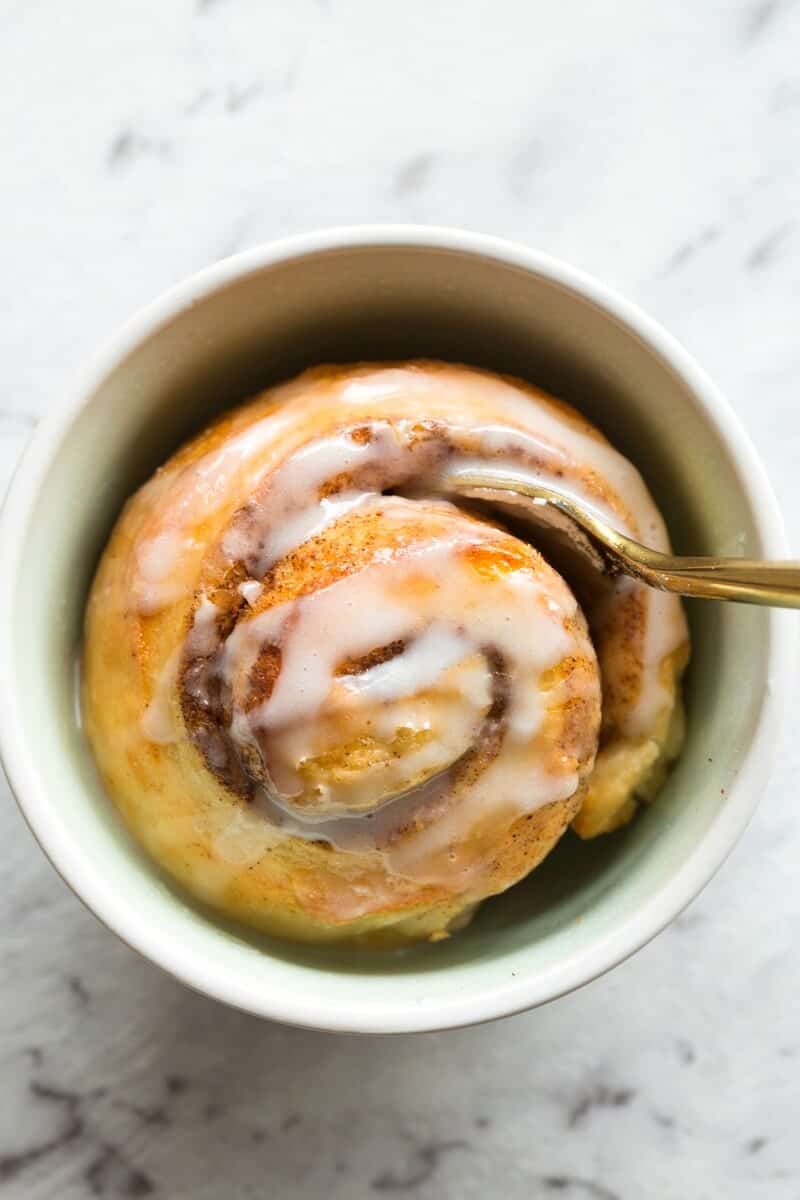 More delicious 2 ingredient dough dessert recipes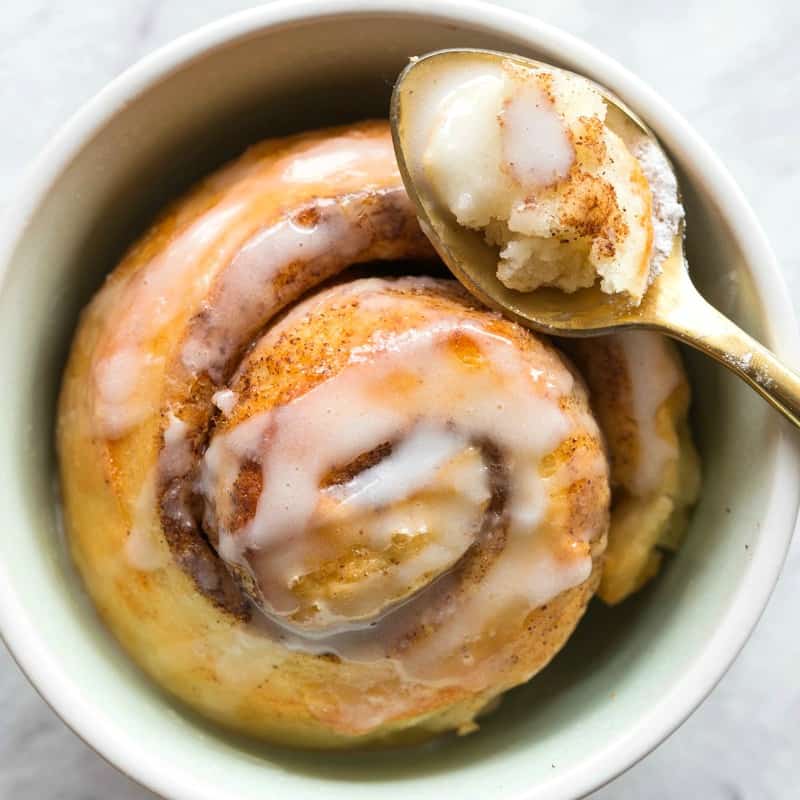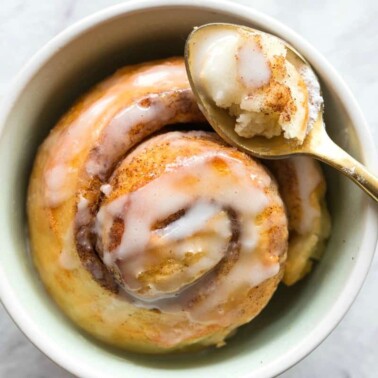 Cinnamon Roll for ONE (Vegan, Gluten Free)
A vegan gluten-free cinnamon roll for one is the perfect recipe when you want a quick and easy dessert! No yeast, no dairy and no resting time needed! Single serving and ready in 20 minutes!
Instructions
Preheat the oven to 180C/350F. Line a baking dish or tray with parchment paper and set aside.

In a mixing bowl, add your flour with yogurt and mix well. Then, using your hands, form into a ball of dough.

Lightly flour a kitchen surface. Add a sprinkle of flour onto the ball of dough and transfer onto the floured surface. Form the dough into a rectangular shape, and using a rolling pin, roll it out, approximately 3 inches by 6 inches.

Spray one side of the dough with cooking spray. Sprinkle with the cinnamon and sugar. From the short end of the dough, slowly roll it up completely.

Place the cinnamon roll onto the lined pan or dish. Press down onto it and brush with either water, milk, or oil. Bake for 15-17 minutes, or until golden brown on top.

Remove from the oven and let cool for 5 minutes, before glazing the tops. To prepare the glaze, mix the powdered sugar with either milk, yogurt or water, until the desired consistency is reached.
Notes
* You can use any sugar of choice- white, brown, coconut or swerve, to keep it sugar free.
** Use sugar-free powdered sugar to keep it sugar free.
Nutrition
Serving:
1
serving
Calories:
188
kcal
Carbohydrates:
32
g
Protein:
8
g
Fat:
2
g
Sodium:
20
mg
Fiber:
4
g
Calcium:
105
mg
Iron:
1
mg
NET CARBS:
28
g
Disclosure: This post may contain affiliate links. I may earn a small commission for my endorsement, recommendation, testimonial, and/or link to any products or services from this website.