Learn how to cook honeynut squash to perfection with only a few simple ingredients in less than 30 minutes. This recipe focuses on the basics, roasting this winter squash to make it super tender and sweet.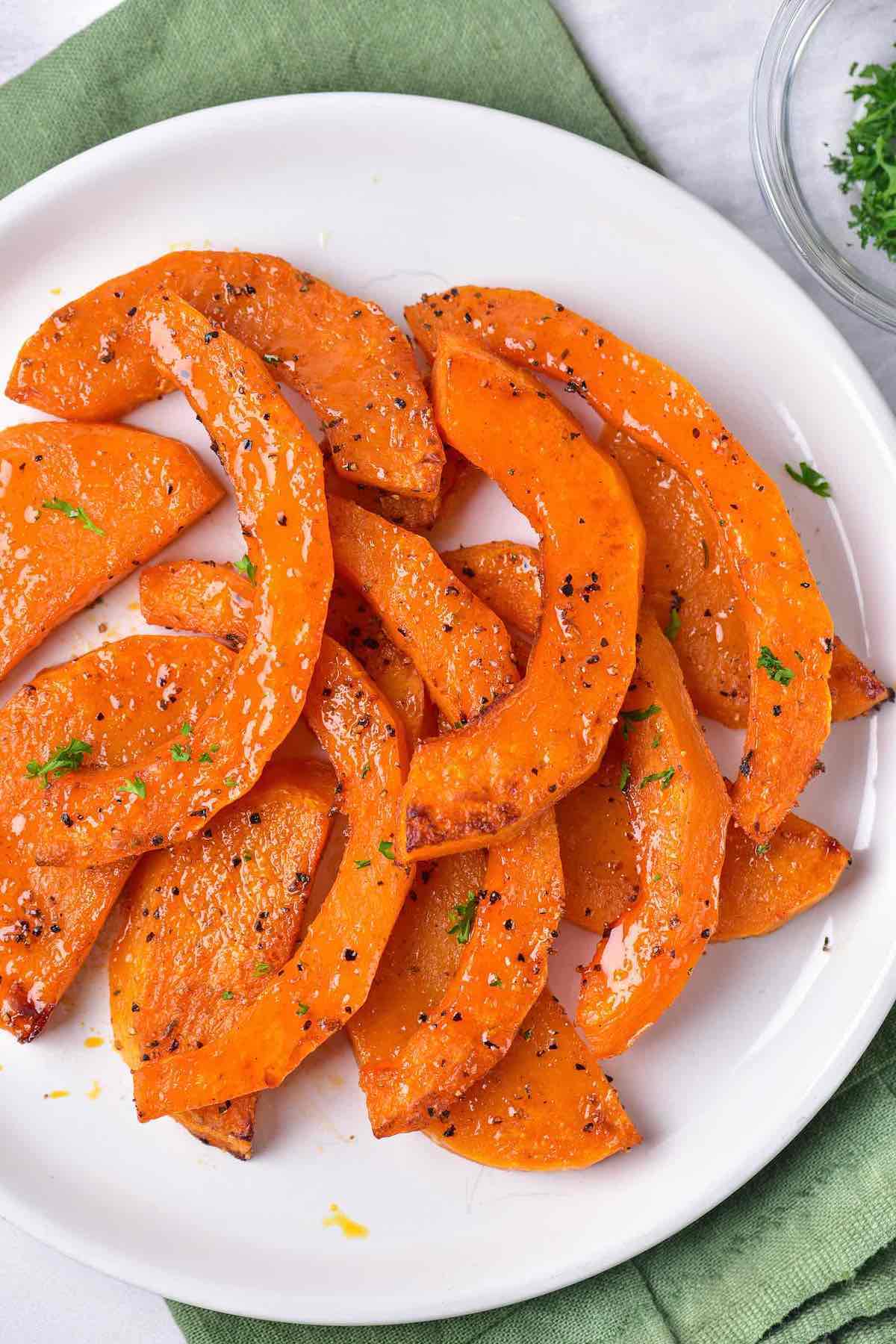 Roasted squash is a fabulous addition to our squash casserole and chicken casserole. It lends a lovely sweet flavor and a gorgeous fluffy texture.
Recently, we've been enjoying other kinds of squash, including the honeynut variety!
Seasoned with Italian seasoning and a few staple spices, this oven-baked honeynut squash is the perfect side dish to serve on colder days.
Table of Contents
What is honeynut squash?
Honeynut squash looks to be the smaller version of butternut squash. But this squash variety is more flavorful and has a brighter flesh. As you can probably guess by the name, this squash is quite sweet, with earthy and nutty notes.
Roasting is the best way to cook it, as it enhances its sweet flavor and results in a creamy texture. We used to love it when mom manage to find one in the grocery store because it compliments simple protein like chicken and steak perfectly.
It's healthy. Honeynut squash is healthier than butternut squash. It is a good source of a range of vitamins, minerals, and fiber.
Involves hands-off cooking. Season the sliced honeynut and pop it in the oven for 25 minutes. You can take care of making your main (stuffed salmon or chicken breast) and perhaps a cheeky dessert (like a slice of opera cake).
Ready in 30 minutes. So long as you don't slice the squash too thickly, it will take less than 25 minutes to cook through. Honeynut cooks faster than butternut. So, it is a great option when you want roasted squash for dinner but is short on time.
As this squash has a very concentrated sweet taste, you don't need a lot of ingredients to improve its flavor. Here's everything you'll need.
Honeynut squash. Cut into ¼ inch strips.
Substitution idea
Don't have honeynut squash on hand? Try using butternut or pumpkin instead.
Olive oil. To drizzle over the squash before baking it.
Spices. Black pepper and smoked paprika are the only spices we use for this recipe.
Italian seasoning. The earthy flavor of Italian seasoning complements the flavor of squash really well.
Salt. To taste.
How to cook honeynut squash
Start by cutting the squash in half and remove the seeds using a spoon. Slice the squash into strips that are ¼ inch thick.
Arrange the vegetable strips on a baking sheet lined with parchment paper and drizzle some olive oil on top. Season the squash rubbing the spices and herbs on each slice.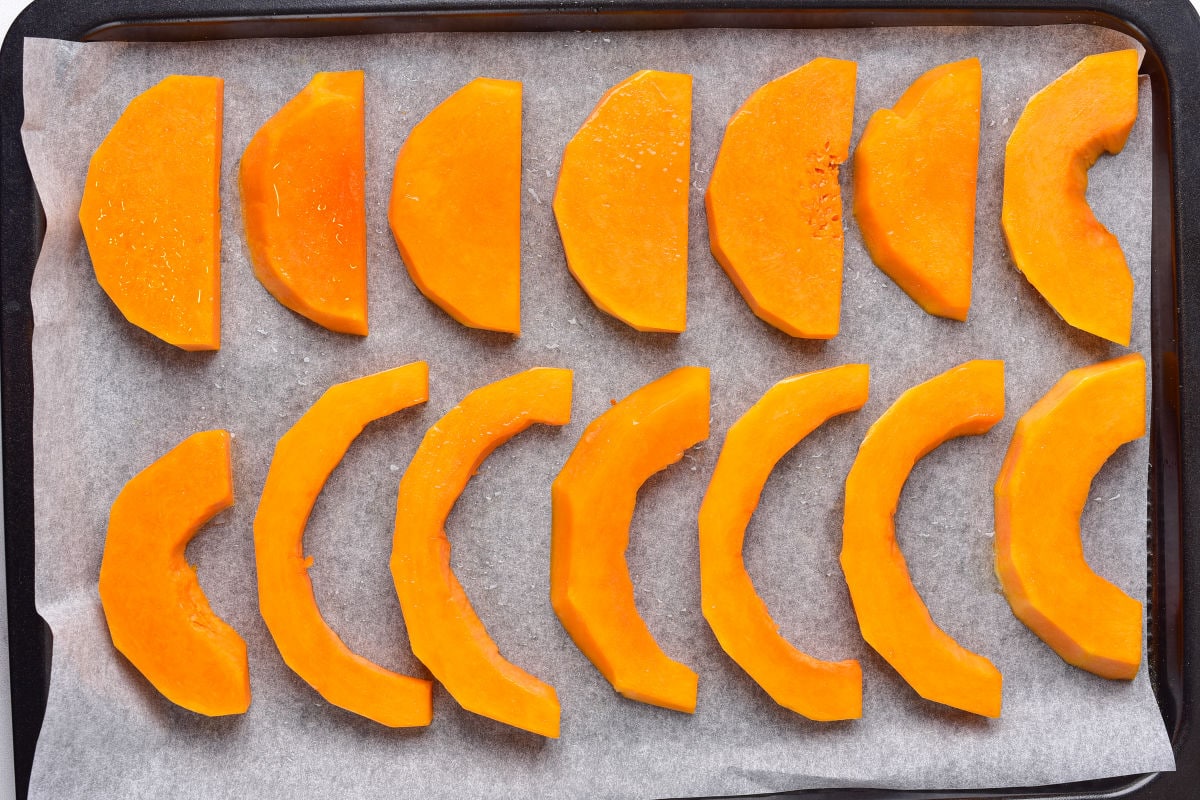 Roast the squash for 20 to 25 minutes, flipping halfway through the baking time.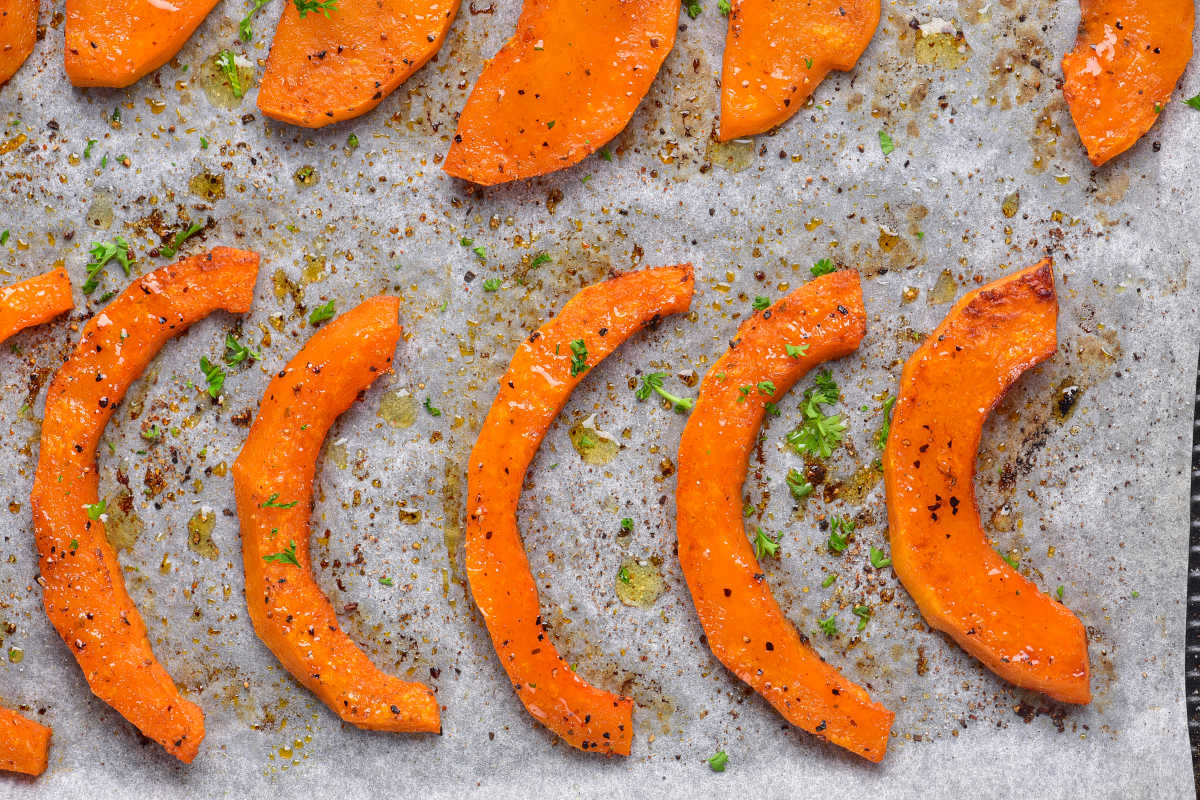 Variations
Add a few cloves of smashed garlic to the pan to infuse the squash with garlic aroma.
Swap the spices and herbs in the recipe with cinnamon and nutmeg and drizzle the squash with maple syrup instead of olive oil.
Use fresh herbs instead of dried herbs. Once baked, sprinkle the honeynut squash with chopped parsley, sage, or thyme.
Add red pepper flakes to the spice mix for spicier squash.
There is no need to peel honeynut squash. Unlike butternut squash, this squash has a thinner skin that becomes tender and flavorful once baked.
As this squash is quite small, you can cut it in half, season it, and bake it if you don't want to spend time cutting it into thinner slices. If you do so, make sure to cook the squash a little longer.
If you are planning to make this recipe for dinner, cut the squash in advance and keep it in the fridge. You can quickly arrange the sliced squash on the baking sheet and bake it once you are back home in the evening.
To store. Transfer leftover squash to an airtight container. Refrigerate for up to 5 days.
To reheat. Rewarm roasted squash in the oven preheated to 350F degrees. Alternatively, use the microwave.
To freeze. Flash freeze baked squash, then transfer it into an airtight container or bag and freeze for up to 3 months.
Leftovers idea
Roasted squash makes fabulous leftovers, and you can enjoy it directly from the fridge without heating it up. Slice leftovers up and toss through a rice or orzo salad, or use it as a filling in a chicken sandwich or quesadilla with it.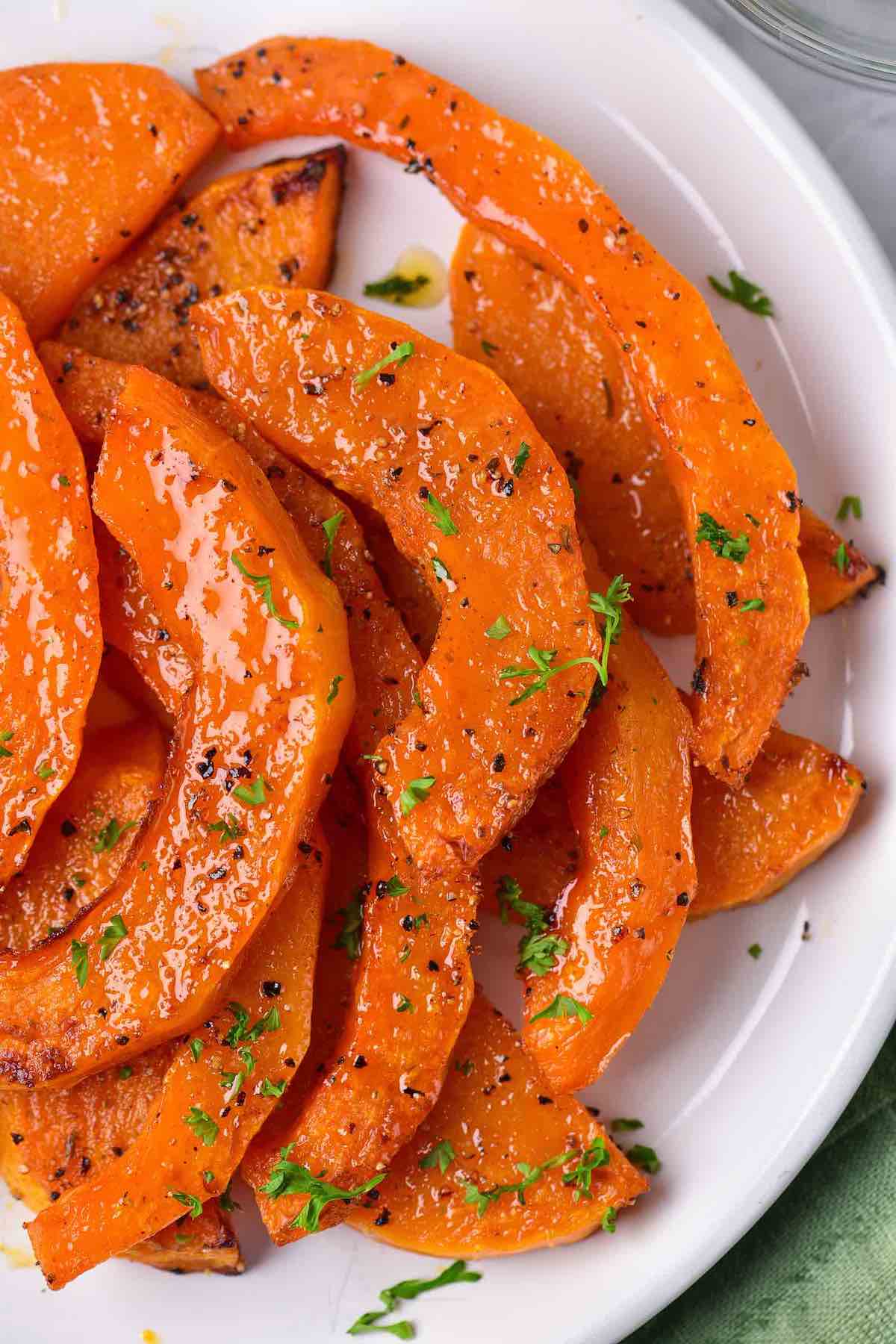 How do you pick a good honeynut squash?
Choose a honeynut squash that has a dark tan to orange skin. Never pick a honeynut that has a lot of green on it. The flesh should also be firm to the touch and don't have any wrinkles and dents.
Should honeynut squash be refrigerated?
Honeynut squash should be refrigerated once it has been cut or cooked. Whole uncooked squash can be stored in a cool dry place for up to a month.
Can I substitute butternut squash for honeynut squash?
Yes, you can substitute butternut squash for honeynut squash for roasting. Make sure to peel the butternut squash and cook it a bit longer.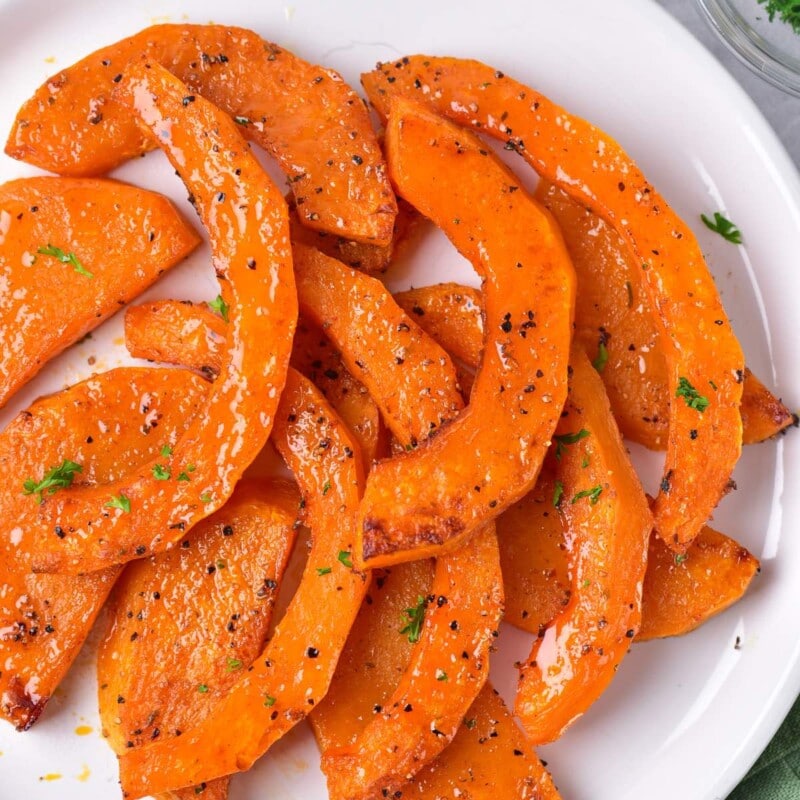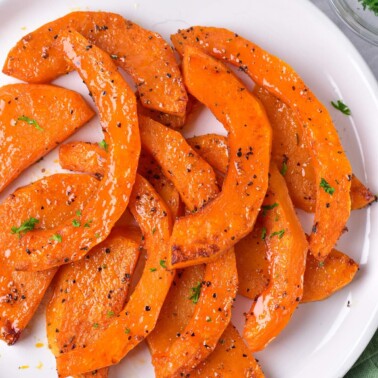 Honeynut Squash
This oven roasted honeynut squash recipe needs very little seasoning to bring out its natural sweetness! Serve this veggie as a delicious side dish to your favorite entrees!
Ingredients
3

lb

honeynut squash

2

tablespoons

olive oil

1/2

teaspoon

salt

1/2

teaspoon

pepper

1/4

teaspoon

smoked paprika

1/2

teaspoon

Italian seasoning
Instructions
Preheat the oven to 200C/400F.

Clean the squash and remove the innards. Slice them into ¼-inch strips.

Line a large baking sheet with parchment paper and spray with cooking spray. Add the slices of squash to it and drizzle the oil on top. Add the seasonings and using your hands, rub the oil over each slice of squash.

Roast for 20-25 minutes, flipping halfway through.
Notes
TO STORE: Transfer leftover squash to an airtight container. Refrigerate for up to 5 days.
TO REHEAT: Rewarm roasted squash in the oven preheated to 350F degrees. Alternatively, use the microwave.
TO FREEZE: Flash freeze baked squash, then transfer it into an airtight container or bag and freeze for up to 3 months.
Nutrition
Serving:
1
serving
Calories:
108
kcal
Carbohydrates:
20
g
Protein:
2
g
Fat:
4
g
Sodium:
152
mg
Potassium:
603
mg
Fiber:
4
g
Vitamin A:
18115
IU
Vitamin C:
36
mg
Calcium:
84
mg
Iron:
1
mg
NET CARBS:
16
g
Disclosure: This post may contain affiliate links. I may earn a small commission for my endorsement, recommendation, testimonial, and/or link to any products or services from this website.