This easy keto birthday cake is a low carb twist on the classic vanilla birthday cake! Made with almond flour and coconut flour, this moist and fluffy cake is the BEST low carb birthday cake recipe! 2 grams net carbs per LARGE slice.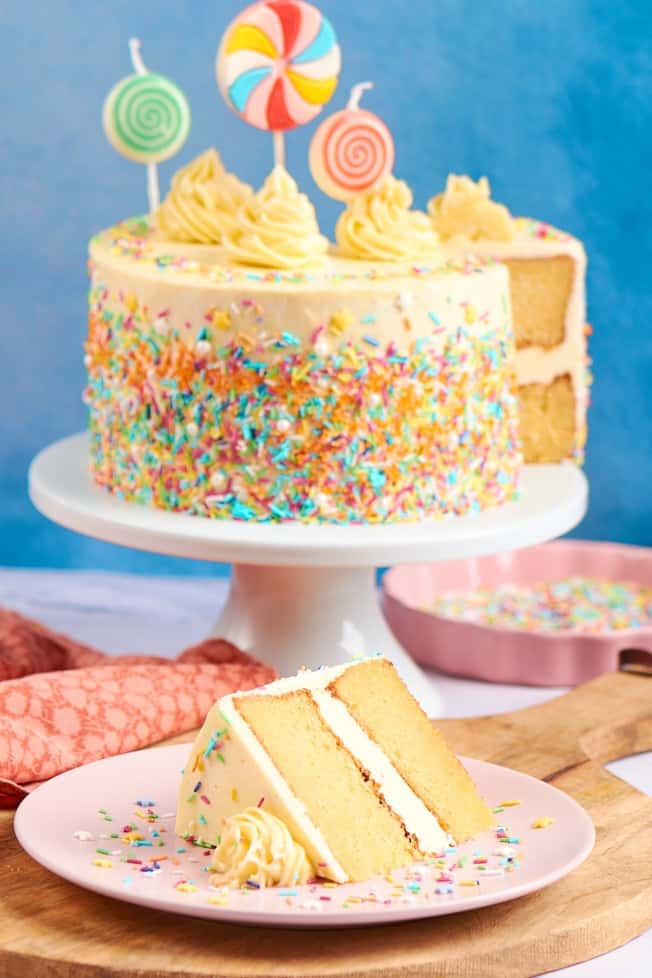 Keto Vanilla Cake
When it comes to birthdays, we have a few keto birthday desserts on rotation. Our favorites are keto brownies, keto chocolate cheesecake and now, this easy keto birthday cake.
I've been meaning to make a keto friendly birthday cake for ages now. I keep putting it off, but with my birthday fast approaching, I wanted to do something special and have my cake, and making it keto too.
Growing up, my birthday cake was ALWAYS a vanilla cake or a white cake. I never really chose those fancy flavors and loved the simplicity of it. To keep the tradition alive, my keto cake HAD to be simple yellow vanilla cake.
Now, this keto cake may look incredibly fancy, but I promise you, it is SO easy to make.
No grains, no sugar, and no dairy whatsoever, but you'd never tell. I served this with all my non-keto friends and NO one knew it was low carb and sugar free. In fact, several of them have requested it for THEIR birthdays!
The texture of this birthday cake is JUST like any vanilla cake out there- moist and fluffy, with a tender crumb. The taste is gorgeous- sweet with notes of vanilla throughout.
Ingredients for a Birthday Keto Cake
Here is what you will need for this easy keto birthday cake. Please avoid substituting any of the ingredients, unless specifically stated. For such a fancy looking birthday cake, you'll love this simple and easy ingredient list.
Almond Flour– You must use blanched almond flour, otherwise the cake will be darker and denser. Blanched almond flour is often called superfine almond flour.
Coconut Flour– Works with the almond flour to produce a super fluffy and moist cake. DO NOT omit this or substitute this for something else.
Baking Powder– Leavens out the cake and helps it rise.
Salt– Brings out the sweetness of the cake.
Butter– I used vegan butter, to keep it dairy free. If you use vegan butter, try to use the stick variety (not spreadable) as it doesn't have any added water or fillers on it.
Sugar Substitute– You can use either monk fruit sweetener or erythritol. I prefer using monk fruit as it is most similar to white sugar.
Eggs– Use room temperature eggs, not refrigerated.
Milk of choice– Almond milk, coconut milk, cashew milk, etc. All will work.
Vanilla extract– A MUST for any cake or baked food recipe.
How to make a keto birthday cake
This ingredient amounts provided for this low carb birthday cake recipe is to make a layer cake. If you'd like to make a single cake, simply halve the ingredients!
Start by greasing two 8-inch cake pans and set aside. Next, combine your dry ingredients into a large mixing bowl and mix until combined.
In a separate bowl or in a stand mixer, add your sugar substitute with butter. Beat together the two ingredients until creamy and fluffy. This usually takes around 8 minutes. Continue mixing while adding the eggs in, one at a time. Next, add the milk and vanilla extract and beat it into the batter. Finally, add in the dry mixture and beat all together until creamy.
Finally, you'll transfer the keto vanilla cake batter evenly amongst the two cake pans. Bake the cakes for 22-25 minutes, or until a skewer comes out clean. Allow the cakes to cool completely, before frosting them and layering them up.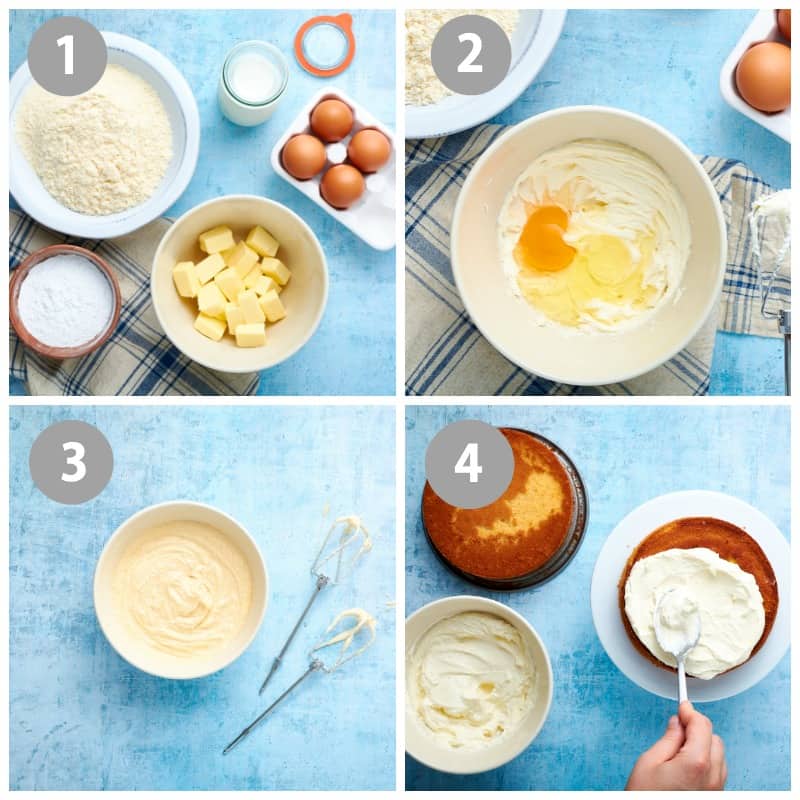 Frosting Ideas
Any vanilla or white frosting will work, or you can even go the chocolate route. Here are a few other ideas-
Cream cheese frosting– Use any cream cheese frosting of your choice. Be sure to use dairy free cream cheese to keep it vegan!
Cashew cream cheese frosting– My go-to frosting. It's a little more time consuming but it's so creamy, thick and rich!
Whipped coconut cream– Simple and delicious!
Keto Vanilla Cake Tips
Again, this makes a keto layer birthday cake. For a single cake, halve the ingredients.
I highly recommend using a stand mixer or hand mixer to beat the ingredients. I tried mixing by hand and while it does work, I find the former have the fluffier texture.
For a keto Funfetti birthday cake, add some sugar free sprinkles into the batter and on the frosting.
Your cake must be cooled completely before frosting.
Do not overbake the cake, as the cake continues to bake while it cools.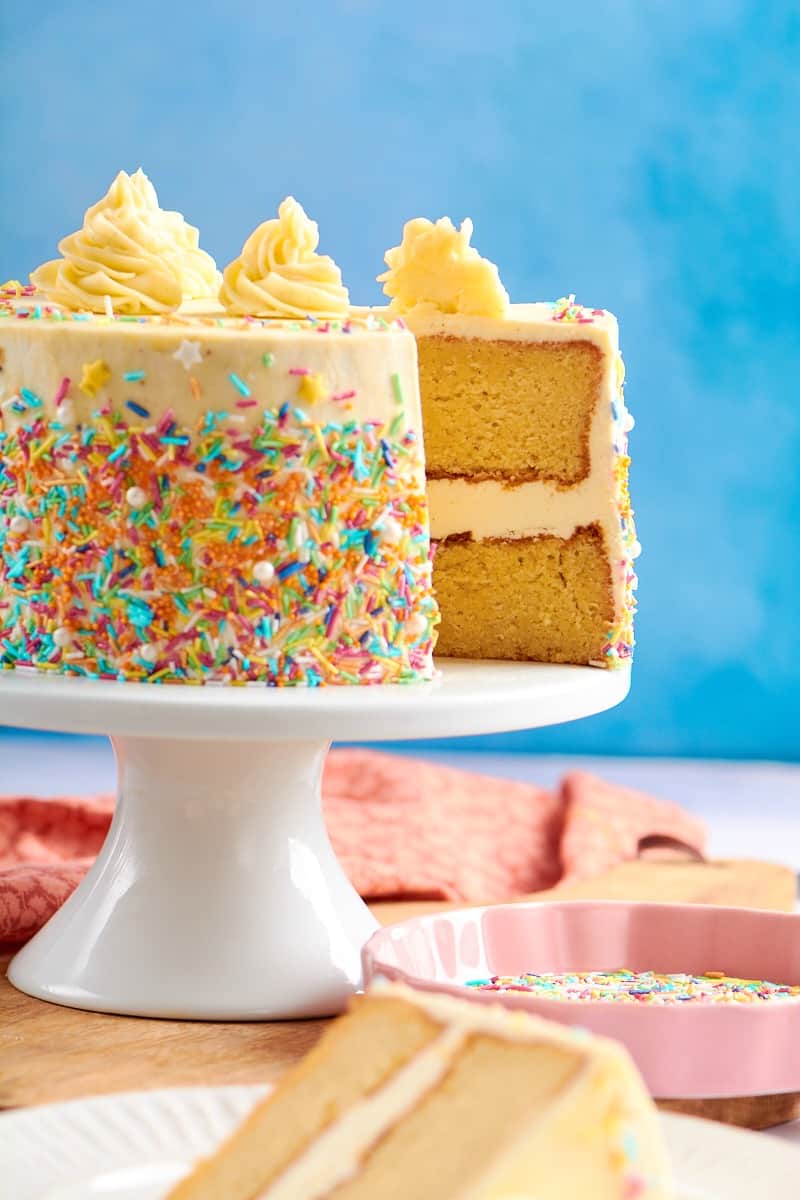 Is this a diabetic cake?
Please understand that I am not a medical professional. While I am knowledgable about diabetes and the diabetic way of eating (my father is diabetic), every person's carbohydrate and sugar needs are different.
To see if this cake is suitable for a diabetic diet and can be considered a diabetic cake, please seek appropriate advice.
Can I make this without eggs?
I tried this keto vanilla birthday cake without eggs, using an egg substitute. The texture was not super moist or fluffy, and quite dense. If you don't mind that texture, then use a pre-formulated egg substitute (e.g. ener-g egg replacer).
I haven't tried this with flax eggs or chia eggs, so please let me know if you try it out- I'd love to hear how it works!
Storing and Freezing Tips
To store: Leftover sugar free birthday cake should be stored in the refrigerator, to avoid any potential spoilage. Keep the cake covered in a sealable container. It will keep well for at least 5 days.
To freeze: If you don't plan on eating the keto birthday cake within 5 days, freeze the leftovers! Place slices of the cake in a freezer friendly container, or in large portions. Birthday keto cake will keep well frozen for up to 6 months.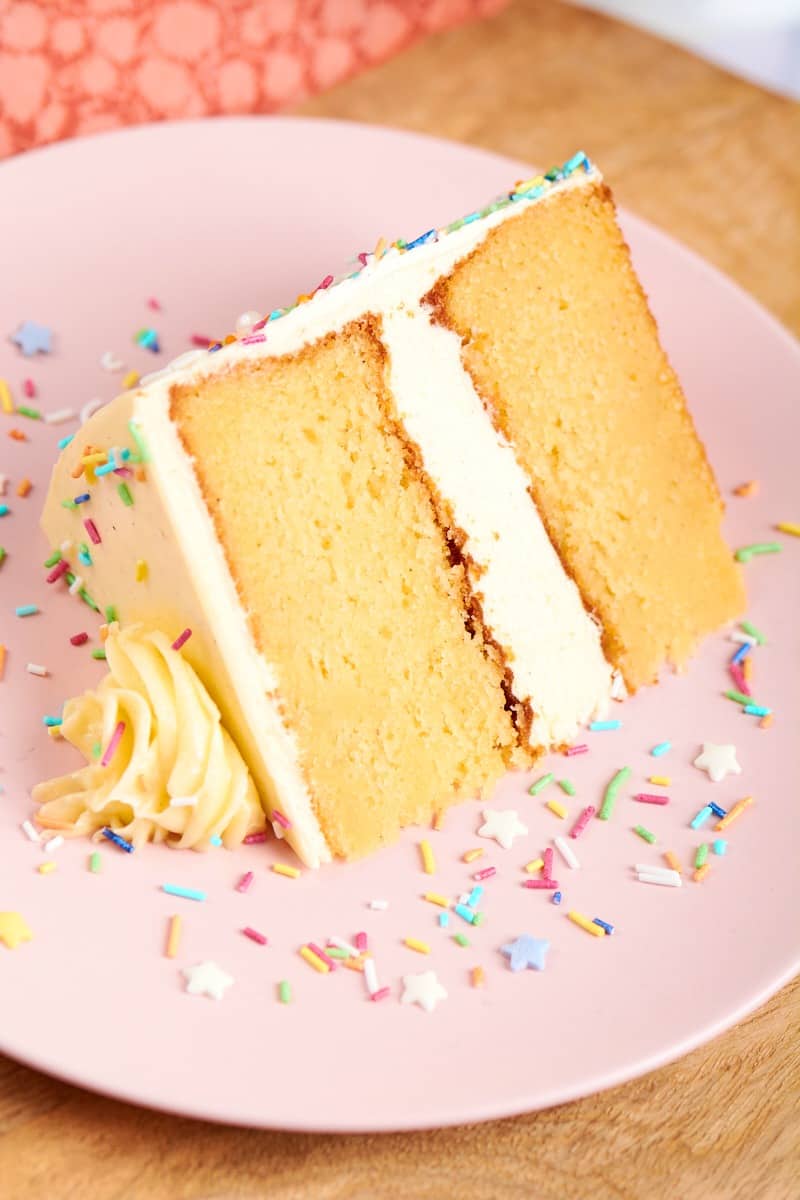 More Keto Friendly Desserts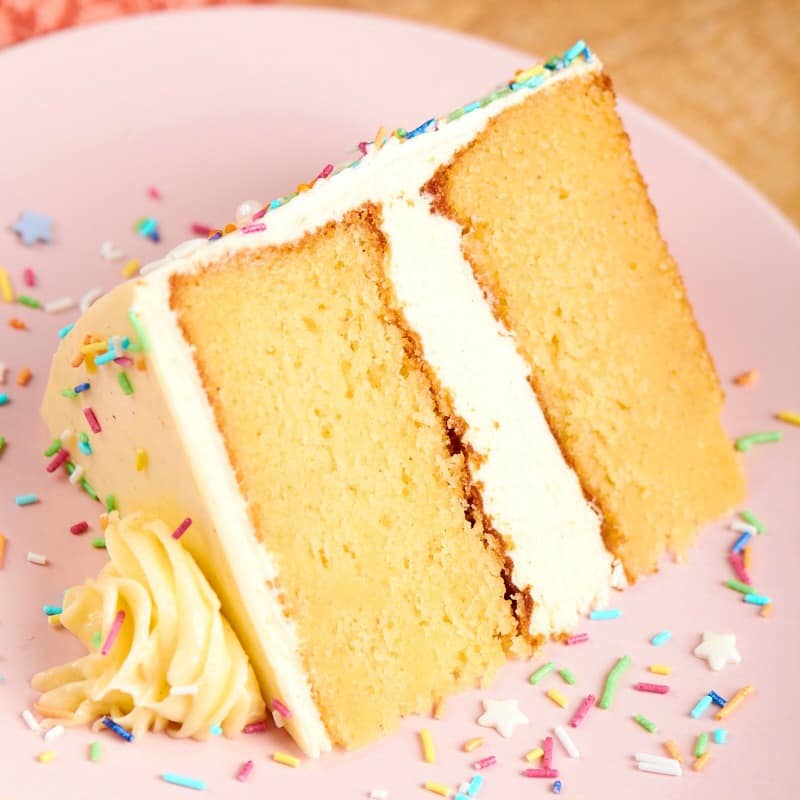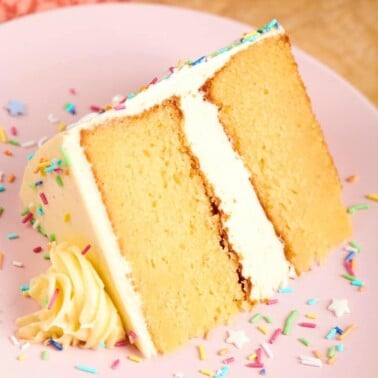 Keto Birthday Cake (Vanilla Cake!)
This keto birthday cake recipe is the BEST sugar free birthday cake you'll ever have! Moist, fluffy and with a tender crumb, this keto vanilla cake is just like a classic yellow cake! Sugar free, gluten free, paleo and low carb.
Instructions
Preheat the oven to 180C/350F. Line two 8-inch pans with parchment/baking paper and set aside.

In a mixing bowl, add your almond flour, coconut flour, baking powder and salt and mix well. Set aside.

In a stand mixer or hand mixer, cream your butter and sugar until fluffy, around 8 minutes. Add the eggs in, one at a time, and beat well until fully incorporated. Add the milk and vanilla extract until combined. Add the dry ingredients and beat until creamy.

Divide the batter evenly amongst the two cake pans, and smoothen out the tops. Bake for around 22-25 minutes, or until a skewer comes out clean. Allow the cakes to cool completely.

Once cool, frost the cakes with your favorite vanilla frosting.
Notes
* Erythritol or monk fruit sweetener.
** I haven't tried using flax eggs or chia eggs. I tried this with egg replacer, and the texture was too dense.
Nutrition
Serving:
1
slice
Calories:
172
kcal
Carbohydrates:
5
g
Protein:
4
g
Fat:
16
g
Sodium:
209
mg
Potassium:
20
mg
Fiber:
3
g
Vitamin A:
333
IU
Calcium:
75
mg
Iron:
1
mg
NET CARBS:
2
g
Disclosure: This post may contain affiliate links. I may earn a small commission for my endorsement, recommendation, testimonial, and/or link to any products or services from this website.