Learn how to make lomo saltado, a classic Peruvian-Chinese beef stir fry! Made with tender steak strips, spicy peppers, and tomatoes, it's a comforting and easy meal served with a side of fluffy white rice and crispy French fries.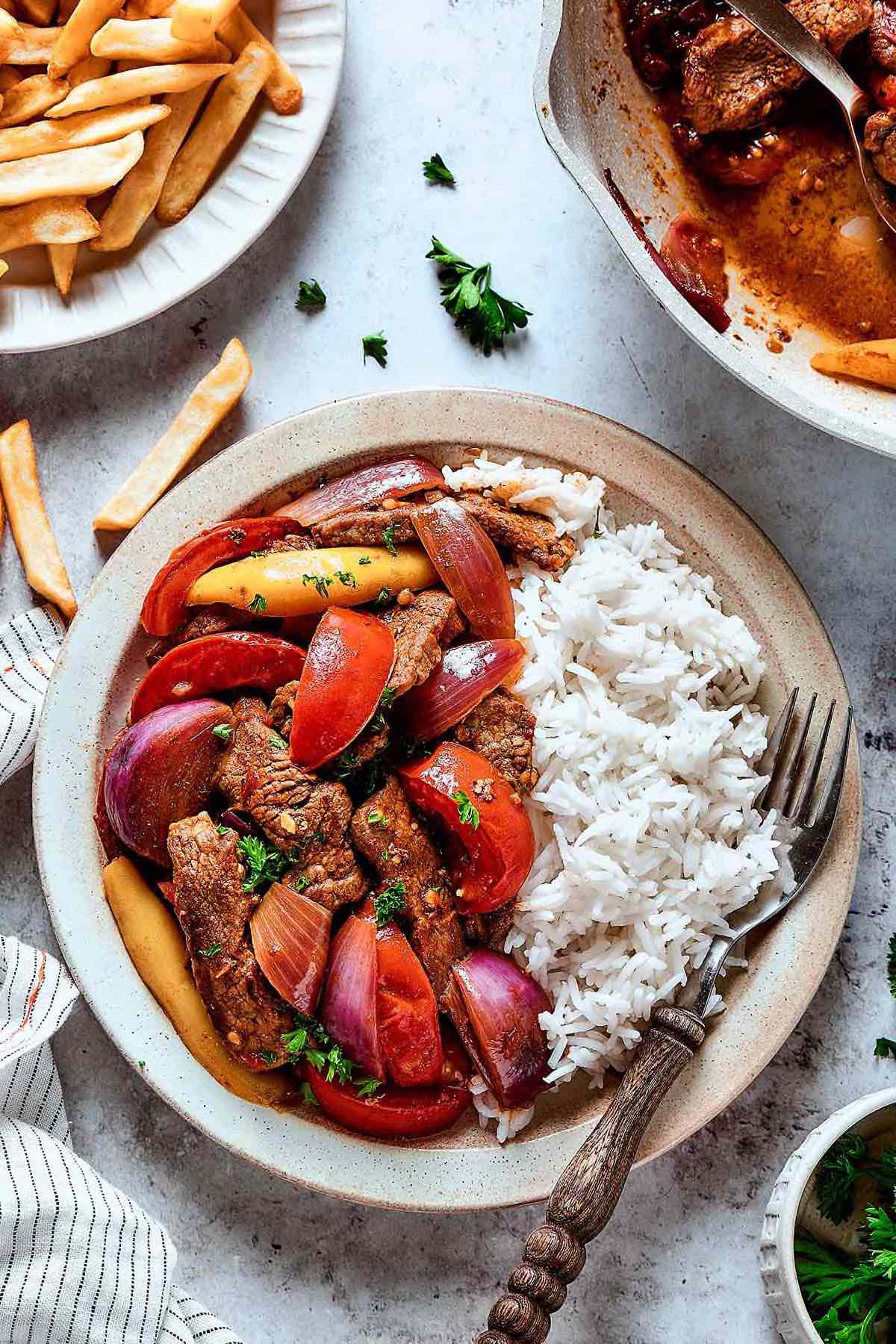 If you love ceviche and Pollo a la Brasa, prepare your palate for the culinary sensation of Peruvian lomo saltado!
This world-renowned dish blends classic Peruvian ingredients, like beef, ají amarillo peppers, red onion, bell peppers, and tomatoes, with the aromatic flavors of Chinese cuisine. The result is a delectable Peruvian-Chinese beef stir fry that is sure to become a dinnertime favorite.
Table of Contents
Why this recipe works
Peruvian-Chinese fusion. Discover the dynamic tastes, textures, and experiences of Peru and China in this flavor-rich dish! It may sound a little bit obscure, but trust me- coming from a half-Chinese background, the flavor combination is incredible.
Quick and easy. This recipe is deceptively simple and comes together faster than you may think. It's great for weeknight family dinners and meal prep!
Fun to customize. You have complete control over the level of heat and the balance of flavors in this easy dish. Plus, the opportunities to experiment with different meats and veggies are endless.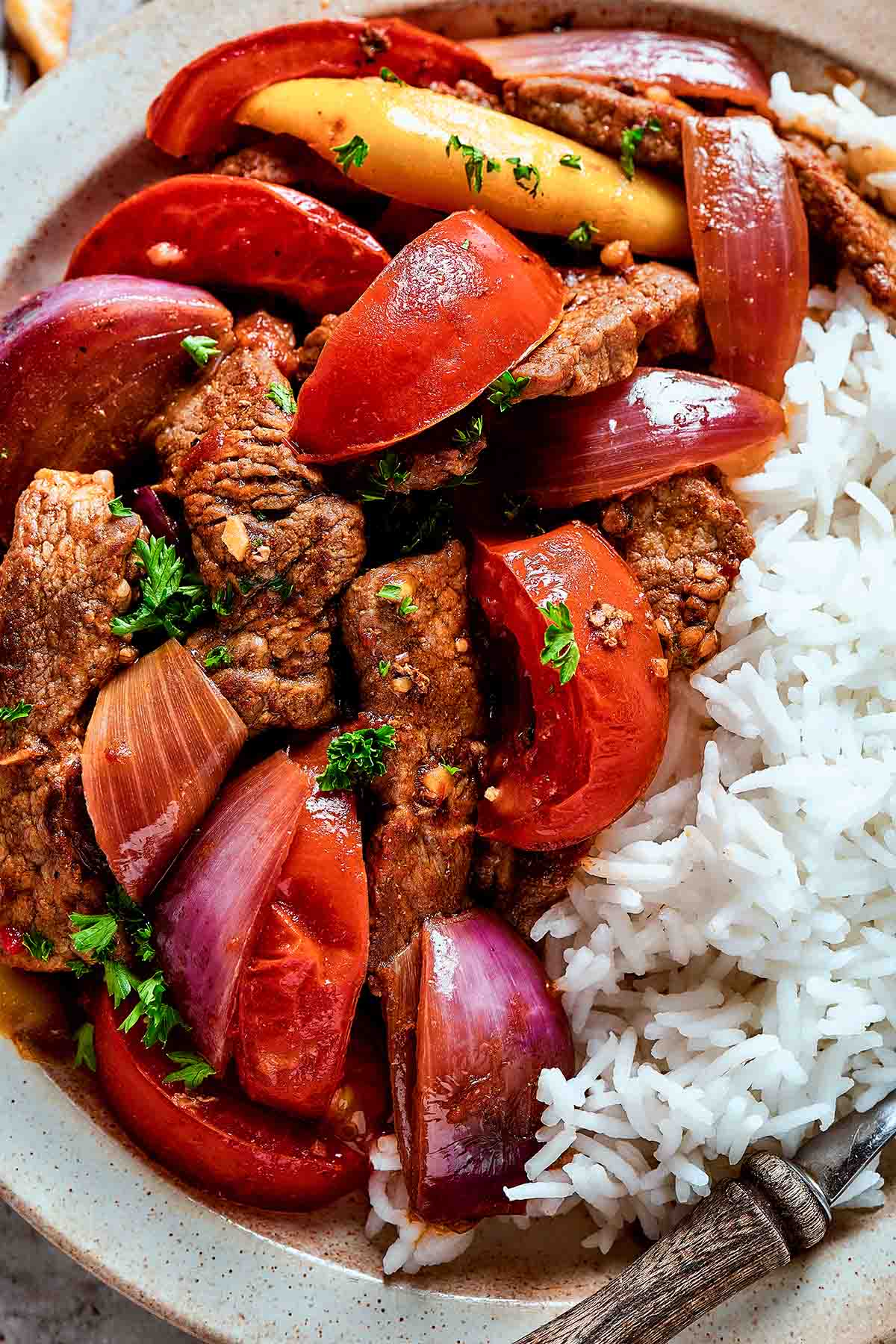 Ingredients needed
Meat, veggies, and a handful of seasonings are all you'll need to make this incredibly tasty dinner. Here is everything that is needed:
Steak. There are plenty of tasty cuts of beef for lomo saltado (see the FAQs section for more recommendations), but my favorites are sirloin, shaved, or flank steak.
Tomatoes. Use firm, meaty varieties, like Roma or beefsteak tomatoes. They should be sturdy enough to cut into quarters and retain their shape when cooked.
Red onion. For crunch, a mild onion flavor and a pop of color. White or yellow onions also work.
Yellow bell pepper. For extra color, use a medley of green, red, orange, and yellow bell peppers.
Garlic. The fresh cloves enhance the aromatic and savory qualities of the dish.
Cilantro. For garnish.
Olive oil. For stir frying the beef and vegetables.
Soy sauce. This is the base of the lomo (stir fry) sauce. Use tamari or coconut aminos if you're gluten-free.
Vinegar. Use red wine vinegar if you can. Its acidity balances the umami-rich soy sauce.
Cumin. For a hint of earthiness and warmth.
Salt and pepper. To taste.
Ají amarillo chili peppers. These mild to medium peppers are a staple of Peruvian cuisine. You can find them at most grocery stores or specialty Mexican/South American grocery stores. If you can't find these, use jalapeno or chili peppers.
How to make lomo saltado
Brown the beef strips. Heat the olive oil in a large skillet or wok, then add the steak strips and cook until they're browned. Transfer the strips to a separate plate.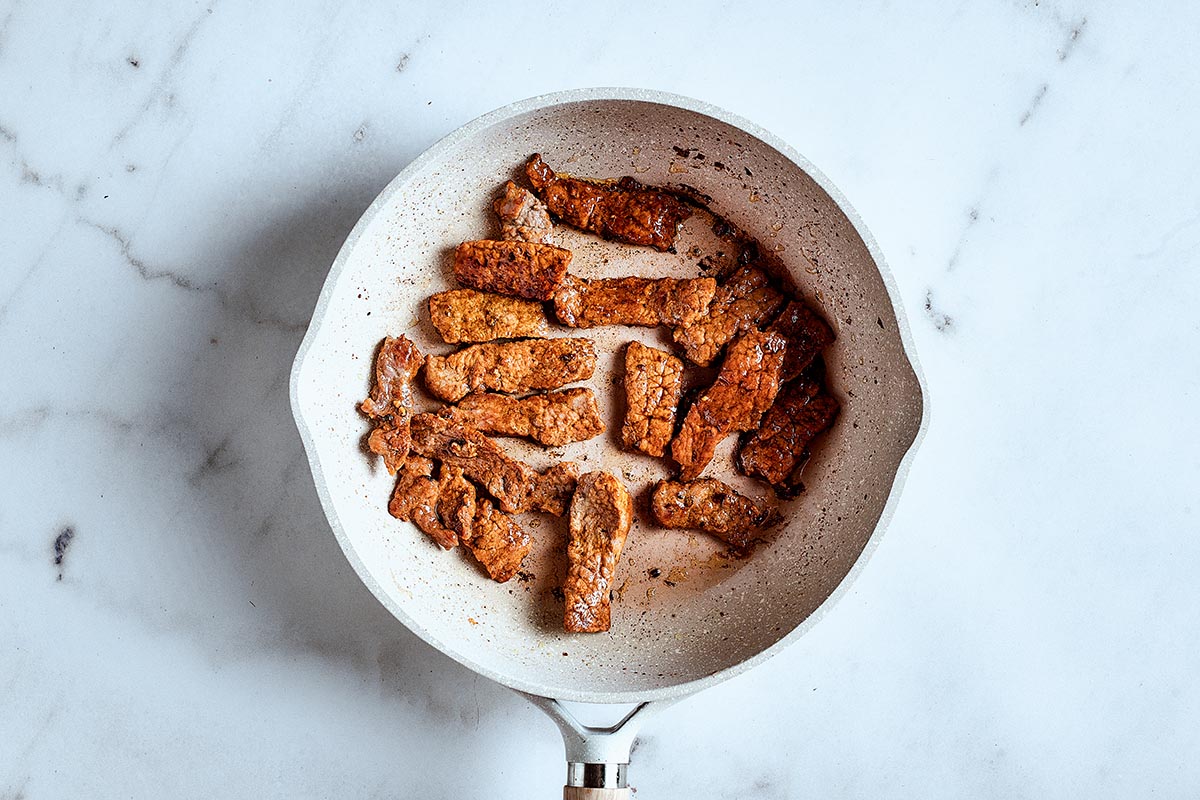 Stir fry the vegetables. In the now-empty skillet, saute the garlic and ají amarillo chili peppers until fragrant. Next, add the onions and bell peppers. Cook for a few minutes before returning the steak to the pan, along with the tomatoes.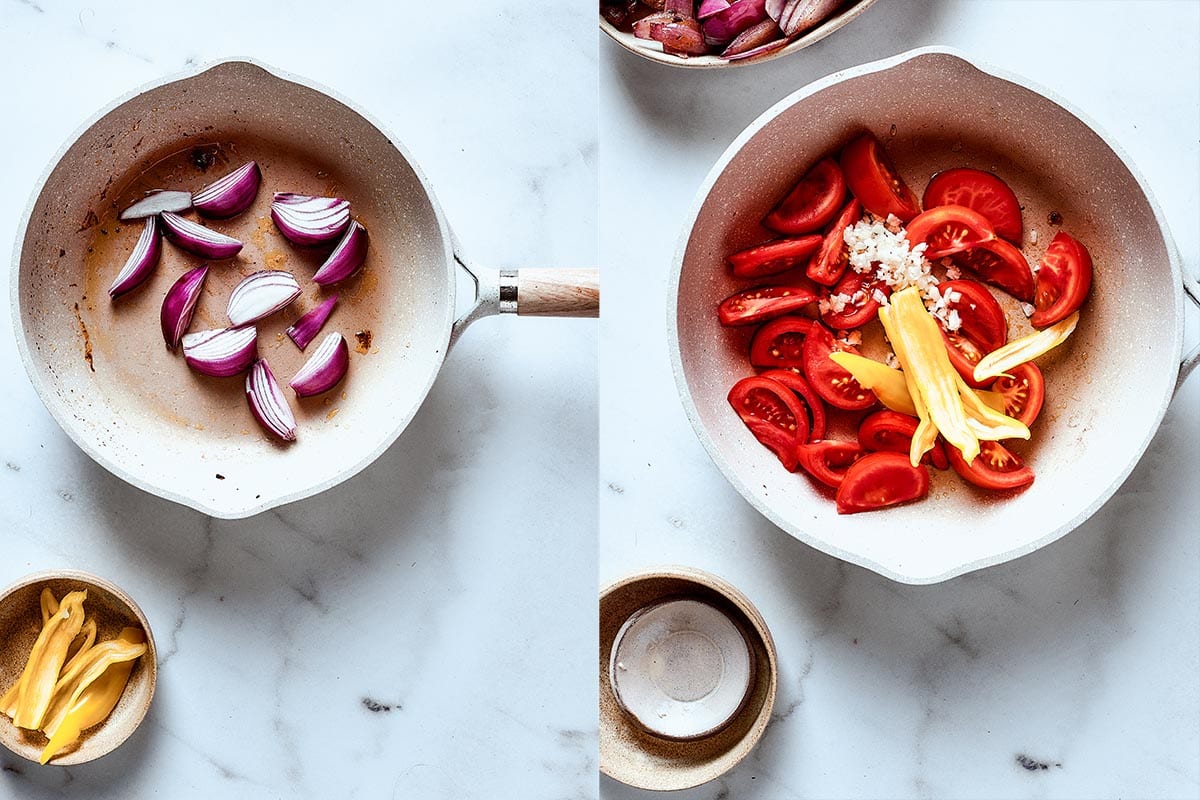 Make the stir fry sauce. Whisk the soy sauce, vinegar, cumin, salt, and pepper in a small bowl.
Add the sauce. Pour the sauce into the skillet. Stir the mixture until the steak is cooked and the vegetables are tender-crisp.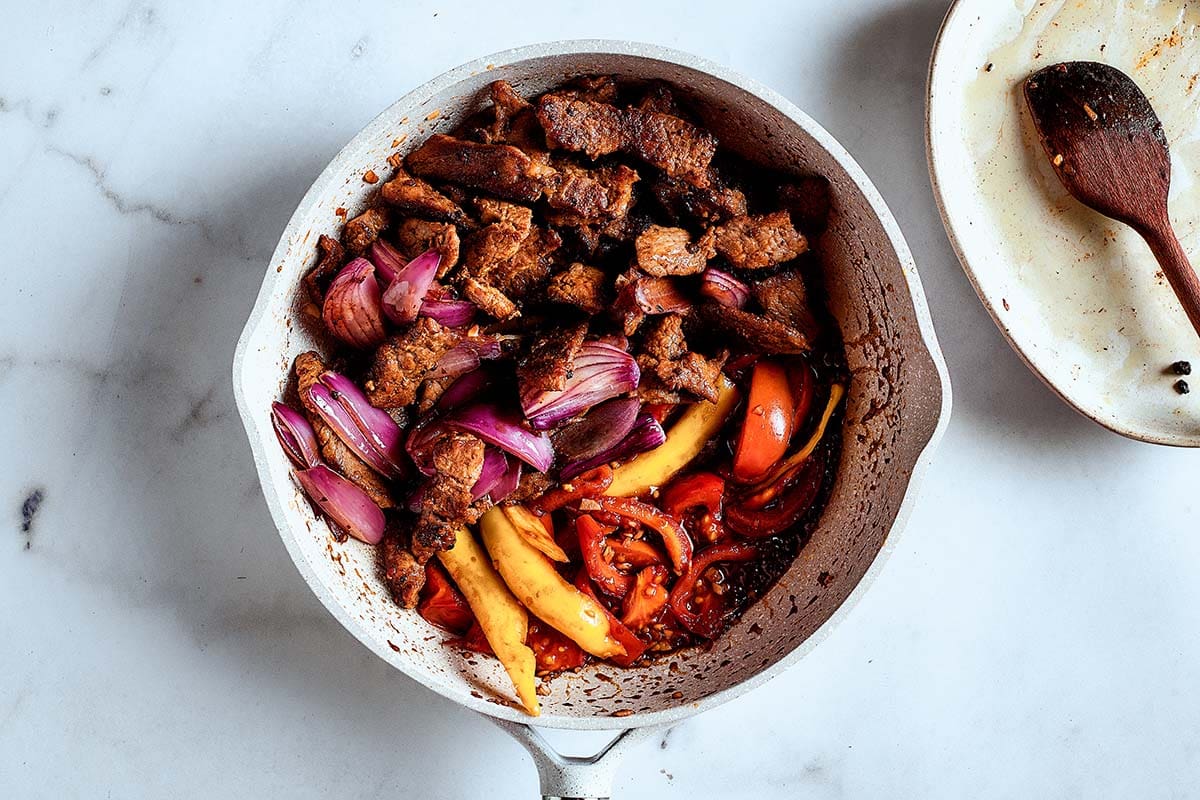 Garnish and serve. Take the skillet off of the heat and sprinkle the cilantro on top. Serve the stir fry with white rice and/or French fries on the side and enjoy!
Recipe tips and tricks
Adjust the spice level. Ají amarillo peppers are on the mild to medium side with only 30,000 to 50,000 Scoville Heat Units. If you love spicy food, add an extra pepper. If it's too spicy, only use 1 pepper in the stir fry.
Sear the steak over high heat. Make sure your skillet or wok is sizzling hot before adding the steak. The high heat helps it brown properly and develop a nice crust on the outside.
Don't overcook the vegetables. You want the onions, tomatoes, and bell peppers to be soft on the inside but still have a slight crunch on the outside.
Flavor variations
Play with the proteins and veggies in the stir fry to make this recipe your own:
Chicken. Swap the beef for sliced chicken breasts or chicken thighs.
Shrimp. Replace the beef with peeled, deveined shrimp. Remember to stir fry the shrimp separately from the vegetables to help them cook quicker.
Vegan. Substitute the beef with plant-based alternatives, such as seitan, tofu, or tempeh.
Extra veggies. Load the stir fry with even more veggies, like mushrooms, zucchini, carrots, green beans, and snap peas.
What to serve with lomo saltado
Lomo saltado is traditionally served with fluffy coconut rice to soak up the flavorful lomo sauce. A pile of fries on the side also offers a satisfying crunch!
Want to omit the carbs? Serve this dish with cauliflower rice, a leafy green salad, or veggies, like broccoli or spinach, instead.
Storage instructions
To store: Let the leftover lomo saltado cool to room temperature, then transfer it to an airtight container and store it in the fridge for 2 to 3 days.
To reheat: Reheat the beef and veggies in a pan over medium heat until warmed through.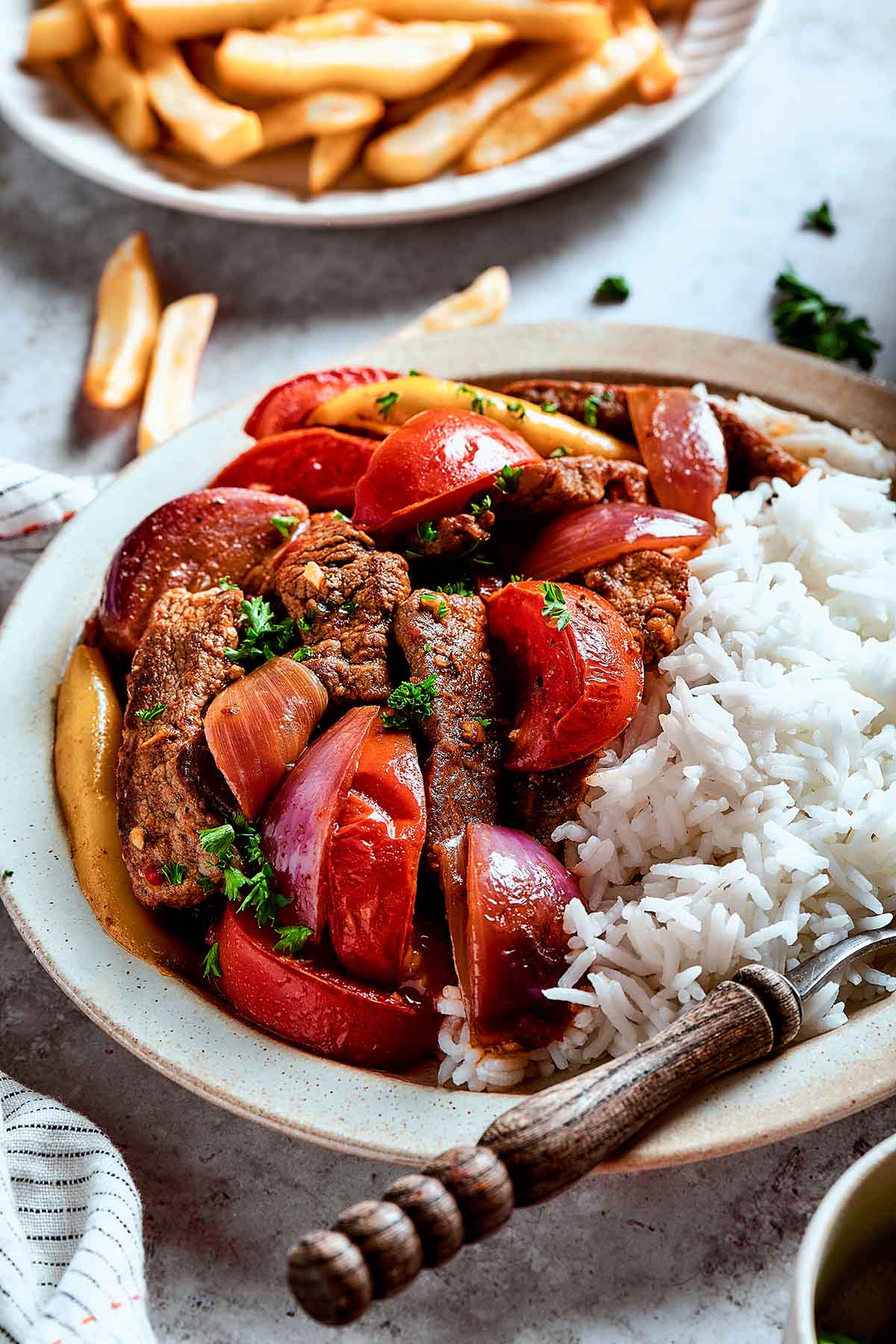 More stir fry recipes
Frequently asked questions
What is the best cut of beef to use for lomo saltado?
As with any beef stir fry, you need a cut of steak that can withstand quick, high-heat cooking while staying tender and juicy. The best steak cuts for lomo saltado are sirloin, strip steak, ribeye, and filet mignon.
Flank and skirt steak also work, but they aren't as naturally tender. It can help to marinate these cuts in a steak marinade to help them stay moist and juicy during the cooking process.
What is lomo saltado in English?
In English, "lomo saltado" translates to "stir fried beef."
What does lomo saltado taste like?
This dish features a delightful balance of umami, tangy, savory, and slightly sweet flavors. By combining browned beef, crisp-tender vegetables, and well-balanced seasonings, you're left with a truly satisfying and distinctly Peruvian experience!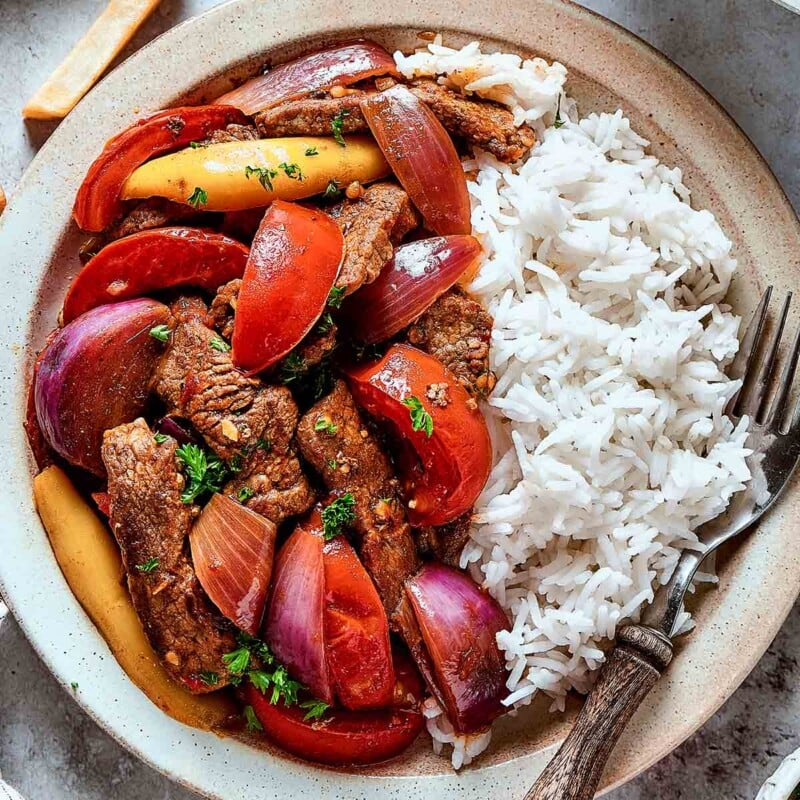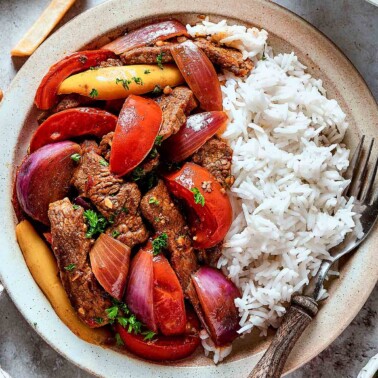 Lomo Saltado
Learn how to make lomo saltado, a classic Peruvian-Chinese beef stir fry! Tender steak strips sauteed with spicy peppers and tomatoes, with the most sauce. It's quick, easy, and delicious.
Ingredients
1

lb

flank steak

sliced into thin strips

2

tablespoons

olive oil

3

cloves

garlic

minced

2

aji amarillo peppers

de-seeded and thinly sliced

1

large

red onion

thinly sliced

1

large

bell pepper

cut into strips

2

small

tomatoes

cut into wedges

2

tablespoons

soy sauce

1

tablespoon

vinegar

1

teaspoon

cumin

1/2

teaspoon

salt

1/4

teaspoon

pepper

1/4

cup

cilantro

chopped
Instructions
In a large skillet or wok, heat the olive oil over medium-high heat. Add the steak strips to the skillet and cook until browned, about 3-4 minutes. Remove the steak from the skillet and set aside.

In the same skillet, add the minced garlic and ají amarillo chili peppers. Sauté until fragrant. Add the red onion and bell pepper and cook for 2-3 minutes until they begin to soften.

Return the cooked steak to the skillet and add the tomatoes. Stir-fry for another 2-3 minutes until the tomatoes soften and release their juices.

In a small bowl, mix together the soy sauce, vinegar, cumin, salt, and pepper. Pour the mixture over the ingredients in the skillet and stir well to coat everything.

Cook for 1-2 more minutes, or until the steak is cooked to your desired doneness. Stir through the chopped cilantro at the end.
Notes
TO STORE. Let the leftover lomo saltado cool to room temperature, then transfer it to an airtight container and store it in the fridge for 2 to 3 days.
TO REHEAT. Reheat the beef and veggies in a pan over medium heat until warmed through.
Nutrition
Serving:
1
serving
Calories:
259
kcal
Carbohydrates:
8
g
Protein:
27
g
Fat:
13
g
Sodium:
860
mg
Potassium:
665
mg
Fiber:
2
g
Sugar:
4
g
Vitamin A:
1738
IU
Vitamin C:
62
mg
Calcium:
50
mg
Iron:
3
mg
NET CARBS:
6
g
Disclosure: This post may contain affiliate links. I may earn a small commission for my endorsement, recommendation, testimonial, and/or link to any products or services from this website.