Take your pulled chicken to the next level with a delicious tandoori sauce blend which is gluten free, paleo, whole30 friendly and dairy free! Moist, flavourful pulled chicken ready in 20 minutes instead of the slow cooker!

Firstly, thank you all SO much for your kind words on my big announcement on Thursday– I'm still in disbelief and excited all in one- I'll keep you all updated as I most likely will need some advice! Cheers!
***
Let me preface this by saying I love pulled meat.
Pulled chicken, pulled pork or pulled beef- Hell, if there was pulled shrimp or pulled crab, I'd be a huge fan (although I don't think my wallet would be). With Summer ending in Australia, it means that slow cookers and hearty stews are going to be pulled (ha) out of the depths of the pantries, kitchen drawers or (where my mum stores it), the garage.
Since sharing more recipes here on the blog, there has been a fine lesson I've learnt- Share seasonally relevant recipes.

What does that mean? Well for me, I realised most of my readership was from America. Learning how to understand google analytics was a huge learning curve for me and taught me to play to my strengths. No more sharing stews in Summer or overnight oats in Winter. Yes, they were delicious recipes but the likelihood of them being made- Not so much.
Today's recipe is one which could be seasonally appropriate for those about to face Winter or those entering Spring- Pulled chicken without the need for a slow cooker and ready in much less time.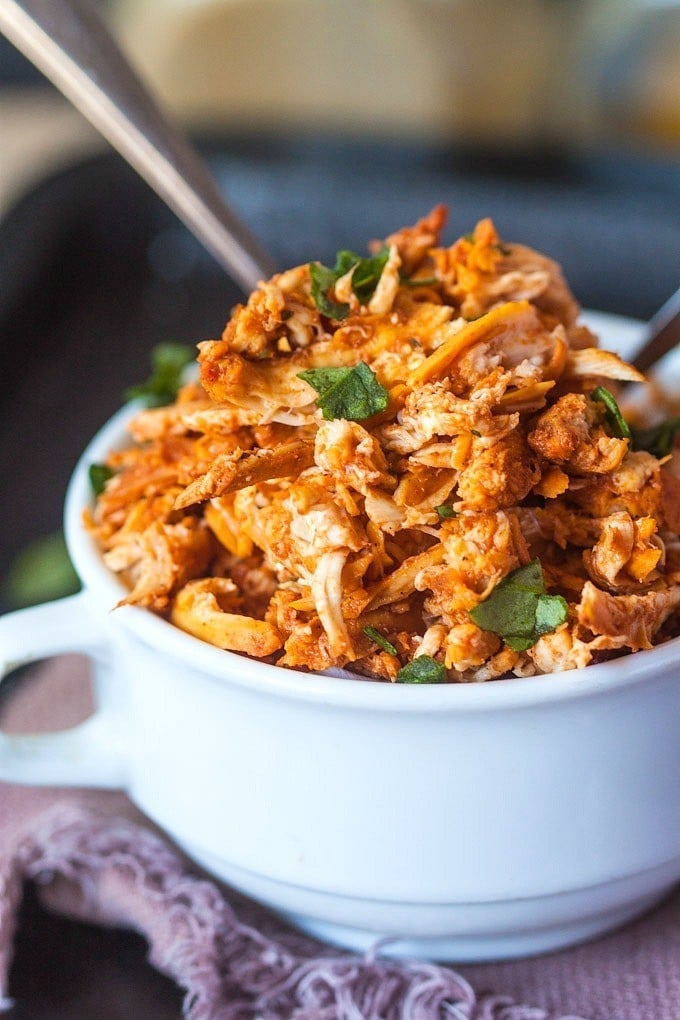 Slow cooker= 8 hours on low.
Stove top = 20 minutes + 5 minutes cooling time + 1 minute pulling.
I'd take the latter, thanks.
I am always fearful that chicken made over the stovetop would turn out like rubber. In turn, I could take up hockey as a sport and bring my own pucks. Luckily, after picking my mum's brain, I now am confident in making stovetop poached chicken which are moist (sorry), flavourful and juicy– Perfect to be be shredded and doused in a delicious sauce.
(It's times like these I forgive my mum for having a slow cooker perfectly intact because she refuses to use it unless desperate).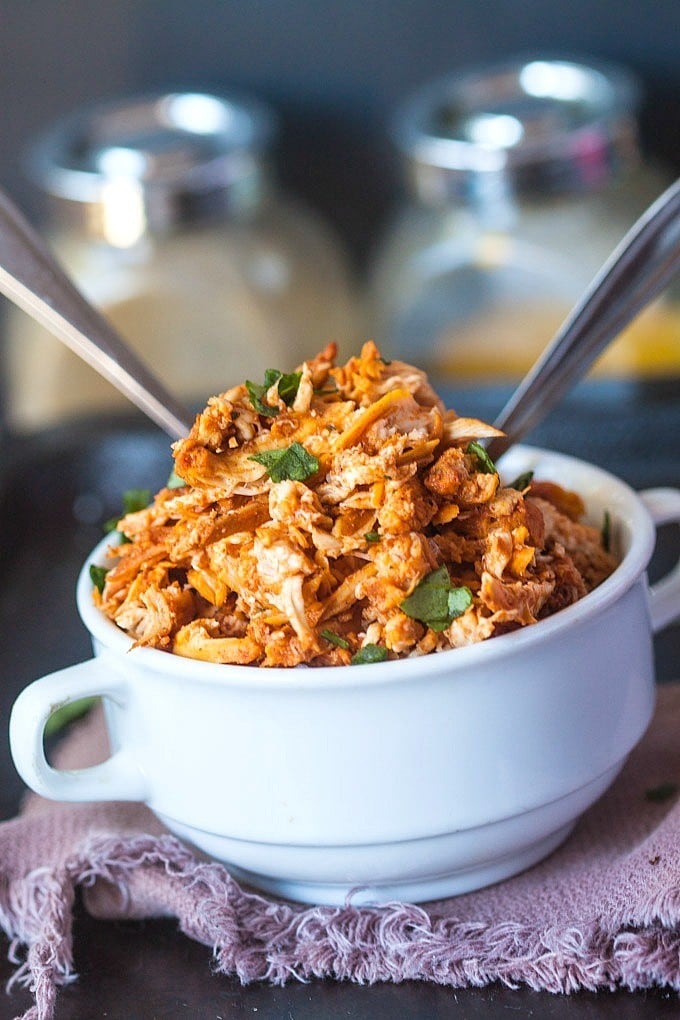 This pulled chicken is so simple to make and the addition of a homemade healthy tandoori sauce takes it to the next level. While barbecued pulled chicken and and buffalo pulled chicken tastes delicious, it's always fun to toss it up. The homemade tandoori sauce is different to mainstream ones out there- It is paleo friendly, dairy free, whole30 friendly and gluten free! It is free from any sugar and the spice mixture is flavourful and slightly spicy.
This delicious and easy pulled chicken also fits well this with month's recipe redux theme which is two for one- Or the concept of turning the leftovers into other meals. The beauty of this versatile pulled chicken is how the leftovers can be used. I'll be sharing a couple in the coming weeks but some ideas include pulled tandoori chicken wraps, tossed in a salad or even thrown in a soup!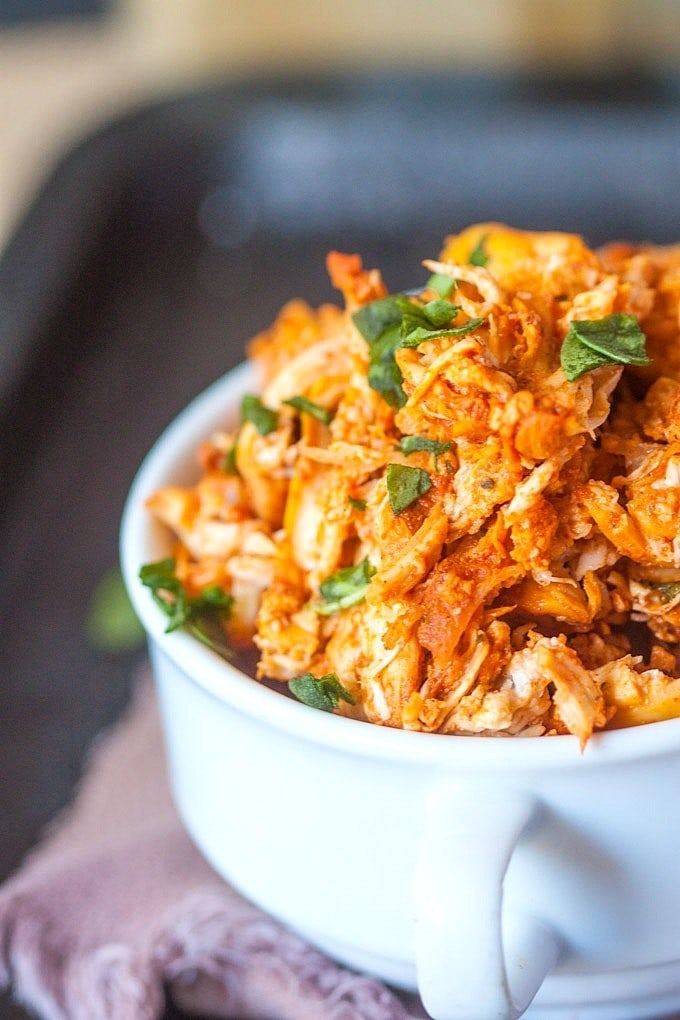 Alternatively, you can use the sauce for a small portion of it and change up the leftovers to suit different flavours! Don't reserve pulled chicken to the slow cooker and make this stovetop version with a tandoori sauce and embrace the leftovers!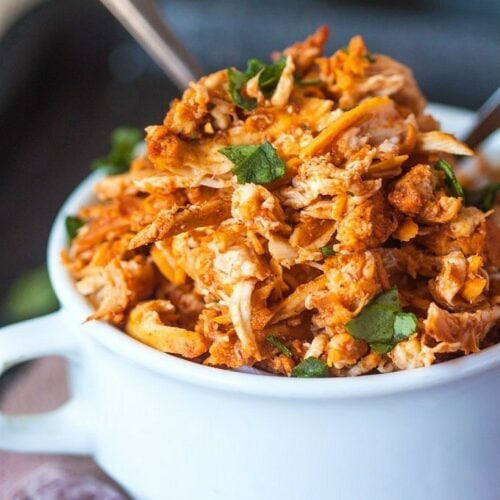 Pulled Tandoori Chicken
Take your pulled chicken to the next level with a delicious tandoori sauce blend which is gluten free, paleo, whole30 friendly and dairy free! Moist, flavourful pulled chicken ready in 20 minutes instead of the slow cooker!
Print
Rate
Ingredients
For the pulled chicken
1

kilogram

chicken breasts

fat trimmed and cut into palm sized portions (just over 2 lbs)

4

cups

chicken stock

1/2

onion

chopped finely

2

cloves

garlic

minced

Pinch

sea salt
For the tandoori sauce
1/2

cup

full fat coconut milk

can sub for Greek yogurt/dairy free plain yogurt if not paleo or dairy free

1

teaspoon

sea salt

1

teaspoon

smoked paprika

1

teaspoon

cayenne pepper

optional but highly recommended

1

teaspoon

cumin

1

teaspoon

turmeric

1

teaspoon

black pepper
Instructions
To cook the chicken
Fill a large pot with chicken stock and add the garlic and onion and bring to the boil.

Once boiling, add the chicken breasts and after 2 minutes, reduce to low and allow to simmer for 12-15 minutes, until chicken is just cooked and no longer pink. Remove from heat and drain immediately and allow chicken to cool.

Once cooled, place chicken back into the pot and using two forks, shred the chicken finely. Add the tandoori sauce and serve immediately*
To make Tandoori Sauce
Combine all the spices into a small bowl and add the coconut milk (or Greek yogurt) and mix until fully incorporated. Adjust spices to suit taste (I love a really spicy sauce so go overboard with the cayenne pepper and smoked paprika)
Notes
If you intend to eat the chicken later (e.g. for meal prep), do not add the sauce until about to eat to maintain freshness.
Pulled chicken can be refrigerated for 2-3 days without the sauce, or frozen for up to a month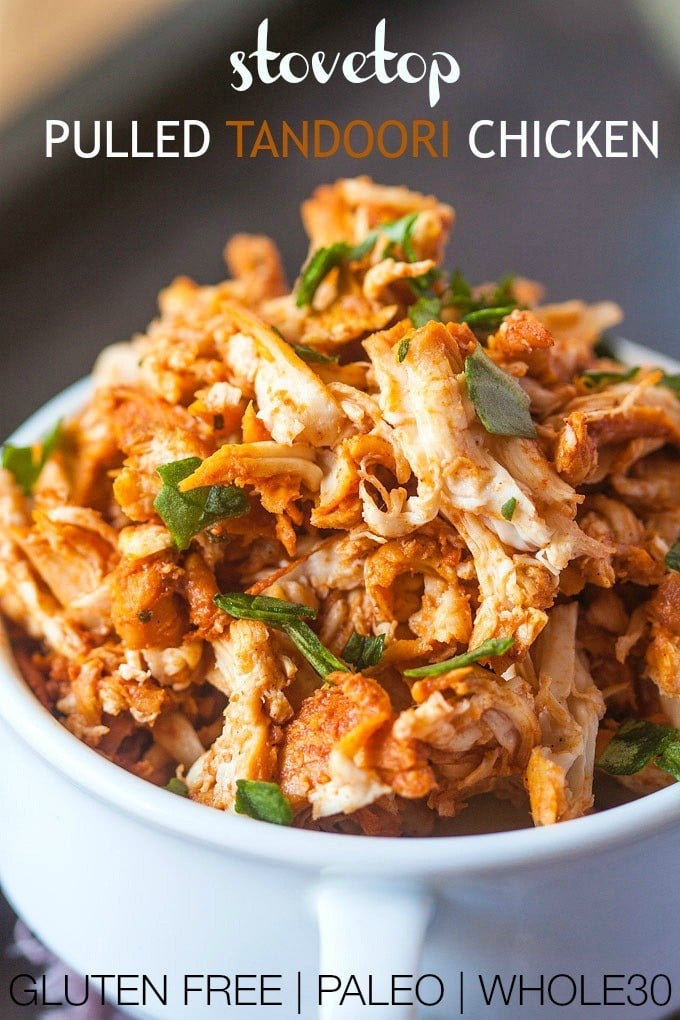 Want more delicious chicken recipes? Try one of the ones below!
The Best Chicken Patties (Paleo, Gluten Free, Whole 30)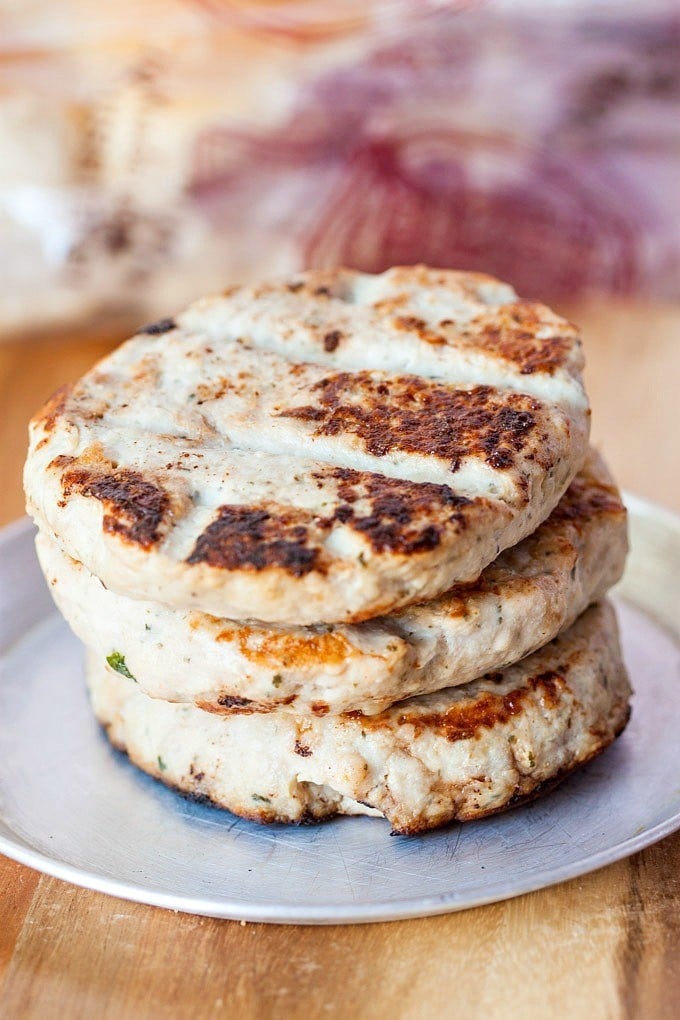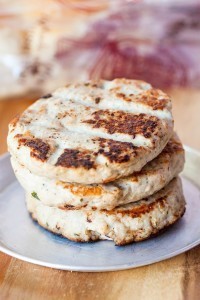 Persian Slow Roasted Chicken (Paleo, Gluten Free, Whole 30)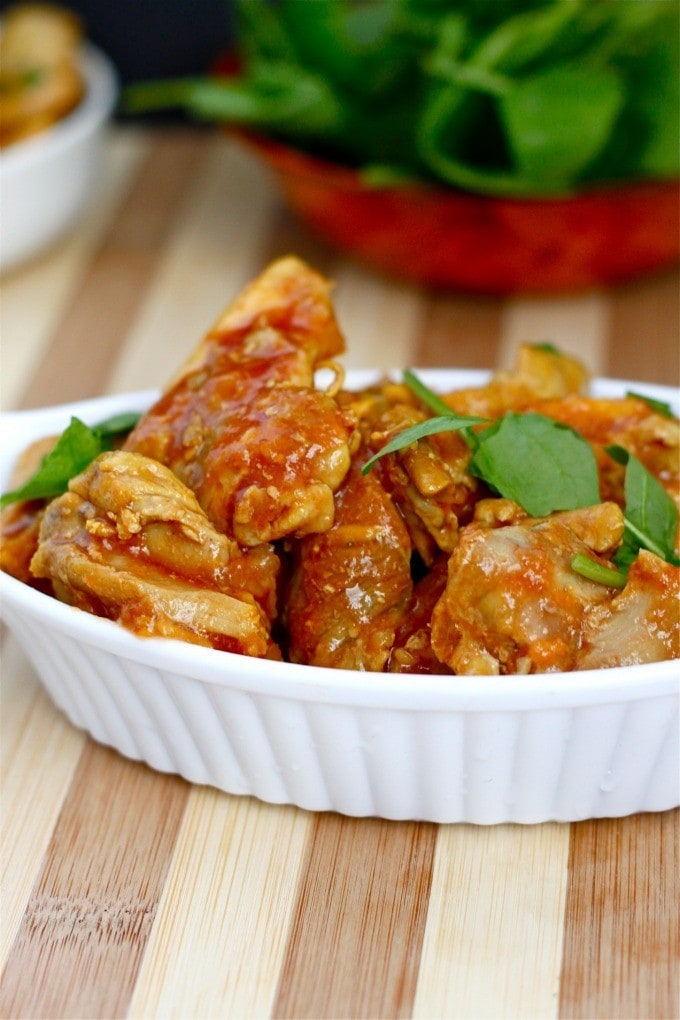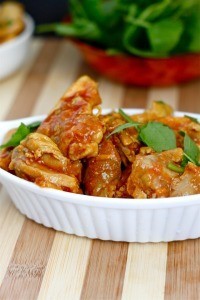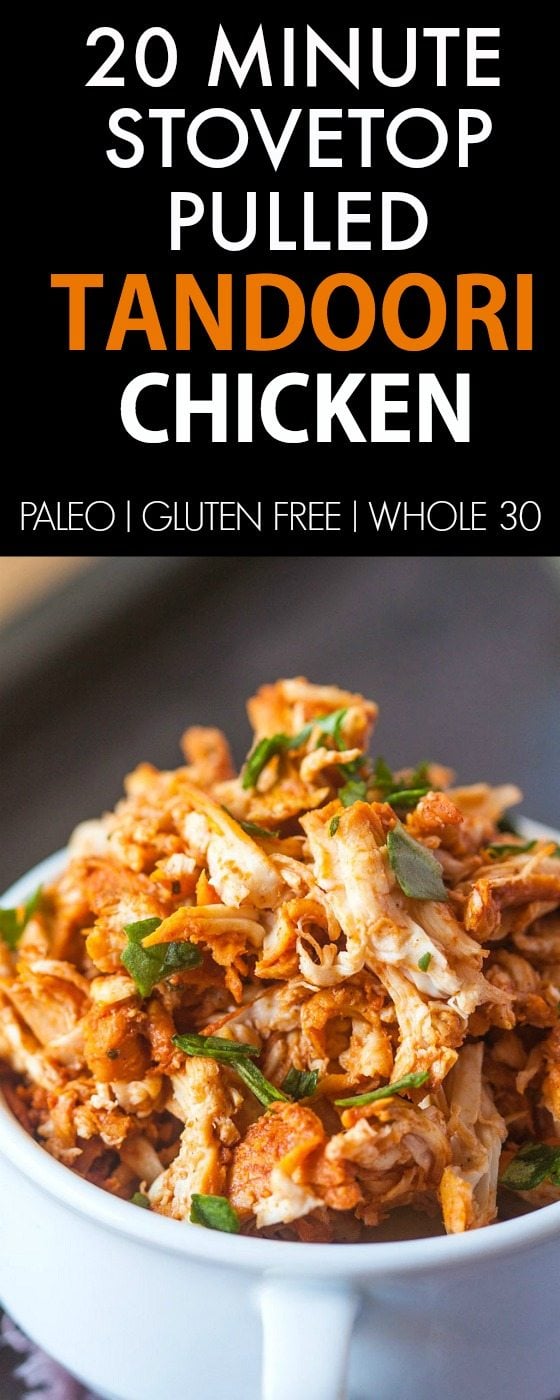 Ever had failures with cooking chicken?
Want to join my hockey team? We use overcooked chicken as pucks.
Favourite way to use leftover chicken/pulled meat?