This chicken vindaloo is a delicious one-pot meal that takes very little prep, and you can have it on the table in 40 minutes.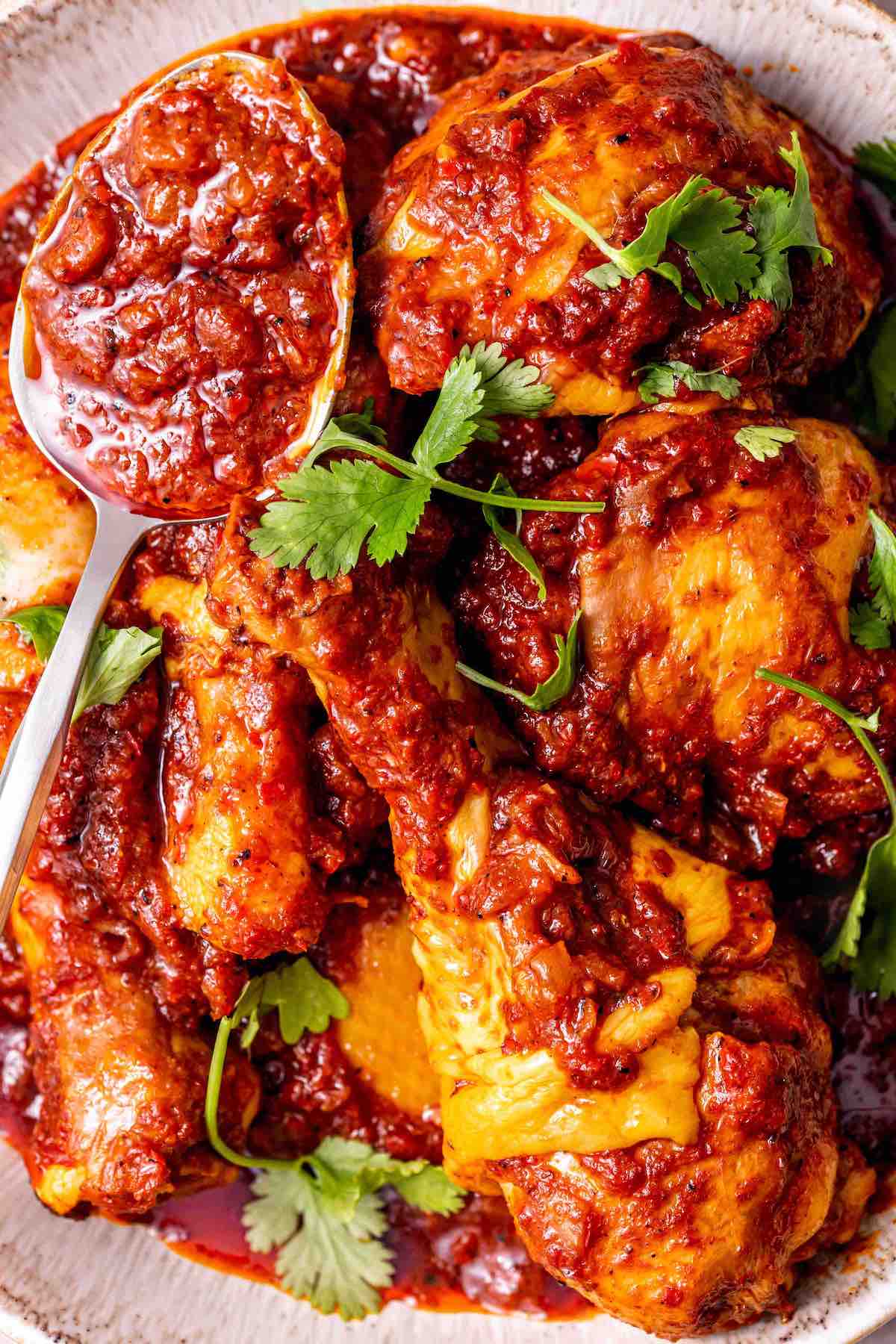 If you're in the mood for a comforting dish that warms you from the inside out, then curry is the perfect dish.
Some tend to avoid curries because they think they take a long time to make, but nothing could be further from the truth. Most of the cooking time for this dish involves it sitting on the stove, bubbling away while you sit back and relax.
We have a few favorites up our sleeve, including a chicken or a paneer tikka masala, but when we have chicken quarters or legs on hand, nothing beats a vindaloo!
The Best Chicken Vindaloo Recipe
Just like in a lamb vindaloo, the key to this chicken vindaloo is the spice mix and toasting them well before cooking to develop the flavor. If you get this right, then your curry will be easy to make and super tasty every time.
The spice mix is amazing. Making your own spice paste will always be more flavorful than buying one, and this one is truly delicious.
Dairy-free. Some curries use heavy cream or ghee, which not only makes them less healthy but also makes them unsuitable for those who don't eat dairy. Like chana masala, this curry uses no dairy at all, so you don't have to worry.
Wholesome ingredients. Similar to a chicken or shrimp curry, there is no flour or thickeners in it, which makes it so much better than the pre-made mixes.
This dish is one that can be enjoyed all year round, but I especially love cooking this in the winter when all you want to do is cozy up and eat something nourishing.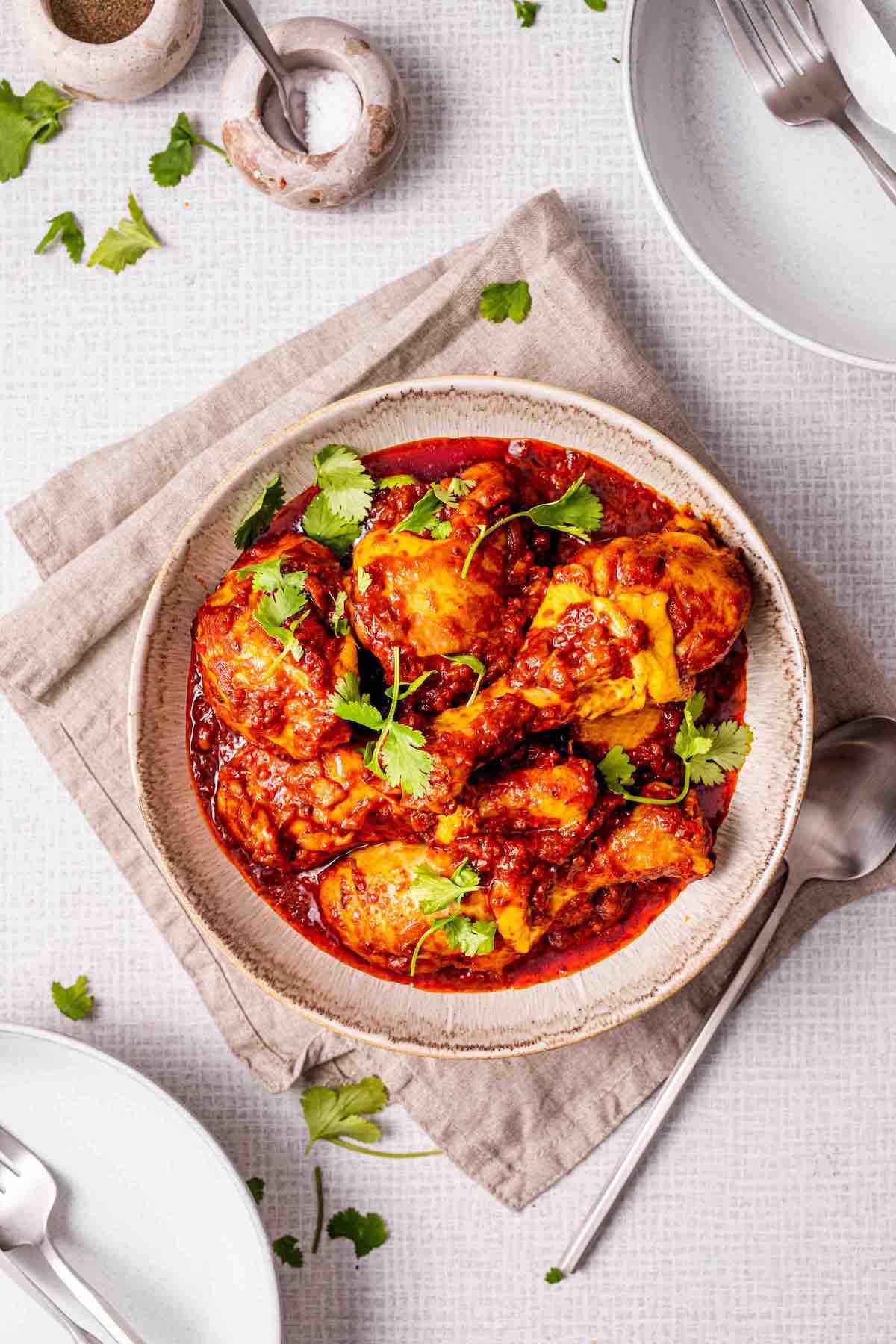 How to Make Chicken Vindaloo
Making chicken vindaloo is so simple you'll be making it every week! It takes just a few simple steps and some great ingredients to make this classic Indian dish at home.
Chicken quarters. Using chicken with the bone in is more flavorful and means that your chicken will remain tender while the flavors in the sauce develop. The quarters will be separated to leave four drumsticks and four thighs.
Substitution idea
If you are in the mood for red meat, why not replace chicken with beef? The spice mix will work just as well with beef as it does with chicken.
Spice mix. This spice mix may require a lot of spices, but once you've bought them, your pantry will be stocked with spices for a long while, so you can make curry from scratch whenever you like.
Aromatics. In this recipe, we've added ginger and garlic to the spice mix. This is an easy way to add your flavor-making aromatics to a curry.
Vegetables. Vindaloo only uses onion and tomato puree for the vegetables. The onions start off your curry with a good base flavor, and the tomato makes up the majority of the sauce.
Coconut cream. To stir through at the end.
The directions
Step 1- Mix and toast the spices
Measure out the coriander seeds, cumin seeds, cardamom pods, cloves, pepper, garlic, ginger, cinnamon stick, and red chili and blend them together well. Add them to a skillet and dry roast until they start to smell fragrant and the pepper starts to brown. Stir continuously to prevent the spices from catching.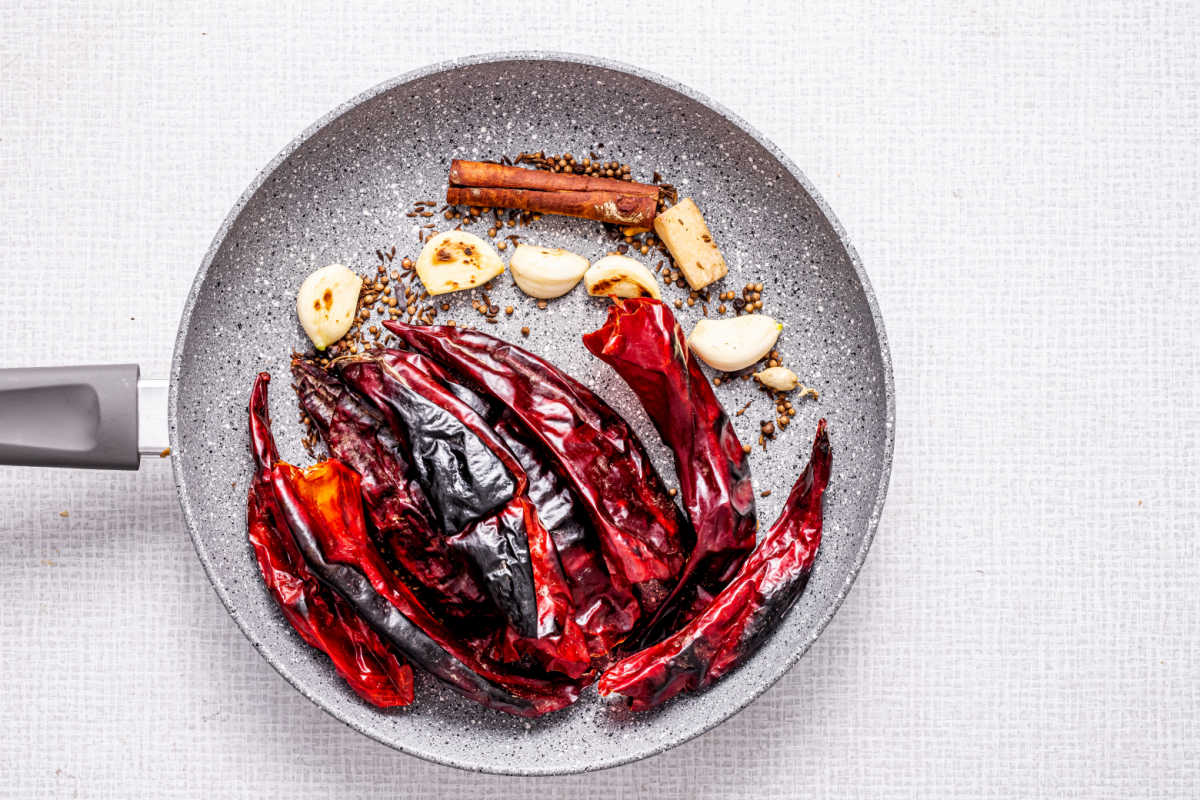 Step 2- Make the spice paste
Remove the cinnamon stick and place the rest of the spices in a blender. Blend the spices and gradually add water up to ½ cup to form a smooth paste. Add the vinegar and tamarind paste and blend once more.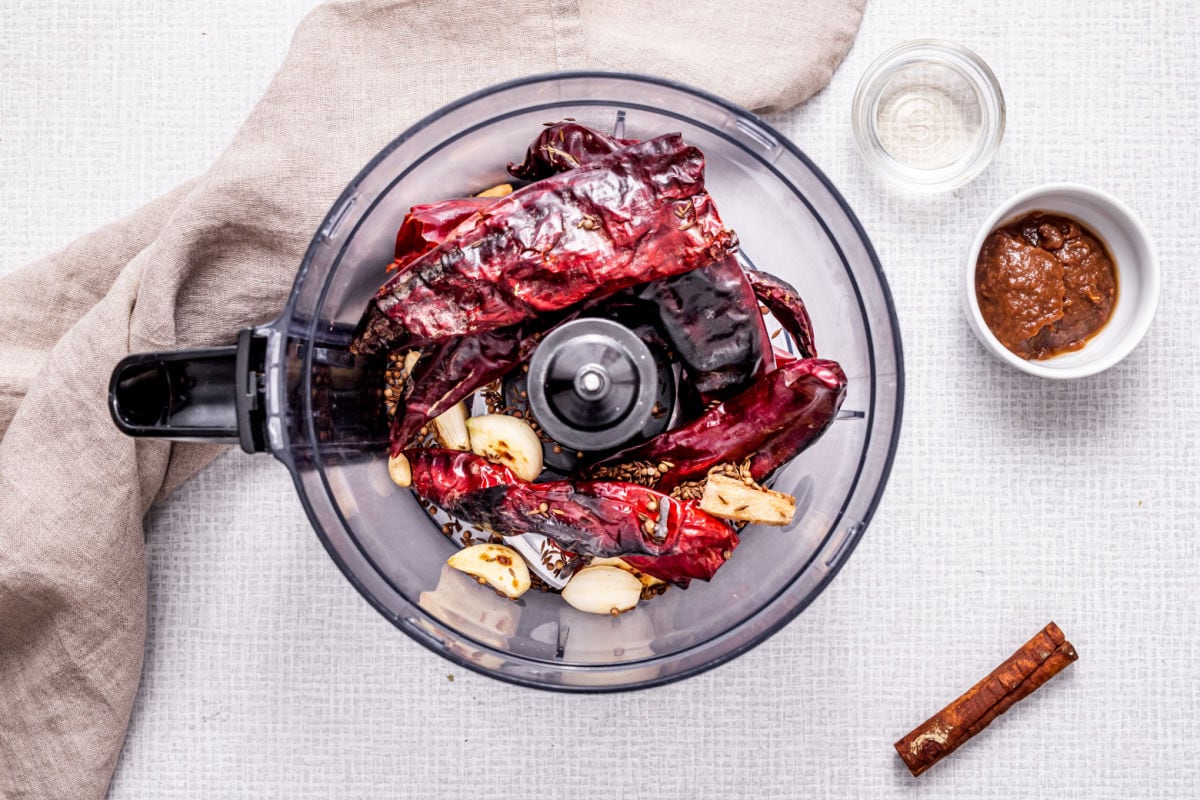 Step 3- Brown the chicken and add the paste
Heat the oil in a pot over medium-high heat. You don't want it to get too hot, or you will risk burning the onions. Sautee the onions until translucent, stirring consistently. Add the chicken and brown it well on both sides.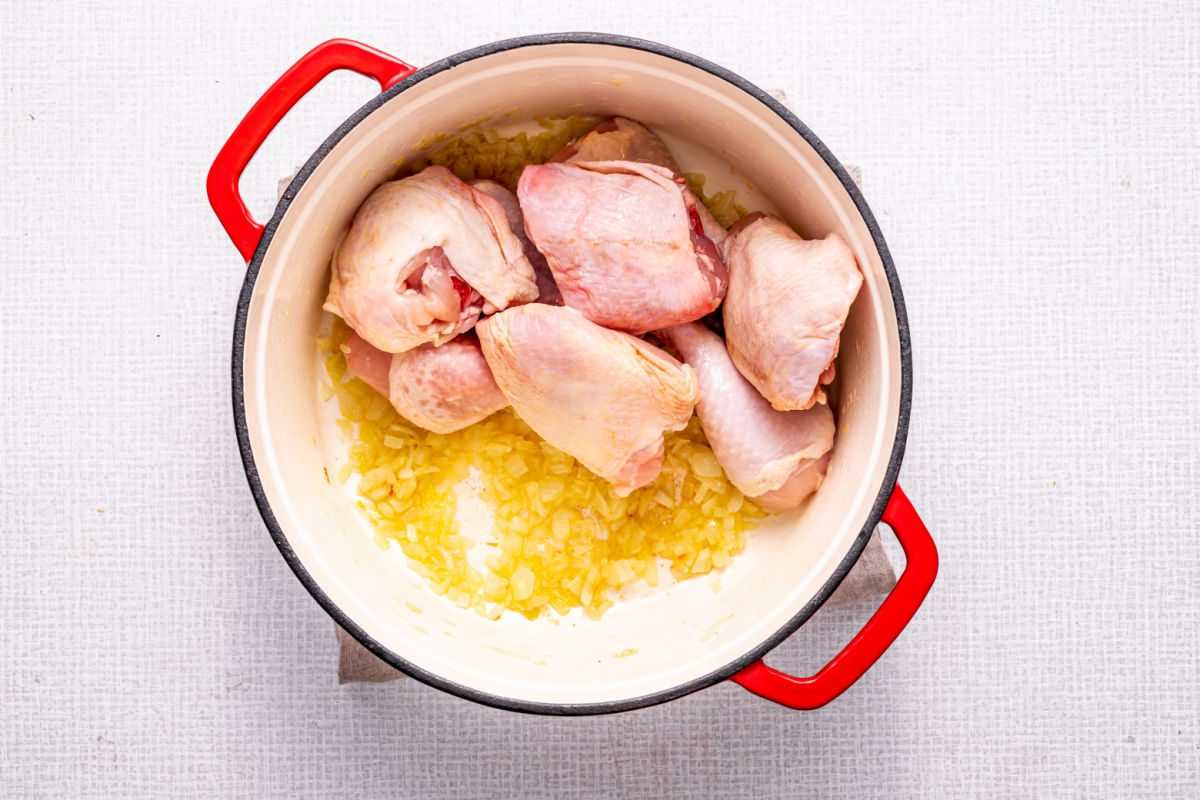 Add the tomato puree along with the spice paste and stir to coat the chicken. Bring the curry to a boil, and then add the turmeric powder, sugar, and salt.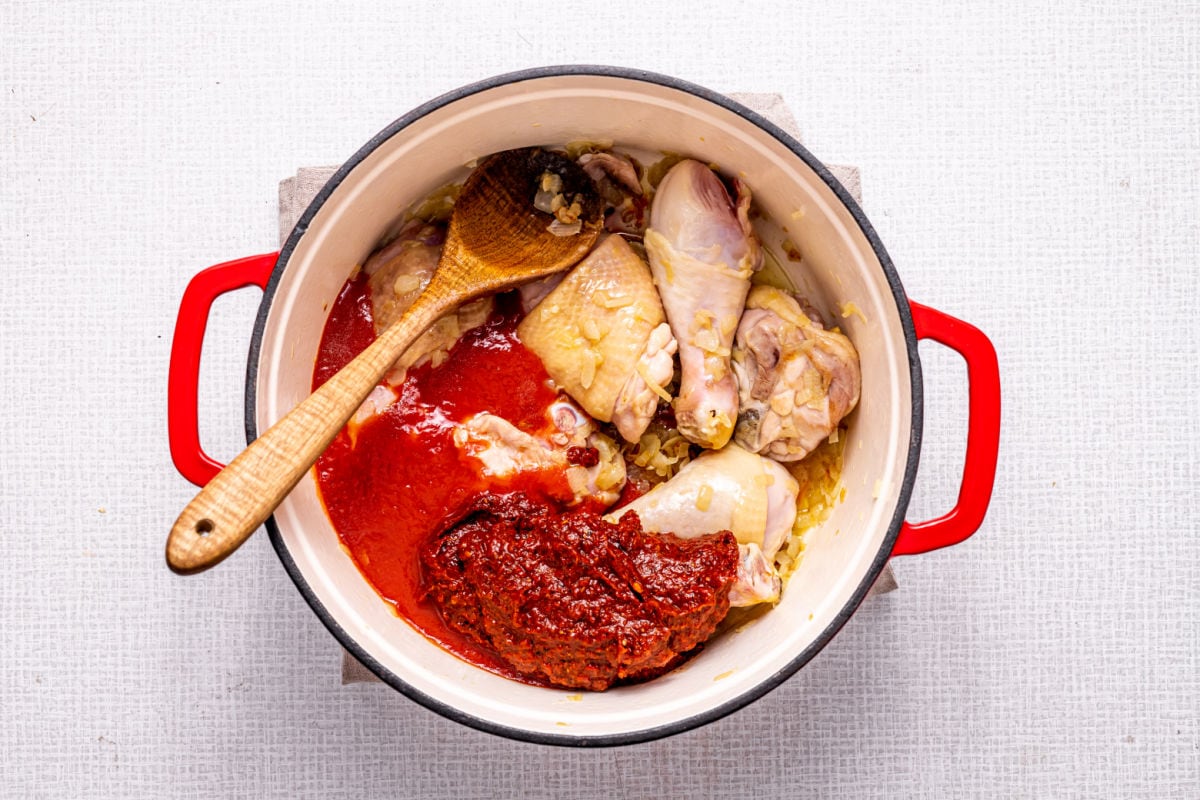 Step 5- Let it Bubble
Turn the heat down to low and let the curry bubble away for around 30 minutes. Before pulling it off the heat, check to confirm that the chicken is cooked the whole way through. Stir through the coconut cream and serve immediately.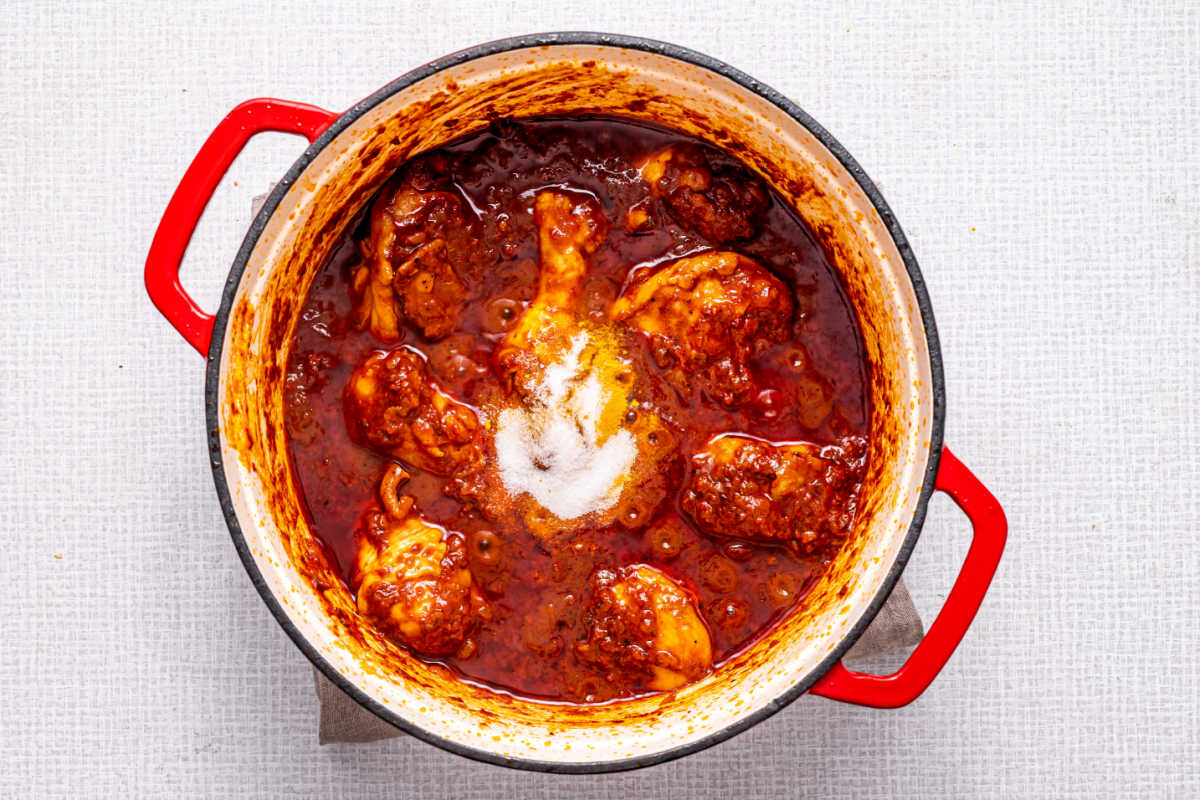 Just like in butter chicken, simmering the chicken in the sauce will make it even more tender and flavorful.
Make sure you follow these tips to yield the most perfect chicken vindaloo every single time!
Use skin-on chicken drumsticks- If you've ever baked or air fried drumsticks before, you know the addition of the skin truly transforms the flavor.
Never skip toasting the spices- This step is essential because it brings out the flavor and prevents that dull, uncooked spice flavor.
Change the drumsticks for chicken thighs- These cuts work interchangeably with one another and cook in the same amount of time.
What to Serve With This Dish
Every curry needs to perfect accompaniment to go with it to fill you up and absorb the sauce.
You can stick to classics like naan or even a flatbread to soak up the beautiful sauce. Coconut rice is also a classic, and you can also do cauliflower rice to continue to keep the carbs down.
Storage Instructions
To store: Allow the curry to cool before placing it in an airtight container and storing it in the fridge for up to three days.
To freeze: This curry freezes very well in an airtight container. Use within 6 months.
To reheat: Place in a skillet to reheat, or just pop it in the microwave.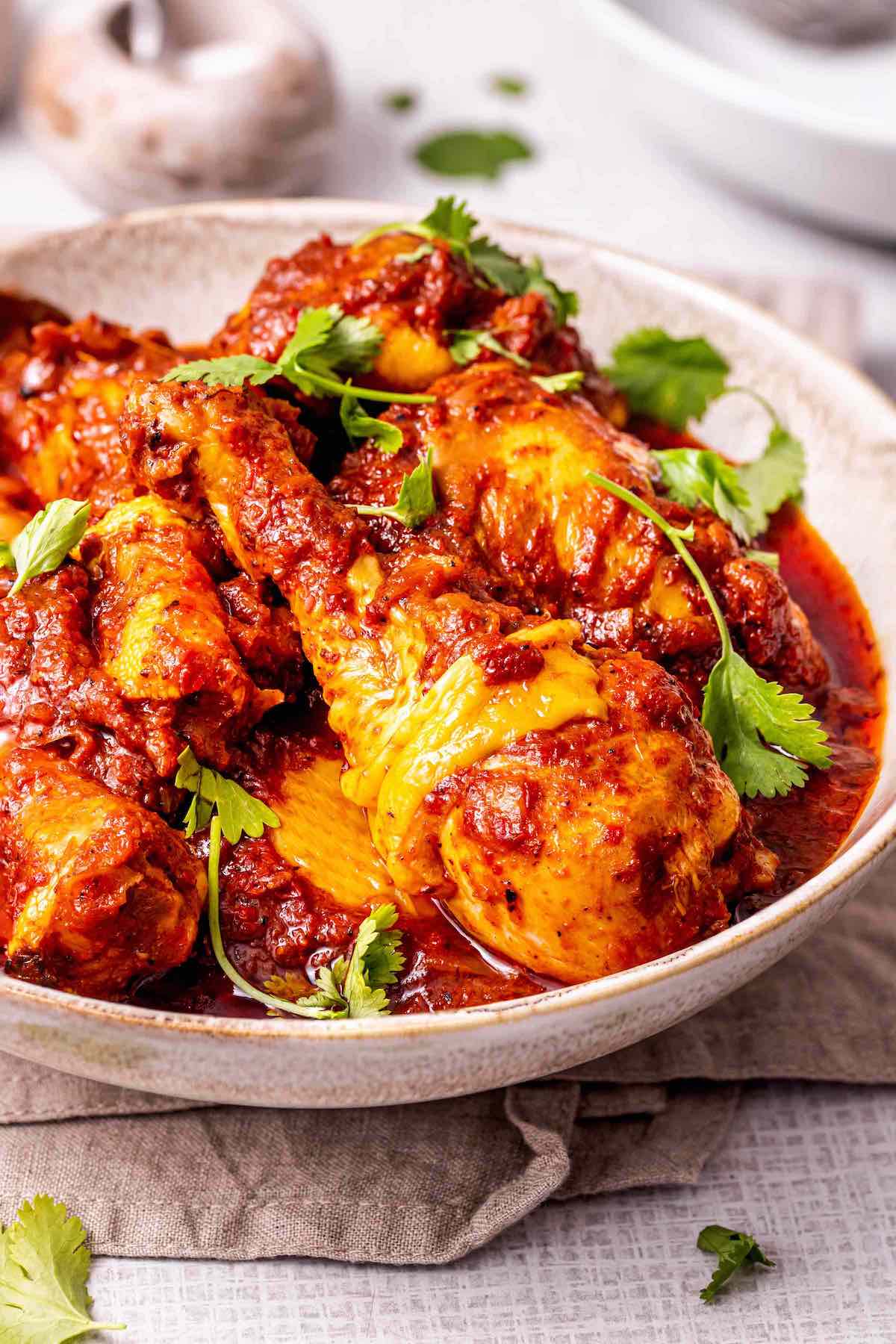 Is chicken vindaloo spicy?
Vindaloo is traditionally quite a spicy curry, so it's great for any of you that love a bit of heat. However, if you do not have a tolerance for heat, you can reduce the number of chillis you add to the recipe.
Is curry healthy or unhealthy?
This really depends on what curry you are making and the ingredients that go into them. This chicken vindaloo uses no heavy cream or ghee, so I would consider this a healthy curry.
Is chicken vindaloo gluten-free?
Yes, this curry is completely gluten-free.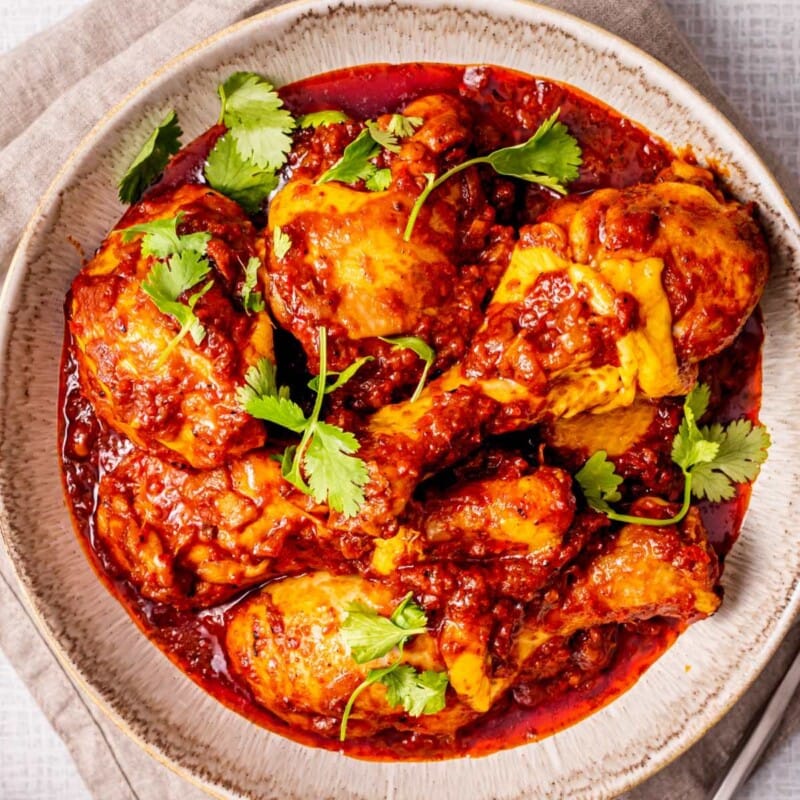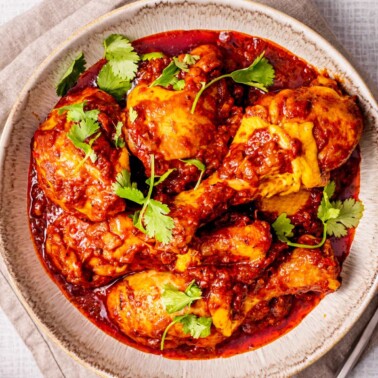 Chicken Vindaloo
This chicken vindaloo recipe features tender and juicy chicken simmered in a tangy and spicy curry. It's a popular and easy Indian dish that tastes incredible.
Ingredients
1

tablespoon

coriander seeds

1

teaspoon

cumin seeds

4

cardamom pods

4

cloves

5

chili peppers

5

cloves

garlic

1

inch

ginger

1

cinnamon stick

8

dried chilies

1/2

cup

water

2

tablespoon

white vinegar

2

tablespoons

tamarind paste

1/4

cup

olive oil

1

large

white onion

thinly sliced

4

chicken quarters

skin on and separated

200

mls

tomato sauce

1

teaspoon

salt

1/2

teaspoon

turmeric

1/2

teaspoon

sugar

2

tablespoons

coconut cream
Instructions
Add coriander seeds, cumin seeds, cardamom pods, cloves, pepper, garlic, ginger, cinnamon, and red chilies to a skillet. Dry roast on medium heat with continuous stirring, until the pepper starts browning.

Add the spices, except for the cinnamon stick, to the blender and blend into a paste, adding water slowly. Add vinegar and tamarind paste as well and blend.

Heat oil in a pot over medium-high heat. Add onions and cook until translucent, stirring frequently. Next, add the chicken and fry for 4-5 minutes, until it is no longer pink.

Add the tomato sauce and the blended spice mix, and bring to a boil. Once the curry boils, reduce the heat to low. add the salt, turmeric, and sugar, and cook for 30 minutes.

Remove the vindaloo from the heat, stir through the coconut cream, and serve immediately.
Notes
TO STORE: Allow the curry to cool before placing it in an airtight container and storing it in the fridge for up to three days.
TO FREEZE: This curry freezes very well in an airtight container. Use within 6 months.
TO REHEAT: Place in a skillet to reheat, or just pop it in the microwave.
Nutrition
Serving:
1
serving
Calories:
342
kcal
Carbohydrates:
12
g
Protein:
17
g
Fat:
26
g
Sodium:
632
mg
Potassium:
441
mg
Fiber:
3
g
Vitamin A:
520
IU
Vitamin C:
6
mg
Calcium:
49
mg
Iron:
2
mg
NET CARBS:
9
g
Disclosure: This post may contain affiliate links. I may earn a small commission for my endorsement, recommendation, testimonial, and/or link to any products or services from this website.