This tanghulu recipe tastes exactly like the classic candied fruit dessert! Ready in less than 10 minutes, it's easy to customize and tastes delicious!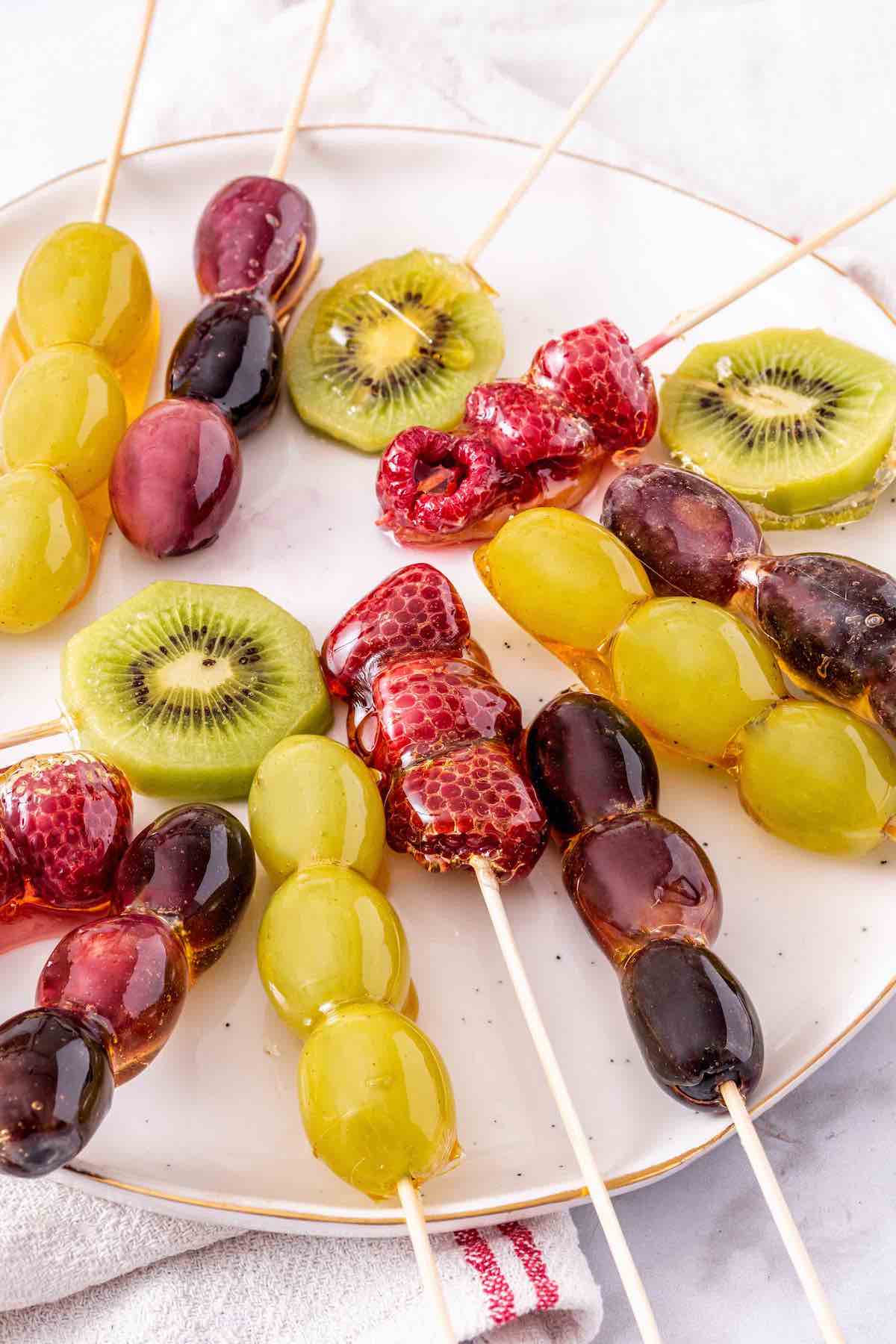 If you haven't tried tanghulu before, you will be in for a treat!
It's a famous street food that is popular in China, Taiwan, and other Asian countries. It's basically fruit coated in sugar syrup that hardens once dry and forms a crunchy shell. Also known as candied fruit, it's simple yet elegant.
Table of Contents
Why this recipe works
Spending time in China as a child, I often snacked on Tangulu. Now that I'm back in America, I love to make it for special occasions or when we entertain kids- it's so fun and delicious!
It's quick and easy:

All you need is water, fruit, and other easily accessible ingredients to make this sweet snack.

They are easy to customize: Like candy grapes or fruit leather, It's easy to customize as you can use any berries such as strawberries, raspberries, etc.
It's diet-friendly: It's naturally vegan and gluten-free, and can easily be made lower in sugar.
Ingredients needed
Besides fruit and the sugar syrup mixture, there isn't much else that goes into making this recipe. Here is what you'll need:
Fruits.

Strawberries, mandarin, green and purple grapes

Granulated sugar.

It's the primary base for sugar syrup.

Light corn syrup. Holds onto the fruit much better than other syrups.
Honey.

Adds an extra layer of stickiness.
How to make tangulu
Step 1- Prep the basics
Start by lining a baking sheet with parchment paper and set it aside.
Wash and dry the grapes and strawberries. Peel the mandarin and remove as much pith as possible.
Step 2- Make sugar syrup
Add sugar, corn syrup, honey, and ¼ cup of water to a saucepan. Boil the mixture and continue heating and medium-high heat until the syrup reaches 300F. Check the temperature with a candy thermometer.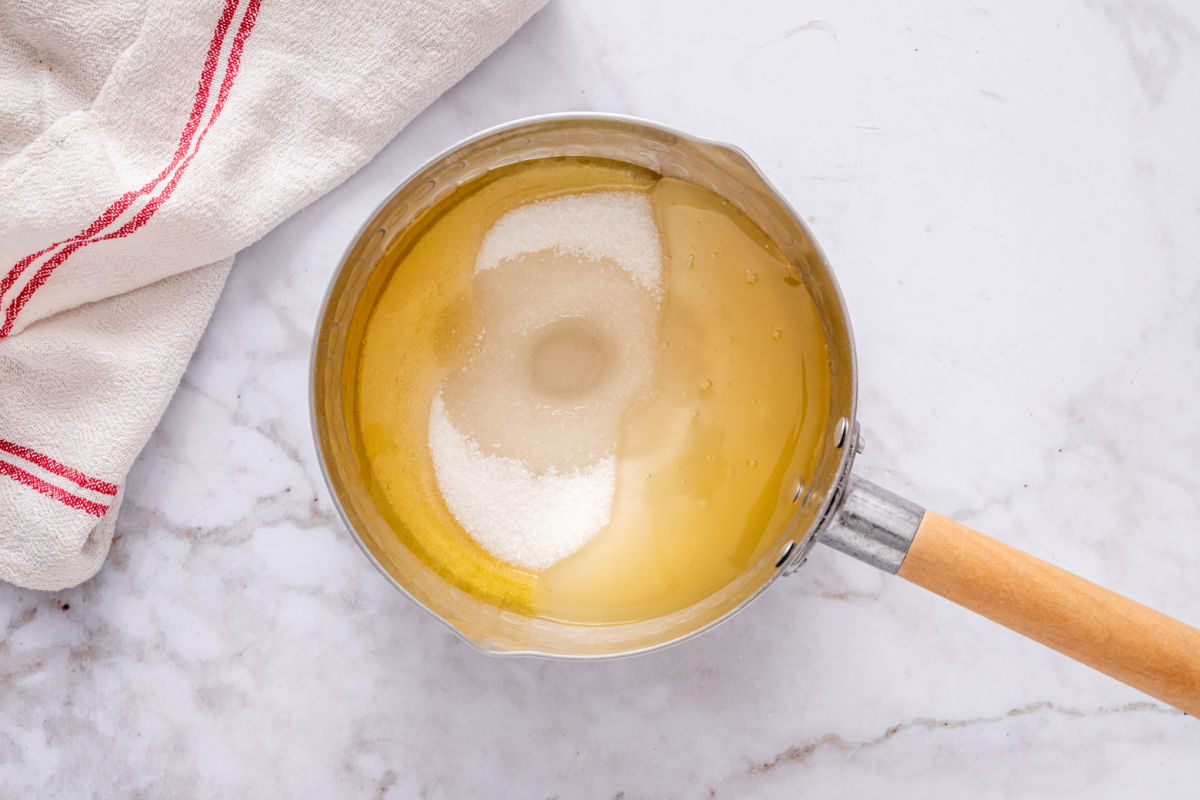 Step 3- Skewer the fruit
Then, skewer the fruit without twisting any pieces. I like to keep the fruit separate, but you can use a variety of mixed ones on each skewer.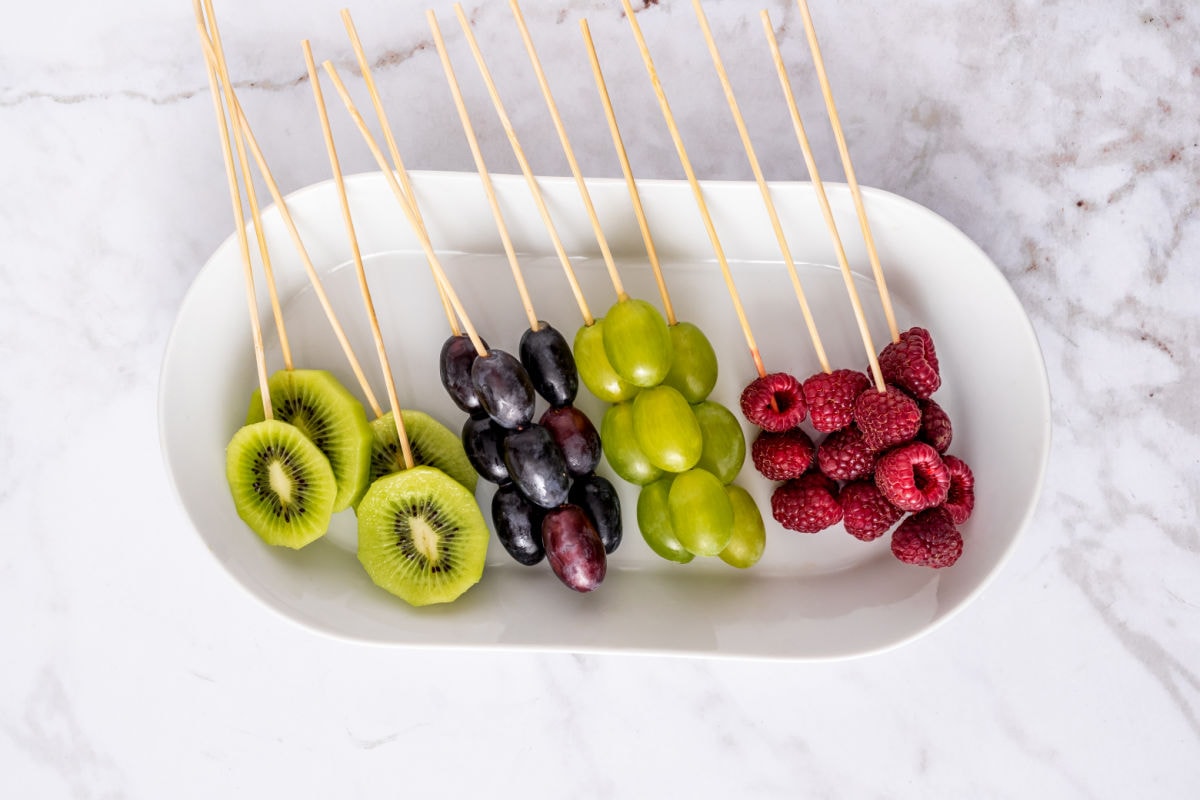 Step 4- coat the fruit with sugar syrup
When the syrup is ready, remove the pan from the heat. Dip the fruit into the sugar syrup to coat it completely. Once done, shake the excess syrup, put the skewer on the lined baking sheet, and allow to harden it for 10 minutes. Repeat the same process with each skewer.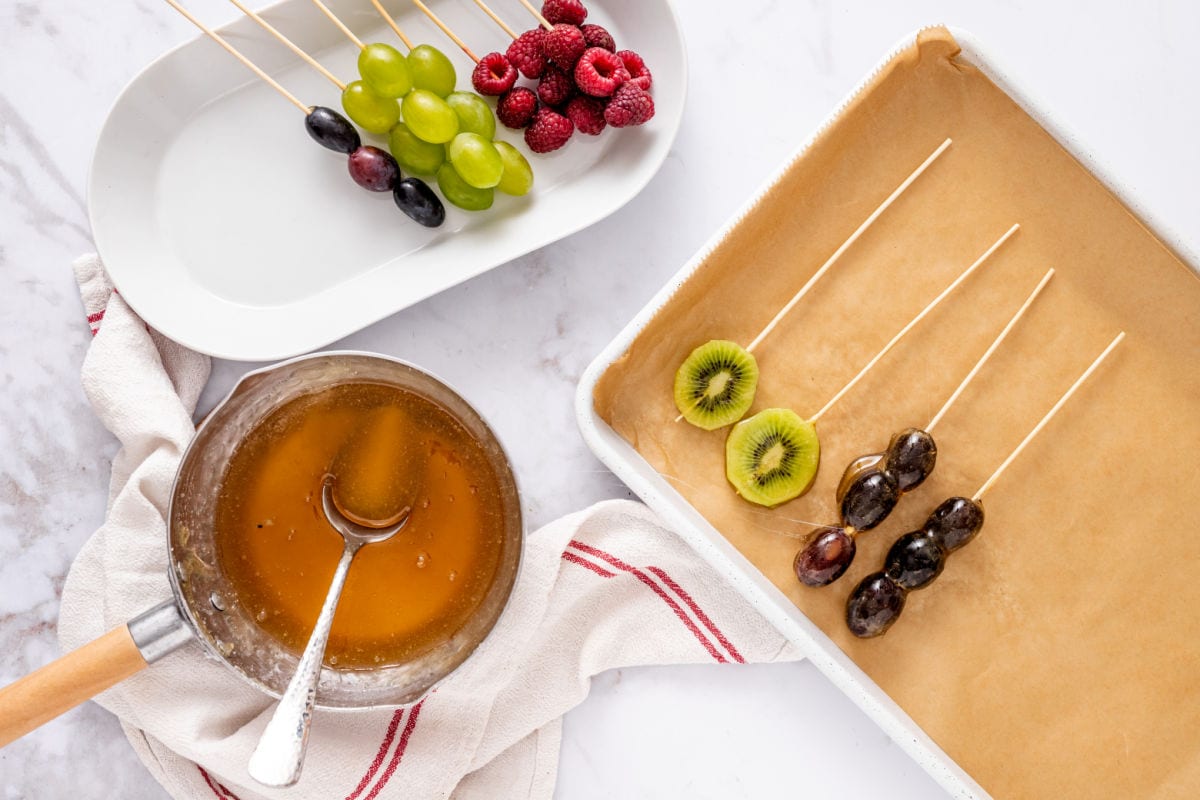 Tips to make the best recipe
Use fresh and firm fruit: The key to making perfect tanghulu is to use firm fruit that is not overly ripe. This will ensure that the fruit holds its shape and doesn't become mushy when coated with the syrup.
Choose firm skewers: Use sturdy bamboo skewers that are long enough to hold several pieces of fruit without breaking. If needed, soak the skewers in water for at least 30 minutes to easily add on the fruit.
Work quickly: Once the syrup is ready, move quickly to coat the fruit with the hot mixture before it begins to harden. This will ensure the syrup doesn't cool down and become too thick, which makes coating the fruit easier.
Use a candy thermometer: If possible, use a candy thermometer to know when the syrup is hot enough.
Storage instructions
To store: Leftovers must be stored in the refrigerator, covered. They will keep well for up to two weeks. Let them sit at room temperature before enjoying them.
To freeze: Place the skewers in a ziplock bag and store them in the freezer for up to 6 months.
Recommended tools to make the best recipe
Candy thermometer. For the perfect temperature every single time.
Saucepan. A good quality non-stick saucepan to make the syrup without it burning.
Bamboo skewers. These ones are sturdy enough to hold the candied fruit!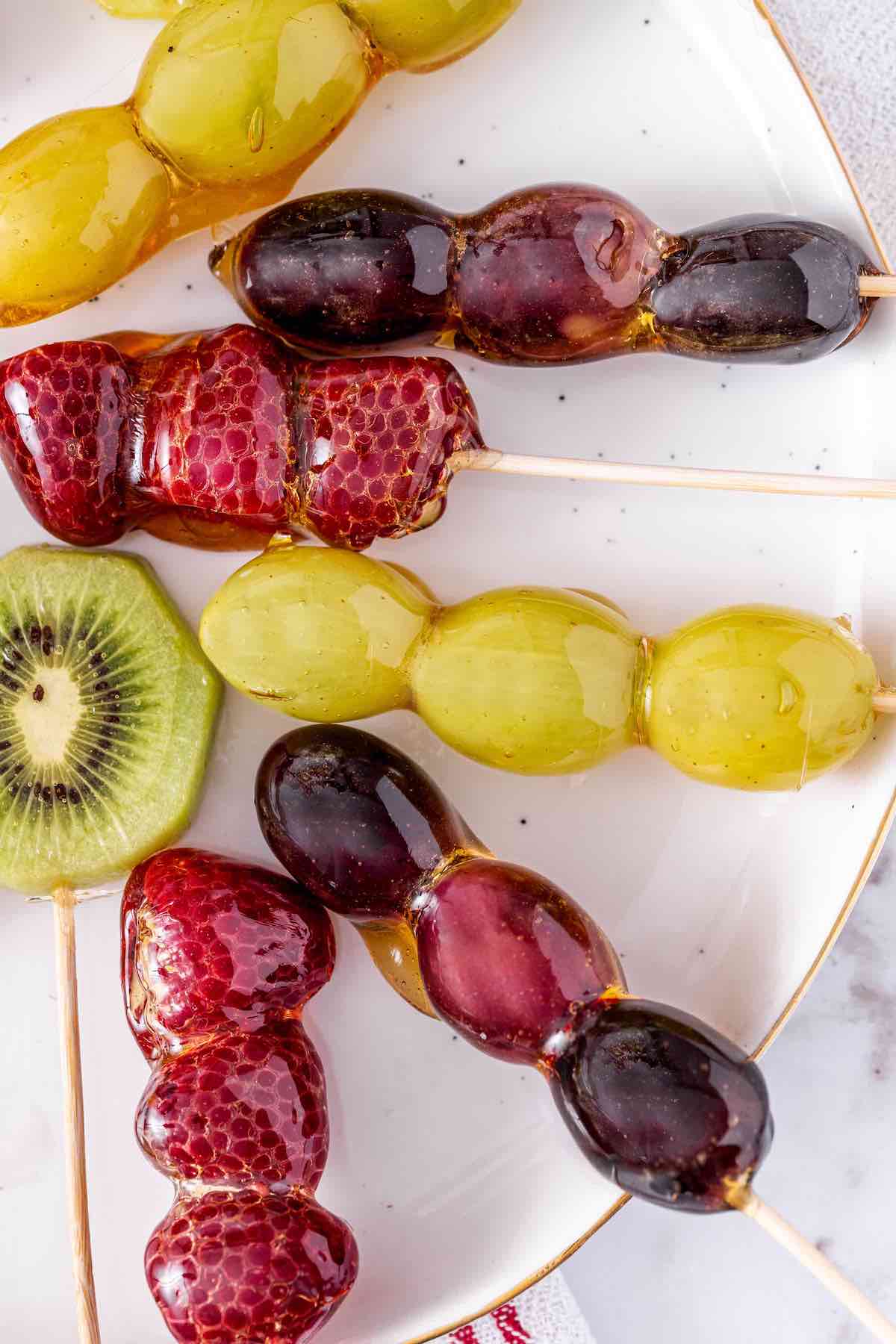 Frequently asked questions
What does Tanghulu taste like?
This recipe has a sweet and sour taste. The taste can vary depending on how long you heat sugar syrup to make a sugar coating. It also depends on which fruits you choose to glaze.
Why is my tanghulu chewy?
If you heat the sugar syrup at very low temperatures, you risk the glazed syrup to be chewy. To prevent this from happening, always cook the syrup at medium-high heat.
Why is my candied fruit not hardening?
If you under-cook the syrup, there is a risk of it remaining sticky and not hard (like toffee). To ensure this doesn't happen, ensure the syrup reaches a hard crack (300F).
Will Tanghulu melt?
No, tanghulu will not melt, even at warmer temperatures.
Where can I buy Tanghulu?
If you don't want to make your own, Tanghulu can be found in many traditional Chinese markets and food stalls.
More snacks to try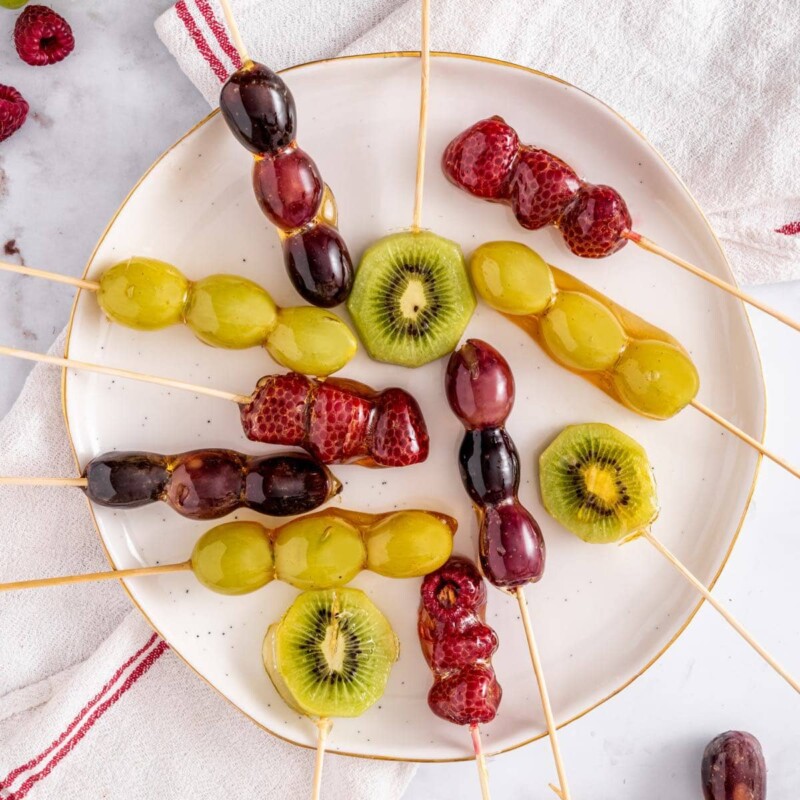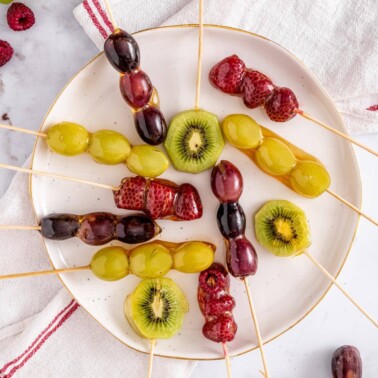 Tanghulu Recipe
This tanghulu recipe tastes exactly like the classic candied fruit dessert! Ready in less than 10 minutes, it's easy to customize and tastes delicious!
Ingredients
Instructions
Line a plate with parchment paper and set it aside.

Add the sugar, water, light corn syrup, and honey in a small saucepan and place it over high heat. Bring it to a boil then reduce it to medium heat and let everything simmer until it reaches a temperature of 300F. Remove the syrup from the heat.

Skewer the fruit and moving quickly, dip the fruit in the syrup until completely coated. Place the syrup-covered fruit on the lined plate and let it harden.
Nutrition
Serving:
1
skewer
Calories:
150
kcal
Carbohydrates:
39
g
Protein:
0.2
g
Fat:
0.2
g
Sodium:
1
mg
Potassium:
36
mg
Fiber:
0.5
g
Vitamin A:
12
IU
Vitamin C:
7
mg
Calcium:
5
mg
Iron:
0.1
mg
NET CARBS:
39
g
Disclosure: This post may contain affiliate links. I may earn a small commission for my endorsement, recommendation, testimonial, and/or link to any products or services from this website.