These air fryer pork chops are the BEST way to cook pork! Juicy, tender, and ready in under 10 minutes, you'll never cook boneless pork chops any other way again!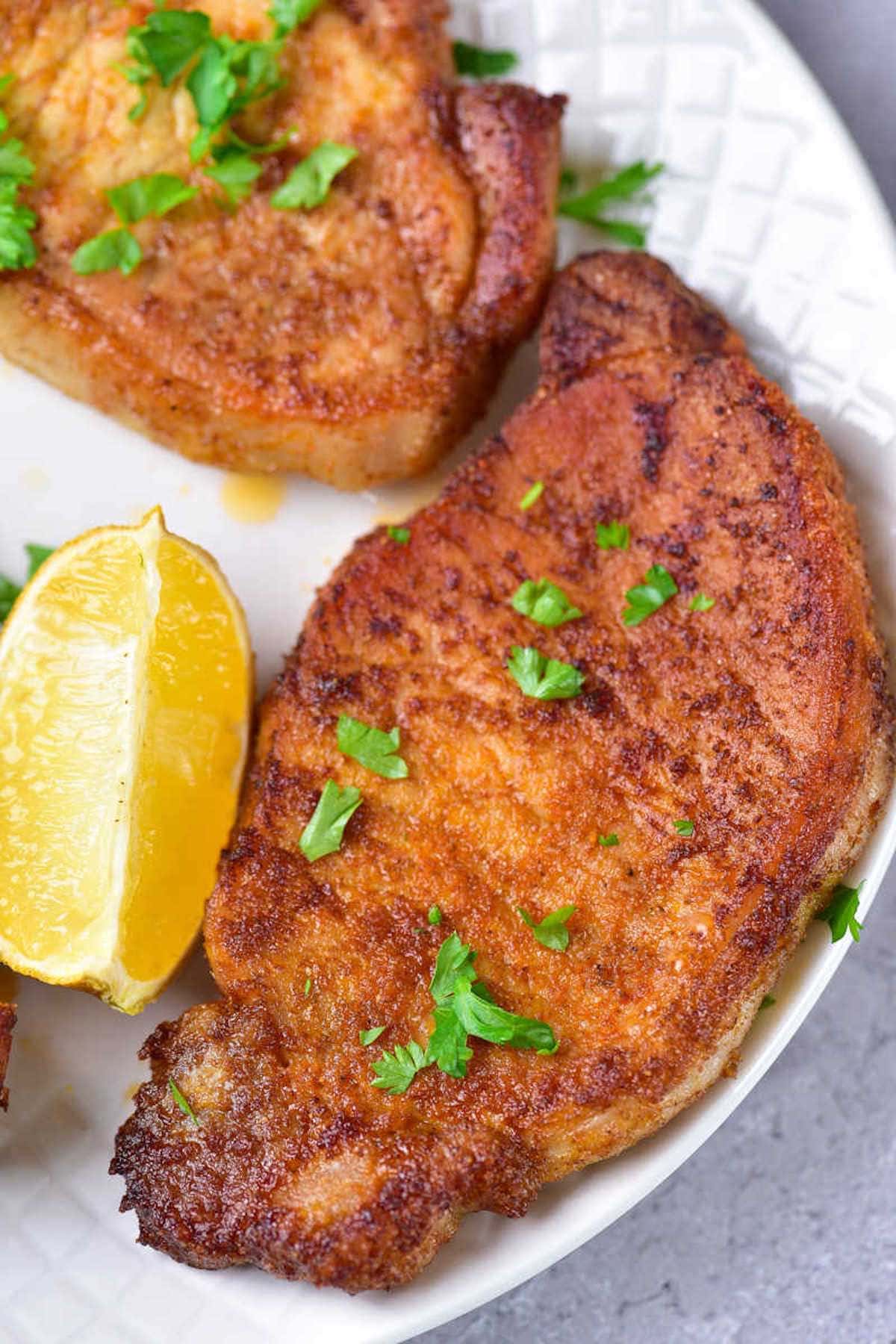 For all those times you've made pork chops and feared they will turn out dry or chewy, fear not. Using the air fryer to cook them will transform the way you cook pork from now on.
Air frying meat and seafood has been a game changer in my cooking. It guarantees perfectly cooked protein every single time, and it is fast!
I've seen fabulous results using this magical gadget with air fryer chicken breasts, air fryer salmon, and even air fryer steak, and now, I love using it for this air fryer pork chops recipe.
Table of Contents
Why this recipe works
3 Ingredients. Pork chops, oil, and spices are all that you'll need.
The fastest way to cook chops. As much as I love sous vide pork chops or instant pot pork chops, cooking pork chops in the air fryer is just a no-brainer. I mean, this pork cook in just 9 minutes and has barely any prep time.
Juicy and tender every time. The texture of this pork features everything you love about grilled or roasted pork chops in one: super juicy on the inside and crisp and tender on the outside. Also, the sides of the pork chops are perfectly charred, too.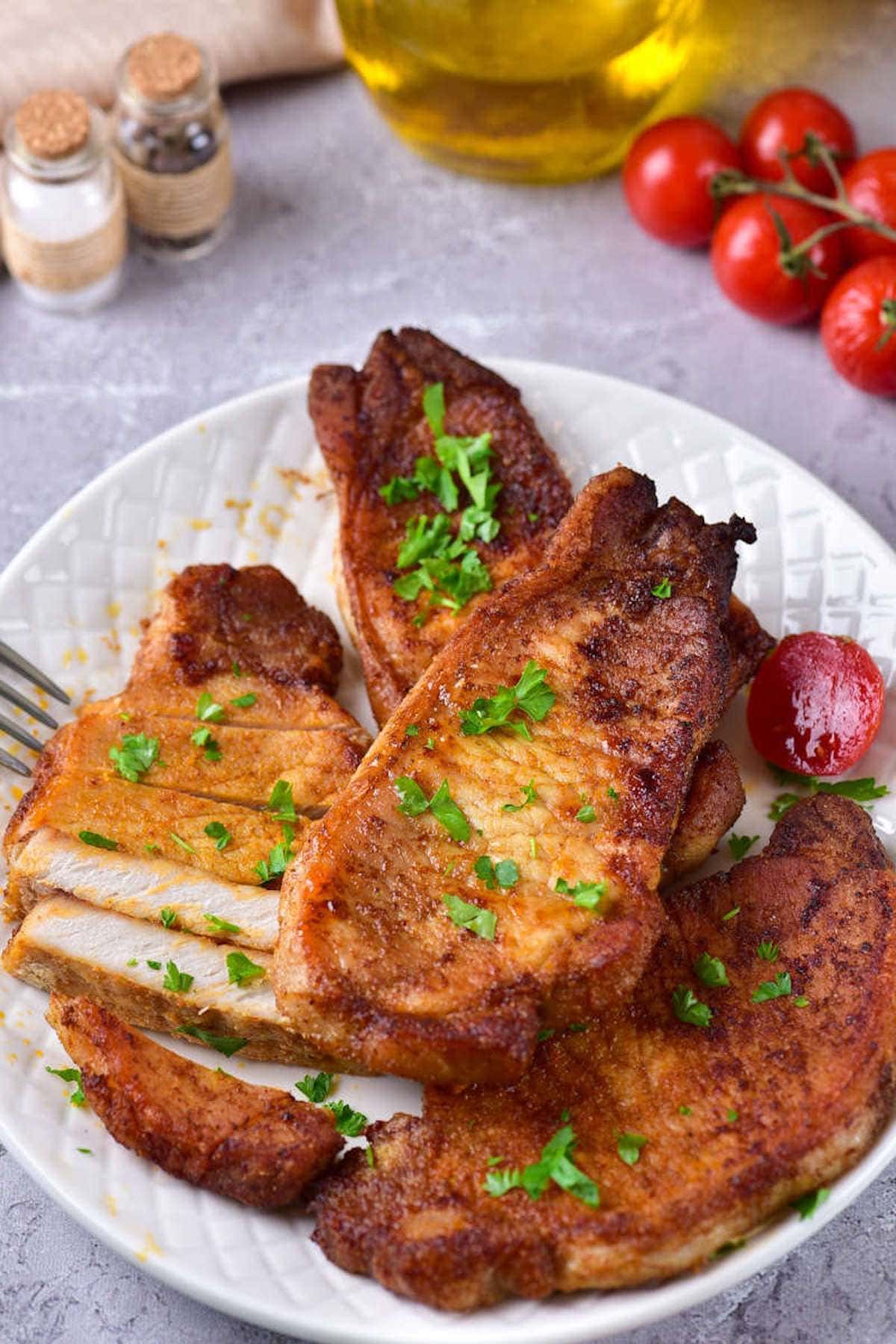 Ingredients needed
Most air fryer pork chop recipes call for a breading or flour of some sort, but we are keeping things simple and easy here with just a handful of seasonings. Here is what you'll need:
Pork chops. The best pork chops to cook in the air fryer are thick, center-cut, boneless pork chops. The recommended thickness is between 1 ½ to 2 inches. Using thick pork chops (as opposed to thinner ones) in the air fryer gives them a lovely seared exterior and juicy middle, which is what we want. Also, try to get your pork from a butcher instead of a grocery store so you can pick the perfect meat.
Olive oil. To season. You can also use butter or other cooking oil, like avocado.
Spice mix. I used a mix of Smoked paprika, cumin, garlic powder, and onion powder, which all have robust and smokey flavors.
Salt and black pepper. To taste.
Find the printable recipe in the recipe card below.
How to air fry pork chops
Cooking the chops is easy, and the air fryer does all the work. Because there is no marinating time needed, it really comes together quickly!
Step 1- Season the pork: Add pork chops and olive oil to the bowl. Rub the olive oil all over the meat. Add all the spices and coat the pork chops on both sides.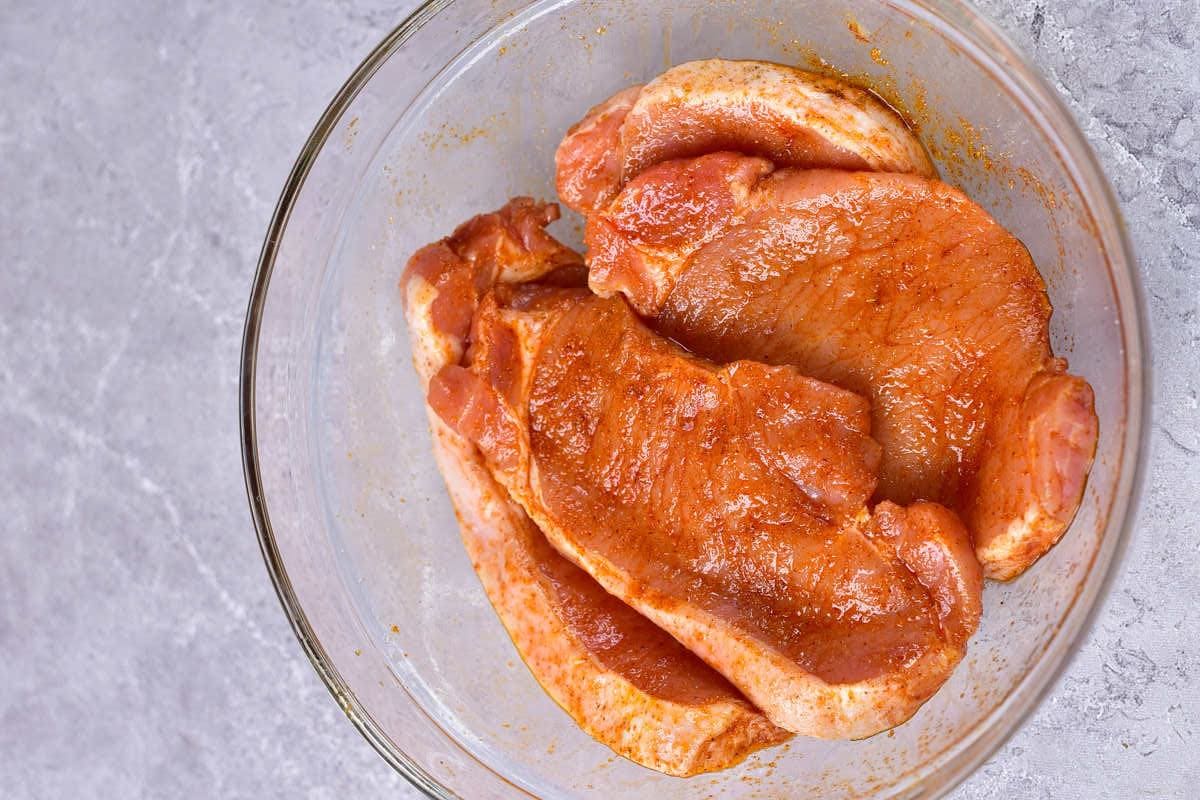 Step 2- Air fry the pork chops: Add the pork chops in a single layer into the air fryer basket. Air fry the pork chops for 8-9 minutes, flipping halfway through.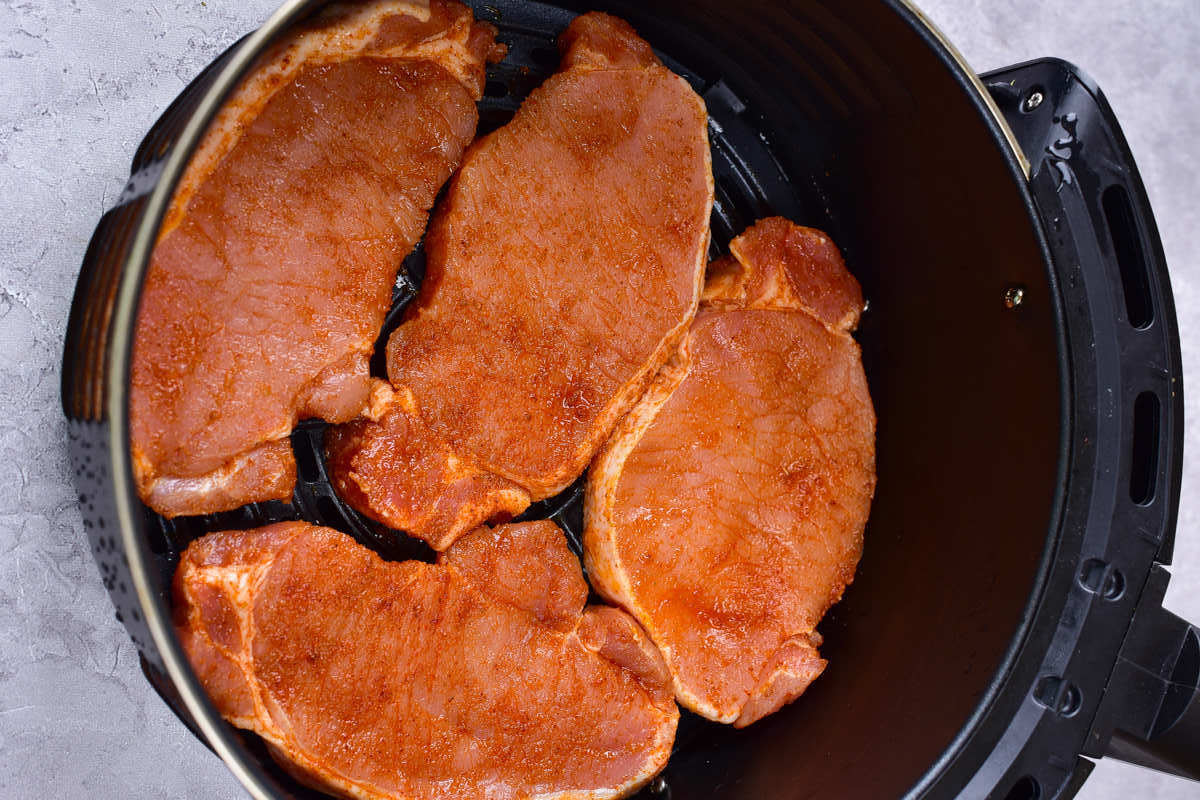 Step 3- Rest then serve: Allow the pork to rest for 2-3 minutes before serving.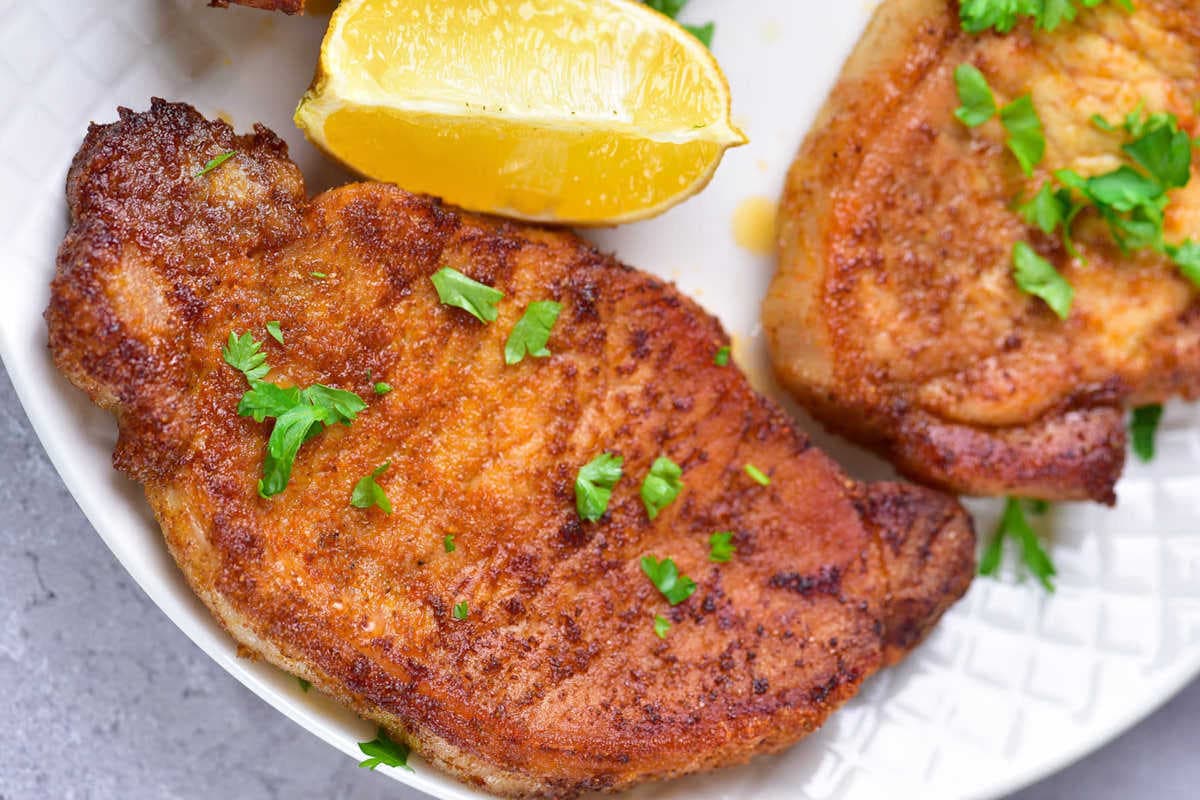 Air fryer pork chops cooking time
Both bone-in and boneless pork chops work for this recipe. Here is a quick guide to give you an idea of how long each one would typically take:
Boneless pork chops- 8-12 minutes.
Bone-in pork chops- 11-15 minutes.
You can also check the internal temperature of pork chops. If the internal temperature is 145F, they are ready to serve.
Tips to make the best recipe
If you buy pre-packaged pork shops, sometimes there is excess liquid. Make sure you pat them dry with a paper towel before seasoning.
Don't add all the pork chops at once if they crowd the air fryer basket. If I'm making a larger batch, I cook the pork in batches.
Use a meat thermometer to check the meat's internal temperature and avoid overcooking the chops.
Once cooked, rest the chops for 2-3 minutes to let the juices redistribute and yield a super juicy pork chop.
If you want more crispy pork chops, lightly dust them in panko breadcrumbs or parmesan cheese. They both add some flavor and texture without detracting from the overall dish.
Serving suggestions
Simple sides are the best accompaniment to pork chops. If I could have it my way, I'd eat it with a heaping of mac and cheese, but here are some other options.
Vegetables are always a healthy side dish. As I have a 2-basket air fryer (Ninja DZ201), I love to whip up some veggies as the pork cooks, and these include air fryer brussels sprouts, air fryer baked sweet potato, or air fryer carrots.
Potatoes are a popular choice, too, so perhaps some air fryer French fries, air fryer sweet potato fries, or mashed potatoes.
You can also try some hearty salads, like a kale salad, orzo salad, or a green goddess salad.
Storage instructions
To Store: Place leftovers in a shallow container and store them in the refrigerator, covered, for up to five days.
To Freeze: Once the pork is cooked and cooled, transfer it to a ziplock bag and store it in the freezer for up to two months.
Reheating: Either microwave the chops for 20-30 seconds or back in the air fryer until hot.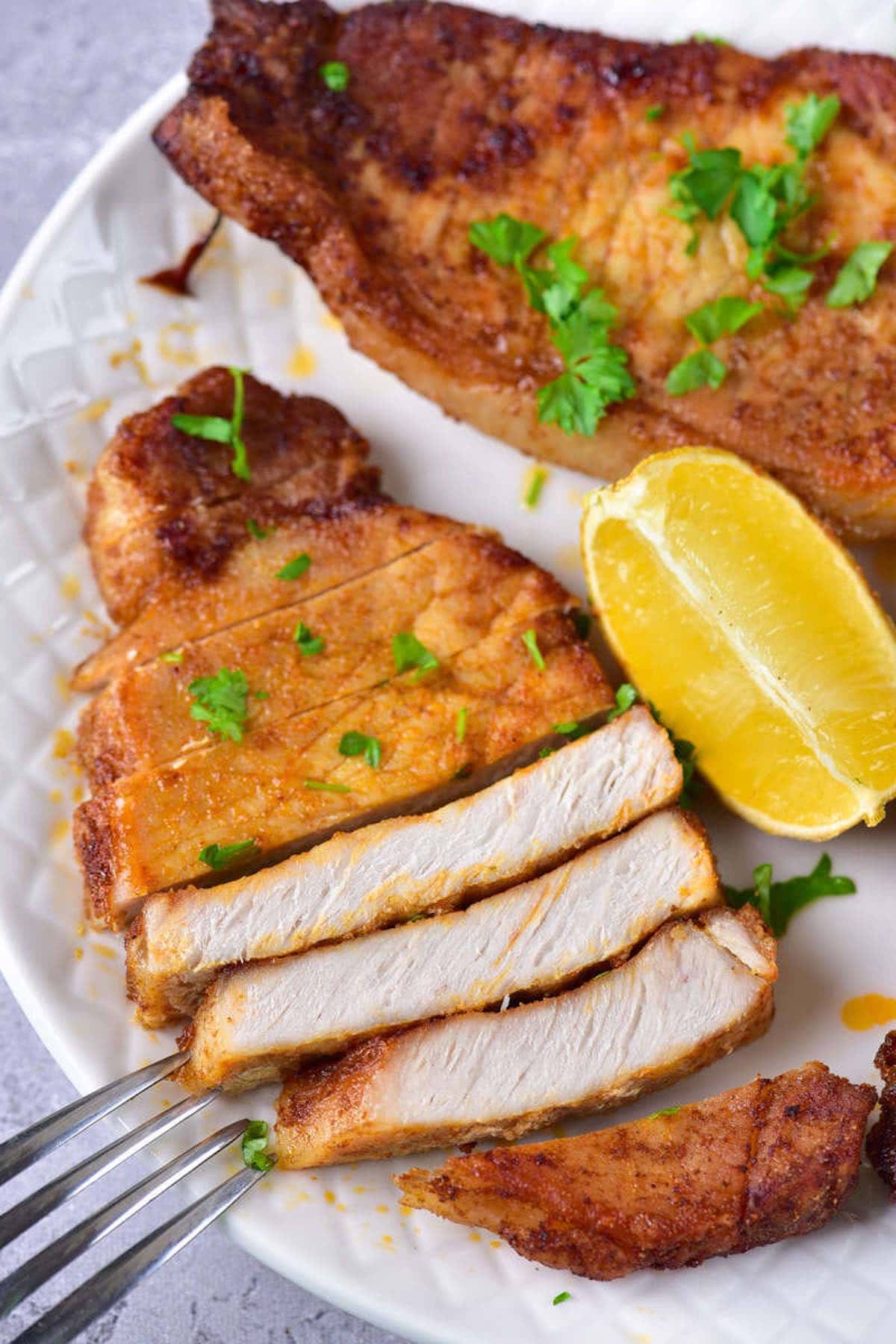 Frequently Asked Questions
How long does it take to cook thin pork chops in the air fryer?
Depending on their size, thin pork chops will take 1-4 minutes per side to cook completely in the air fryer. Be very careful when cooking thin chops as they are prone to easily dry out.
Can you put raw pork chops in the air fryer?
Yes, raw pork chops are fine to put in the air fryer. Like with any kitchen utensil or gadget, always wash and clean the air fryer basket after using it.
Why are my pork chops tough?
If you overcook the pork chops or don't flip them halfway through, they are prone to becoming tough and chewy. If you worry about the chops over-cooking, under-cook them then let them rest for 10 minutes.
More easy air fryer recipes to try
Perfect Air Fryer Pork Chops
These air fryer pork chops are the BEST way to cook pork! Juicy, tender, and ready in under 10 minutes, you'll never cook boneless pork chops any other way again!
Ingredients
Instructions
Preheat the air fryer to 190C/375F.

Pat dry the boneless pork chops, then add into a bowl and rub the oil generously over them all.

Mix the spices in a bowl, then rub on both sides of the pork.

Place the pork chops in the air fryer basket and cook for 9 minutes, flipping halfway through.

Remove the pork from the air fryer and serve immediately.
Notes
TO STORE: Use air-tight containers to refrigerate the pork chops. They will keep well for up to five days. TO FREEZE: Place leftovers in a ziplock bag and store them in the freezer for up to two months. TO REHEAT: Either microwave the chops for 20-30 seconds or reheat in a non-stick pan until hot.
Nutrition
Serving:
1
pork chop
Calories:
220
kcal
Carbohydrates:
1
g
Protein:
29
g
Fat:
13
g
Sodium:
357
mg
Potassium:
540
mg
Fiber:
1
g
Vitamin A:
506
IU
Vitamin C:
1
mg
Calcium:
20
mg
Iron:
1
mg
Recipe originally posted September 2022, but updated to include new information, photos, and a recipe video for your benefit.
Disclosure: This post may contain affiliate links. I may earn a small commission for my endorsement, recommendation, testimonial, and/or link to any products or services from this website.