These adorable mini cherry bakewell tarts are so scrumptious! Made with homemade tart crust and an almond frangipane filling, the individual tarts are topped with lemon glaze and cherries. A sweet treat you can pass out to all of your friends!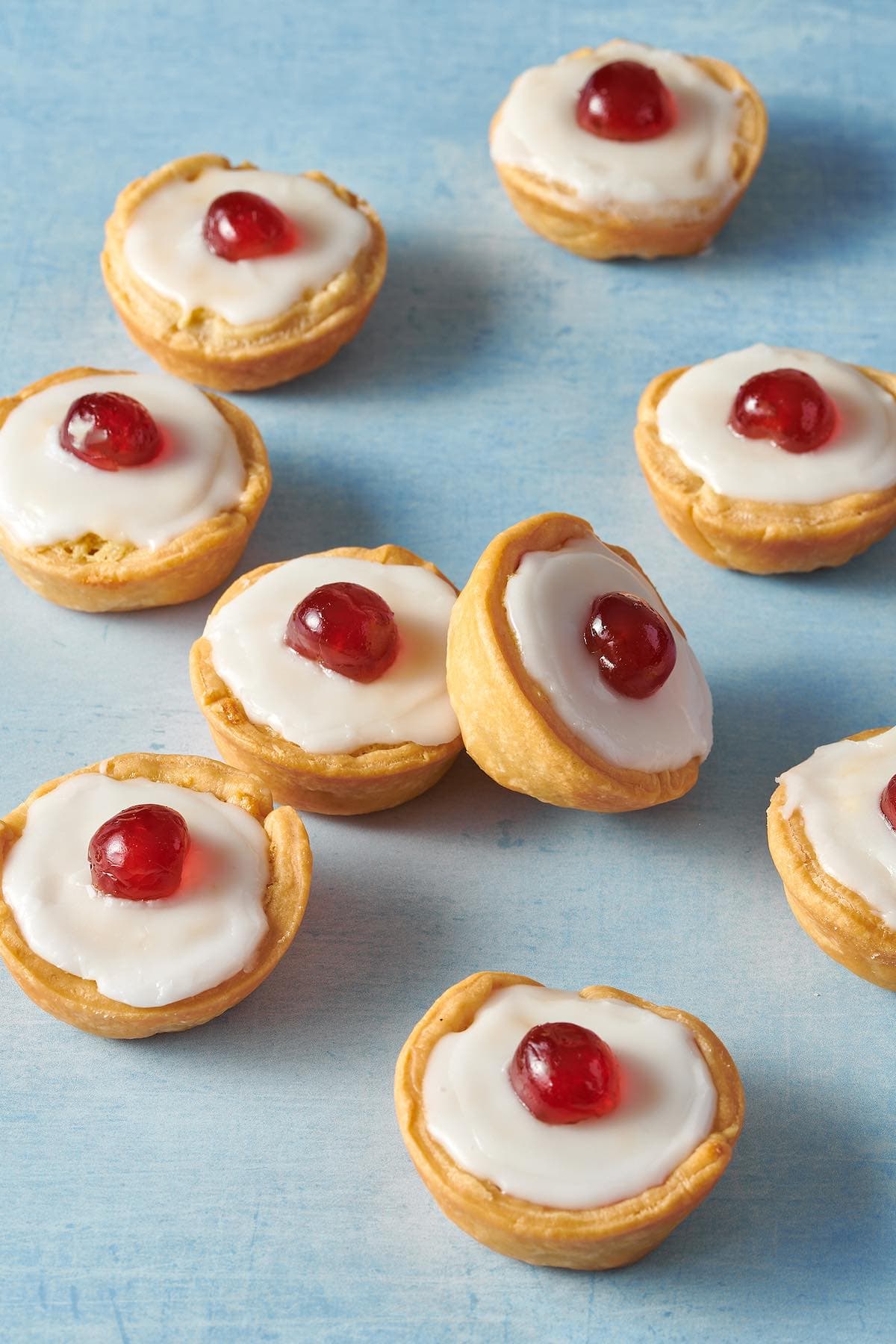 I can never pass up dessert, especially tarts and pies. Buttery, flaky pastry filled with fruity and sweet fillings? Yes, please!
These individual cherry bakewell tarts are completely irresistible as well. Baked in a muffin tin for easy sharing, each cherry tartlet features crisp buttery pastry layers, cherry jam, creamy almond frangipane, and lemon icing. Place a cherry on top and you have a sweet and scrumptious dessert!
What is a bakewell tart?
This is a British dessert named after the northern town of Bakewell in Derbyshire, England. Layers of fruit jam and frangipane are baked in a pâte sucrée pastry shell, then topped with a sweet glaze. Bakewells can be baked as one large or smaller individual tart for easy sharing.
Why you'll love this cherry bakewell recipe
Cherry bakewells are one of the most popular flavors. Just like in this recipe, they're made with a layer of cherry jam and topped with half of a glacé cherry. We love making this for special occasions or whenever we want something small but delicious!
Layers of sweet and fruity goodness. Mini bakewells are filled with an almond cream filling (AKA frangipane), then topped with a simple lemon glaze and a candied cherry. The finished result is a sweet, decadent, and crowd-pleasing treat.
Buttery pâte sucrée made from scratch. When it comes to making tarts from scratch, a homemade tart shell is the way to go! It's crisp and buttery and even easier to make than traditional pie crust.
Individual portions. This recipe makes enough for the bake sale or to serve to all of your friends. There won't be any fights about sharing these tasty treats!
Deceptively easy to make. Like cake pops or sopapillas, these are so simple to make but look fancy!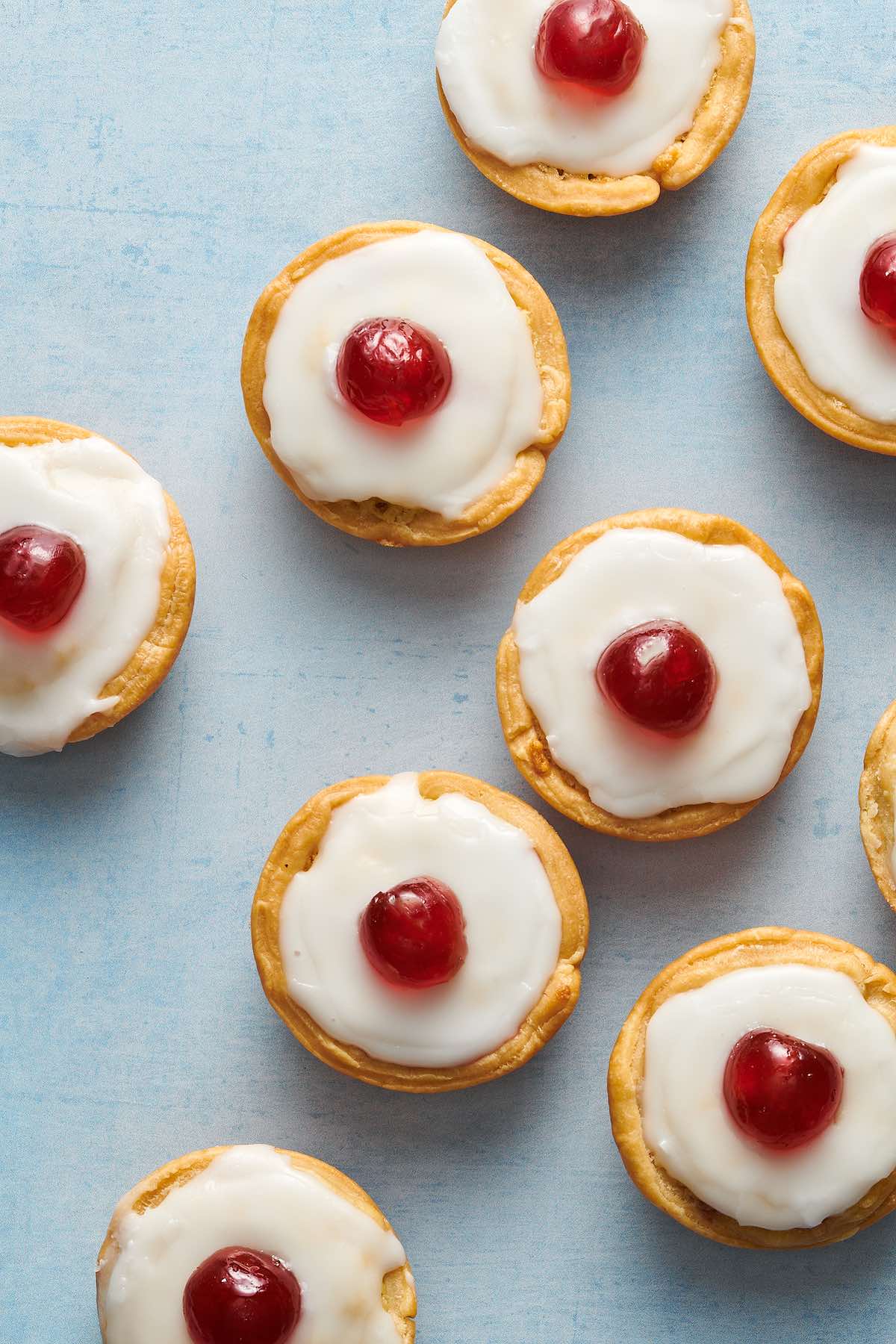 Ingredients needed
This cherry bakewell recipe is made with a handful of baking staples that you may already have in your pantry, such as:
Butter. To make the tart dough and filling. Make sure it's softened to room temperature before you get started so it's easier to work with.
Sugar. Use superfine sugar if you can. Otherwise, regular granulated white sugar will do.
Eggs. An egg yolk and whole eggs help bind the tart pastry and almond filling together.
All purpose flour. You need both all purpose flour and almond flour to make the tart pastry and frangipane.
Almond flour. This lends a nice nutty flavor to the tart shell and frangipane filling.
Cherry jam. This is layered underneath the ​​frangipane as a sweet and fruity surprise.
Cherries. Place half of a candied cherry on top of each tartlet for a beautiful, yet simple presentation.
Confectioners sugar. To make the lemon glaze.
Lemon juice. This gives the glaze a beautiful bright flavor that pops as soon as you bite into the fluffy bakewell.
How to make cherry bakewell tarts
Despite their many layers, both beginner and experienced bakers will have an easy time with these tarts. These instructions will show you how it's done:
Step 1 – Make the pastry
Beat the butter, sugar, and egg yolk with an electric mixer until light and fluffy. Slow beat in the flour and almond flour next.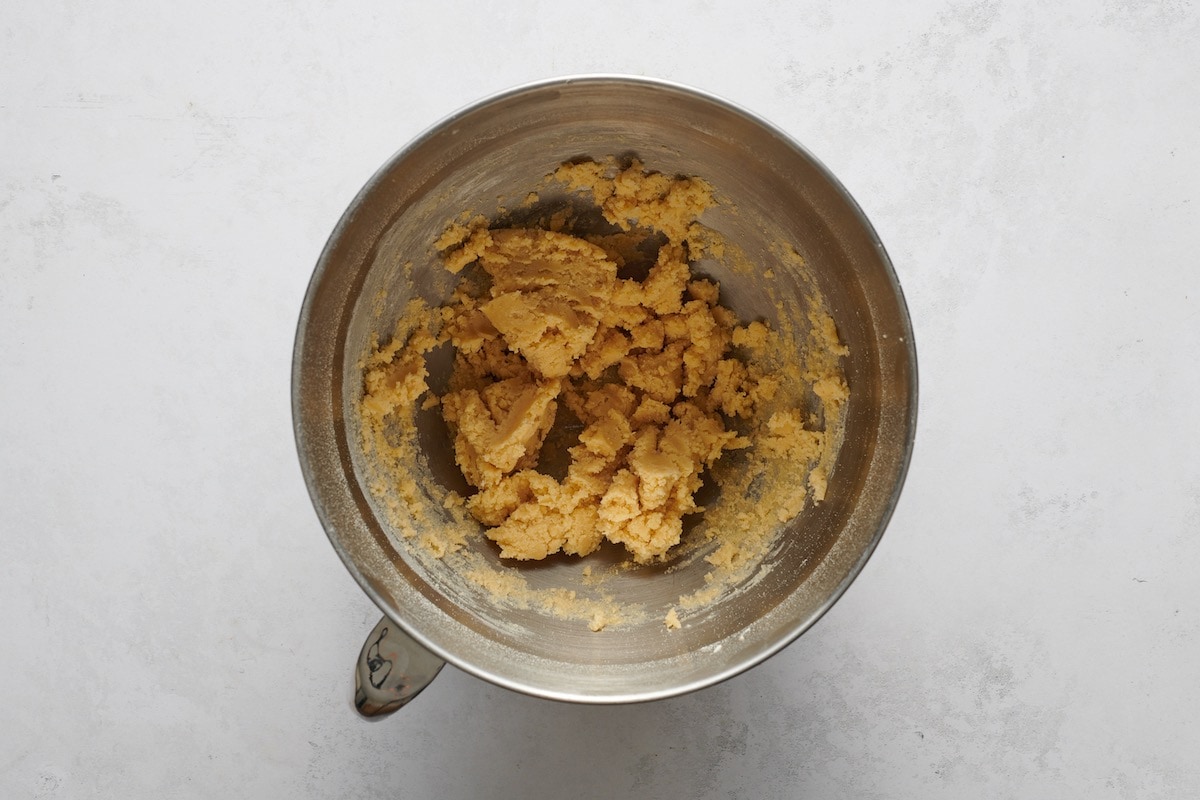 Step 2 – Let it chill
Transfer the dough to a lightly floured surface. Knead it a few times until it becomes a smooth ball. Wrap the ball of dough in plastic and let it chill in the fridge.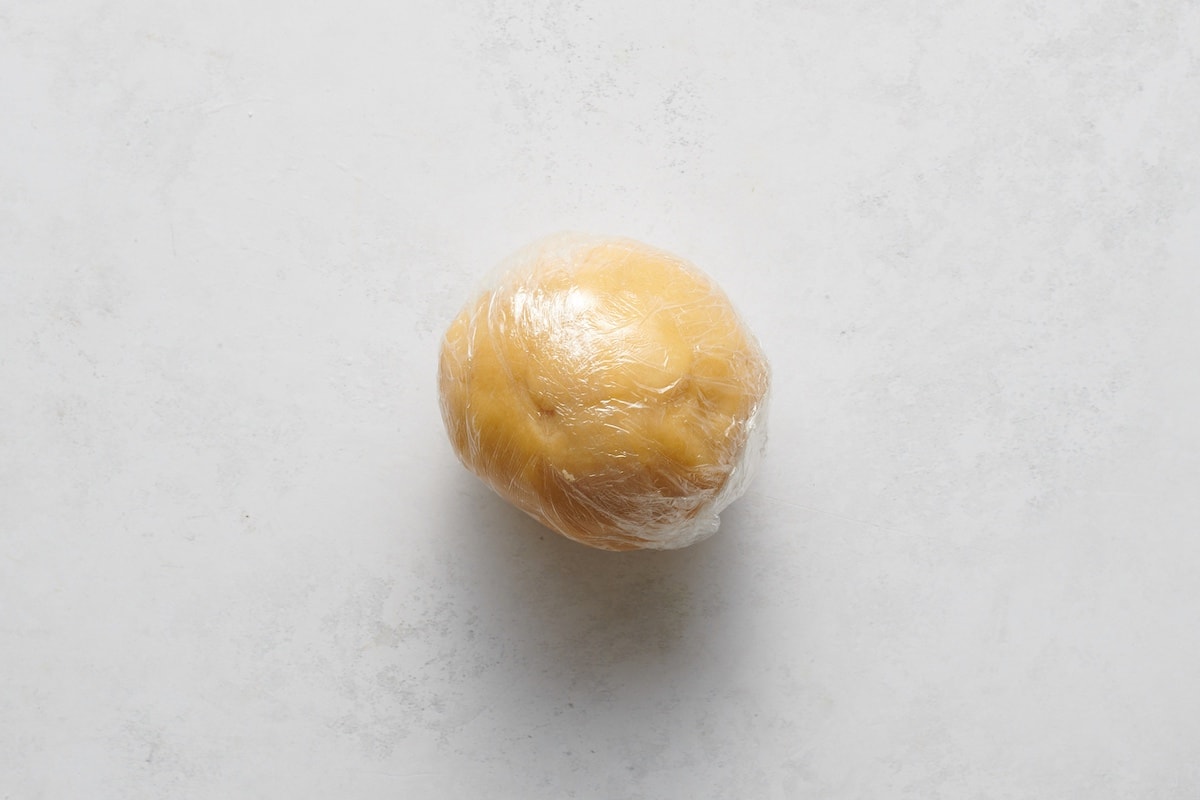 Step 3 – Par-bake the tart dough
Roll out the chilled dough on a lightly floured surface before cutting out small circles. Press each circle into a muffin tin. Press a small layer of parchment paper into each piece of dough in the tin. Fill with pie weights, then blind bake in the oven.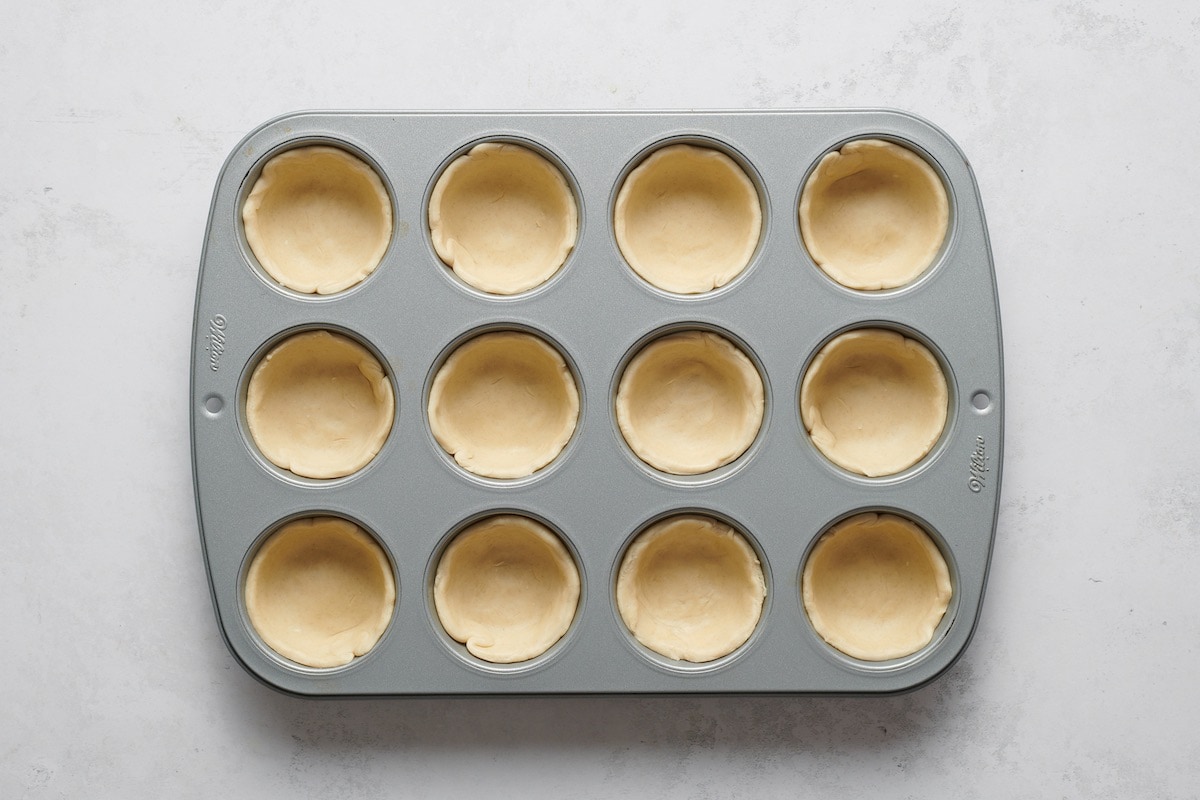 Step 4 – Make the filling
Beat the butter and sugar together in a bowl until light and fluffy. Beat in one egg at a time, then add the almond flour and all purpose flour.
Step 5 – Assemble and bake the mini tarts
Add a scoop of jam to each mini tart pastry in the muffin tin. Repeat with the frangipane, making sure to fill each one to the top.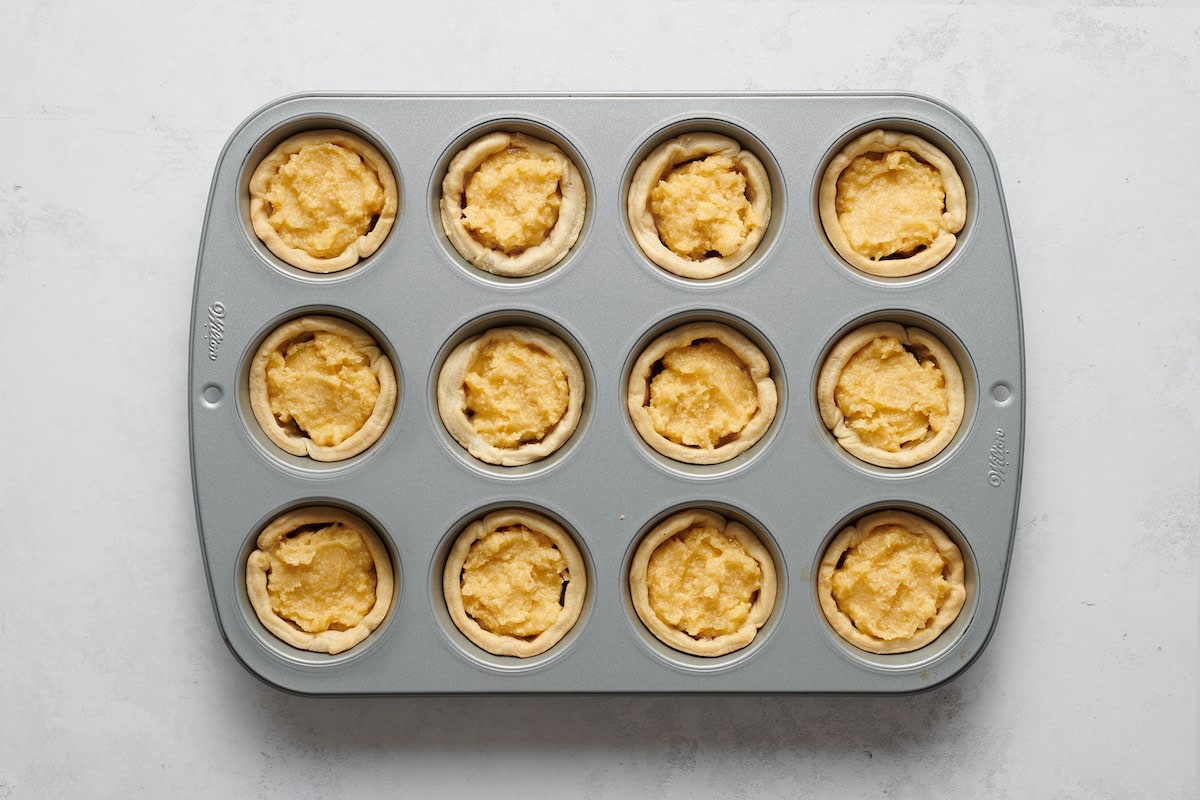 Bake the tarts until they're golden, then set them aside to cool completely.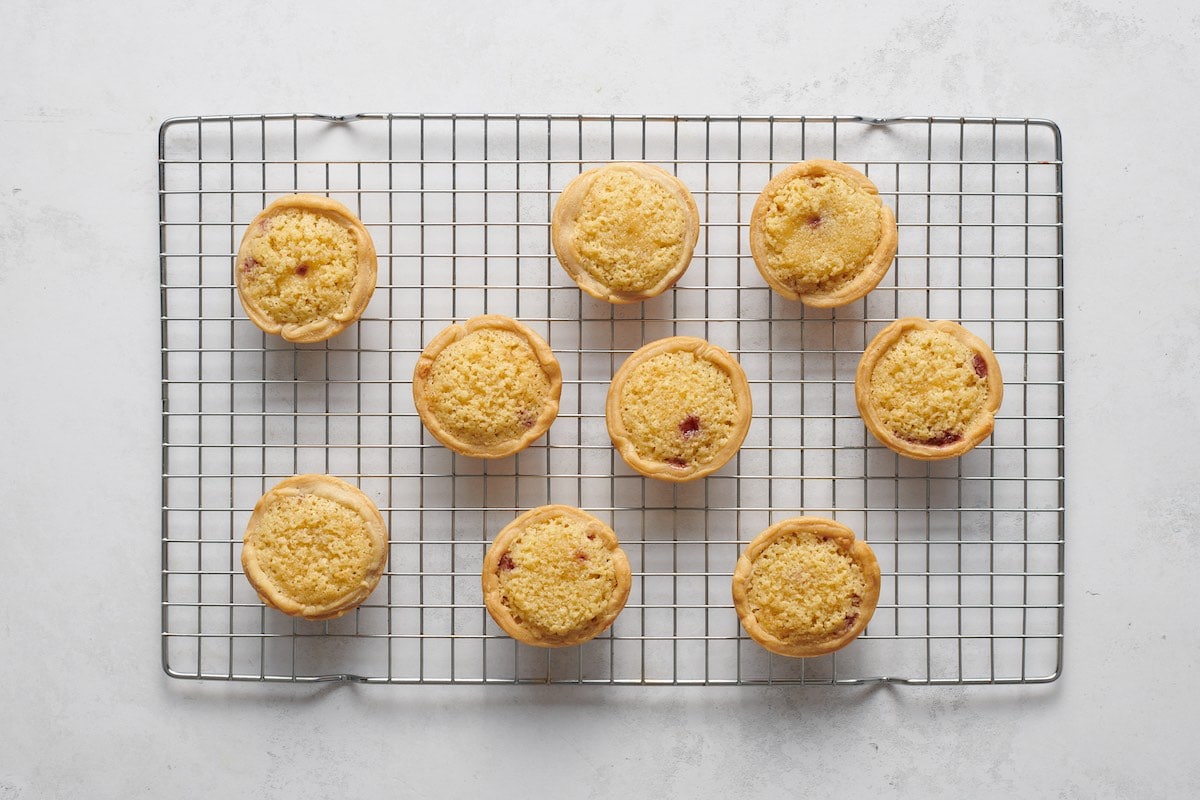 Step 6 – Decorate with the glaze and cherries
Make the glaze by mixing the confectioner's sugar with lemon juice. Add a scoop on top of each cooled tart, then finish by placing a cherry half on top. Enjoy!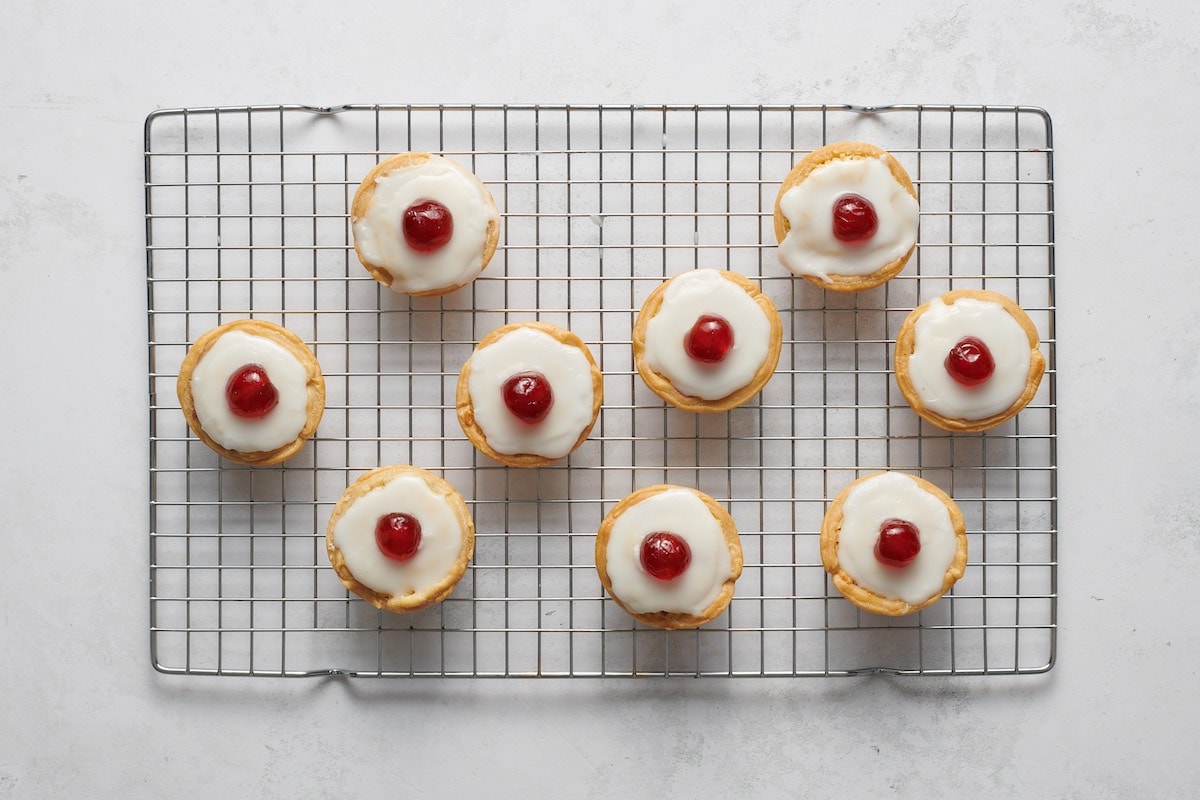 Tips for success
Running low on time? Instead of making your tart dough from scratch, use store-bought pre-baked mini tart shells.
Always chill the dough. The 30 minutes the dough spends in the fridge is crucial! The cold temperatures help solidify the warm butter and prevent the crust from becoming oily or soggy in the oven.
Roll the dough between two sheets of parchment. Cleanup is easy with no mess left behind!
Work quickly! You don't want the rolled dough to get too warm as you cut it into circles and push them into the muffin tin.
If you don't have pie weights. Use dry rice or beans instead.
Use tart molds instead. Making this recipe in muffin tins is very easy but you can use individual mini tart molds if you want.
Variations
This is a very forgiving recipe that can be adapted to your flavor preferences or even dietary restrictions. Here are some suggestions:
Infuse flavor in the tart dough. The dough will already have a subtle nutty flavor from the almond flour. To infuse even more flavor, beat in up to 1 teaspoon of almond extract or vanilla extract.
Use any jam you love. You can make bakewells with any flavor of jam you love, like raspberry, blueberry, or strawberry. Remember to swap the cherry on top for the berry that matches the jam flavor.
Instead of almond frangipane. The almond flour can easily be substituted for another nut flour in the filling, like hazelnut, walnut, or pistachio flour.
Instead of jam. Add a layer of sliced bananas or a spoonful of melted chocolate.
Storage instructions
To store: Leftovers will keep well at room temperature in an airtight container. They will keep well for at least a week.
To freeze: Place the mini tarts in a ziplock bag and store it in the freezer for up to 6 months.
Recommended tools to make this recipe
Electric mixer. My long standing mixer that works with even the most difficult of doughs or batters.
Handheld mixer. While you can make the filling in the electric mixer, I find the hand mixer to be easier and quicker!
12-count muffin tin. To bake the mini tarts in!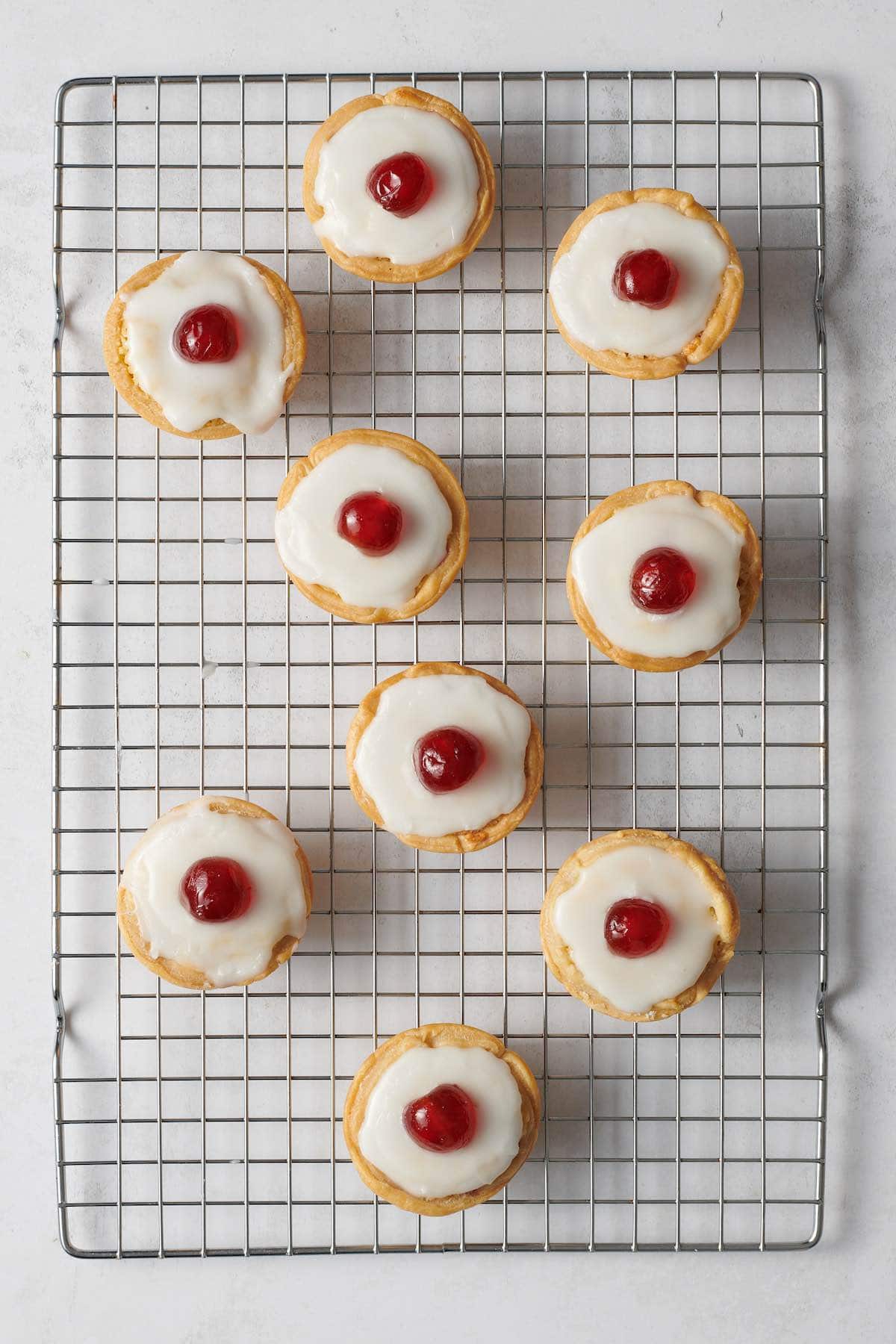 More handheld desserts to try
Frequently asked questions
What is frangipane?
Frangipane is a type of paste made from ground almonds, eggs, butter, sugar, flour, and sometimes rum. It has a warm nutty flavor and takes on a creamy and cake-like texture when baked.
Can you use this recipe to make one large bakewell tart instead?
Absolutely. Follow the same steps but assemble the tart in a 9-inch tart pan instead of a muffin tin. Bake at 350ºF for about 35 to 45 minutes.
Why did my dough shrink in the oven?
This can happen when the dough is overworked. Overmixing the ingredients or kneading the dough too many times will cause more gluten to form, thus making the dough shrink in the oven.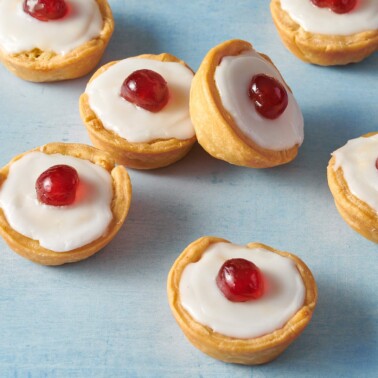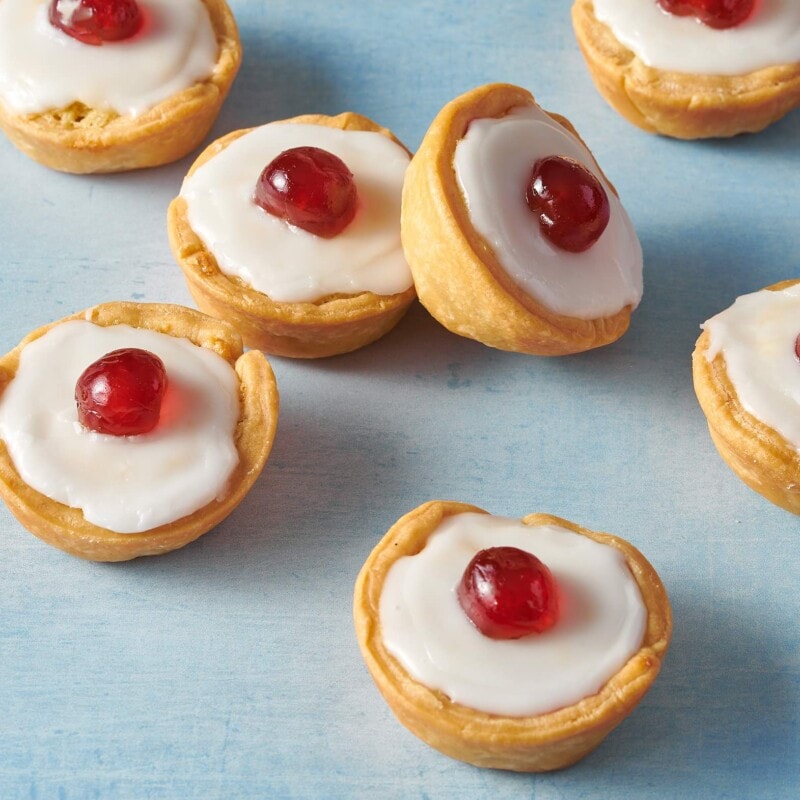 Cherry Bakewell Tart
These adorable mini cherry bakewell tarts are so scrumptious! Made with homemade tart crust and an almond frangipane filling, the individual tarts are topped with lemon glaze and cherries.
Instructions
Beat the butter superfine sugar and egg yolk with a hand mixer until combined. Slowly add the flour and almond flour.

Lightly flour a kitchen surface. Transfer the dough onto it and knead several times until smooth. Wrap the pastry in plastic wrap and refrigerate for 30 minutes.

Preheat the oven to 160C/320F. 

Use a pastry cutter to 12 10-cm circles out of the pastry. Press the circles into the muffin tins, ensuring they stick to the sides and slightly over the top. Push out any creases. 

Cut some sheets of baking paper and press them into each muffin tin. Fill with dried rice or beans and blind bake for 20 minutes, removing the muffin tin halfway through to discard to beans/rice. Let them cool completely.

Make the almond filling by beating the butter and superfine sugar until light and fluffy. Beat in the eggs, one at a time, then add almond flour and all purpose flour.

Divide the jam amongst the muffin tins, then add the filling on top.

Bake the tarts for 20 minutes or until golden. 

Remove the tarts from the oven and neaten the sides if needed. Cool completely.

Mix the confectioners' sugar with lemon juice and spread over the top of the cooled tarts. Top with half a glace cherry. 
Notes
TO STORE: Leftovers will keep well at room temperature in an airtight container. They will keep well for at least a week.
TO FREEZE: Place the mini tarts in a ziplock bag and store it in the freezer for up to 6 months.
Nutrition
Serving:
1
tart
Calories:
261
kcal
Carbohydrates:
25
g
Protein:
4
g
Fat:
17
g
Sodium:
120
mg
Potassium:
34
mg
Fiber:
1
g
Vitamin A:
478
IU
Vitamin C:
1
mg
Calcium:
23
mg
Iron:
1
mg
NET CARBS:
24
g
Disclosure: This post may contain affiliate links. I may earn a small commission for my endorsement, recommendation, testimonial, and/or link to any products or services from this website.