Learn how to make petit fours, the classic French dessert. Decorated with flowers, it's a perfect recipe for any occasion!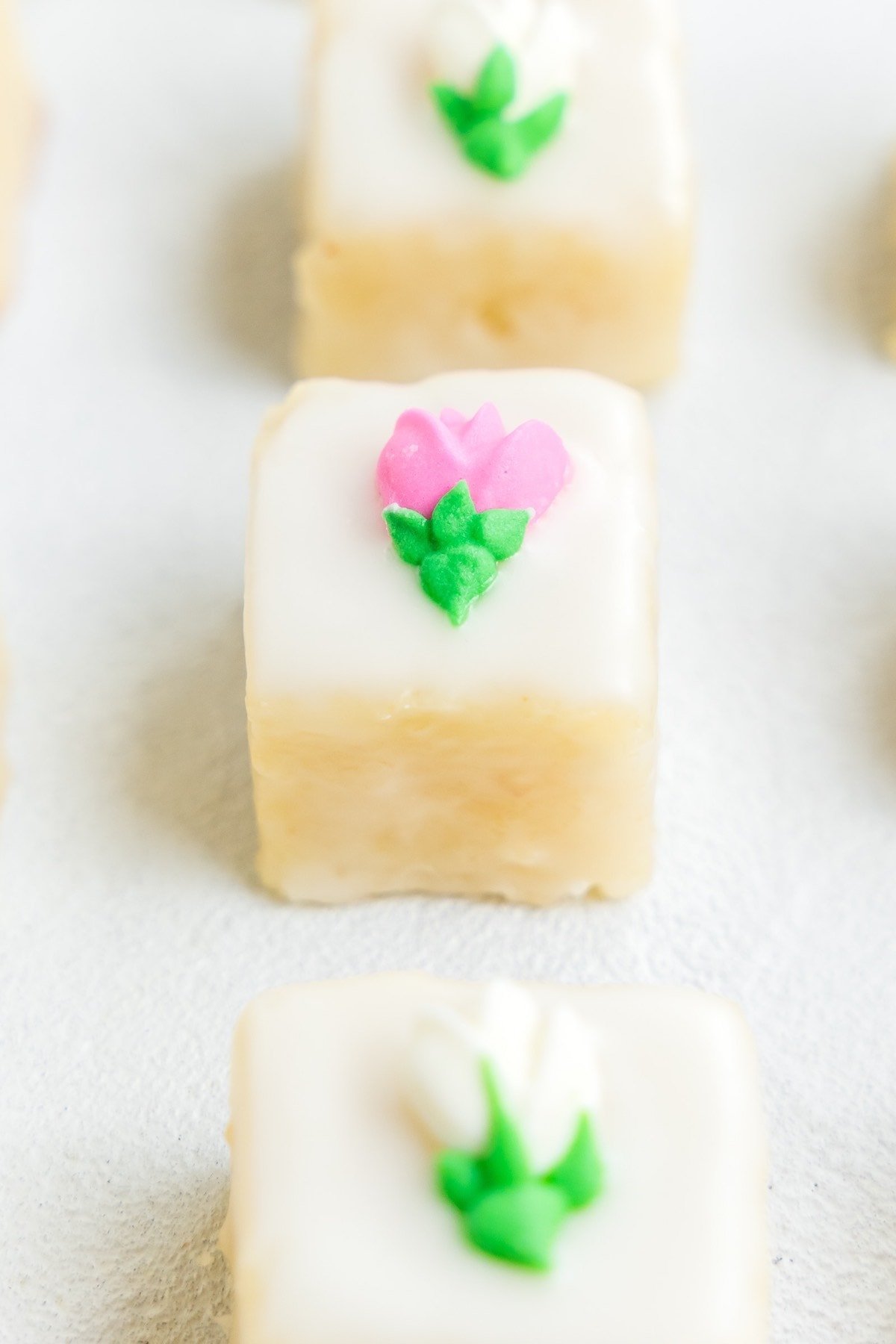 Ever heard of petit fours before? We love them in our household. For those of you who aren't sure what they are, petit fours are small bite-sized desserts made from soft cake and originated in France.
Table of Contents
Why this recipe works
Quick and easy. Okay, so this dessert may look incredibly fancy but I promise you, it is one of the easiest ones you'll ever make.
Simple ingredients. No hard-to-find or difficult ingredients are needed. And you definitely don't need to be a pastry chef to make this!
Perfect for entertaining. Mini desserts (or any mini foods) are always a hit, and these will steal the show!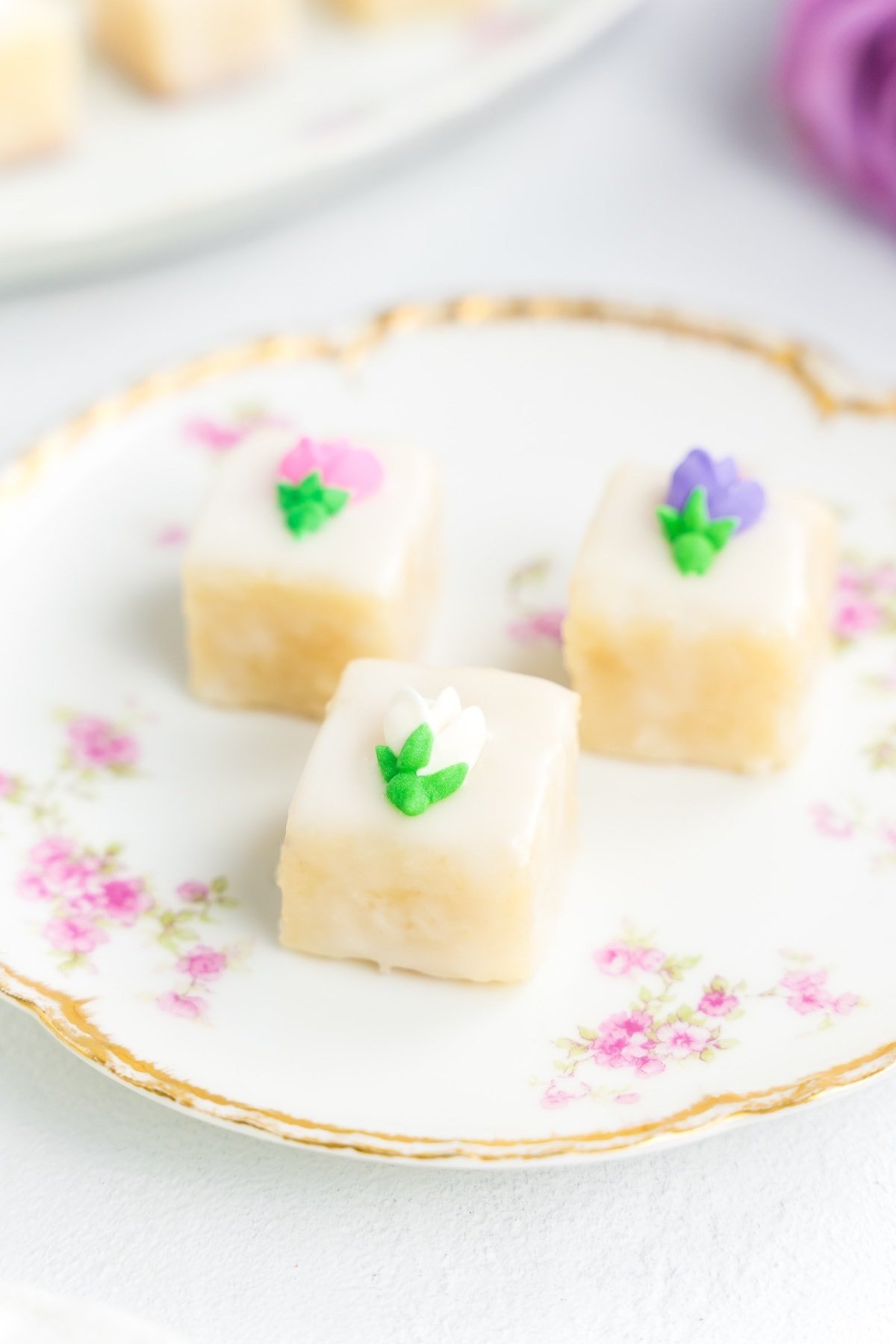 Don't let your eyes deceive you- These desserts may look fancy but the ingredient list is simple and has things you can find at any basic grocery store (or your pantry!). Here is what you'll need:
Butter. Softened to room temperature.
Superfine sugar. Or use powdered sugar
Vanilla extract. A must for this dessert.
Eggs. Room temperature.
Self rising flour. Skip the expensive pre-packaged kind and make your own.
All purpose flour. Sifted to ensure there are no clumps.
Milk. I used whole milk but any milk works.
Powdered sugar. For icing
Corn syrup. Makes the icing softer and easier to decorate with.
Vanilla extract.
Water.
Decorative flowers. Optional, but we added some edible flowers.
How to make petit fours?
Step 1- Make the batter
Add butter, vanilla extract, and sugar to an electric mixer and blend until fluffy. Add the eggs, one at a time, until combined. Mix in the flour and then add milk to make a smooth batter.
Step 2- Bake the cake base
Transfer the batter to a pan and bake for 25-30 minutes. Once the cake is baked, transfer the cake to a wire rack and let it cool completely.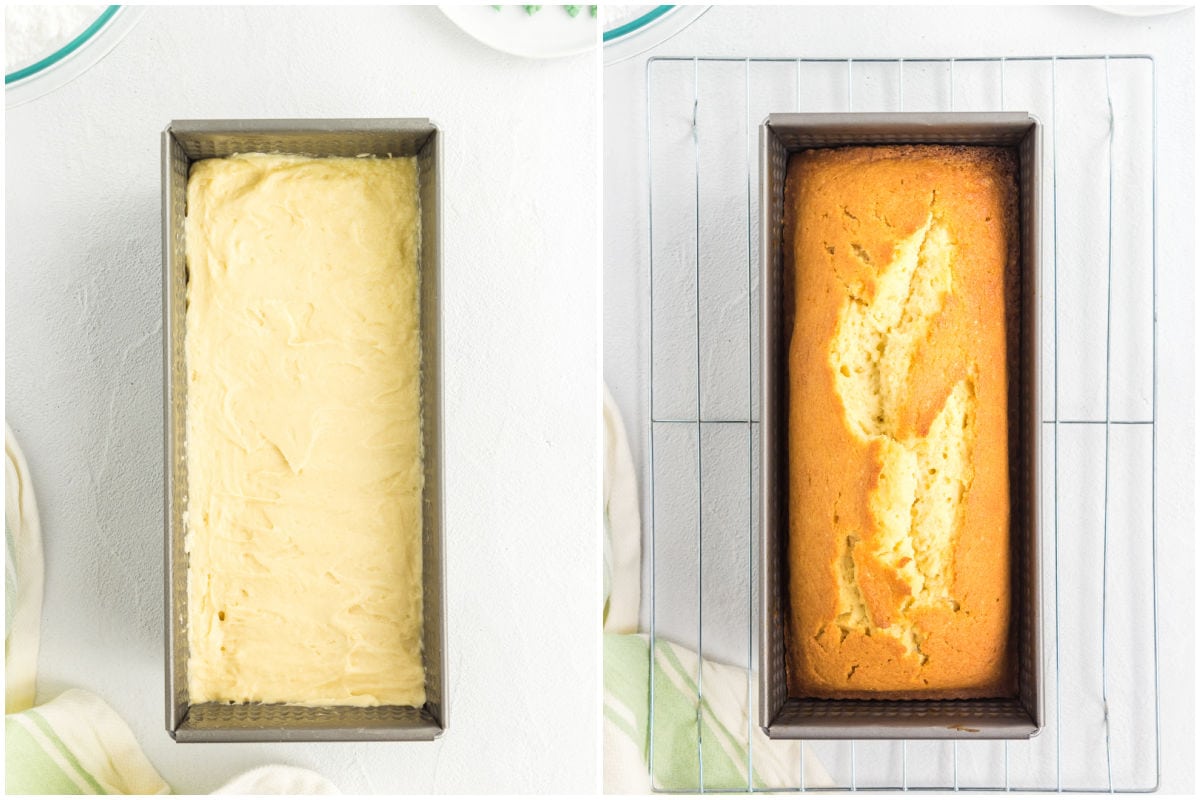 Step 3- slice the cake
Trim the edges and make small slices of equal size. Keep the cake on the wire rack.
Step 4- Prepare the icing mixture
Add water to a large saucepan to create a water bath. Place a heatproof bowl over the water bath and add vanilla extract, powdered sugar, cold water, and corn syrup. Mix for 5 to 7 minutes or until it becomes smooth and runny.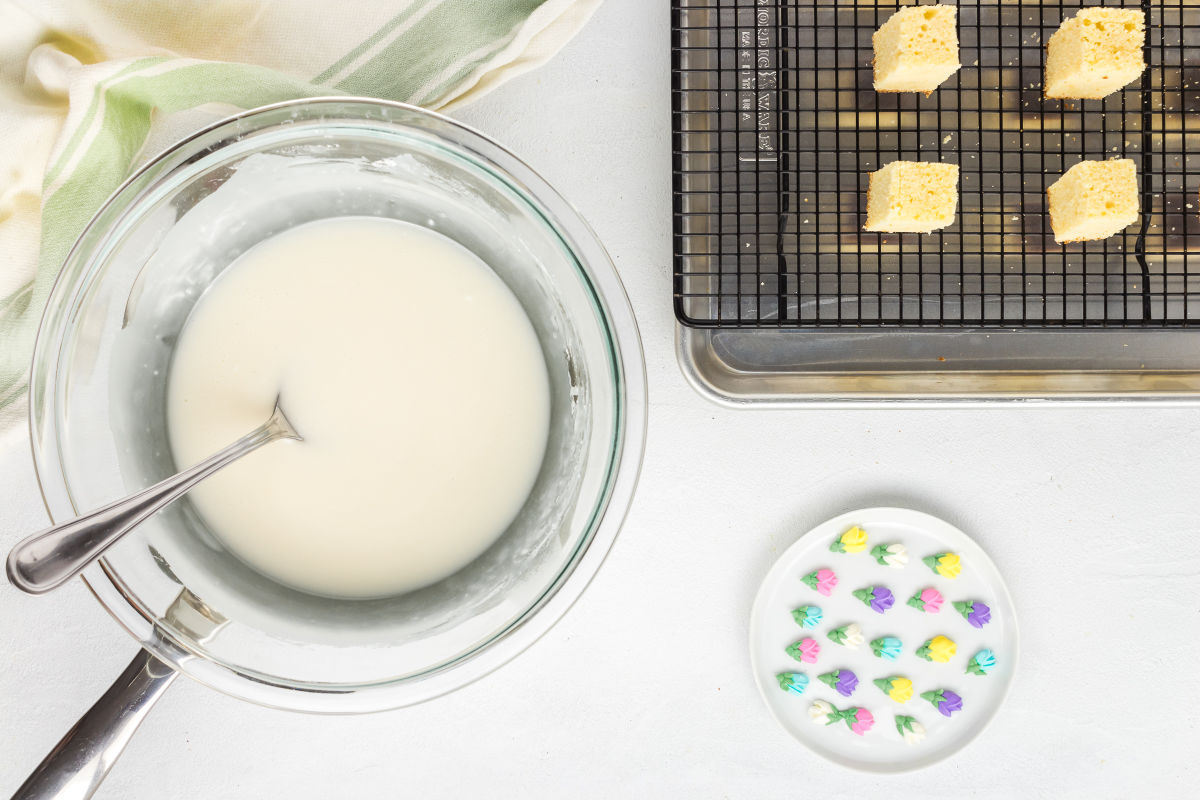 Step 5- ice the cake
Generously pour the icing mixture on the cake slices until completely covered.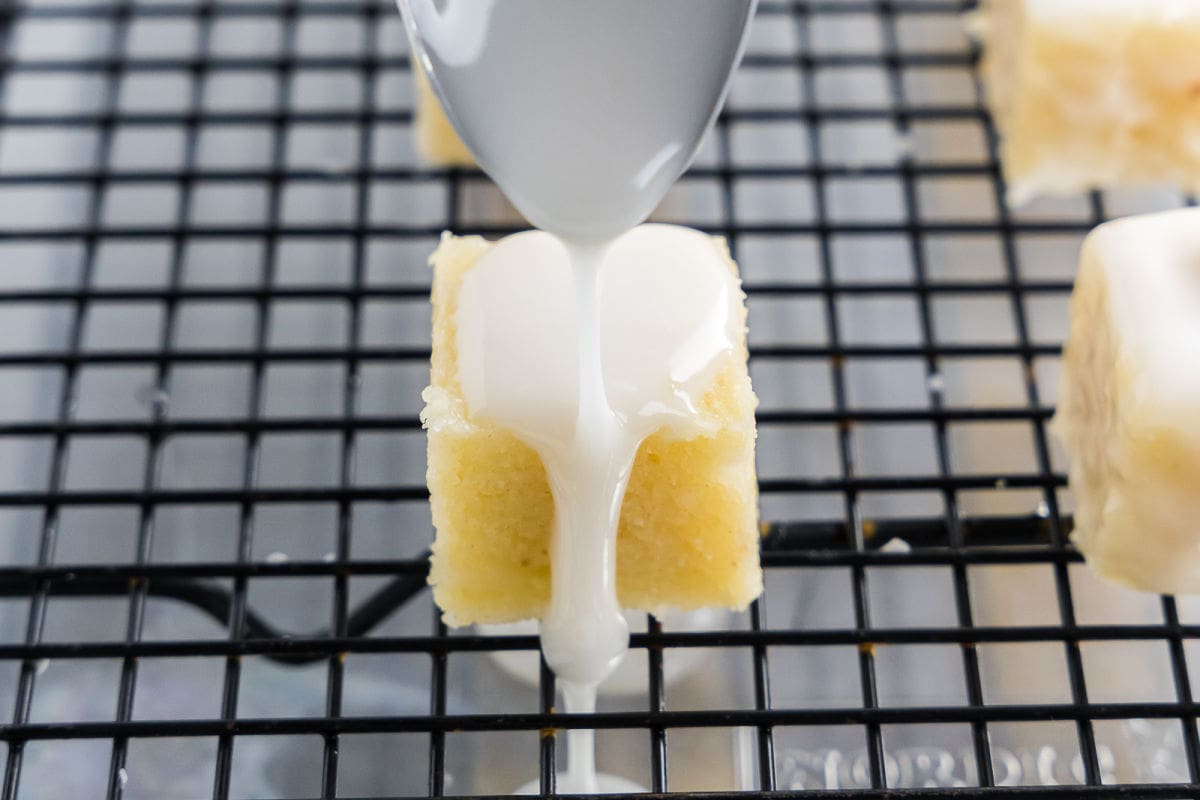 Step 6- decorate and serve
Decorate the icing-coated slices with flowers and allow a few minutes for it to set.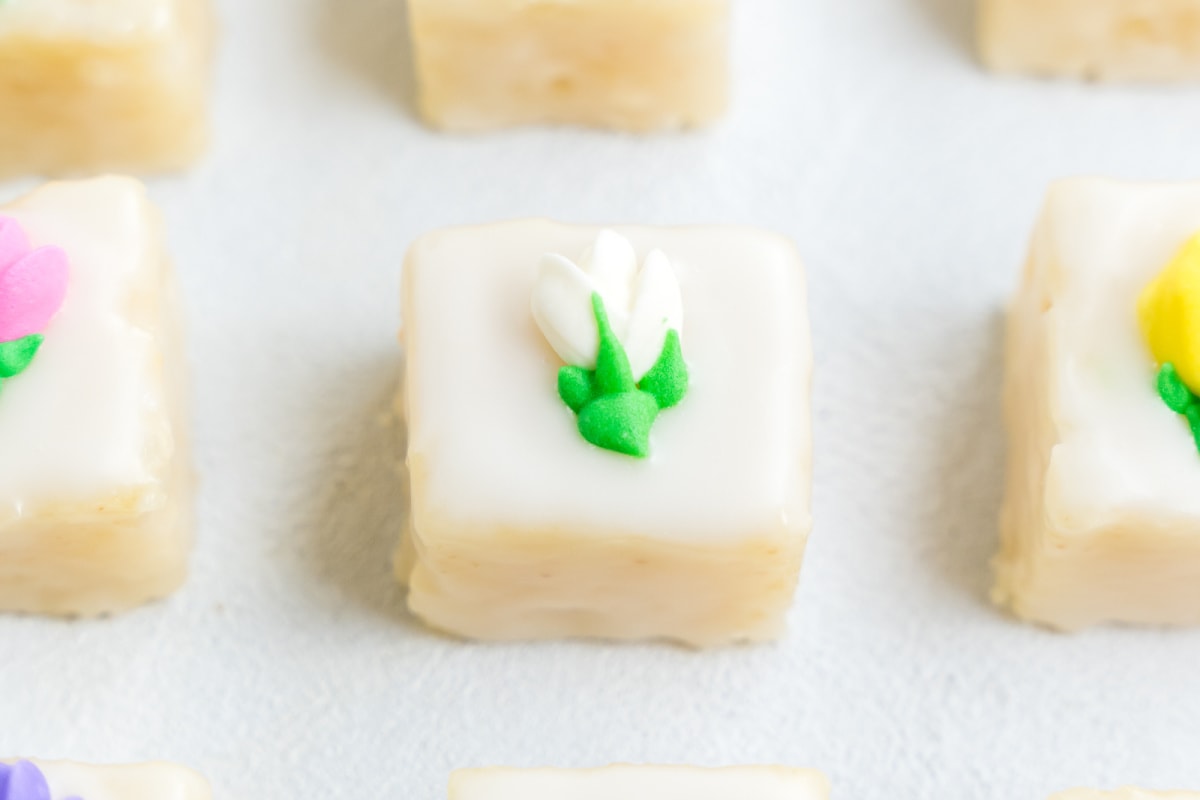 What are the different types of petit fours?
While these glazed mini cakes are the original recipe, they come in other varieties with different names:
Palmiers – Also known as palm trees pig ears, are French pastries.
Duchesses – It's a classic petit fours type, made from almonds, chocolate, and hazelnuts.
Sable beurre – These are traditional French butter cookies made using salted butter and shortbread-type of dough.
Macarons – These are gluten free petit fours, as they use nut flour.
Freeze the cake slices before coating them with icing. This helps the icing firm up easier and quicker.
Do not over-mix the cake batter. Over-mixing will cause a build-up of gluten which in turn, will yield a gummy cake.
If you notice the top of the cake browning too quickly, add some tin foil to it during the baking process.
To store. Place the cakes in a shallow container and keep them at room temperature for three days or refrigerate it for up to seven days.
To freeze. Leftovers can be stored in the freezer in an airtight container for up to 6 months.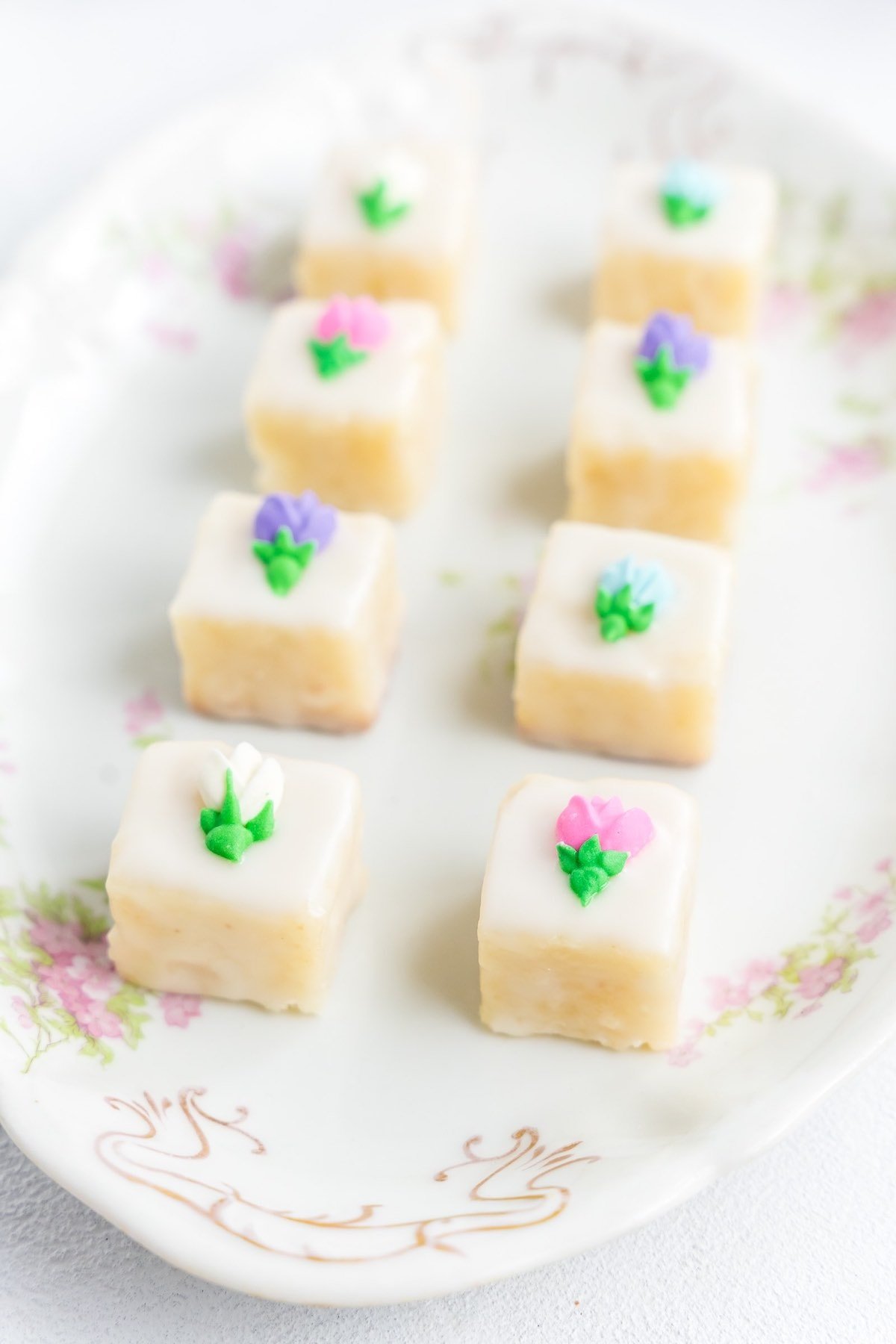 Why do they call it petit fours?
They are made using a specific heat setting, due to which they got this name. In French, petit fours mean "small oven," but they are not cooked in a small oven. The name indicates a low-temperature setting obtained when the fire has almost dried out, but there is still some heat on the oven walls; it was known as a petit four or small oven.
Can I use cake mix to make these?
Yes, you can make cake mix to make these instead of using the instructed batter. You can try a vanilla cake or snickerdoodle cake.
Are these gluten free?
As they contain all purpose flour, they aren't gluten free. You can experiment with using a gluten-free baking flour.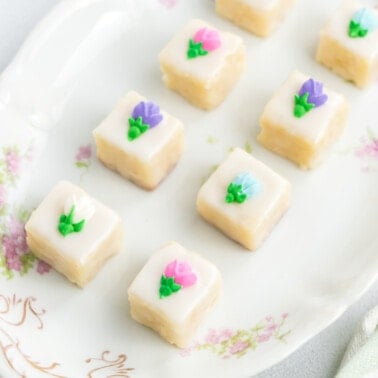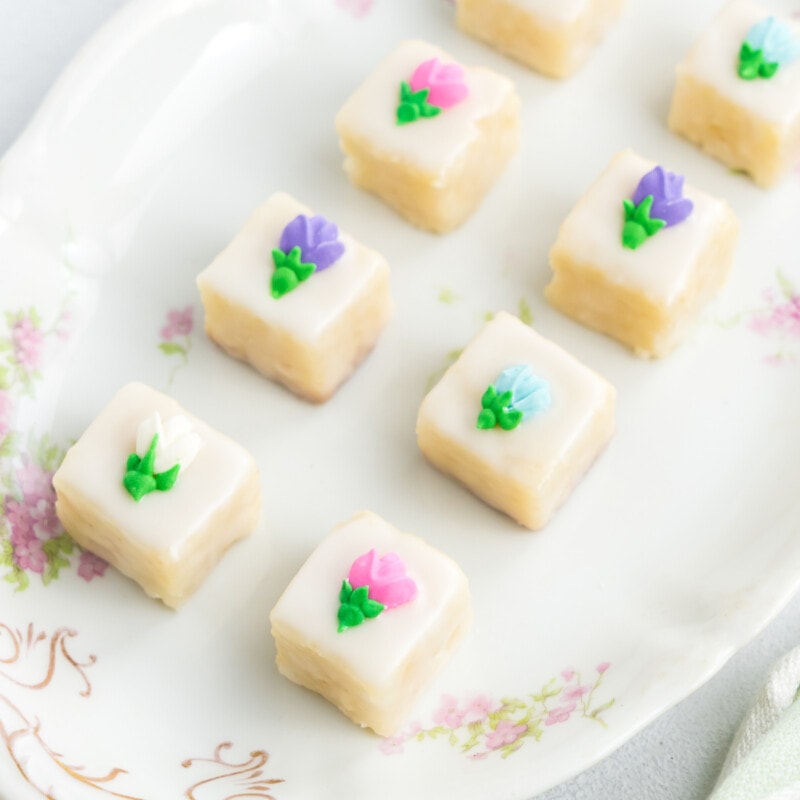 Petit Fours
These petit fours are delicate and miniature French desserts featuring a glazed sponge cake with a decorative topping. They make the perfect bite sized treat.
Instructions
Preheat oven to 180C/160C fan-forced. Grease a loaf pan and set aside.

Using an electric mixer, beat the butter, sugar, and vanilla until fluffy. Add the eggs in, one at a time, until mixed in. Sift in the flours and then stir through the milk until combined.

Transfer the mixture to the pan and bake for an hour, or until a toothpick comes out clean. If there is over-browning, cover the pan with tin foil.

Turn it out on a wire rack and let it cool completely.

Trim the edges of the cake and cut it into 6 1 ½ inch slices. Cut 2 squares from each slice. Place the cakes on a wire rack.

Create a water bath by adding water to a large saucepan. Place a heatproof bowl over it and add the powdered sugar, corn syrup, vanilla extract, and cold water. Stir for 4-7 minutes, until smooth and runny.

Carefully pour the icing mixture over one of the cake squares until completely covered. Top it with a decorative flower. Repeat the process until all the cakes are covered.
Notes
TO STORE. Place the cakes in a shallow container and keep them at room temperature for three days or refrigerate it for up to seven days.
TO FREEZE. Leftovers can be stored in the freezer in an airtight container for up to 6 months.
Nutrition
Serving:
1
Petit Four
Calories:
196
kcal
Carbohydrates:
39
g
Protein:
2
g
Fat:
7
g
Sodium:
25
mg
Potassium:
19
mg
Fiber:
0.02
g
Vitamin A:
68
IU
Calcium:
14
mg
Iron:
0.2
mg
NET CARBS:
39
g
Disclosure: This post may contain affiliate links. I may earn a small commission for my endorsement, recommendation, testimonial, and/or link to any products or services from this website.