Healthy 3 Ingredient Pumpkin Cake Pops + Food Judgement
Just three ingredients are needed to make these soft, cake-like balls which have the texture of a cake pop! Taking only 10 minutes to whip up, these Pumpkin 'cake pops' are paleo, vegan, refined sugar-free and gluten-free!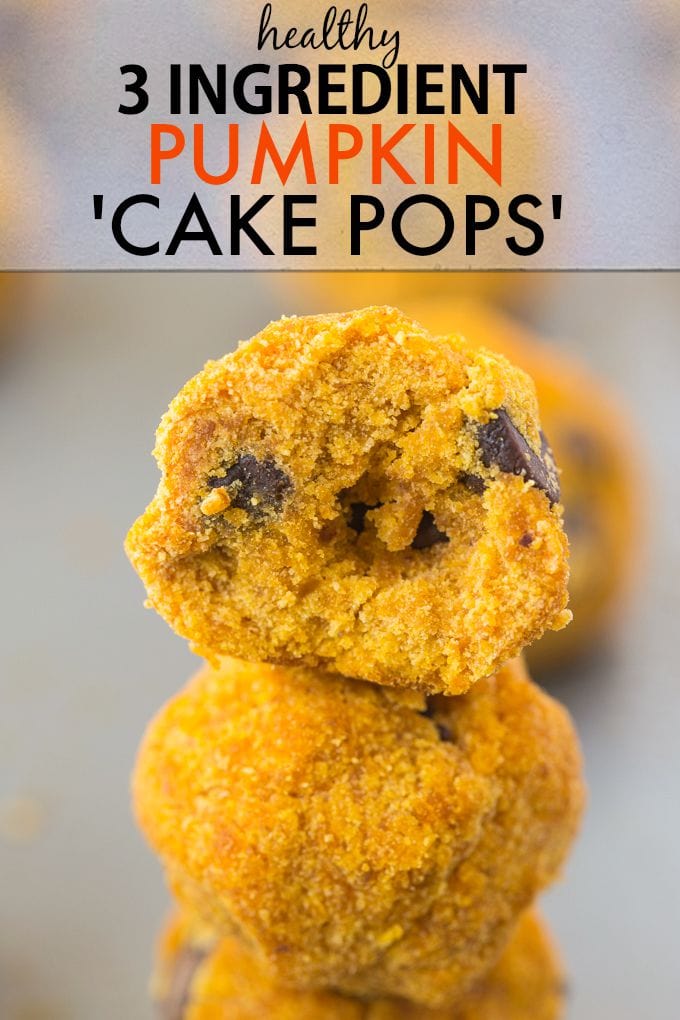 2 Things before we get into today's recipe/post/schpeel about food judgement.
1. Don't forget to enter here for a chance to win an epic pasta kit including a $500 Gift card and a slew of kitchen utensils- Time is running out!
2. I'm still accepting ingredient ideas using one of these options. One will be used for my next recipe and there will be a prize for the reader who recommends the ingredient I end up using!
***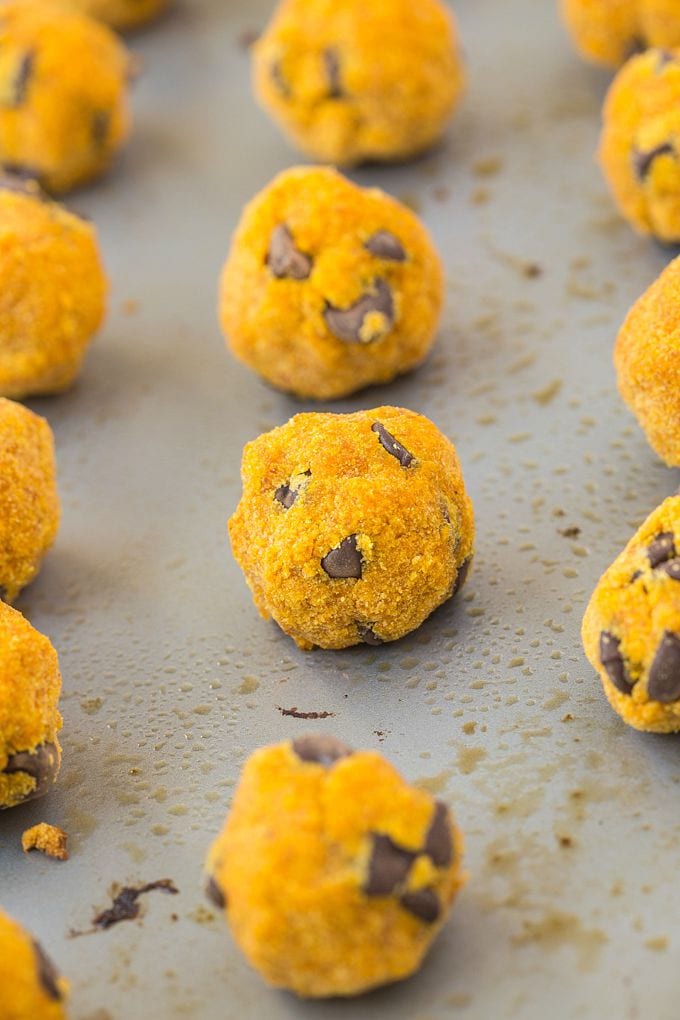 I wasn't intending on sharing these simple yet delicious pumpkin cake pops until next week, especially since I don't usually post a slew of recipes in a row. However, after some heart to hearts, brussels sprouts to brussels sprouts and (insert analogy of choice here) with Alexis, I've decided to share it sooner than later- With good reason.
Since I've arrived in Columbus, I've had the pain pleasure of hanging out with Alexis on several occasions. Whether it's chilling at a cafe and working on our respective blogs, going to this ridiculous sized outdoor Mall or just cruising the streets of German Village like Jay-Z and Beyonce- It's always an epic time and always involves something we both enjoy- Food.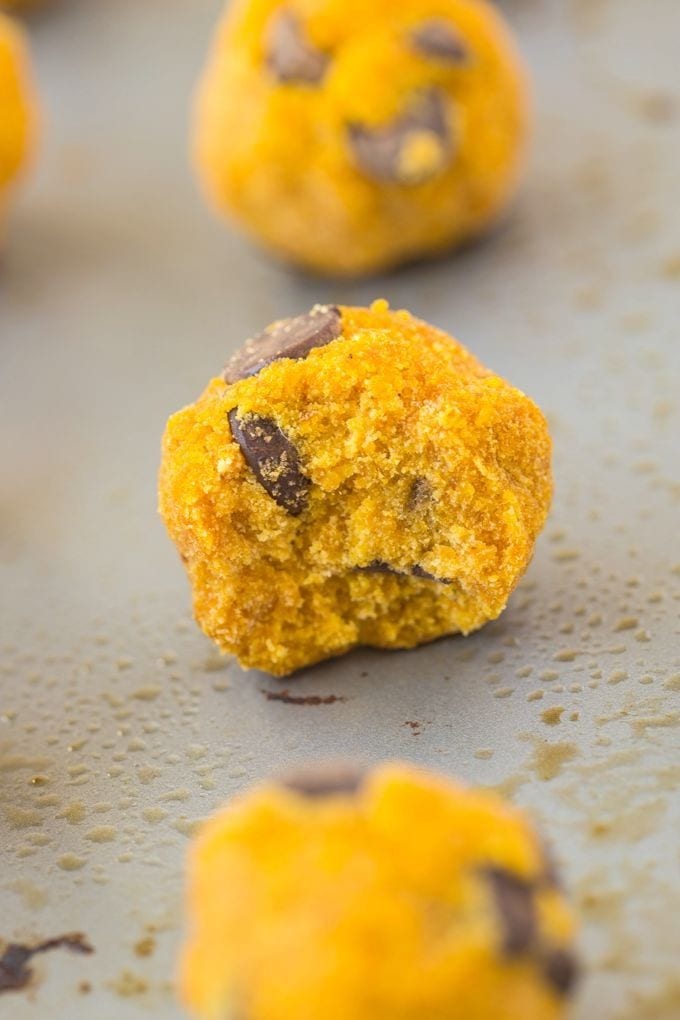 Unlike Alexis, I don't have a dietician certification behind my blog. Sure, I've got college majors and a minor in it, but at the end of the day, my degree with my name on it is NOT under the nutrition and dietetic umbrella. However, similar to her, I regularly share a full day of meals on here and preach butter, greens and everything in between. While I often do receive negative feedback or snarky remarks on my meals ("stop eating so much processed foods!"), I usually just brush them off and go back to enjoying my pizza or bowl of broccoli.
Probably not the latter.
I honestly find Alexis sharing a full day of meals or showcasing her eats to generally be much appreciated and unique- How often do you see certified dietitians share their meals and show you that yes, they are real people too? That is why it's annoying and ridiculous seeing people under the guise of 'anonymous' feel like they have the right to pose judgement or make false accusations of her intake, her choices or her consumption.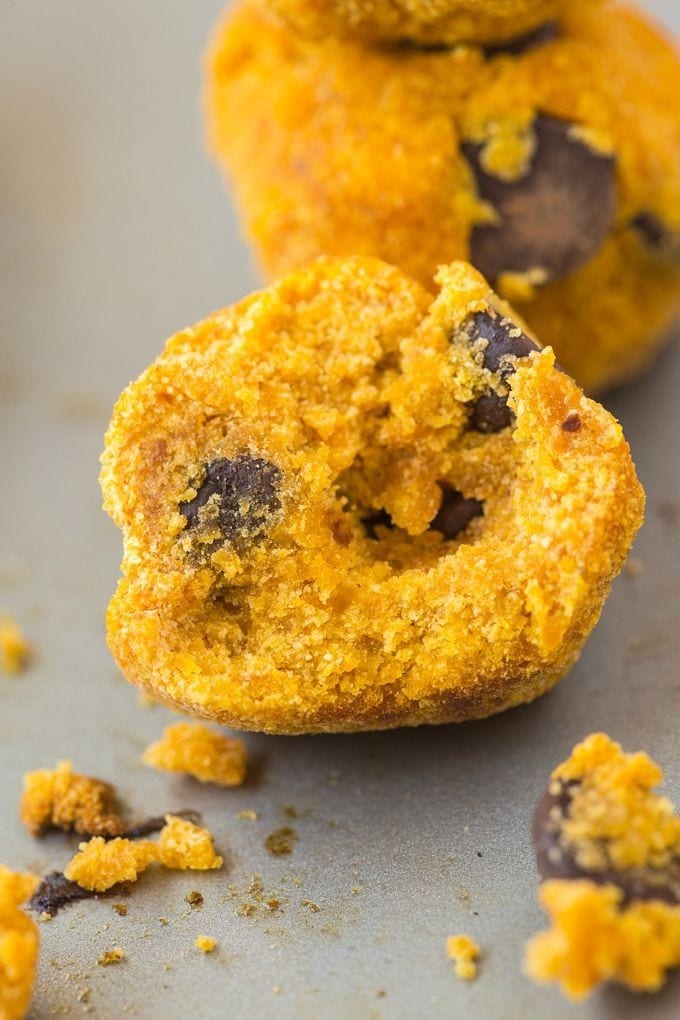 Having spent time with her, I know for a fact that everything she posts is 100% accurate, which ties in perfectly with today's recipe- These pumpkin 'cake pops'. After a morning of baking these cookies and these cake pops, I went to meet her and brought her half of both- I, myself, had eaten the other that morning as a combination of breakfast and lunch. Let's just say by the time we left her workplace to grab dinner, the box was near empty.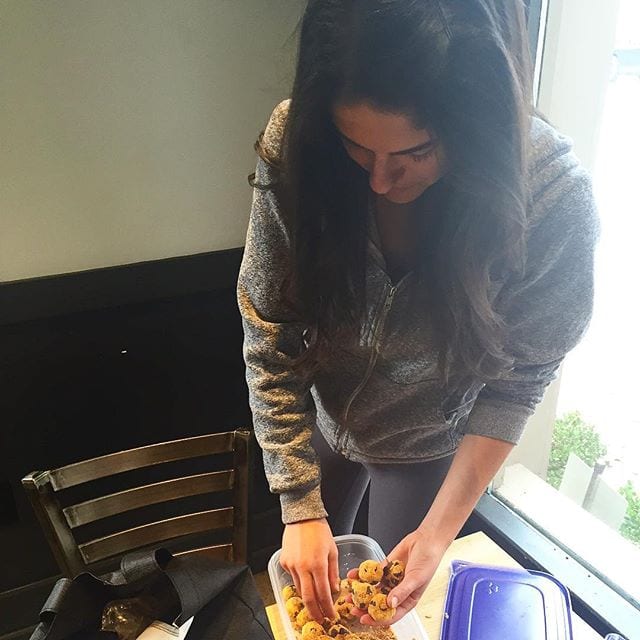 "How do these taste?"
"They taste So good- Like those things, cake things!"
"Cake pops?"
"Yes! Cake pops!"
"So you sure I can post them?"
"YES!"
Friends, Alexis gave me her seal of approval and she has an epic palette. If these don't turn out delicious, you can blame her and her sabotaging ways.
Just kidding.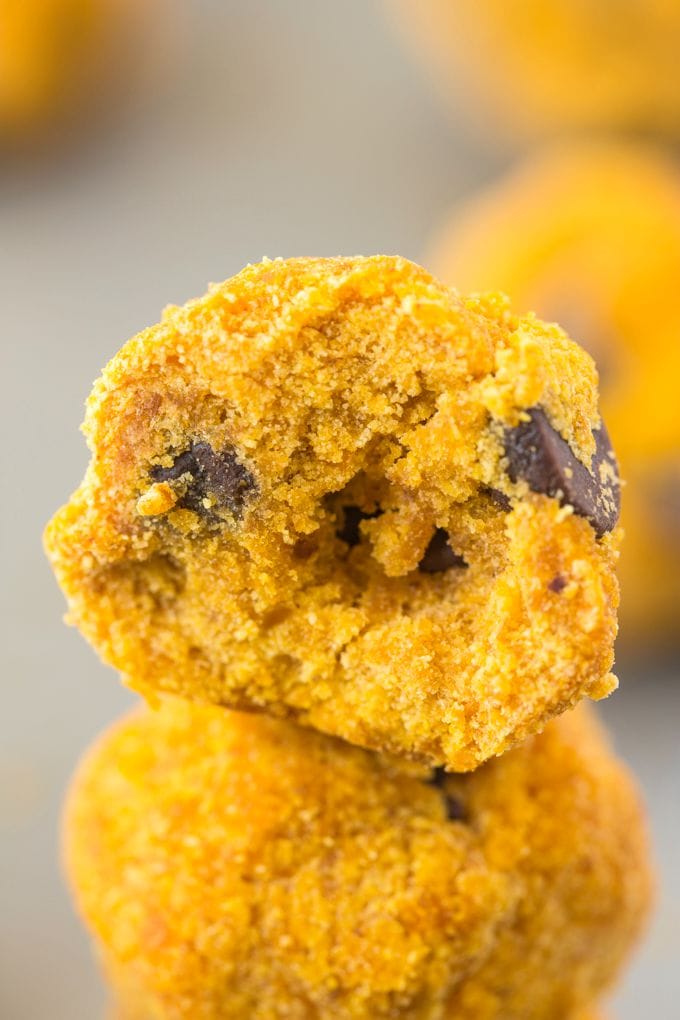 These healthy three ingredient 'cake pops' are soft and cake like and literally take 10 minutes to whip up in your oven! Ironically, they are the EXACT same ingredients as the three ingredient pumpkin 'fudge' but baked lightly to give it the delicious 'cake' like texture coconut flour naturally possesses. Naturally paleo, vegan and gluten free, these are also refined sugar-free and very low in fat.While coconut flour with a dash of coconut palm sugar is generally pleasantly sweet, go ahead and add some optional chocolate chips to the batter to take it up a notch- I won't disapprove.
Depending on the texture you prefer, simply adjust the oven cooking time-
Soft + VERY cake-like- Less time.
Firm + Crumbly like a loaded cookie- More time.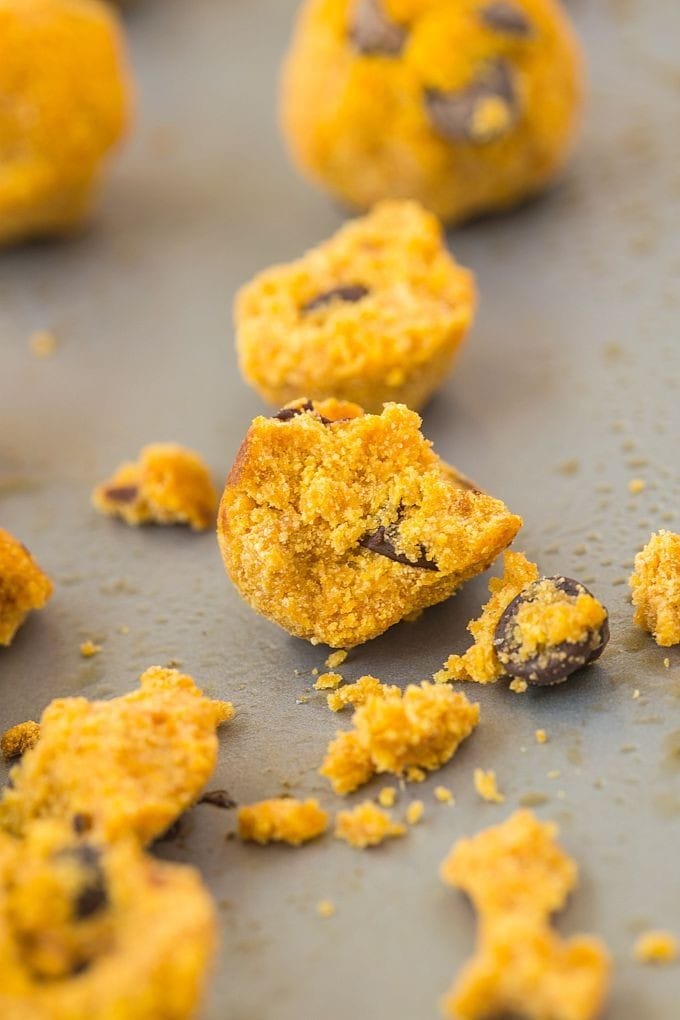 Make these healthy 3 Ingredient Pumpkin 'cake pops' and whether you eat 10 meals a day, 10 chickens a day or half a pan of these cake pops- You do you, I do me, and let Alexis have her cake (pop) and eat (12) it too.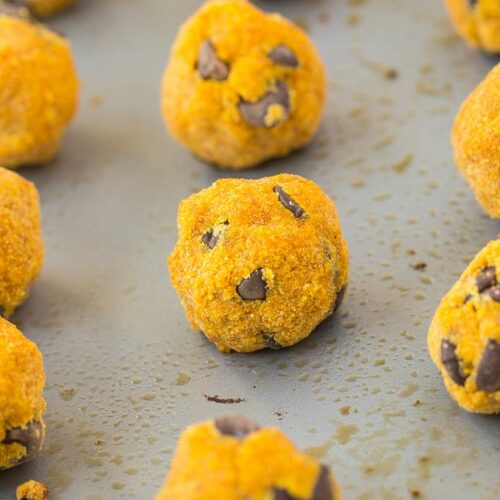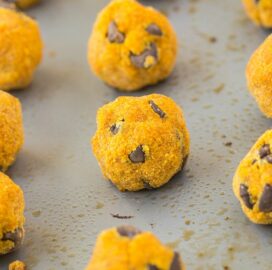 Healthy 3 Ingredient Pumpkin Cake Pops
Just three ingredients are needed to make these soft, cake-like balls which have the texture of a cake pop! Taking only 10 minutes to whip up, these Pumpkin 'cake pops' are paleo, vegan, refined sugar-free and gluten-free!
Print
Rate
Instructions
Preheat the oven to 350 and grease a large cookie sheet or baking tray and set aside.

In a large mixing bowl, combine the coconut flour, pumpkin puree, granulated sweetener and cinnamon mix well. If using chocolate chips, mix those in until fully incorporated.

Using your hands, shape into small balls and place on the greased cookie sheet. Depending on the texture you want, bake for around 10 minutes (for a softer cake texture) or up to 15 minutes (very dense and crumbly). Remove from oven and allow to cool completely before eating.
Notes
* Depending on the brand of coconut flour you use, you may need more pumpkin puree. Also, depending on the amount of chocolate chips you add, you may need more pumpkin- Adjust accordingly (batter should be firm yet still relatively soft.
** If you use extra, you'll need to add more pumpkin.
Cake pops can be stored at room temperature in a covered container for up to a week or frozen.
Adapted from 3 Ingredient Pumpkin 'Fudge'

Do you enjoy seeing a full day of meals by bloggers?
Are you ever judged for your choices?