The infamous Trader Joe's Ranchero Egg White Salad gets a makeover to give it even more flavour and a dairy free and sugar free option! Naturally gluten free, it is also packed full of protein, it's the perfect low carb snack, salad or addition to a main meal- Bonus- There is a whole30 and paleo option too!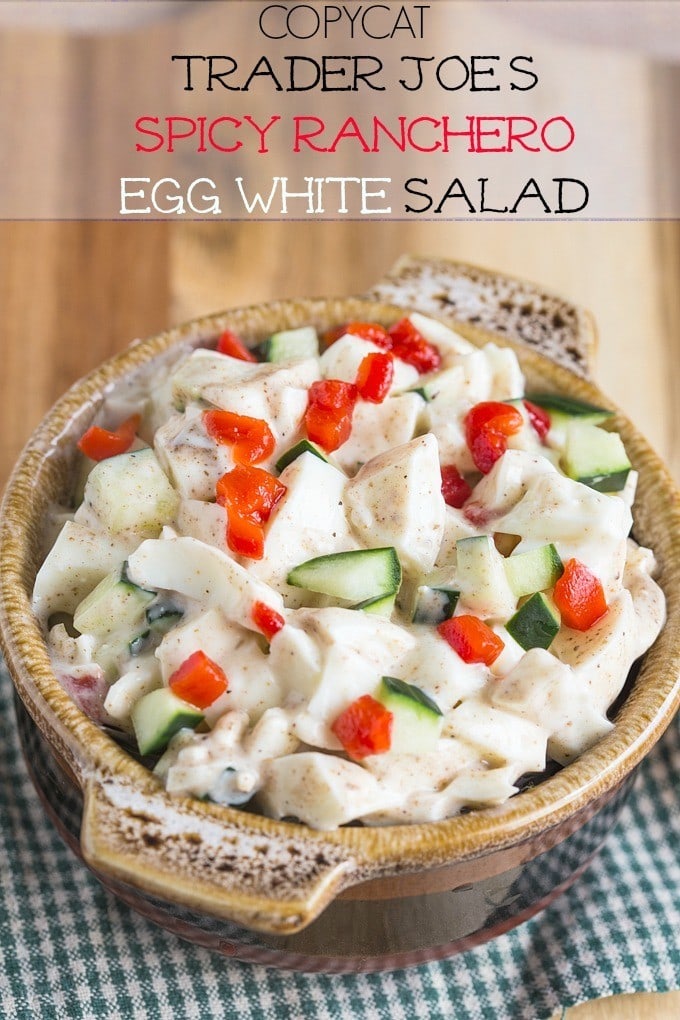 'So Arman comes to America and the first few recipes he creates copycat recipes for are all based around egg whites. He must be stuck in the fat free phase.'
Oh go eat an egg yolk.
Sorry, that was rude. Please forgive me.
When I posted the copycat Starbucks Spinach and Feta wrap, it was based off hearing massive hype about it in the blog world and people literally dancing around it. After trying it myself and being utterly disappointed, I had to recreate and put my own twists on it (aka quadruple the feta and 'accidentally' add the egg yolks in it). Another recipe which many raved about incessantly? One particular salad from golden halo'd grocery store, Trader Joe's. The Spicy Ranchero Egg White Salad.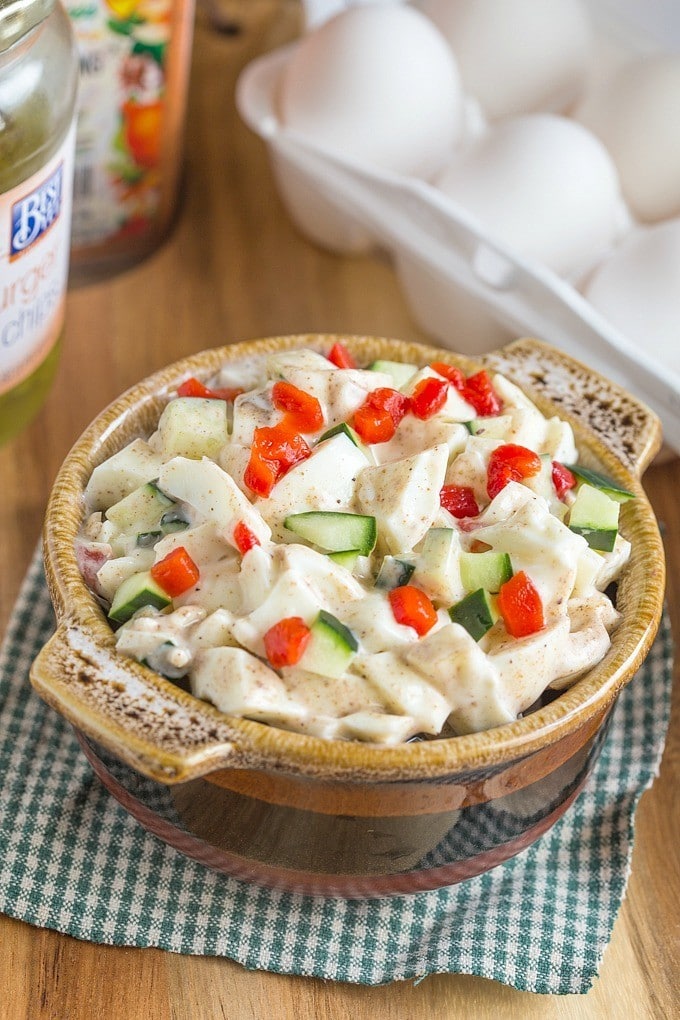 There isn't a Trader Joe's near me. In fact, the closest Trader Joe's is in Manhattan. The second week I was here, I went there with intentions to stock up on some basics I remember from my last trip there and to pick up this elusive salad.
You guys, the lines were ridiculous. I said some choice words, bought a pack of gum from CVS and then hit the Whole Foods hot bar to drown my silence. I blame my timing being around the time people leave work. (Note- The mac and cheese they serve is made of unicorn flour and fairy dust. It was beyond amazing)
Take two.
A few days later, I was working from a coffee shop close to Union Square and after the mad lunch time rush, I made my way back there with the hopes of picking up groceries, this salad and cookie butter.
….The line was just as bad, if not worse. I asked the cashier if this was normal and you know what he said? He said this was typical every day, every hour. I guess that's what we should expect for quality and decent prices. Anyway, I suffered the lines and left with cookie butter, trail mix (which half melted) and the elusive egg white salad. I got two types- One with chives and the ranchero one. I had no idea what ranchero was but it had bits of red in it and besides, ranchero sounded cool.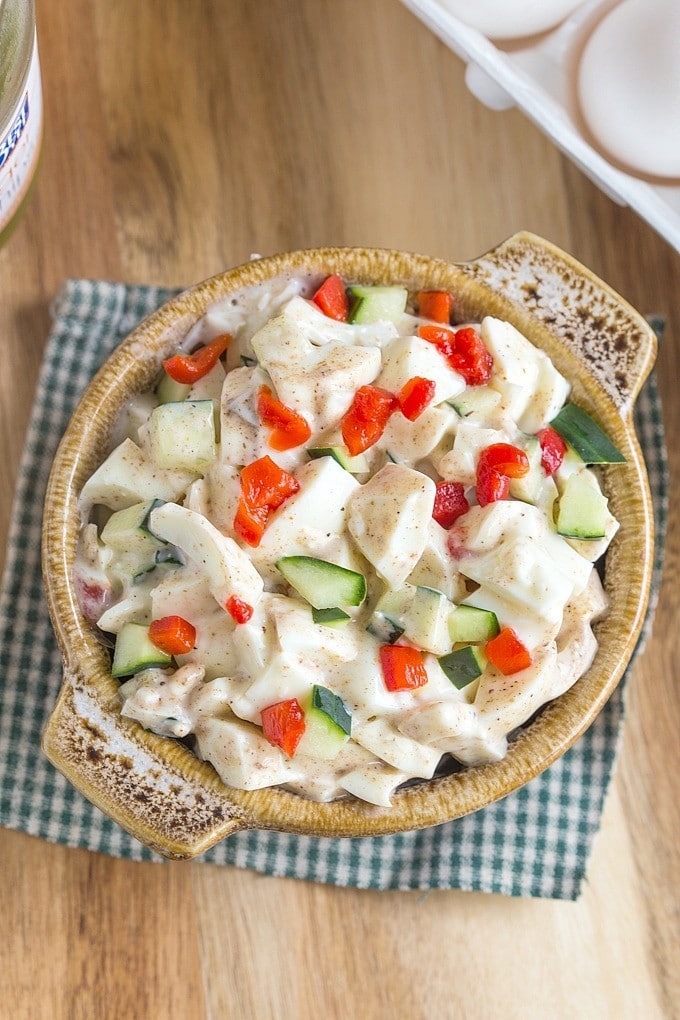 After my Starbucks let down, I didn't have high hopes for this salad and in full disclosure, I had the same feelings as the sandwich- It was bland, tasteless and left me hungry after 5 minutes. In fact, I laughed when I read that one container was designed to provide two servings. I'd eaten both in one go.
Moral of the story? 2 things.
1. Don't have high expectations when it comes to foods which centralise around egg whites
2. While the blog world can provide you with some hidden gems, when it comes to the 'healthier choices', they have let me down.
What to do? Recreate! When the team at Mezzetta told me to create a recipe using one these ingredients perfect for Summer, I immediately thought ice cream. I then thought ice cream using one of those ingredients would be ridiculous to most people. My second choice was a salad so I set forth to recreate the infamous Trader Joe's Spicy Ranchero Egg White salad but with some twists- Way more flavour, allergy friendly and a dairy free option.
This copycat Trader Joe's Spicy Ranchero Egg White salad is so easy to recreate and is a much more cost effective. It's perfect to prep a huge batch for easy weekday lunches or even a high protein snack. It's got a tonne more flavour thanks to an easy spice blend which you can adjust to your spice tolerance (for me, it's insane!). I opted to use a dairy free yogurt instead of packaged mayonnaise which gave an amazing creaminess and catered for our dairy free friends. I also added chopped cucumber, chopped hamburger pickles and of course, the roasted red peppers. Bonus- For those following a whole30 or Paleo diet, I tried it out with coconut cream and it worked great- Simply add a teeeeny bit of extra salt!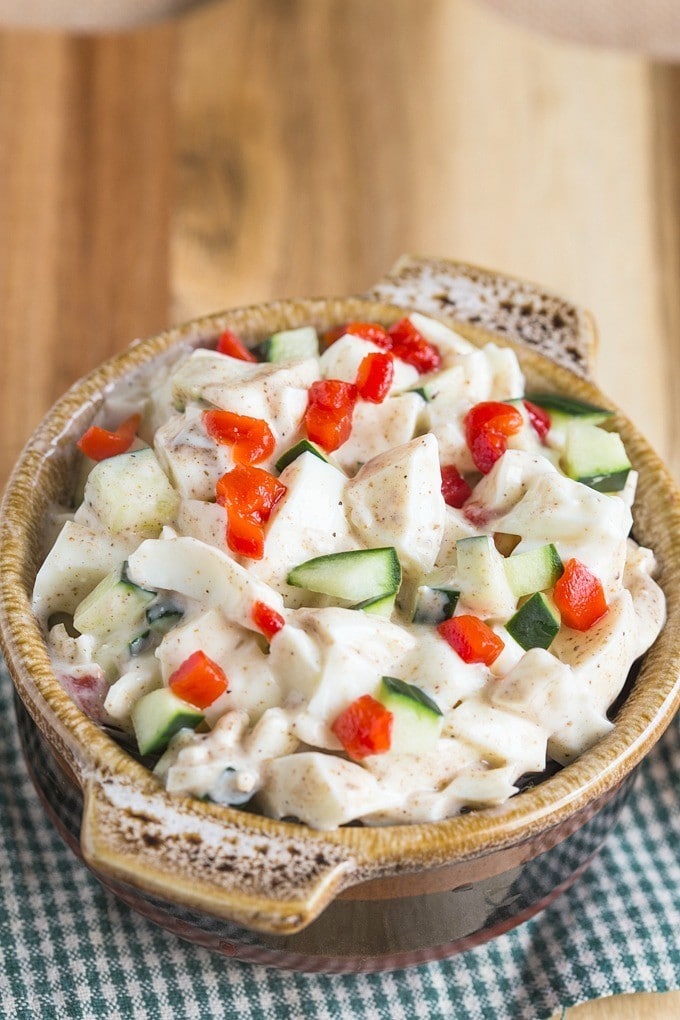 Make this Copycat Trader Joe's Spicy Ranchero Egg White Salad and save yourself those lines, some flavour and of course, some twenty dollar bills (yo).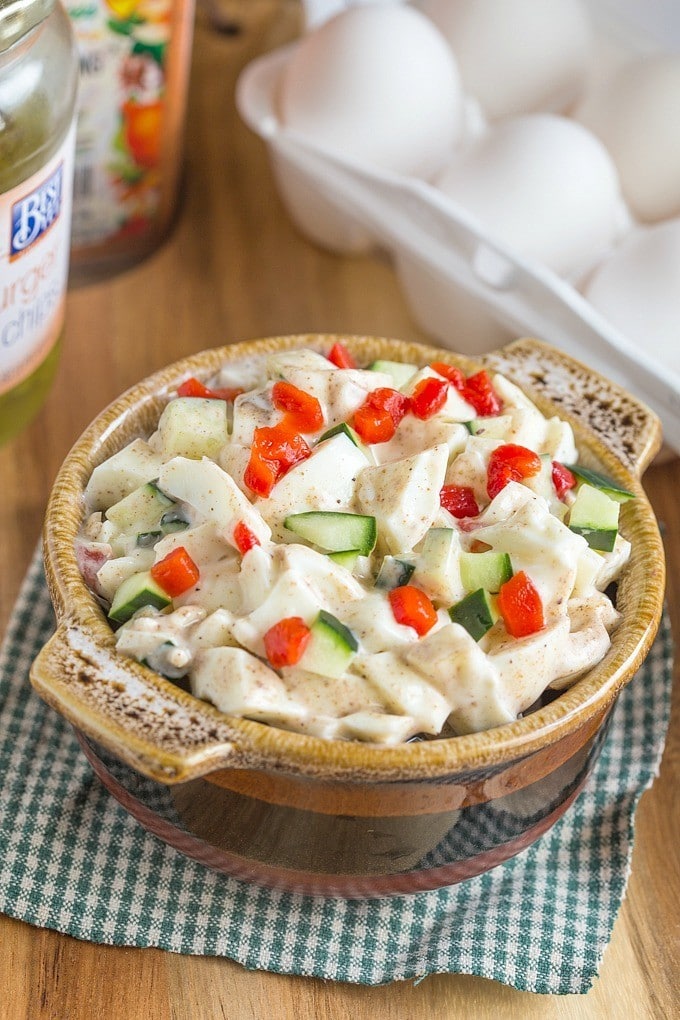 Copycat Trader Joe's Spicy Ranchero Egg White Salad
2015-06-20 23:18:23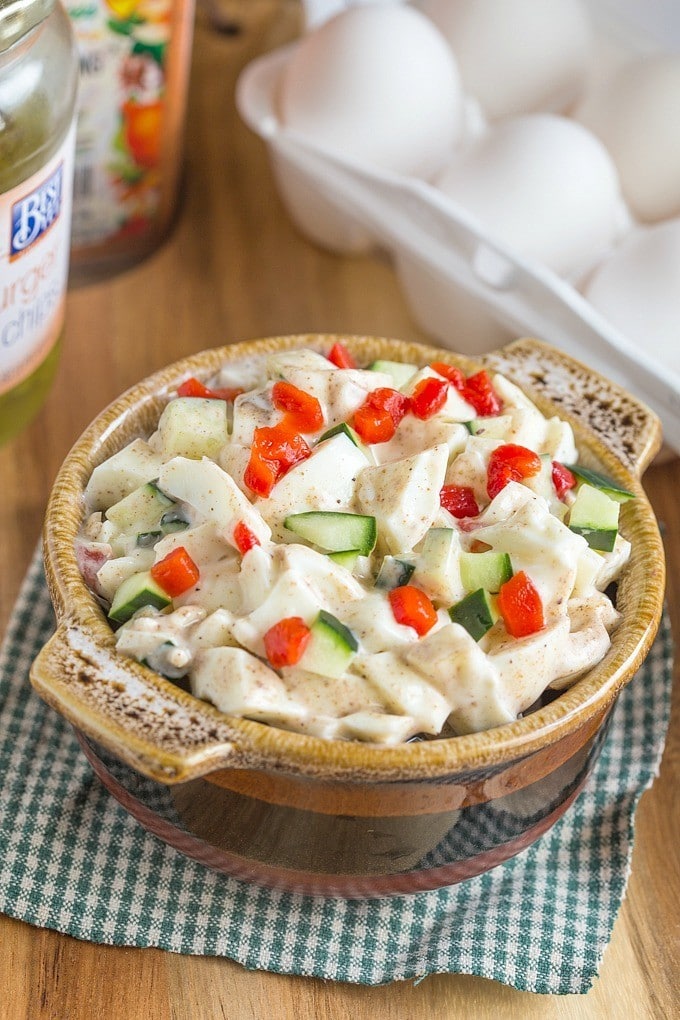 The infamous Trader Joe's Ranchero Egg White Salad gets a makeover to give it even more flavour and a dairy free and sugar free option! Naturally gluten free, it is also packed full of protein, it's the perfect low carb snack, salad or addition to a main meal- Also a whole30 option!
Ingredients
6 boiled eggs, yolks removed and chopped finely (feel free to keep in)
2-3 hamburger pickles, chopped finely
1/4 cucumber, chopped finely
2 T chopped roasted red peppers
1/2 cup plain Greek yogurt (I used so delicious cultured Greek yogurt)*
1 T pickle juice (brine the pickles are in)
1/2 tsp cumin
1/2 tsp smoked paprika
1/2 tsp marjoram
1/2 tsp + red pepper flakes (adjust to taste)
1/2 tsp sea salt (adjust to taste)
Instructions
In a large mixing bowl, combine the egg whites, cucumbers, pickles and roasted red peppers and set aside.
In a separate mixing bowl, combine the Greek yogurt, pickle juice with all the spices and mix well. Taste to make sure it's salty enough and spiced according to your spice level.
Pour the 'sauce' over the egg mixture and mix until fully incorporated. Allow to sit for 30 minutes in the fridge to 'marinate' and keep refrigerated until ready to serve.
Notes
* Can sub for coconut cream for a whole30 option- Add more salt if you use this option.
If using strictly egg whites, salad can be kept for 2-3 days for optimum freshness.
If using all eggs, I would recommend eating it within 24 hours.
If you use a dairy Greek yogurt, I would also recommend eating within 24 hours.
The Big Man's World ® https://thebigmansworld.com/
If you love this, you'll love these!
Marinated Sweet Potato and Pesto Orzo Salad (Vegan, Gluten Free)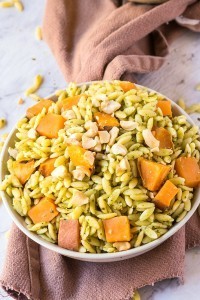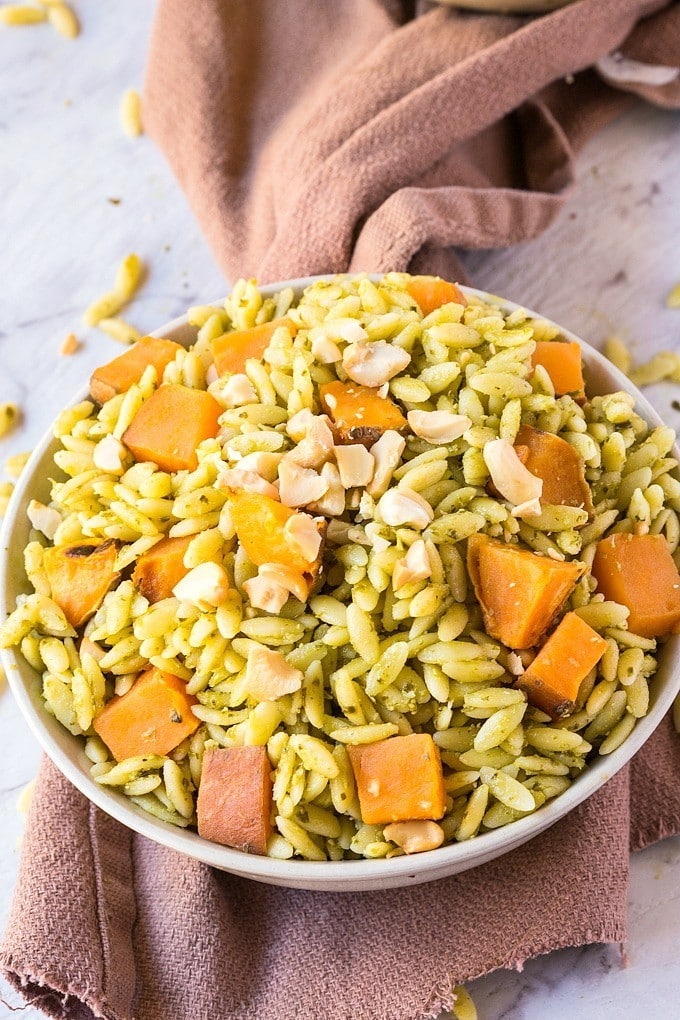 Copycat Starbucks Spinach and Feta Breakfast Wrap (Gluten Free)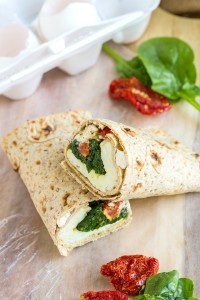 Healthy Pho Noodle Salad (Gluten Free)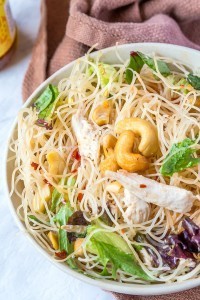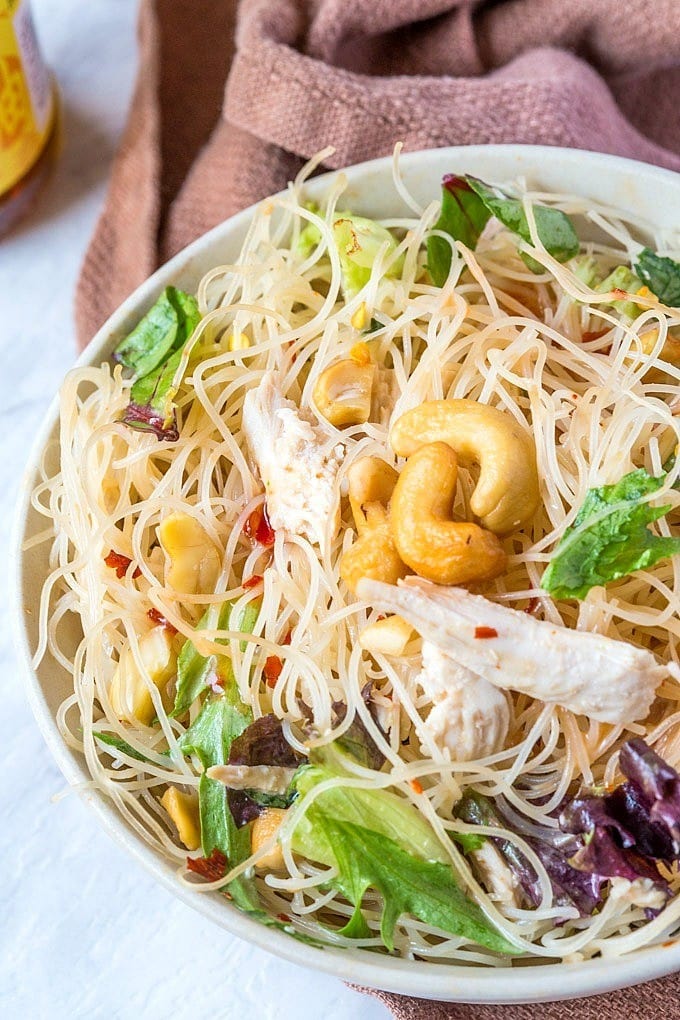 Mezzetta are offering you the chance to win some epic Summer goodies- Check it out here!
For those who have a Trader Joe's near you, is it cray 24/7?
What is your spice tolerance?