These 4-ingredient baked donut holes are the easiest homemade donuts you'll ever make! They're deliciously fluffy and fun to customize with the flavors you love. No yeast, long rest times, or fryer oil needed!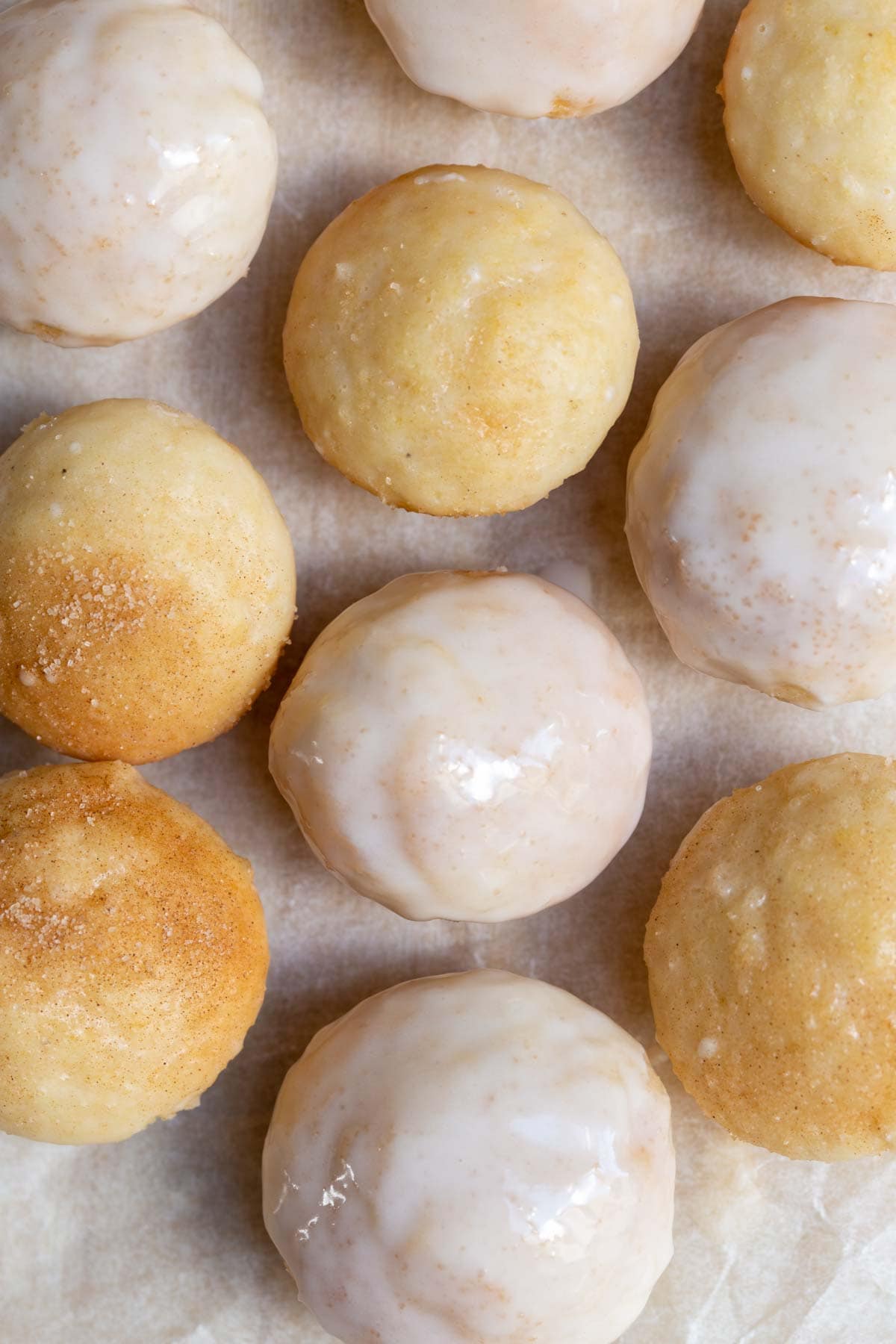 Stop your donut cravings in their tracks! These glazed donut holes are bite-sized treats with as much soft, fluffy, and sweet goodness as a Krispy Kreme donut. Better yet, they're easy to make with only 4 everyday ingredients!
Why this recipe works
Whether you call them donut holes, Munchkins (Dunkin' Donuts), or Timbits (Tim Hortons), these soft and fluffy treats capture everything you love about regular-sized donuts in one bite-sized snack. And without needing yeast or deep fryer oil, they're done and ready to snack on in no time!
A yeast-free baked donut recipe. Unlike classic donut holes, our version is easy to make with yeast-free dough and is baked rather than deep fried. This way, the dough does not need time to rise and you get to skip the hot, splattering oil.
Only four ingredients! I love making donuts from minimal ingredients, like my healthy donuts, because it means they'll be ten times easier to make. All you need to make this donut hole recipe are two ingredients for the dough and two ingredients for the glaze.
Easy, flexible, and fun. This recipe makes a handful of old-fashioned glazed donut holes. Enjoy them as-is, or have fun with the flavors! There are plenty of customization ideas to play with in the Variations section below.
You may already have these four ingredients in your pantry, helping you curb your donut cravings faster. Here's what you need:
Self rising flour. Make a batch of homemade self rising flour before starting the donut holes. It's a simple 3-ingredient flour you can keep in your cupboard at all times and customized to be gluten free, whole wheat, and low carb.
Vanilla yogurt. For moisture, flavor, and to help the dough bind together.
Dietary swap
Use your favorite dairy free vanilla yogurt to make this recipe vegan-friendly.
Powdered sugar. This is used to make and sweeten the glaze.
Milk. To thin out the glaze. Feel free to use plant milk instead of whole milk to make this recipe dairy free.
How to make donut holes
Here's how to make no-yeast glazed donut holes in 6 simple steps:
Step 1 – Make the dough
Stir the flour and yogurt until the mixture turns into a thick dough.
Step 2 – Knead
Transfer the dough to a lightly floured surface, then knead it a few times until it smoothes out.
Step 3 – Shape into balls
Shape the dough into a rectangular shape, then cut it into bite-sized pieces. Roll each piece in your hands to make small balls.
Step 4 – Bake
Transfer the dough balls to a parchment-lined baking sheet. Bake until they're golden around the sides, then set aside to cool.
Step 5 – Make the glaze
Meanwhile, make the glaze by whisking the powdered sugar and milk together.
Step 6 – Decorate the donuts
Dip each donut hole in the glaze, rolling them around with two forks to ensure they're fully coated. Transfer to a lined plate to firm up, then serve and enjoy!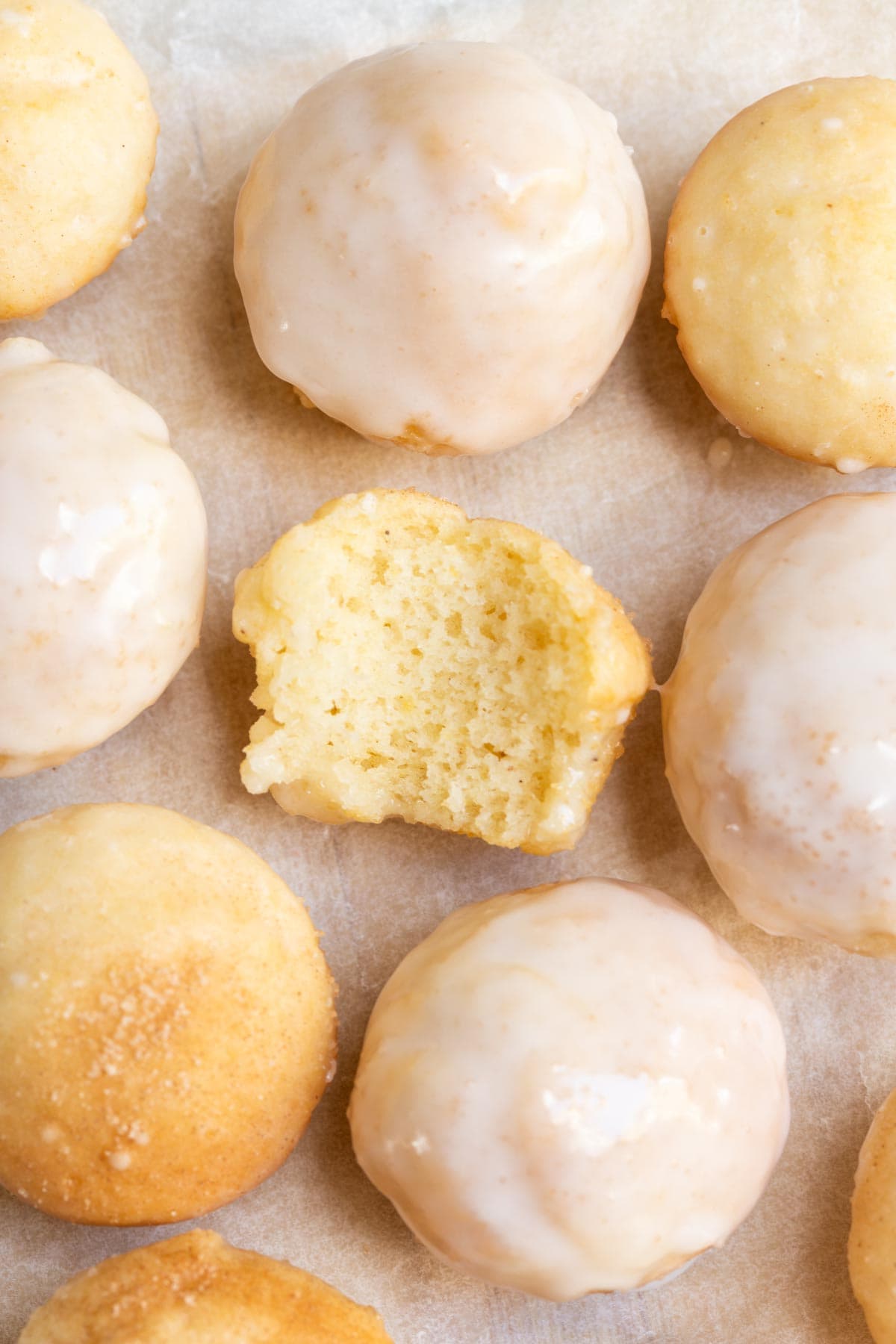 If your dough is too wet, stir in 1 tablespoon of flour at a time until it's easier to work with.
If the dough is dry or crumbly, add 1 tablespoon of yogurt at a time until it comes together.
Try not to overmix or over-knead the dough, as this can make the donut bites dense.
Watch the donut holes carefully at the 10-minute mark. You'll know they're ready when they're golden brown on the sides and bounce back when you touch them.
You can transfer the glazed donuts to a wire rack placed over a sheet of parchment paper instead of the plate to let the excess frosting drip off.
Serve the donut holes with a side of chocolate glaze for dipping!
Flavor variations
You can make the donut holes of your dreams by experimenting with the flavors in the dough and the decorations. Here are some ideas to get you started:
More Donut hole flavors:
Chocolate. Fold ¼ cup of cocoa powder into the dough.
Jelly-filled. Fill a piping bag with your favorite flavor of jelly or jam, then stick the tip in each donut hole and squeeze until it's filled or feels slightly heavier in your hand.
Blueberry. Fold ½ cup of fresh blueberries and 1 teaspoon of lemon zest into the dough.
Boston cream. Just like the jelly donuts, use a piping bag to fill the holes with custard before dipping each one in ganache or chocolate frosting.
Protein donut holes. Fold ¼ cup of your favorite protein powder into the dough.
More decoration ideas:
Cinnamon sugar. Roll the donut holes in a mix of 3/4 cup of white sugar (or the granulated sweetener of your choice) and 2 tablespoons of cinnamon as soon as they come out of the oven.
Powdered sugar. Sift the powdered sugar over the donuts for a simple, yet sweet decoration.
Chocolate glaze. Use the chocolate glaze from my protein donuts recipe.
Vanilla glaze. Add 1 teaspoon of vanilla extract to the glaze in this recipe.
Sprinkles. Roll the freshly glazed donuts in a plate of sprinkles.
Storage instructions
To store: Keep the baked and glazed donut holes in an airtight container at room temperature. Make sure to eat them within two days. To keep them for up to 5 days, store them in the refrigerator.
To freeze: You can freeze the donuts without the glaze in a sealed container or bag for up to 6 months.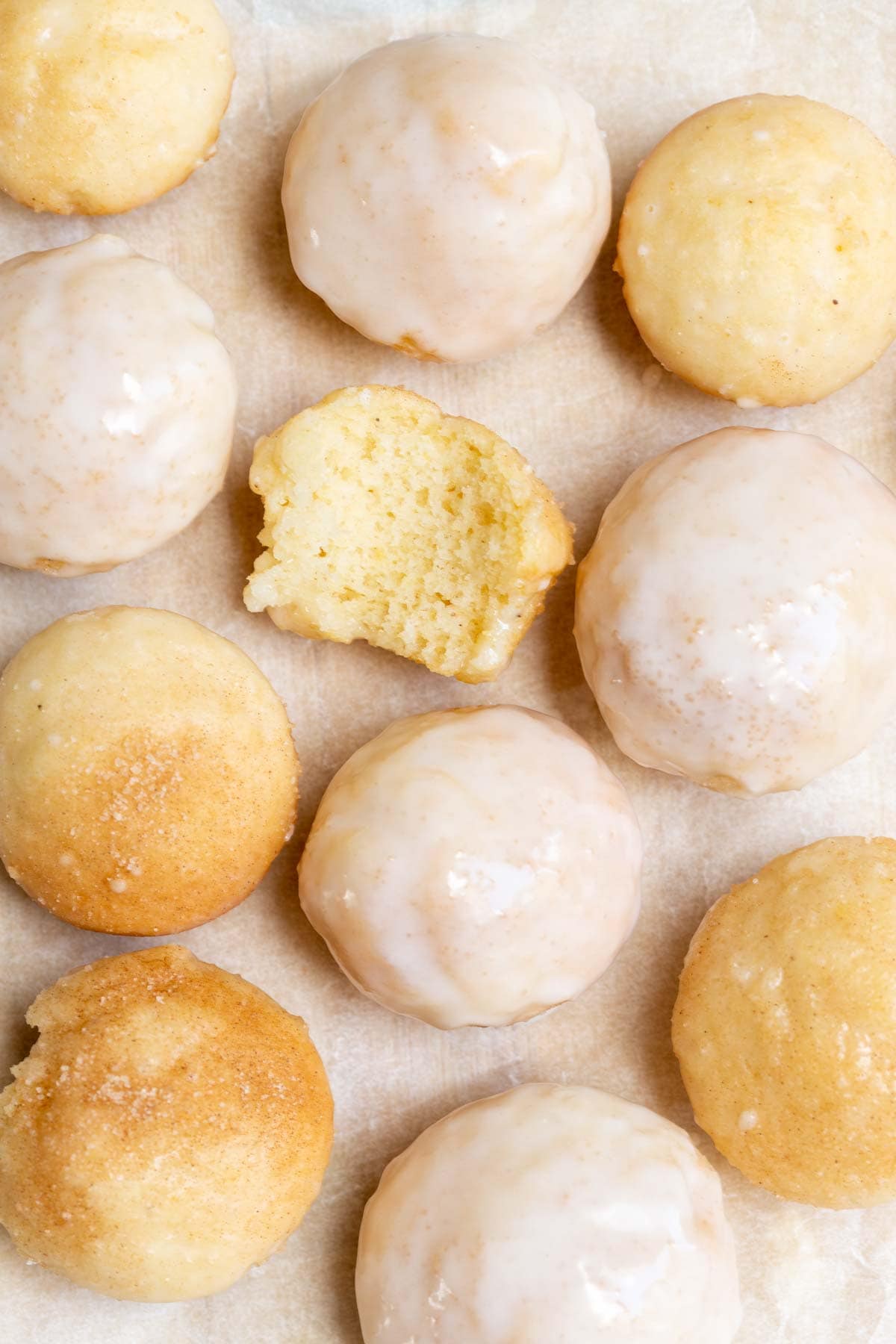 Frequently Asked Questions
How do you air fry donut holes?
Making donuts in the air fryer is a great way to get them extra crispy on the outside and fluffy on the outside without needing excess oil. To make donut holes in the air fryer, lay the balls in an even layer in the air fryer basket and cook at 375ºF for 6 to 8 minutes or until golden.
Why are they called donut holes?
They were originally called donut holes (or doughnut holes) because they were made from the dough cut from the center of larger-sized donuts. This was a great attempt to lessen food waste before the donut holes became their own thing!
More donut recipes to try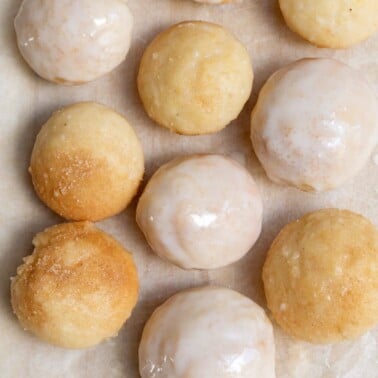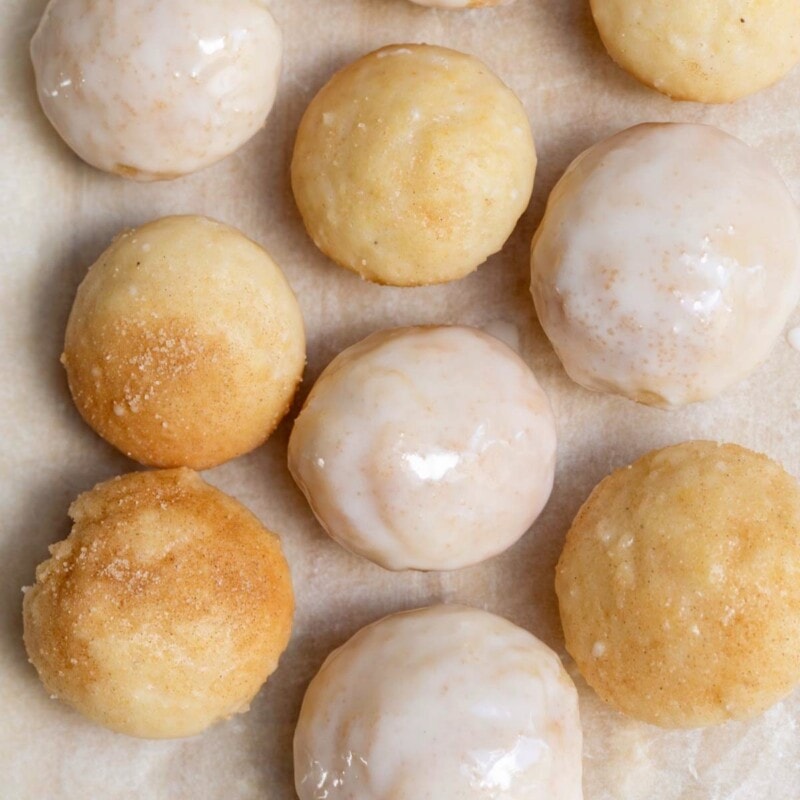 Donut Holes
This donut holes recipe features perfectly fluffy and delicious bite-sized doughnuts coated in a simple glaze. They have no yeast and are baked to perfection!
Instructions
Preheat the oven to 180C/350F.

In a large mixing bowl, combine the flour with vanilla yogurt until completely combined and a thick dough remains.

Transfer the dough to a lightly floured kitchen surface and knead several times. Roll it out into a rectangular shape and chop it up into bite sized pieces. Using your hands, roll the dough into 12-15 small balls.

Transfer the balls of dough onto a lined baking sheet and bake for 12-15 minutes, until golden around the sides. Remove from the oven and let them cool slightly.

While the donut holes are cooling, whisk together the powdered sugar with milk until a thick glaze remains.

Dip each donut hole in the glaze ensuring each one is fully coated. Place them on a lined plate to firm them up.
Notes
TO STORE: Keep the baked and glazed donut holes in an airtight container at room temperature. Make sure to eat them within two days. To keep them for up to 5 days, store them in the refrigerator. 
TO FREEZE: You can freeze the donuts without the glaze in a sealed container or bag for up to 6 months.
Nutrition
Serving:
1
donut hole
Calories:
50
kcal
Carbohydrates:
13
g
Protein:
2
g
Fat:
0.3
g
Sodium:
10
mg
Potassium:
33
mg
Fiber:
0.2
g
Vitamin A:
5
IU
Vitamin C:
0.1
mg
Calcium:
23
mg
Iron:
0.1
mg
NET CARBS:
13
g
Disclosure: This post may contain affiliate links. I may earn a small commission for my endorsement, recommendation, testimonial, and/or link to any products or services from this website.